15 Healthy Late Night Snacks for When the Midnight Munchies Hit
When you stay up late enough after dinner that you start to get hungry again, fall asleep with a satisfied stomach with these healthy late night snacks.
It may not have a good rap, but eating in the midnight hours can sometimes be A-OK—that is, of course, if you eat healthy late-night snacks rather than foods that keep you up at night.
Indeed, we're not talking about a full-on feast—and most nutritionists agree that when it comes to late-night munching, it's best to limit things to a light snack—but it's important to listen to your body and heed the hunger signs it's giving you. If your stomach is grumbling at midnight, nutritionists give you the go-ahead to satisfy those cravings with the right food.
Why it's ok to snack late at night.
You're probably familiar with the sleep myth that you shouldn't eat at night because your metabolism slows down; however, experts say that's not the case. "Contrary to popular belief, metabolism does not shut down when we sleep. It ebbs and flows but overall remains consistent with our waking metabolism," advises Madeline McDonough MS, RDN. "The key [for late-night snacking] is opting for nutrient-dense snacks that support an overall balanced dietary pattern."
That is to say that you should skip the leftover pizza and opt for a nutritious snack to tide you over until morning.
Eating late at night isn't just ok, it's also recommended if you're really hungry. If you ignore your bodily cues, you may even sleep less that evening or have a harder time staying asleep. "If you're overly-hungry at night, you'll likely have a harder time sleeping, and you'll be extra ravenous in the morning, possibly even feeling nauseous from hunger," says Diana Gariglio-Clelland, RD, CDE with Balance One Supplements. "Eating at bedtime may even be beneficial for people who experience low blood sugar at night, such as those taking insulin."
What are the best types of foods for healthy late-night snacks?
Foods that help to increase melatonin levels in your body, in particular, can be a boon for bedtime eats. "For example, foods such as cheese, milk, turkey, and peanuts contain tryptophan, a precursor to serotonin and melatonin. The body naturally produces serotonin and melatonin, which help induce calm and regulate sleep-wake cycles," says Edwina Clark, MS, RD, CSSD, Registered Dietitian and Head of Nutrition at hundred.
For optimal effectiveness, Clark advises pairing tryptophan-rich foods with a source of carbohydrate. This "helps [the tryptophan] cross the blood-brain barrier and exert its sleep-enhancing effects."
For some, opting for a probiotic-rich snack after dinner may even help with digestive problems. "Research suggests that probiotics can be useful for GI problems such as IBS, diarrhea, and constipation—all of which can impair sleep," says Clark. She notes some healthy options like kefir, sauerkraut, and kombucha.
The best healthy late-night snacks.
Next time hunger strikes before bed, be kind to your body and swap the fast-food fix for one of these expert-approved picks for 15 healthy late-night snacks.
1. Edamame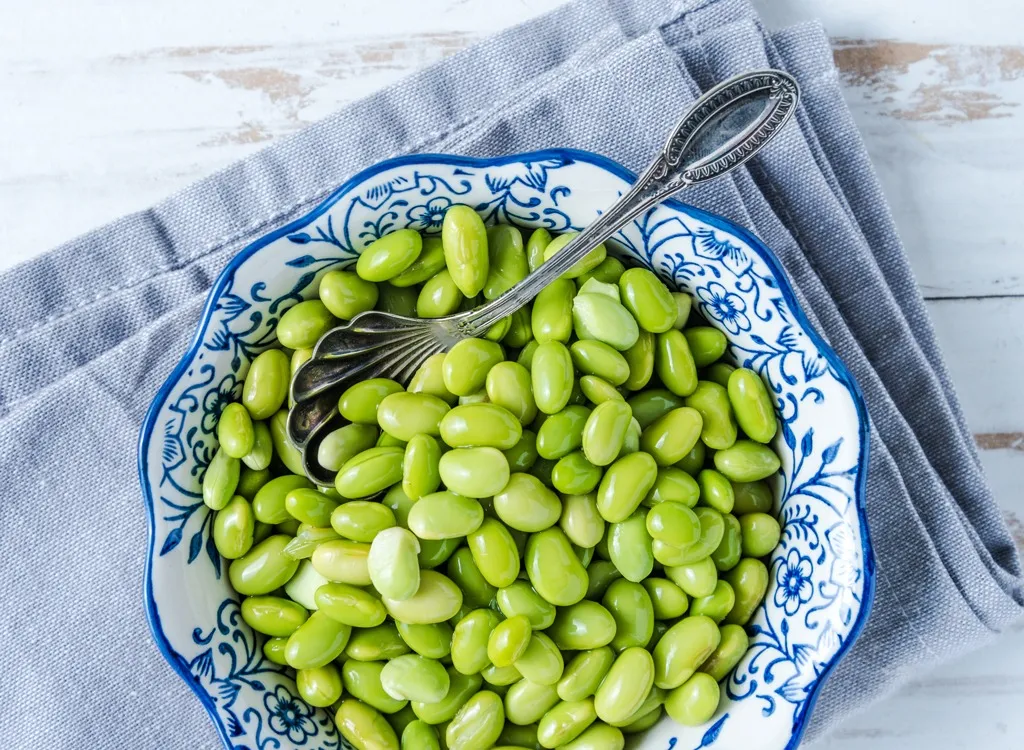 This crunchy veggie is one of the midnight go-tos of Clark. "Edamame is a great healthy substitute for those who prefer salty snacks at night," she says. "Edamame is a source of tryptophan and a carbohydrate and may assist with serotonin and melatonin synthesis." Sprinkle a little salt on a bowl of edamame, or pair with a little hummus for a more filling snack.
2. Fresh vegetables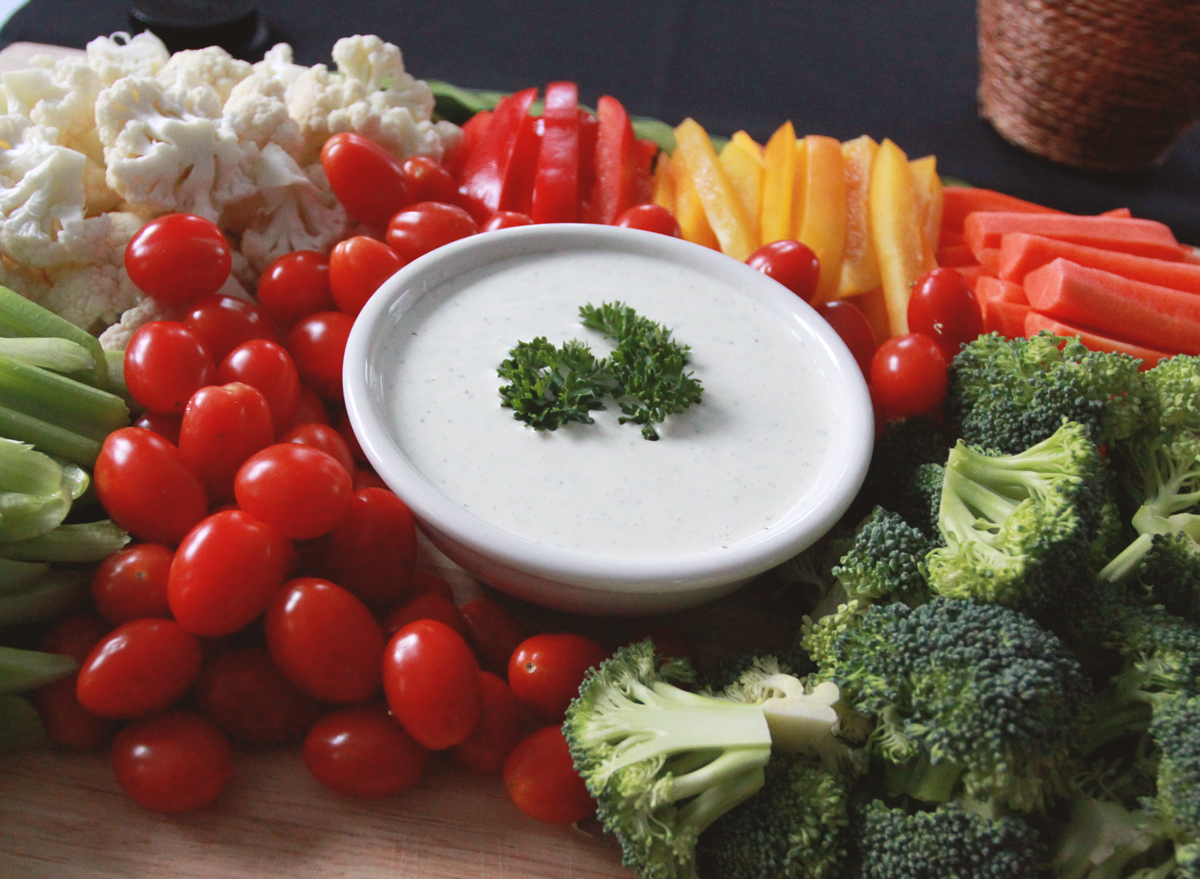 "Crudité is always a good choice as veggies have few calories and will prevent you from gaining weight due to excess night eating," suggests says nutritionist Brocha Soloff, RD, of iHeart Health. Carrots and celery are a popular choice but also consider radishes, zucchini rounds, or sliced broccoli stalks with a little bit of salt for something different.
3. A banana with almond butter
"Bananas provide our body with healthy carbs and almond butter helps to balance blood sugar with its protein and fat content," suggests McDonough. "This perfect pair may even help you get to sleep, bananas are rich in nutrients that can be converted to melatonin and almonds contain magnesium, another nutrient that may help us reach and maintain quality sleep." No almond butter? Swap a tablespoon or two of almond butter for a handful of almonds.
4. Whole-grain crackers and cheese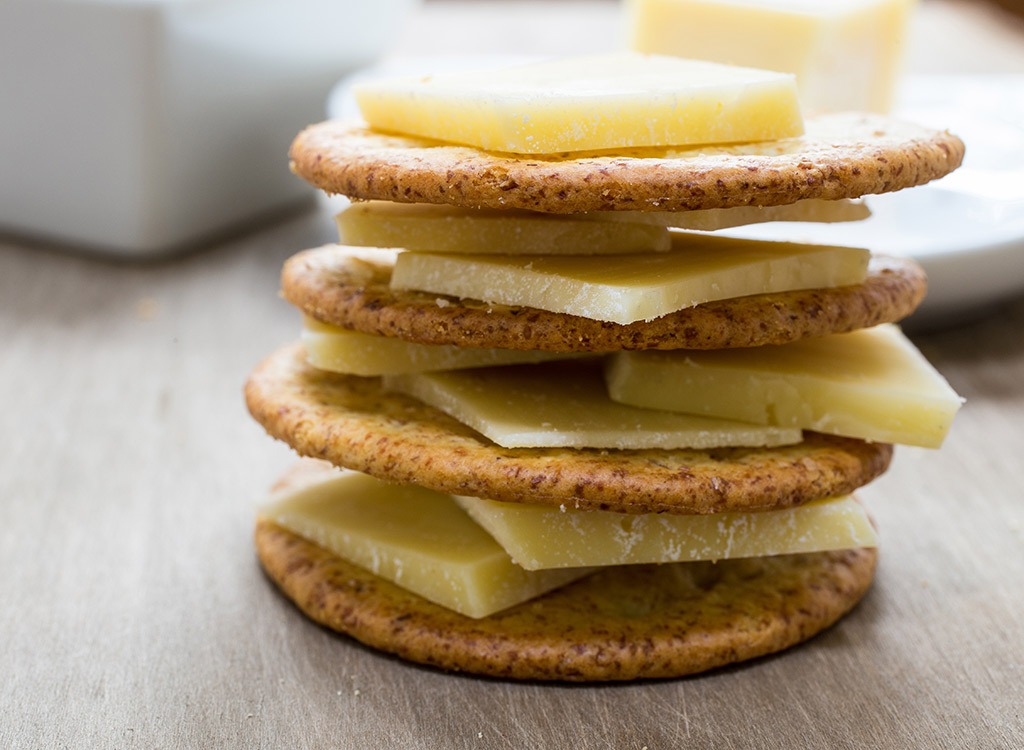 A winning combo for late-night cravings. "The carbohydrates in the crackers are digested more slowly because of the higher fiber content, and the protein and fat in the cheese contain filling protein to keep us feeling satiated," says Gariglio-Clelland. If you're dairy-free, lactose intolerant, or vegan, try pairing the crackers with hummus or another favorite bean dip.
5. Tart cherry juice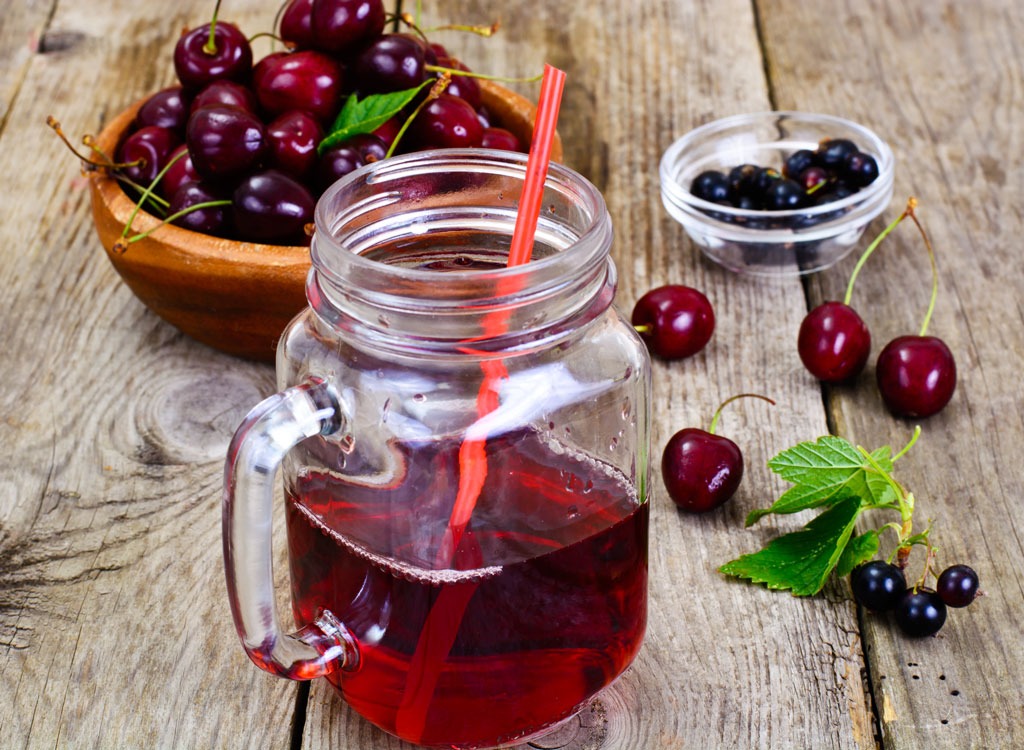 "Tart cherries contain melatonin and small trials suggest that consuming tart cherry juice improves sleep duration and quality," says Clark. "In addition, tart cherries are packed with polyphenolic compounds that help
combat inflammation and oxidative stress." Clark recommends the Cheribundi brand, but feel free to experiment with whatever is at your local grocer.
6. A small protein bar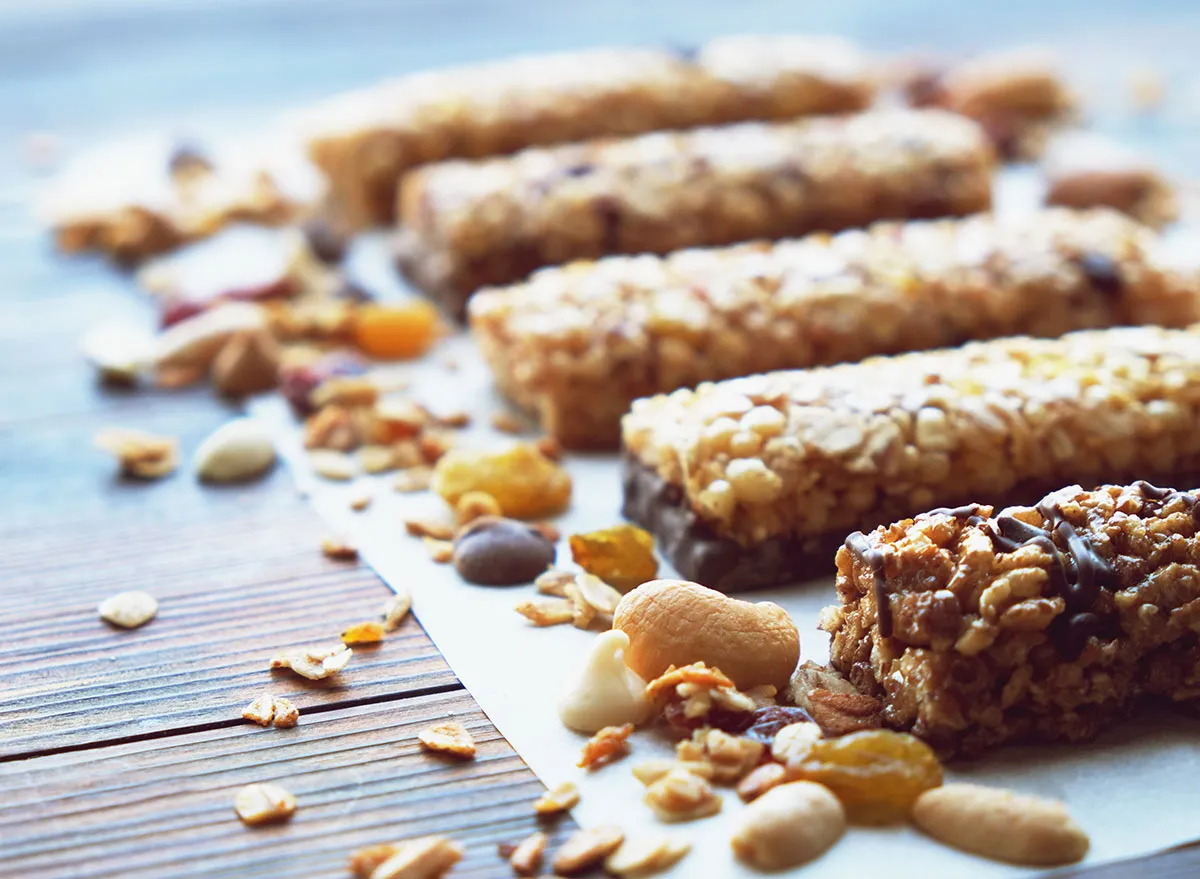 Most people aren't actually hungry after dinner, but they need 'a little something,'" says Amy Goodson, MS, RD, CSSD, LD. "A sweet, portion-controlled option with some fiber and protein can be just the thing to satisfy your craving without blowing your eating plan." Her favorite flavor of these organic ProBar Bite Bars is the Peanut Butter Chocolate Chip, but they also come in mixed berry and coconut almond flavors. They're all totally plant-based, and only have four grams of sugar with around 150 calories per bar. "It's the perfect guilt-free snack that helps with cravings. It's not too heavy on the stomach and won't give you that sugar rush other sweet foods do."
7. Stove-top popcorn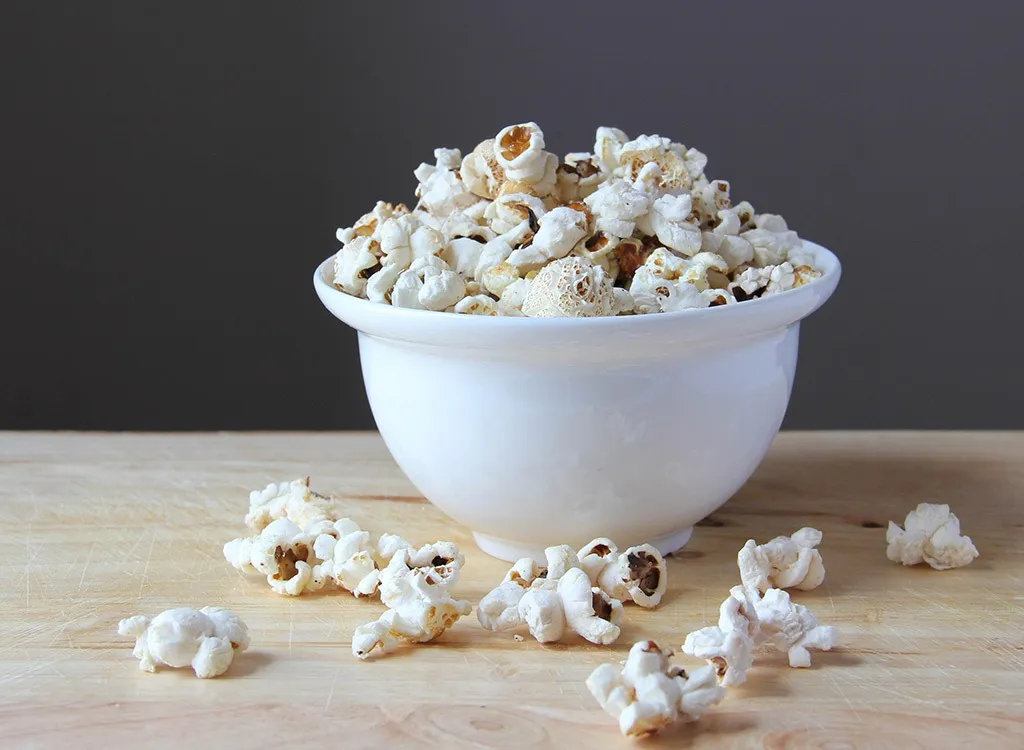 We're talking plain kernels here, not buttery popcorn like you get at the movies or the kind you buy in microwave-safe bags, which is often loaded with additives. "Stove-top popcorn is a versatile and satiating snack that can be curated to honor any late-night craving," notes McDonough. "Looking for a salty crunch? Sprinkle some sea salt and/or nutritional yeast on top. Something sweet? Add a touch of raw honey and some cinnamon to help promote stable blood sugar. Popcorn also contains fiber and is relatively low in calories when prepared at home."
8. Grapes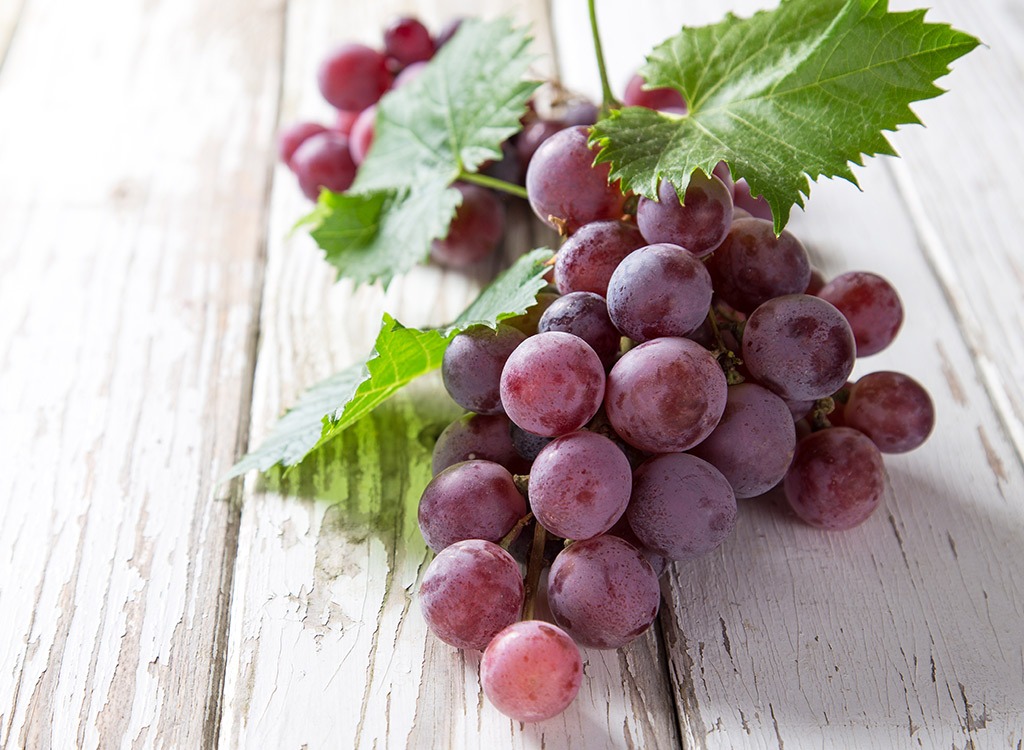 If you aren't hungry enough for a full-on snack, but are still craving something sweet before bed, popping a few grapes may do the trick. "Grapes are a source of melatonin. Grapes also contain polyphenols which are good for the heart," says Malena Perdomo, MS, RD, CDE, Registered Dietitian Nutritionist and Certified Diabetes Educator.
9. Tomatoes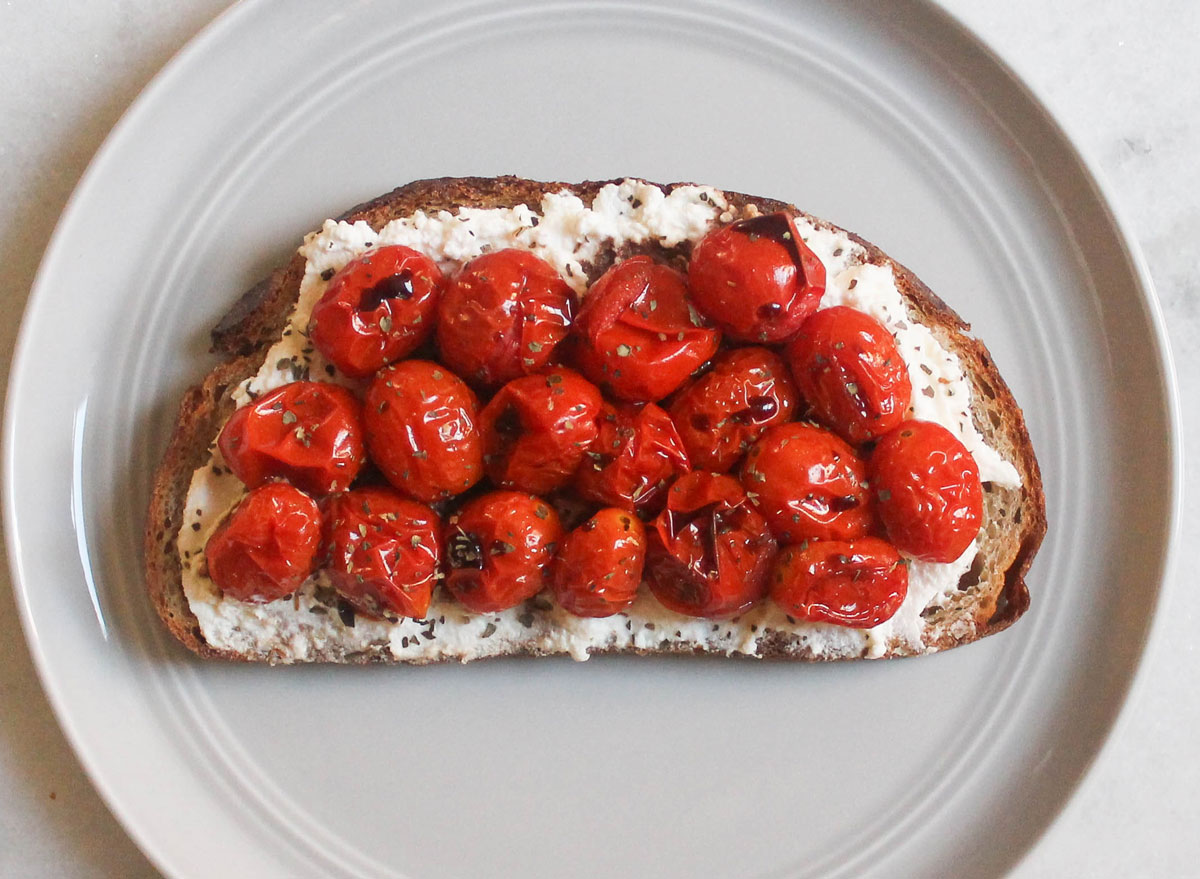 These juicy fruits contain small amounts of melatonin. "Consider eating tomatoes throughout the day and it may help you fall asleep easier at night," says Claudia William, MD, Board certified in Family Medicine and Lifestyle Medicine. Bonus: Tomatoes also offer lycopene, a powerful antioxidant that has been shown to reduce the risk of cancer and heart disease.
10. Unsweetened, plain Greek yogurt with fresh fruit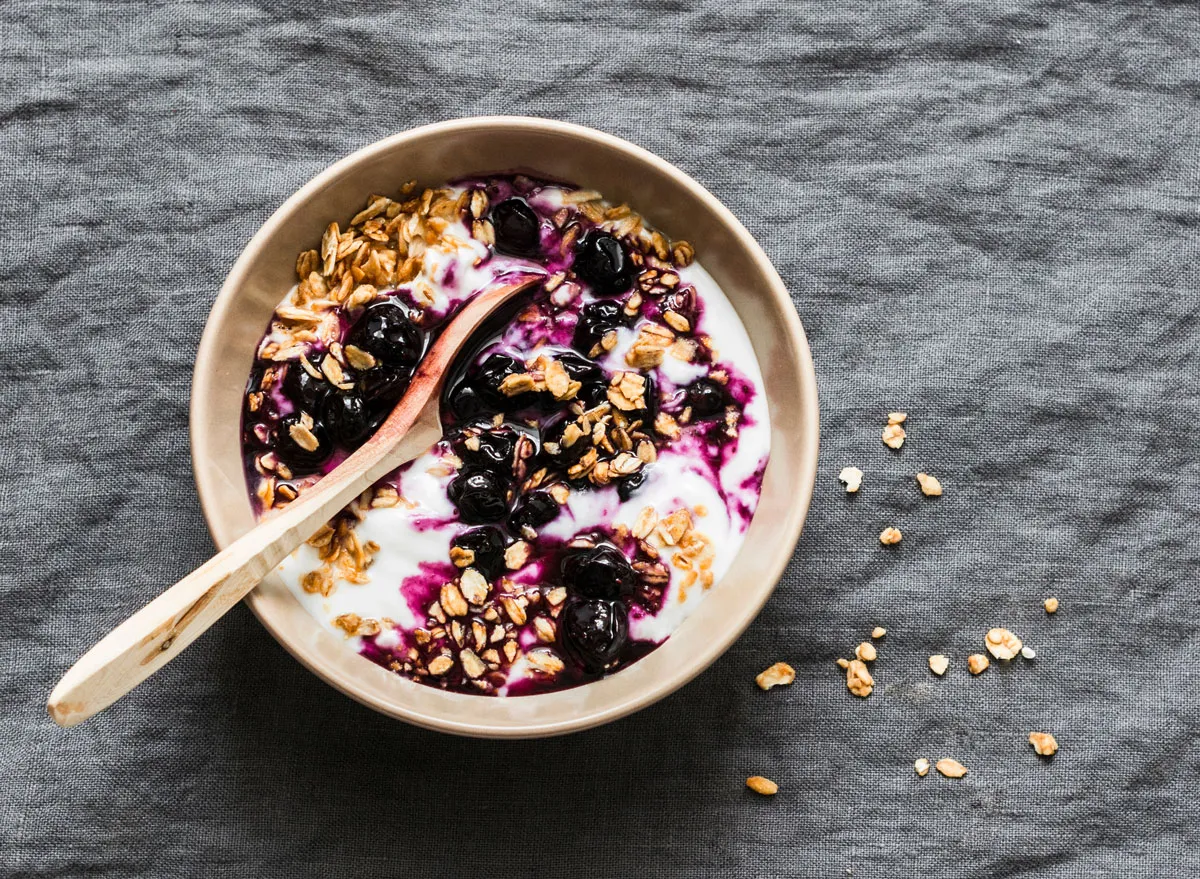 You don't have to tell us twice to indulge in this creamy, satisfying snack that just happens to be a really nutritious option for you when late-night hunger pangs strike. "Greek yogurt and fruit provide all the creamy sweetness of ice-cream without the added fat and sugar. Yogurt is rich in probiotics which may help settle the stomach, and also a source of an amino acid called tryptophan," explains Clark. "Tryptophan is used to synthesize serotonin and in turn, melatonin, which helps regulate circadian rhythms. Pairing Greek yogurt with a source of carbohydrate, like fruit, helps tryptophan cross the blood-brain barrier." To make this snack a little tastier, sprinkle the yogurt with some ground cinnamon or turmeric.
11. Nuts or nut butter on a piece of whole-grain toast
"A simple serving of nuts or sunflower seed butter spread on a high-fiber food—like an apple or whole grain bread—is a great option before bed," says Rachel Fine, RD, a registered dietitian, and owner of To The Pointe Nutrition, a nutrition counseling firm in New York City. "The key here is fiber, which helps to stabilize blood sugar throughout sleep, preventing the onset of hypoglycemia in the early morning. The addition of protein and unsaturated fats will also help to build a macronutrient mix that works to stabilize one's blood sugar." Not sure what kind of toast to use? Read our guide to the healthiest store-bought bread loaves.
12. Pistachios
"Pistachios are packed full of protein, B6, magnesium, and melatonin. All of these are important nutrients to help you feel full and fall asleep," advises Dr. William. "Just two pistachios can give you a good amount of melatonin. So, a handful should help you hit the hay ASAP." Nuts for pistachios? We've got 15 perfect pistachio recipes for you here.
13. Oat bites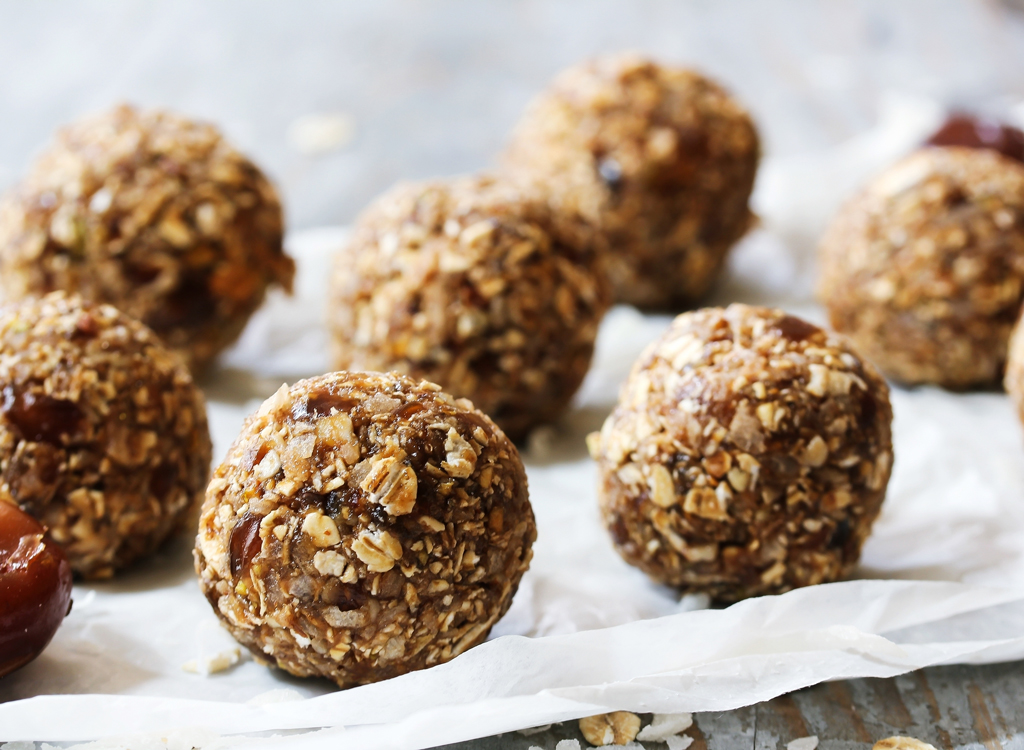 "I've been really enjoying oat bites as a late-night snack because of their warm, comforting spices," says Goodson. If you don't want to make your own at home, you can always buy a premade version. "The perfect snack to warm up the winter months, OJAS STUDIO Date & Grain Bites feature whole food ingredients including cinnamon, coconut, fig, and orange peel." Just add calming lavender essential oil and a warm blanket and you'll be drifting into dreamland in no time.6254a4d1642c605c54bf1cab17d50f1e
14. Cheese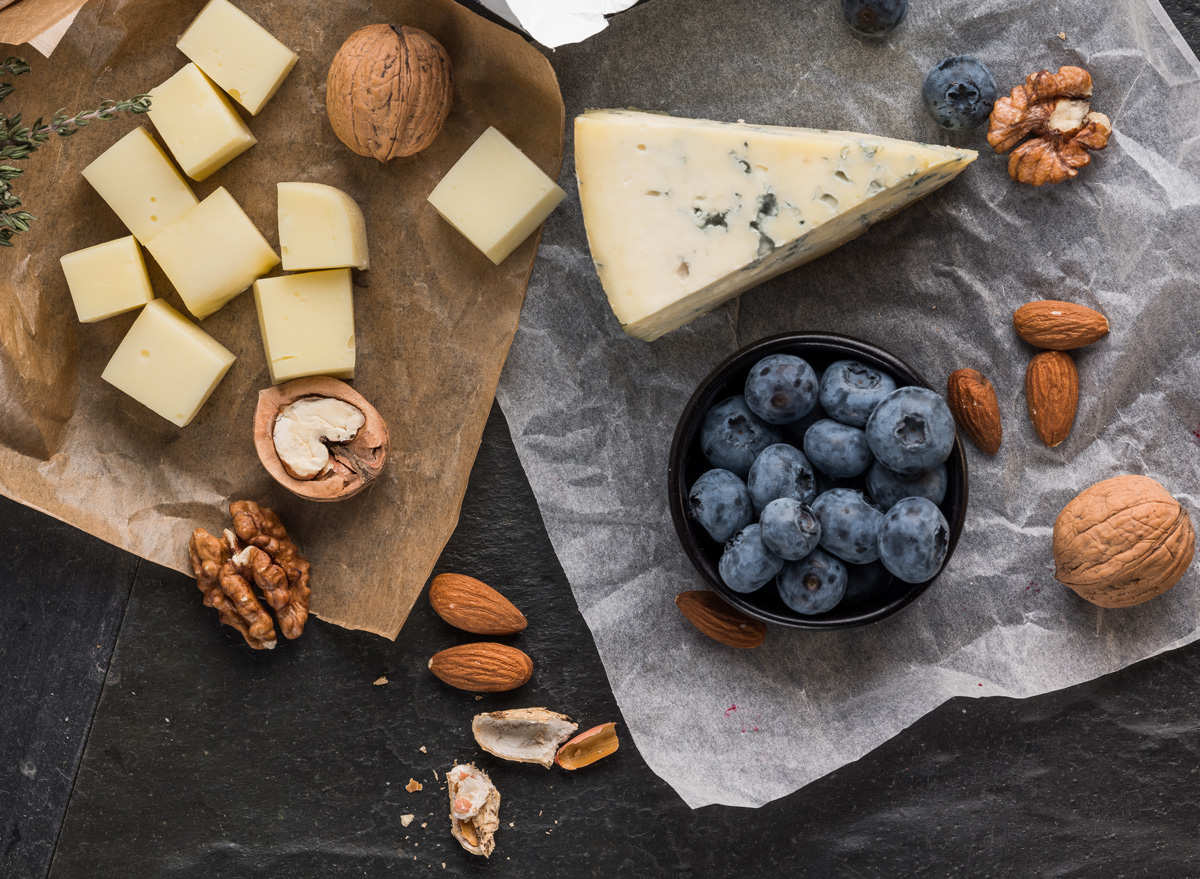 Make sure you limit your cheese intake to a healthy portion size. That's one string cheese or a few small cubes of cheddar. "Research shows the lactose in cheese can help you fall asleep better," notes Soloff. To round out the snack, add on a few fresh vegetable slices or a low-carb fruit, like berries.
15. Goji Berries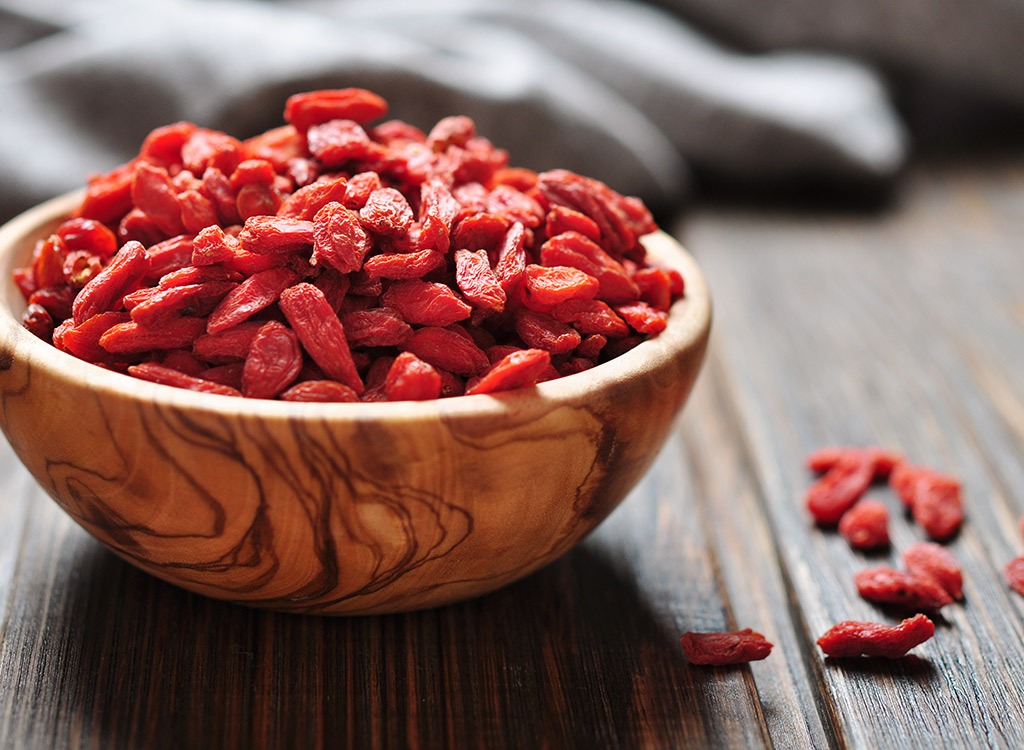 We're wild for this uber-nutritious superfood for a late PM snack, and so is Dr. William. "Goji berries have the highest concentration of melatonin for any dried fruit," she notes. Make sure you snack on no-sugar-added or unsweetened varieties.