The 7 Healthiest Dishes to Order at a Mexican Restaurant
Dietitians share ideas to help you stick to your health goals when dining out at a Mexican restaurant.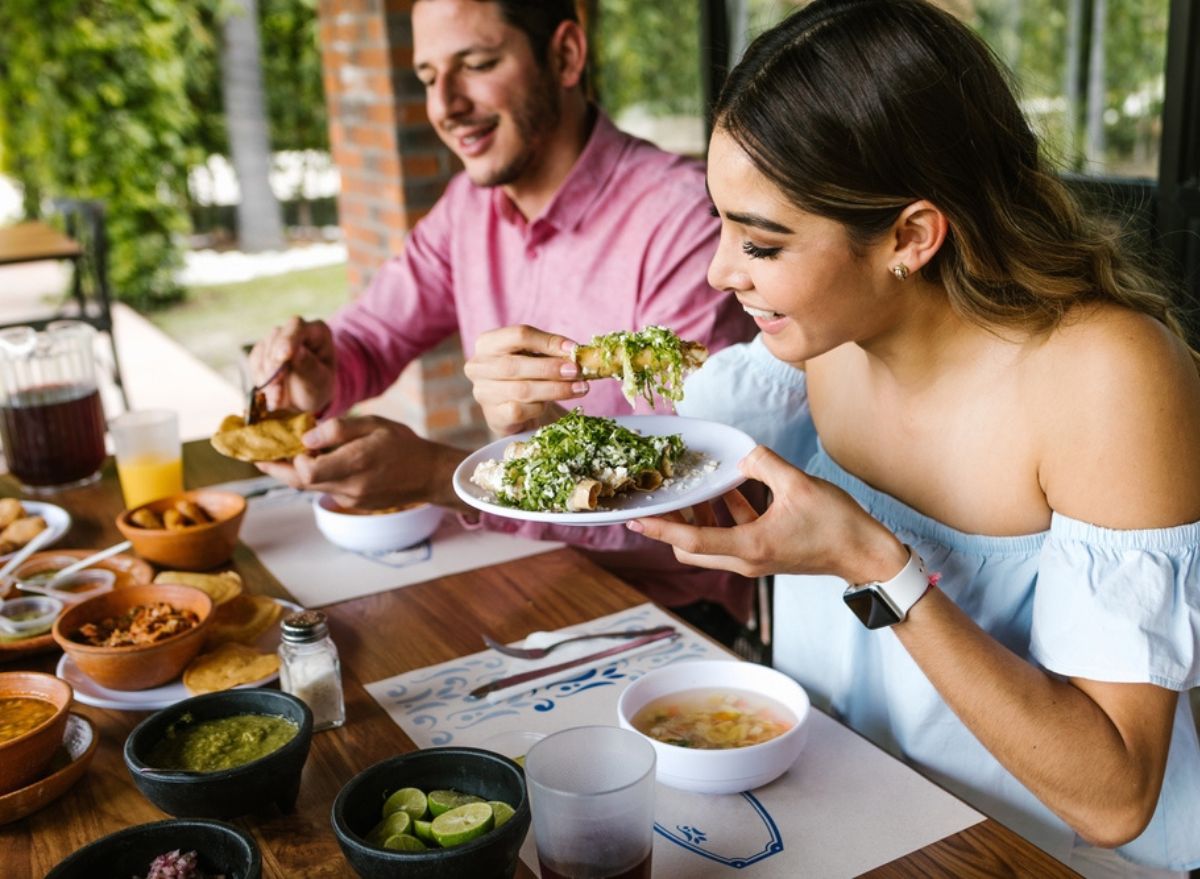 Friday is Cinco de Mayo, which means you're probably preparing your stomach (and wallet) for a handful of margaritas and your favorite Mexican dishes. And while this holiday (which is also known as Battle of Puebla Day) isn't actually celebrated very much in Mexico, it can be a fun time for honoring this culture and indulging in your favorite Mexican-inspired dishes. However, if you're a lover of this cuisine but are also trying to stick to specific health goals when you eat out, it can be helpful to know some healthier Mexican restaurant orders that won't set you back on a night out.
Whether you're celebrating Cinco de Mayo or just really enjoy Mexican cuisine, there are some dietitian-recommended tips for helping you make healthier choices at your favorite restaurants.
"Ordering at a Mexican restaurant when you're also trying to maintain a healthy diet can be intimidating—but it is not impossible," says Trista Best, MPH, RD, LD at Balance One Supplements. "For example, some simple changes include opting for whole wheat options when available—like whole wheat tortillas—passing on the cheese and sour cream, and switching out calorie-dense queso for nutrient-dense guacamole."
Along with these tips, Mary Sabat MS, RDN, LD, has a few suggestions for common Mexican restaurant orders that are on the healthier side, which you can keep in mind the next time you head to your favorite spot. While these dishes may not be deep-fried and lower in calories, sugar, and fat, they're still loaded with tons of flavor.
Read on to learn about some of the healthiest Mexican restaurant dishes you can order. Also, if you're in need of some healthy options on the go, be sure to check out these 7 Healthiest Fast-Food Restaurants.
Guacamole with fresh vegetables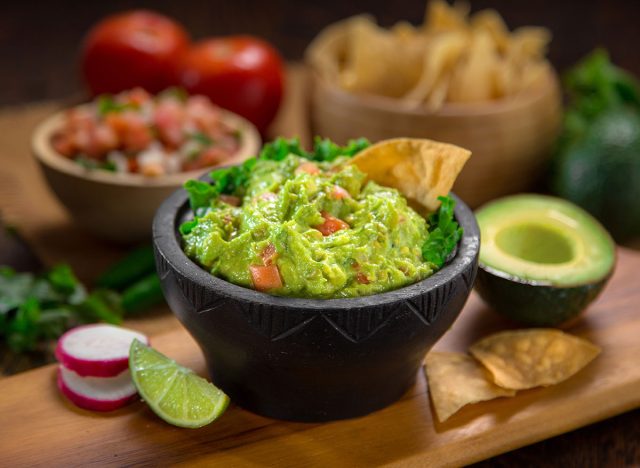 There's nothing quite like a bowl of freshly made guacamole as an appetizer, and a Mexican restaurant is the best place to get the real deal. This app can also be a healthier choice because "it provides vitamins, minerals, and fiber from the fresh ingredients like avocados, tomatoes, onions, and cilantro," explains Sabat.6254a4d1642c605c54bf1cab17d50f1e
And if you're looking to make this appetizer even healthier, Sabat adds that you can ask for "vegetables like carrot sticks, cucumber slices, and jicama for dipping, because skipping the chips can save you some calories."
Sopa de verduras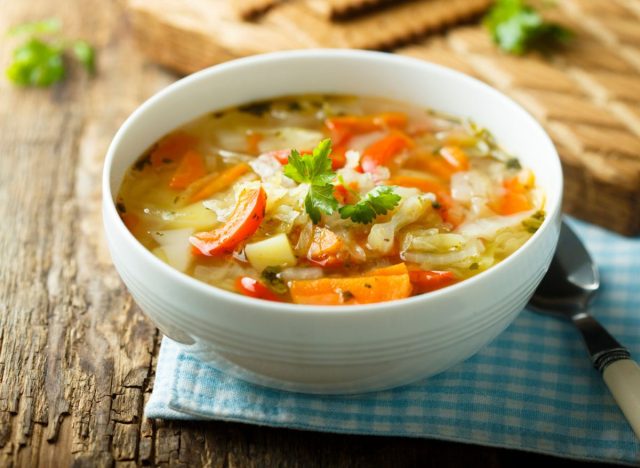 It's tempting to head straight for the part of the menu with all the deep-fried foods smothered in cheese and sauce. But for a healthier Mexican restaurant order, Sabat suggests the sopa de verduras, otherwise known as vegetable soup.
"This soup is typically made with a variety of fresh vegetables, such as carrots, zucchini, potatoes, and tomatoes, and is often served with a side of rice or tortillas," says Sabat. "It's a healthier option because it is low in calories and high in fiber and nutrients, and it can be a great way to get your daily dose of vegetables."
If you spend more time eating out than cooking at home, it can become challenging to get enough vegetables in your day. But according to Harvard Health, a diet higher in vegetables can help reduce the risk of cardiovascular disease, improve gut health, and lower blood pressure. With a sopa de verduras, you can enjoy your time out with friends and still meet your veggie goals.
Grilled shrimp skewers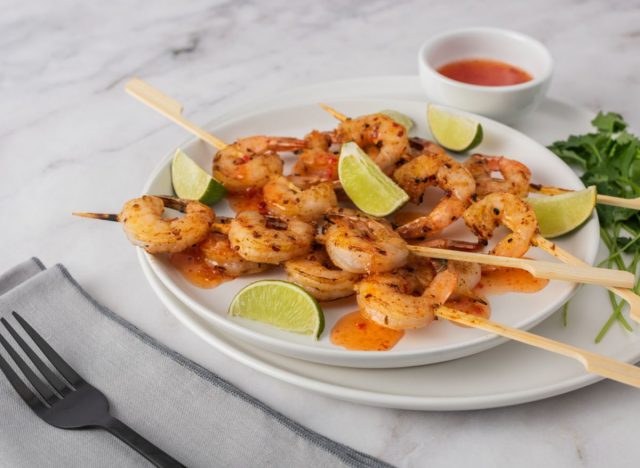 For those craving shrimp (or el camarón), you'll have plenty of options on the menu, like burritos, tacos, and enchiladas stuffed with shrimp. But for the healthiest choice, Sabat suggests choosing the shrimp skewers if they're available.
"Shrimp is a low-calorie, high-protein seafood that is often grilled and served on skewers with vegetables, such as bell peppers and onions," says Sabat. "This can be a healthier option because it is low in calories and fat, and provides a good source of protein and omega-3 fatty acids."
Not only that, but shrimp is high in an antioxidant called astaxanthin, which gives it its redish, pink coloring. Astaxanthin has been found to help fight inflammation and free radical damage, as well as specifically aid in cognitive function.
Tacos al pastor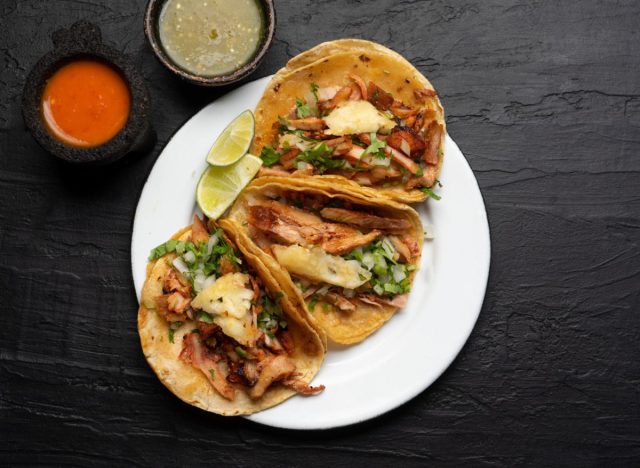 Arguably one of the more famous Mexican restaurant options, tacos al pastor (which means "shepherd's style tacos") are made with sliced pork and often topped with pineapple. The good news for taco lovers is that Sabat says tacos al pastor are a healthier option for your night out.
"These tacos are typically made with lean cuts of pork that are marinated in a blend of spices and then grilled, and they are often served with fresh cilantro, onions, and a squeeze of lime," she says. "This dish is a healthier option because the lean pork provides a good source of protein, and the fresh toppings add flavor and nutrients without adding extra calories."
Chicken fajitas
And lastly, for a filling, protein-heavy, nutrient-dense meal, Sabat says to try the chicken fajitas.
"Fajitas are typically made with strips of grilled chicken, peppers, and onions, and are often served with tortillas, salsa, guacamole, and sour cream," says Sabat. "This meal is a healthier choice because the grilled chicken provides a good source of protein, and the peppers and onions add vitamins and minerals. To make it even healthier, you can skip the tortillas and opt for lettuce wraps instead."
Skinny margarita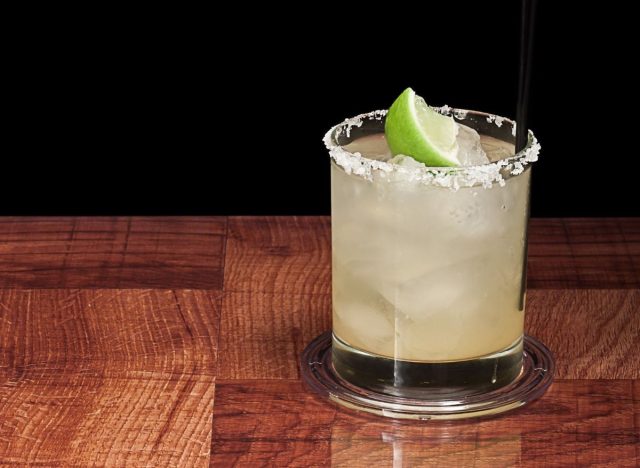 It can be difficult to imagine going to a Mexican restaurant without ordering a few margaritas to go along with your meal. But if you're trying to have a healthier time while you're out, your two or three drinks may quickly derail your plans for a few reasons.
For one, many "house margaritas" at restaurants are just tequila and a margarita mix—often the kinds that are loaded with sugar. This is why Sabat suggests opting for a "skinny" option if there's one on the menu.
"A skinny margarita will be a healthier choice than a regular one, only because of the lower calorie and sugar content," advises Sabat.
However, even if you're consuming less sugar in your margarita, it's helpful to be aware of a phenomenon that can occur when we drink—which is the second reason a few margaritas might derail your healthy eating plans for your Mexican food outing. Have you ever been a few drinks in, only to realize that you're even hungrier than you were before? According to a study published in Nature Communications, there's a reason for this: Researchers found that drinking alcohol can actually activate certain cells in the brain that increase your appetite. Also, there are specific neurons that can be stimulated by alcohol that also cause you to feel the sensations of hunger.
So, to avoid overeating and save yourself some sugar calories as well, try ordering a skinny margarita and sticking to just one if you can.
Agua fresca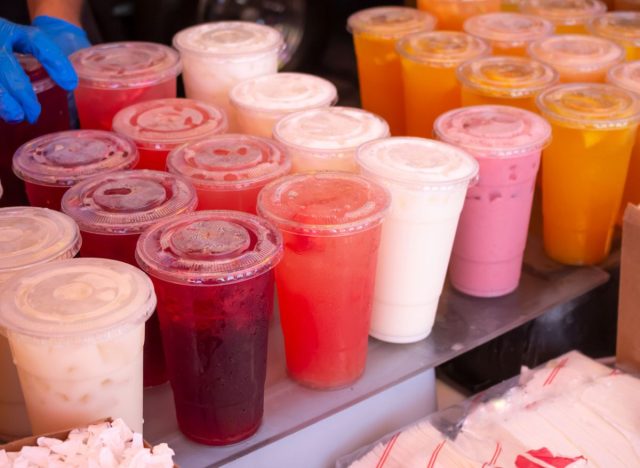 If you're heading to your favorite Mexican restaurant, you may have a margarita on your mind. However, if you're not in the mood for alcohol or are trying to cut back, you'll find agua frescas ("fresh water") on most Mexican restaurant menus.
"These drinks—which are made with fresh fruit, water, and a sweetener like sugar or honey—is a healthy option because it is lower in calories and provides vitamins and minerals from the fresh fruit," says Sabat.
Sources referenced in this article