11 Best Healthy Margarita Recipes
Celebrate Cinco de Mayo right with these healthy twists on classic margarita recipes.
Eating healthy and engaging in healthy drinking habits shouldn't deter you from occasionally indulging in a delicious margarita every so often—especially not with Cinco de Mayo just around the corner and all the upcoming summer fun destined to kick off soon thereafter. While opting for the convenience of using a margarita mix means you can have a cocktail in your cup in seconds, it also means you're likely setting yourself up for a glass of calories, carbs, and sugar that are probably better used toward a nutritious, filling meal.
But did you know you can keep your health and wellness routine in check while still sipping on this tart and tasty cocktail? The key is finding a healthy margarita recipe that's not only easy to whip up but also tastes just as (if not more) delicious than any margarita you can order at your fave local restaurant or watering hole.
With these recipes, you can feel good about staying on top of your weight loss goals while still joining in on the festivities as you sip this classic cocktail. So if you're ready for the healthiest and happiest of all happy hours, check out this collection of healthy margarita recipes. Also, for more tips on how to imbibe while keeping your health top of mind, learn which cocktails to steer clear of with The 10 Unhealthiest Cocktails on the Planet.
Fresh Ink Smoked Margarita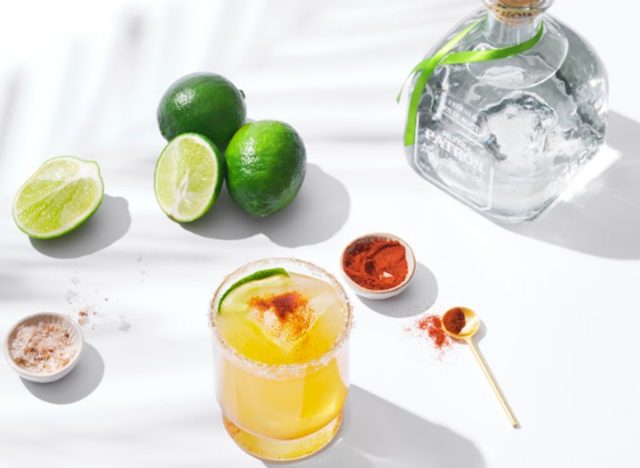 Can't decide between a sweet, smoky, or tart cocktail? Fortunately, you don't have to choose between these distinctive flavor notes with PATRÓN's Fresh Ink Smoked Margarita. This winning combination of fresh lime juice, pineapple juice, agave nectar, a pinch of paprika, and (of course) Patrón Silver delivers a smooth and smoky punch. Though any tequila brand may theoretically suffice, if you're also watching your wallet in addition to your waistline and Patrón Silver seems out of your budget, opt for any silver or blanco tequila made with "100% agave" to ensure your creative flair doesn't suddenly transform this once healthy margarita recipe into a sugar-laden mess. According to the Liquor Laboratory, silver or blanco tequila is the healthiest choice of the tequila family, as it reportedly contains zero added sugars due to how it is distilled.
Get PATRÓN's recipe for a Fresh Ink Smoked Margarita.
This bold, beautiful mix of freshly squeezed blood orange and lime juice is an irresistible balance of tart-meets-sweet. Though the recipe calls for using either triple sec or Cointreau, to keep this margarita recipe in the healthy zone, we suggest skipping the triple sec to instead opt for the alternative. Generally speaking, triple sec tends to be more syrupy and sweet compared to Cointreau, so this will help keep the sugar and calorie content of your beverage on the lower end.
Get the recipe from Smitten Kitchen.
Spicy Grapefruit Margarita
If you prefer tart citrus over the sweet taste of blood oranges, you can kick your tastebuds into high gear with this spicy margarita recipe, which infuses fresh jalapeños and grapefruit directly into the tequila. Best of all, this margarita is only 125 calories and 14 grams of sugar, which pales in comparison to most other margs.
Get the recipe from Fit Foodie Finds.
Low-Sugar Pomegranate Margarita
The main ingredient that makes margaritas typically so unhealthy is sugar—so what if we told you this recipe is made with no refined sugars or simple syrups? That's right, this healthy margarita recipe uses pomegranate juice as a natural sweetener, so there's absolutely no reason to feel guilty about this one.
Get our recipe for Low-Sugar Pomegranate Margarita.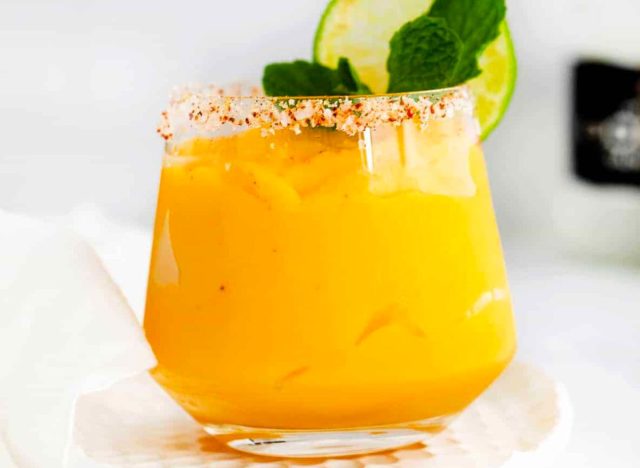 Drinking a healthy marg doesn't always mean you have to opt for your cocktail on the rocks. If you're someone who tends to concede to your sweet tooth more often than you choose to admit, then you will really appreciate this sweet treat, which blends together triple-sec, tequila, freshly squeezed lime juice, agave, and the sweet pulp of frozen mangoes. Plus, you get 2 grams of fiber with each serving!
Get the recipe from Fit Foodie Finds.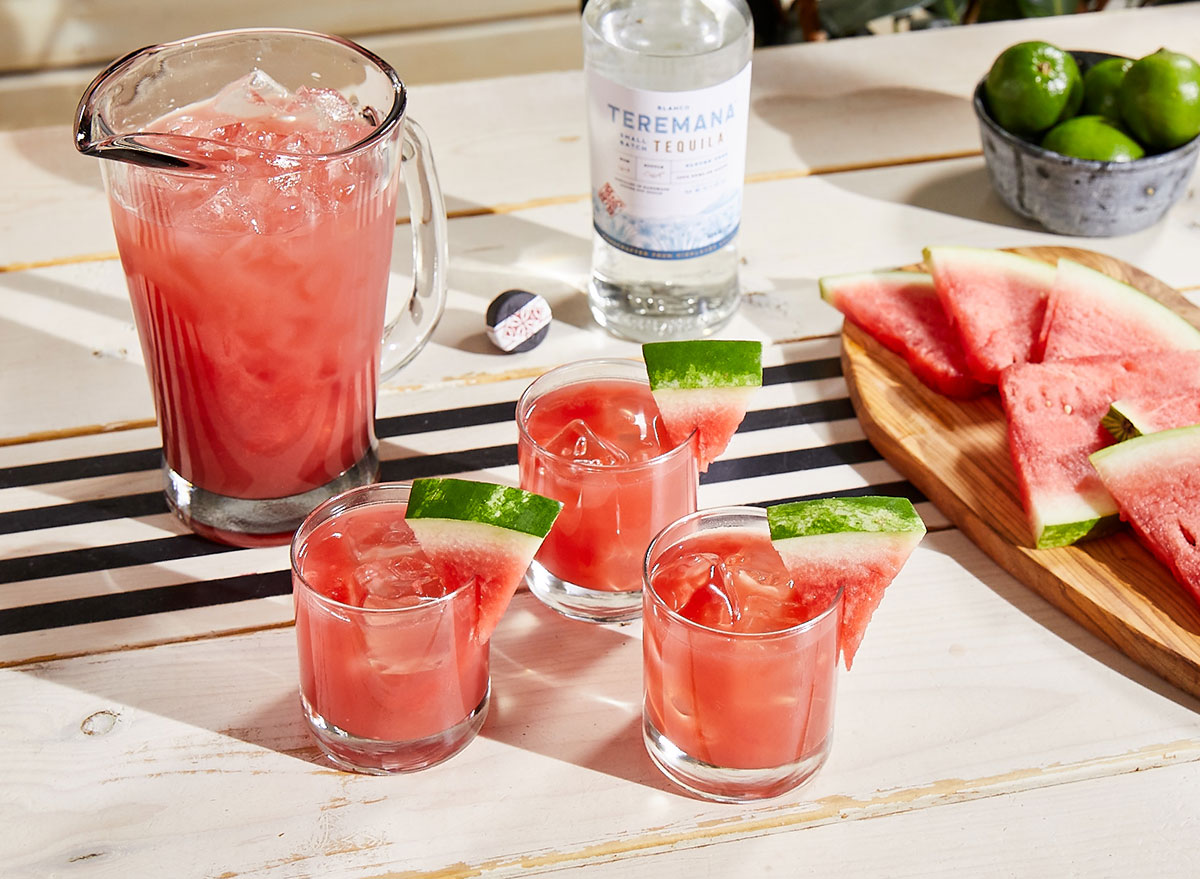 Talk about refreshing! This watermelon margarita will really take your cocktail-making skills to the next level. It's served with a watermelon slice on the slide of the glass, and the drink is one of the prettiest color pinks we've ever seen, not to mention it tastes delicious, too!6254a4d1642c605c54bf1cab17d50f1e
Get Teremana Tequila's recipe for Watermelon Margaritas.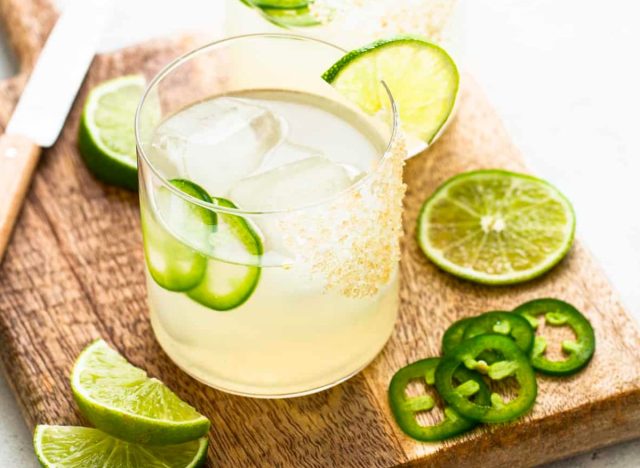 If tequila isn't your thing, try a mezcal-based margarita! Using fresh ingredients, like fresh lime juice and jalapeños, combined with mezcal, orange liqueur, and simple syrup, this cocktail is nothing short of a fiesta in your mouth. In fact, some medical experts have claimed that mezcal is among the healthiest alcohols you can drink.
Get the recipe from Fit Foodie Finds.
Avocado Pineapple Margarita
The combination of avocado and pineapple in a margarita may not be something you'd think to do, but once you give it a try, we're sure this will be a new staple. This cocktail brings together so many Mexican flavors, even beyond the avocado and pineapple. We're talking chili powder, lime, and, of course, tequila.
Get our recipe for Avocado Pineapple Margarita.
Sauvignon Blanc Margarita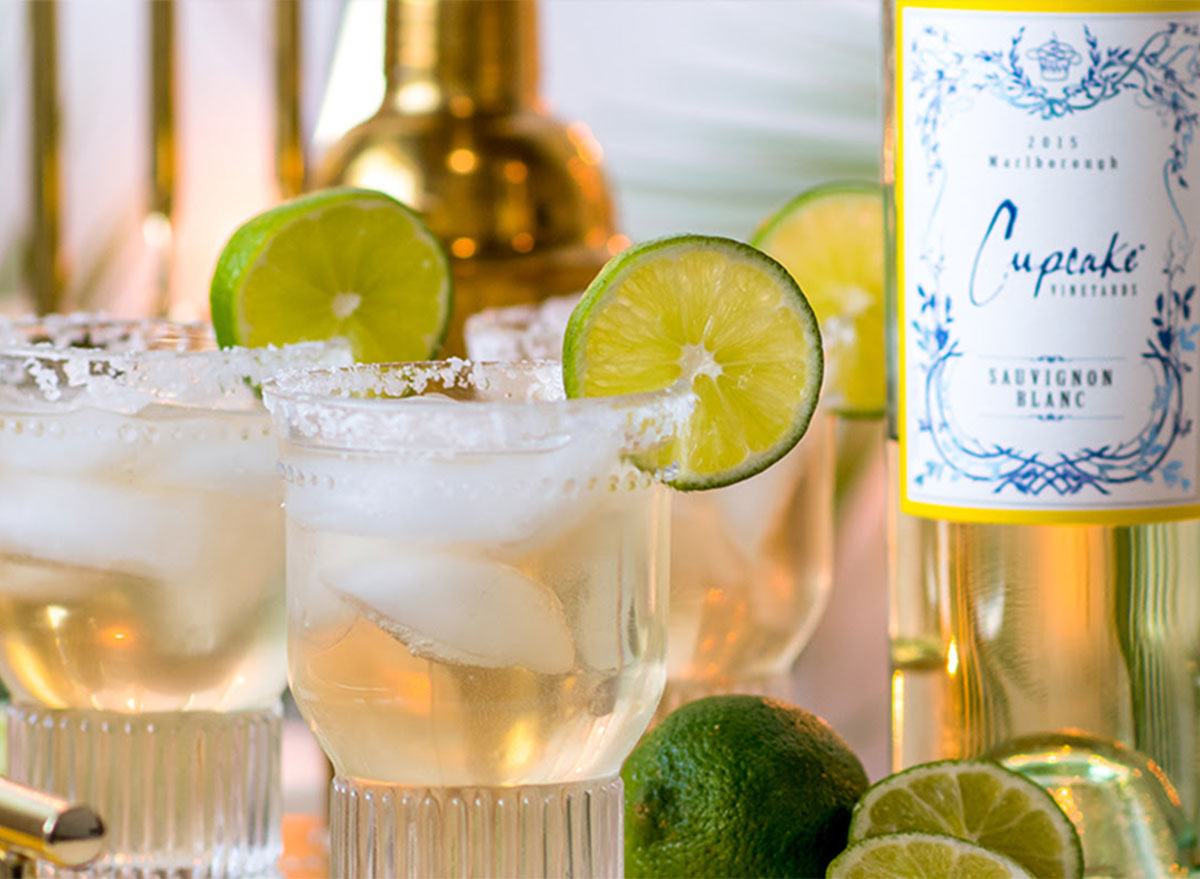 If you usually go for a sweeter margarita, this one's for you. Making this drink with the Sauvignon Blanc and a splash of agave makes it sweet without going overboard with sugars or simple syrups. Our ideal night is a glass of this drink with some tacos and guacamole, and once you try it, you'll see why.
Get our recipe for Sauvignon Blanc Margarita.
Classic Low-Calorie Margarita
We wouldn't blame you for wanting to stick with a classic. Even though sometimes it could be fun to try something a little different, there's no reason to mess with perfection—and this low-calorie margarita is certainly that.
Get our recipe for Classic Low-Calorie Margarita.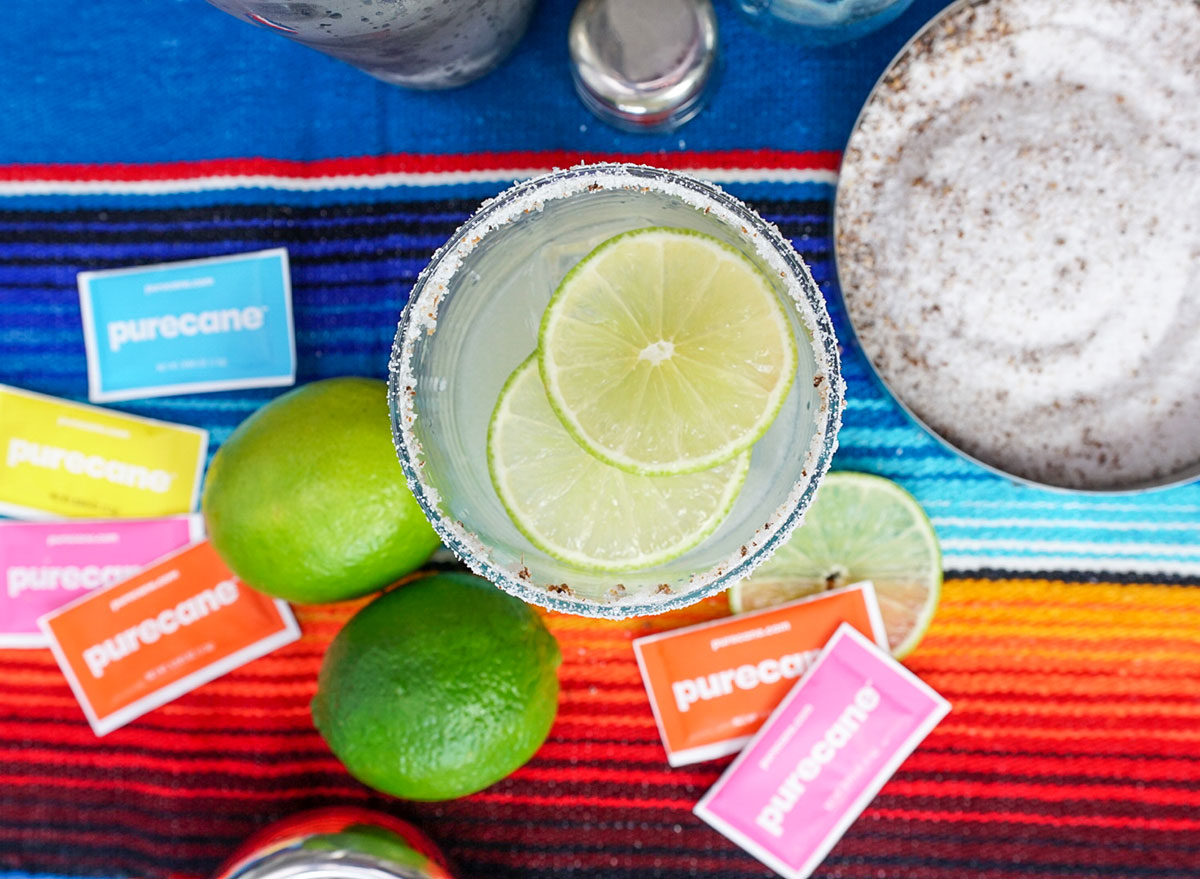 Just because you're on the Keto diet doesn't mean you can't enjoy a margarita every so often. Although typically, this cocktail can be filled with sugar, we've got a recipe that is both low-sugar (it uses Purecane sweetener) and low-carb, so you can enjoy it completely guilt-free.
Get the recipe from Couples in the Kitchen.
A previous version of this story was originally published on February 22, 2021. It has been updated to include additional copy and proofreading revisions, more recipes, and updated contextual links.
Sources referenced in this article