8 Authentic Mexican Dishes You Can Only Find at Taquerias
These menu items are full of love and tradition.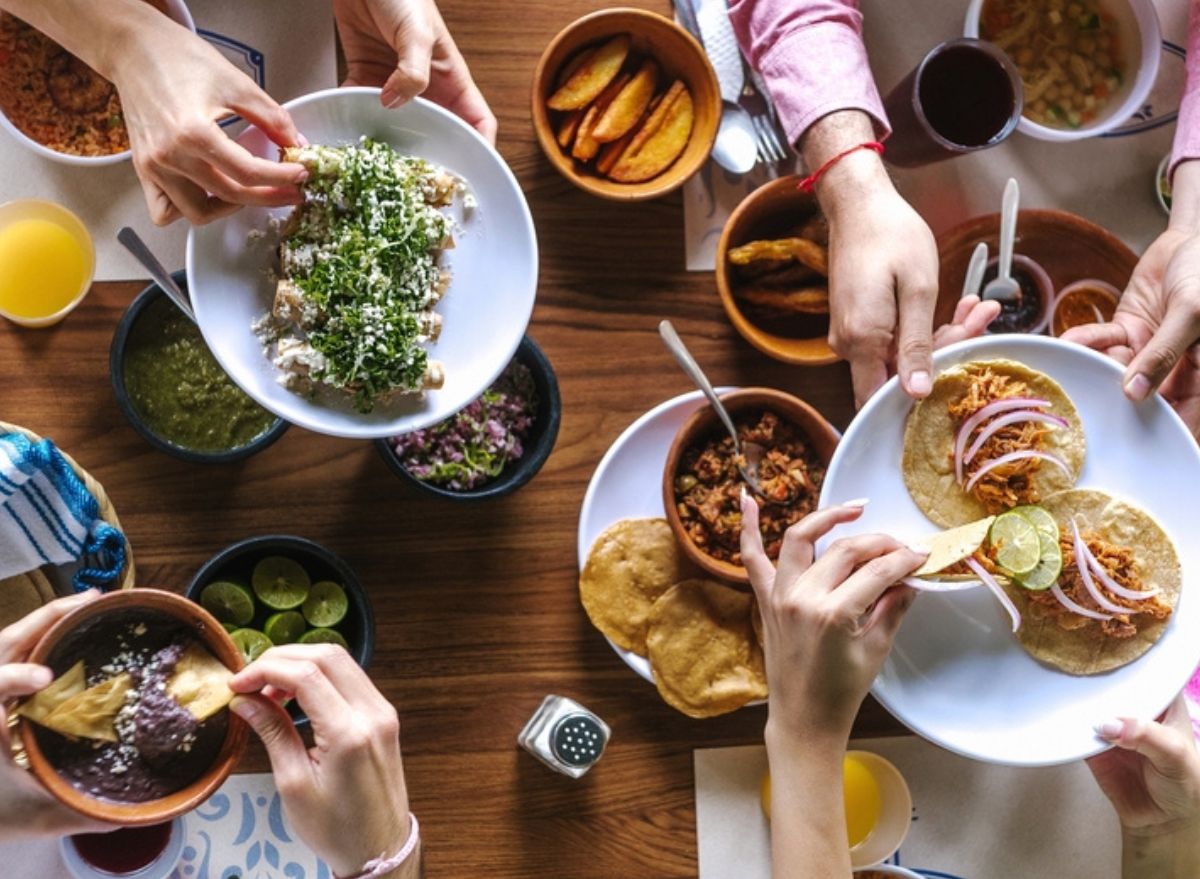 Just because the most authentic Mexican food comes from places like Mexico City, Guadalajara, or Puerto Vallarta, doesn't mean you always need to go South of the border to get the good stuff. There are many taquerias in the U.S. creating traditional Mexican dishes that have been passed down for generations. The flavors of these classic dishes will fill your heart and your belly.
Mexican food is as traditional, as it is diverse and differing, which happens to be the same for taquerias. The term "taqueria" was originally used to define street food and vendors, according to DelightedCooking. although, now it has become a word to refer to a restaurant with authentic Mexican food. These home-style establishments might serve common dishes—with a few small changes—or might showcase unique regional flavors.
What should you order? You can stick to the basics like tacos, quesadillas, or burritos, but, there are plenty of other staple dishes to discover within Mexican cuisine. If you're ready for something new, check out any of these eight authentic dishes you can only find at taquerias. Plus, don't miss 6 "Mexican" Dishes No One Eats in Mexico.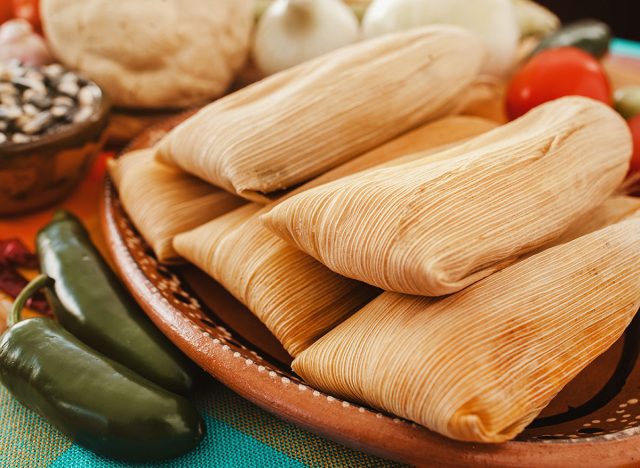 The dish is made with a soft, slightly sweet dough called masa—which is flour-like and created from finely ground corn—that is then stuffed with any of a variety of mixtures (mild, spicy, and sometimes sweet). Traditionally, tamales are made during the holiday season. Alongside jingle bells and twinkle lights, you might find the smell of fresh hot tamales steaming on the stove.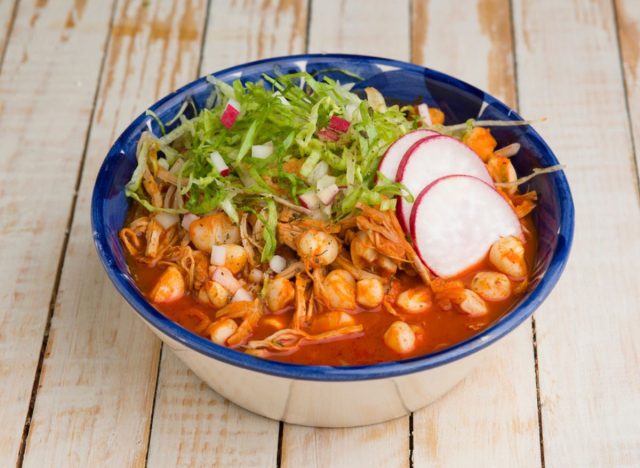 On the next rainy day this fall, head over to your local taqueria and order a warm bowl of pozole, a long-simmered soup made with pork or chicken, chile peppers, and hominy. The soup is topped with a variety of fresh ingredients that could include lettuce, onion, queso, radishes, avocado, or lime. Many of the ingredients carry over depending on region, but there are a couple of variations including red, green, white, and black pozole.
Pozole dates back to pre-colonial times and is one of the earliest dishes found in Mexicans' diet, starting around 1325 and 1524, according to El Universal. It's also been said to be somewhat of a religious or ritual meal. Originally, pozole was made in celebration of the god Xipe Tótec, who protected agriculture, fertility, and love.6254a4d1642c605c54bf1cab17d50f1e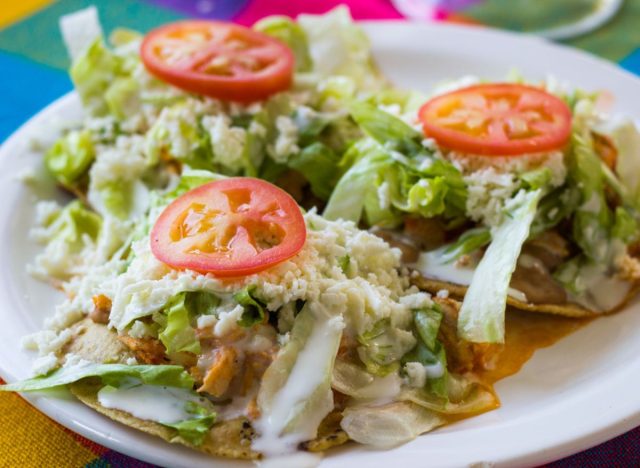 Tostadas are kind of an open-faced taco and are a great way to devour your favorite Mexican elements on top of a crunchy base. As the story goes, in Oaxaca, Mexico over 2,000 years ago, tostadas were created to make use of leftover corn tortillas. The tortillas were fried or baked to a crisp and able to be used for a few more weeks.
When you order tostadas at a taqueria, you'll find that they often come layered with beans, a meat of choice, cheese, lettuce, and salsa (and sometimes avocado or jalapenos).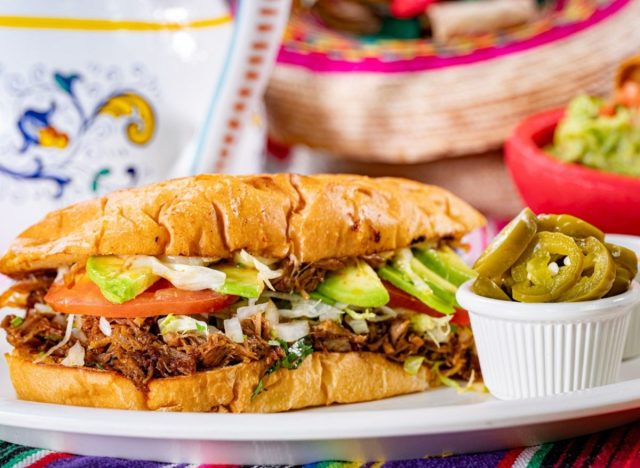 Though the word 'torta' comes from Spain and can mean many different things, in Mexico it is a warm toasted sub-like sandwich. Normally, when you order a deli sandwich in the U.S. you'll get processed sandwich meat, a spread, and the works—such as cheese, tomato, lettuce, and onion—but it's a whole new world of taste when it comes to a Mexican sandwich.
To make a Mexican torta, a fluffy bun is toasted on a grill with a generous amount of butter and then stacked with piles of meat (usually steak, carnitas, barbacoa, or chorizo) dipped in spicy salsa, with a spread of refried beans, hot peppers and jalapenos, cheese, avocado, and maybe even some pickled onions or a slice of cooked cactus. This sandwich may be prepared a little differently everywhere you go, but you can be sure that it will always be great comfort food and super filling.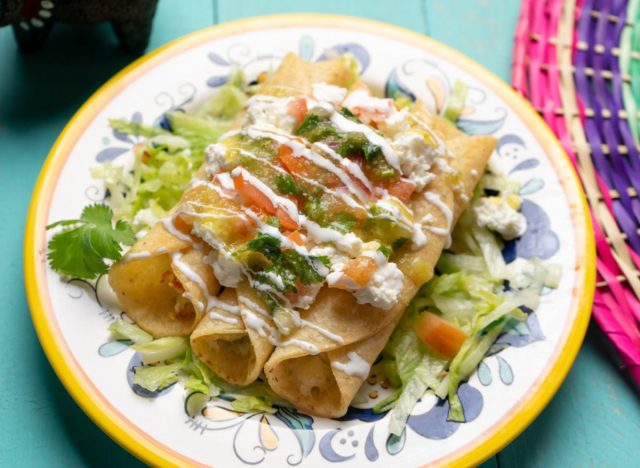 Anyone who is a big fan of taquitos will also be a big fan of flautas, their longer, thinner cousin. A traditional flauta is a tortilla stuffed with a savory filling, rolled up tightly, and then deep fried. While the filling can change from place to place, for the most part, your plate will have long, flute-shaped tortillas that are fried to golden perfection and sit on top of a combination of lettuce, cheese, sour cream, salsa, and/or guacamole.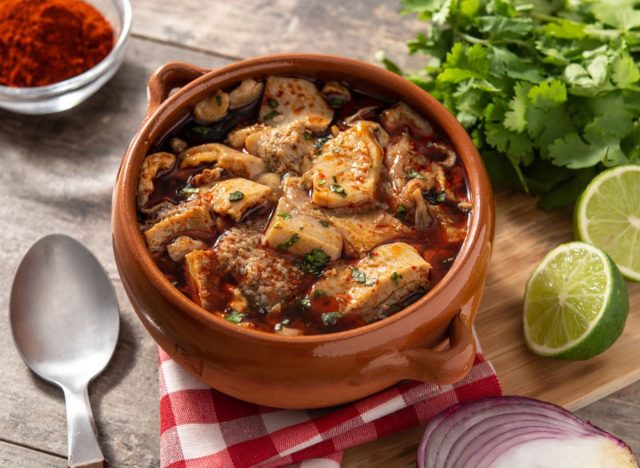 One thing about Mexican cooking is that the culture uses every part of the animal possible to create flavorful dishes. Menudo is a great example of this, as the central ingredient in this spicy chili stew is tripe—or cow's stomach—which soaks in the broth and seasons the meal thoroughly. The meat is fatty and mild, but it absorbs strong hints of onion, garlic, and hot chilies to create a well-rounded and loaded bowl of stew. It could be rewarding for your taste buds to be adventurous and try this meal at a taqueria near you.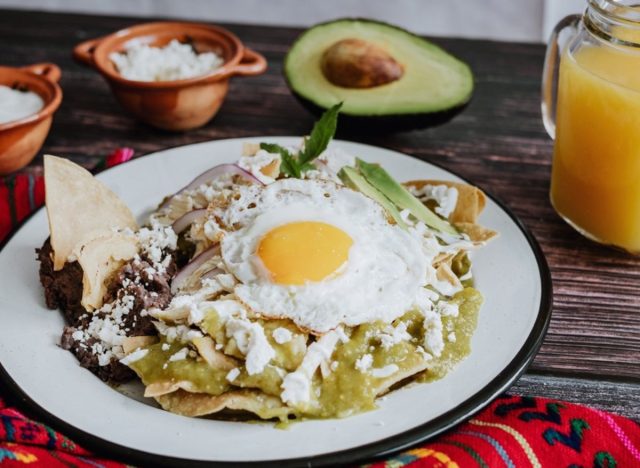 Many of the dishes listed are enjoyed for lunch and dinner, but this dish, in particular, is an authentic Mexican breakfast. Chilaquiles—a.k.a. breakfast nachos—start with a foundation of lightly-fried tortilla chips that are smothered in green or red salsa, and topped with protein, beans, cheese, and sometimes eggs. The mountain of deliciousness can be spicy or just mildly savory depending on the toppings.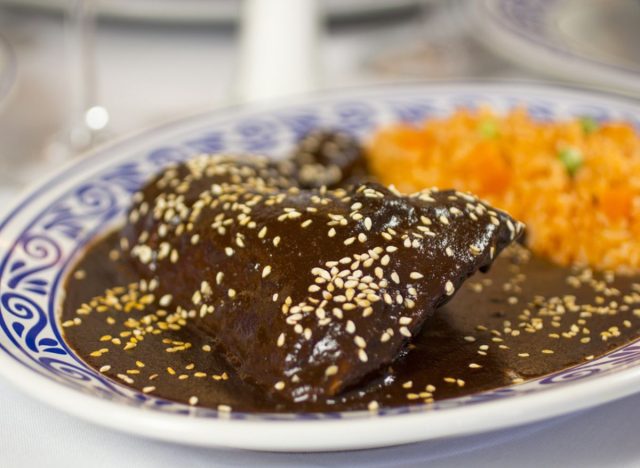 What makes mole so special in many Mexican households, is the mixture of sweet and spicy. This dish is named after the pureed sauce that the protein is drenched in, mole poblano, which includes both chocolate and chili peppers. When you order mole from a taqueria, your plate will have some sort of roasted meat at the base, with mole sauce spread far and wide, and served with a side of rice and corn tortillas. You may be surprised to see your plate has a similar look to enchiladas, but be prepared to savor this intricate sauce differently than any type of salsa you have ever had.
Jordan Summers-Marcouillier
Jordan Summers-Marcouillier was born and raised in San Jose, California and now works as a writer in New York, NY.
Read more about Jordan