15 Best Foods to Put in Your Smoothie
With the right smoothie, you can get healthy and add tummy-trimming ingredients to your cup.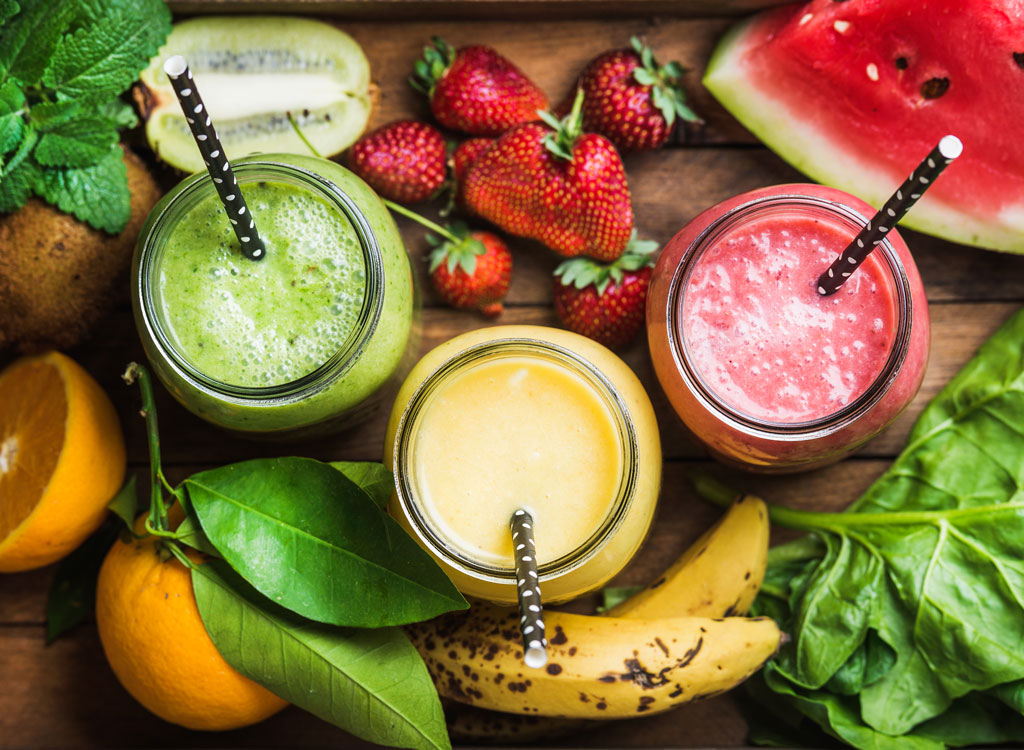 Have you been drinking a smoothie or a fast-food milkshake for breakfast?
We ask because many smoothies—whether they're bottled brands from the supermarket or blended at a juice bar or at home—are actually jam-packed with simple carbs and devoid of any filling smoothie ingredients. For instance, Odwalla's Blueberry Monster bottled smoothie packs in a staggering 54 grams of sugar and only 2 grams each of belly-filling fiber and protein! For comparison, a small Wendy's Frosty serves up a comparable 47 grams of sugar. Yikes.
If you want your smoothie to meet your health-food expectations, your best bet is to make one of these blended beverages at home.
And to make the best smoothie possible, you'll want to ditch the added sweeteners and juices and opt for these healthy smoothie ingredients instead. Each Eat This!-approved product listed below will help to boost the nutrient content of your chilled concoction with healthy fats, fiber, and protein so you can stay satiated for hours after sipping. Be sure to add these go-to products to your cart the next time you make a grocery run. Before you push start on your blender, get inspired by these 56 Healthy Smoothie Recipes.
Crazy Richard's Peanut Butter Powder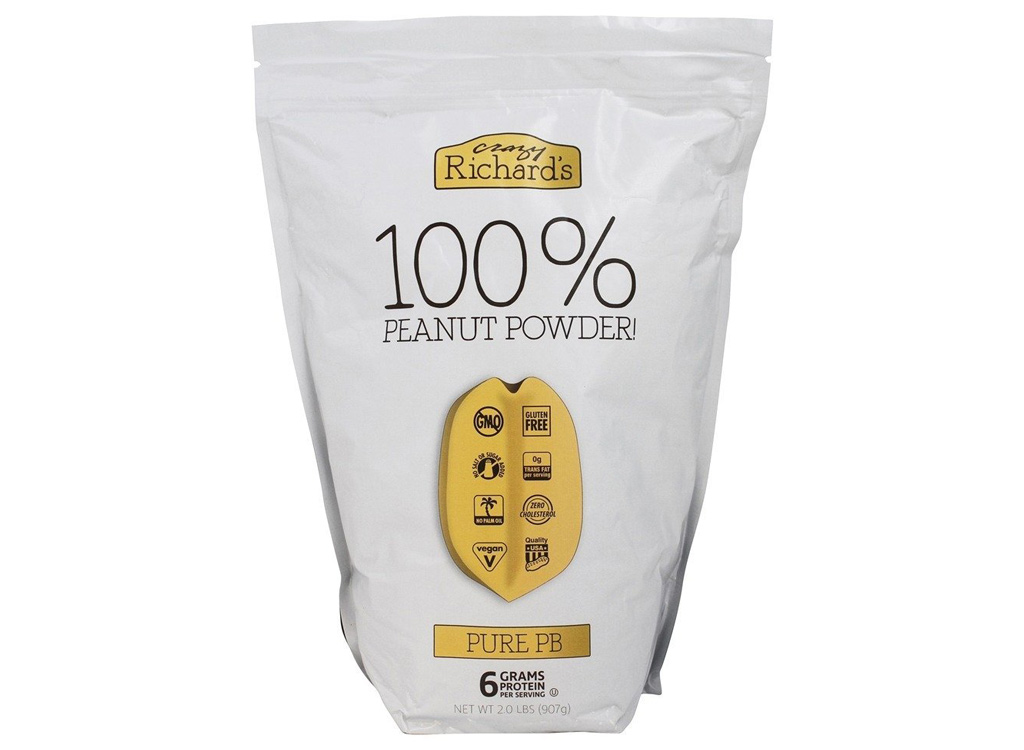 PER 2 TBSP
: 50 calories, 1.5 g fat (0 g saturated fat), 0 mg sodium, 3 g carbs (2 g fiber, 1 g sugar), 6 g protein
Peanut butter makes everything better. It's delicious and serves as a filling source of protein whether it's slathered on toast or globbed on a slice of apple. Thanks to Crazy Richard's, adding it to your next smoothie couldn't be easier. The PB powder is made from pressing about 90 percent of the oil from traditional jarred peanut butter to make an easy, scoopable powder perfect for your blender. Or if you want organic peanut butter on the fly, just add water or milk to the powder to revive the creamy consistency of the original stuff. Need more convincing? These are the 7 Amazing Things That Happen to Your Body When You Eat Peanut Butter.
$8 per 6.5 oz bag on Amazon Prime
Bob's Red Mill Nutritional Booster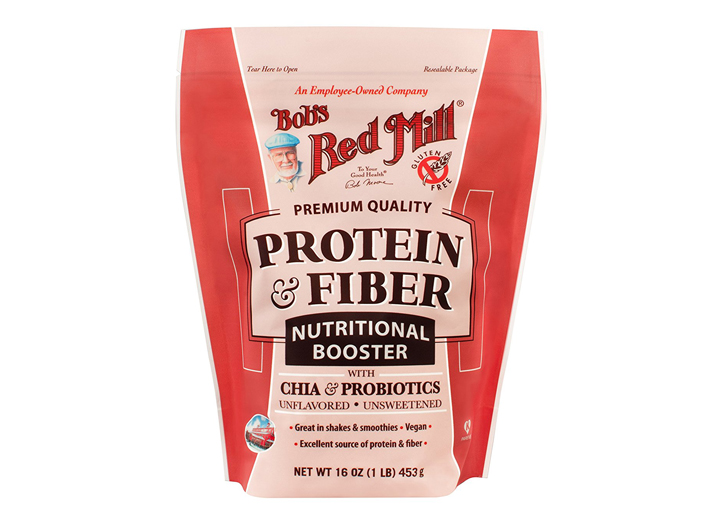 PER 41 G
: 160 calories, 3 g fat (0.5 g saturated fat), 250 mg sodium, 14 g carbs (12 g fiber, 1 g sugar), 20 g protein
We're big fans of Bob's here at Eat This, Not That!, and this smoothie booster is no exception. It's pretty much a one-stop shop for adding healthy ingredients to your cup and is made from pea protein powder, chicory root fiber, psyllium husk powder, chia seeds, and beneficial probiotics. If you've been dreaming of sipping a smoothie but want to make sure it's going to be good for your belly, look no further.
Manitoba Organic Harvest Hemp Hearts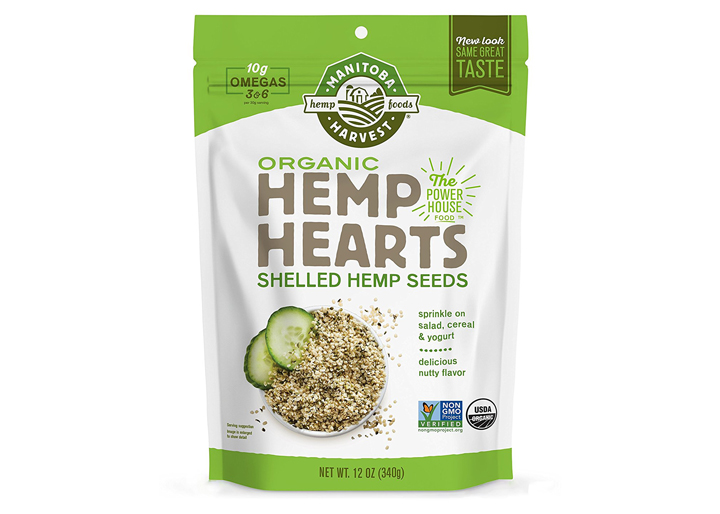 PER 3 TBSP
: 170 calories, 13 g fat (1.5 g saturated fat), 0 mg sodium, 3 g carbs (3 g fiber, 1 g sugar), 10 g protein
Manitoba Hemp Hearts are shelled hemp seeds that are perfect additions to any blender concoction. The little seeds are also ready to eat straight from the bag if you're into that. The nutritional benefits of these hearts are plenty—they contain 10 grams of plant-based protein and 10 grams of omega-3s and omega-6s per serving, which is more than a similar serving of flax or chia seeds.
Siggi's Non-Fat Plain Yogurt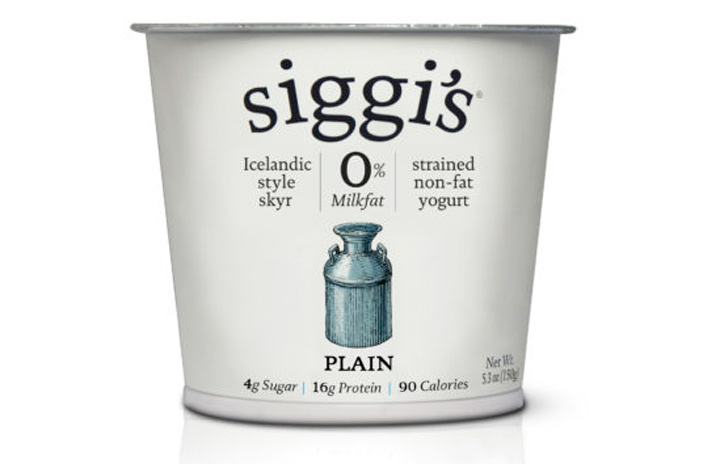 PER 1 container (150 G)
: 90 calories, 0 g fat (0 g saturated fat), 55 mg sodium, 6 g carbs (0 g fiber, 4 g sugar), 16 g protein
Move over Greek yogurt, because Icelandic Skyr is here to stay. Siggi's products are all-around delicious and great for you, but the plain nonfat flavor is the perfect way to add creaminess to your smoothies without added flavors. Unlike most grocery store yogurts, Siggi's stays away from artificial sweeteners and has less sugar than many of its rivals. It's also great for your gut and contains live cultures that will provide you with healthy probiotics. Plus, a study showed that along with helping your digestion, probiotics also help with skin conditions like eczema.
Blue Diamond Whole Natural Almonds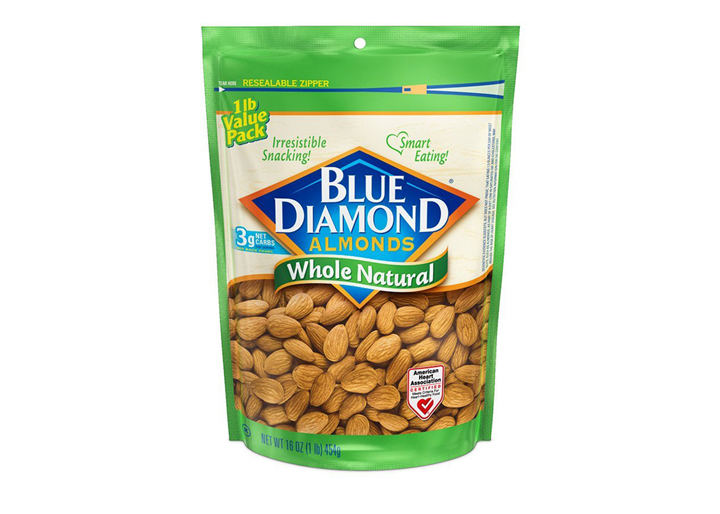 PER 1 OZ
: 250 calories, 22 g fat (1.5 g saturated fat), 0 mg sodium, 8 g carbs (5 g fiber, 2 g sugar), 9 g protein
Almonds are a great source of healthy fats and are a satiating snack on their own. Why not kick things up a notch and add them to your smoothie? Tossing nuts into your cup will help burn fat, add protein, and give you energy to make it through the day. Adding them to a smoothie is great for those who don't necessarily enjoy the taste of the nuts straight from the bag. The mild flavor of Blue Diamond almonds blends well with almost anything, so you can get the benefits minus the crunch if that's what floats your boat.
Spectrum Essentials Chia Seeds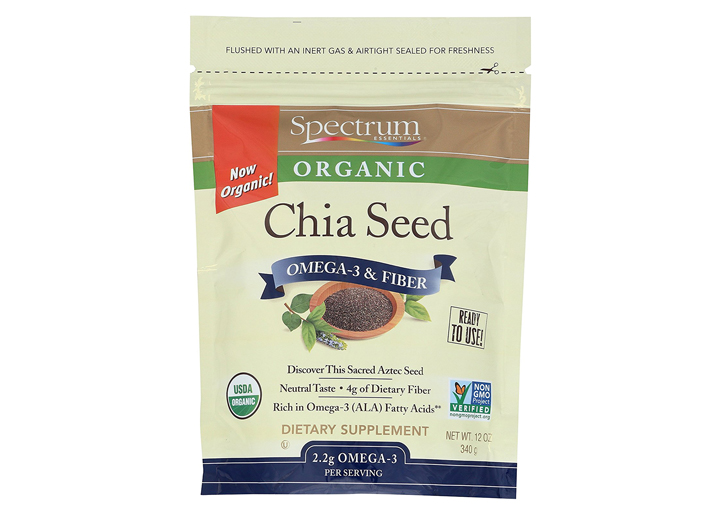 PER 1 TBSP
: 60 calories, 4 g fat, 0 mg sodium, 4 g carbs (0 g fiber, 0 g sugar), 0 g protein
Remember when the word "chia" made you think of a weird-looking plant and not little black seeds that are great for your health? Chia seeds are versatile and can be added to water, oats, pudding, toast, and especially smoothies! Spectrum Essentials offers a bag of organic seeds that boost fiber and omega-3s, so toss some in your next blend of green juice for a hidden spike of goodness. Way more functional than a Chia Pet.
Nutiva MCT Oil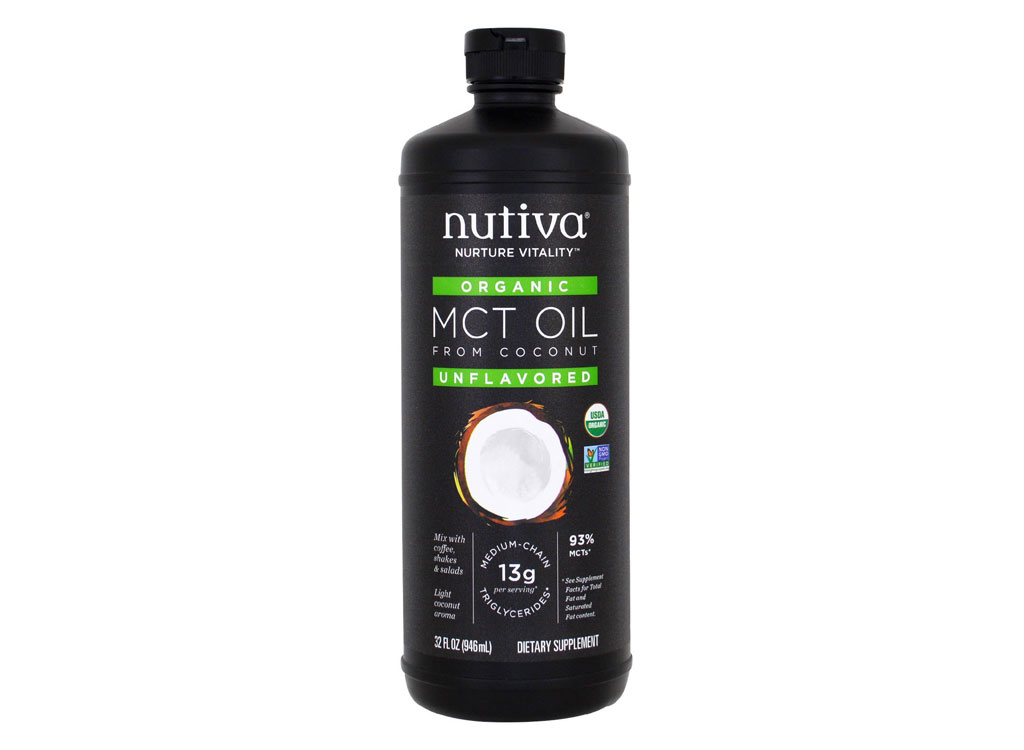 PER 1 TBSP
: 130 calories, 14 g fat (14 g saturated fat), 0 mg sodium, 0 g carbs (0 g fiber, 0 g sugar), 0 g protein
Nutiva Organic MCT Oil is similar to coconut oil because it provides you with good fats and medium-chain triglycerides, or MCTs. MCTs provide energy, support metabolism, and are burned by the body for energy and fuel. According to a study from the American Journal of Clinical Nutrition, adding MCT oil to your diet promotes weight loss. In a test group of 31 people, those who consumed MCT oil lost more weight than those who consumed olive oil. The MCT Oil is derived from coconuts, making it an excellent option for anyone following a vegan, paleo, or plant-based diet.
Aloha Chocolate Protein Powder
PER 37 G
: 150 calories, 4.5 g fat (1.5 g saturated fat), 190 mg sodium, 10 g carbs (3 g fiber, 4 g sugar), 18 g protein
Chocolate smoothies are basically like better-for-you milkshakes. After your next workout, toss a few scoops of Aloha's Chocolate Protein Powder into your blender for a rich, creamy blast of muscle-building protein. It contains 18 grams of organic plant-based protein for only 150 calories and 4 grams of sugar. Plus, it will also boost your amino acid profile and omega-3s. Because how often does someone tell you to drink chocolate?6254a4d1642c605c54bf1cab17d50f1e
Swiig Organic Rolled Oats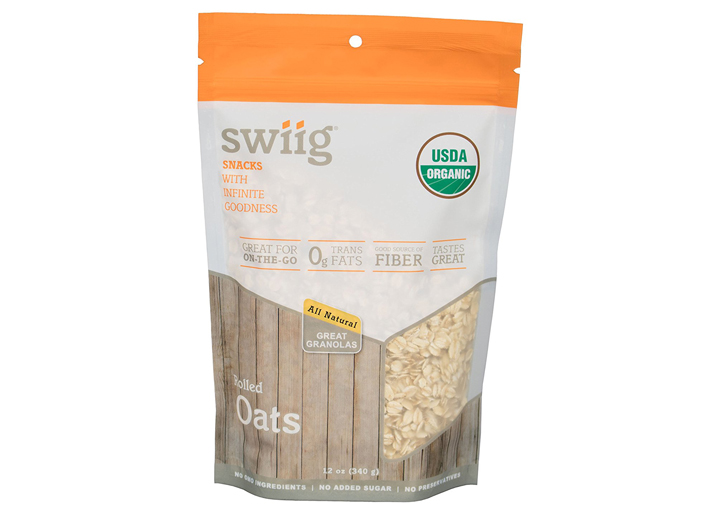 PER 1/2 CUP
: 200 calories, 4 g fat (1 g saturated fat), 0 mg sodium, 35 g carbs (5 g fiber, 1 g sugar), 8 g protein
There are more ways to include oats in your morning meal than just plain ole' oatmeal. Tossing a scoop or two of Swiig Oats into your smoothie will add fiber and make your concoction a filling meal replacement. Not a fan of oat-infused smoothies? You can use these oats to make one of these 50 Recipes for Overnight Oats instead.
Bob's Red Mill Whole Brown Flaxseed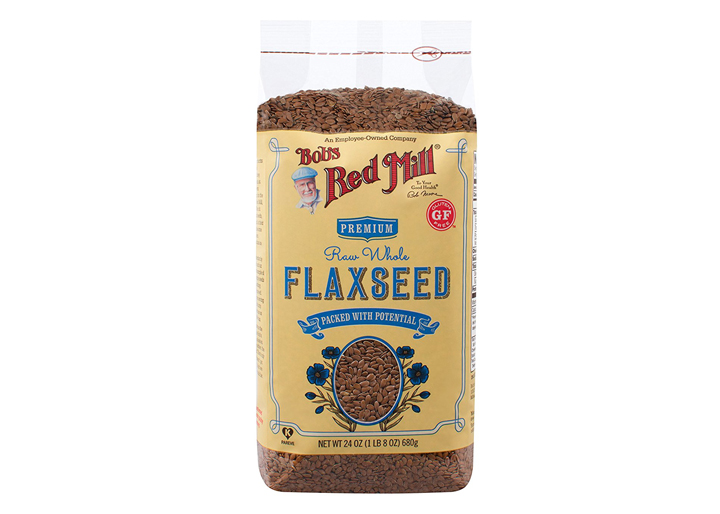 PER 3 TBSP
: 170 calories, 11 g fat (1 g saturated fat), 10 mg sodium, 10 g carbs (8 g fiber, 0 g sugar), 6 g protein
If you ever want to add some muscle-building power to your blender, look no further than Bob's Red Mill. While ground flaxseed meal is also an option, we recommend freshly grinding the seeds before each use because doing so ensures you get the most nutrients out of the seeds. The seeds provide your body with plenty of plant-based omega-3 fatty acids and add a nutty flavor to your beverage. What's more, it also helps lower blood pressure in hypertensive people!
Viva Naturals Organic Coconut Oil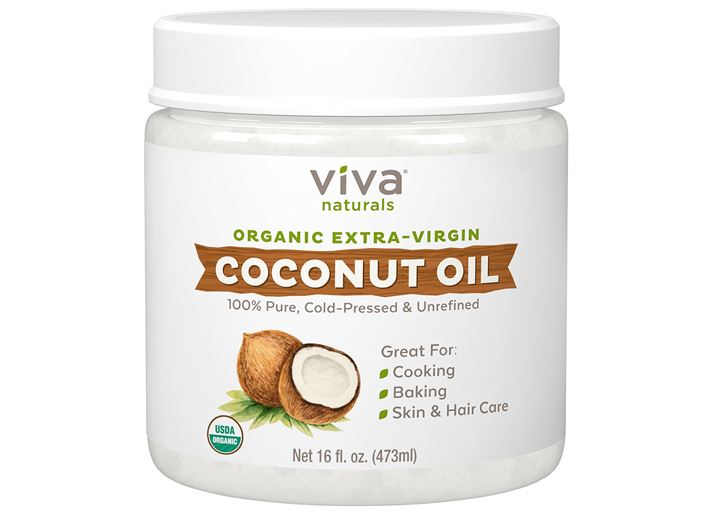 PER 1 TBSP
: 132 calories, 15 g fat (12.5 g saturated fat), 0 mg sodium, 0 g carbs (0 g fiber, 0 g sugar), 0 g protein
People are brushing their teeth with it, cooking with it, slathering it on skin and hair—its many uses and plentiful benefits make coconut oil just about the handiest thing to have on hand at home. But rather than taking shots of the stuff, try adding it to your morning smoothie. Viva Naturals Organic is cold-pressed to maintain the healthy benefits of the fruit. It will be virtually tasteless stacked up against the flavorful ingredients you throw in, but you'll still reap its many benefits.
Simply Organic Cayenne Pepper
PER 1/4 TSP
: 0 calories, 0 g fat (0 g saturated fat), 0 mg sodium, 1 g carbs (0 g fiber, 0 g sugar), 0 g protein
Add a little spice to the mix by sprinkling cayenne into your cup. It's surprisingly the perfect addition to many smoothies because the red spice brings out the sweetness in your other ingredients. Plus, capsaicin, the natural compound that gives chili peppers that beautiful burn, has been proven to reduce belly fat, suppress appetite, and kickstart the body's ability to burn food as energy. Daily consumption of capsaicin improved belly-fat loss and reduces the likelihood of obesity, a study published in Open Heart found. All good reasons to make it hot!
Muuna Low Fat Plain Cottage Cheese
PER 150 G
: 120 calories, 3 g fat (2 g saturated fat), 460 mg sodium, 4 g carbs (0 g fiber, 4 g sugar), 19 g protein
Cottage cheese gets a bad rap for its consistency, but it's way more than just that weird thing your grandma always ate straight from the tub. Muuna cottage cheese comes in single serve containers and offers 10 different flavors, deeming it the perfect addition to your smoothie. It's full of calcium and protein and also contains probiotics that will improve gut health!
365 Organic Baby Spinach
PER 2 CUPS
: 14 calories, 0 g fat (0 g saturated fat), 47 mg sodium, 2 g carbs (1 g fiber, 0 g sugar), 2 g protein
Green smoothies are very trendy and totally Insta-worthy, but if you need more reason than that to toss Popeye's favorite snack in your blender, it's great for weight loss, too. Spinach is virtually undetectable when you add fruits like apple or strawberries to the mix. Need more evidence that this leafy green is your flat-belly friend? In a study from William Paterson University that compared the 47 top superfoods by nutrient volume, spinach earned fifth place, beating out kale, arugula, and romaine.
Yogi Pure Green Tea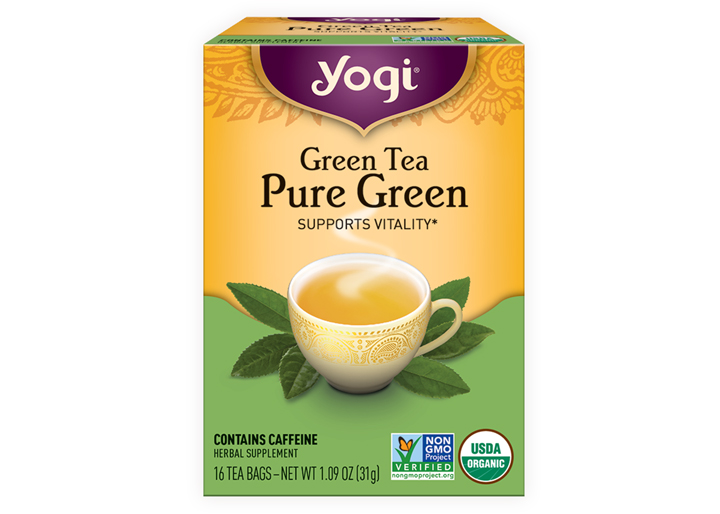 PER 8 OZ
: 0 calories, 0 g fat (0 g saturated fat), 0 mg sodium, 0 g carbs (0 g fiber, 0 g sugar), 0 g protein
We're huge fans of the all-around slimming effects of tea, but adding green tea to your smoothie will add essential antioxidants and provide some serious waist-slimming power. Studies have shown again and again that this tea fights obesity, diabetes, and even cancer while strengthening your immune system and helping burn fat. But all that aside, Yogi adds freshness and a tasty twist yet is mild enough to blend well with whatever other ingredients you choose. For more Eat This-approved brews, check out our 5 Best Teas for Weight Loss.