9 Things You'll Never Be Allowed to Do in Restaurants Again
There's a new dining normal—and it's vastly different than what you've ever experienced before.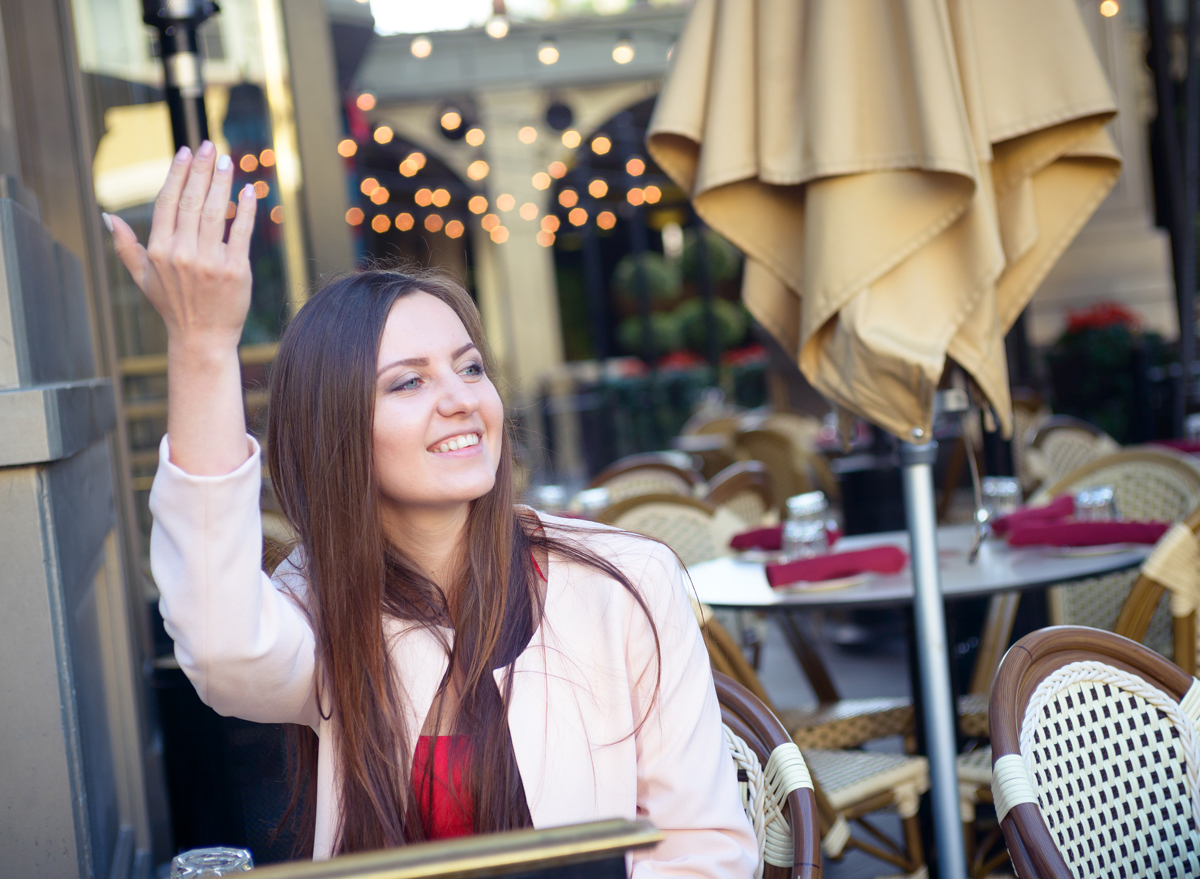 It's Friday night. After a long week, it's a welcome change of pace to take your family out to dinner at your favorite restaurant in town. In a post-coronavirus world, that night out is going to look a little bit different than what you're used to.
As you walk up to the restaurant, you pass by the same curbside pickup table you go to on weeknights to get your food. Once inside, you're met by a hostess wearing a facemask and standing behind a plexiglass divider, who directs you to your table. There, only half the tables will be full.
This is what the new dining normal will looks like, and your normal restaurant routine will diverge even more when it comes to what you can do once inside. If you want to know what your sit-down experience will look like as restaurants reopen during the coronavirus pandemic, keep reading. Then, sign up for our newsletter to get the latest COVID-19 food news delivered straight to your inbox.
Have large dinner parties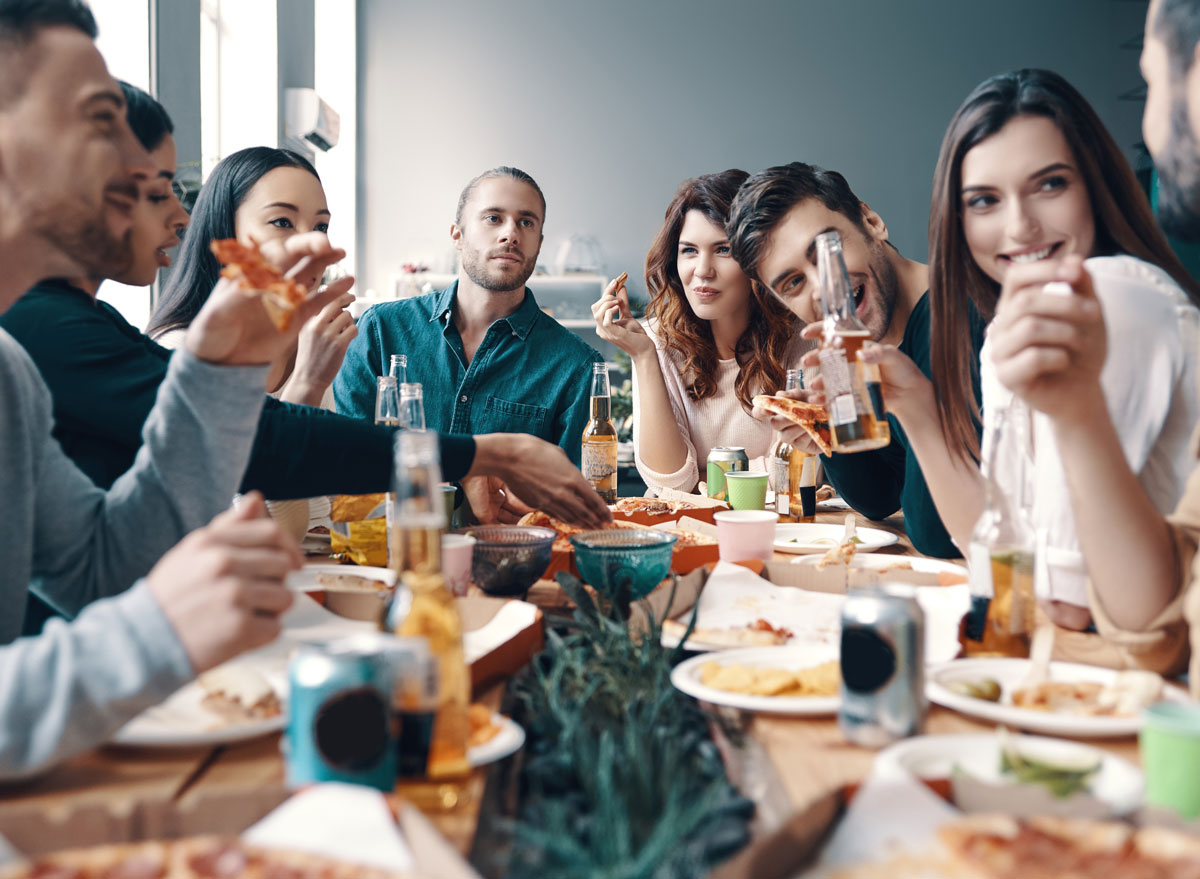 Whether you often meet up with friends to celebrate birthday parties or you simply have a large family, don't expect that you'll be able to make a reservation at a restaurant when dine-in services reopen. The CDC recommends restaurants limit party sizes, and some states, like Mississippi and New Hampshire, have even gone so far as to issue specific guidelines that limit tables to as few as six people. While some states have said you can seat large groups if all individuals live in the same household, it is unclear how the host will determine that. If you're still on the fence about heading back to restaurants, check out The Weirdest Things Restaurants Are Doing to Bring You Back.
Wait in the restaurant until your table is ready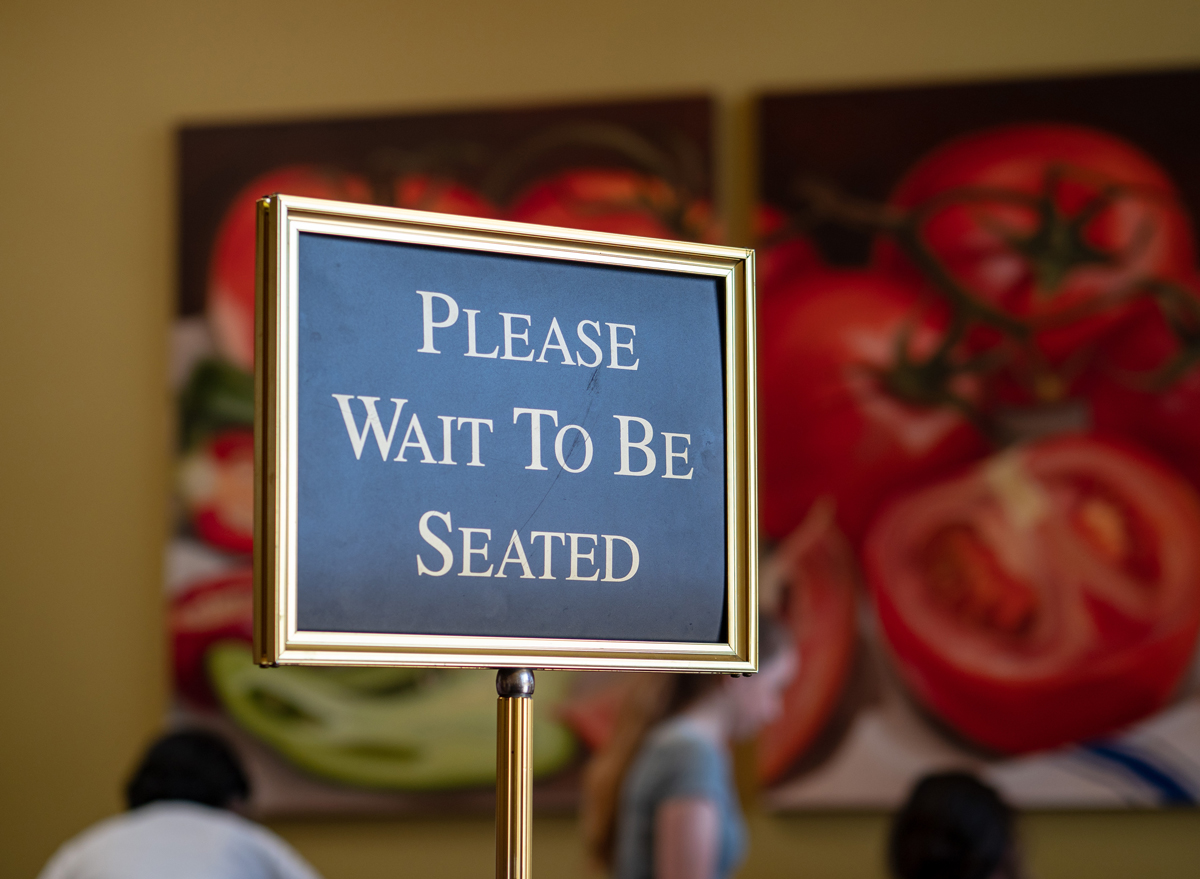 Your host will direct you to wait outside or in your car and he or she will call you in (or text you) when your table is ready. (Restaurants will likely have to do away with those vibrating, flashing buzzers due to the inability to sanitize properly between the exchange from patron to host.) It will be almost impossible to congregate in such a small vestibule while maintaining 6-foot social distancing standards. Maybe you can take the time to go for a walk around the block. If that's the case, you'll need these 30 Tips When You're Walking for Weight Loss.
Stand at the bar for a drink before you're seated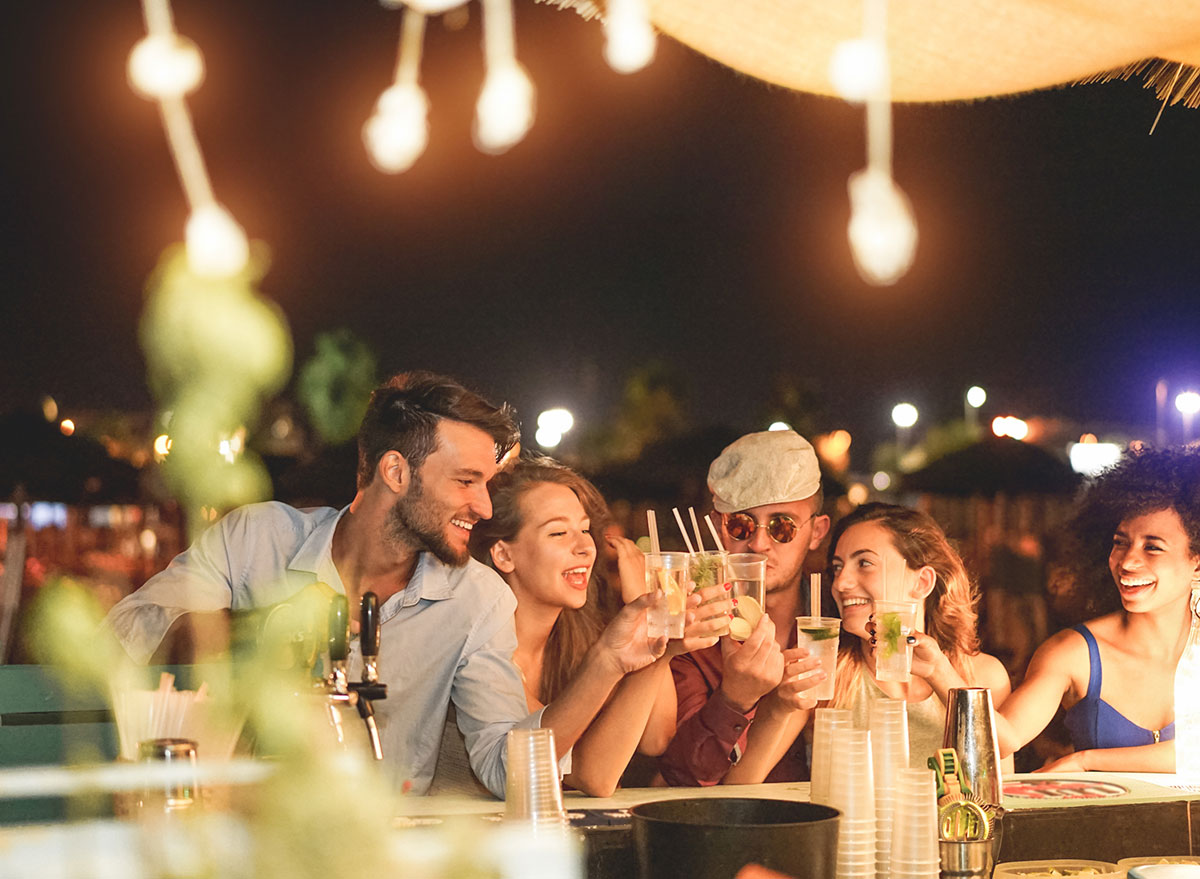 That is, of course, if the bar area is even open. States like Arkansas are allowing restaurants to reopen for dine-in service, but the bar areas will remain closed. In subsequent reopening phases, you can expect to see bars open, but they will have limited capacity that will have to follow social distancing guidelines. Some barstools will be closed off, and, based on the fact that restaurants are already limiting guests from waiting in restaurants for their table, it's highly unlikely that you'd be allowed to congregate at the bar with your party to share a drink.
Fight over splitting the bill
To reduce the amount of time and physical contact between patrons and waitstaff, many restaurants will be allowing customers to order and pay for food on their phones. With such an easy, personalized payment system, you're not going to be able to throw your credit cards at the waitstaff and have them awkwardly laugh as you play a game of credit card roulette.6254a4d1642c605c54bf1cab17d50f1e
Serve yourself food at a buffet
Salad bars, pasta bars, buffets… These will all be a thing of the past post-COVID. Leaving food out for anyone to serve themselves when there's no protective barrier to prevent mishandling food is a recipe for infection. The same goes for any common self-servicee condiment or utensil stations. To understand the reasoning behind this change, you have to watch how fast germs spread in restaurants.
Come in for the early-bird specials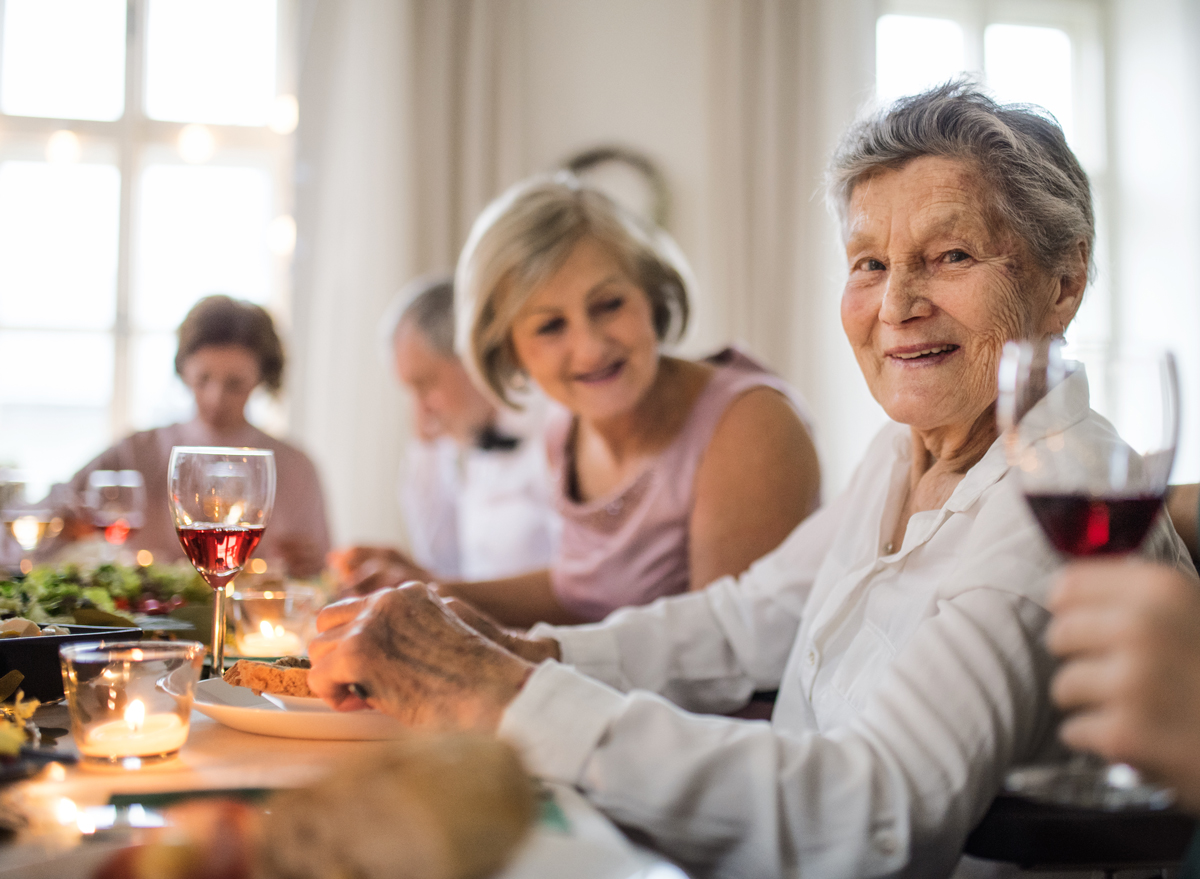 When you skipped lunch and need to eat before normal dinner hours, early-bird specials are a great antidote. Prices are lower, the restaurant is less crowded, and the dining experience is overall much more pleasurable. However, some states are recommending that restaurants consider implementing separate operating hours for the elderly and vulnerable customers. That might mean that those early-bird hours will be reserved specifically for those people who they were intended for in the first place: the elderly.
Walk in and expect to be seated
When coronavirus restrictions are lifted, you may expect to see your local Italian restaurant become as exclusive as a three-star Michelin restaurant in New York City. In Nevada, reservations will be required to ensure social distancing protocols are met. Additionally, staggering reservations will allow the waitstaff to properly clean and disinfect tables between parties.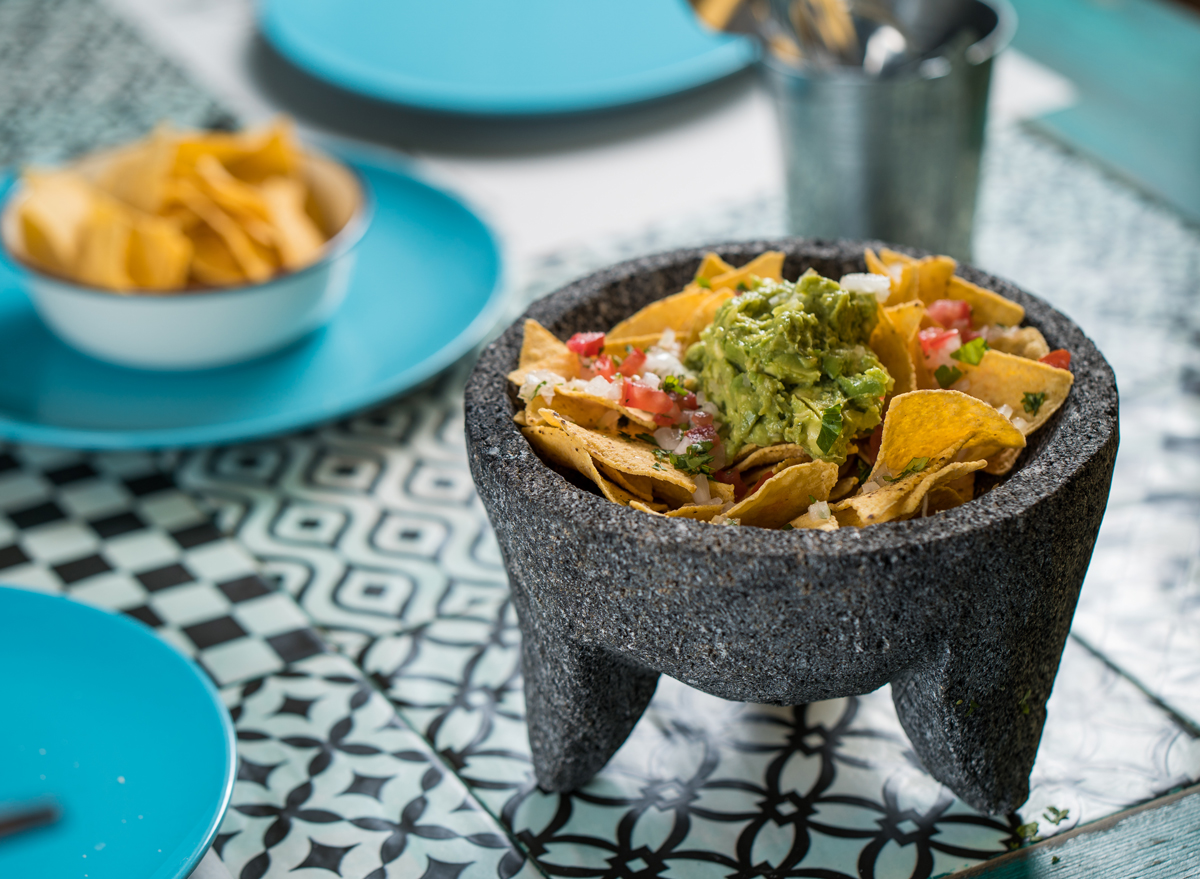 Made-from-scratch guacamole? Freshly grated parmesan cheese? Hand sliced meat? Tableside food preparation will be missing from restaurant experiences after COVID-19, according to California state guidelines.
Be seated before your whole party arrives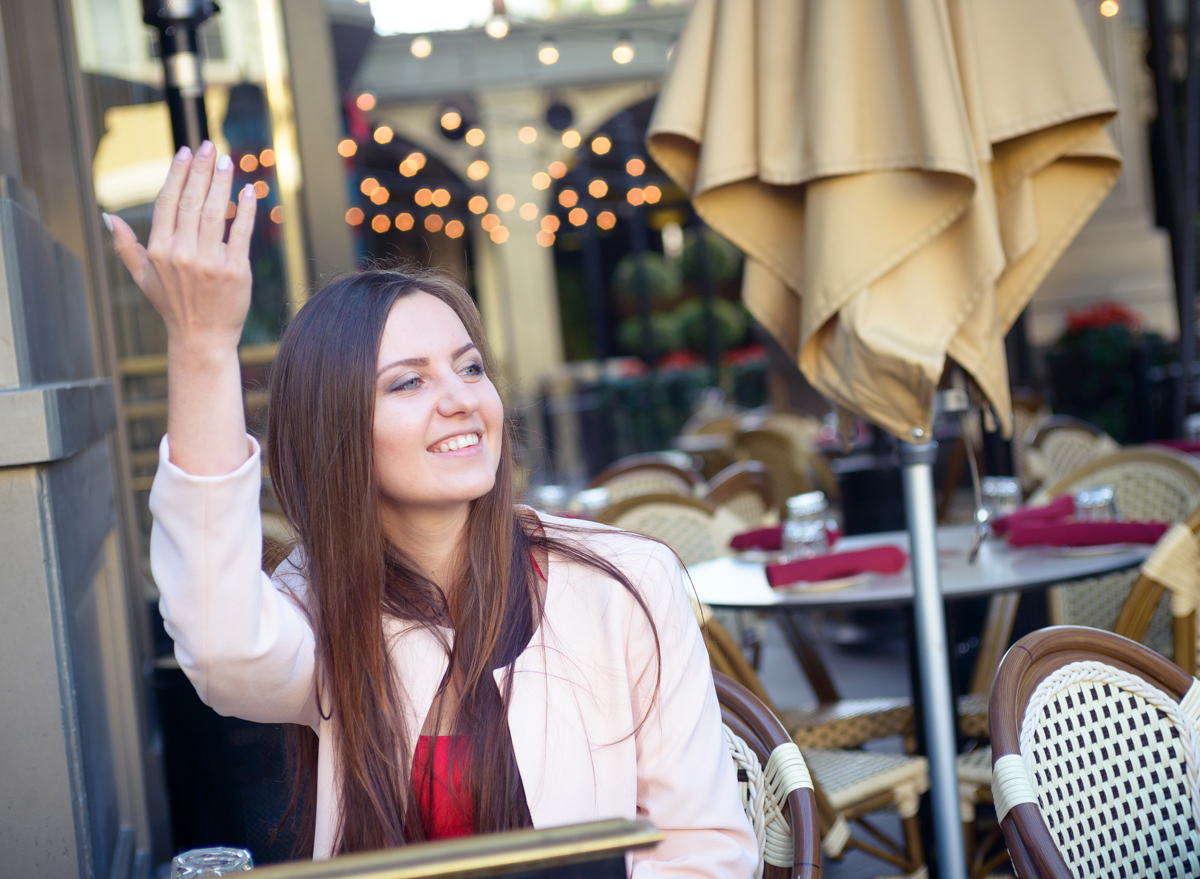 "Is everyone in your party here?" You may have heard this at some restaurants in the past, but this might be something you see more frequently at every restaurant moving forward—and it's already happening in California. Because state governments want to limit tables to groups of people from the same household or patrons who have asked to be seated together, it makes sense that restaurants will be required to seat groups at the same time. If you all live together, you'd obviously come at the same time. Be informed the next time you go out and make sure you know about the 20 Places You're Most Likely to Catch Coronavirus.
Olivia Tarantino
Olivia Tarantino is the Managing Editor of Eat This, Not That!, specializing in nutrition, health, and food product coverage.
Read more about Olivia