The Absolute Best Way to Cook Burgers on the Grill
Cook your patties to perfection with the help of these expert-recommended tips.
Summer is the season of grilling, and one of the most delicious summer grill staples is a thick, juicy burger. The problem is, attaining a well-cooked, properly seasoned, and perfectly formed burger is easier said than done. Mastering how to grill burgers takes some technique, which is why we asked two experts for their best tips on cooking the absolute best burgers on your grill this summer.
Whether you're a grilling newbie or grill master looking for extra tips, here's what you need to know. Read on, and for more, don't miss The Absolute Best Way To Cook Steak on the Grill, According To Culinary Experts.
Meat quality matters, so choose wisely
A good burger starts with good meat so choose wisely. "Although ground meats that are lower in fat can offer some health benefits, fat plays a role in flavor and helps patties maintain their shape," says Amber Pankonin, MS, RD, LMNT, CEC, Registered Dietitian and Certified Executive Chef.
She suggests that you find a local butcher to purchase from so that you know where the meat was sourced from and when the meat was ground. "The fresher the meat, the better your burger will taste," says Pankonin.
Use 70/30 ground beef
According to Laura Mason, chef and creator of Love Chef Laura, the best lean meat-to-fat ratio is 70/30. "Purchase ground beef with 70% lean meat and 30% fat. This ratio can be found at all grocery stores. The higher fat content will give you an excellent juicy, and flavorful burger," says Mason.
If you can't find 70/30 ground beef in the fresh meat section of your grocery store, ask the butcher behind the counter. "They usually have no problem creating custom meat orders," adds Mason.
The patty size should match the bun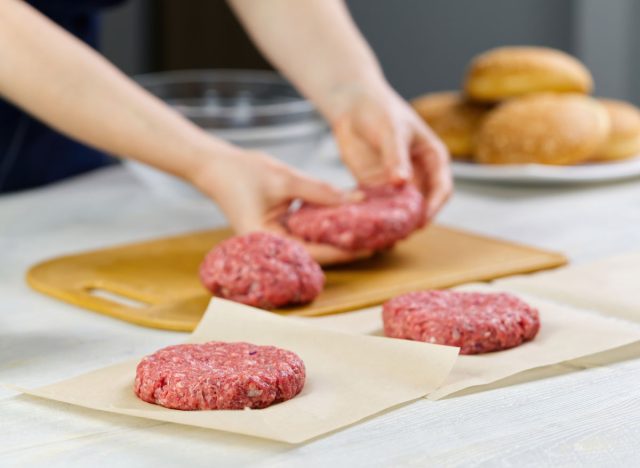 The burger patty should fit or fill the bun you pair it with. "It's important to remember that the patty will shrink as it cooks, so keep this in mind especially when selecting the appropriate size bun," says Pankonin.
She notes that the perfect patty before cooking should ideally weigh between 6 to 8 ounces if you are using a regular-size bun. "Purchase a scale so that your burger patties are nice and uniform in size and shape as this can also help when it comes to cooking," says Pankonin.
Press a thumb size indent in the center of the burger patty
This trick will help prevent your burgers from puffing. "When burgers are cooked on the grill, they tend to puff up and become round. Placing a small indent about the size of your thumb in the center will prevent that rounding and ensure your burger stays flat and cooks evenly," says Mason. "When forming burger patties, press your thumb gently in the center, making sure not to poke a hole."
Season with Kosher salt and pepper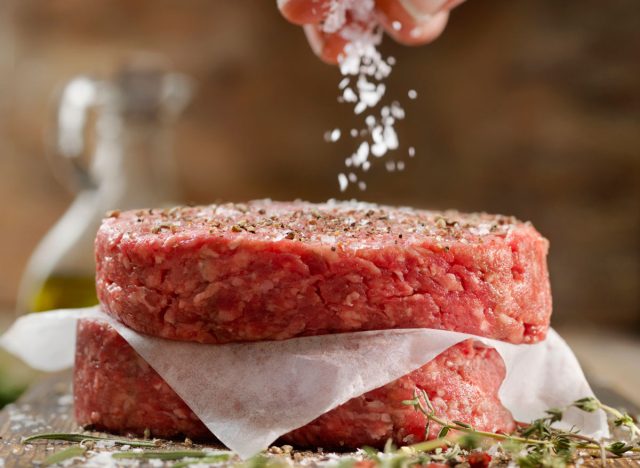 There is no need for a lot of fancy seasonings when it comes to beef burgers.  "If you choose to add several seasonings or other ingredients, it becomes meatloaf and not a burger," says Pankonin.
Only season after you form the patties
"Only season after patties have been formed and not before," says Pankonin. "Lightly sprinkle a layer of Kosher salt and pepper on both sides. In fact, you can season after you've placed the patties on the grill or pan and then again after you've flipped."6254a4d1642c605c54bf1cab17d50f1e
Unless it's a smashed burger, don't smash it
Smashing is a no-no while on the grill. "Once you have quality meat and you've formed the right amount of meat into a flat patty, there is no need to smash the burger once you've placed it on the grill. Doing this can dry out the meat leading to a dry and tougher burger," says Pankonin.
The less you handle the meat, the better
"If you do choose to flatten or smash once you've placed it on the grill or pan, smash it early so as to not disrupt the cooking process and only flip once using a stainless steel spatula," says Pankonin.
Use a meat thermometer to measure the correct temperature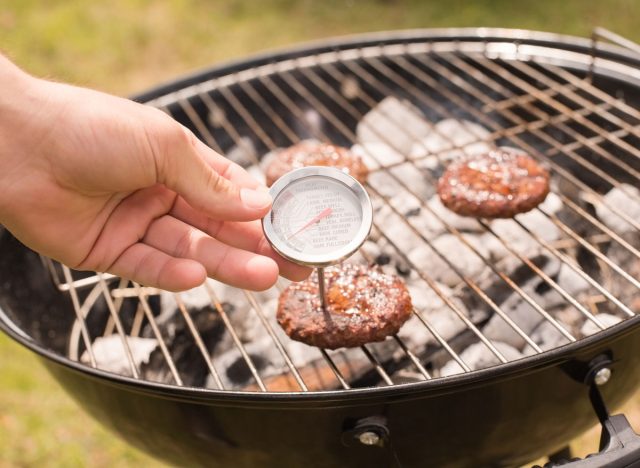 It's important to cook burgers to the proper temperature in order to avoid foodborne illness. "This is the one mistake I see so often at grill outs! The grill master is not sure if the burgers are rare, medium, or well done so they will cut into the burger, creating a crumbly mess," says Mason. "If you do not know when a burger is at the desired doneness, use a meat thermometer to help guide you."
Pankonin adds that a burger is not the same thing as a steak when it comes to avoiding foodborne illness, as grinding meat can take bacteria and distribute them throughout the product.
"Cook your burger to 155°F, pull, and then allow the carry-over cooking process to heat to the recommended temperature of 160°F for ground meats," she says.