7 Restaurant Chains That Make the Best Smash Burgers
Who wouldn't love a juicer, more flavorful burger with a perfectly crispy edge?
When you roll up to a hamburger chain, many restaurants will have stacks of pre-formed patties in perfectly round discs waiting to be grilled. While this may help to shave a few seconds off of the burger-making process, it can ultimately fall flat when it comes to flavor and texture. What many burger chains have discovered is that it pays off big time to actually hand-smash, or hand-press ground beef into a patty once it is added to the heat.
A smash burger involves the cook placing a mound of ground beef, typically in a pre-portioned cube or ball, onto a flat-top grill or griddle and smashing it flat into the shape of a patty. Some restaurants have custom-made smashers, but a spatula will also do the trick if you are looking to smash some burgers yourself. The result is a perfectly juicy meat encased in a brown crust that many think is the superior way to enjoy a hamburger, as opposed to already-flattened patties.
Who wouldn't love a juicer more flavorful burger with a perfectly crispy edge? If you want to seek out the restaurant chains that go the extra mile to cook up what is considered by many to be the superior hamburger, keep on reading. These burger chains mean serious business when it comes to smash burgers.
Smashburger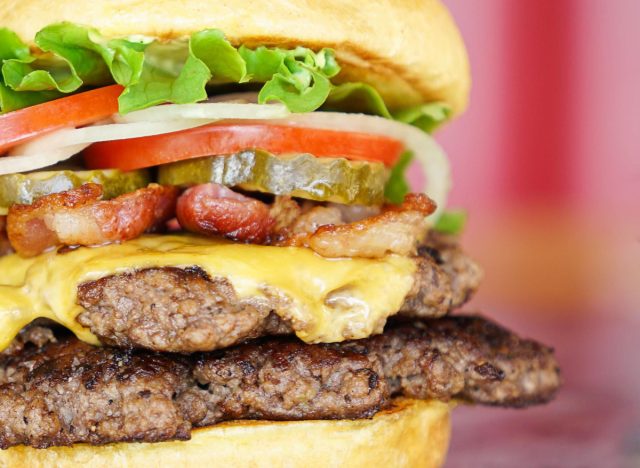 When talking about smash burgers, one chain immediately comes to mind for many. As its name implies, Smashburger serves up its specialty smashed hamburgers made with fresh, never-frozen Certified Angus Beef. According to its website, Smasburger even developed its own custom metal smasher. Hand-smashing each patty ensures "the most flavorful, crave-able, juicy sear." While Smashburger is certainly not the only burger chain to cook hamburgers in this manner, it definitely lives up to its name with its commitment to only serving hand-smashed patties with carmelized crispy bits cooked right in.
Shake Shack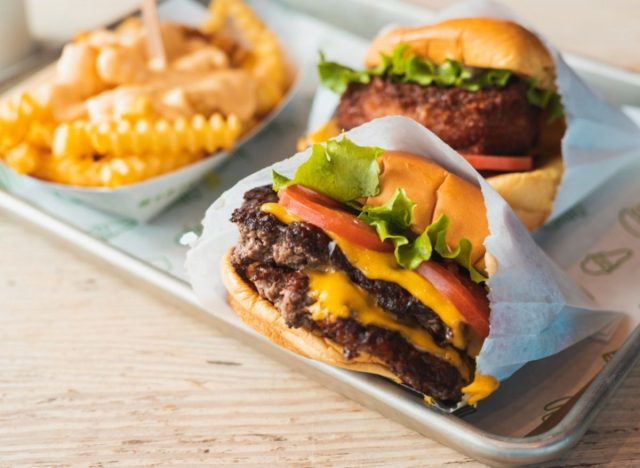 According to Chicago Tribune, Shake Shack was one of the pioneers of modern-day burger smashing. Mark Rosati, culinary director at Shake Shack, shared with Epicurious how the smashing process allows the thinner patty to caramelize in its own fat. Shake Shack uses a custom-built metal smasher, but Rosati notes that prior to its development, Shake Shack's cooks would smash the old-fashioned way with metal spatulas.6254a4d1642c605c54bf1cab17d50f1e
Freddy's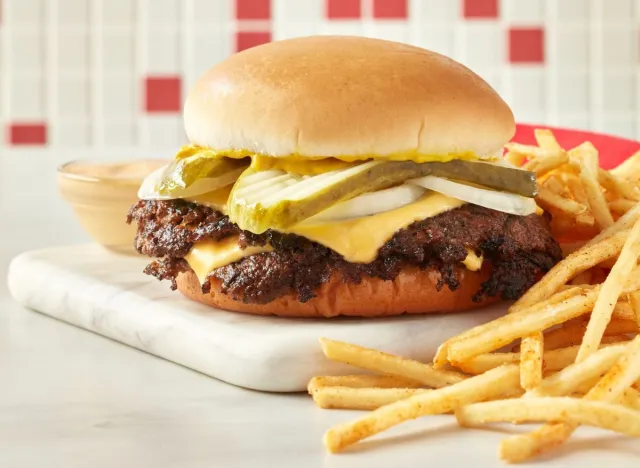 Freddy's kicked things off in 2002 and has grown to a nationwide burger chain with locations in over 30 states. According to Freddy's website, its thinly-pressed patties are cooked-to-order, meaning your burger is as fresh as it can be when you take that first bite. It even has its fans showing fierce support online, with many taking to Reddit to emphasize how they think Freddy's is the top burger chain thanks to its smashing process.
Five Guys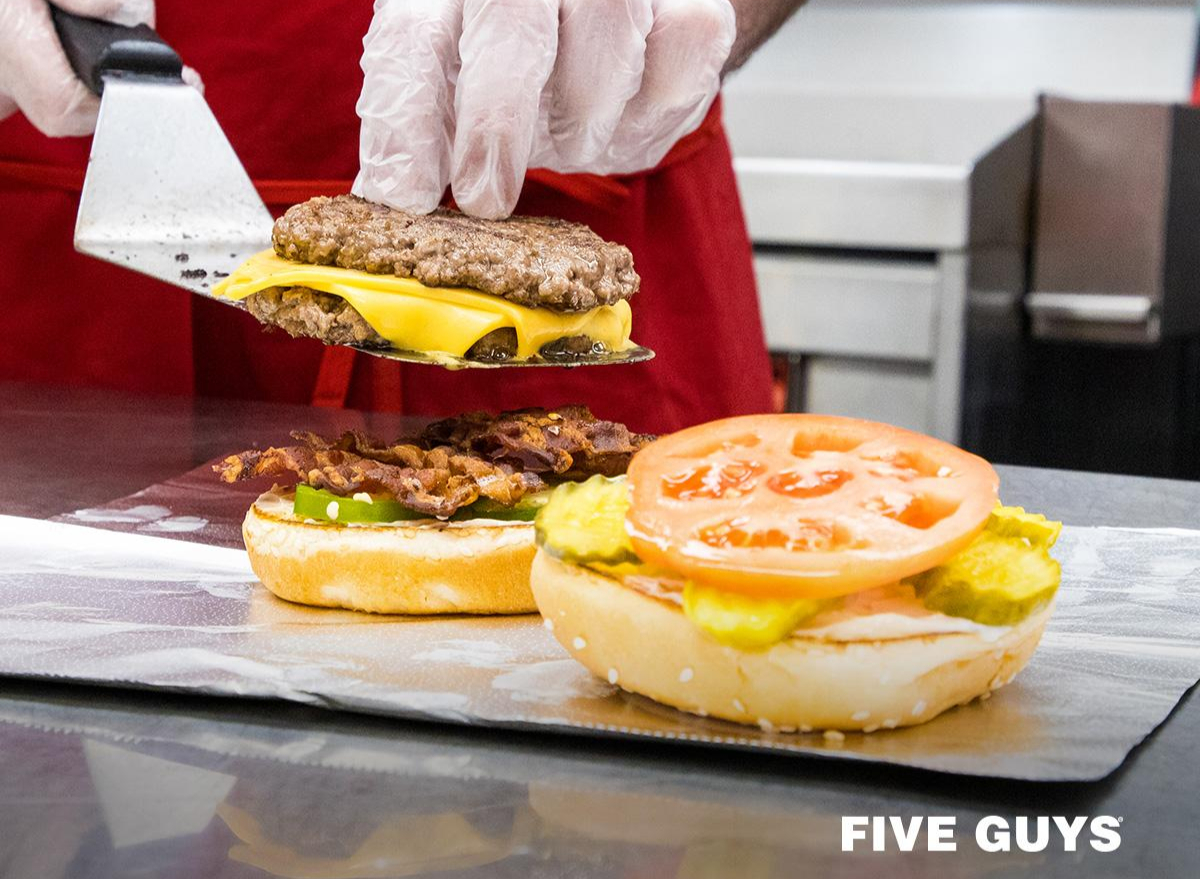 If you have ever stepped into a Five Guys restaurant, you will notice a few things: its affinity for all things peanut oil, an array of toppings to customize your burger with, and freshly-pressed patties searing on the flattop grill. The process for making hand-smashed burgers is a little different than how other chains go about it. While some restaurants may hand-smash the moment the patty touches the griddle, Five Guys actually waits a minute to flip the patty, then it gets smashed onto the grill, per Insider.
Fatburger
Despite its name, Fatburger's sandwiches are made up of never-frozen burger patties that are hand-pressed nice and thin. Granted, its signature menu item includes multiples of these patties piled high. According to The Beijinger, each patty comes as a four-ounce ball that is then pressed onto the flattop grill in order to achieve that perfectly juicy and crispy consistency. This practice has evolved into many variations of a smashed Fatburger over the years, with its Canadian locations rolling out a limited-time Fat Smash Extreme in 2023.
Steak 'n Shake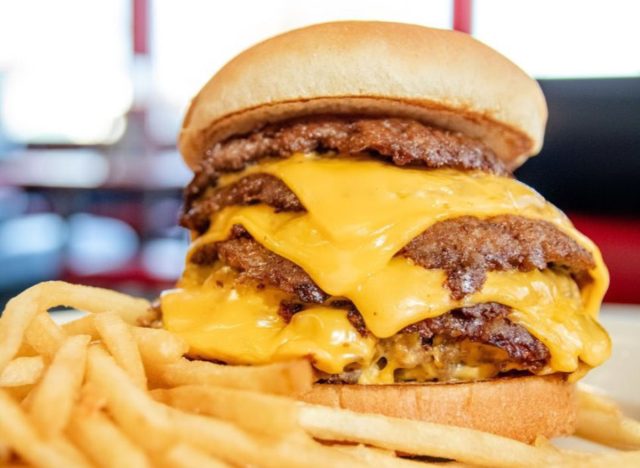 Steak 'n Shake has been hand-smashing burgers before many of the world's population was even born. It first opened its doors in 1934 with its signature Steakburger, made with a unique blend of round, sirloin, and T-bone steaks. Per Mashed, Steak 'n Shake's process of hand-smashing its patties is also in an effort to improve efficiency. Thinner patties simply mean a faster-cooking burger, which means you get to bite into one sooner. And according to the Chicago Tribune, Steak 'n Shake's process of smashing burgers with spatulas is superior to other burger chains.
Culver's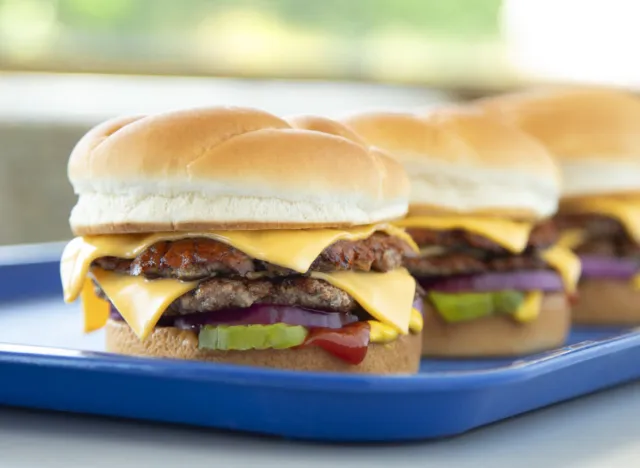 Culver's is a fan-favorite burger chain for many reasons. Its frozen custard is hand-spun in its restaurants throughout the day, and its delicious, buttery burger buns are baked in-house. The burgers are made-to-order, with the patties "pressed and seared to lock in the juices" per Culver's website. That practice of hand-pressing each patty was demonstrated in a segment for WKYC Channel 3, where it was noted that this step in particular was a crucial part of the process when making the signature Butter Burger.
Carly Neil
Carly Neil is a freelance writer specializing in all things food, travel, Disney, and theme parks.
Read more about Carly