People Are Going Crazy for DIY Lemon Popcorn–Here's How to Make It Yourself
It only requires a few simple ingredients and a few minutes of your time.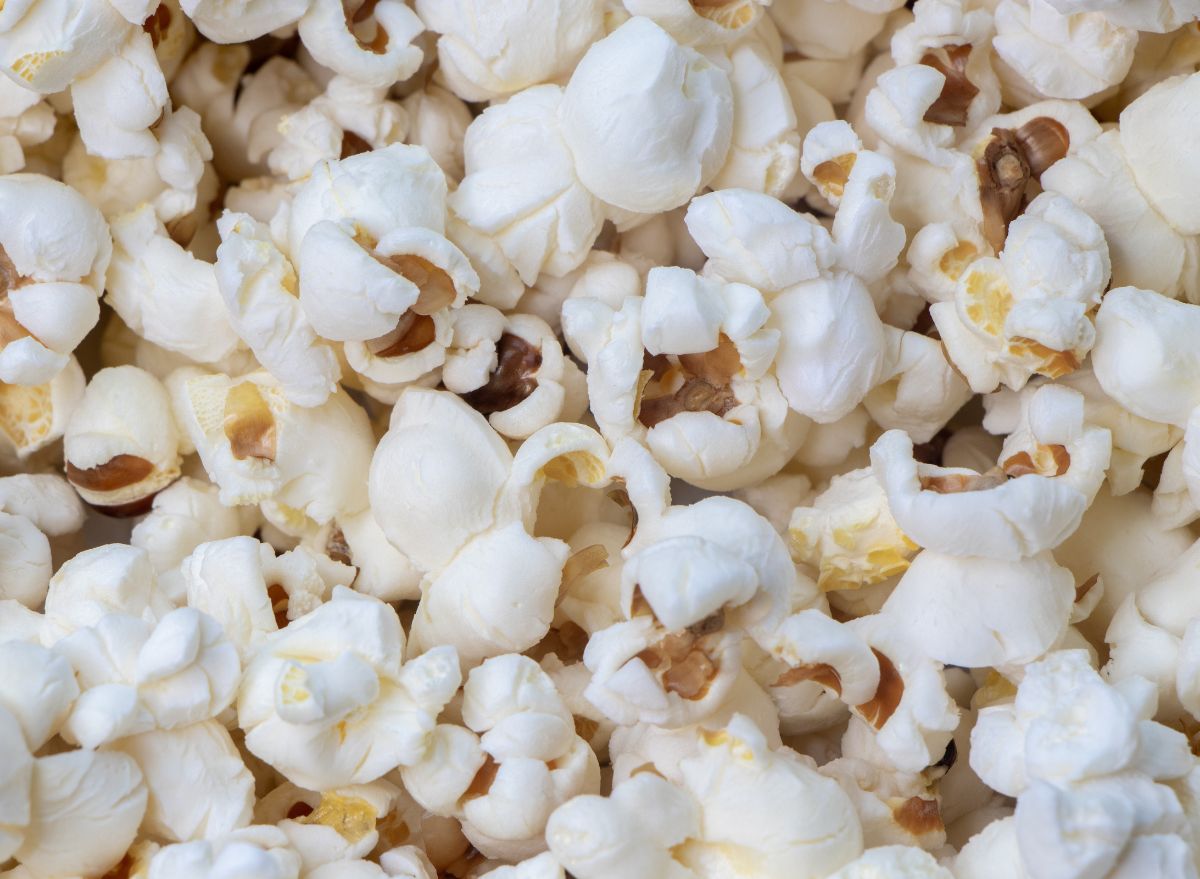 Fruit Roll-Up ice cream, baked feta pasta, "lazy" Trader Joe's meals . . . these are only a few examples of viral food trends that originated on TikTok in recent years. But the latest trend in line may be the simplest one yet: it requires nothing more than a humble bag of microwave popcorn and a lemon.
The concept of lemony popcorn certainly isn't new, but the snack is currently undergoing something of a renaissance on the ultra-popular social media platform, thanks to a video that has racked up more than 18 million views and 2.6 million likes. In it, TikToker @leels_ demonstrated the simple steps to making the lemon popcorn at home, which she calls her "new obsession snack."
"Yesterday somebody gave me a lemony piece of popcorn and I have not stopped thinking about it, so we're gonna make it," she says in the video.
The TikToker first tosses some fresh lemon zest with a few solid cranks of sea salt in a small bowl. She then adds the mixture into a bigger bowl of freshly-popped microwave popcorn, squeezes fresh lemon juice over the top, and mixes everything together.
After trying the final product, the TikToker shakes her fists in the air in apparent triumph. She noted that it might have been easier to just add lemon salt to the popcorn instead of zesting and juicing an actual lemon, but still stressed that her version turned out "so good." And we'd bet the lemon aroma was stronger with a fresh lemon.
Fellow TikTokers quickly found themselves craving the opportunity to sample the viral snack themselves.
"I need to try this immediately," one user commented on the video.
Since @leels_ posted the video on April 28, the trend has multiplied on TikTok as other users put her recipe to the test and reported similarly tasty results. Users @joshhallan, a self-proclaimed lover of both popcorn and lemon, put a small twist on the recipe by mixing the lemon zest with melted butter before tossing it with the popped kernels.
The result? "That's so much better than I thought it would be," the TikToker said.6254a4d1642c605c54bf1cab17d50f1e
Another TikToker who recreated it, @loumayy, also fawned over the "refreshing" snack, saying it tasted "exactly how I thought it would, but better."
If you're trying the recipe, don't forget there's some serious customization potential here. TikTok users in the comments sections under these viral videos suggested adding extra flavor boosters like hot sauce and garlic salt or opting for fresh air-popped popcorn instead of the microwave bags. However home cooks do end up preparing it, snack times and movie nights are sure to be a whole lot more zesty in the near future.
Zoe Strozewski
Zoe Strozewski is a News Writer for Eat This, Not That! A Chicago native who now lives in New Jersey, she graduated from Kean University in 2020 with a bachelor's degree in journalism.
Read more about Zoe