Once You Learn How to Make Pickles, You'll Never Go Back to Store-Bought
Store-bought pickles are loaded with sketchy additives, so why not DIY your own jar at home?
If you're used to buying the bulk jar of dill pickles at your local grocery store, you've likely entertained the idea of making the sandwich staple at home. In fact, DIYing your own brined cucumbers is easier than you think—and way tastier and healthier.
But aren't pickles healthy already because they're low-cal?, you may ask. Many store-bought varieties contain Polysorbate 80 (an additive that has been shown to cause inflammation, according to a National Toxicology Program report) as well as artificial dyes such as Yellow 5 (which is deemed a possible carcinogen in a Brazilian Journal of Biology study). Odds are you don't have access to these sketchy ingredients at home, so why not craft a better pickle yourself with simple ingredients you already have stocked? If you want to know how to make pickles in your own kitchen, heed these simple steps from Dana Murrell, the Executive Chef at Green Chef, below.
First, some pro prep tips from Chef Murrell on how to make pickles
Pick the best produce: Look for ripe, unblemished cucumbers at their peak freshness. It's usually best to pickle your cucumbers on the same day you bring them home. Wash the produce well and trim off any stems before pickling. This prevents your produce from turning mushy.
Prep the vinegar or brine: The pickle recipe you decide to use will determine what kind of liquid to assemble for pickling. For a salted pickle, be sure to use exactly the kind of salt that's required in your recipe. Usually, regular table salt is the way to go. Sweet pickles will usually require sugar to be added to the mixture.
Add flavor: Spices, herbs, and garlic are often added to the pickling mixture to enhance the flavor. Dill pickles, a common favorite, normally include dill seeds and fresh dill weed in the brine. To add some spice, try sprinkling in red pepper flakes. A sweeter dill pickle will require more sugar. A garlic dill pickle will need heavy garlic cloves. Once you establish your preferred flavor, you can start playing around with brines and mixtures.
What you'll need
2 cups water
1 cup distilled white vinegar
2 tablespoons sea salt
1–2 tablespoons granulated sugar
2 pounds pickling cucumbers
24 sprigs fresh dill weed
4–5 garlic cloves
How to make pickles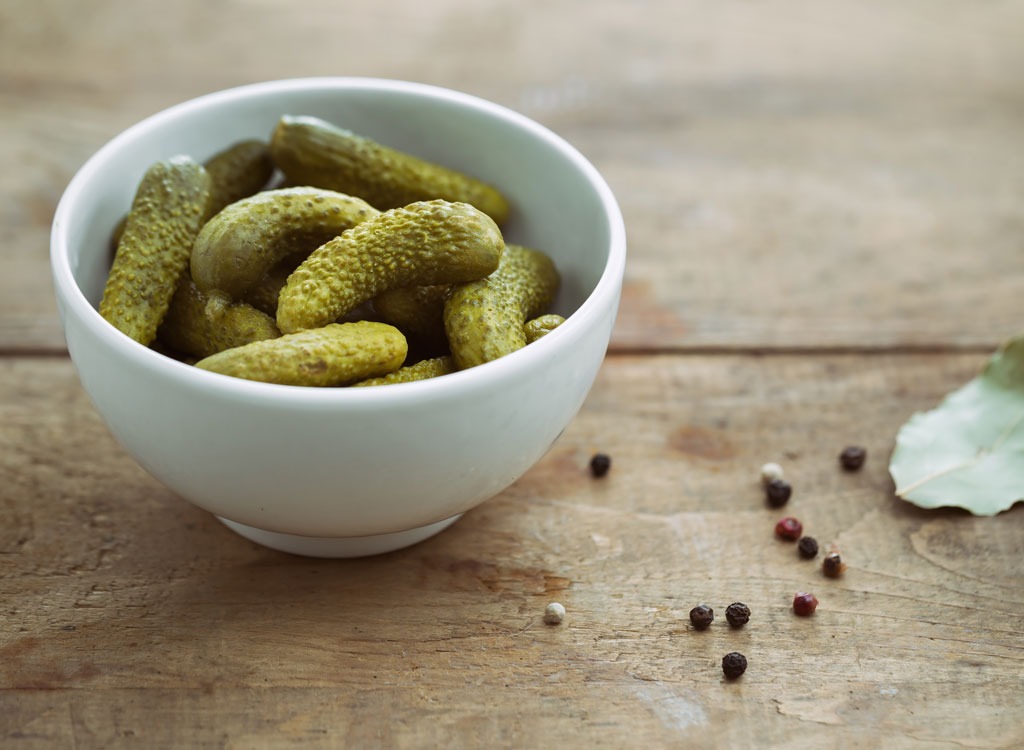 6254a4d1642c605c54bf1cab17d50f1e
Stir water, vinegar, salt, and sugar in a large pot. Bring to a boil, and then remove from heat to let cool. Place brine in the fridge until chilled.
In the meantime, slice the cucumbers into wedges. Stuff the cucumber wedges evenly into airtight jars.
Divide the dill weed and garlic evenly between jars.
Divide up the brine evenly and pour over cucumbers, until the tops are covered.
Cover tightly and shake. Refrigerate for at least 48 hours.
Once you combine all the ingredients of your choosing in an airtight jar, Murrell recommends sealing it tight and allowing the jar to sit in the fridge for at least 48 hours. "Flavor will improve as the pickles age, so it's best to place in the refrigerator for at least 48 hours before cracking them open," Murrell tells us. "Then, they are good for 4–6 weeks following as long as they stay refrigerated." Now that you know how to make pickles at home, chop them up and toss into tuna salad, stir them into mac and cheese for tang, or make a relish to pair with a turkey club. Yum!
April Benshosan
April is a born-and-raised Brooklynite who has a passion for all things health, wellness, and tastebud-related.
Read more about April