5 Ice Cream Chains That Use the Best-Quality Ingredients
Here's where to look for a truly artisanal ice cream experience.
When it comes to a superior scoop, there are some names that stand out in the world of ice cream.
For one, their products contain high butterfat content—the number one reason one ice cream can feel and taste creamier, smoother, and more luxurious than the next. For another, the rest of their ingredients are carefully sourced and combined into sometimes traditional, sometimes quirky but no less craveable concoctions.
And sure, ice cream will never be "healthy" or good for you, as even the best brands add some type of sugar to their product to sweeten it. But quality isn't about that. It's about responsibly enjoying the richest, most delicious ice cream that's been made with authentic, well-sourced ingredients and knowing that it was worth the indulgence.
The following chains are exactly where to look for such an artisanal ice cream experience. And while you may not live near one of their locations, most of these brands' products can be found in select grocery stores, as well as ordered online.
Big Gay Ice Cream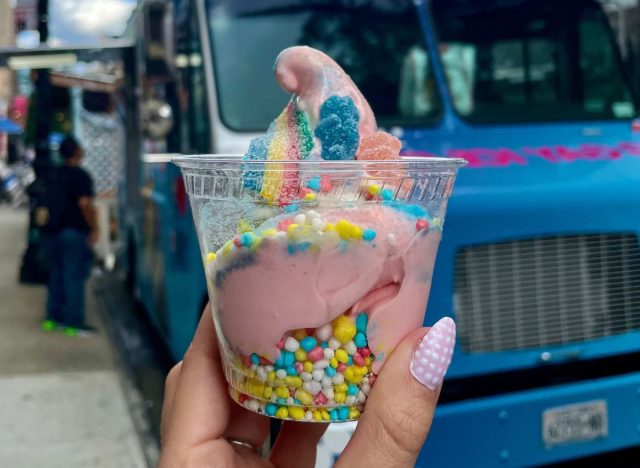 If the name of this regional chain doesn't draw you in, then the quality of the ice cream itself surely will. 
Big Gay Ice Cream is best known for its incredible soft-serve, which is made with all-natural milk, cream, sugar, and a "small amount of invisible emulsifier," according to the company's website. Those who want an extra dose of indulgence can opt for Big Gay's packed pints made with egg-based recipes, which are denser, more decadent, and boast a much higher butterfat content than the soft-serve.
The chain says that it sources the milk and cream for its ice cream from an all-natural dairy farm in Pennsylvania. This type of ice cream requires to be served up in ways that are worthy of its quality, and Big Gay doesn't disappoint on this front. Look no further than the American Globs cone that seals vanilla ice cream and pretzel bits inside a salty chocolate shell, or the Mermaid sundae that takes inspiration from Key lime pie.
Founders Douglas Quint and Bryan Petroff launched Big Gay Ice Cream as a seasonal food truck in 2009, but the brand has since grown to encompass a handful of locations across New York City and Philadelphia. Those who don't live near one of the Big Gay Ice Cream locations can also find pints from the brand at select retailers in the Northeast and California.
Van Leeuwen
When Ben Van Leeuwen started his ice cream brand in 2008, he and his co-founders set out to create the best ice cream possible. And they may have just succeeded. While other ice creams at nationwide scoop shops and on grocery shelves stand out thanks to their packaging and marketing efforts, Van Leeuwen remains best known for its top-notch ingredients.
"Using very few ingredients, a lot of the good stuff, and then finding the best flavors," is how Ben sums up the winning formula of his product. The good stuff he's referring to is fresh milk, fresh cream, sugar, and egg yolks—the only ingredients the brand uses for its ice cream bases (for their famous vegan ice creams, it's coconut, cashews, and oats.) While other premium ice creams often contain condensed milk, more sugar and sometimes corn syrup, whey proteins, and stabilizers, you won't find any of that here.
This approach means that Van Leeuwen's ice creams have one of the highest butterfat content on the market at 18% as well as more egg yolks (5-8%), which lends incredible creaminess and chewiness to the final product.
And when it comes to flavors, sourcing authentic ingredients is done with utmost care. The pistachios for the pistachio flavor come from Sicily (slopes of Mount Etna, in fact), cacao from Ecuador, and strawberries from Oregon. The brand has also been known to do funky flavor collaborations, like Mac & Cheese ice cream with Kraft, which sold out online and at the chain's scoop shops within hours of launch.
What started as a New York City ice cream truck is now a nationwide freezer aisle brand as well as a chain of more than 30 scoop shops across New York, New Jersey, Pennsylvania, Texas, Colorado, and California, with more coming soon.
Jeni's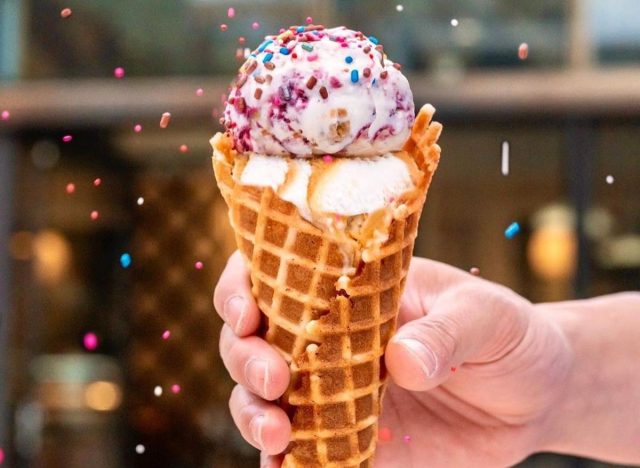 Jeni's Splendid Ice Creams are crafted from a recipe that award-winning ice cream maker and founder Jeni Britton Bauer has been perfecting over the course of 20 years.6254a4d1642c605c54bf1cab17d50f1e
Described as having a "smooth texture and buttercream body," the ice creams are made from scratch using only the best ingredients, including milk from family-run farms, fresh fruits and vegetables, as well as Fair and Direct Trade chocolate, vanilla, and coffee.
And Jeni's flavor combos may truly be some of the best and most unique in the industry. Think Wildberry Lavender, Goat Cheese with Red Cherries, Powdered Jelly Donut, and even Everything Bagel.
The Ohio-based brand, which is near and dear to President Biden's heart as well, is a certified B-Corp, which means that it meets rigorous standards of social and environmental performance, accountability, and transparency, including when it comes to sourcing its ingredients directly from small producers.
Jeni's can be found in select grocery stores nationwide, as well as at over 60 scoop shops across the South and the Midwest.
Salt & Straw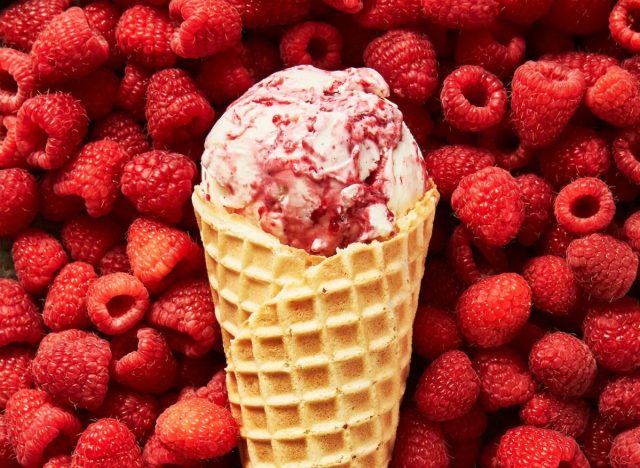 Salt & Straw's ice cream has garnered a cult following thanks to its offbeat flavors and the ability to gather a community at its scoop shops. Launched by cousins Kim and Tyler Malek in 2011, the chain serves small-batch ice cream in rotating flavors made with seasonal produce (yes, that includes vegetables, too) and local cream.
While just hearing the names of some of their currently available flavors—Spinach Cake with Chocolate Tahini Fudge, Green Fennel & Maple, and Sea Salt with Caramel Ribbons—is enough to whet your appetite, the ingredients at the heart of these treats are even more impactful.
All the ice creams are churned in five to ten-gallon batches using 100% all-natural cream from 100-year-old, family-owned Scott Brothers Dairy in Chino, which yields ice cream that's free of growth hormones and antibiotics with a high butterfat content.
The ice cream makers then put extra care into how the creamy base will blend with the ingredients. "We need to anticipate how caramel will stay chewy, sticky, and liquidy; how delicate fruit will shine through butterfat; and how snickerdoodle cookies and brownies will taste tender and soft even when frozen," the chains says of its process.
Salt & Straw currently has more than 20 locations.
McConnell's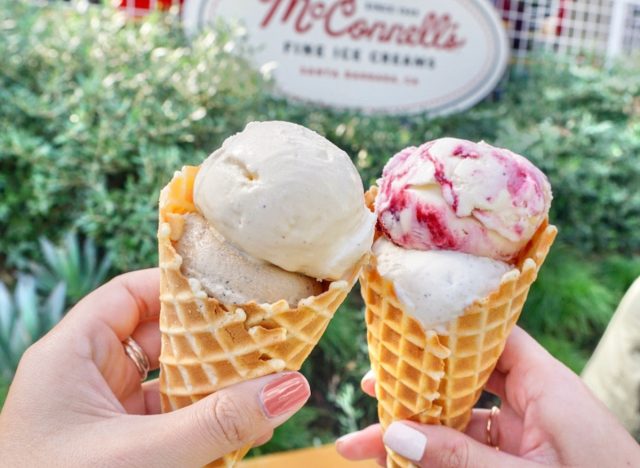 A mini chain but a major player in the world of premium ice cream, McConnell's is both a dairy and an ice cream company, which means it is able to create its own ice cream base—something most other producers aren't able to do. Controlling that process, every step of the way, is a point of pride for the brand.
That base is made of three simple ingredients: milk and cream, eggs, and pure cane sugar. What it doesn't have are stabilizers, fillers, and preservatives, which gives the company bragging rights of serving the "cleanest ice cream in the business."
Flavor additions are equally important. The California-based McConnell's sources its jams, preserves, chocolates, caramels, coffees, nuts, fruits, cookies, and crumbles and crisps from small family-run orchards, ranches, and other businesses, or makes them in house. The result is a dense, smooth scoop that's rich and velvety and comes in both traditional flavors like Coffee and Mint Chip, as well as more unexpected ones like Chocolate Covered Strawberries and Honey and Cornbread Cookies.
McConnell's ice cream can be found at select grocery stores and a handful of scoop shops across California.
A version of this story was originally published on August 8, 2022. It has been updated to include new information.
Zoe Strozewski
Zoe Strozewski is a News Writer for Eat This, Not That! A Chicago native who now lives in New Jersey, she graduated from Kean University in 2020 with a bachelor's degree in journalism.
Read more about Zoe