10 Iconic Restaurant Dishes You Should Only Order In the Northeast
From lobster rolls to New York-style cheesecakes, here are some iconic Northeastern dishes you need to try.
There's no doubt about it—many restaurant dishes that are unique to the Northeast are undeniably delicious. Whether you love a good lobster roll, can't live without Philly cheesesteaks, or prefer a New York-style cheesecake over the traditional kind, these dishes strike the perfect balance between taste, creativity, and comfort.
However, although often imitated, authentic versions of these iconic Northeastern specialties can be harder to find if you're dining outside of the region. Because of this, we created a list of iconic Northeastern dishes to be on the lookout for when you're enjoying a meal in the area.
From creamy New England clam chowder to Connecticut's famous white clam pizza, here are the Northeastern menu must-tries.
New England Clam Chowder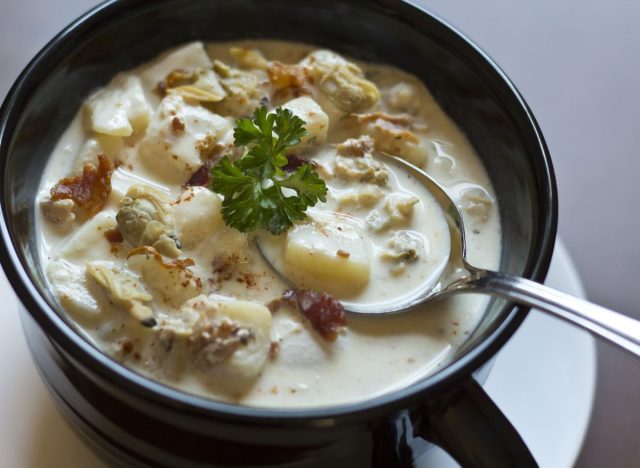 Practically synonymous with New England dining, New England clam chowder is a Northeast favorite that is typically made using clams, cream, and potatoes. According to history, this delicious soup may have been introduced to the Northeast region by French, Nova Scotian, or British settlers hundreds of years ago. If you're in the area, Warren Tavern, located in Charlestown, MA, is said to have some of the best New England clam chowder around.
Lobster Rolls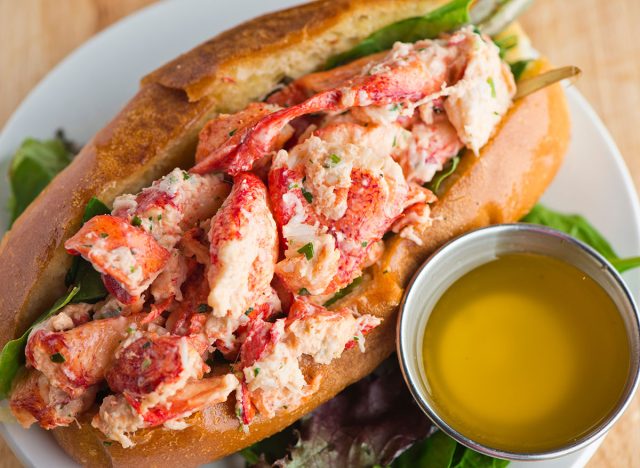 No visit to the Northeast is complete without a lobster roll. This tasty dish rose to popularity in the 1920s and has been a must-try in the region ever since. The High Roller Lobster, a restaurant specializing in lobster rolls that is located in Portland, ME, makes a delicious version using brioche buns, chopped Romaine lettuce, fresh Maine claw and knuckle meat, and your choice of sauce.
Philly Cheesesteaks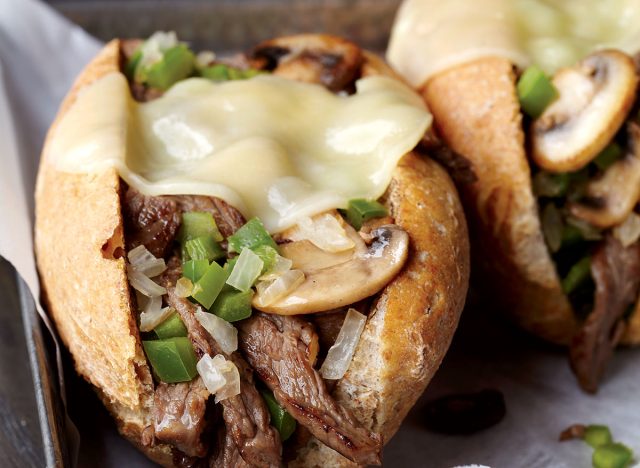 Whether topped with Cheez Whiz or melted Provolone, there's really no wrong way to enjoy a Philly cheesesteak in Philly. First created in the early 20th century, the delicious sandwich is a combination of thinly sliced top-round or ribeye steak, cheese, and onions, all piled high on pillow-soft bread. There are many places to pick up a cheesesteak in the region (especially if you're in Philadelphia) but a standout would have to be D'Alessandro's in Philadelphia's Roxborough neighborhood.
Scrapple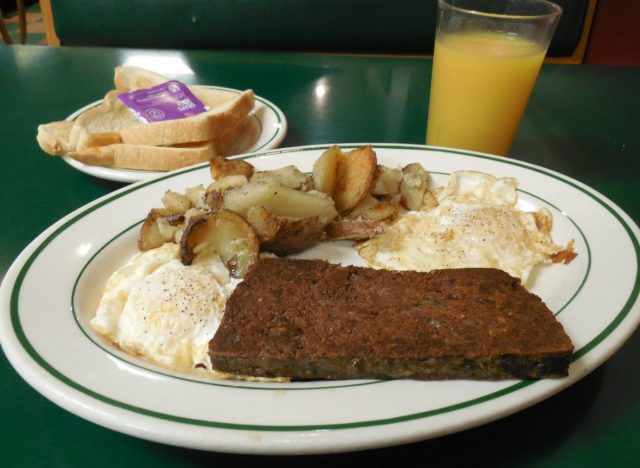 Often made with pork scraps, cornmeal, flour, and spices, scrapple is a traditional Pennsylvania Dutch recipe that is commonly served as a breakfast side dish. Sabrina's Cafe in Philadelphia serves up a variation that customers have described as "amazing." Scrapple, also known as Pannhaas, can commonly be found in the refrigerated and frozen sections of grocery stores in the area, too.
Boston Cream Pie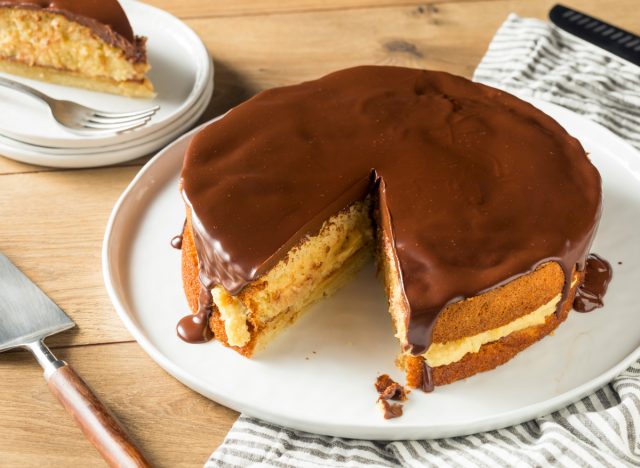 Filled with cream and drizzled with chocolate icing, the Boston cream pie is a Northeastern delicacy that often appears on dessert menus in the region. This cake—it's not technically a pie—which is reported to have been invented in 1856 by a chef at the Parker House Hotel in Boston, remains a popular pick 150 years later. Known as the official cake of Massachusetts, the sweet treat is still available to order and ship from the hotel where it originated.
Pork Roll Sandwiches
A staple of New Jersey and its surrounding states, pork roll sandwiches have been a part of the region's cuisine since 1856. Pork rolls are a-plenty in the area, but the pork roll at Slater's Deli is thought of to be one of the best. In fact, it was voted the best pork roll on the Jersey Shore by Asbury Park Press back in 2015.
Boston Baked Beans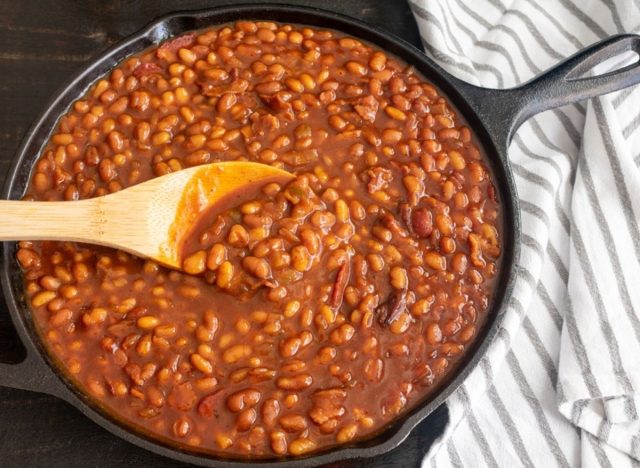 Known as a Beantown classic that dates back to Colonial times, Boston baked beans take beans to a whole other level. The version offered at Bostonia Public House combines beans with brown sugar, molasses, smoked ham, and spices, and is slow-cooked in a cast iron Dutch oven. This tasty dish is often served as a side.
White Clam Pizza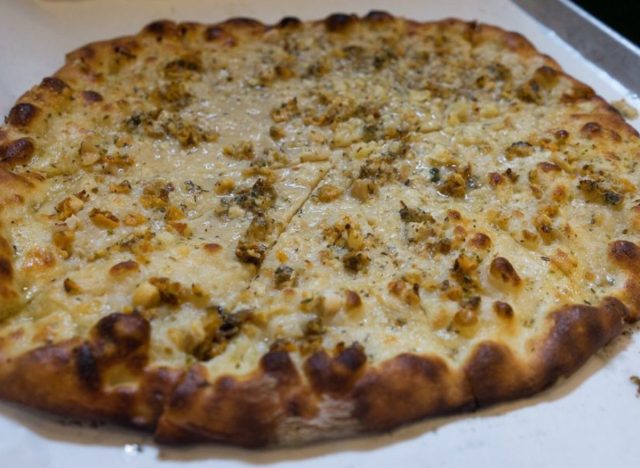 White clams pizza, which is often made with littleneck clams, Romano cheese, and garlic, is a Connecticut delicacy dating back to the 1960s. It was invented by Frank Pepe Pizzeria Napoletana in New Haven, CT, and has been a must-try for locals and visitors ever since. Over 50 years later, Frank Pepe's still serves up this delicious dish seven days a week—what better place to try out white clams pizza than the spot where it was first created?6254a4d1642c605c54bf1cab17d50f1e
Yankee Pot Roast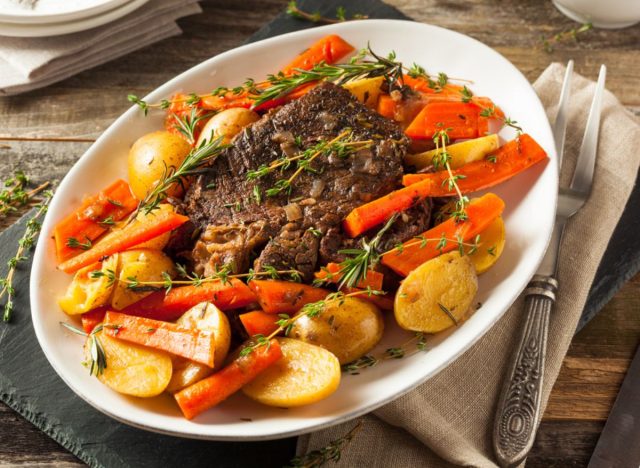 Yankee pot roast, a New England version of the popular comfort food, is a mouth-watering dish made with tender beef, gravy, and vegetables. What sets it apart from regular pot roast is that Yankee pot roast is cooked with root vegetables, such as carrots and potatoes, in the pan. A popular Yankee pot roast to order in the Northeast is the one from The Mad Hatter in Weymouth, MA. They serve theirs with mashed potatoes, turnips, and French carrots.
New York-Style Cheesecake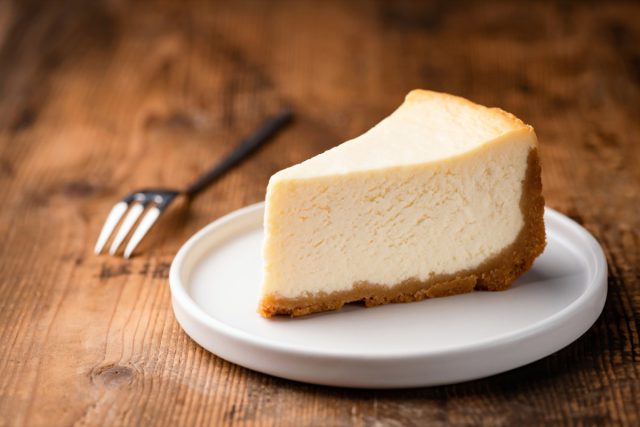 Extra creamy and dense, New York-style cheesecake uses a cream cheese base mixed with sour cream or heavy cream, as opposed to, say, cottage cheese. Appearing often on menus in New York, this dessert is unlike any other. If you're in the area and looking for the perfect spot to give this treat a try, head on over to Junior's Restaurant in New York City. Along with a full breakfast, lunch, and dinner menu, Junior's also serves one of its most famous dishes—cheesecake—which some people have said is the best in the world.