The Best Lobster Roll in Every State
It's a sandwich that when done right, can be truly life-changing. These are the best of the best.
For much of the U.S., lobster rolls are as much of a sign of summer as burgers and hot dogs fired up on the grill. The basic recipe of the seashore favorite dish? A split top roll is packed with cold lobster meat that's been tossed with mayonnaise, or warm meat is tossed with fresh drawn butter. Yum.
The good news? Lobster rolls aren't just a coastal treat anymore, and what was once a rare find can be a regular indulgence—even if you're miles from the seashore. And when you're looking for a lobster roll, sandwich or BLT, you want the freshest meat plucked from the shell, a perfectly buttered roll, and maybe a little bit of lettuce.
So we went ahead and rounded up the best spots all across the country where you can indulge in this delicious sandwich. We made our thoughtful picks based on rave reviews and personal experience. We always look for the freshest ingredients, local ownership, great vibes, and a loyal fan base, too.
With those factors in mind, we put together a definitive list of the best lobster rolls, or the closest thing available, you'll find in every state. Please check the restaurant's website or social media before heading out as lobster can be seasonal, and many chefs won't offer it if it's not up to their standards. For more, check out these 15 Classic American Desserts That Deserve a Comeback.
ALABAMA: Cousins Maine Lobster in Birmingham
You'll have to check the website to find out where in B'ham this Downeast style lobster roll truck is parked—but it's worth it! (It will probably at a brewery or farmers market.) You can get a Maine-style roll, or one of the unique twists like lobster tots. That's Maine lobster over tater tots with cilantro lime sauce, in case you were wondering!
ALASKA: Humpy's Great Alaskan Alehouse in Anchorage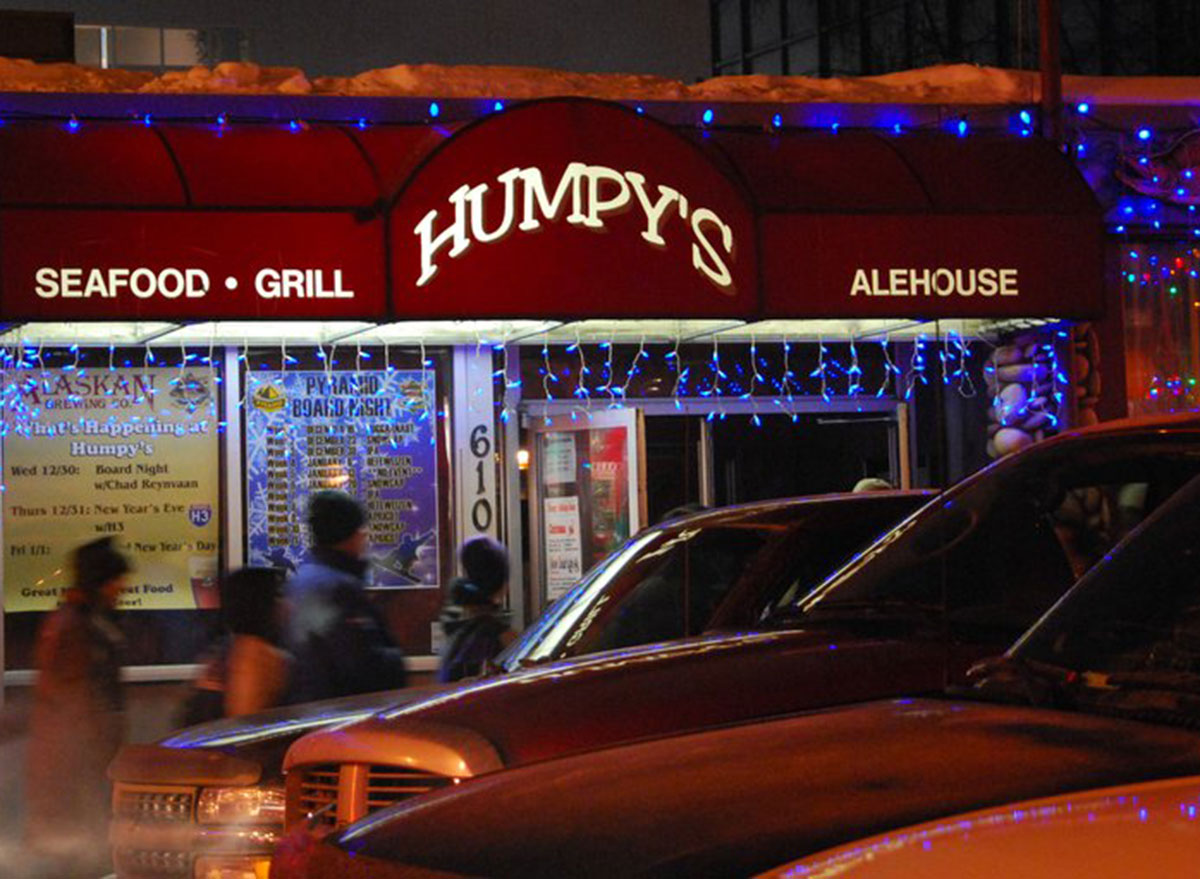 Not surprisingly, Alaska is a little thin on lobster rolls. However, Humpy's sometimes offers a solid take that reviewers love. We'd also point you in the direction of the crab roll—a meat similar to lobster (maybe even a bit sweeter!) that lends itself well to sandwich treatment. And it's always on the menu.
ARIZONA: Chula's Seafood in Phoenix and Scottsdale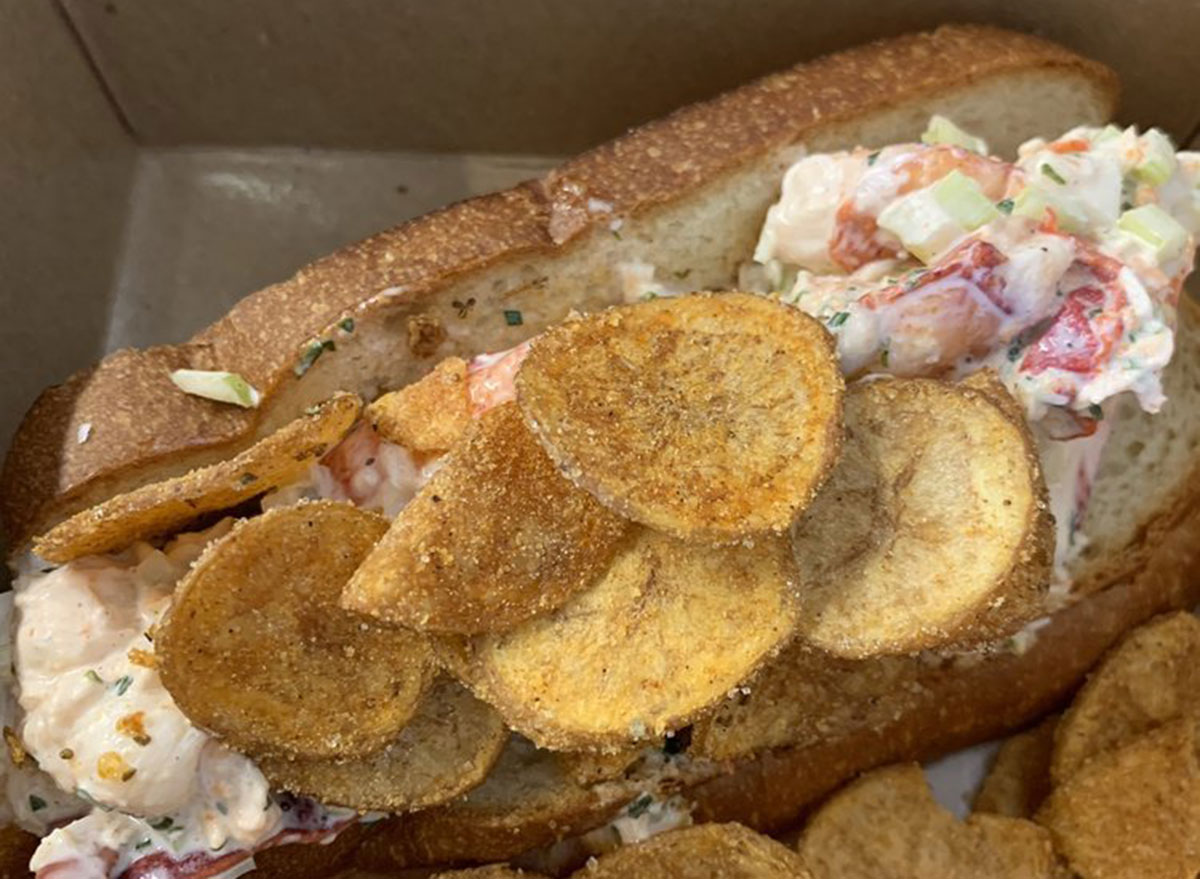 Sundays are for lobster at this Arizona seafood spot—if it's available. Reviewers rave about the inventive lobster rolls which recently featured Maine lobster, miso mustard mayo, pickled corn, smashed avocado, and arugula on a brioche bun.
ARKANSAS: Brave New Restaurant in Little Rock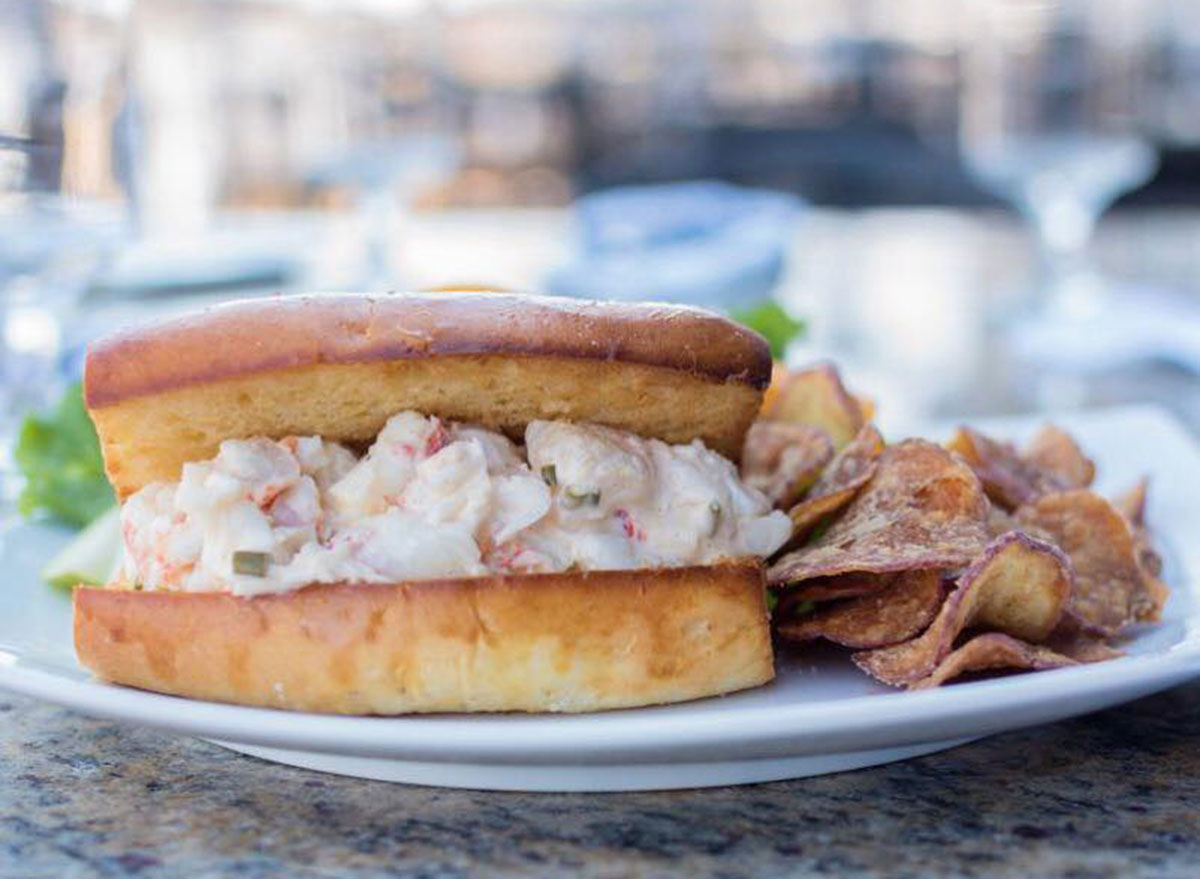 Sit right on the Arkansas River and enjoy fresh Canadian lobster, dressed with chive, lemon, and aioli, all served on a brioche bun at this cozy fave. But be sure to come by during the afternoon—the lobster roll is only on the lunch menu.
CALIFORNIA: Wicked Maine Lobster, Various Locations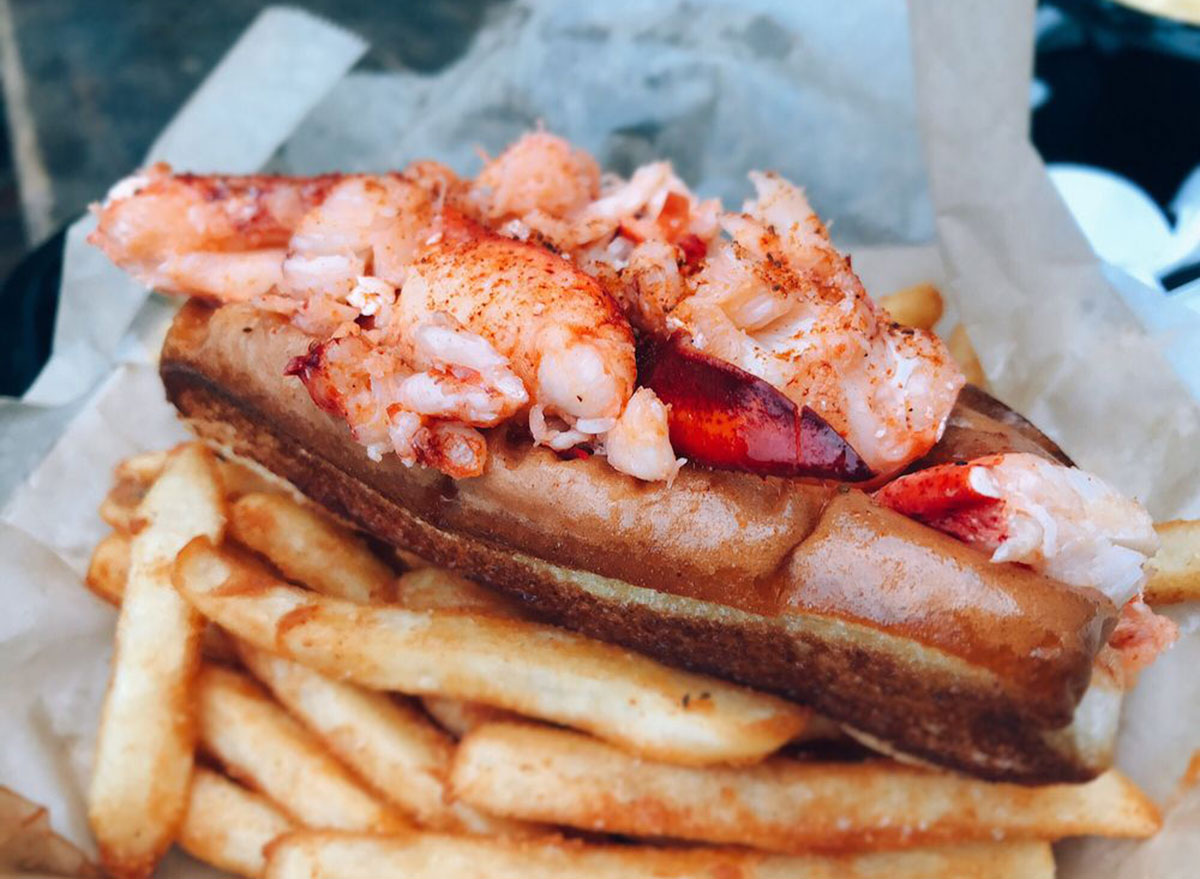 The brainchild of two brothers from Maine, the shop now has several locations. You'll find Maine and Connecticut-style lobster and lobster tacos. Fun fact—the brothers started selling lobster rolls and clam chowder at southern California farmers markets before opening these shops!
COLORADO: Stoic and Genuine in Denver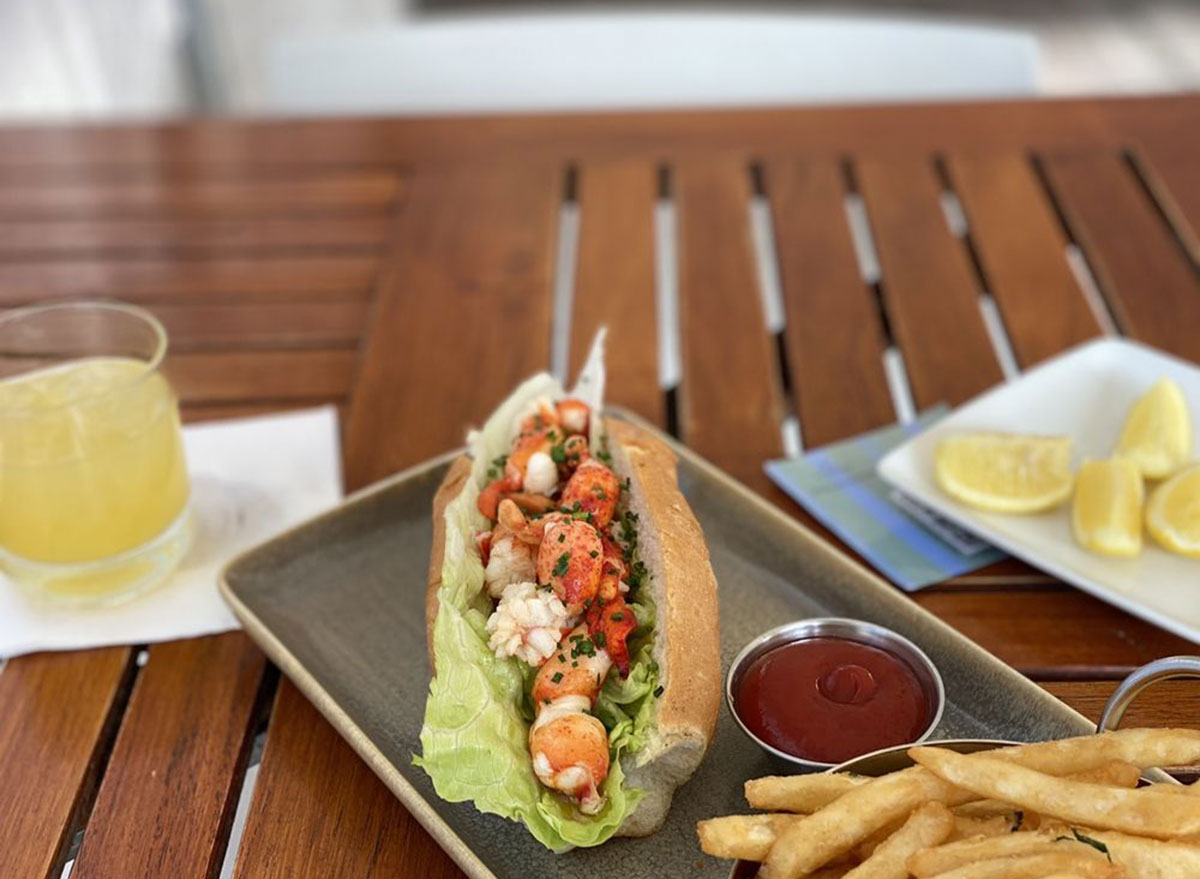 A sustainable seafood restaurant located in landlocked Denver (how cool is that!), this hip spot offers a Maine-style roll with celery aioli, a griddled bun, and fresh meat. You can also feast on a Connecticut-style roll with butter-poached lobster and lettuce.
CONNECTICUT: Abbott's Lobster in the Rough in Noank
The tiny state claims (like several others) to be the birthplace of the lobster roll. So it's tough to go wrong at any of the seafood spots in the state. Abbotts, though, is legendary for offering not just one, not two, but three sizes of lobster rolls. There's the original with a quarter-pound of meat, the "OMG" with 7 ounces, and the "LOL" (lots of lobster) with a full pound. You can also get steamers, chowder, and other fresh seafood treats.
Looking for more helpful tips? Sign up for our newsletter to get daily recipes and food news in your inbox!
DELAWARE: Chesapeake and Maine in Rehoboth Beach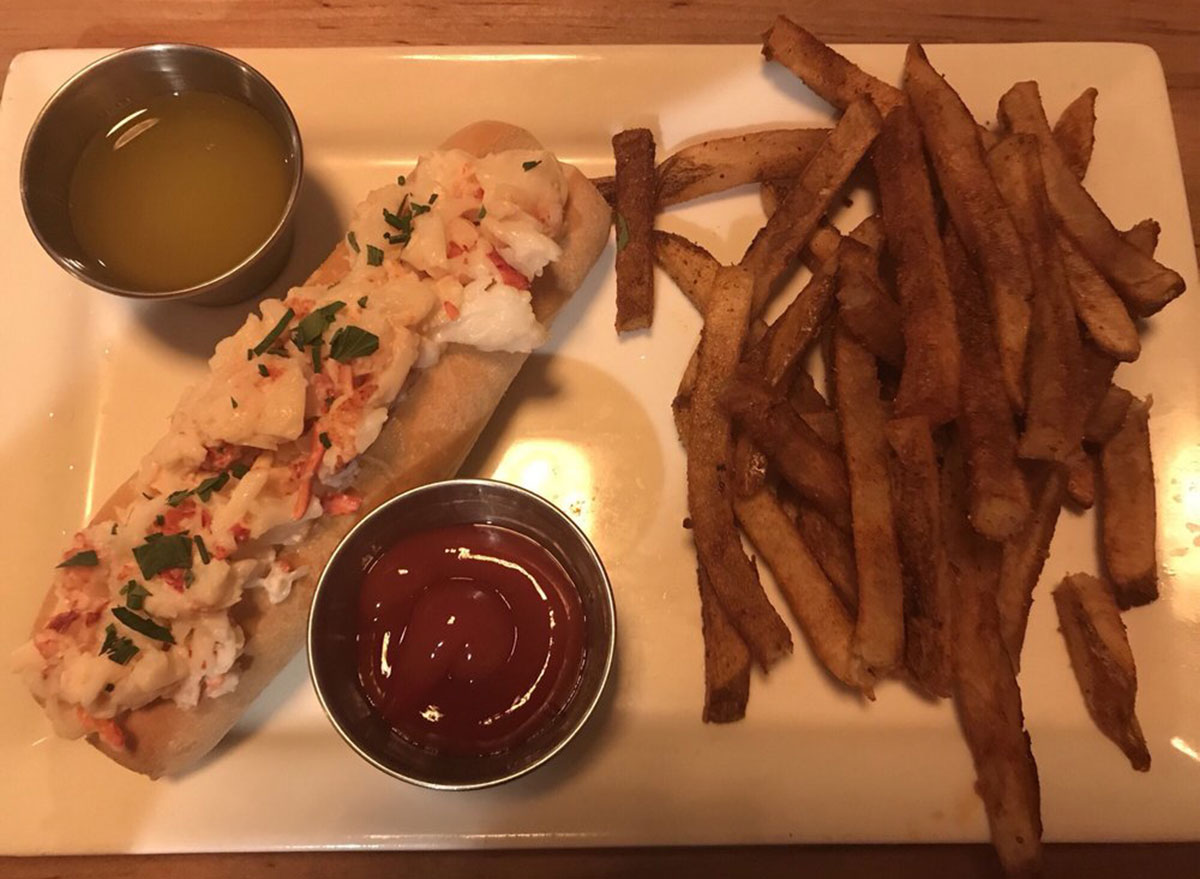 A beer-drinking restaurant from the Dogfish Ale crew, near the beach—are we surprised they have a killer lobster roll? Stop in after a sunny day for a cold-style roll on a toasted Le Bus Bakery bun, with lemon mayo and melted butter.
FLORIDA: Mignonette Seafood & Oyster Bar in Miami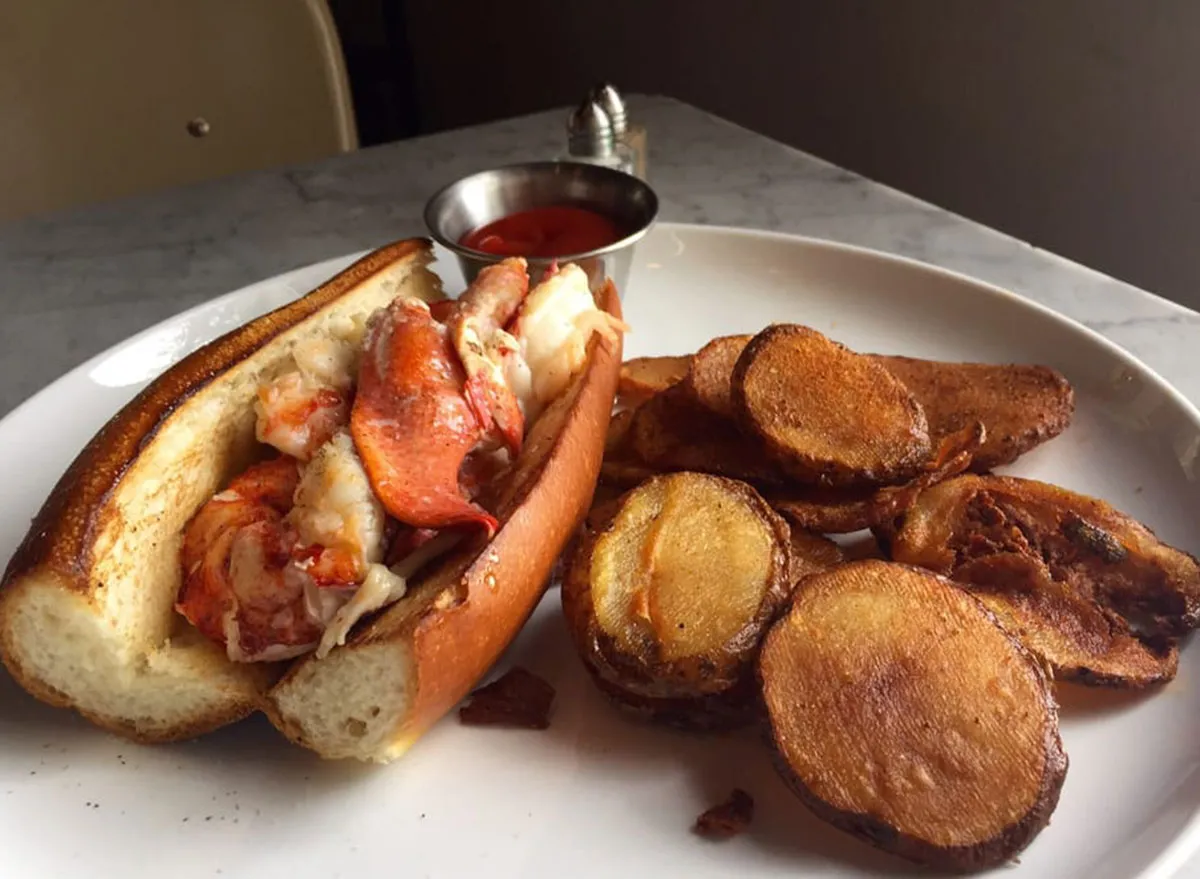 This Miami spot wants you to know that you deserve lobster, and you should have it on a buttery roll paired with crispy potato wedges. Don't argue with the restaurant on this one.
GEORGIA: The Optimist in Atlanta
This is one of the most fun restaurants we've visited, with an expansive patio, a mini-golf course—and on top of that, excellent seafood. Yes, that includes a great lobster roll. Served Maine style, the meat is cold and mixed with Duke's mayonnaise, which gives it that perfect tang. Don't sleep on the raw bar either!6254a4d1642c605c54bf1cab17d50f1e
HAWAII: Jolene's Market in Honolulu
This laid-back spot specializes in lobster rolls—and a few other sandwiches—serving it up with fresh lobster, packed in with lettuce, onions, daikon, carrots, Cajun butter sauce, and a cilantro garnish.
IDAHO: Little Pearl Oyster Bar in Boise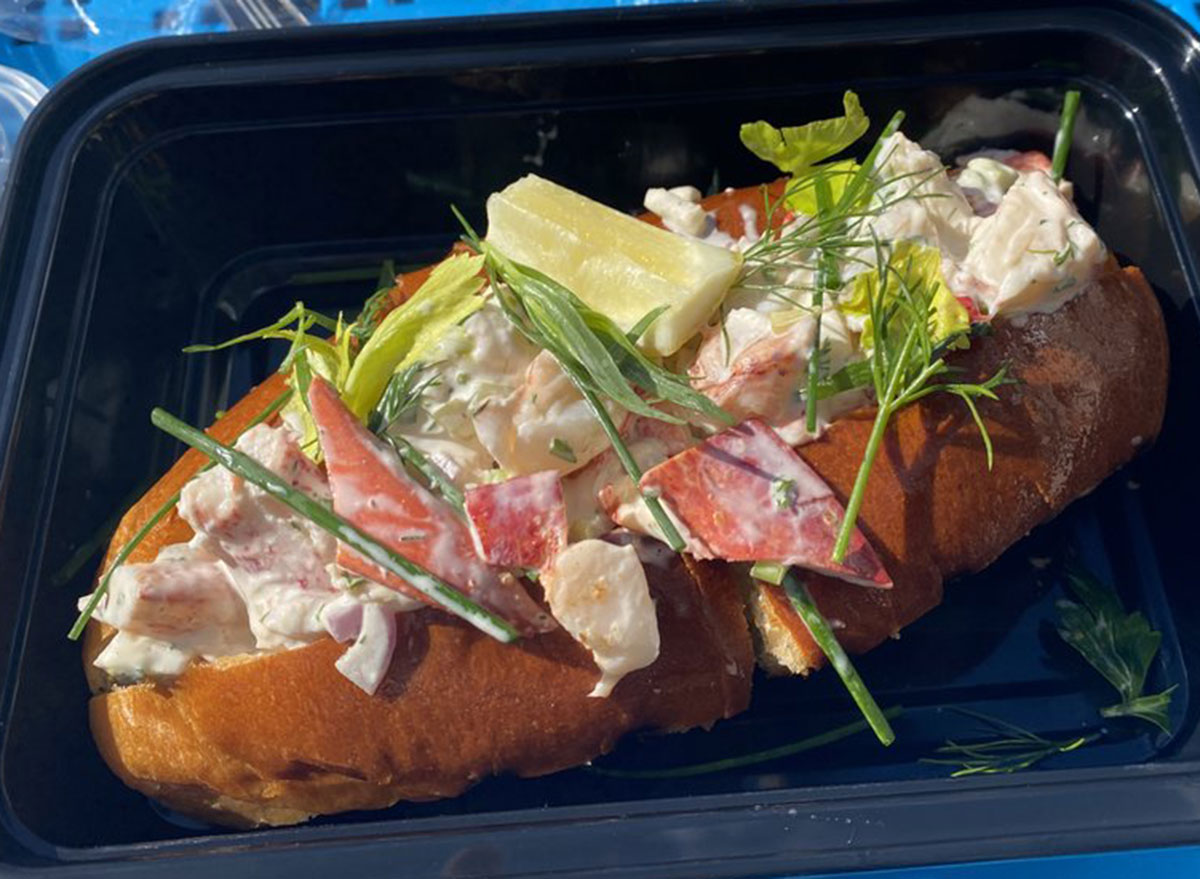 We're thrilled to report fresh seafood that's "worth the price" has landed in Idaho. And locals are lining up for oysters and lobster rolls. The family-run spot makes these items fresh daily with Maine hard-shell lobster, crème fraîche, herbs, and lemon, all served on a buttered brioche bun.
ILLINOIS: Shaw's Crab House in Chicago
Chicago may be landlocked, but the city has never had a shortage of great seafood. Lobster rolls are plentiful and good here. While there are a few outposts of chains like Luke's (always a solid choice), our pick is the roll at Chicago staple Shaw's Crab House. It's packed with tons of sweet lobster meat mixed with Hellman's mayo and celery. Pick one up at lunch and pretend you're sitting oceanside while you stare at Lake Michigan.
INDIANA: Caplinger's Fresh Catch in Indianapolis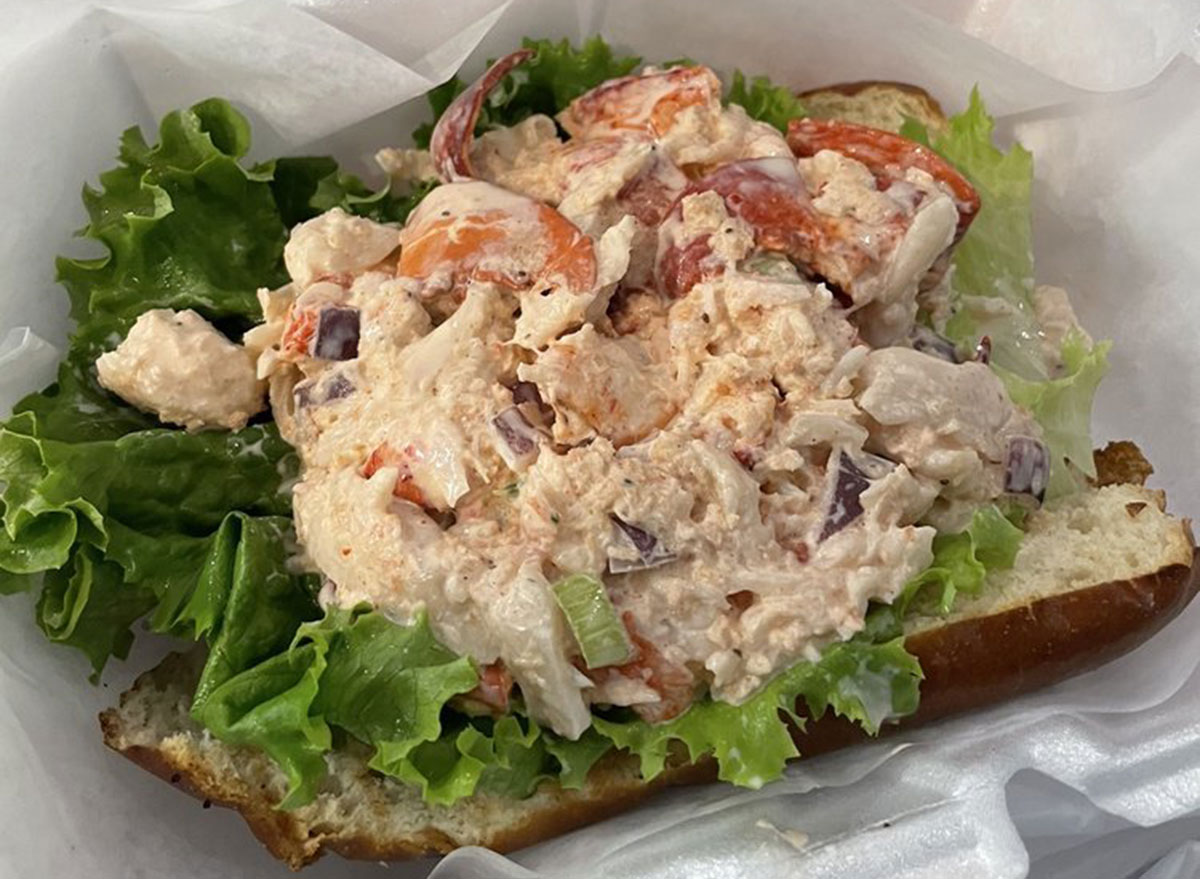 This top-rated restaurant and market has a bounty of fresh seafood to choose from, but locals love the lobster roll. It's seasoned lobster salad stuffed in a toasted bun—delicious.
IOWA: The Seafood Trap in Des Moines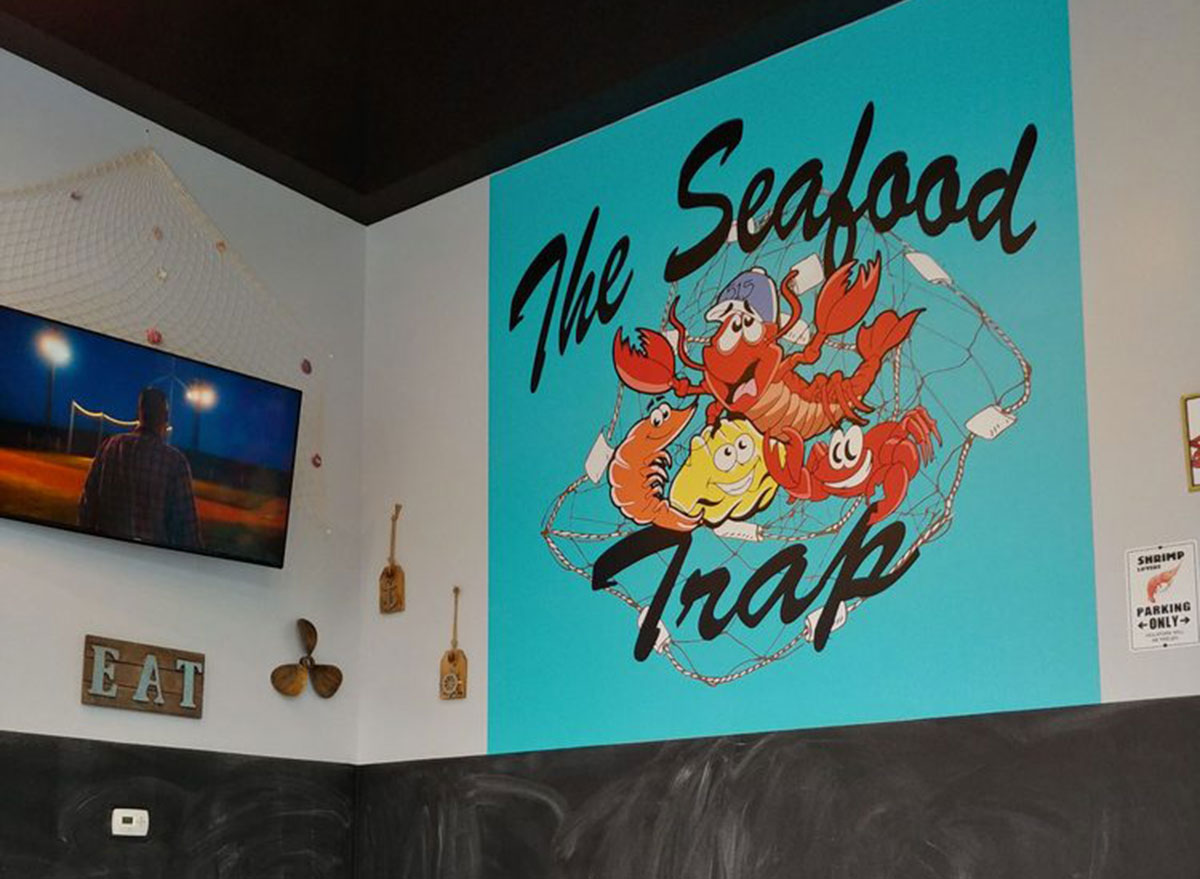 This laid-back spot specializes in seafood boils and fried seafood. According to reviewers, when the lobster roll is on the menu, it's a must-order, with one customer writing, "The best lobster rolls, maybe better than New England."
KANSAS: Newport Grill in Wichita
You'll have to swing by this spot at lunch to sample the classic, well-priced New England-style lobster roll. It's served on a brioche bun with French fries and a pickle.
KENTUCKY: Longshot Lobstah in Louisville
This Louisville-based food truck—follow the Facebook page to find out where it will be parked—serves a combo locals rave about. For $18, you get a cuppa chowder, a fresh biscuit, and a Connecticut or New England style lobster roll.
LOUISIANA: Seaworthy in New Orleans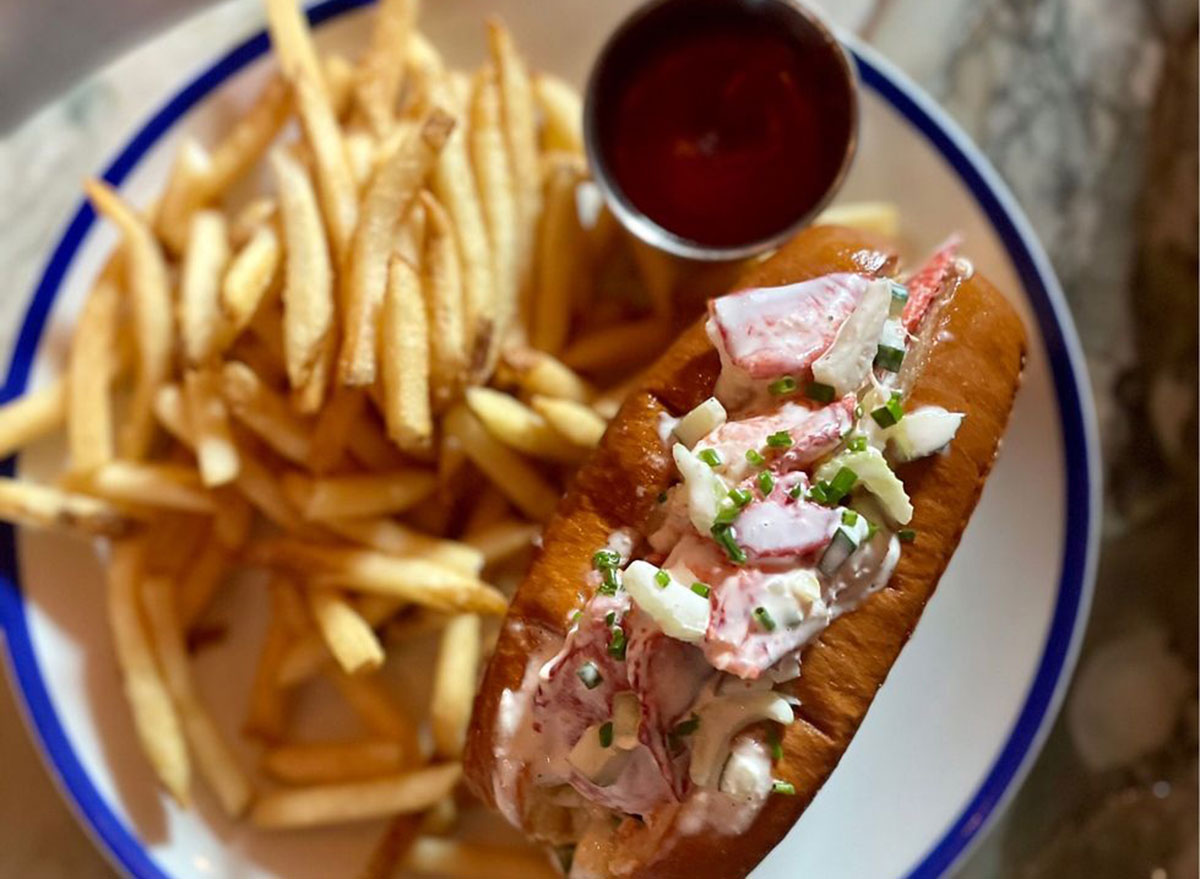 In a town known for fantastic crawfish boils, this packed-with-character oyster bar, recommended to us by several locals, is one of the only places you can get a fresh Atlantic lobster roll with mayo and celery. Fortunately, it's delicious.
MAINE: The Nor'easter Pound and Market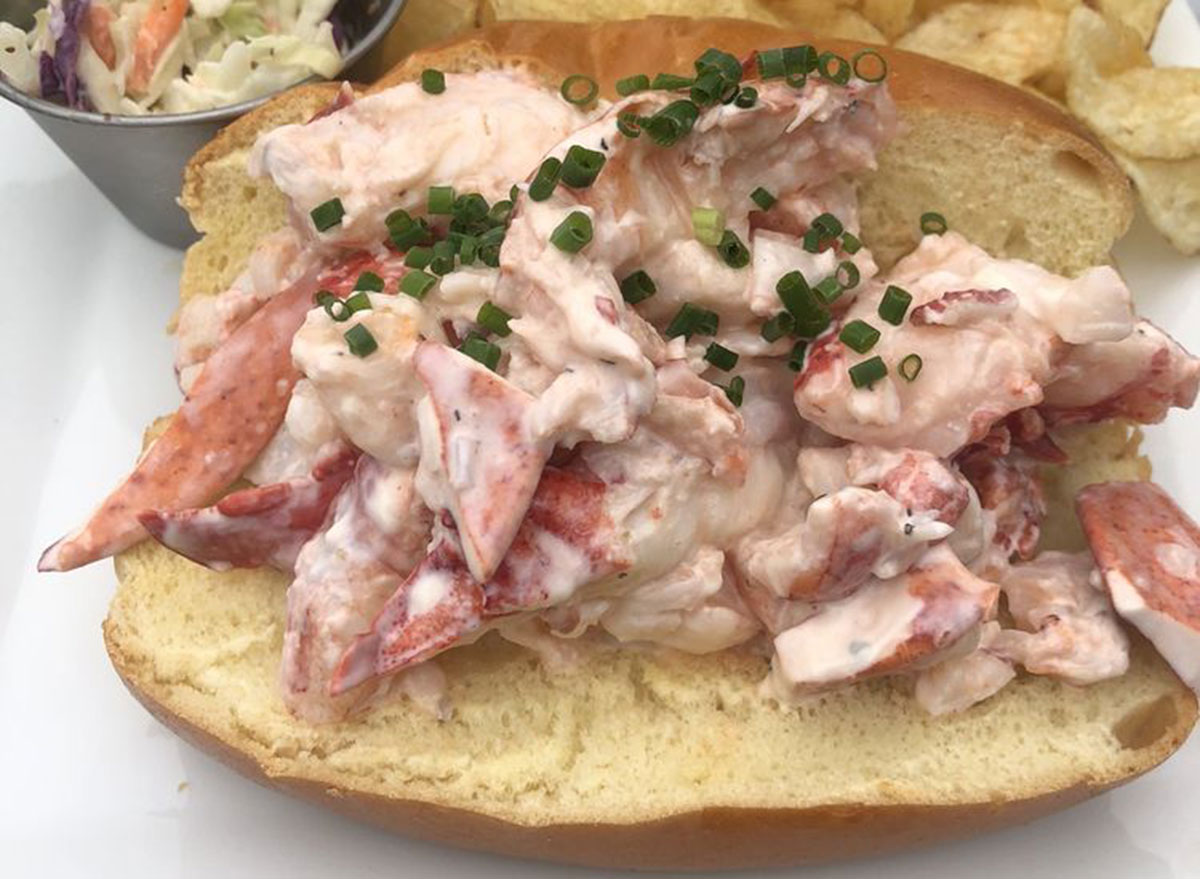 Choosing the best roll in Maine is like choosing your favorite child—you love all of them! But the Nor'easter wins for the variety of rolls. Options include both traditional hot and cold, and a unique style called The Acadian (a reference to the area's early French settlers) served with a spicy Cajun mayo.
MARYLAND: Thames Street Oyster House in Baltimore
While we think of the Maryland coast as crab country, they don't mess around when it comes to lobster rolls. One of the best stops, with many reviewers claiming it's "the best in the country" is Thames Street. Here, you get your sandwich served on a hot with claw, tail, and knuckle meat on a split top bun. Don't sleep on the Old Bay shrimp salad roll either!
MASSACHUSETTS: The Lobster Trap in Bourne
Sitting at the gateway to Cape Cod, this classic seafood shack is consistently rated one of the top lobster rolls in the state due to size, freshness, and perfect buttery buns. It's tough to go wrong with a lobster roll in New England! If you're closer to Boston, try Belle Isle Seafood in Winthrop.
MICHIGAN: Olive's Restaurant and Bar in Grand Rapids
It's not always on the menu, but when you see the New England-style lobster roll special at Olive's, order it immediately. It's actually two smaller butter-toasted split-top rolls that are packed with fresh, perfectly cooked lobster, served alongside kettle chips or fries. There is also a killer salmon roll on the menu, which almost cures the craving.
MINNESOTA: Coastal Seafoods in Minneapolis
A seafood market frequented by chefs, this longtime local fave also has a cafe where you'll find the rave-worthy lobster roll. It's said to be "stacked to the brim and so flavorful! The bread is so toasty and buttery," according to one reviewer. Check their Instagram page to find out when it's fresh and on the menu.
MISSISSIPPI: Saltine in Jackson
This cute oyster bar serves a lobster roll on a toasted New England-style split-top bun along with Old Bay chips. Another winner? The roast beef debris po'boy.
MISSOURI: Peacemaker Lobster and Crab in St. Louis
Heavily influenced by the Acadian cuisine connecting New Orleans and Maine, Peacemaker offers coastal favorites like lobster rolls, po'boy sandwiches, steamed blue crab, seafood boils, and chowders. Locals love the hot and cold version of the iconic sandwich.
MONTANA: Second Set Bistro in Missoula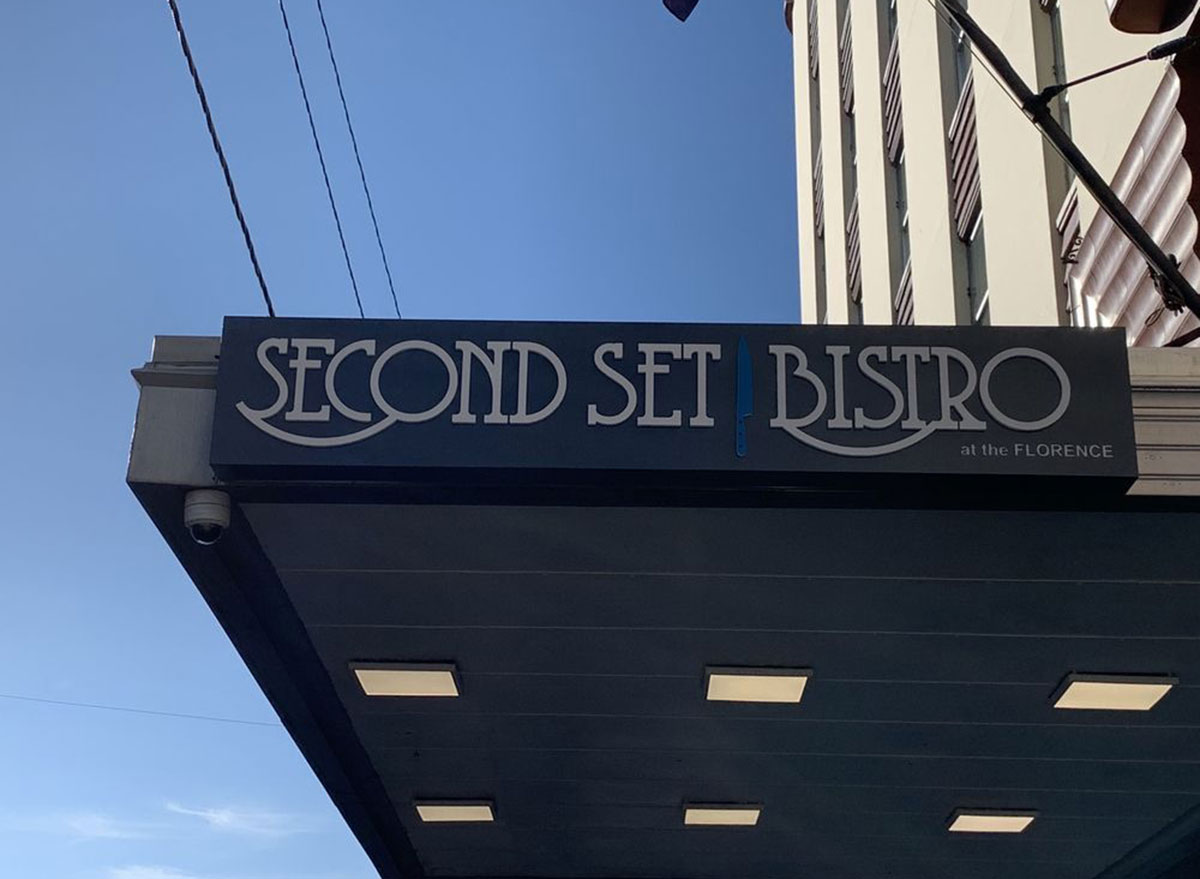 This laid-back bistro does lobster rolls the way you should have them—when the lobster is fresh, that's when the lobster rolls are on the menu. Keep your eye on the Facebook page for first-come, first-serve New England-style rolls filled with sweet lobster meat.
NEBRASKA: Shuck's Fish House & Oyster Bar in Omaha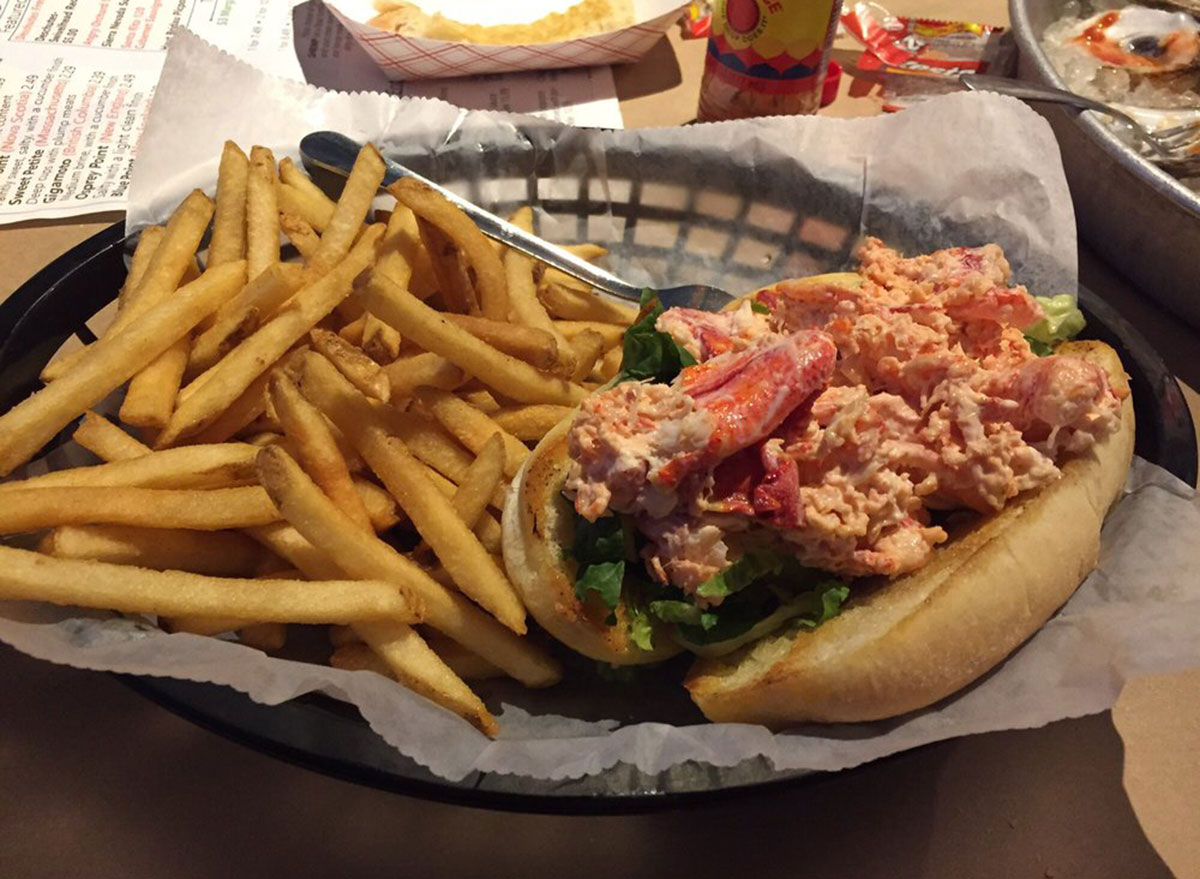 After getting its start as a fish market, this spot expanded from an in-house oyster bar to three locations that are beloved in Omaha. The lobster roll is served with "just enough mayo to hold it together," and comes with fries and coleslaw.
NEVADA: Shuck's Tavern & Oyster Bar in Las Vegas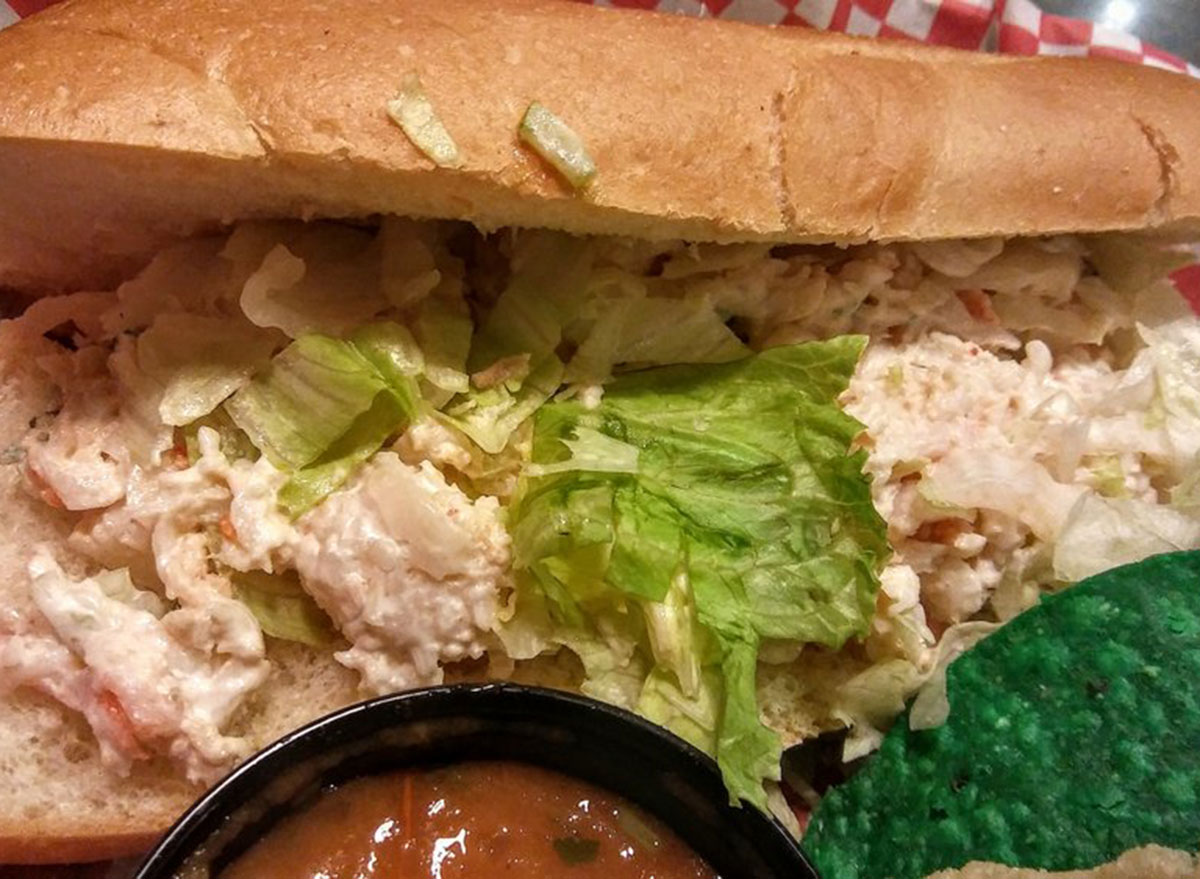 Ever craved a lobster roll and oysters at 3 a.m., perhaps with a side of slot machines? You can get all of that at Shuck's. Here, the mayo-based lobster roll is served up on a French brioche seasoned with Old Bay.
NEW HAMPSHIRE: Row 34 in Portsmouth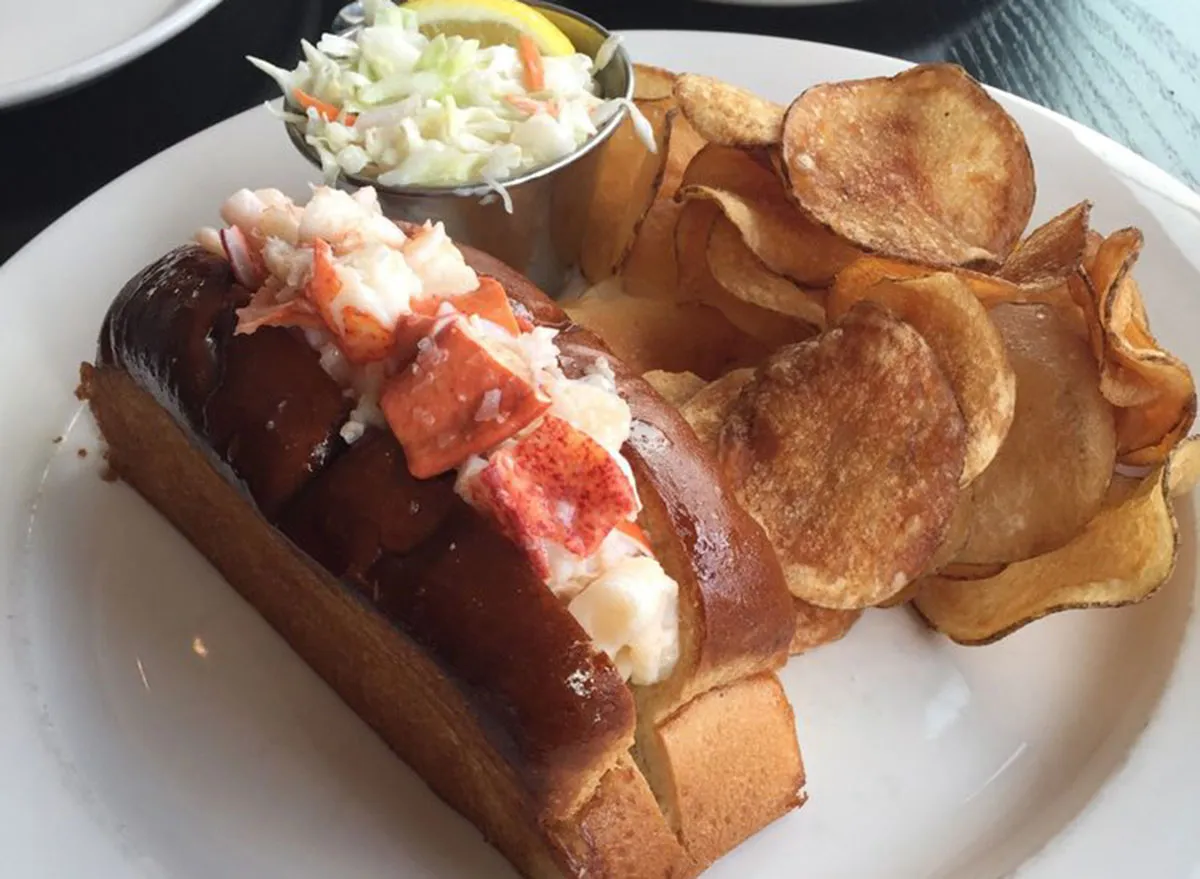 There are a lot of great lobster rolls in the seaside village, but this chic spot's rolls are our faves. Try the warm buttered version, or Ethel's Creamy cold version. Both are served with slaw and chips and pair perfectly with the restaurant's deep and interesting beer and wine list.
NEW JERSEY: Elysian Cafe in Hoboken
While we love a seaside lobster roll, one of the best we've had in Jersey is in a tiny French Bistro—the longest continually operated restaurant in the Garden State. Tuck into the historic space for a split top bun packed with cold lobster meat, paired with crispy fries and arugula.
NEW MEXICO: Slapfish in Various Locations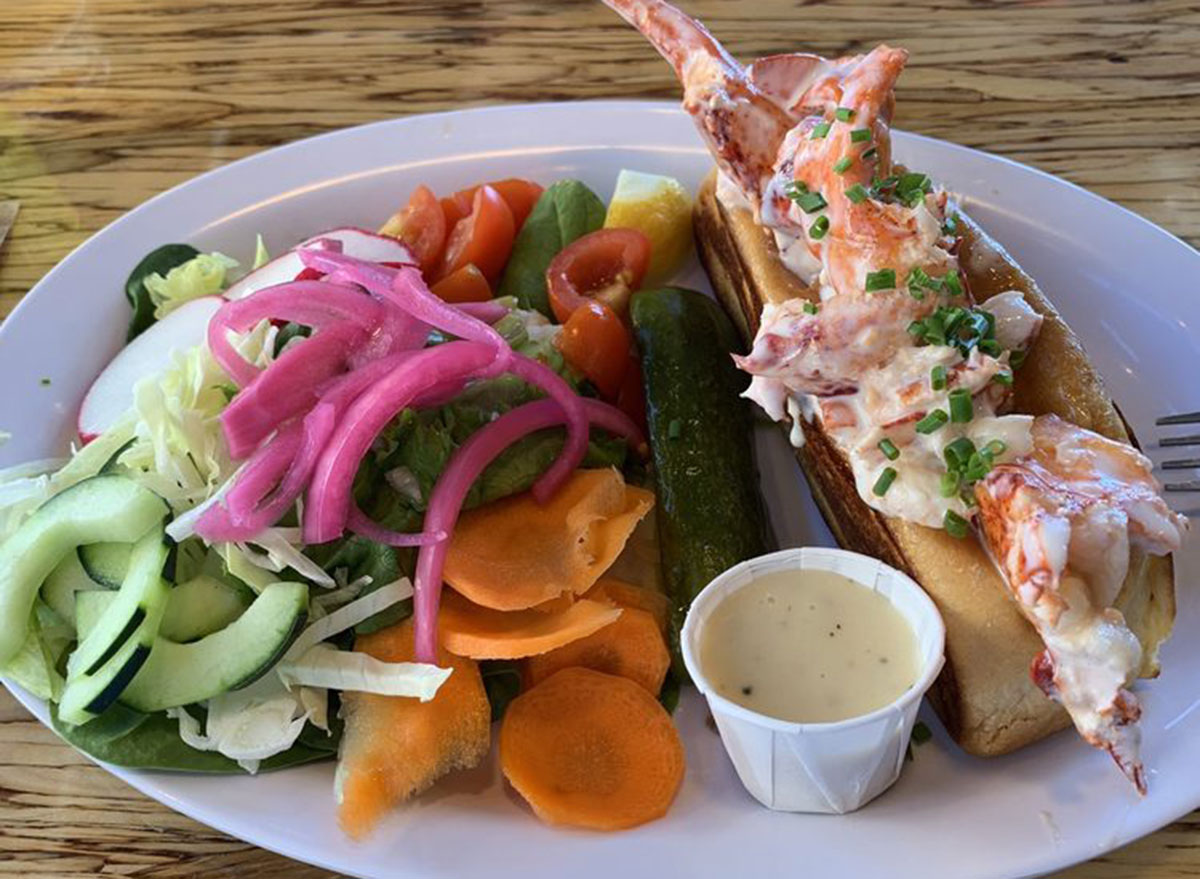 With the goal of bringing fresh seafood to everyone, this small chain is making waves in places like New Mexico, where locals rank them as the best spot for a lobster roll.
NEW YORK: Duryea's Lobster Deck and Seafood Market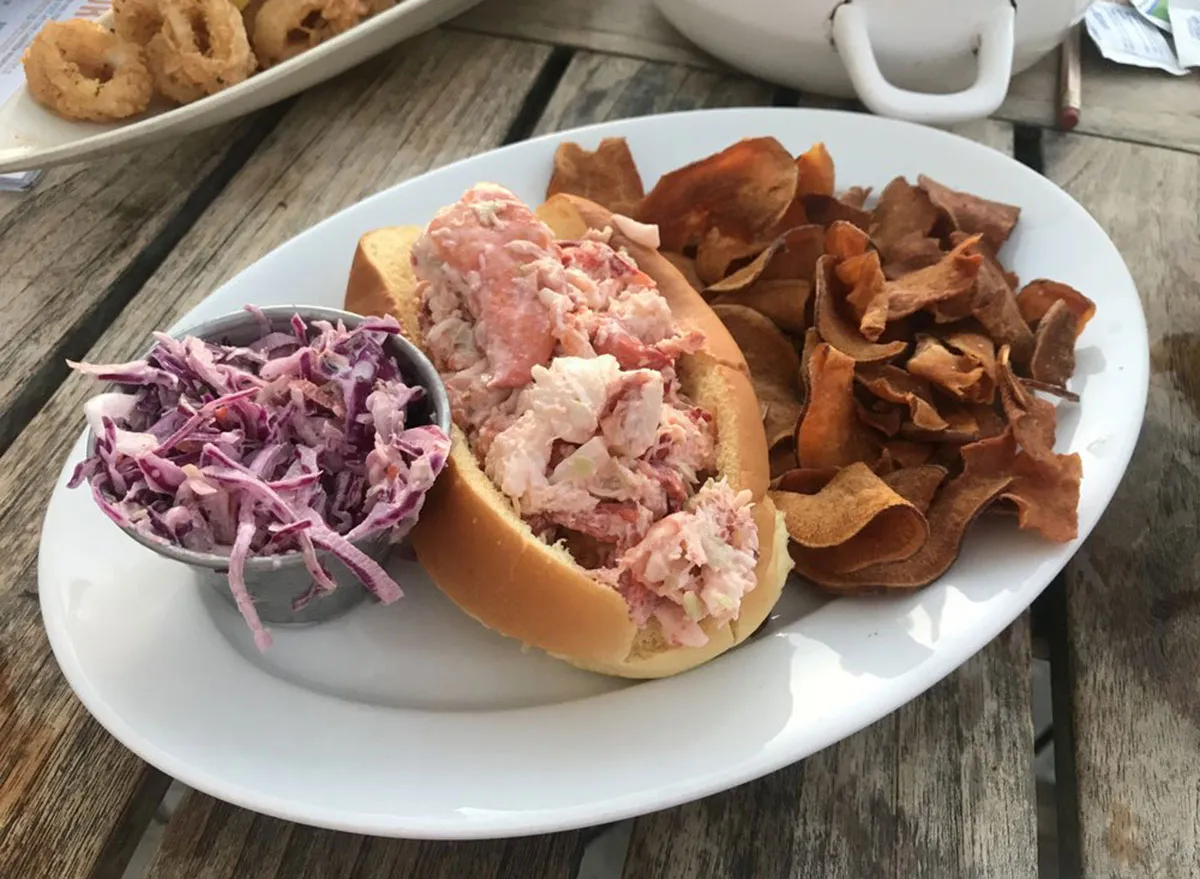 Picking the best lobster roll in New York is almost as tough as picking the best in New England—there are so many choices. But people are very passionate about Duryea's. Maybe it's the perfect 100% lobster meat on a buttery, toasted bun. Or maybe the end of the world view and vacation vibes factor in, too.
NORTH CAROLINA: Nantucket Grill in Various Locations
This southern grill serves up New England favorites at three spots in North Carolina, and locals and transplants agree the straightforward mayo-style lobster roll is the most authentic and tastiest in the state.
NORTH DAKOTA: Deep Blue Seafood in Fargo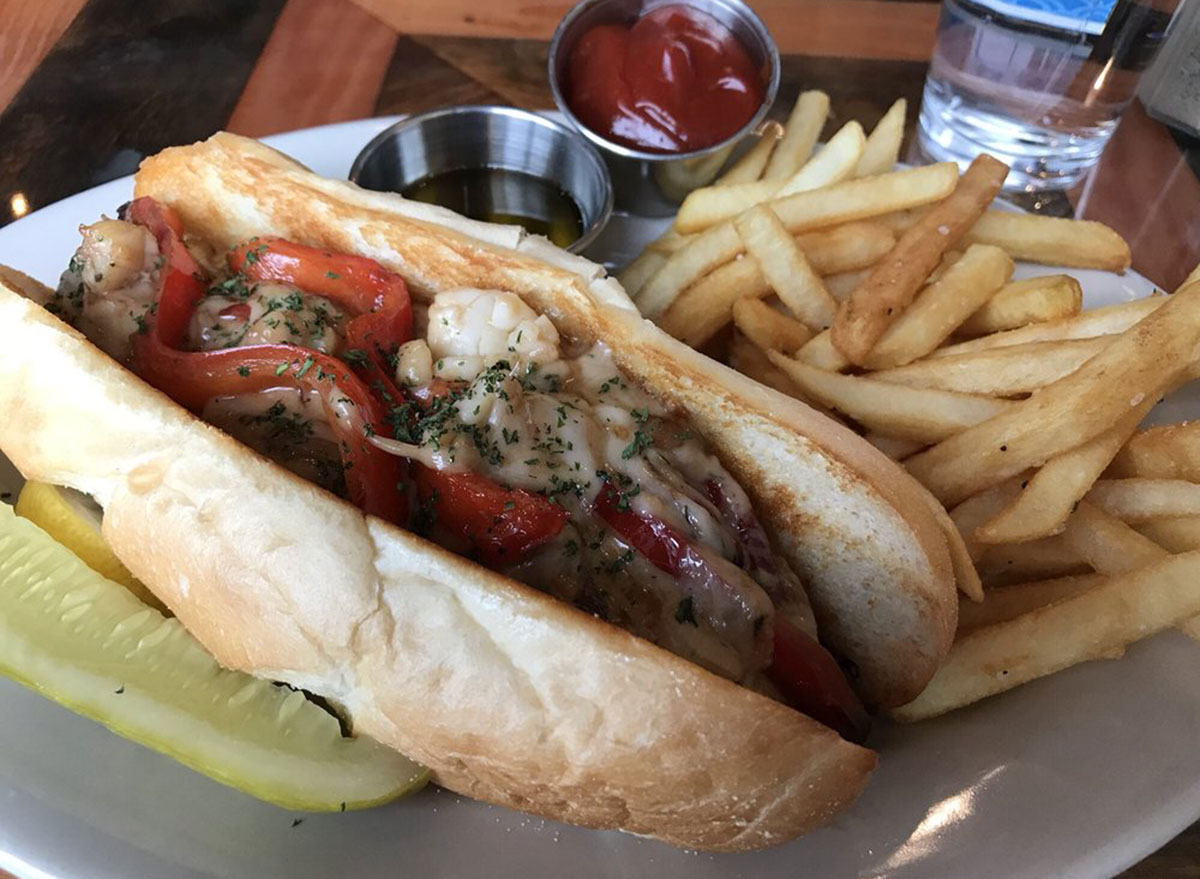 Primarily a fish market, Deep Blue's tiny restaurant does occasionally offer lobster rolls, along with fresh lobster and shrimp tacos. With seafood flown in fresh twice a week, this is your best bet for a great lobster roll in North Dakota. Check the Facebook page for menu updates!
OHIO: Alley Cat Oyster Bar in Cleveland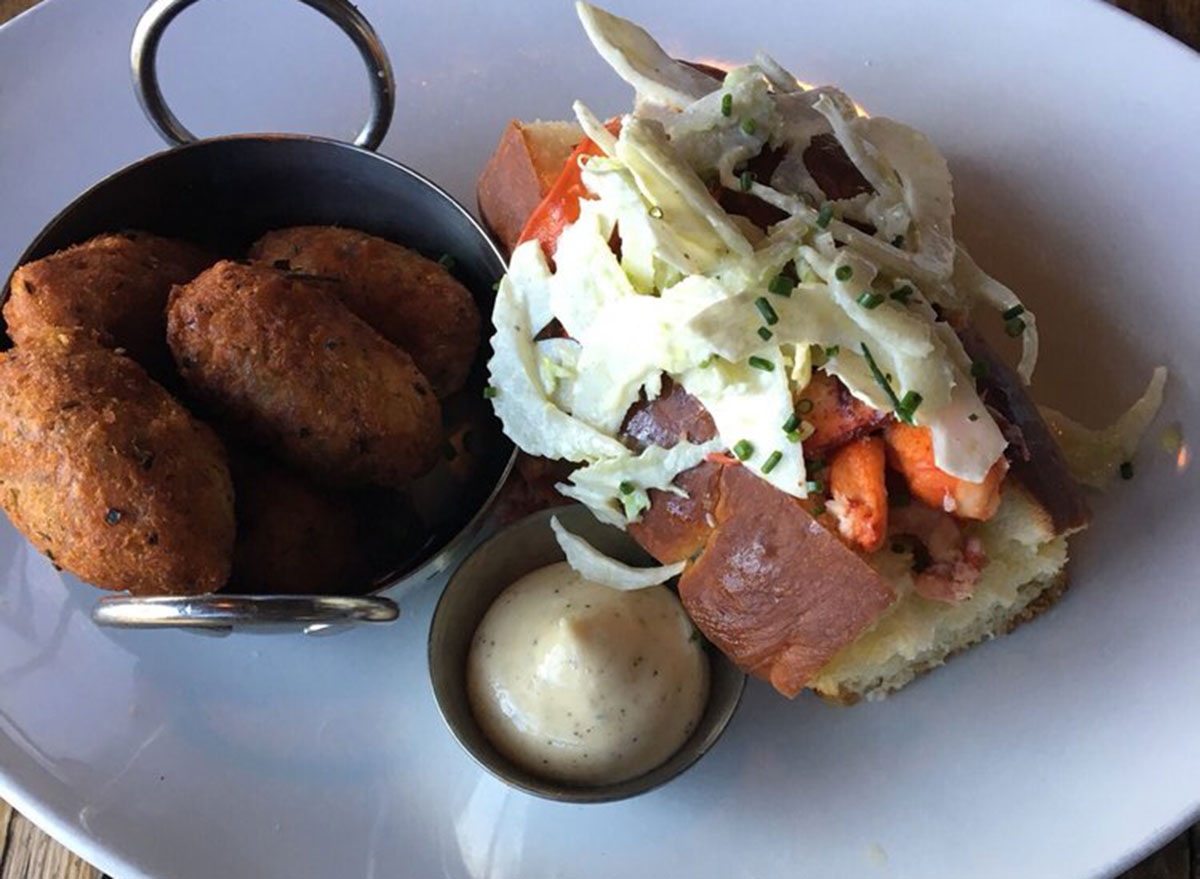 Offering fresh oysters and seafood to Cleveland, local favorite Alley Cat serves a herbaceous take on the East Coast classic with butter-poached lobster, green goddess dressing, celery-fennel slaw, Mediterra split-top bun and a side of Old Bay fries.
OKLAHOMA: Pearls Oyster Bar in Oklahoma City
This giant seafood palace is where locals go for their crustacean fix, as you'll find Cajun-style fried fish. But when the lobster roll is on the menu, locals say it's a must-try and "not stingy on the lobster."
OREGON: Coast to Coast Fish House in Portland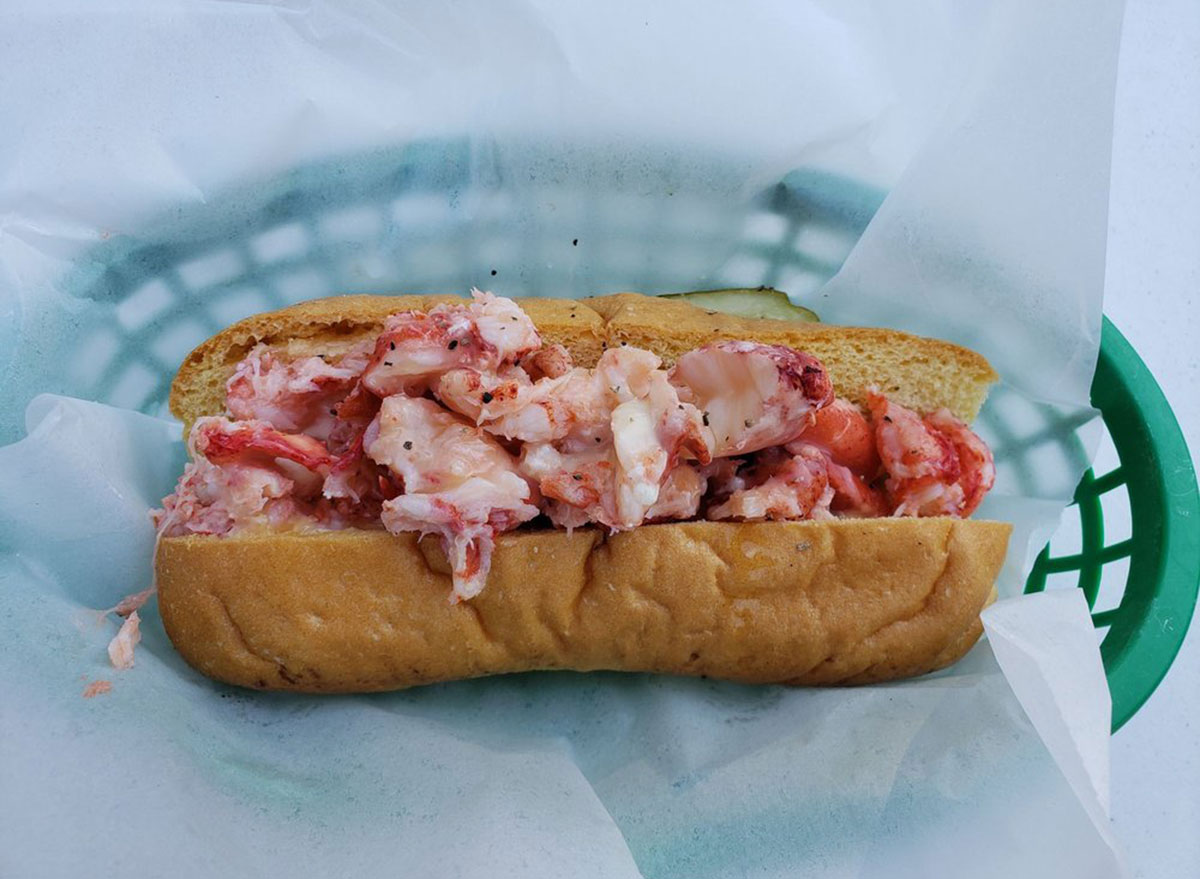 Whether you want a full roll, or just sliders to sample, this spot specializing in New England style seafood has you covered. You can get a full-size traditional Maine lobster roll with a cup of clam chowder, or try the sharable lobster and crab sliders.
PENNSYLVANIA: Oyster House in Philadelphia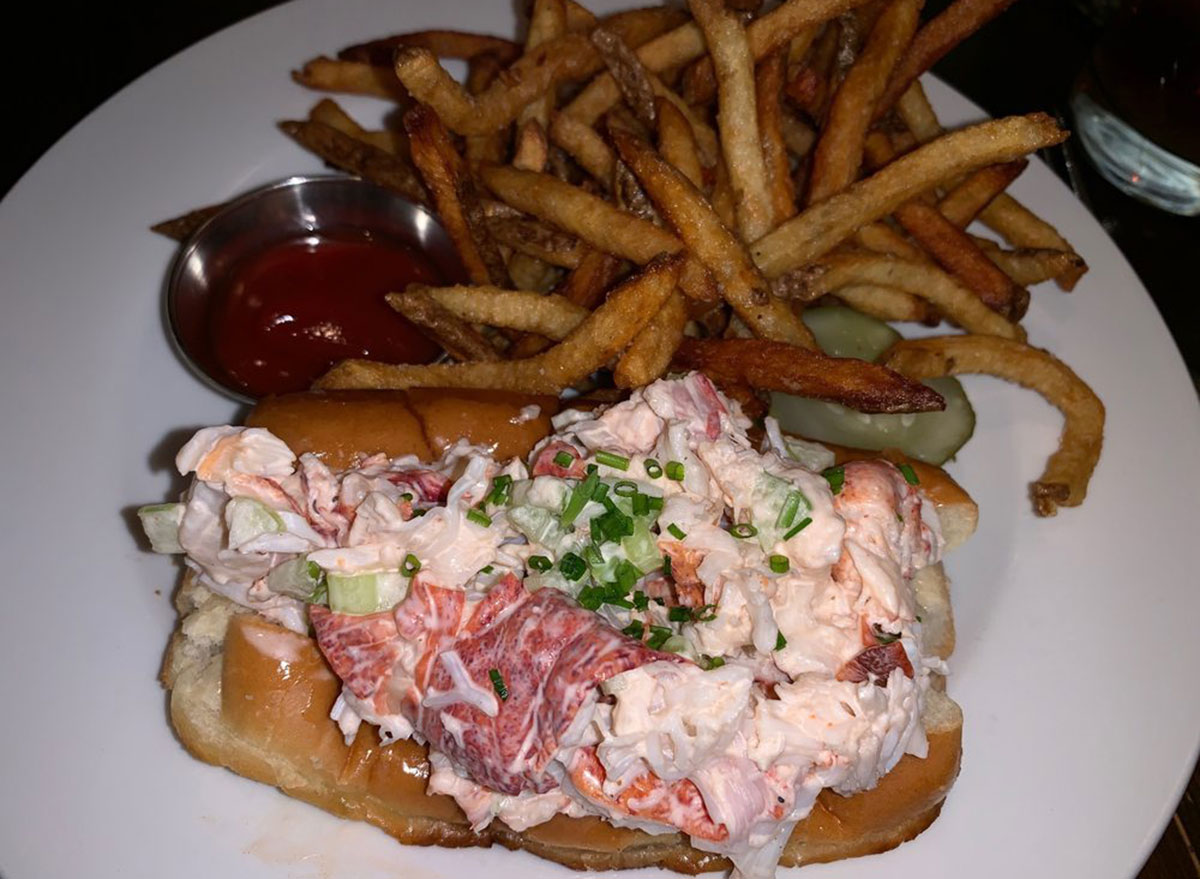 A great spot for all your favorite east coast seafood classics, you can get your New England-style cold lobster roll at the restaurant after a delicious oyster happy hour. You can also get one of their kits to take home and assemble it yourself.
RHODE ISLAND: Matunuck Oyster Bar in South Kingston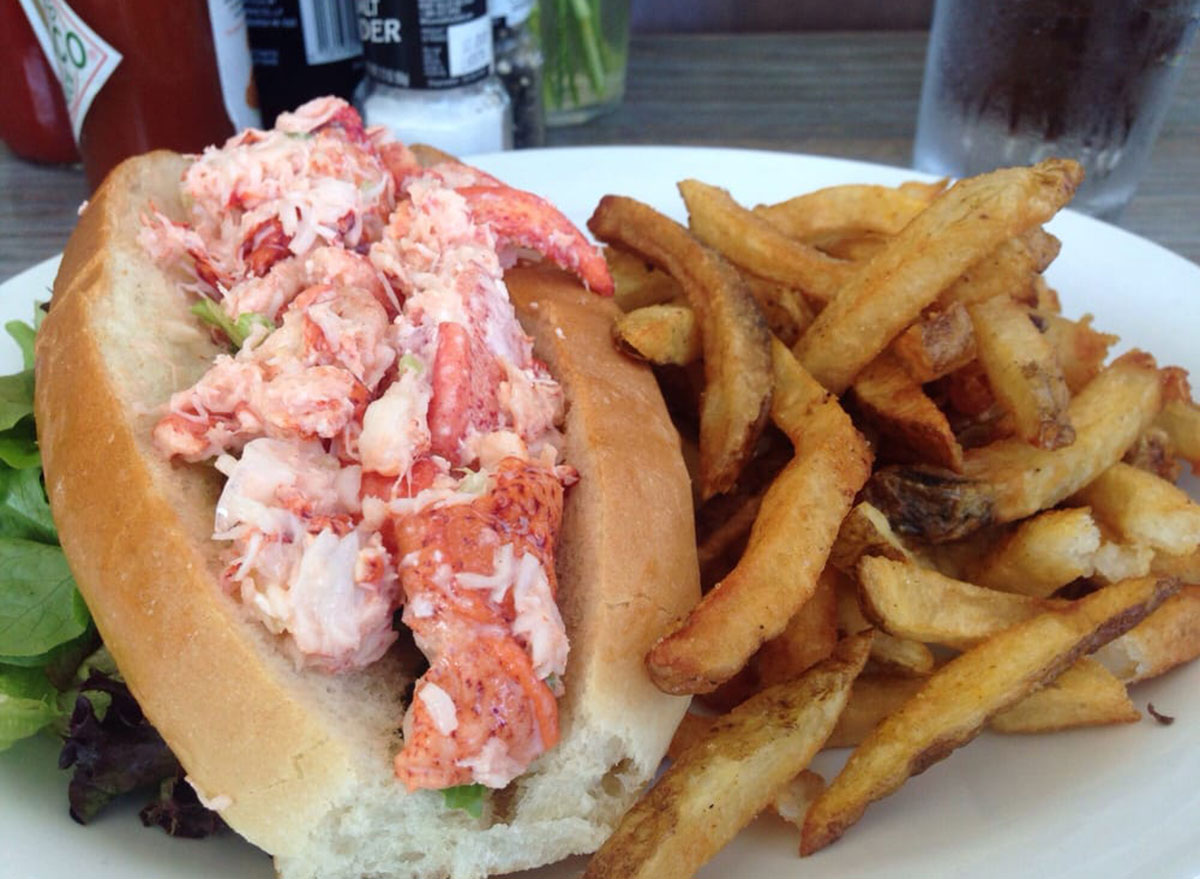 With a raw bar sourced on-site (you can even tour the oyster farm), you know this restaurant is committed to the freshest seafood. The lightly dressed New England style roll is known for being one of the biggest in the state, and you'll love the ocean views as you nosh away.
SOUTH CAROLINA: 167 Raw in Charleston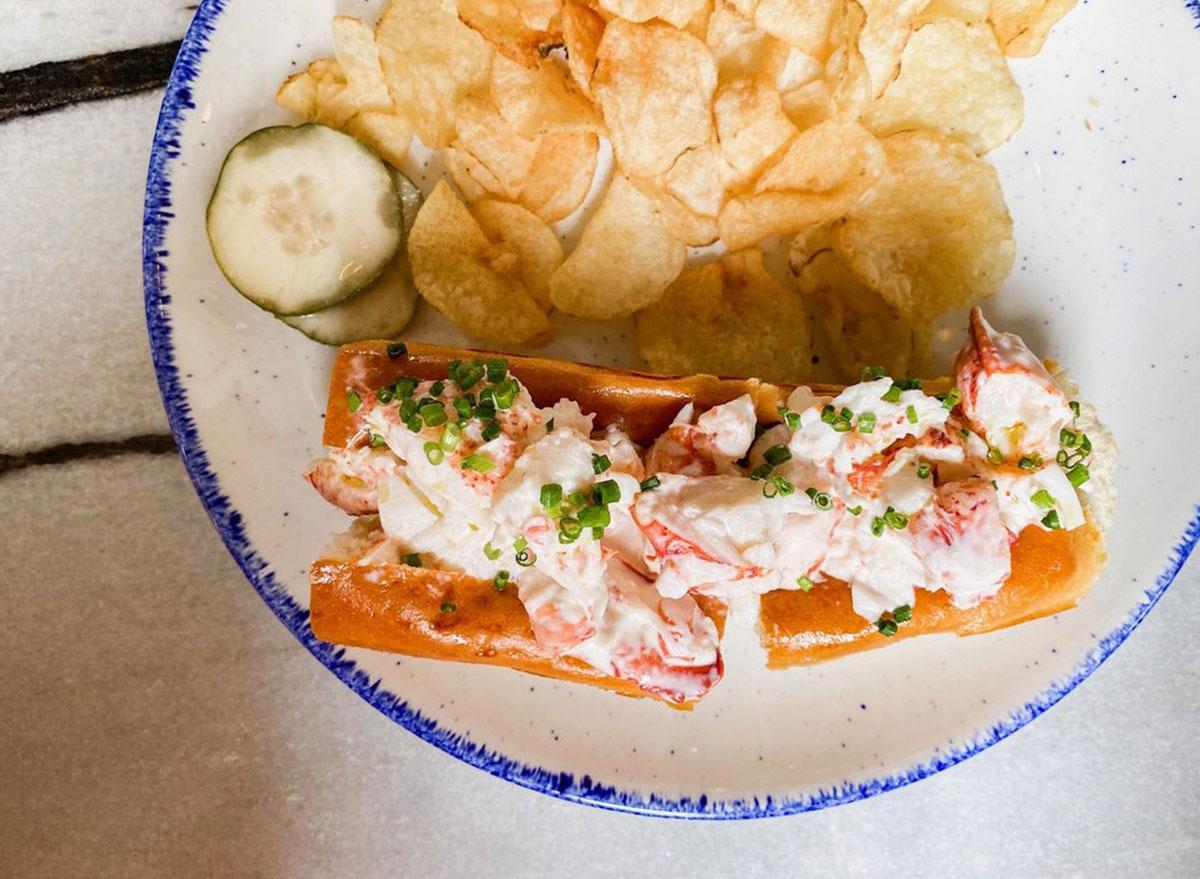 This bustling New England style raw bar is a local favorite for everything briny, including the classic lobster roll that a reviewer claims is "the best I've ever had."
SOUTH DAKOTA: Morrie's Steakhouse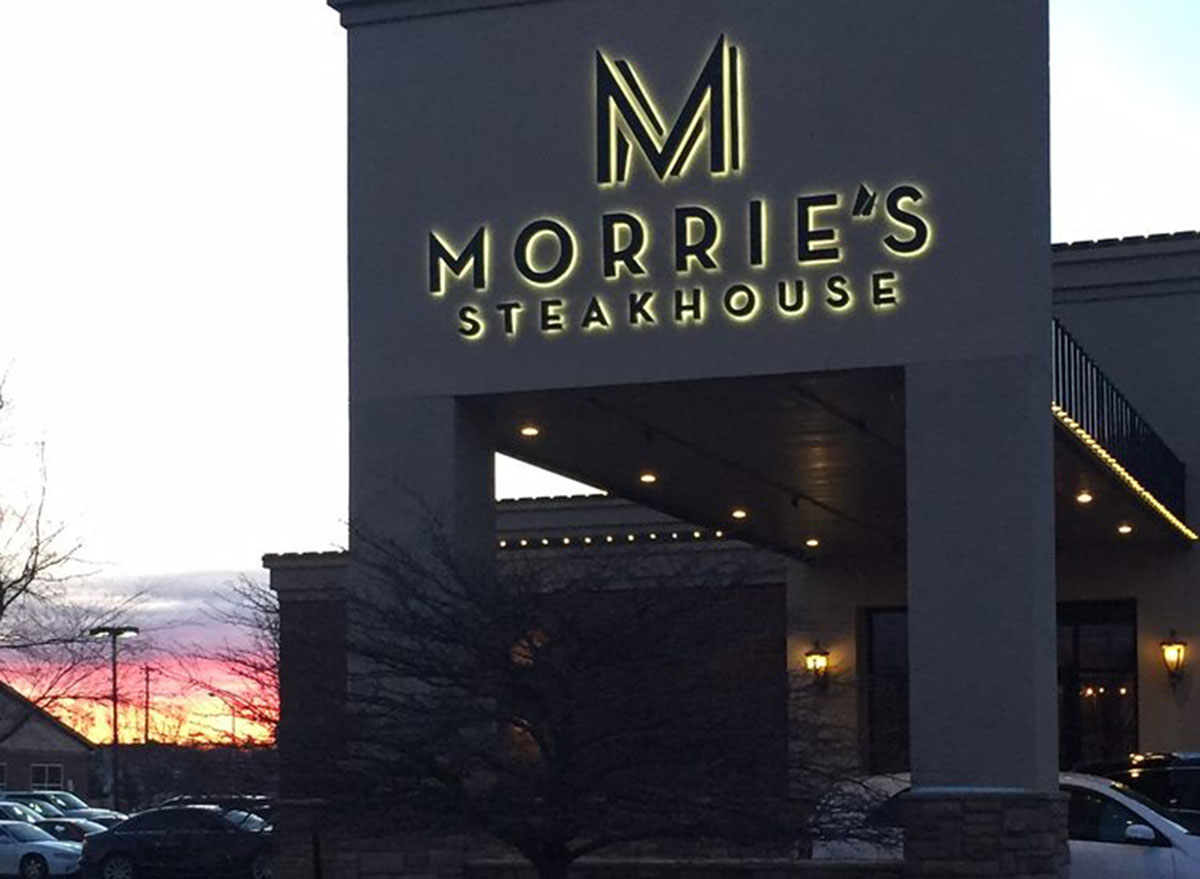 A secret item at this fancy steakhouse's lounge menu, the restaurant uses a New England style bun as the delivery method for butter poached Canadian lobster that they serve with truffled steak fries. So indulgent!
TENNESSEE: Hampton Social in Nashville
Yes, a Hampton's style restaurant right in the middle of Nashville. And guess what? It's home to the best lobster roll you're going to find in Tennessee with market fresh lobster prepared warm in butter or cold with mayo.
TEXAS: Lovers Seafood and Market in Dallas
A locally owned seafood market offering fresh fish daily, Lover's also has a restaurant serving seafood favorites like a Maine style lobster roll dressed with lemon aioli and celery. For something different, try the griddled lobster tacos!
UTAH: Colossal Lobster in Salt Lake City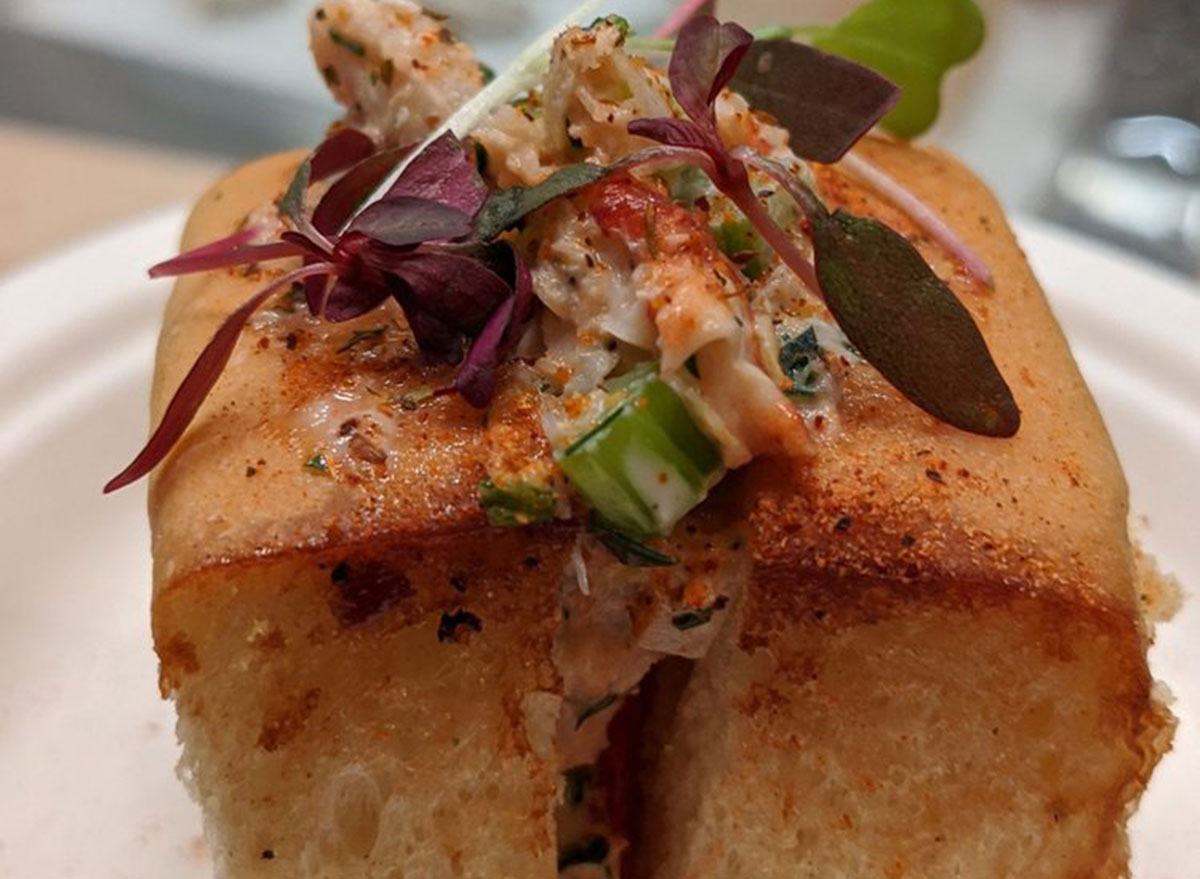 Located in the adorably named Hall Pass food hall, this takeout spot has the best lobster rolls in the Beehive state per our local spies. You'll find Maine and Connecticut styles on the menu, as well as a super unique lobster reuben we can't wait to try.
VERMONT: Bleu Northeast Kitchen in Burlington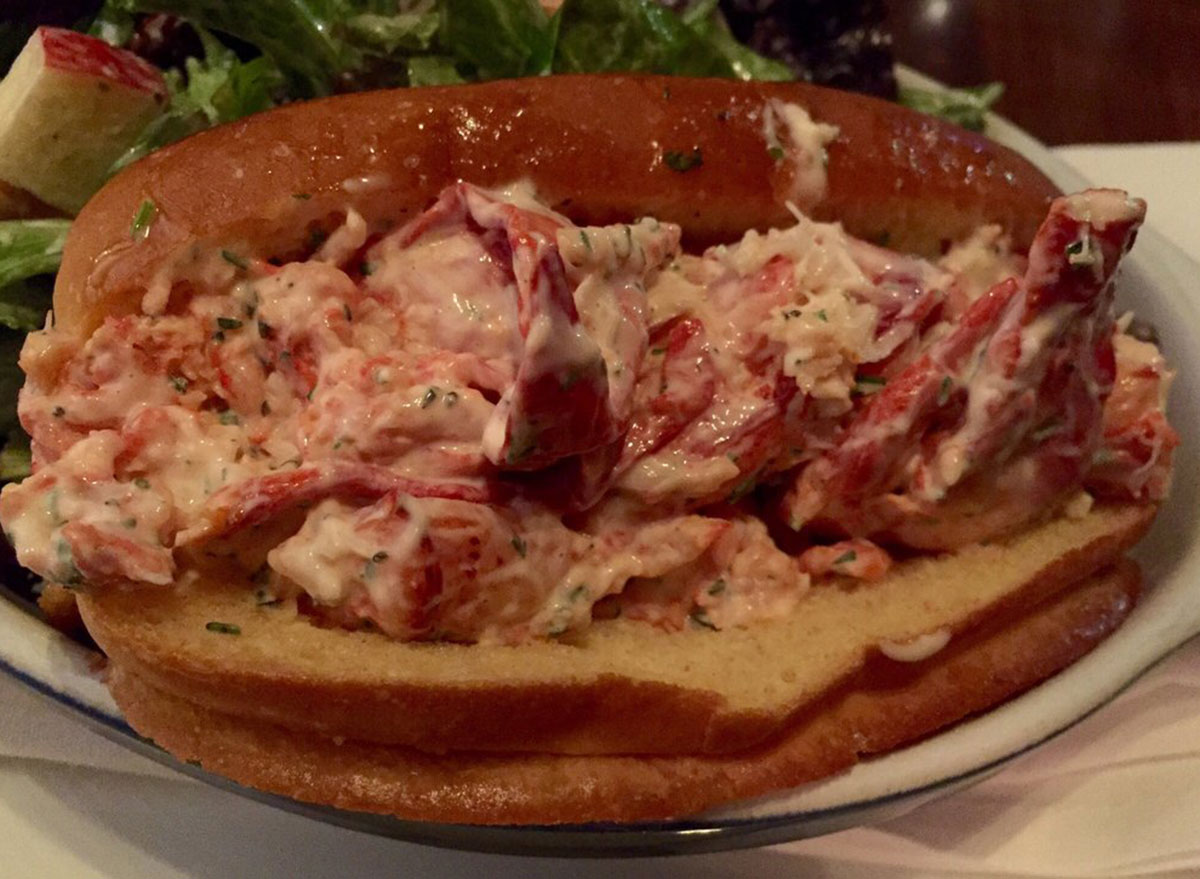 The only state in New England without a seaside, Vermont still has some great lobster roll options like this seafood forward bistro. They keep it simple and satisfying with notes of citrus, pickled fennel, mayo, chives, and fresh lobster meat on a buttered brioche roll.
VIRGINIA: Vola's Dockside in Alexandria
This fun lounge has an abundant seafood and cocktail menu, but the lobster roll is a definite standout. It's made with hearty chunks of meat mixed with a flavor-packed lemon-tarragon mayo that's served with a side of Old Bay fries.
WASHINGTON: Market Fresh in Seattle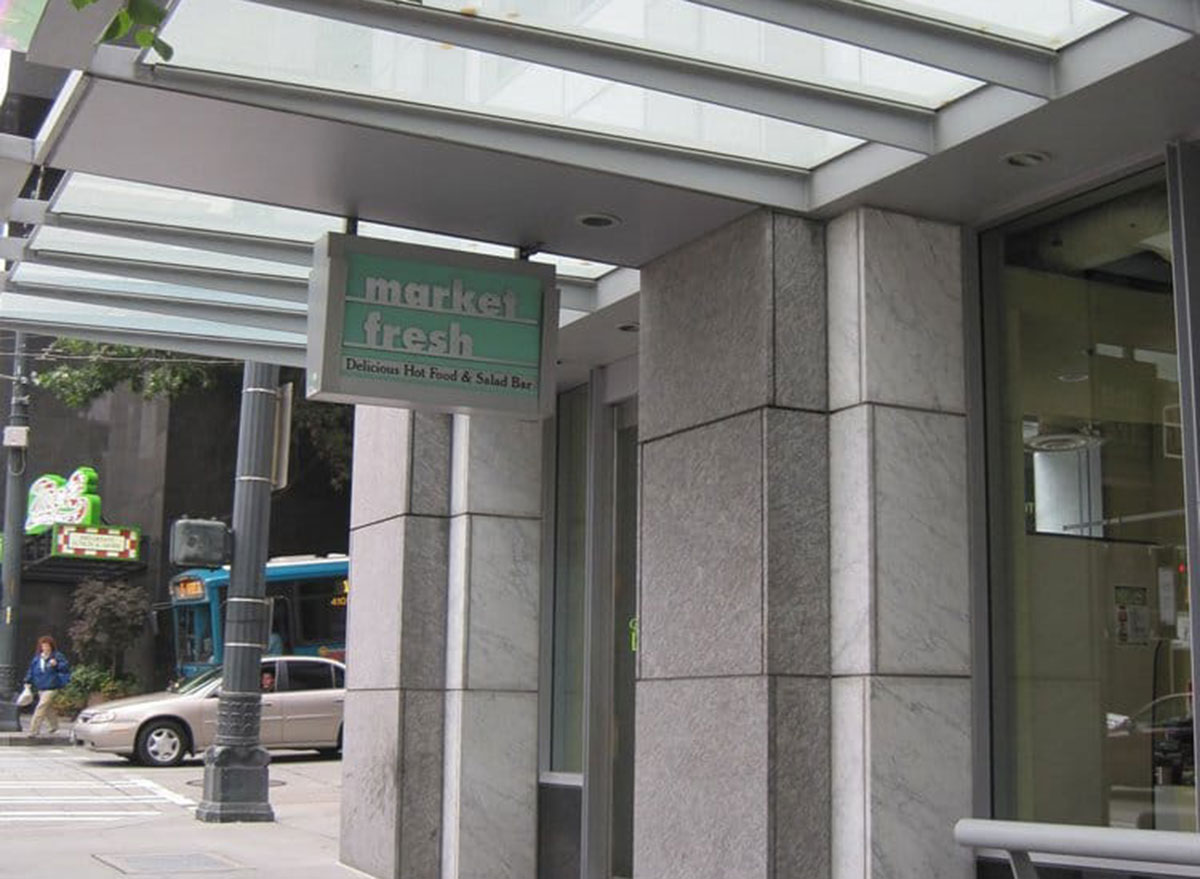 While we tend to go for crab when in the Pacific Northeast, sometimes you just want lobster. The sustainable, fresh seafood restaurant Market Fresh delivers warm, butter-poached lobster on a local brioche roll.
WEST VIRGINIA: Tidewater Grill in Charleston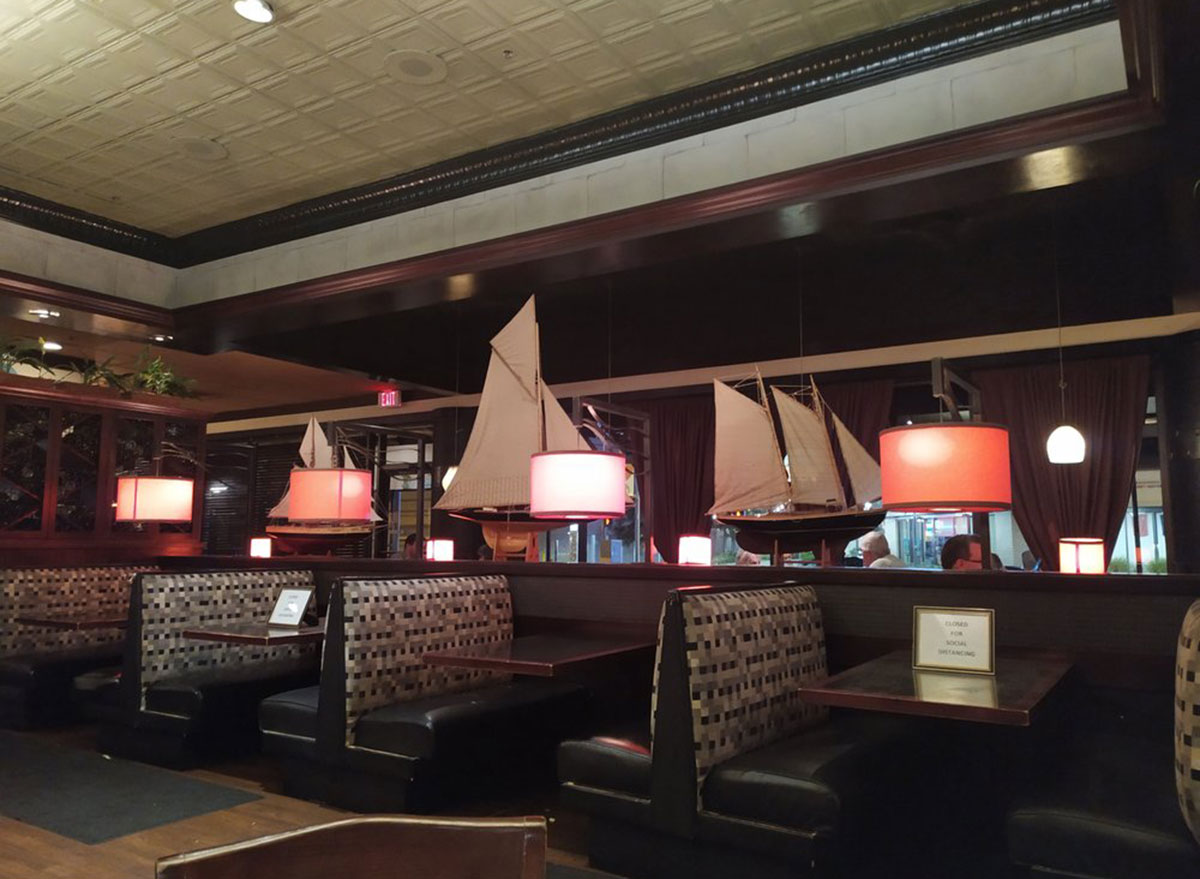 At this seafood spot, you don't just get one lobster roll—you get two! Served cold with mayo and celery, Tidewater's lobster roll will cure your cravings.
WISCONSIN: St. Paul Fish Company in Milwaukee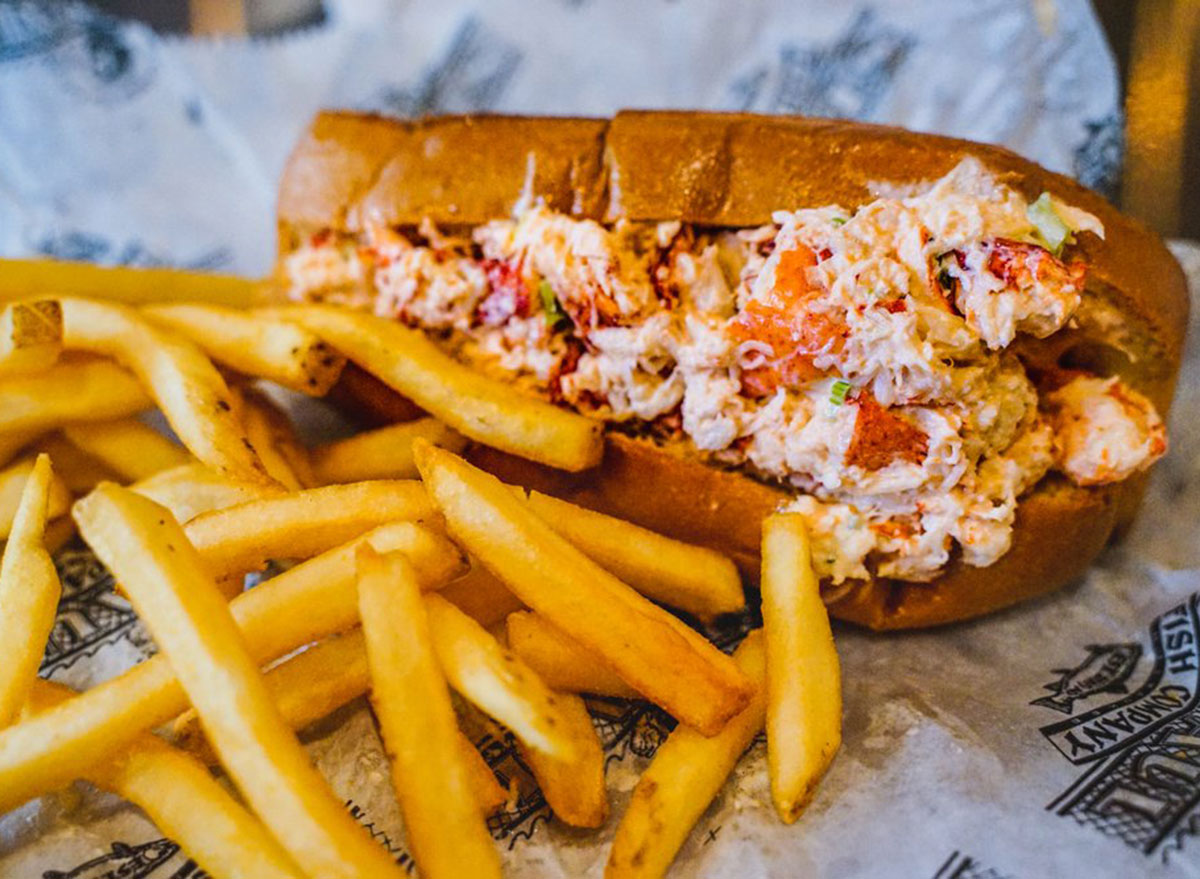 Located in Milwaukee's public market, you can get a New England-style lobster roll at this takeout spot that locals swear is the "best you can get in Wisconsin."
WYOMING: Miazga's in Jackson Hole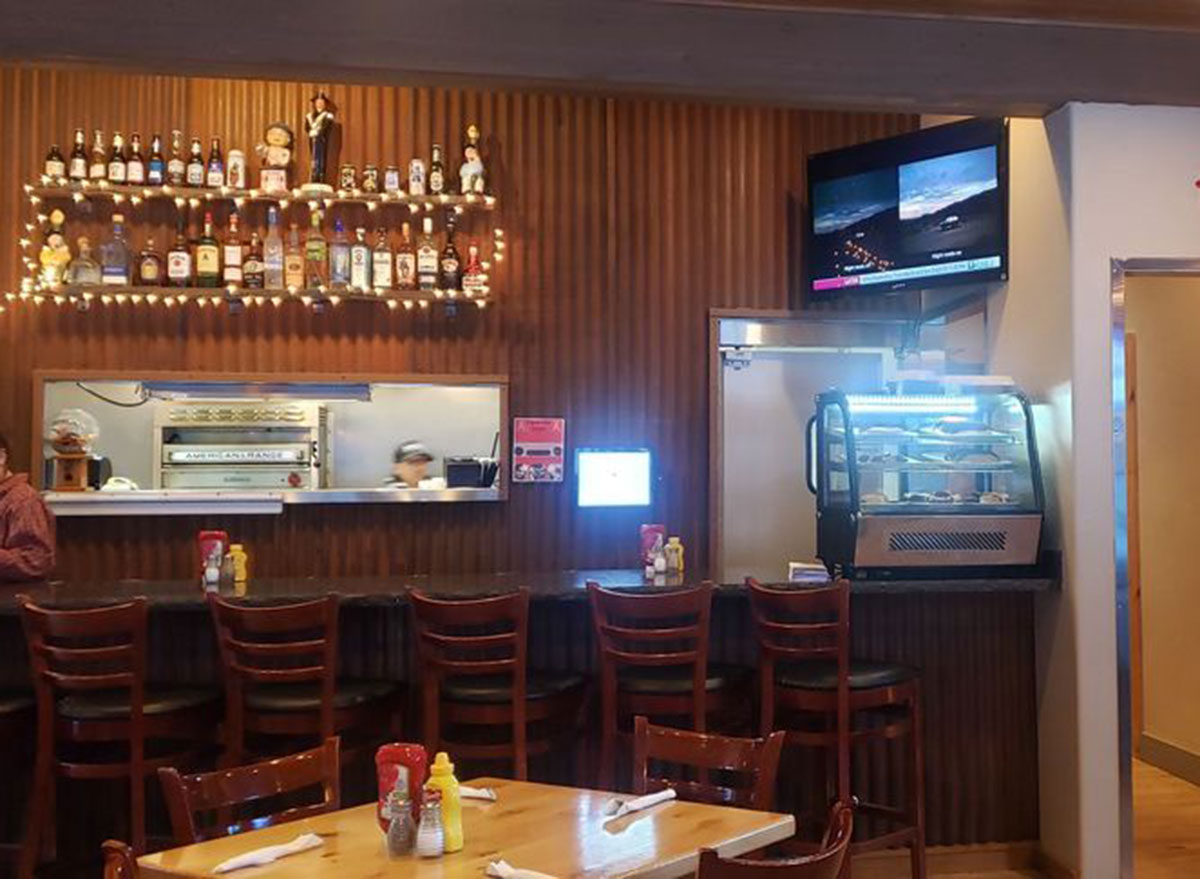 Like a lot of lobster roll situations in landlocked states, getting your hands on the 1/4 pound lobster roll (served hot or cold) with Cape Cod chips at Miazga's requires patience. You can only get it on Fridays, and they sell out fast so call ahead!
Tanya Edwards
Tanya Edwards is a seasoned food and health journalist, who has held roles at Yahoo Health as Managing Editor and at Food Network as Programming Director.
Read more about Tanya