The Best Cheesecake in Every State
From traditional cheesecake to varieties that put a spin on an old classic, here is the best cheesecake in every state.
Cheesecake has been gracing the tables of people all over the world for years—4,000 years to be exact. This delicious dessert, which garnered widespread attention in the 1920s when Arnold Reuben created the first NY-style cheesecake, actually has roots dating all the way back to ancient Greece. In fact, it is believed that cheesecake was served to athletes at the first Olympic games in 776 B.C. and at ancient Greek nuptials as the wedding cake. It is no surprise that thousands of years later people are still enjoying this creamy, rich dessert—it is mouth-wateringly good.
From traditional cheesecakes, that can be found on sophisticated restaurant menus, to varieties that put a spin on an old classic and can be picked up at local delis, here is the best cheesecake in every state. Plus, here's your guide to the Best Dessert in Every State.
ALABAMA: Spot of Tea in Mobile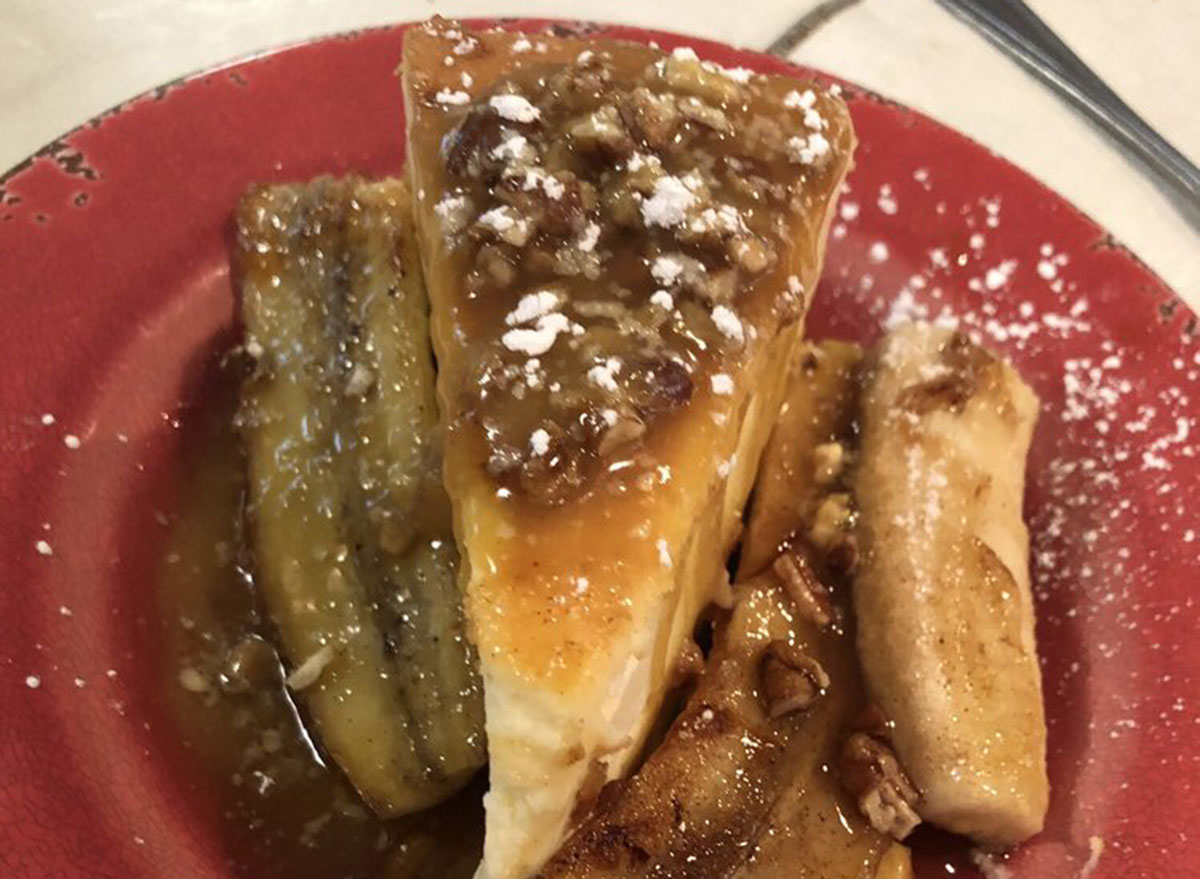 Nestled right in the hustle and bustle of Mobile's arts district, Spot of Tea has been serving the community delicious desserts and steaming cups of tea since the 1990s. Their cheesecake, which a Yelp reviewer has exclaimed as "to die for!" is always available and can be served with a decadent strawberry topping or bananas Foster sauce.
ALASKA: Moose's Tooth in Anchorage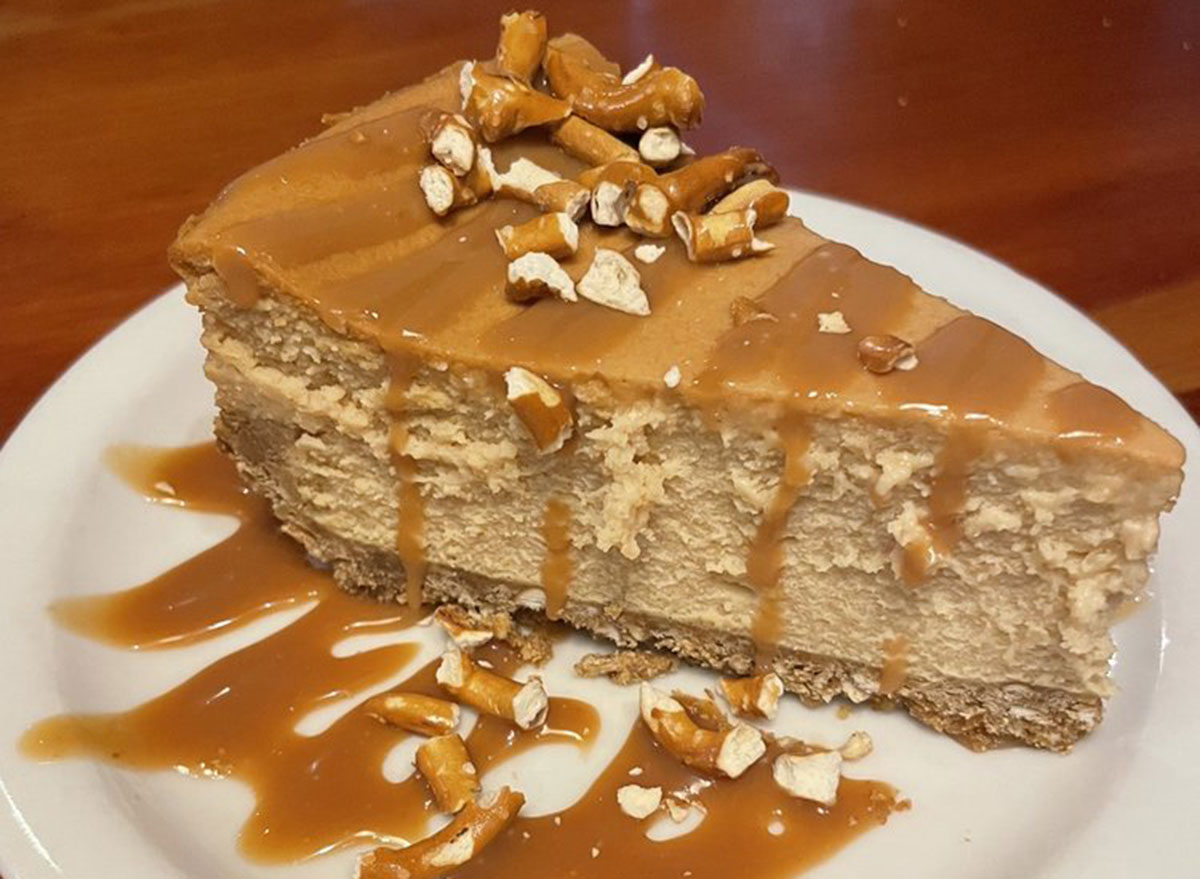 If you are in Anchorage be sure to check out Moose's Tooth's "cheesecake of the month" which Alaskans rave about. Recently, its monthly flavor was triple chocolate cheesecake, a scrumptious dessert that featured a chocolate cookie crust layered with brownie and chocolate cheesecake. A dream come true!
ARIZONA: Banham's Cheesecake in Phoenix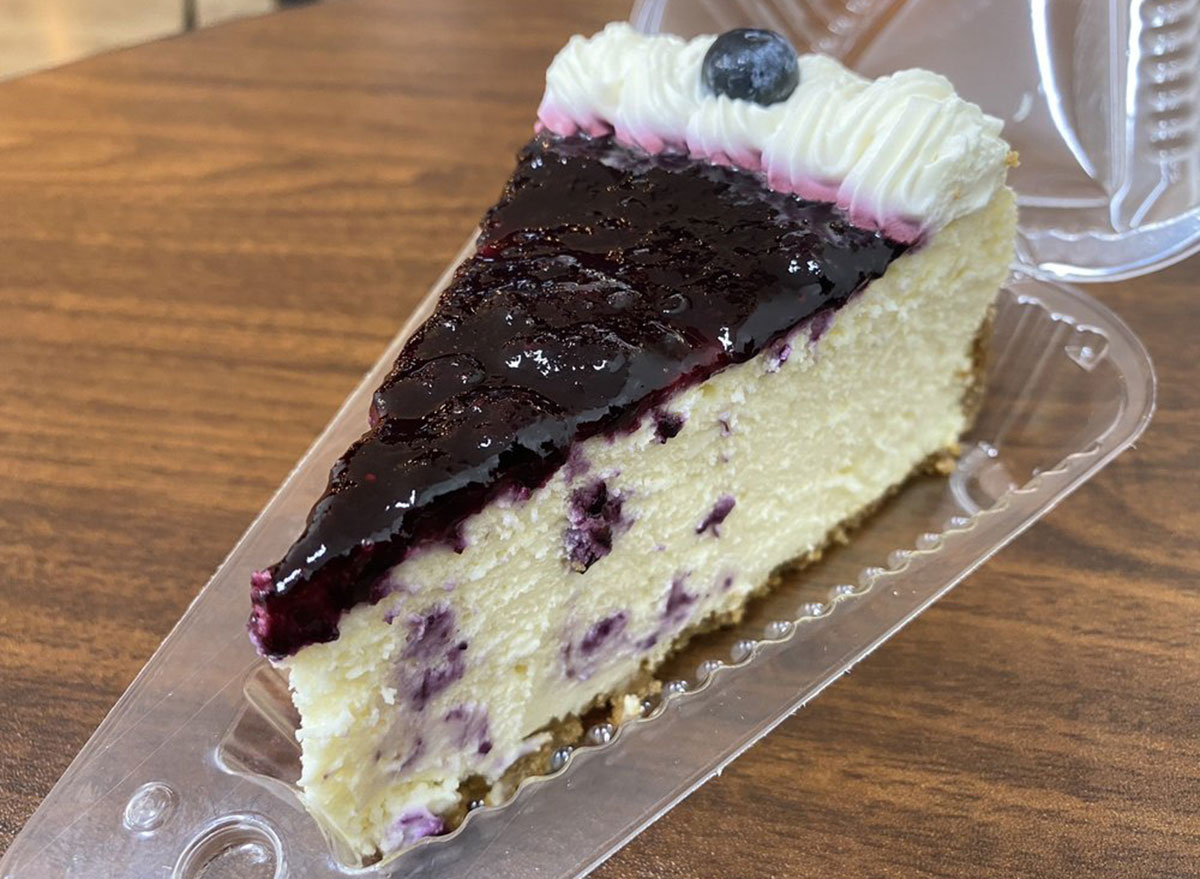 Free of artificial ingredients and bursting with flavor, the selection at Banham's Cheesecake really hits the spot. From brownie cheesecake to a coconut cream variation, they truly have a cheesecake for every flavor preference.
ARKANSAS: The Pantry Restaurant in Little Rock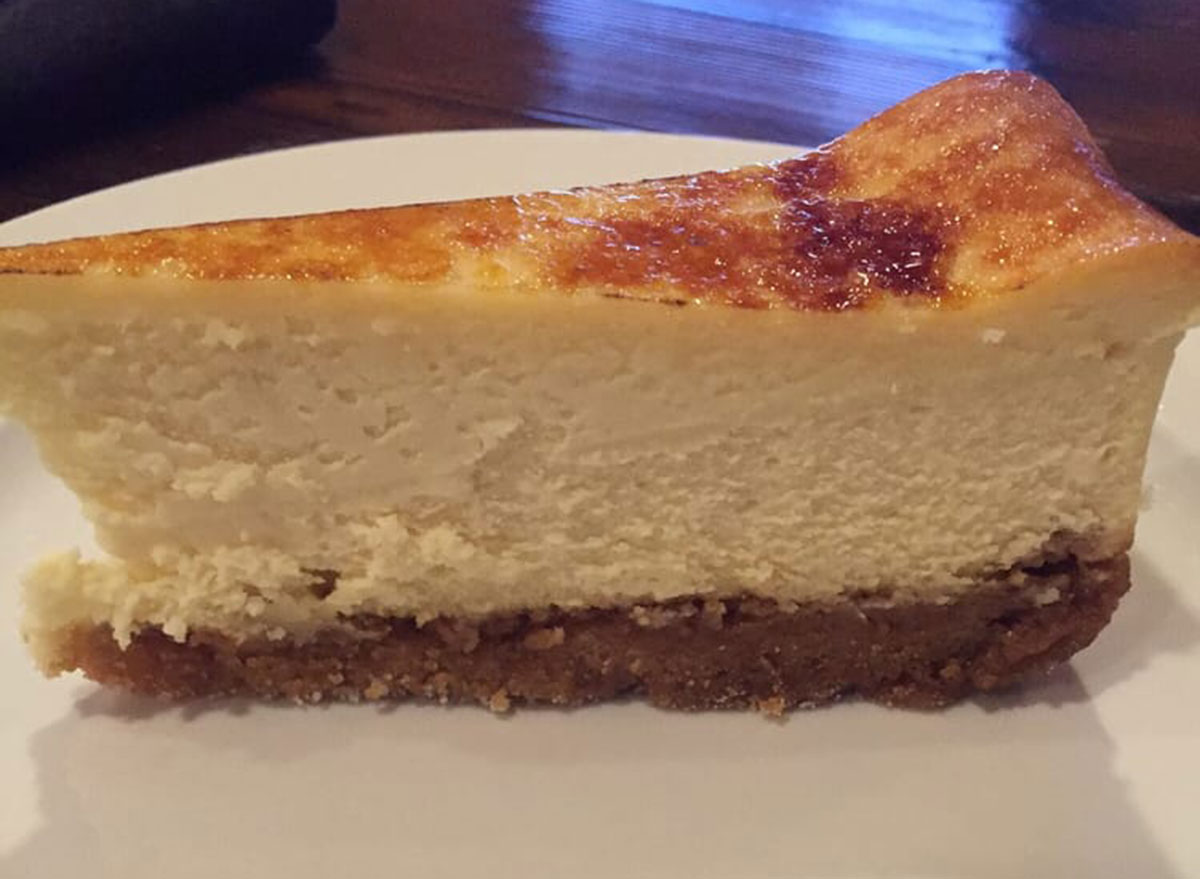 Yelp reviewers have described The Pantry's cheesecake as "life-changing," "the best cheesecake I have ever had in my life," and "the best dessert in town." It's easy to understand why—this adorable restaurant crafts everything from scratch and sources their high-quality ingredients from local farmers.
CALIFORNIA: Harriet's Cheesecake Unlimited in Inglewood
Since 1983, Harriet's Cheesecake Unlimited has been baking delicious, mouthwatering cheesecakes for the Inglewood community and beyond. Their diverse gourmet cheesecake offerings include over 60 flavors, such as banana pudding cheesecake, cookie dough cheesecake, pumpkin praline cheesecake, mud pie cheesecake, and more. Harriet's is a spot not to miss.
COLORADO: Vollmer's Bakery and Cheesecake Factory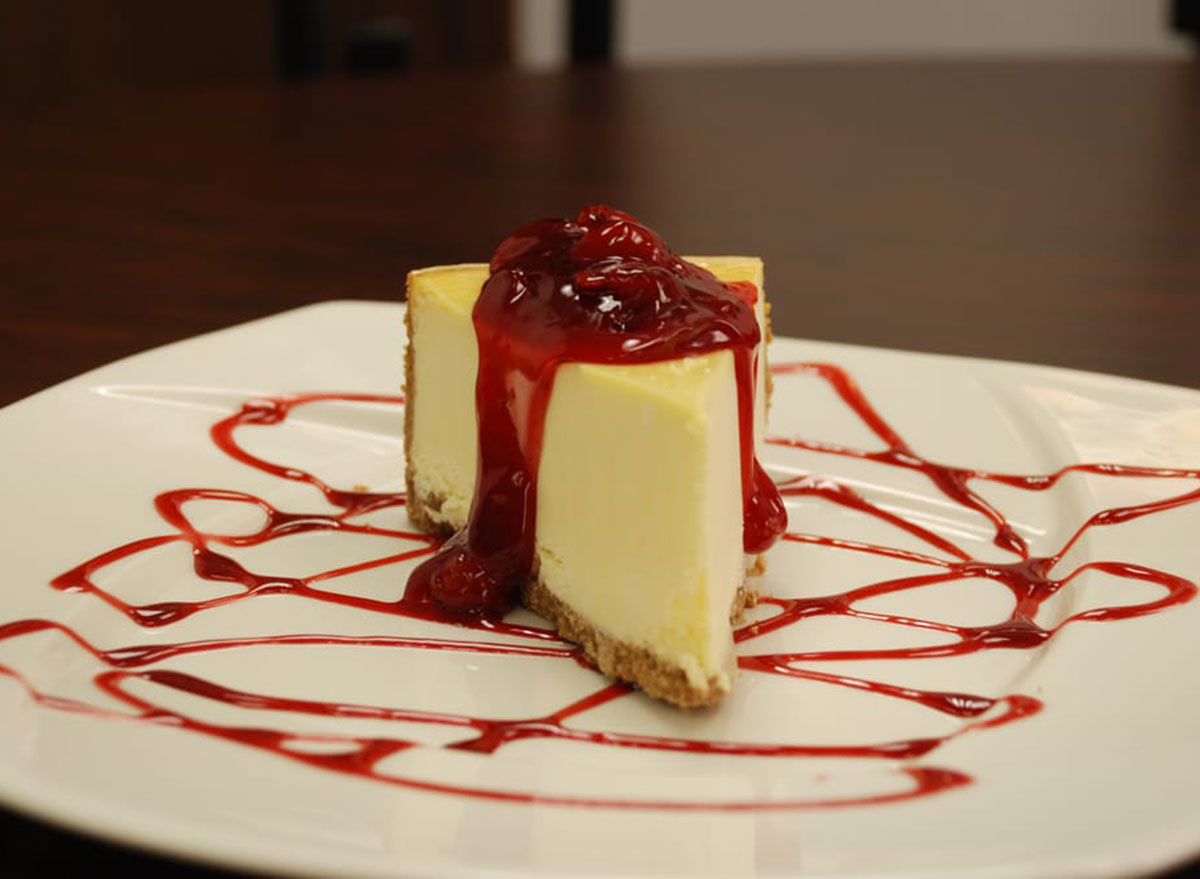 Vollmer's Bakery, which has been whipping up desserts from only the best all-natural ingredients since 1932, makes cheesecakes that have people raving. Some cheesecake flavor standouts include their Dutch apple cheesecake, strawberry cheesecake, truffle chocolate cheesecake, and Grand Marnier cheesecake.
CONNECTICUT: Donut Crazy in New Haven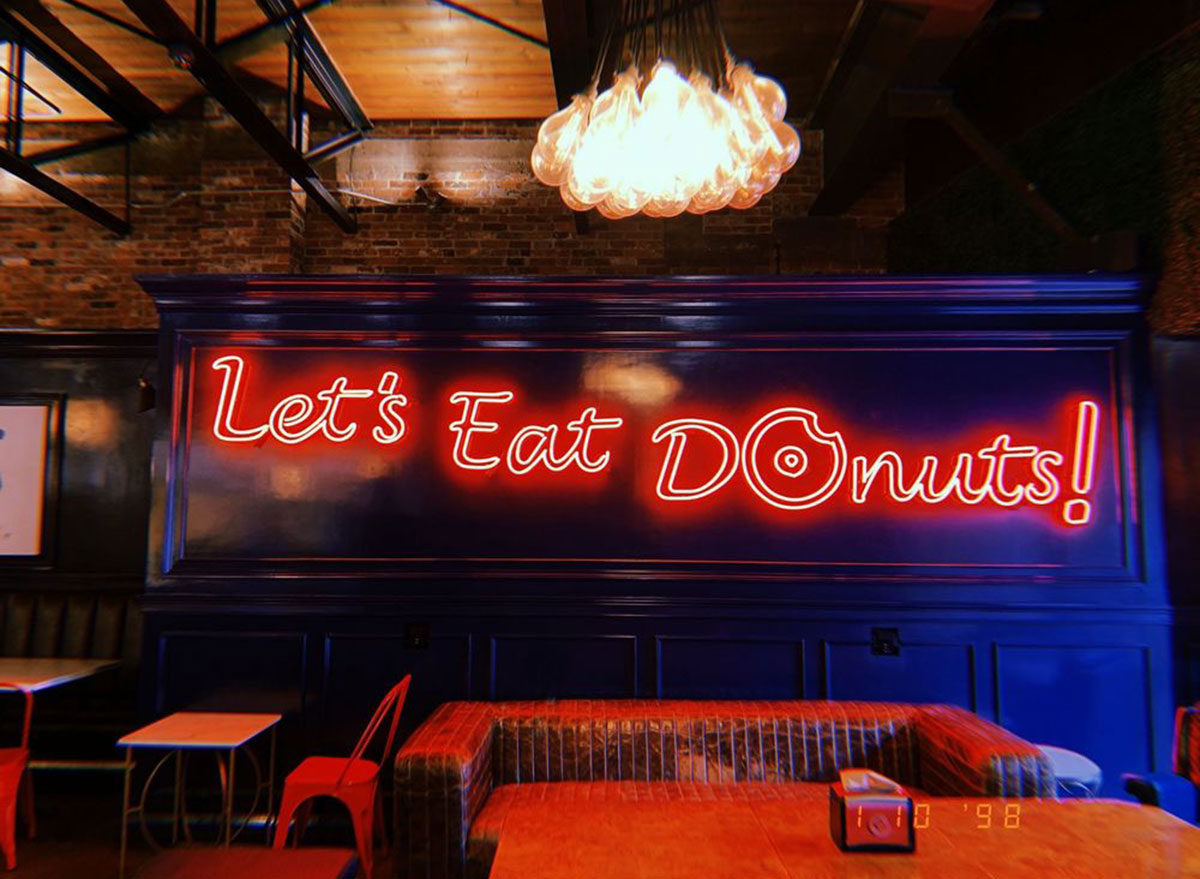 The best cheesecake in Connecticut comes in donut form at New Haven's Donut Crazy. Made with a blueberry cheesecake filling and topped with a blueberry puree glaze, coffee cake streusel, and vanilla drizzle, Donut Crazy's Blueberry Cheese donut is a must-have for any cheesecake lover.
DELAWARE: Bing's Bakery in Newark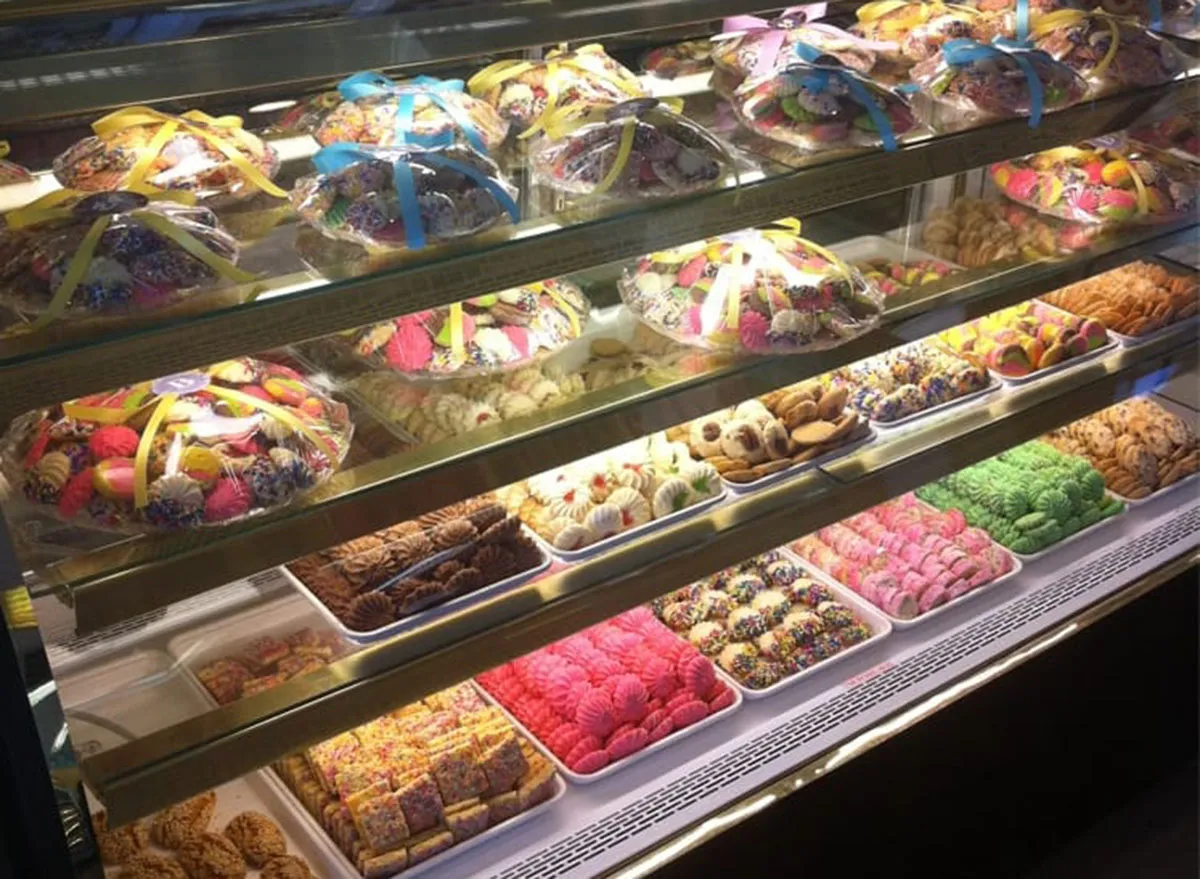 Not only is Bing's the longest-running bakery in Delaware, but it also bakes some of the best cheesecake in the state.
FLORIDA: Farmer's Table in Boca Raton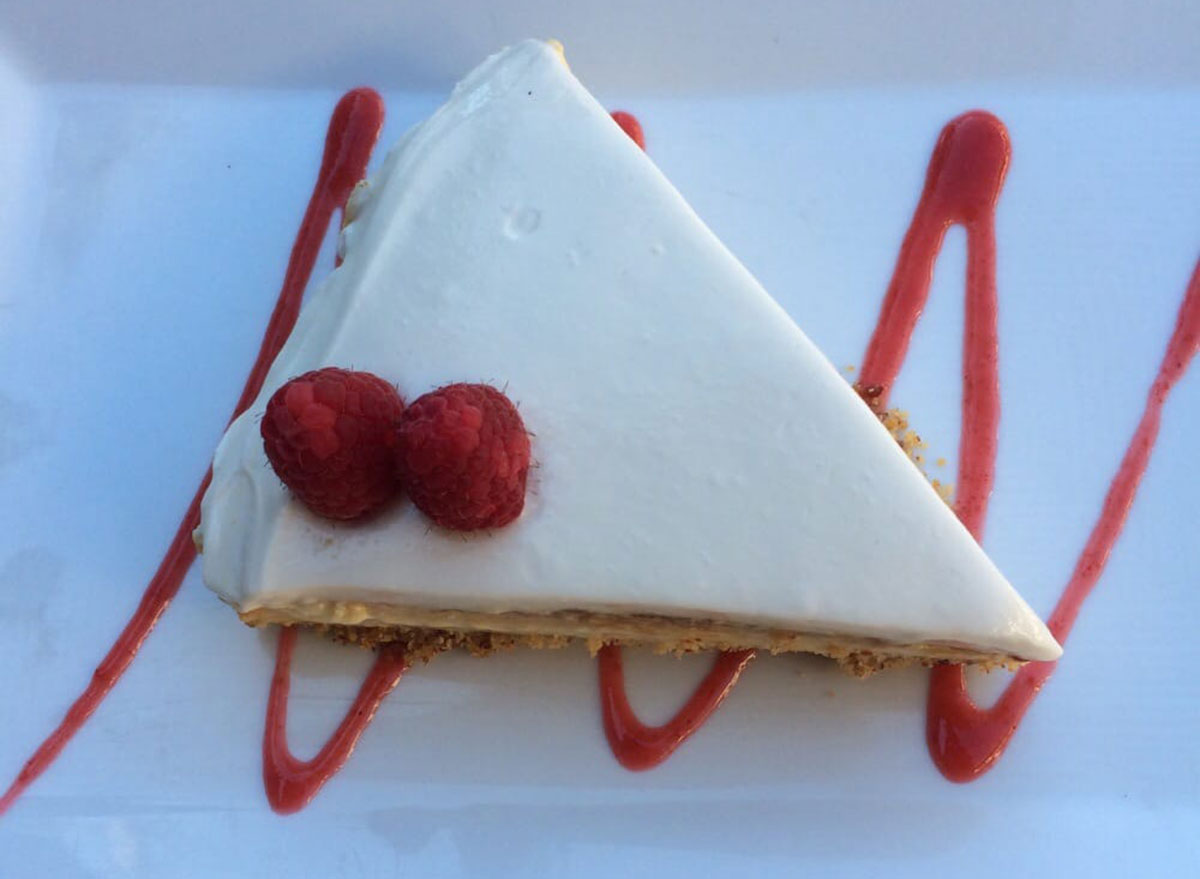 Restaurant goers at Farmer's Table in Boca Raton praise the amazing eatery's lemon blackberry cheesecake, which is a combination of traditional cheesecake, whipped cream, and macerated blackberries.
GEORGIA: Sammy CheezeCake in East Point
Since 2006, Sammy CheezeCake has been making delicious cheesecakes in a range of lip-smackingly good flavors. Be sure to try out their strawberry cheesecake and chocolate fudge cheesecake when you give them a visit.
HAWAII: Sugar Beach Bake Shop in Kihei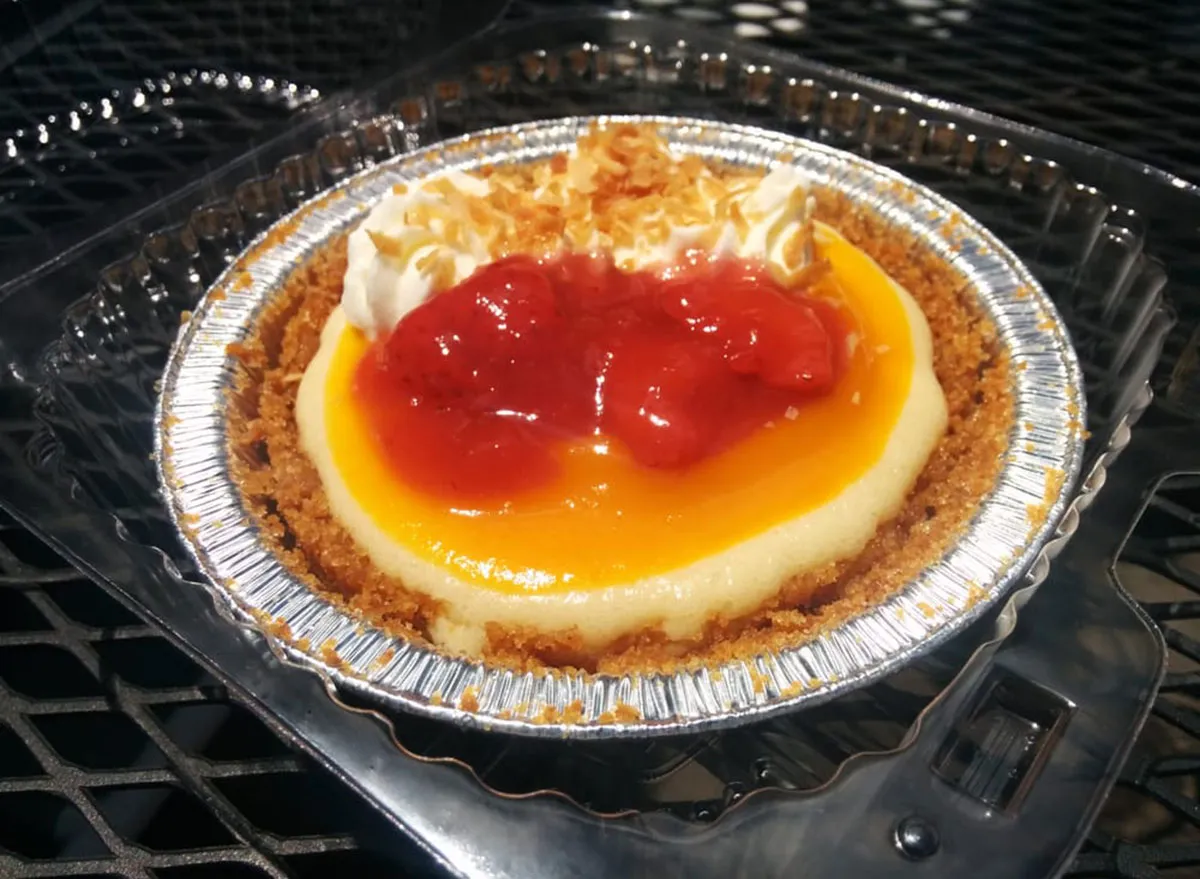 Made with a buttery graham cracker crust and stuffed with sweet and juicy mango, the mango cheesecake at Sugar Beach Bake Shop in Hawaii will keep you coming back over and over again.
IDAHO: Boise Pie Co. in Boise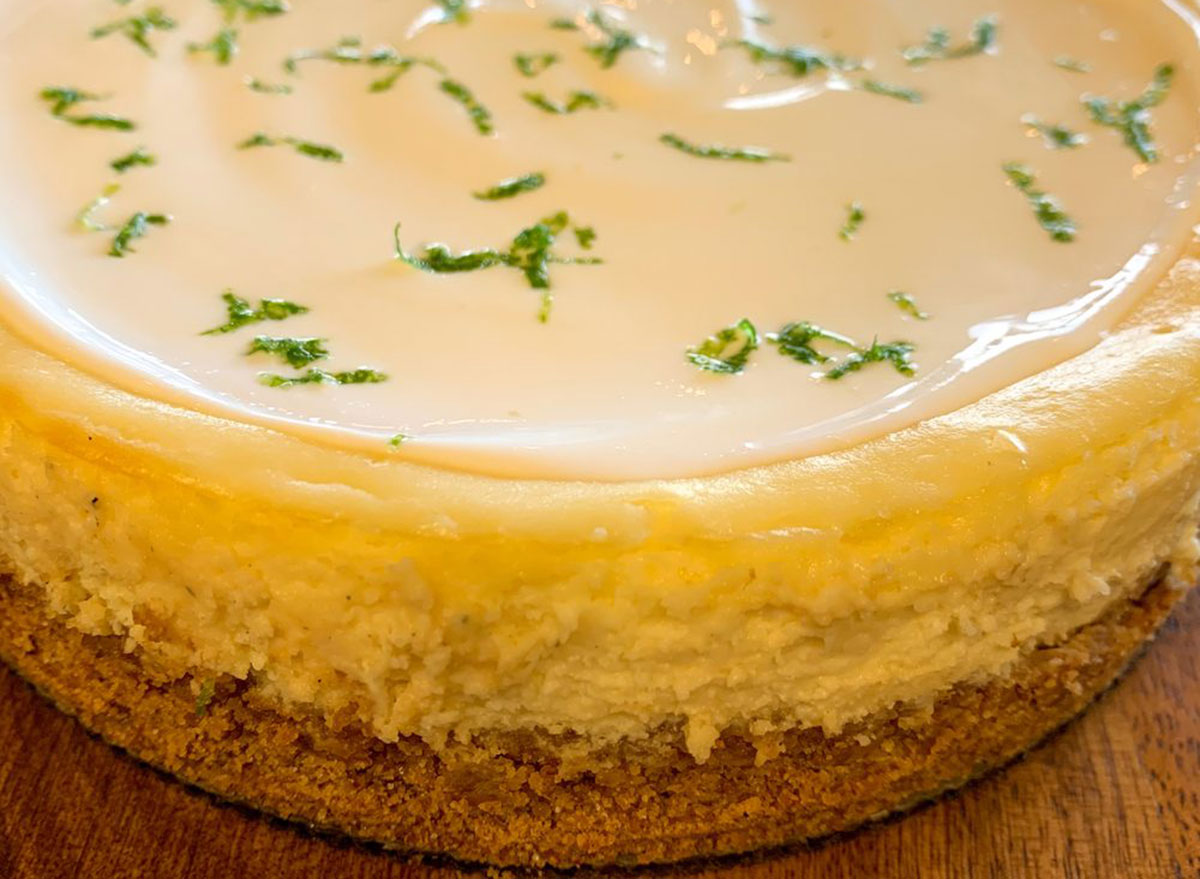 Boise Pie Co.'s long list of cheesecake options includes delicious selections such as Bailey's Irish Cream, burnt almond souffle, Japanese souffle, huckleberry, and triple chocolate. The shop also offers pre-packaged homemade family dinners and a seasonal lunch menu.
ILLINOIS: Molly's Cupcakes in Chicago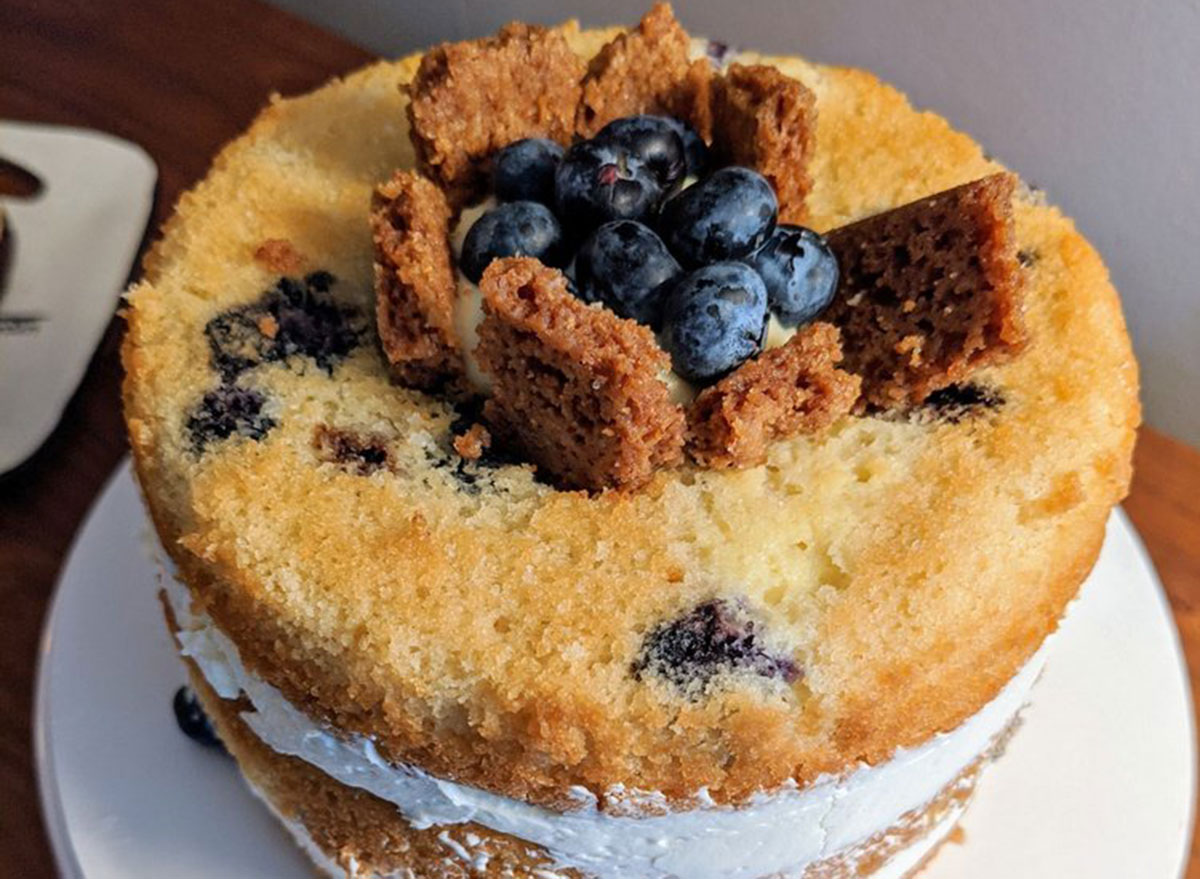 Molly's Cupcakes in Chicago offers cheesecake flavors, such as classic, chocolate chocolate chip, pumpkin caramel, and cherry, in either a mini or whole cake option. We also love that they have locations throughout Chicago, and beyond, making a trip out to this sweet spot a breeze.
INDIANA: The Cake Bake Shop by Gwendolyn Rogers in Indianapolis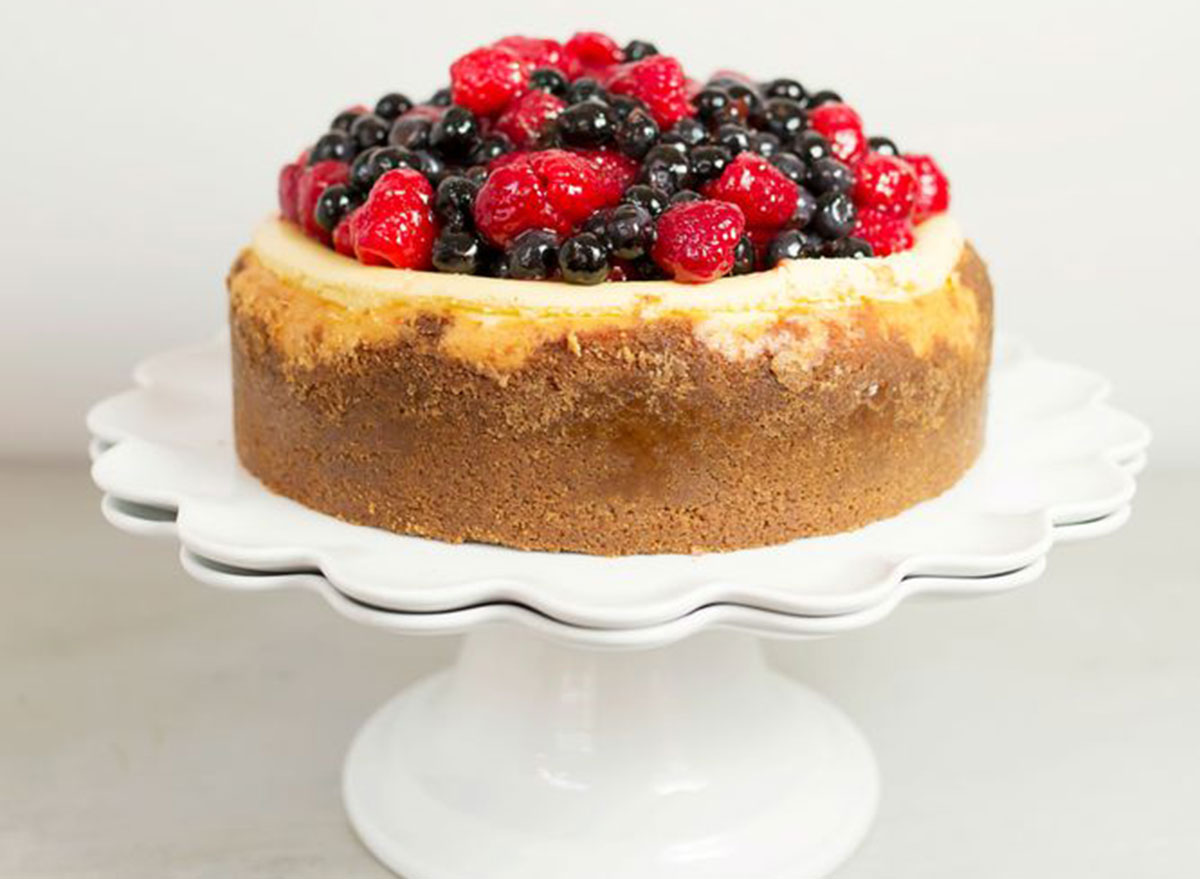 The Cake Bake Shop in Indiana is truly a dream come true. Featuring decadent details, such as beautiful chandeliers, antique mirrors, porcelain platters, and sophisticated seasonal decor, this upscale bakery serves some of the best cheesecakes around. Make sure to try out their chocolate peanut butter mousse cheesecake, which is dressed with Callebaut Belgian chocolate ganache, or their mixed berry cheesecake, which is made with a medley of fresh berries.
IOWA: Creme Cupcake in Des Moines
Creme Cupcake's out-of-this-world cheesecake is served with either salty caramel, raspberry, or chocolate sauce.
KANSAS: College Hill Deli in Wichita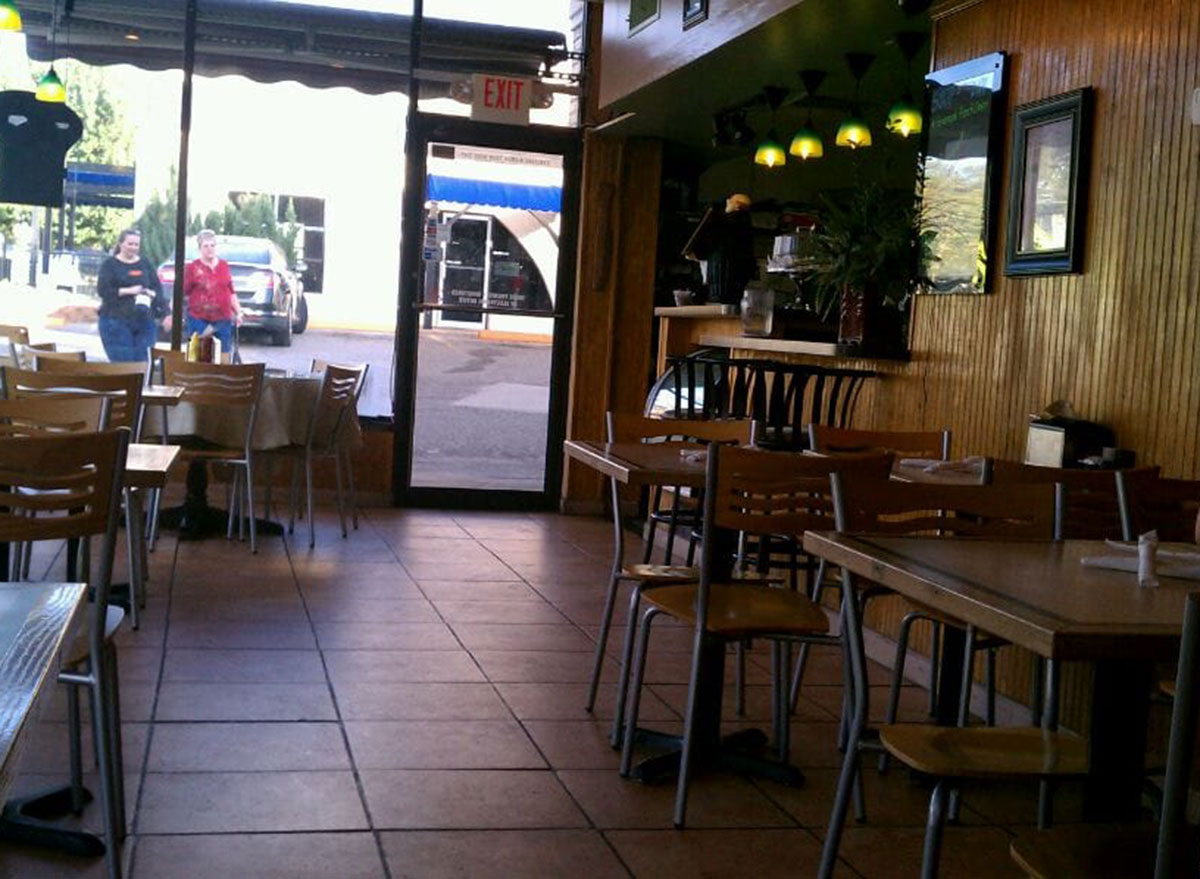 Located on East Douglas Avenue in Kansas is College Hill Deli, a hometown favorite known for its superb Mediterranean fare, welcoming atmosphere, and scrumptious cheesecake.
KENTUCKY: Backroads Bakery in Lexington
This cheesecake-centric bakery puts its own inventive spin on this delicious dessert. Some of the enticing flavors include birthday cake, snickerdoodle, Nutella gingersnap, and matcha pistachio.
LOUISIANA: Commander's Palace in New Orleans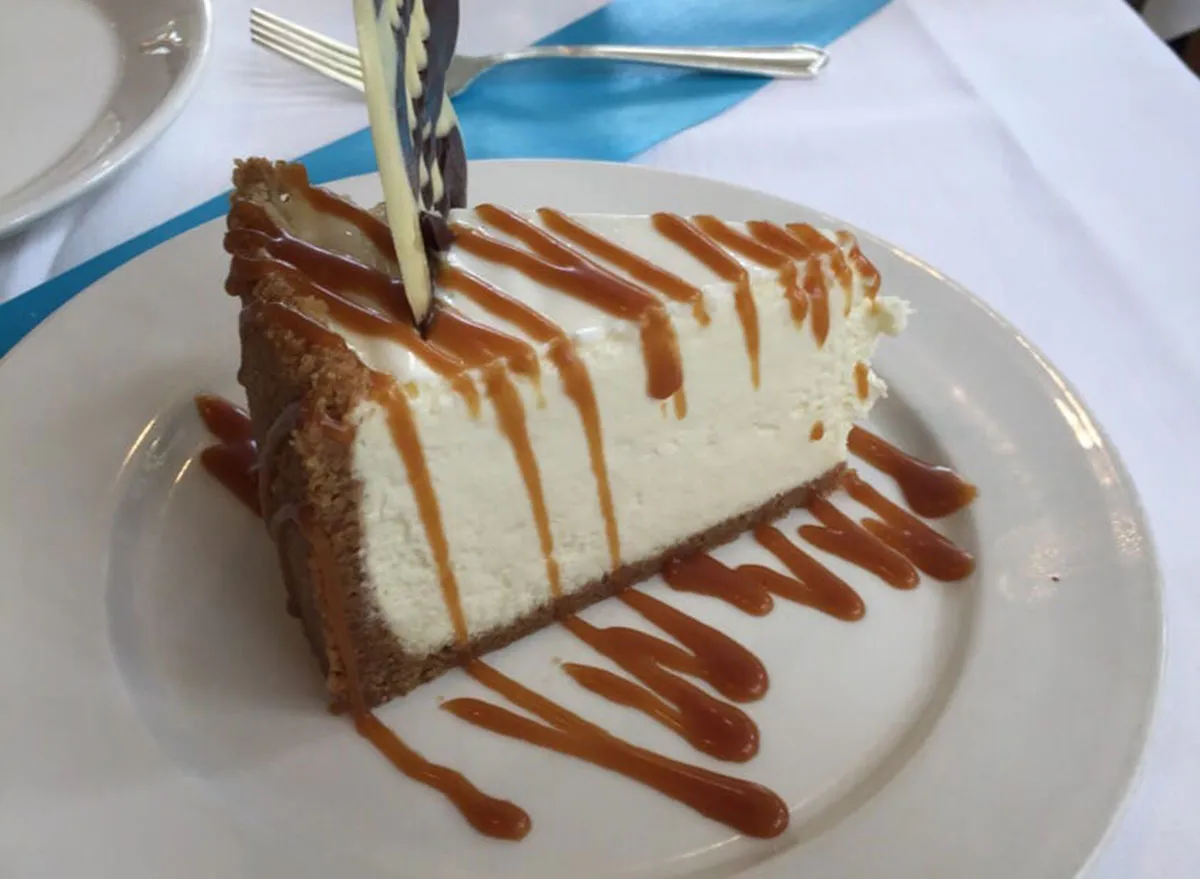 Since 1893, Commander's Palace in New Orleans' Garden District has been preparing award-winning Haute Creole cuisine that people travel far and wide to try. A fan-favorite dessert is their Creole Cream Cheese Cake, which is made using homemade Creole cream cheese, warm salted caramel, and gorgeous white and dark chocolate lattice.
MAINE: Gross Confection Bar in Portland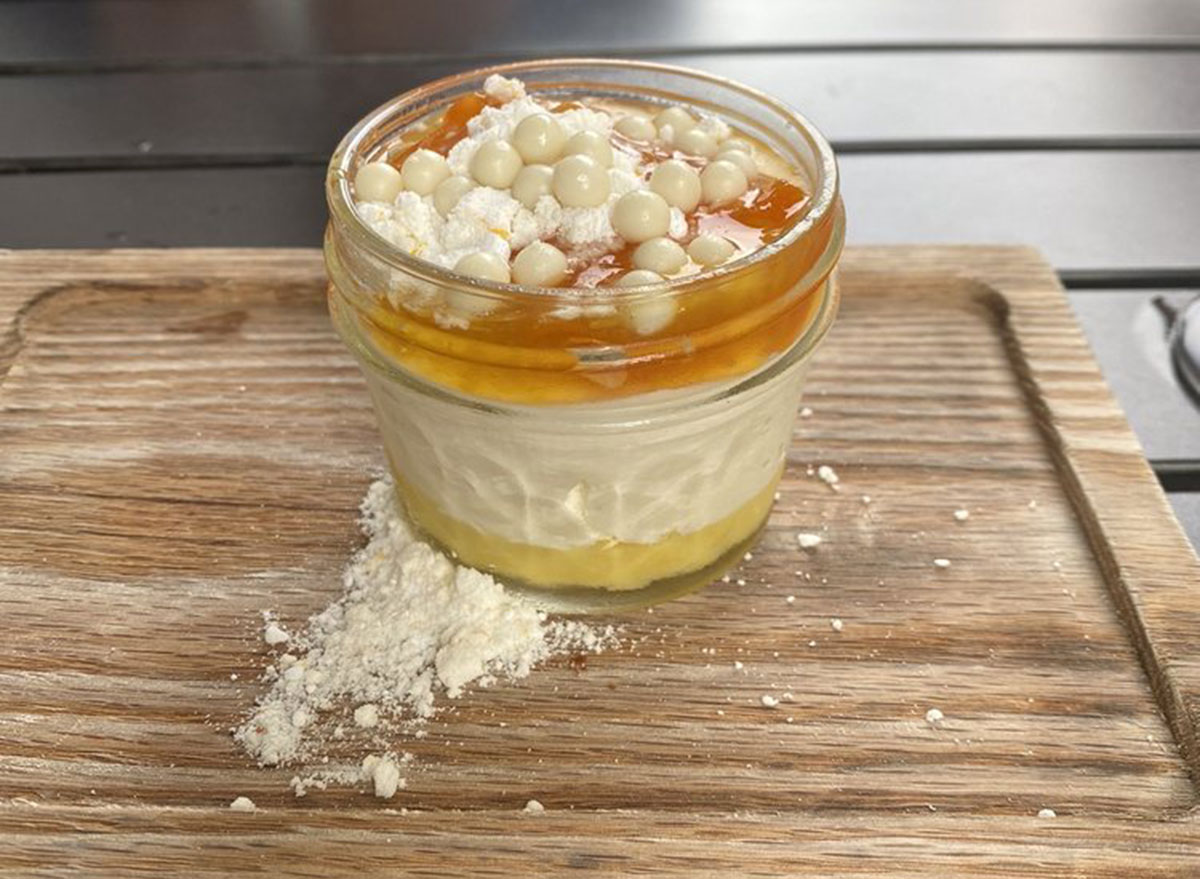 One Yelp reviewer describes Gross Confection's goat cheese cheesecake as a "work of art," and we can understand why. Made using a combination of passionfruit curd, blueberry compote, white chocolate lime crumb, and vanilla powder, this restaurant takes a classic dessert and really makes it its own.
MARYLAND: Rosenfeld's Jewish Delicatessan in Ocean City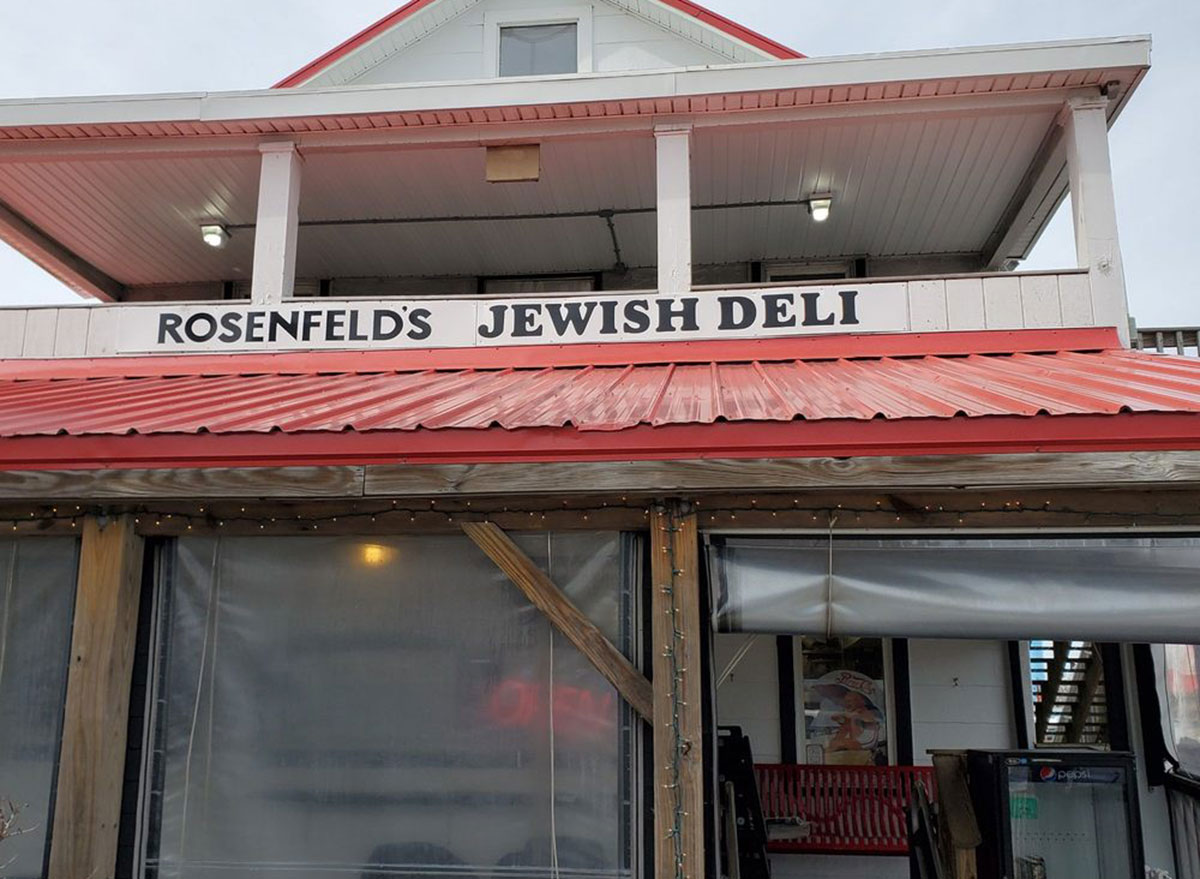 Since 2013, Rosenfeld's has been serving delightful kosher fare to the Maryland and Delaware communities. Their menu, which is known for its deli-style Reuben sandwiches, steamy matzo ball soup, and perfectly made corned beef, also features a luscious cheesecake that fans rave about.
MASSACHUSETTS: Mike's Pastry in Boston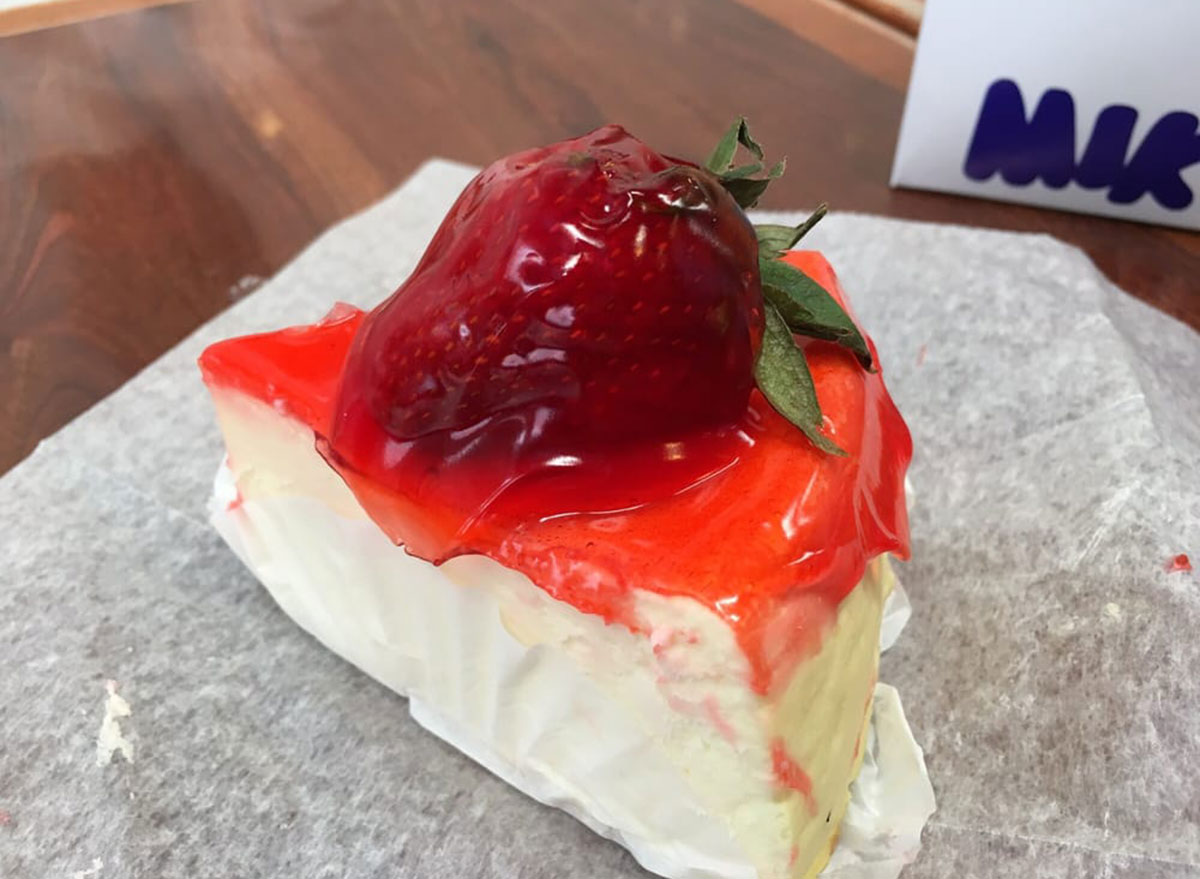 Mike's Pastry, which has four locations throughout Massachusetts, crafts a wonderfully dense cheesecake available in an array of flavors. Be sure to try out their famous cannolis also while you are there—their cannolis are so popular that Harpoon Brewery partnered with the bakery to create a limited edition cannoli stout beer in its honor.
MICHIGAN: Sweet Potato Sensations in Detroit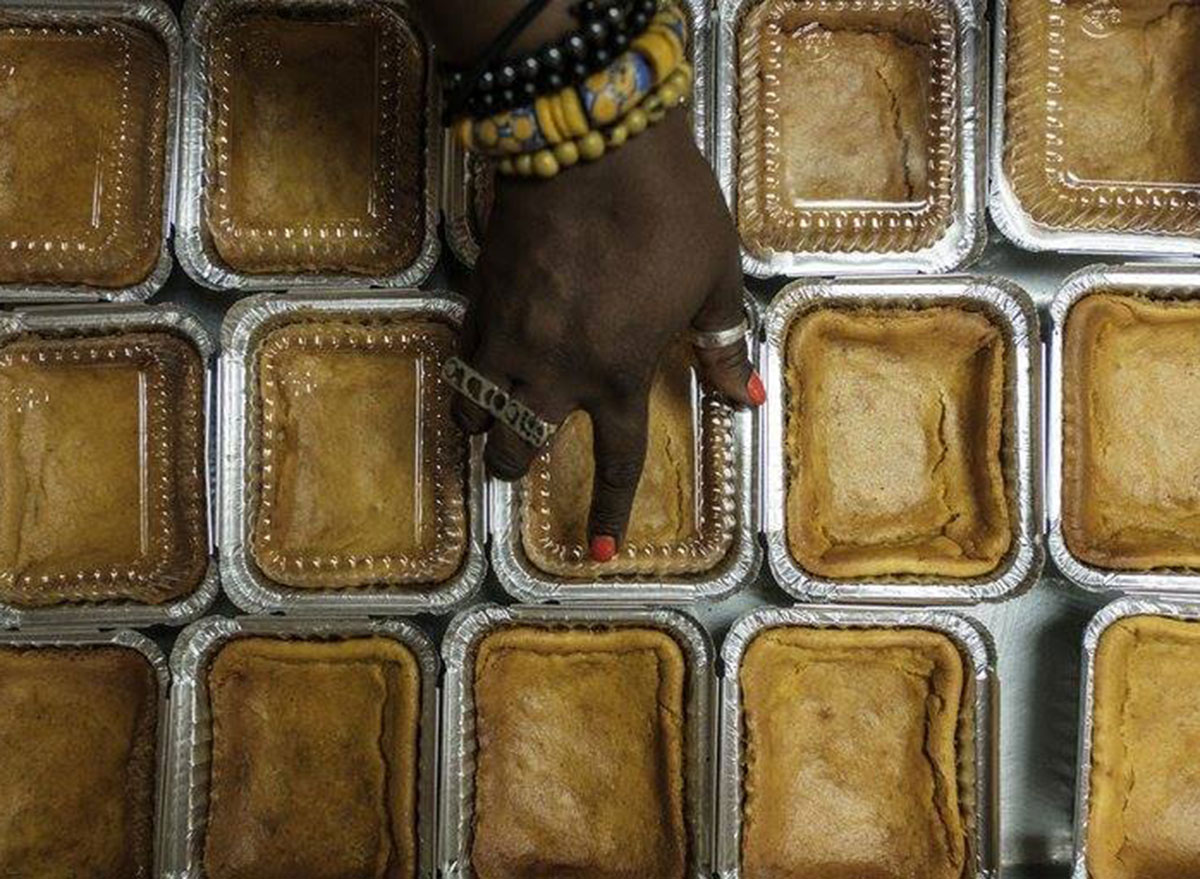 Sweet Potato Sensations started out as an idea between a married couple in the 1970s and over time grew to be one of the most beloved bakeries in Detroit. The menu offers delicious sweet and savory treats with the majority of them centered around sweet potatoes, such as sweet potato pies, cookies, waffles, and even ice cream. One of bakery visitors' favorites includes the shop's sweet potato cheesecake, which is offered in either a 10-inch, 8-inch, or mini size.
MINNESOTA: Muddy Paws Cheesecake in Saint Louis Park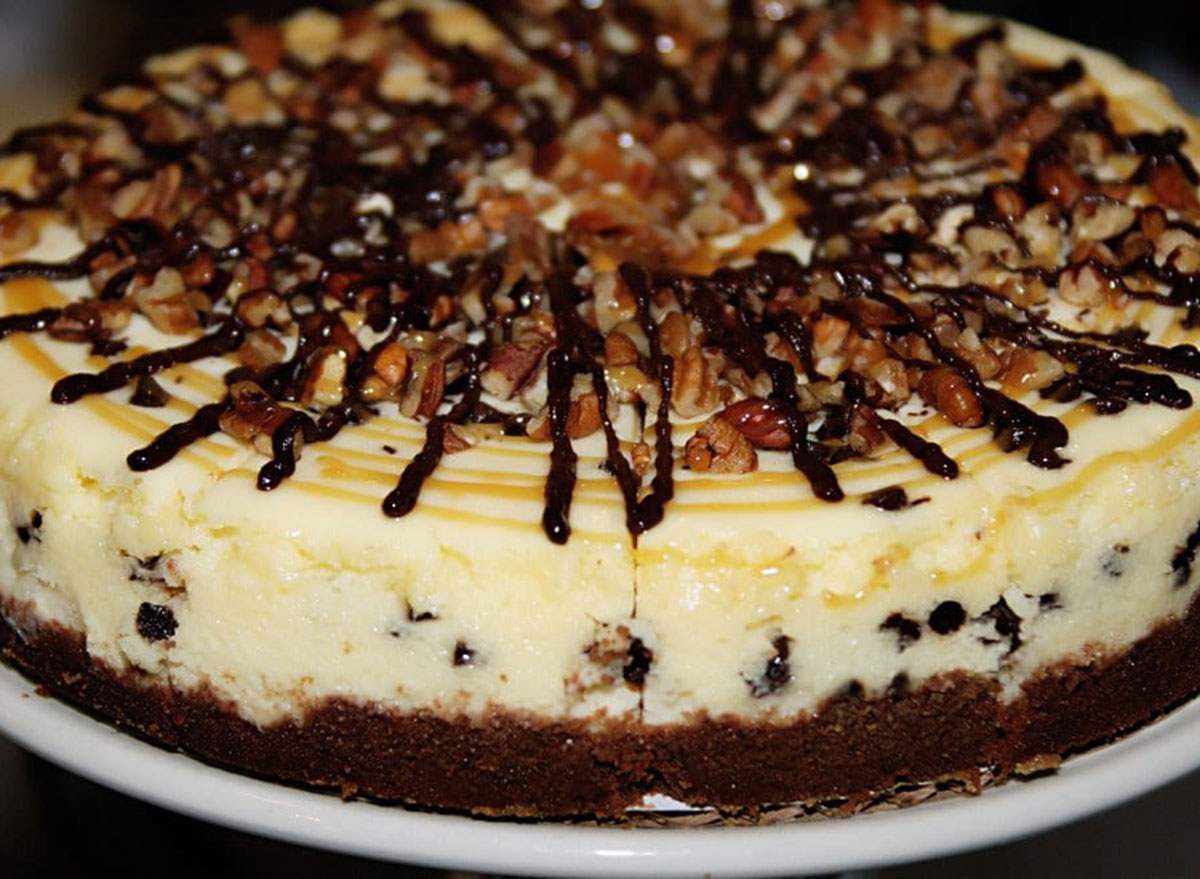 If you are a fan of cheesecake then you need to check out Muddy Paws Cheesecake in Minnesota. With over 220 flavors of cheesecake available for custom order and 25 flavors at the shop for purchase each day, Muddy Paws has it all. Their long list of flavors includes exciting options such as pink lemonade, Mandarin orange, honey vanilla, double chocolate chip, and many more. They offer keto, gluten-free, and vegan choices as well.
MISSISSIPPI: Saltine in Jackson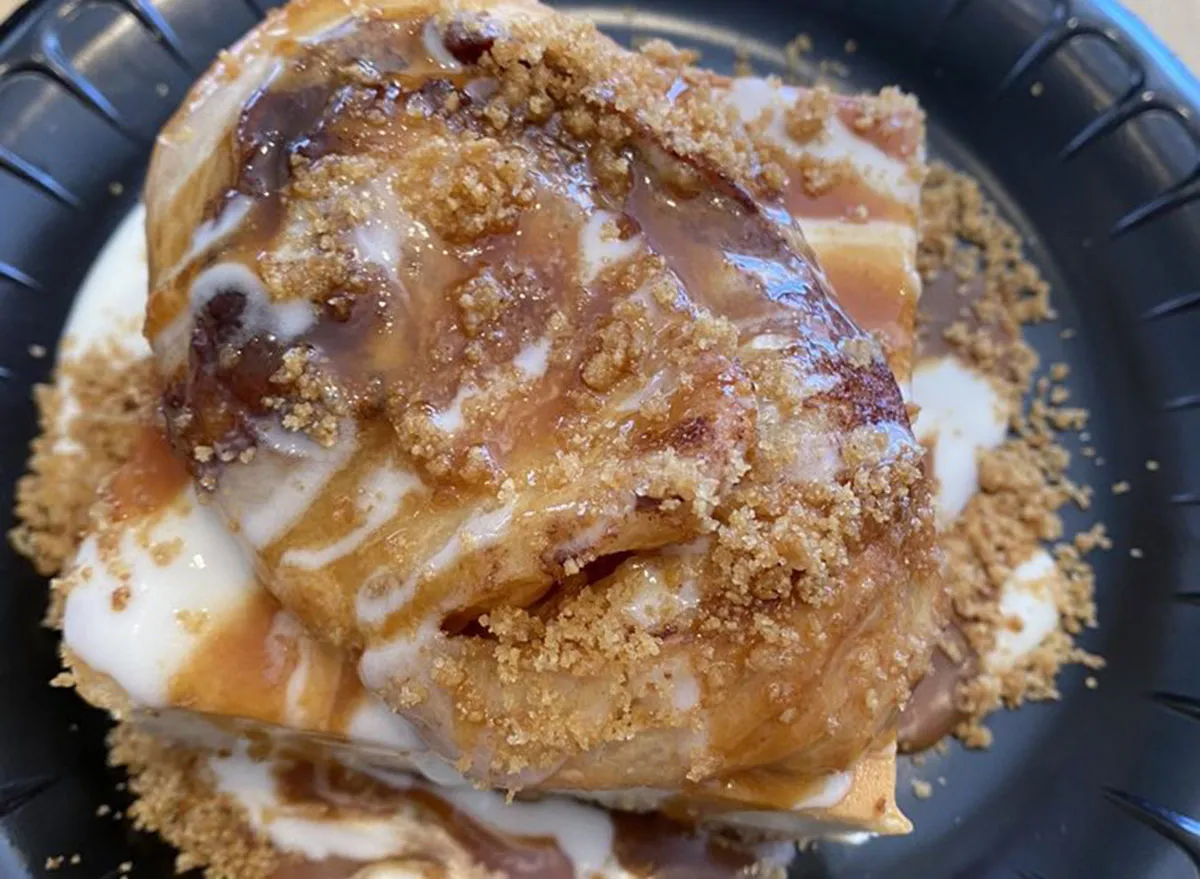 Found right in the center of Jackson's arts center and housed in an old school is Saltine, a buzzing oyster bar focused on Southern cuisine. One of their specialties is Cinnamon Roll Cheesecake, which tastes as good as it sounds. This exquisite confection features maple cinnamon cheesecake, a warm cinnamon roll, cream cheese glaze, bourbon caramel, and a graham cracker pecan crumble.
MISSOURI: Cupini's in Kansas City
Located in a charming brick building on Westport Road in Kansas City is Cupini's, a popular Missouri eatery that is known for its fresh pasta. Although its Italian dishes are the centerpiece of their menu (hint: try the lasagna) they are also lauded for their creamy cheesecake. Be sure to call ahead to see what their daily cheesecake offerings include.
MONTANA: On Broadway in Helena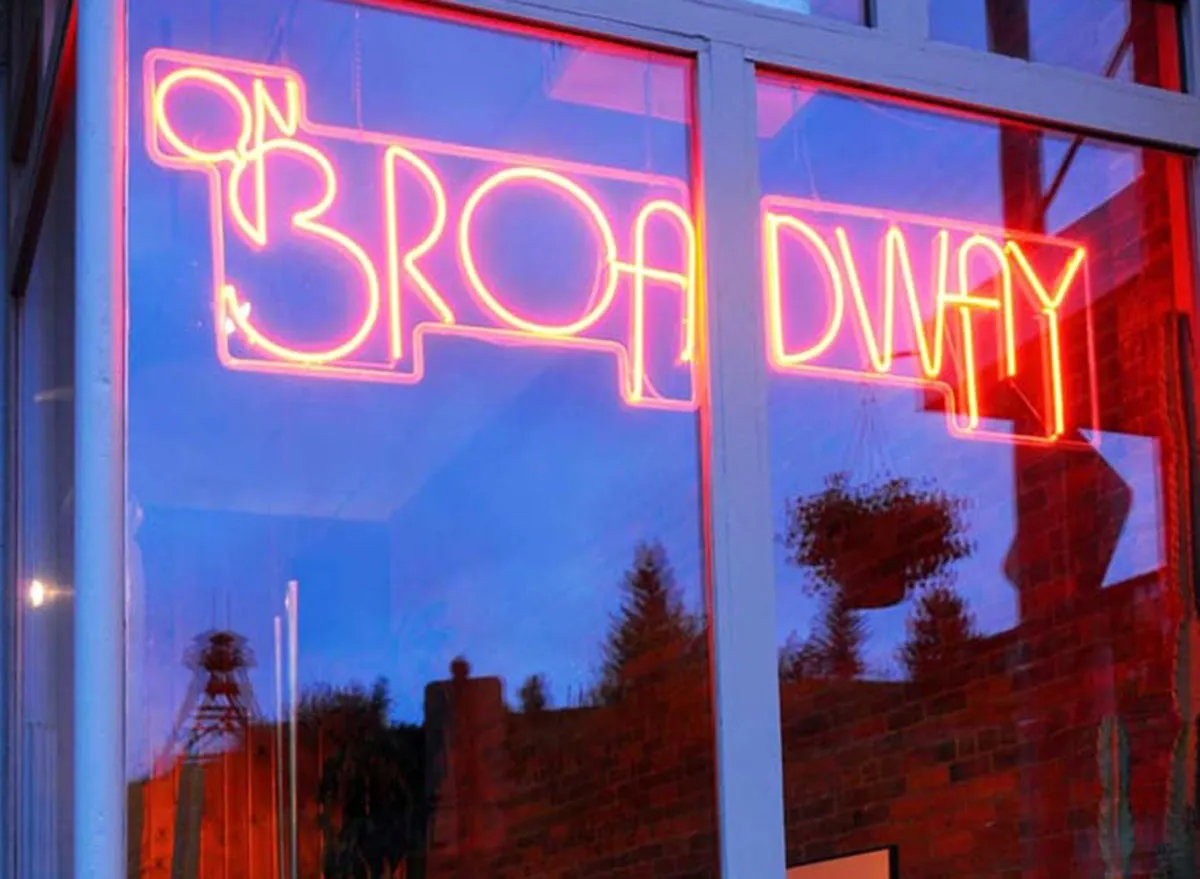 On Broadway, which has been serving up Italian dishes in the old Masonic Building since the 1980s, makes a Huckleberry Rum Swirl Cheesecake that people cannot get enough of.
NEBRASKA: High Society Cheesecake in Lincoln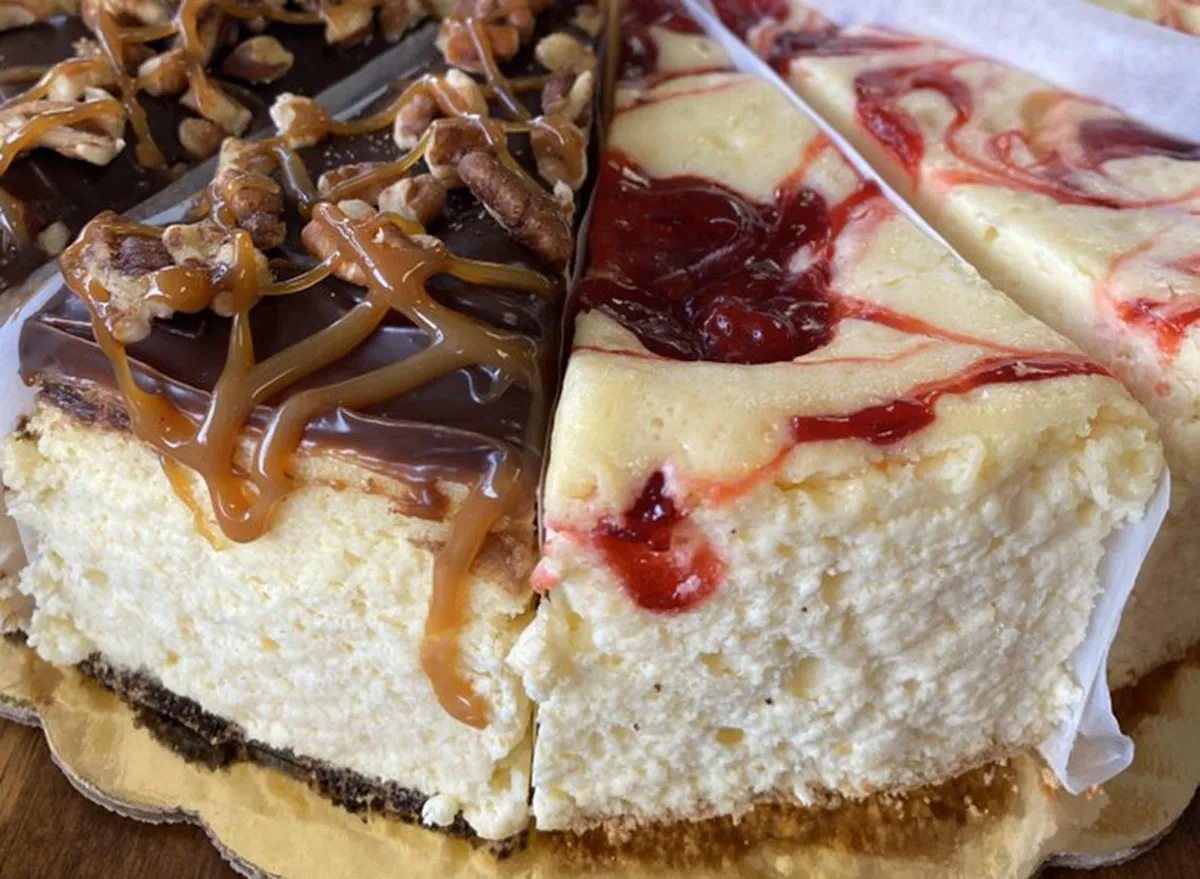 This family-owned bakery makes handcrafted cheesecakes that are the talk of the town. Available in all different sizes, some of its famous flavors include cookies and cream, salted caramel, and pumpkin.
NEVADA: The Cheesecake Baker in Las Vegas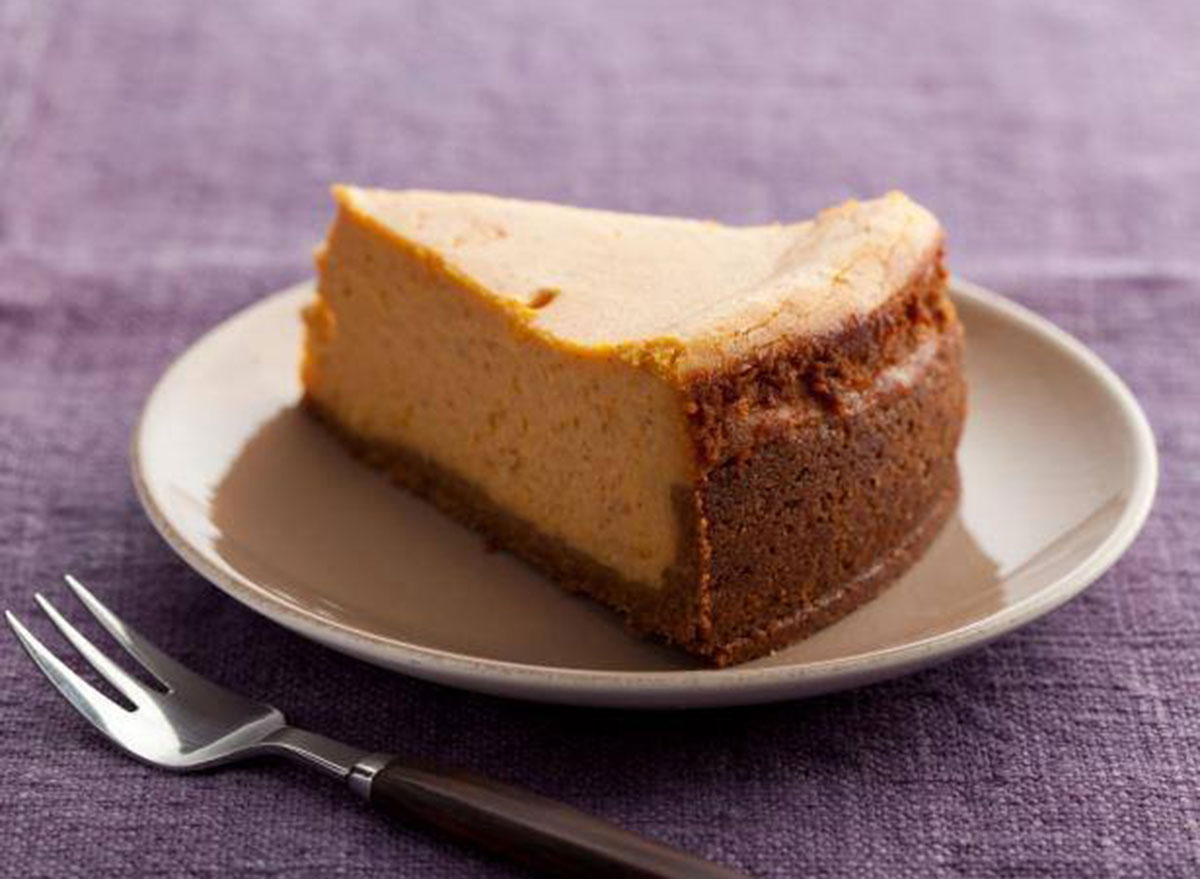 For over 20 years, The Cheesecake Baker has been whipping up handmade cheesecakes for people all over Sin City. And with its amazing variety of mouthwatering flavors (banana chocolate cheesecake, anyone?) we can understand why.
NEW HAMPSHIRE: Pleasant Lake Cheesecake Company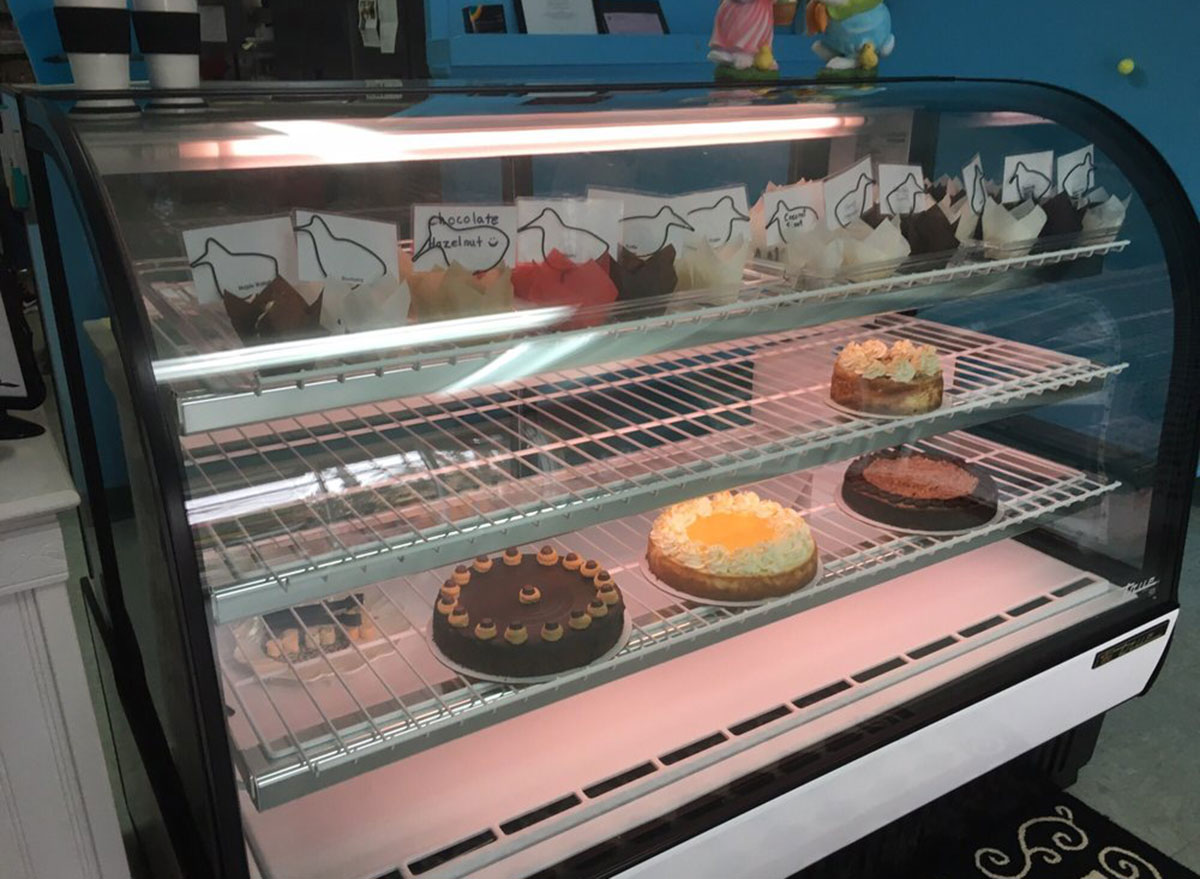 For over two decades, Pleasant Lake Cheesecake Co. has been perfecting delicious, melt-in-your-mouth cheesecake that comes in flavors such as cherry cordial and chocolate truffle.6254a4d1642c605c54bf1cab17d50f1e
NEW JERSEY: Yhanne's House of Cheesecakes in Clayton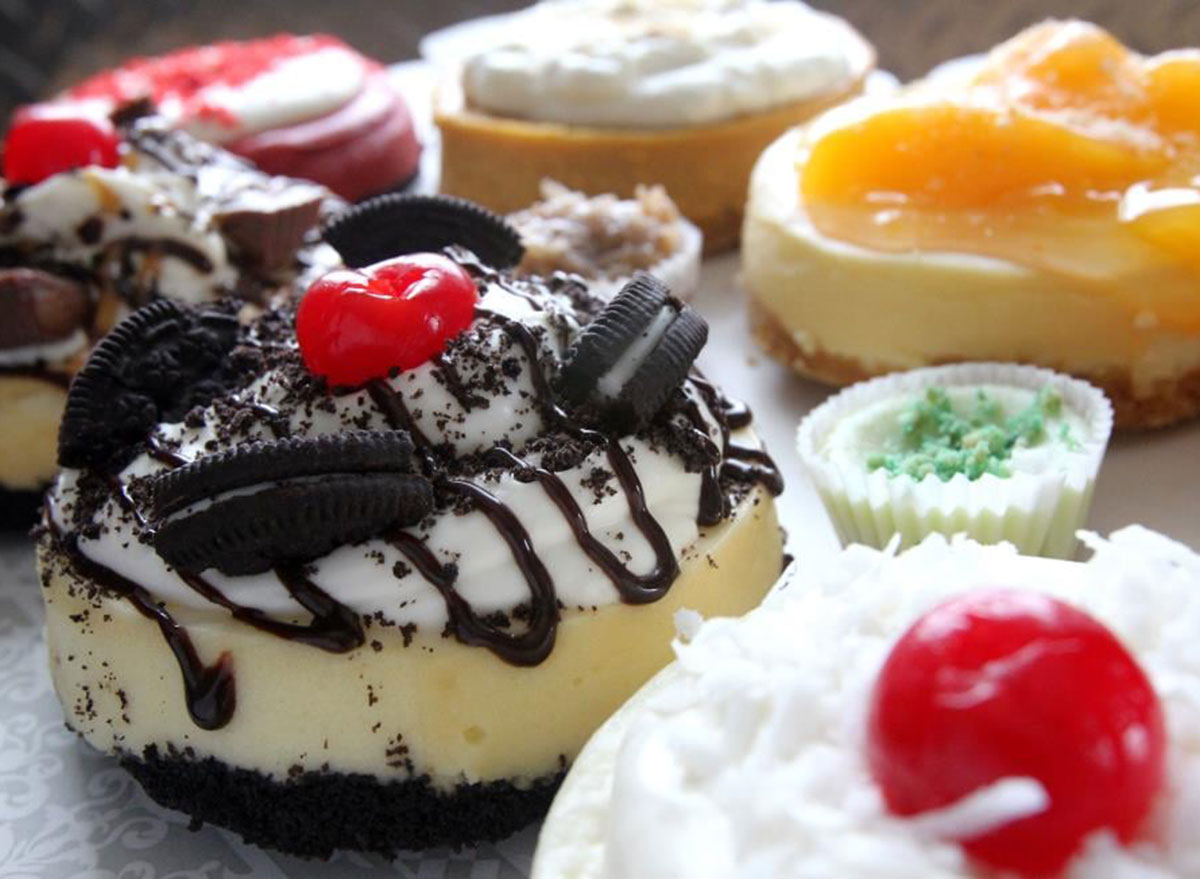 Something that may be even sweeter than the desserts served at Yhanne's may just be the story of how this bakery came to be—Yhanne's House of Cheesecakes was first founded after Yhanne baked a homemade cheesecake for his future wife that was included in his proposal dinner for her. Years later and the rest is history. Be sure to try out one of the many flavors of cheesecakes, such as banana pudding, cinnamon, and Oreo's sundae delight, if you stop by.
NEW MEXICO: Aji Restaurant in Taos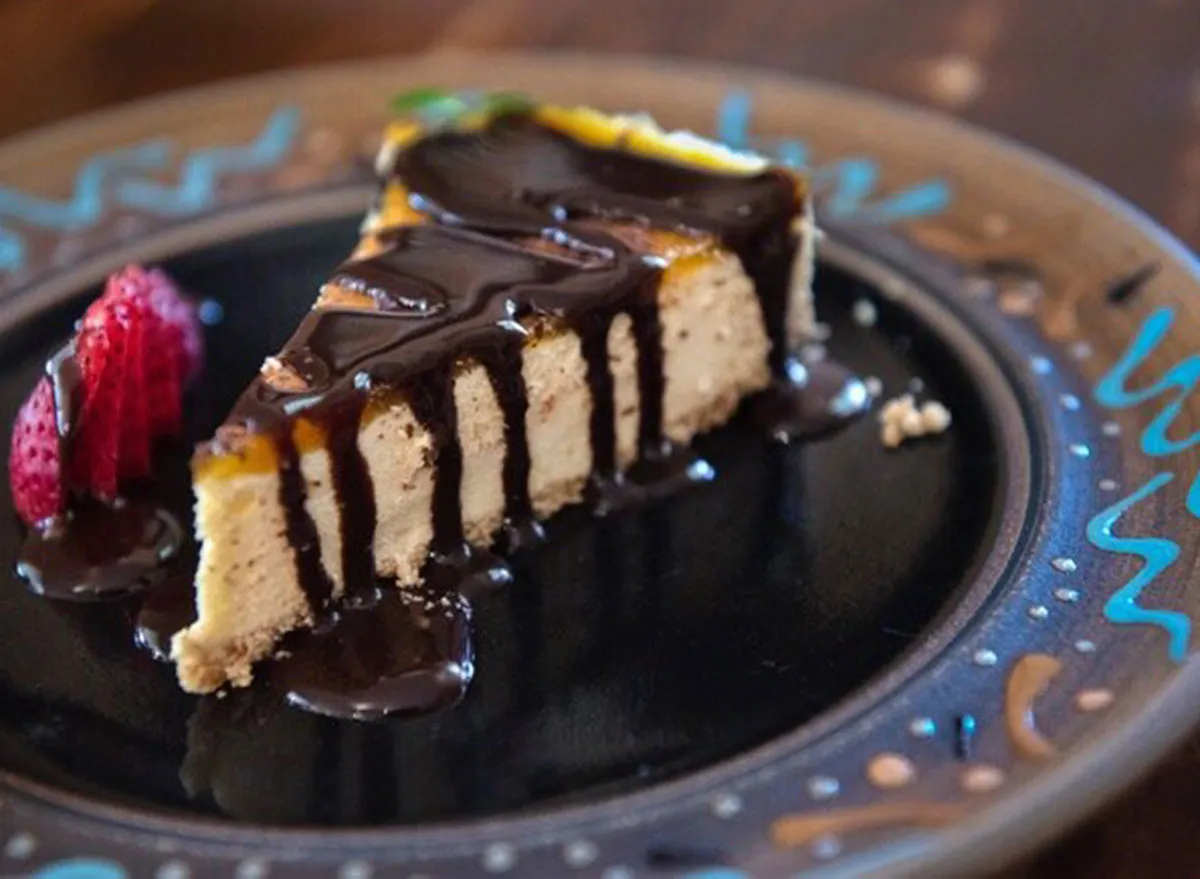 Aji's Passion Fruit Cheesecake is a great way to end an evening dining at this popular Taos establishment.
NEW YORK: Eileen's Special Cheesecake in New York City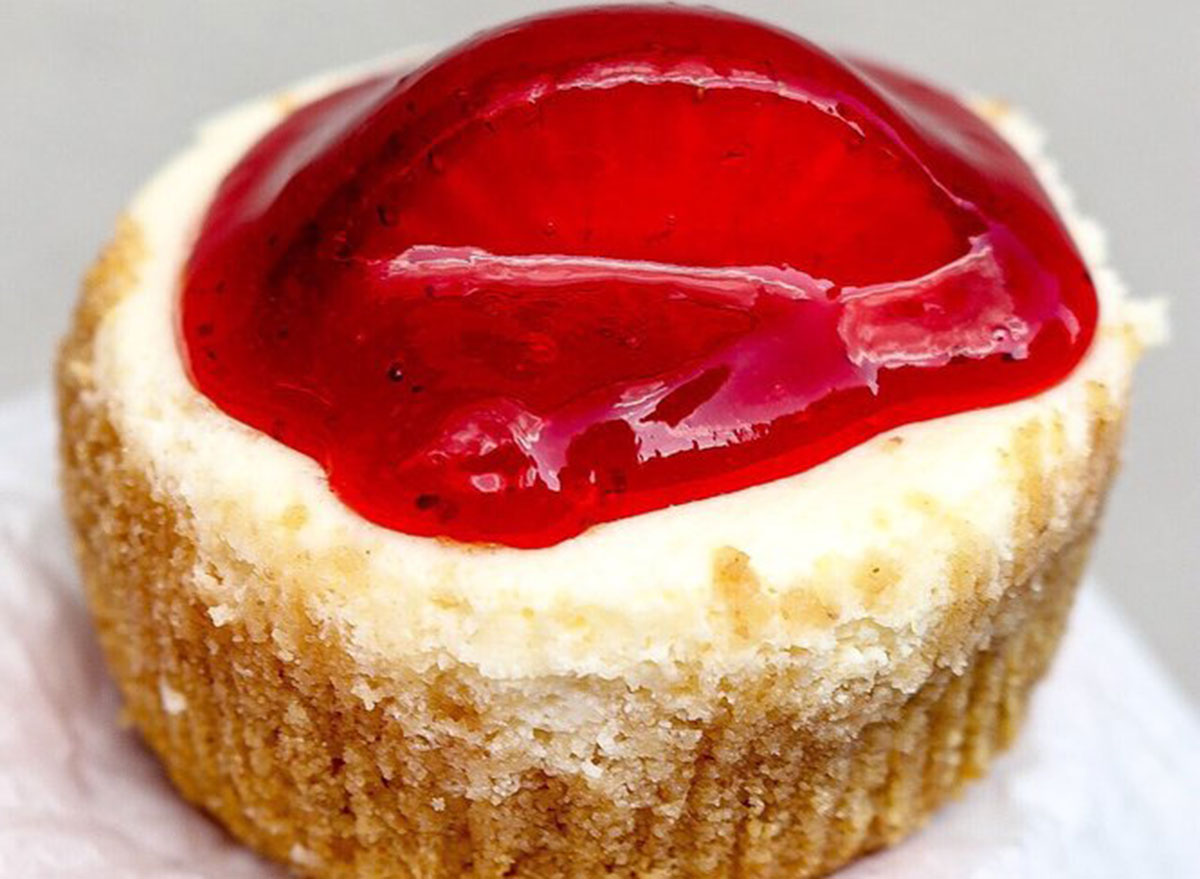 No visit to New York is complete without visiting Eileen's Special Cheesecake, a neighborhood bakery that has been churning out some of the best cheesecakes in town since the 1970s. In 2019, Eileen's was even awarded the "Best Cheesecake in America" honor because of its superb selection.
NORTH CAROLINA: The Colington Cafe in Outer Banks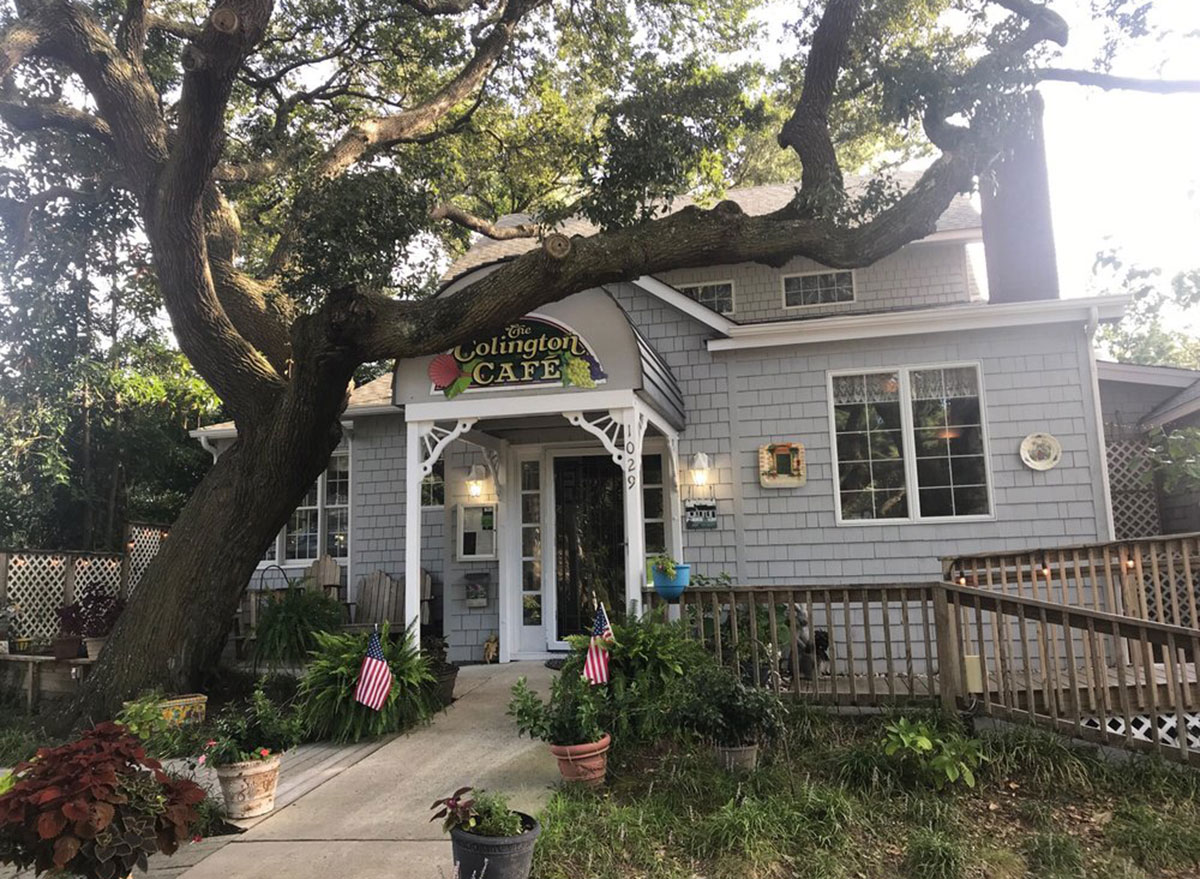 Next time you book your trip to Outer Banks make sure you pencil in some time at The Colington Cafe to try out their cheesecake. This adorable eatery is just steps away from the Wright Brothers monument and has a vast menu of delicious items.
NORTH DAKOTA: Pirogue Grille in Bismarck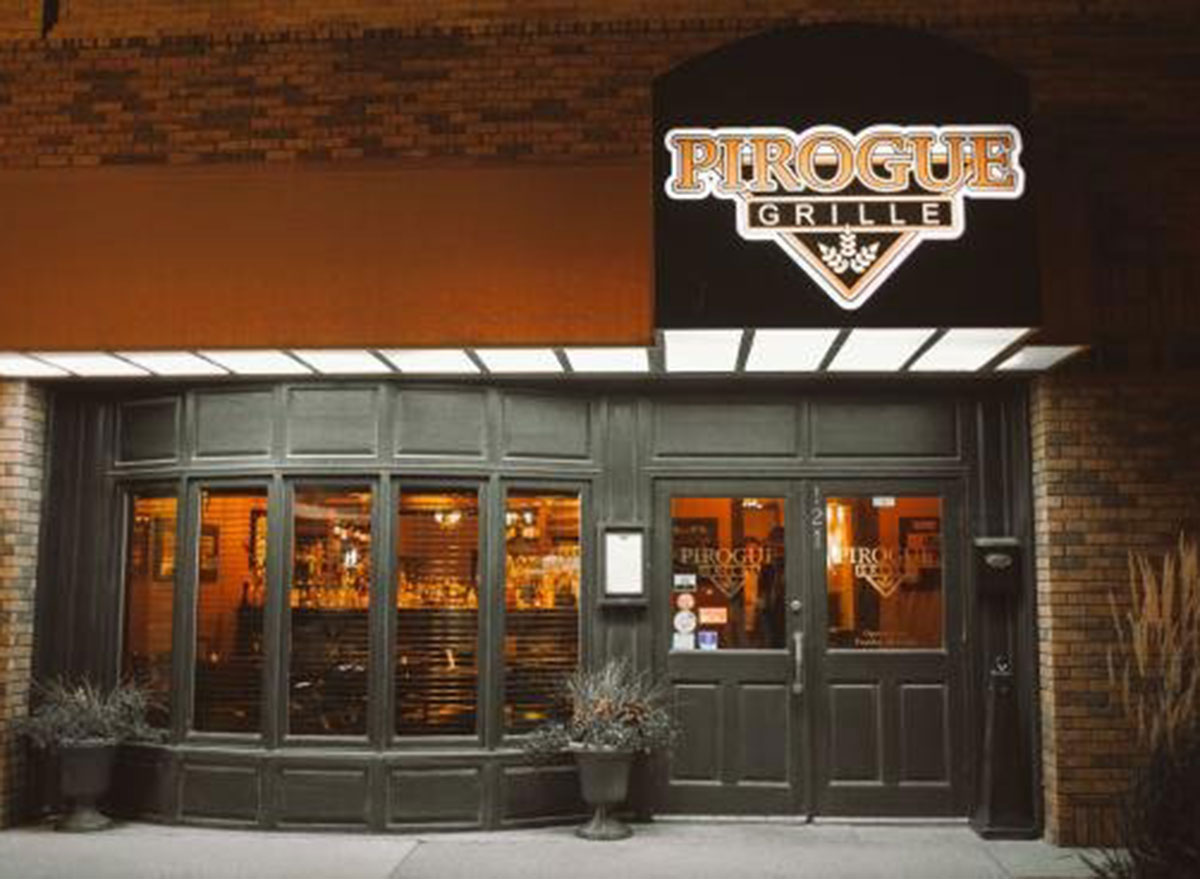 Pirogue Grille's lemon and blueberry cheesecake with sour cream topping really hits it out of the park.
OHIO: Townhall in Cleveland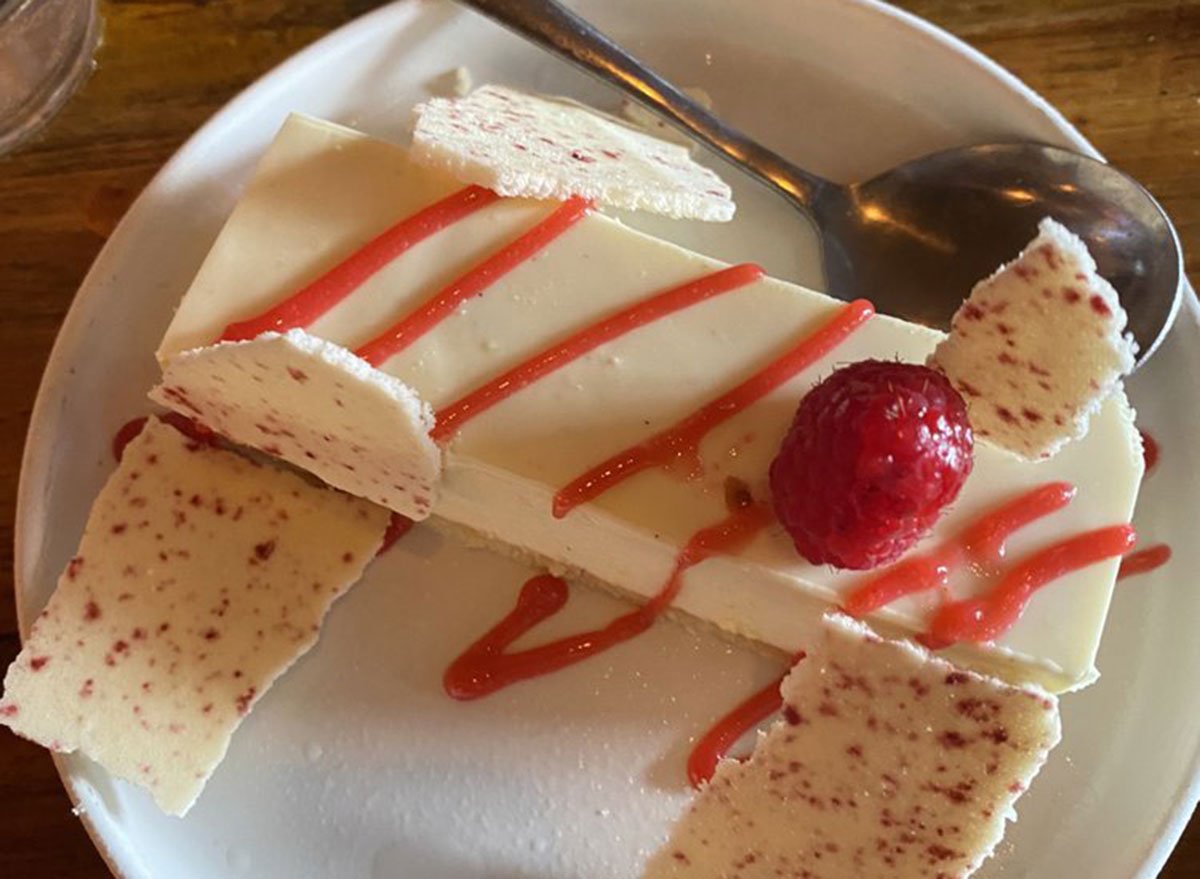 At Townhall it is all about the little details—homemade organic juices, oil diffusers placed throughout the space, and healthy options, such as their organic keto cheesecake—that help make this place one not to miss. An added bonus? Townhall has an in-house nutritionist that helps them craft their menus and plan wellness events for the local community.
OKLAHOMA: Vast in Oklahoma City
In the center of downtown Oklahoma City is Vast, a sophisticated spot that prepares delicious food with ingredients sourced from local producers. Their "Basque Cheesecake", which features caramelized apricots, creme Anglaise, and Marcona almond crumble, and sweeping views will keep you coming back over and over again.
OREGON: Petunia's Pies and Pastries in Portland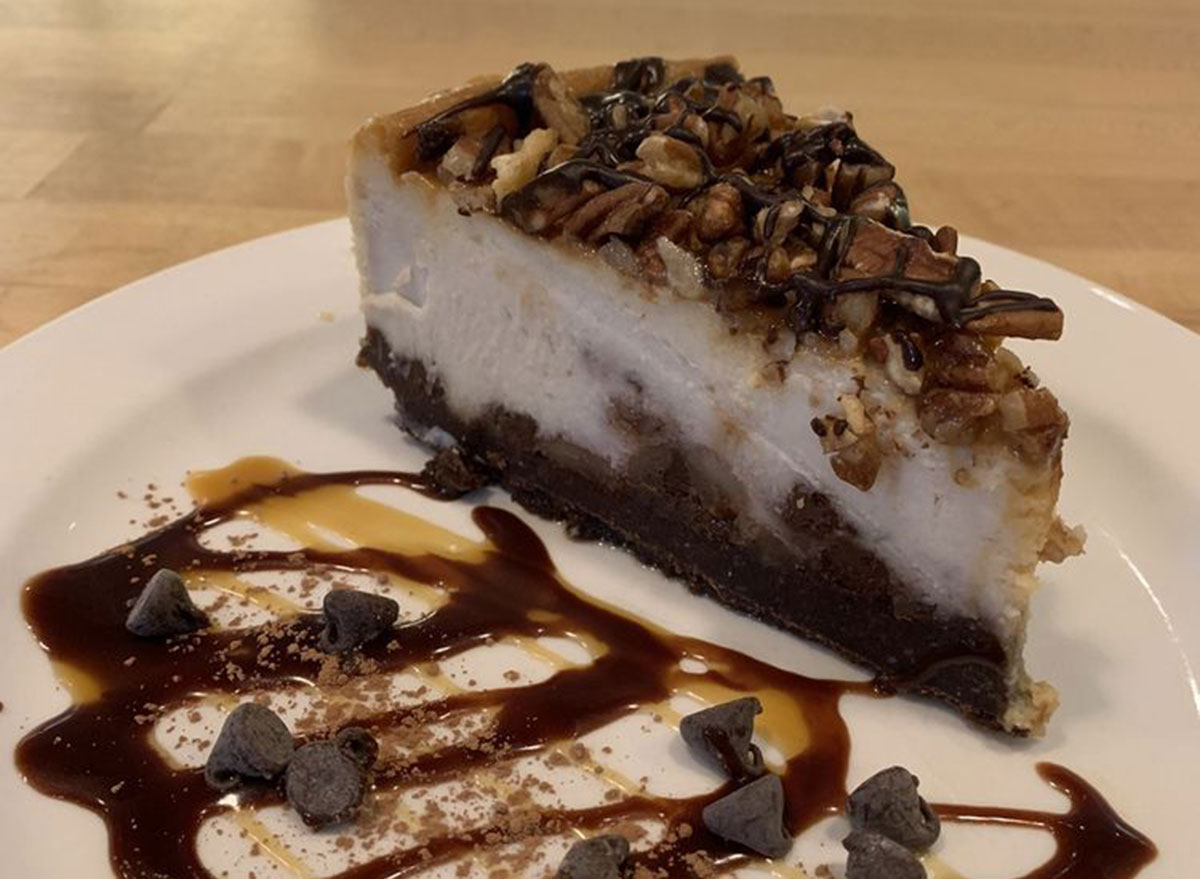 Petunia's Pies and Pastries—say that five times fast—is the Portland bakery crafting some of the best gluten-free and vegan treats in the Pacific Northwest. A must-try is their turtle cheesecake which is made using vanilla cheesecake, a chocolate cookie crust, caramel, chocolate ganache, and toasted pecans.
PENNSYLVANIA: The Cheesecake Lady in Elkins Park
The Cheesecake Lady's list of unique cheesecake options, such as Oreo cheesecake, KitKat cheesecake, and Fruity Pebbles cheesecake, keep people coming back for more. Hint: Make sure you stop by the shop earlier in the day—they are open Thursday through Sunday starting at 10 am and close once they sell out.
RHODE ISLAND: Pastiche Fine Desserts in Providence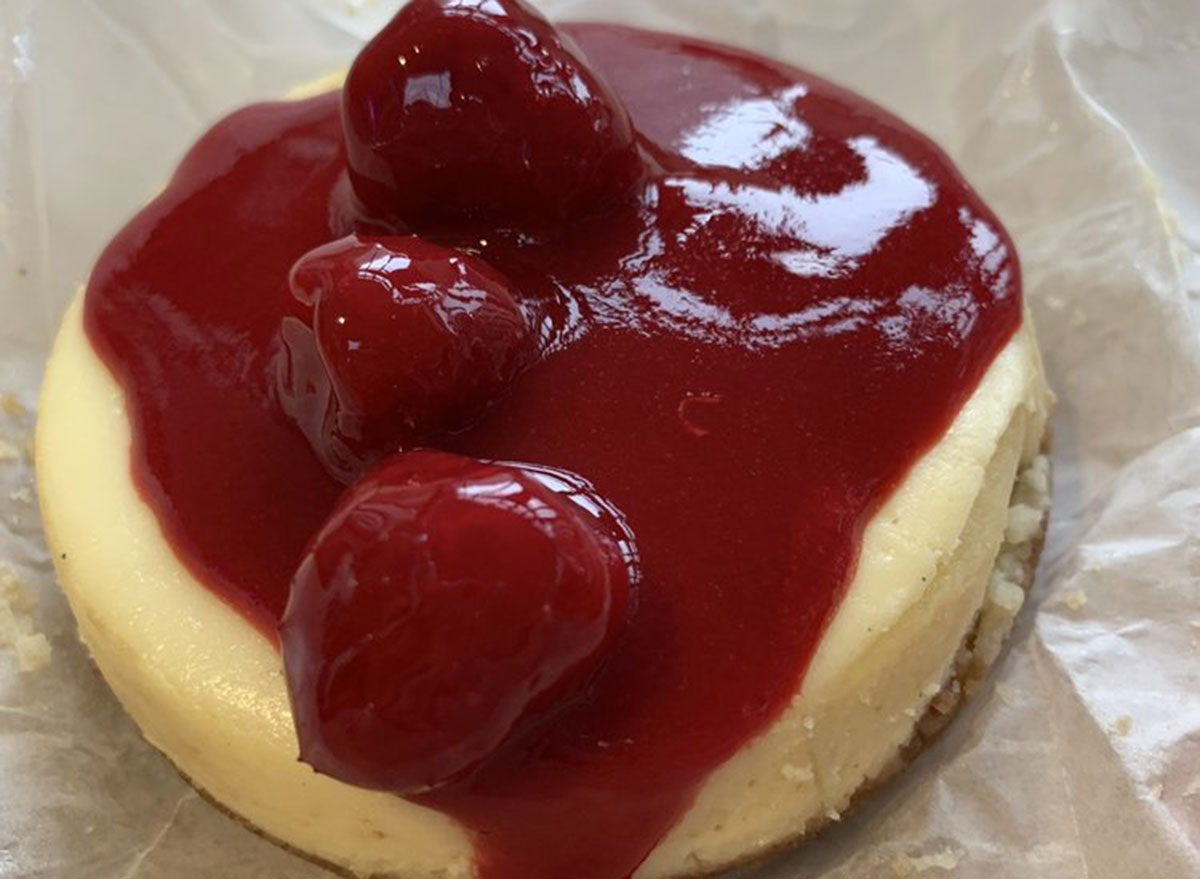 Pastiche is the intimate European-style Providence cafe that has been serving luscious desserts for over three decades. The Vanilla Bean Cheesecake, which is garnished with fresh berries and topped with a raspberry mirror glaze, is a fan favorite.
SOUTH CAROLINA: Kaminsky's in Columbia
Restaurant goers love Kaminsky's cheesecake which is baked fresh daily by pastry chefs and changed out in the dessert case throughout the day.
SOUTH DAKOTA: Grille 26 in Sioux Falls
Grille 26, the exciting restaurant located in the middle of Sioux Falls, offers a fried cheesecake that is out of this world. This innovative dessert is made by taking a piece of cheesecake, dipping and frying it in waffle batter, and then topping it with fresh whipped cream and peach rum caramel sauce.
TENNESSEE: The Standard at The Smith House in Nashville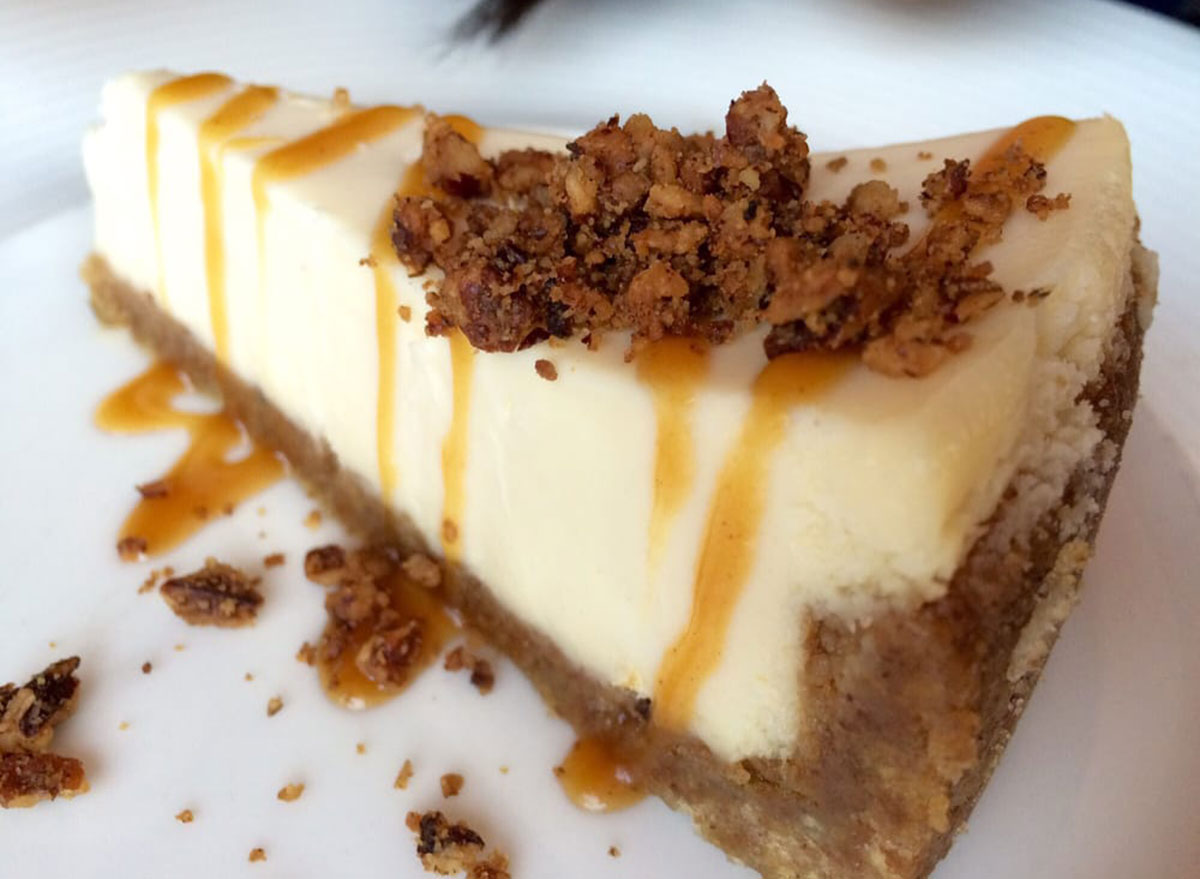 The popular Tennessee restaurant, The Standard, is housed in the beautiful Smith House, a gorgeous Italianate-style building that is the only remaining grand townhouse found in downtown Nashville. And lucky for us their menu is just as impressive as the setting you can enjoy the food in. Be sure to try out their Jack Daniel's cheesecake, which Trip Advisor reviewers describe as "sublime" and "a menu highlight".
TEXAS: Dessert Gallery in Houston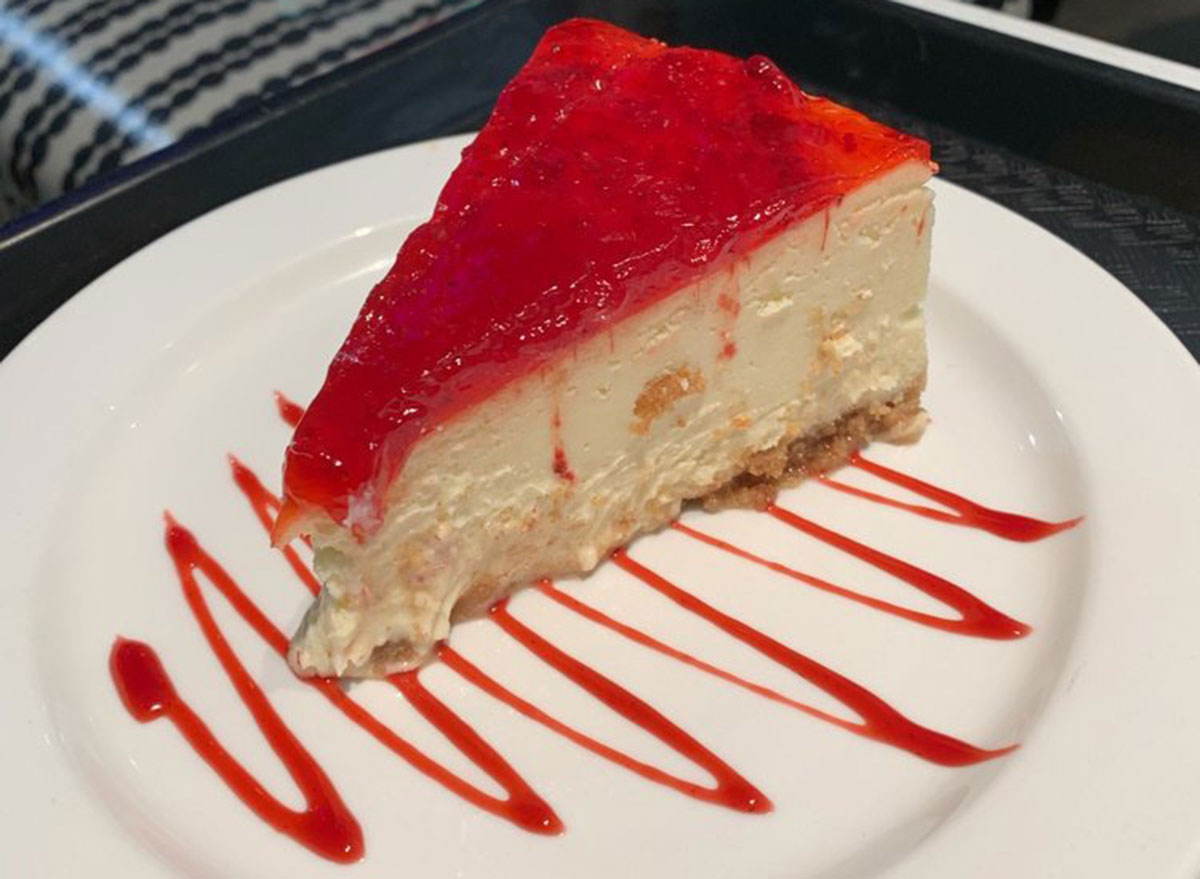 The Dessert Gallery in Huston is a great place to relax and enjoy a treat (or two). If you're nearby, be sure to try out their keto cheesecake, which is sweetened with Swerve, or a slice of their NY-style cheesecake which can be topped with delicious toppings such as blueberry, cherry, strawberry, fudge, or caramel.
RELATED: The Major Fast-food Chain Is Finally Coming to Texas
UTAH: The Dodo Restaurant in Salt Lake City
The Dodo is the eclectic Salt Lake City mainstay that has been serving mouthwatering dishes since 1981. People love the banana cream cheesecake, which is part cheesecake, part banana cream pie. Get it with a drizzle of caramel sauce for some extra added sweetness.
VERMONT: The Farmhouse Tap and Grill in Burlington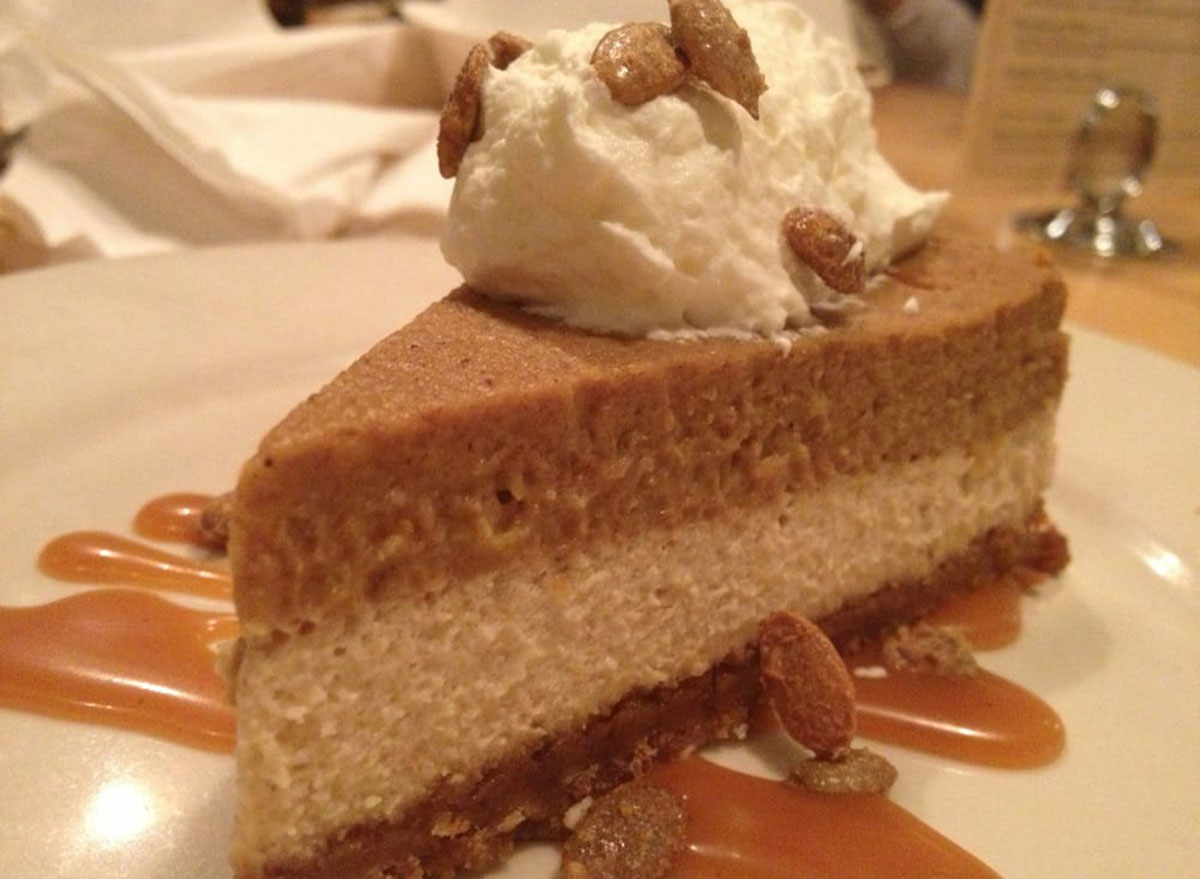 Reviewers rave about The Farmhouse Tap and Grill's cheesecake, which is made with an unexpected, but welcomed, ingredient—maple syrup. When in Vermont…
VIRGINIA: Route 58 Deli in Virginia Beach
In Virginia, you won't find the best cheesecake in a restaurant, but instead at the award-winning Route 58 Deli, which has become known around town as "the place for real New York cheesecake." Pull up a seat and enjoy one of the many flavors of cheesecake, which include options such as fresh strawberry, cherry, blueberry, and Reese's peanut butter cup.
WASHINGTON: Bakery Nouveau in Seattle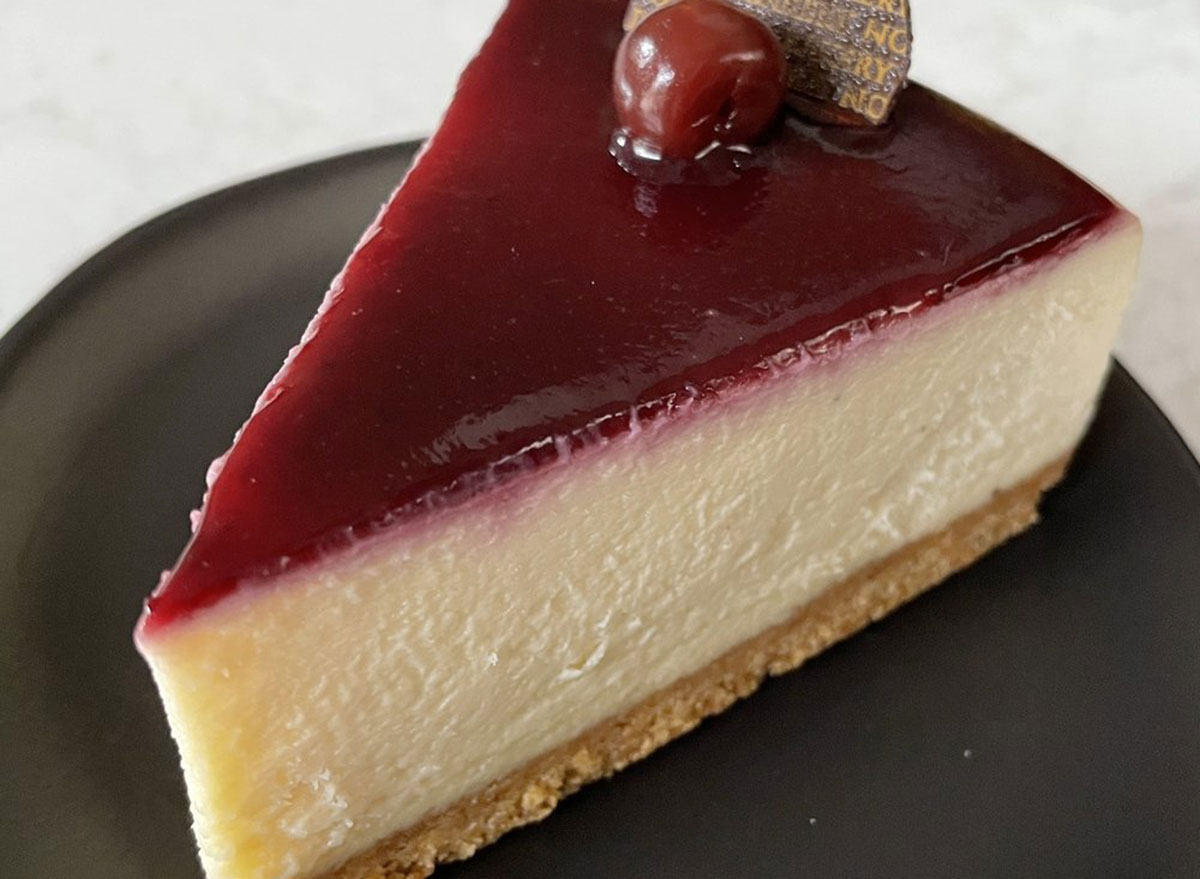 There is only one word that comes to mind when tasting the cheesecake at Bakery Nouveau, and that is "wow." Their creamy cheesecake, which comes in classic with a seasonal fruit glaze or chocolate mocha with dark chocolate and fresh brewed coffee, is a must-have when in Seattle.
WEST VIRGINIA: Everything Cheesecake in Martinsburg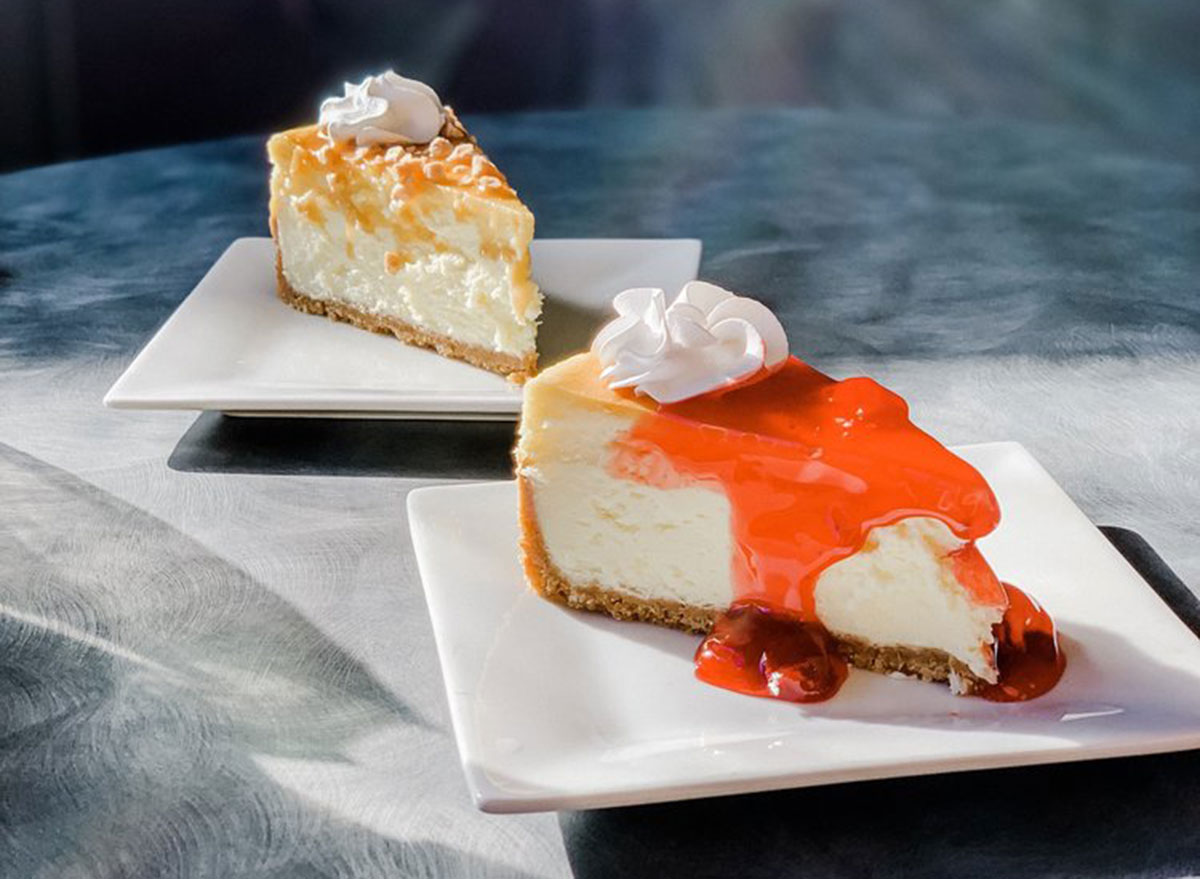 Serving cheesecake piled high with toppings such as whipped cream, fudge, marshmallows, and fresh fruit, the adorable Everything Cheesecake bakery in West Virginia is the ultimate spot for the best cheesecake in the state. The shop posts their ever-changing cheesecake flavors, such as brownie batter, salted caramel, and s'mores, daily on their Facebook page, so be sure to check it out.
WISCONSIN: Simma's Bakery in Wauwatosa
Simma's Bakery has a specialty cheesecake that you absolutely cannot miss. Made with a base of moist chocolate cake, a layer of sweet raspberry filling, and covered completely in decadent chocolate ganache, this inventive cheesecake has even won awards.
WYOMING: The Kitchen in Jackson
If you are looking for a fine dining restaurant with a superb cheesecake on its dessert menu look no further than The Kitchen in Jackson. Their tempting sticky coconut rice cheesecake is packed with passion fruit mango, black sesame seeds, sticky rice, and coconut whipped cream. You won't be disappointed.
Sign up for our newsletter to get daily recipes and food news in your inbox!
Read more:
The Best Apple Pie in Every State