7 Iconic Steakhouses That Serve Old-Fashioned Recipes
Steaks and history galore.
There are countless steakhouses throughout the country—from small mom-and-pop spots that serve family recipes to gigantic chains that can easily be found throughout every major city. However, some of the best steakhouses out there are the ones that have been around for decades, cementing themselves as must-try spots. Not only are these iconic establishments fun to visit (who doesn't like to eat a meal at a gorgeous historic restaurant?), but they also serve recipes that have been around for years, so you know your meal will be good.
Several of these steakhouses have been in business for over a century and have served the same steak cuts and dishes since they opened. Others became famous in the 1950s and have seamlessly incorporated vintage recipes with modern dishes so customers can get the best of both worlds. One Las Vegas spot is completely decked-out in cowboy memorabilia, while another is the steakhouse classic Hollywood stars like Marilyn Monroe and Elizabeth Taylor used to go to. And, interestingly enough, there's a steakhouse on the list that once existed as a tap room overseas in England (wait until you hear this story).
Although these steakhouses are located in all parts of the country, they each have the same common thread—they make high-quality recipes that have truly withstood the test of time.
From a steakhouse that doubles as the oldest restaurant in Denver to a steakhouse once featured on "The Sopranos," here are seven iconic steakhouses that serve old-fashioned recipes. You may just find your new favorite.
The Old Homestead Steakhouse – New York, New York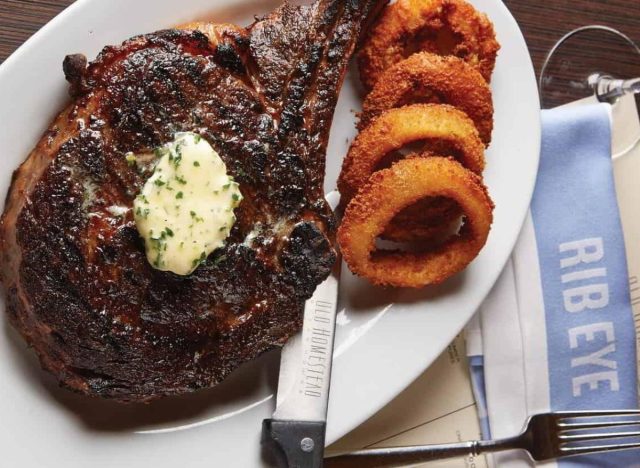 Located in Manhattan's Meatpacking District, this popular steakhouse has been in business since the 1860s and is known as one of the oldest restaurants in the country. For over 100 years, the restaurant has been serving some of the best prime-aged USDA beef. From center-cut sirloins and prime ribs to Kobe burgers and racks of lamb; they have all the most popular dishes! If you think the steakhouse looks familiar, you're not imagining things—this century-old spot was famously featured on an episode of "The Sopranos" years ago.
The Musso and Frank Grill – Hollywood, California
For over 100 years, the Musso and Frank Grill has been serving Hollywood celebrities and Los Angeles locals some of the best steaks in the state. Stars like Marilyn Monroe and Elizabeth Taylor often visited the restaurant's Back Room to enjoy meals and drinks years ago.
Started in 1919 by entrepreneur Frank Toulet and restaurateur Joseph Musso, the spot's menu, which French chef Jean Rue created, is virtually the same as when the restaurant first opened. Here, you can expect common steakhouse meals like filet mignons, ribeye steaks, bone-in pork chops, and old-fashioned specialties like lamb kidneys and calf's liver steak.
Saloon – Philadelphia, Pennsylvania
If you find yourself in South Philly, you have to check out this iconic chophouse that has been a neighborhood favorite for the last 50 years. Since the 1960s, people have loved this must-try spot not only because it whips up some of the best cuts in the city but also because it has an old-school, familiar feel to it. Saloon Restaurant is always a good idea whether you stop by for a quick bite and drink or bring in the whole family to celebrate a special occasion.
You'll dine on all the classic cuts but also some specialties of the house like Filet Moda which features an 11-ounce filet encrusted with coarse black peppercorns served in a cognac mustard sauce. Plus, don't miss the classic Braciole made with filet pounded thin, rolled, and stuffed with spinach, pancetta, and Parmigian cheese in tomato sauce.
Gene and Georgetti – Chicago, Illinois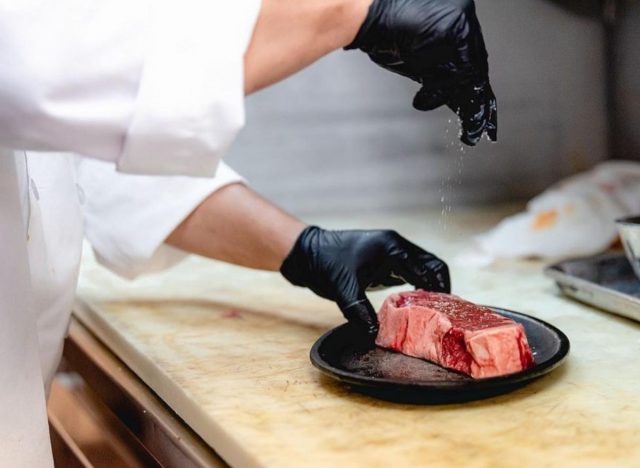 Known as Chicago's original steakhouse, this award-winning restaurant has been crafting some of the best meals in the city for over 80 years. Founded in 1941 by Gene Michelotti and Alfredo Federighi, who went by the nickname "Georgetti," this iconic restaurant is a fixture in the Windy City.
It serves dinner daily from 3 p.m., and you can expect classic cuts such as T-bone steaks, Porterhouse steaks, and filet mignons on their menu alongside specials and iconic classic dishes like Chicken Vesuvio and Pork Tomahawk Milanese.
Bob Taylor's Ranch House – Las Vegas, Nevada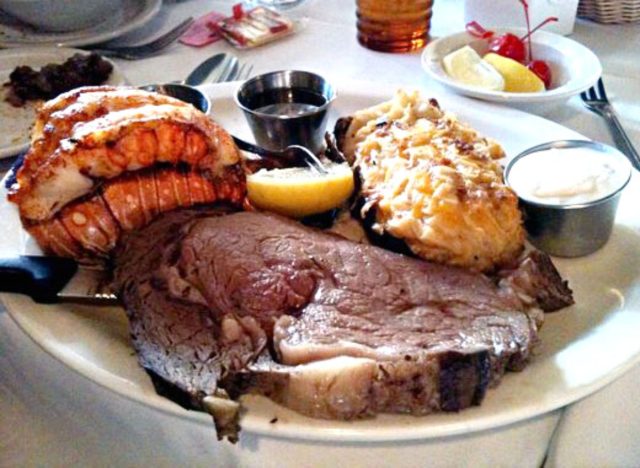 If you want to dine somewhere a bit more unexpected, then be sure to visit the inimitable Bob Taylor's Ranch House in Las Vegas, Nevada. This famous steakhouse and fine dining restaurant, which is Western-themed, has been making steaks for countless visitors since the 1950s. Customers come for the tasty dishes—like the amazing signature smoked prime rib and huge steaks—and the cowboy memorabilia, which includes decorative spurs owned by Hollywood stars, John Wayne posters, and saddles.
The Buckhorn Exchange – Denver, Colorado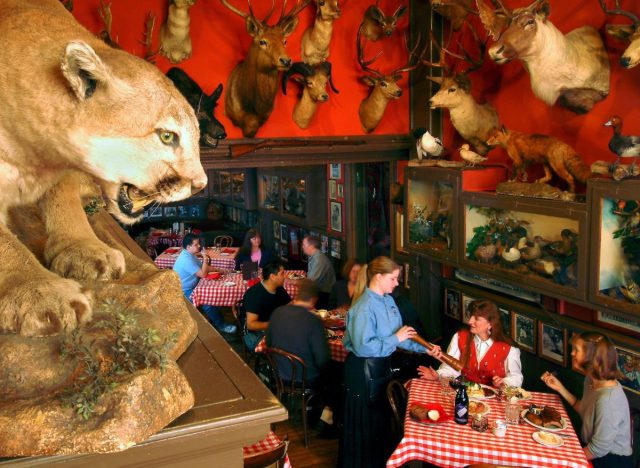 The Buckhorn Exchange is not only one of Colorado's favorite steakhouses but also the oldest restaurant in Denver. The establishment was founded by Henry H. "Shorty Scout" Zietz in 1893—an Old West character who was actually friends with Chief Sitting Bull. Zietz opened up the spot in his late-20s. Throughout the years, The Buckhorn Exchange has served everyone imaginable including miners, railroad businessmen, and Native American chiefs.6254a4d1642c605c54bf1cab17d50f1e
Today it's open seven days a week for dinner, and its menu includes steaks, games, and old-school classics like Grandma Fanny's pot roast. The restaurant also still serves steak dinners family-style with insanely massive New York strip loin steaks that are up to four pounds and carved tableside.
The Red Fox Steakhouse – San Diego, California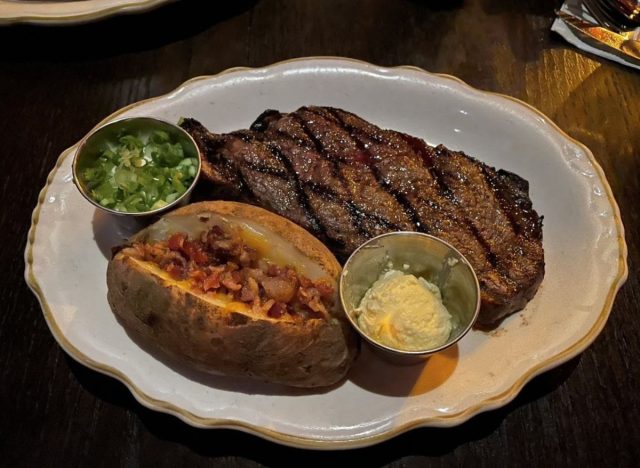 If you love steak and piano music, you'll love The Red Fox Steakhouse in San Diego, California. Not only is the food delicious, but its backstory is one for the books as well. As the story goes, the steakhouse's room once existed in Surrey, England, as The Red Fox Room, a large tap room where people came to drink. In the 1920s, the room was dismantled and shipped overseas for an actress named Marion Davies, who had the space sent over so she could rebuild it and transform it into her beach house. In the 1950s, Davies' beach house became a hotel. Fast forward some years later, and the Red Fox room was again taken apart but put in storage, finally being built out (once again) years later. Today, the famous room calls the Lafayette Hotel home.
The restaurant features all the classic steak cuts served with the restaurant's ​Relish Dish of carrots, celery, black olives, and green onions. Seafood dishes, salads, and decadent desserts (Mudd Pie, anyone?) round out the menu.