24 Best Vintage Midwestern Recipes
Even if you're not from the Midwest, you'll want to give these a try.
The Midwest can get a bad rap. Critics say it's boring, full of farm fields without much to do, and just taking up space between the major cities on each coast. But people who think like that clearly haven't dined with us.
The true Midwest is a vast, gustatory wonderland, defined by wholesome homegrown produce and soulful, stick-to-your-ribs-style cooking that frankly makes life worth living.
From Chicago-style pizza to real Kansas-raised corn on the cob to all the hearty, heartland dishes in between, the Midwest is the place to go for a throwback culinary experience through the decades.
Still not convinced? These vintage Midwestern recipes might just change your mind.
Chicken Pot Pie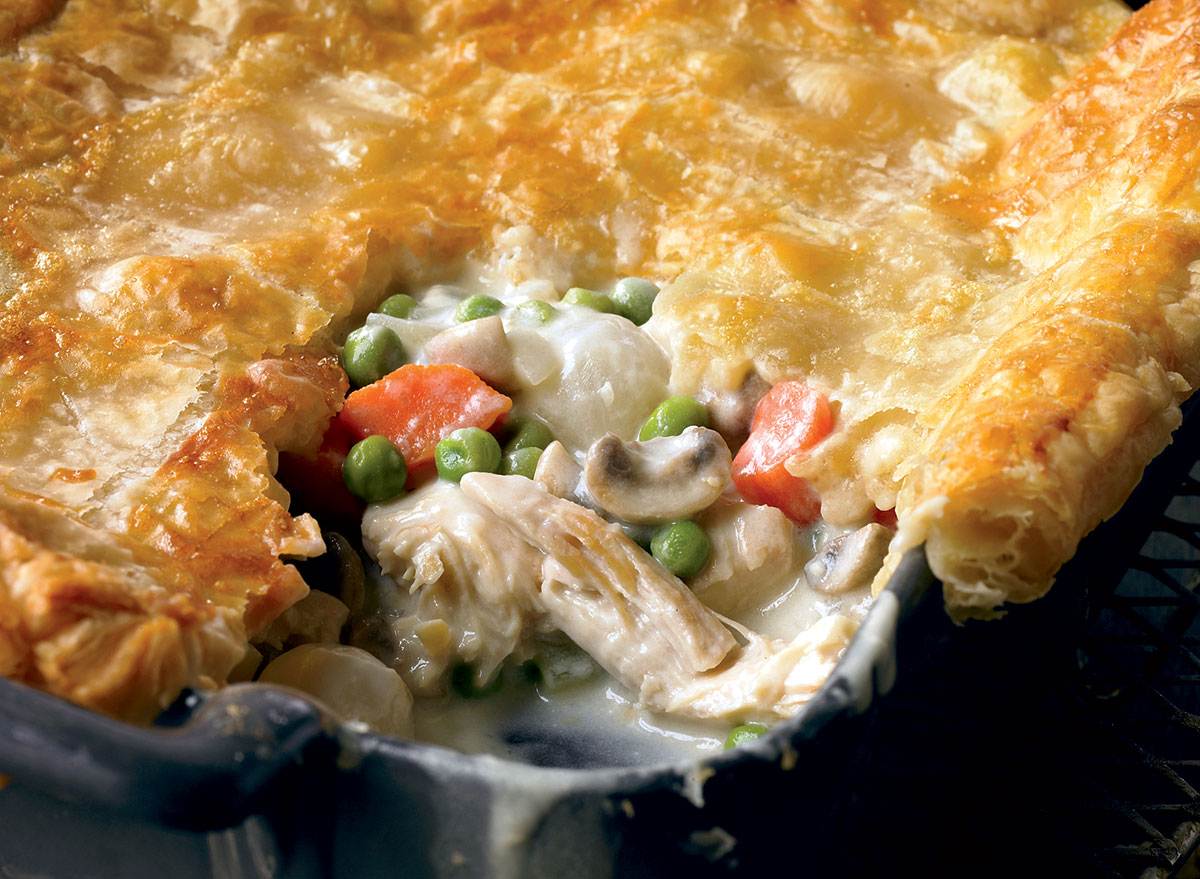 Chicken pot pie is a quintessential Midwestern comfort food. The hearty dish evokes visions of lazy Sundays at home with the whole family gathered around the dinner table as the scent of that freshly baked savory pie fills the room. This recipe cuts some of the guilt out of this classic indulgence, substituting thinly rolled puff pastry in place of the traditional buttery, high-calorie crust—without sacrificing any of the satisfaction.
Get our recipe for Chicken Pot Pie. 
Baked Potato Soup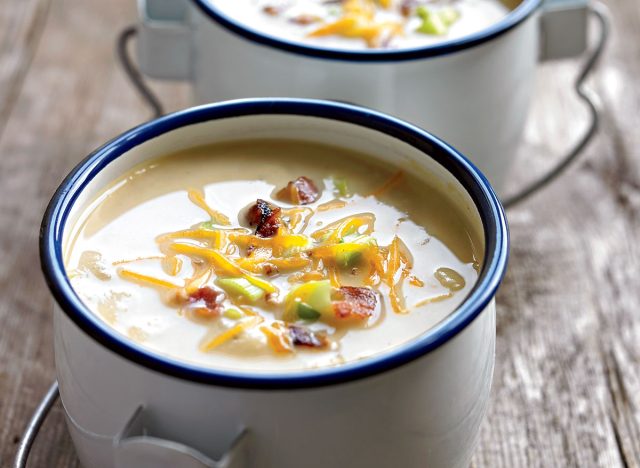 There's nothing more soothing than a steamy bowl of hearty soup on a chilly Midwestern day. This version of the textbook meat and potato combo skips the usual heavy cream in favor of chicken stock and a splash of half and half, but keeps the all-important bacon and cheddar for that rich, fulfilling flavor that will surely make you ask for seconds—politely, of course.
Get our recipe for Baked Potato Soup.
Cheese Fries
Nothing screams "county fair," or a hot July ball game, quite like cheese fries. This classic diner food reminds us of our after-school hangouts with friends, but without all the calories and fat. (Did you know Outback Steakhouse's version has almost 3,000 calories?) Instead, real sliced potatoes and pepper jack cheese are the stars of this show that will have you missing Friday afternoons in the "fly over" states.
Get our recipe for Cheese Fries. 
A1 Swiss Burger
Missouri, Nebraska, and South Dakota are some of the top beef-producing states, and residents' expertise in creating the perfect burgers goes way back. This burger has some secret ingredients like mushrooms and some healthy swaps like reduced-fat Swiss that won't alter the flavor at all. Bust out the cast-iron skillet if you aren't up for grilling.
Get our recipe for an A1 Swiss Burger. 
Beer Can Chicken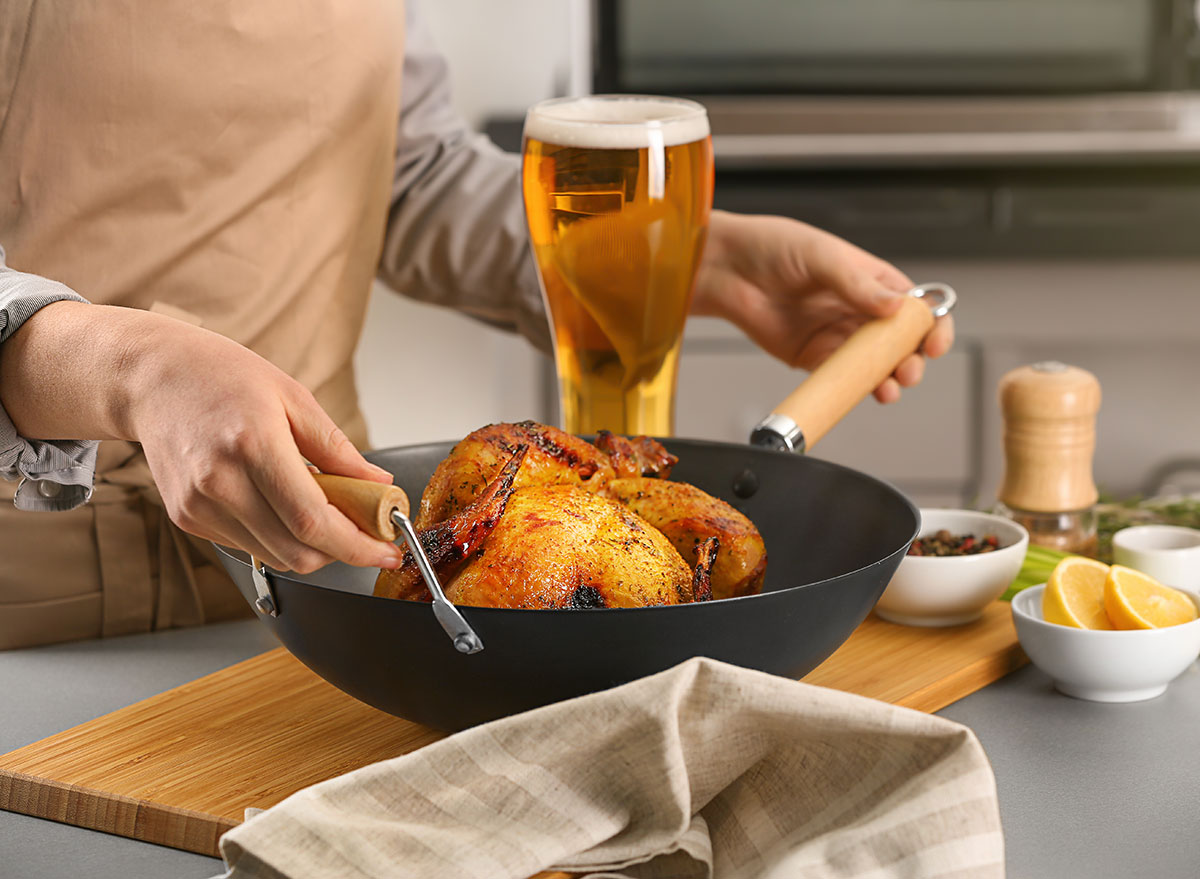 A cold beer is essential on a hot Midwestern day, so why not pair it with a chicken dinner? Backyard cookouts have only gotten better when grillers realized they could use a full can of beer to prevent meat from drying out. Since then, we've seen beers, sodas, and other cans making their way right into the middle of whole chickens and turkeys. The best part of this recipe? It calls for you to drink half the beer before cooking with it.
Get our recipe for Beer Can Chicken. 
Apple Pie
The Midwest turns a million beautiful shades in the fall, and apple pickers head out in pursuit of the perfect brand for their pies. But apple pie is a throwback indulgence all year round in the Midwest. This version swaps some of the less healthy ingredients for oats and almonds, minimizing the guilt and maximizing the nostalgia.
Get our recipe for Apple Pie. 
Smoky Ribs with Peach BBQ Sauce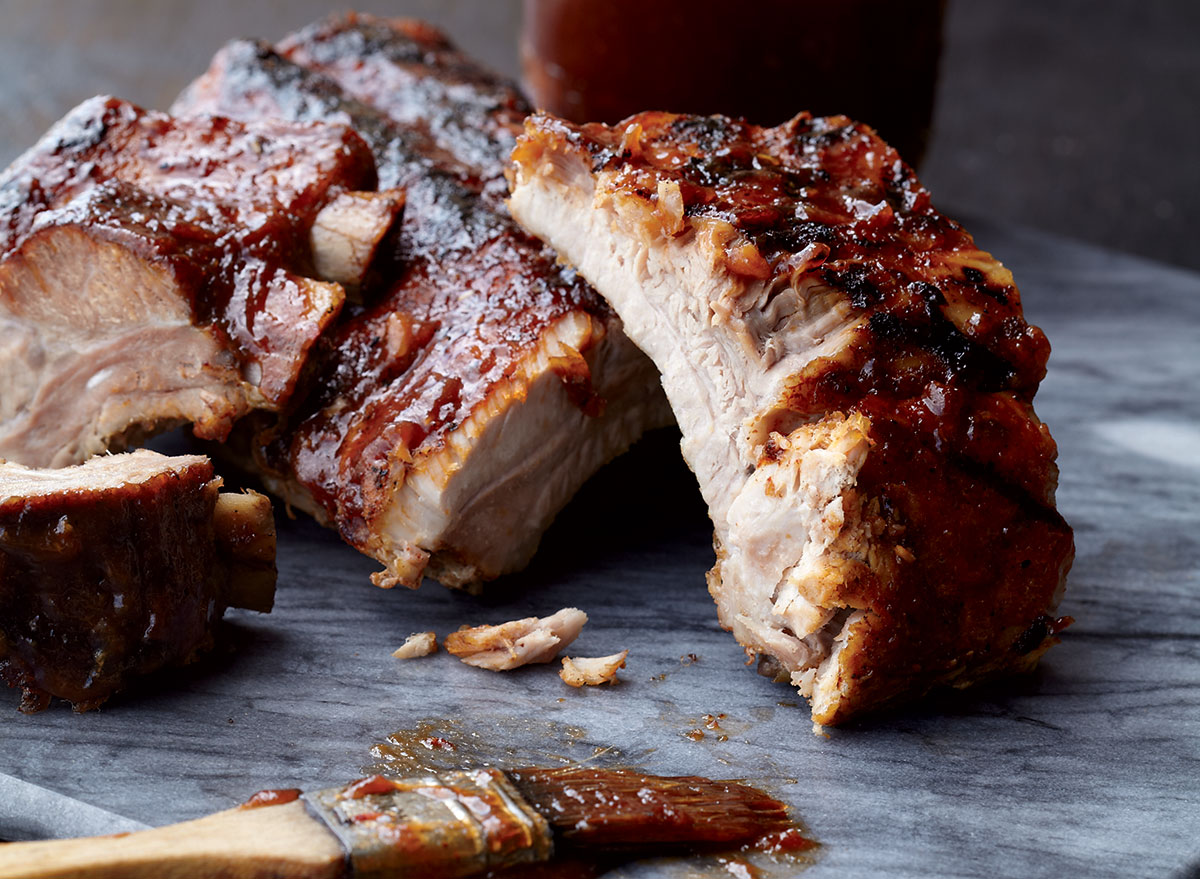 On some Midwestern tables, you will find baby back ribs as a weekly staple. In other places, it's a major indulgence. In the summer, pairing with peach BBQ sauce is a fan favorite, and this recipe calls for bourbon as well, making it the perfect ode to our Kentucky neighbors. You don't have to have a smoker to make this simple recipe, either!
Get our recipe for Smoky Ribs with Peach BBQ Sauce. 
Waffles with Ham and Egg
6254a4d1642c605c54bf1cab17d50f1e
Breakfast in the Midwest is no slice of fruit and black coffee—it's an experience. This waffle recipe with ham and egg mirrors Denny's popular (and super unhealthy) "Slam" for way fewer calories. The best part is that you can make it in just a few minutes by using frozen waffles instead of from scratch.
Get our recipe for Waffles with Ham and Egg. 
Spaghetti and Turkey Meatballs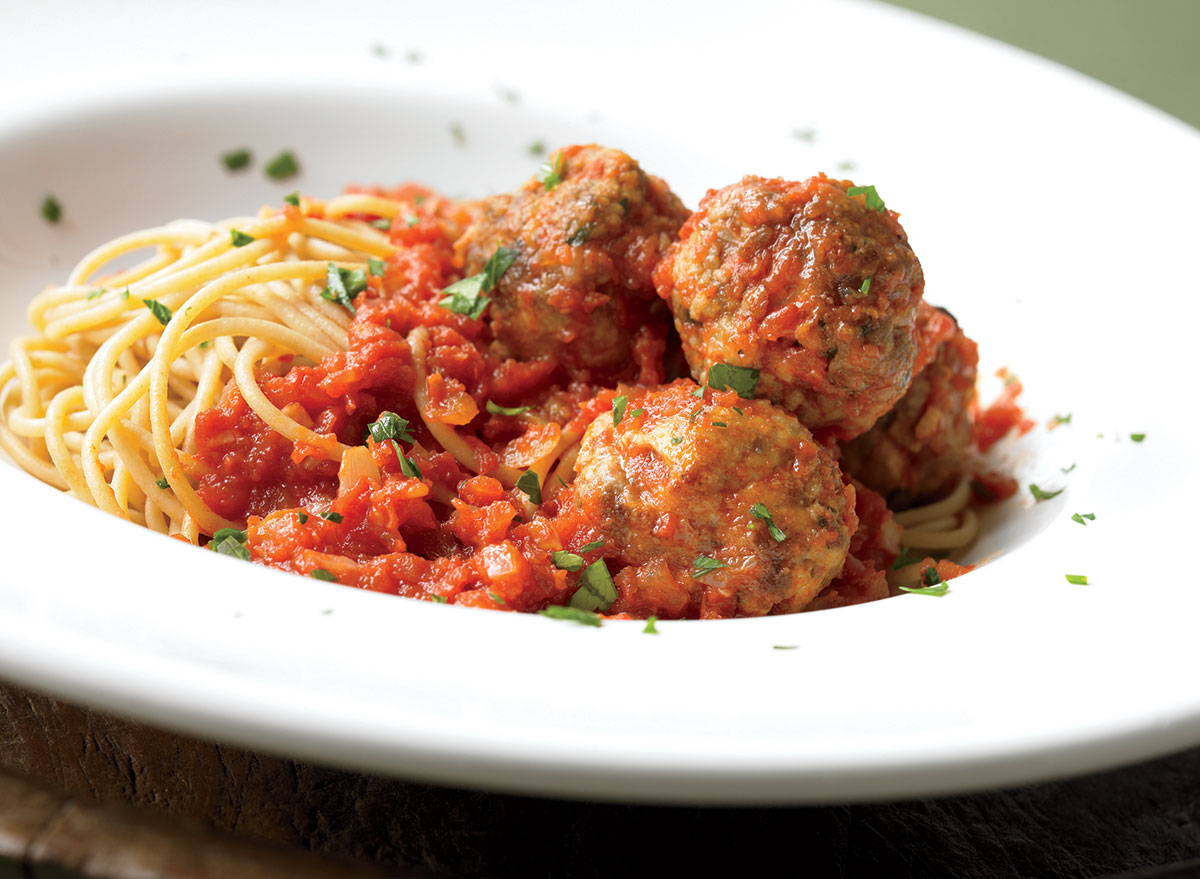 A Sunday night tradition, spaghetti and meatballs can have a sneakily high calorie count, but this recipe features turkey rather than beef meatballs, trimming it back a bit. Real marinara sauce, made from whole peeled tomatoes, also keeps the sugar content down, making for the ultimate, more nutritious comfort food.
Get our recipe for Spaghetti and Turkey Meatballs. 
Chicago Hot Dog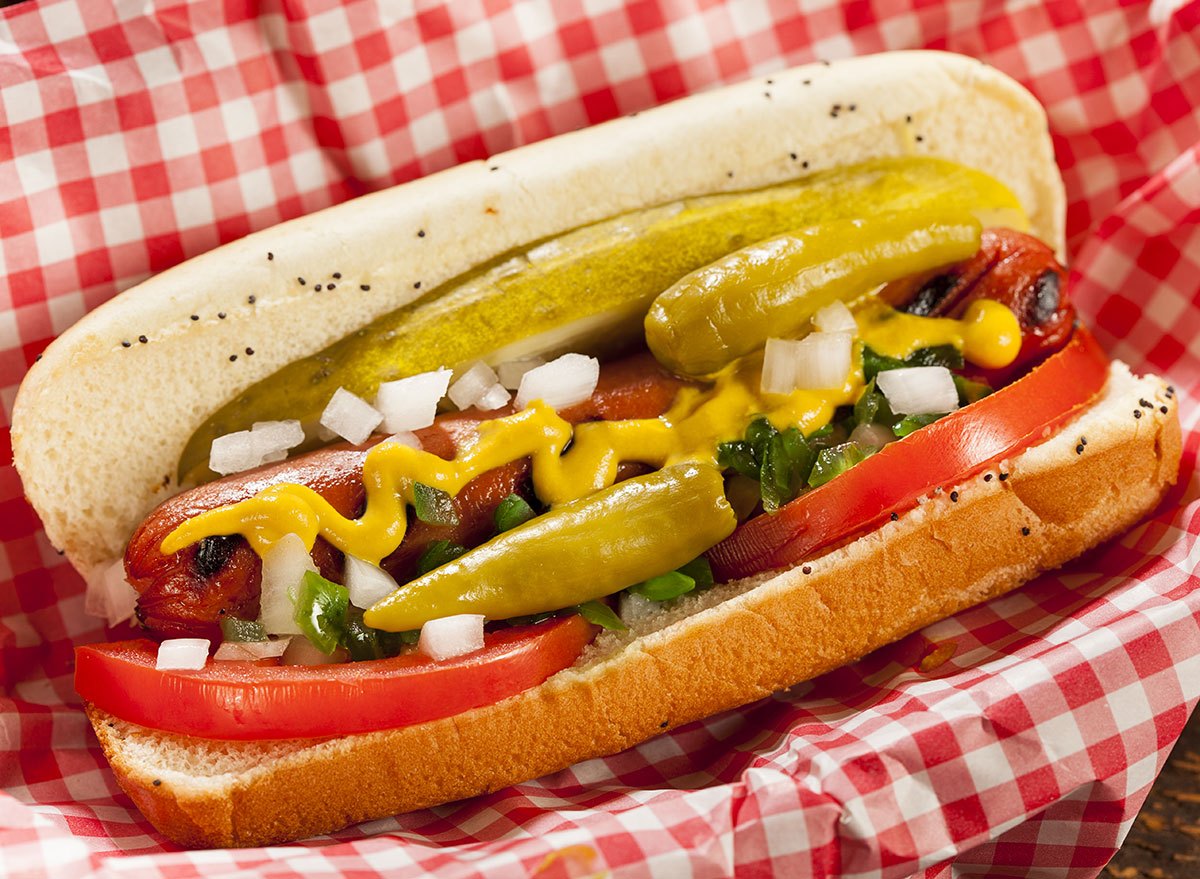 Flirty, cool nights at the Navy Pier in Chicago conjure up images of an essential Midwest food: the Chicago hot dog. This is not just any old hot dog. A real one has a variety of additional ingredients, including pickled relish, a classic poppy seed bun, pickle spears, mustard, and onion. This healthy version swaps full-fat dogs for a reduced-fat, all-beef option.
Get our recipe for a Chicago Hot Dog. 
Ice Cream Sandwiches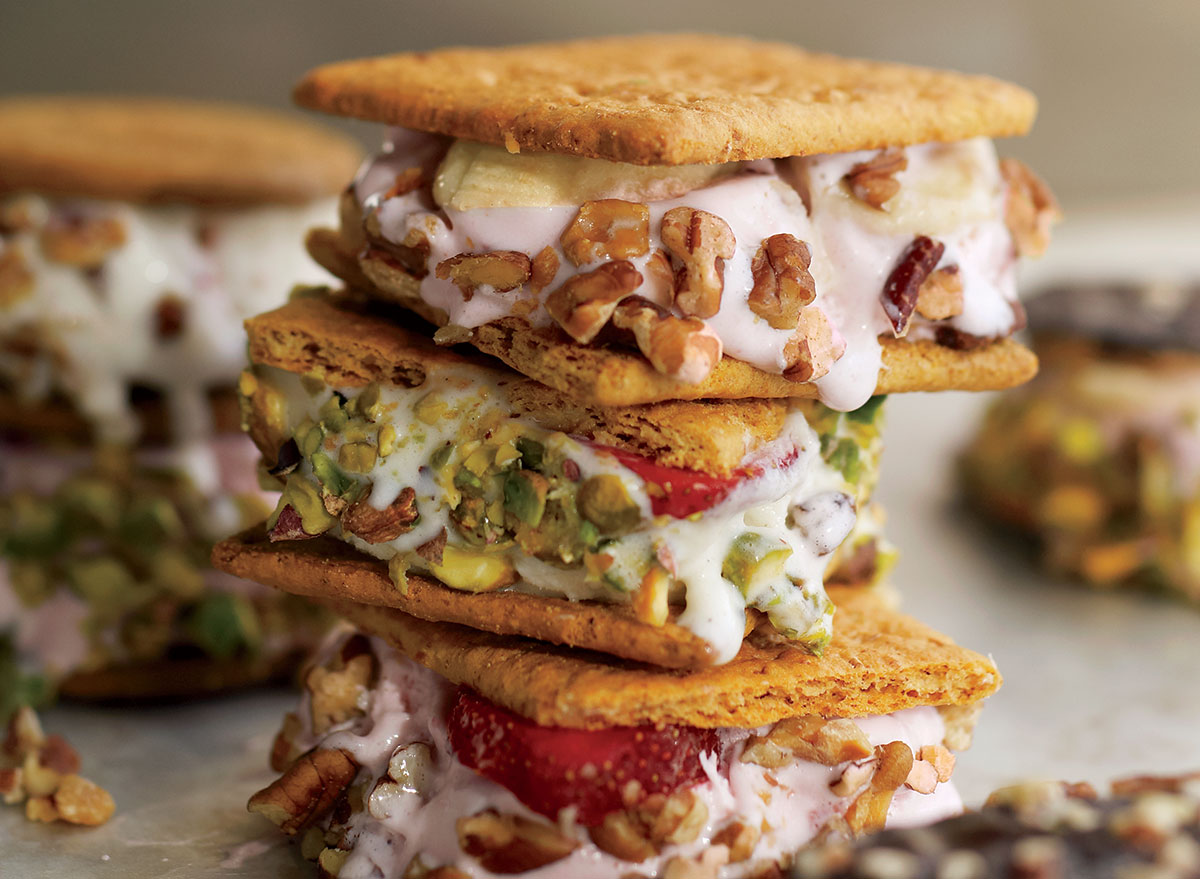 If summer nights in the Midwest have the exciting ice cream truck tune ringing in your head, you can experience it again with a healthy twist on ice cream sandwiches. This creative take on a traditional dessert staple integrates healthy add-ons such as bananas, strawberries, cherries, and nuts, as well as a dark chocolate swap.
Get our recipe for Ice Cream Sandwiches. 
Crispy, Crumb-Topped Mac and Cheese Cups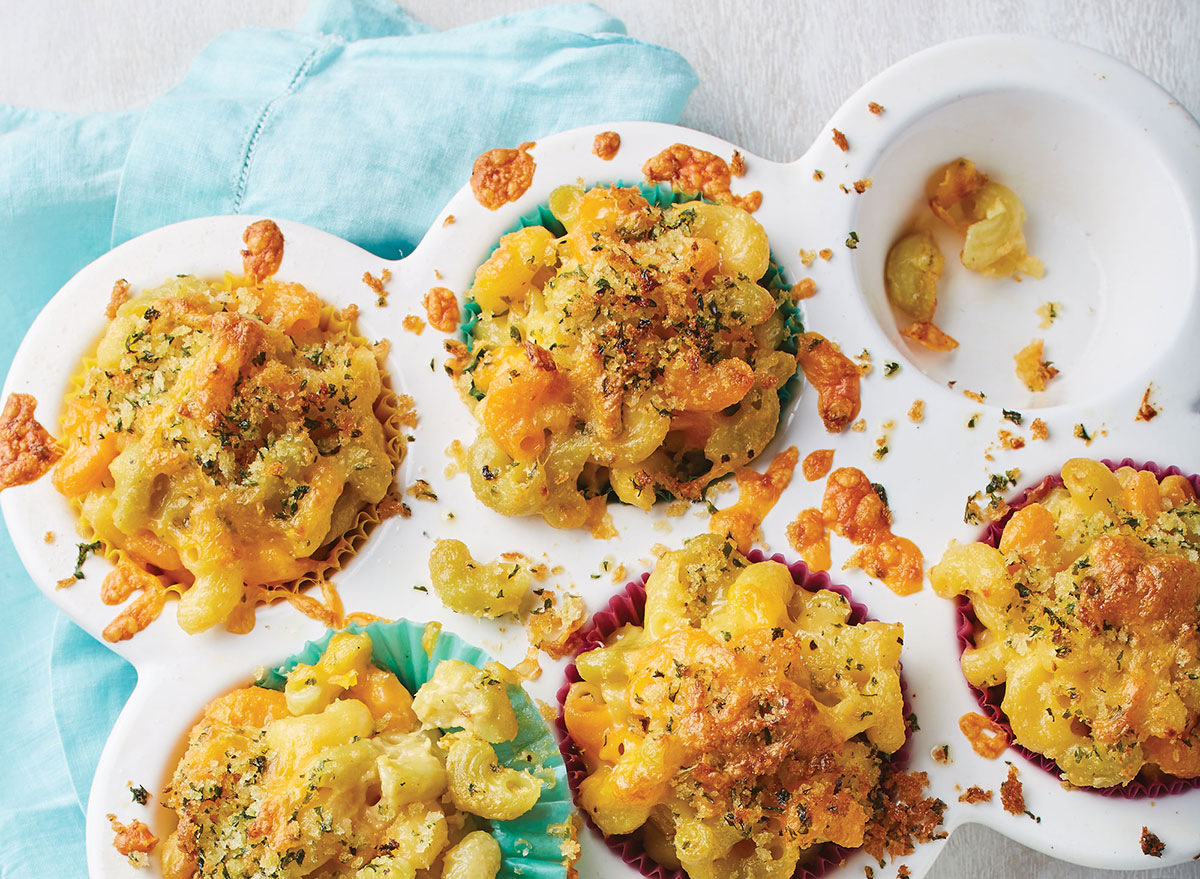 One of the most natural side dishes of choice in the Midwest, this more portable version conjures up images of park picnics and summer cookouts. Eliminate some of the extra fat content while preserving the memories by using veggie elbow macaroni and less butter. There's even an option to integrate some Greek yogurt.
Get our recipe for Crispy, Crumb-Topped Mac and Cheese Cups. 
Shredded BBQ Rubbed Pork Shoulder with Creamy Slaw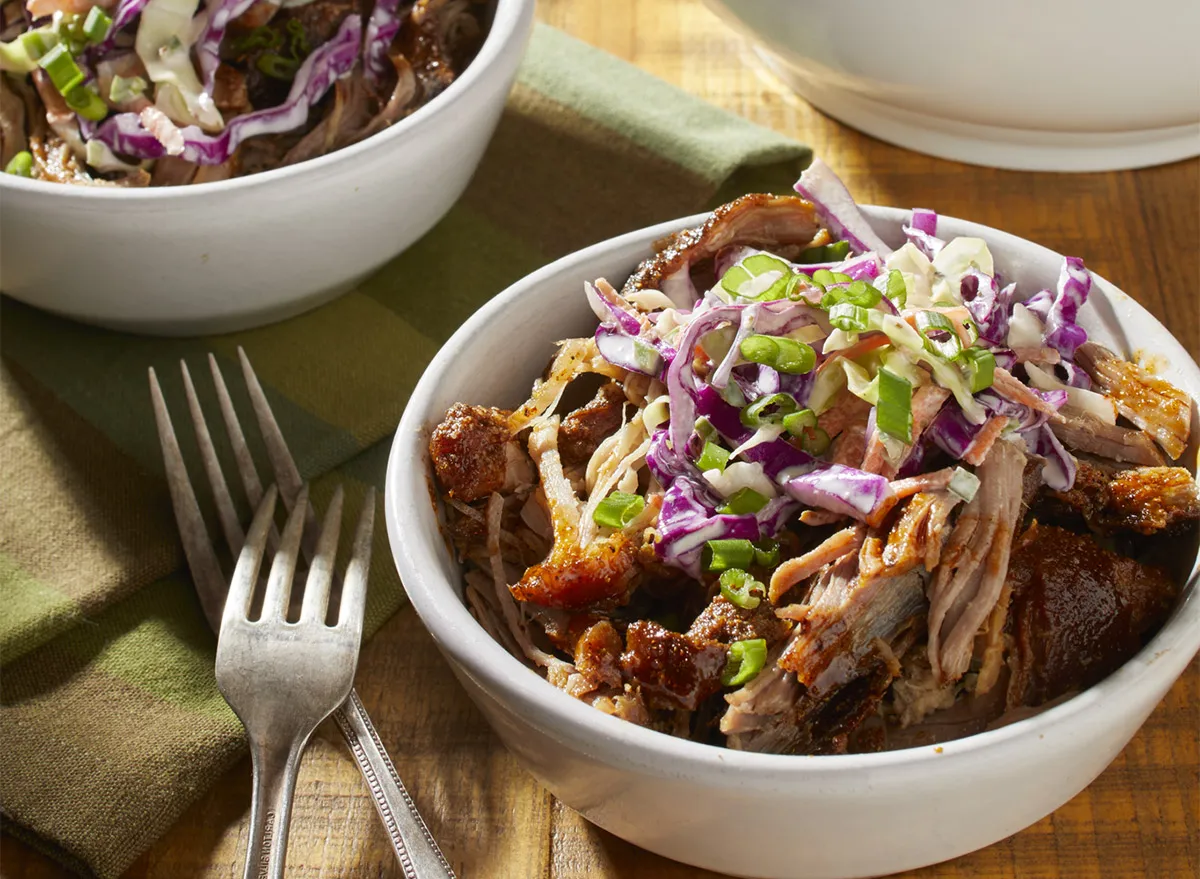 Many Midwestern states like Kansas are iconic pork capitals of the country, but this slow cooker-friendly recipe looks trendier than ever. The slaw only takes a few seconds longer than the pork, which can cook on its own while you're gone for the day, letting that ground cumin do all the hard work for you.
Get our recipe for Shredded BBQ Rubbed Pork Shoulder with Creamy Slaw. 
Pumpkin Marinara Flatbread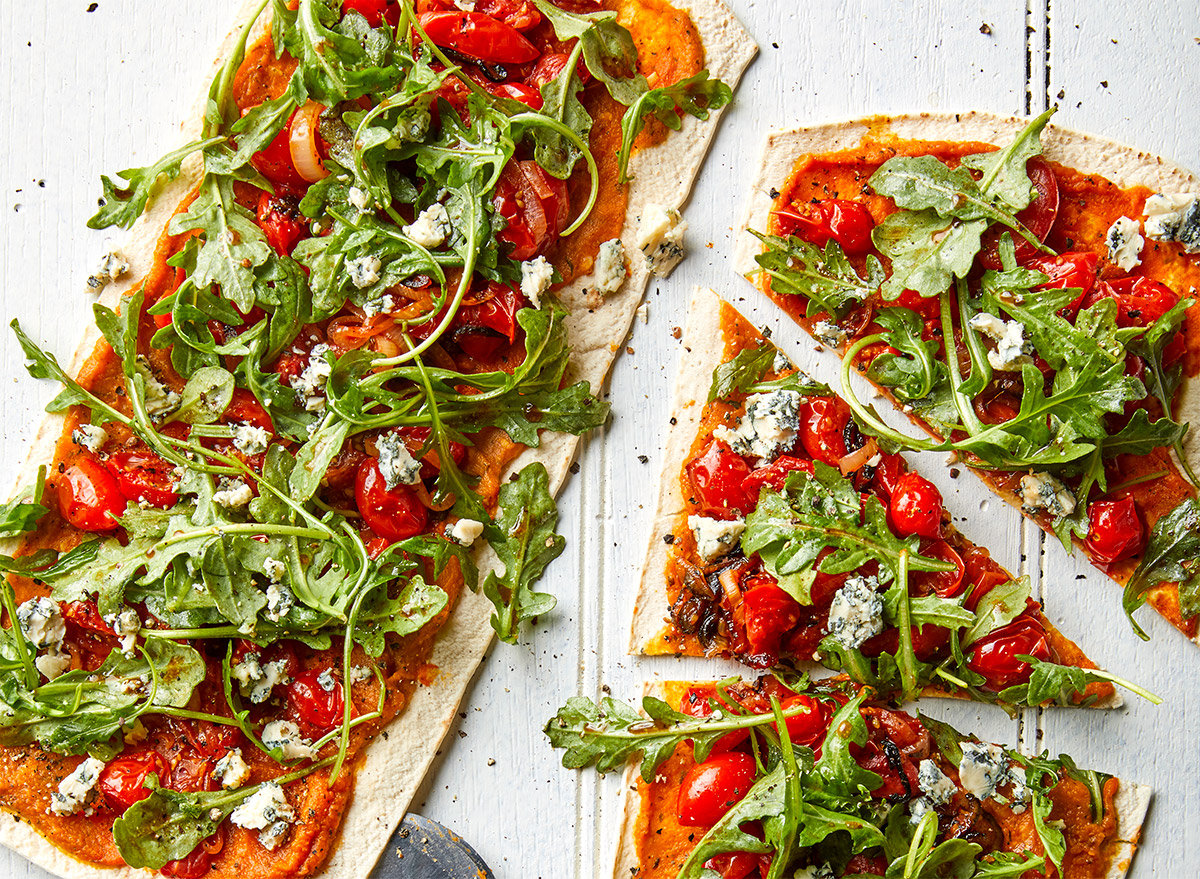 Those fields of grain can be turned into delicious breads of all types, including the fan-favorite, pizza, and its close buddy, flatbread. This pumpkin marinara recipe sounds like a bizarre combination but is anything but. The pumpkin gives the marinara a nutritious boost, and those thin artisan crusts can be homemade or store-bought to save time.
Get our recipe for a Pumpkin Marinara Flatbread. 
One-Pot Cincinnati Chicken Chili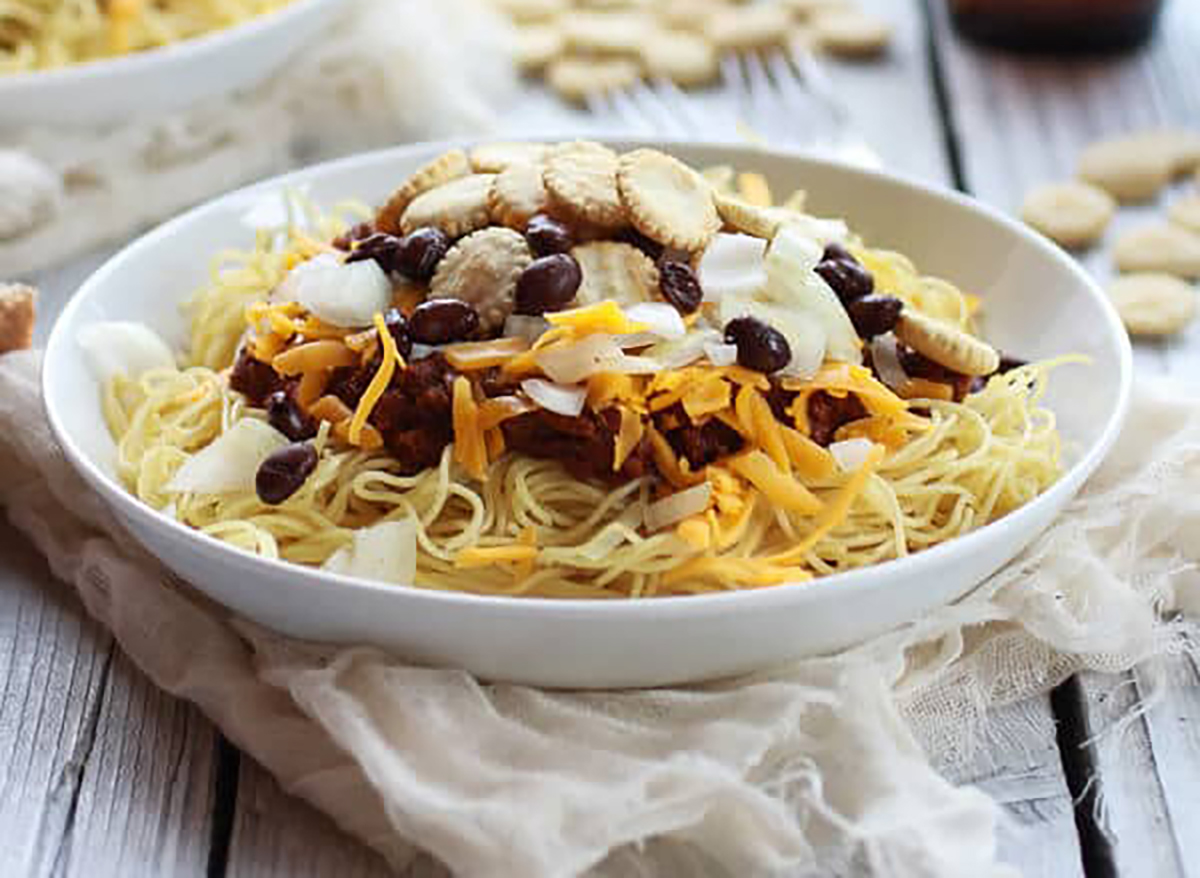 If you've ever ventured into the southern parts of Ohio, you've probably been introduced to Skyline chili, which comes on spaghetti and in cheese coneys and has a cult-like following. This recipe is a healthier version, while still integrating classic toppings like chopped onions, kidney beans, and cheese, but with spaghetti squash subbed in for the standard noodles.
Get the recipe from Half Baked Harvest. 
Ham Casserole with Broccoli and Rice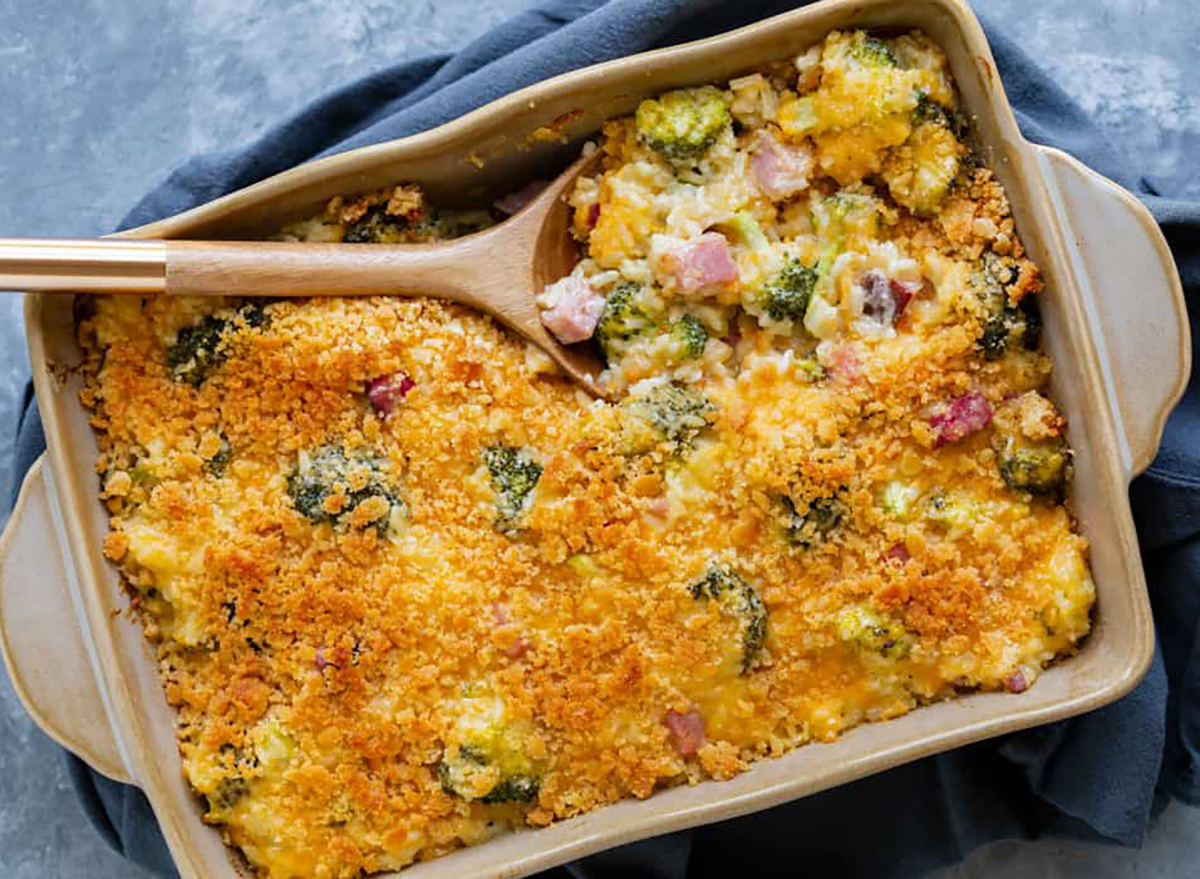 While other states may scoff at the idea of a casserole, the Midwesterners are experts at it: not too mushy, some crunch around the edges, and the potential to pack them full of veggies. The crunch in this recipe comes from Ritz crackers, but you will still get a good portion of protein from the ham as well.
Get the recipe from The Cozy Cook. 
Cherry Pie Kuchen Bars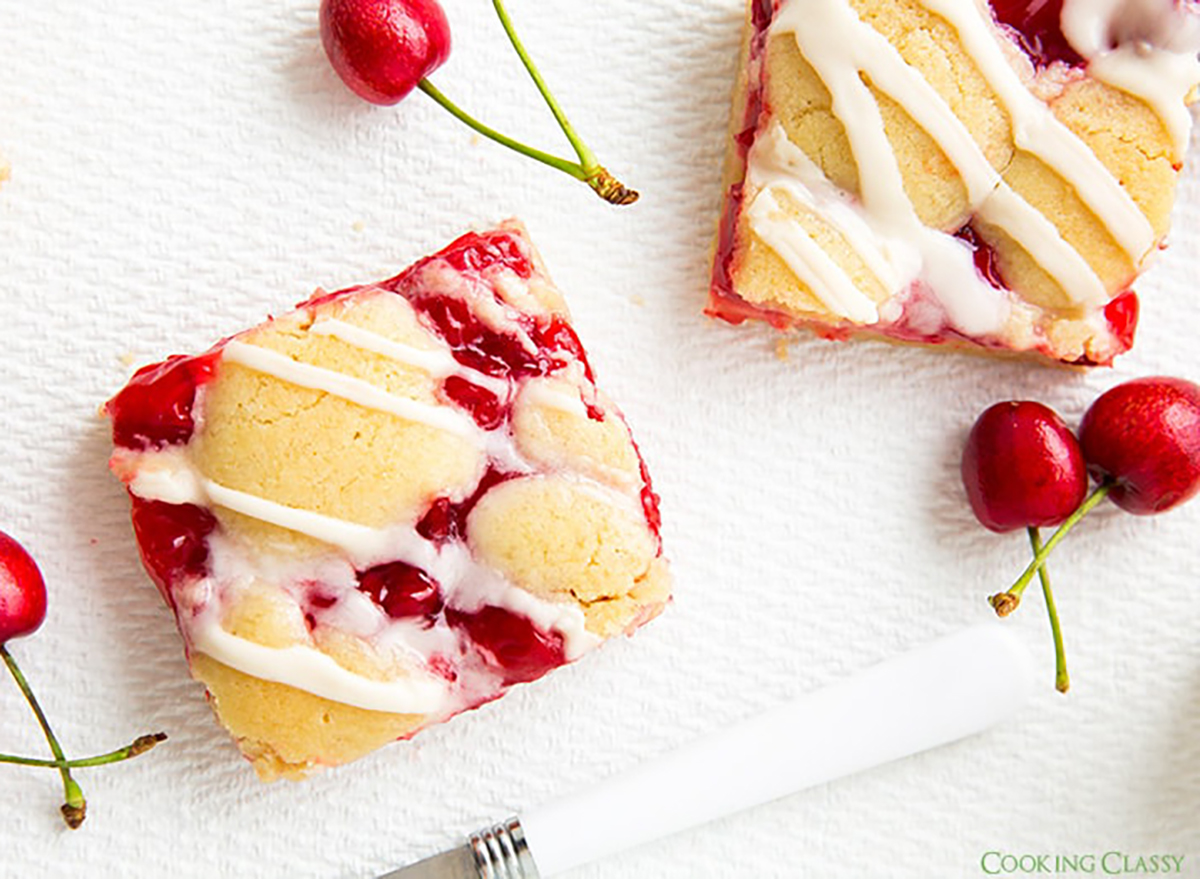 What the heck is Kuchen? You're going to have to make a stop in South Dakota to find out. This is the state dessert and for good reason. This custard-like pie can be transformed into bars, is flavored with fruits such as this cherry version, and will have you wishing South Dakota was your home stomping grounds.
Get the recipe from Cooking Classy. 
Tater Tots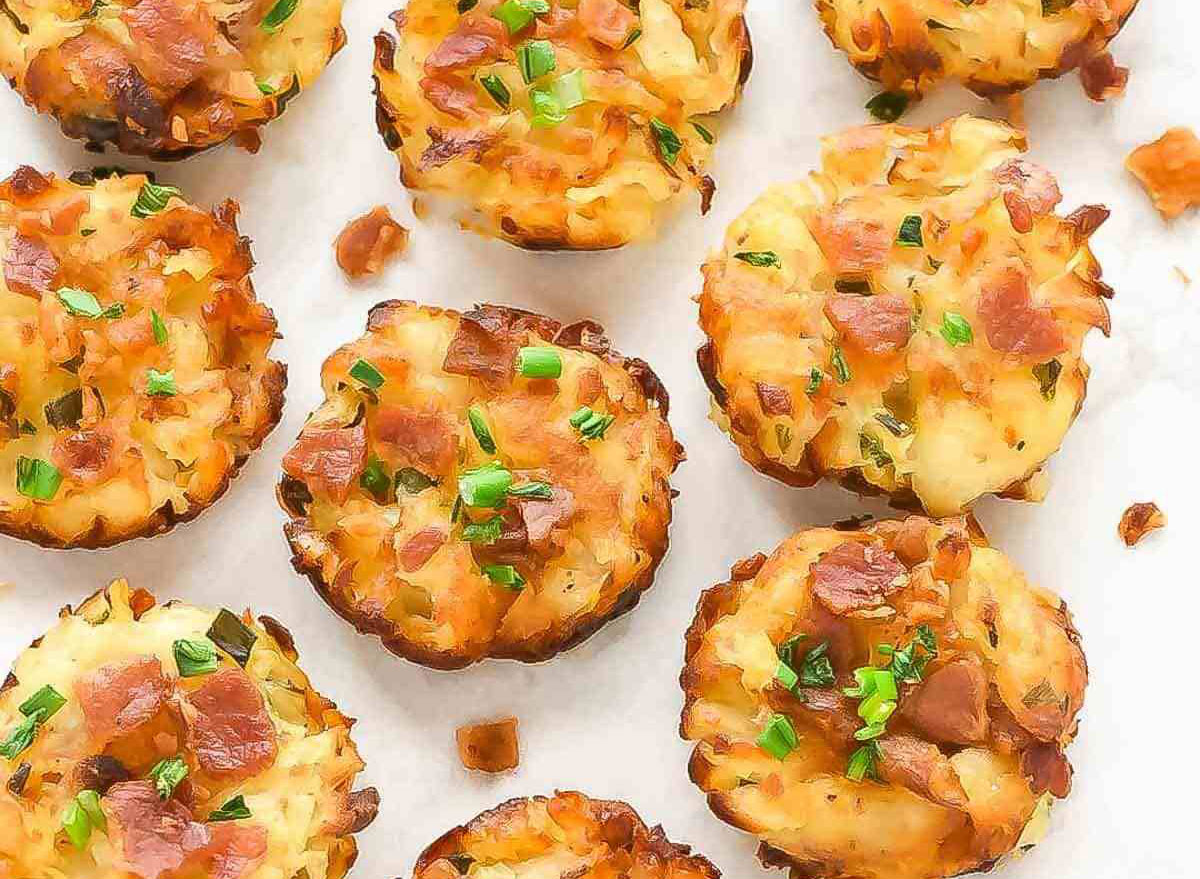 If your favorite aunt didn't make these, are you even a Midwesterner? You may also remember tater tots from the school cafeteria where, for better or worse, they were a staple item with lots of ketchup. This version gets a protein boost with plain Greek yogurt and features real ingredients such as simple potatoes, cheese, and bacon, making the cafeteria version a distant memory.
Get the recipe from Well Plated. 
Protein Buckeyes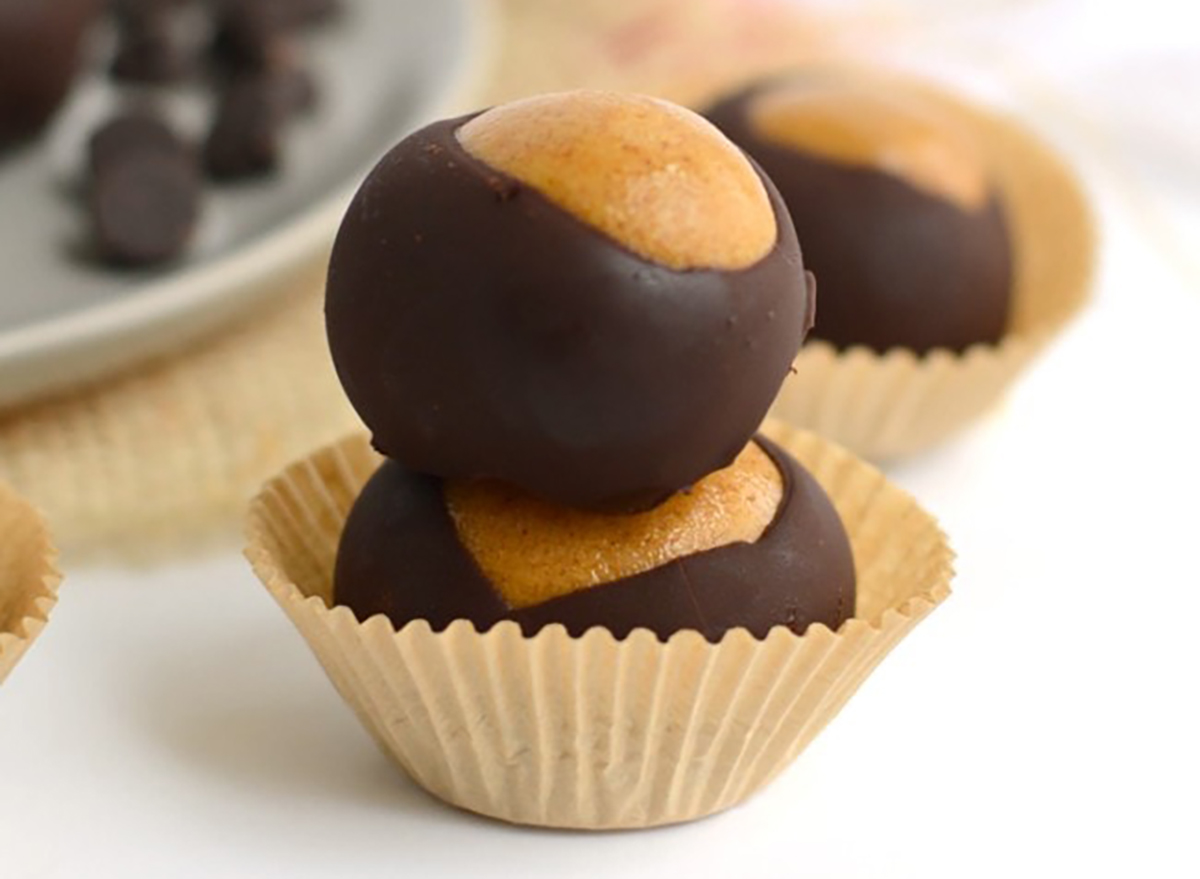 Try to convince anyone from the Buckeye state that this dessert can be made healthy, and they'll probably laugh you out of Ohio. But it's true, and possible, as this recipe proves. Simply work some protein powder into the mix, and you have a delectable, justifiable snack.
Get the recipe from Fit Foodie Finds. 
Sauerkraut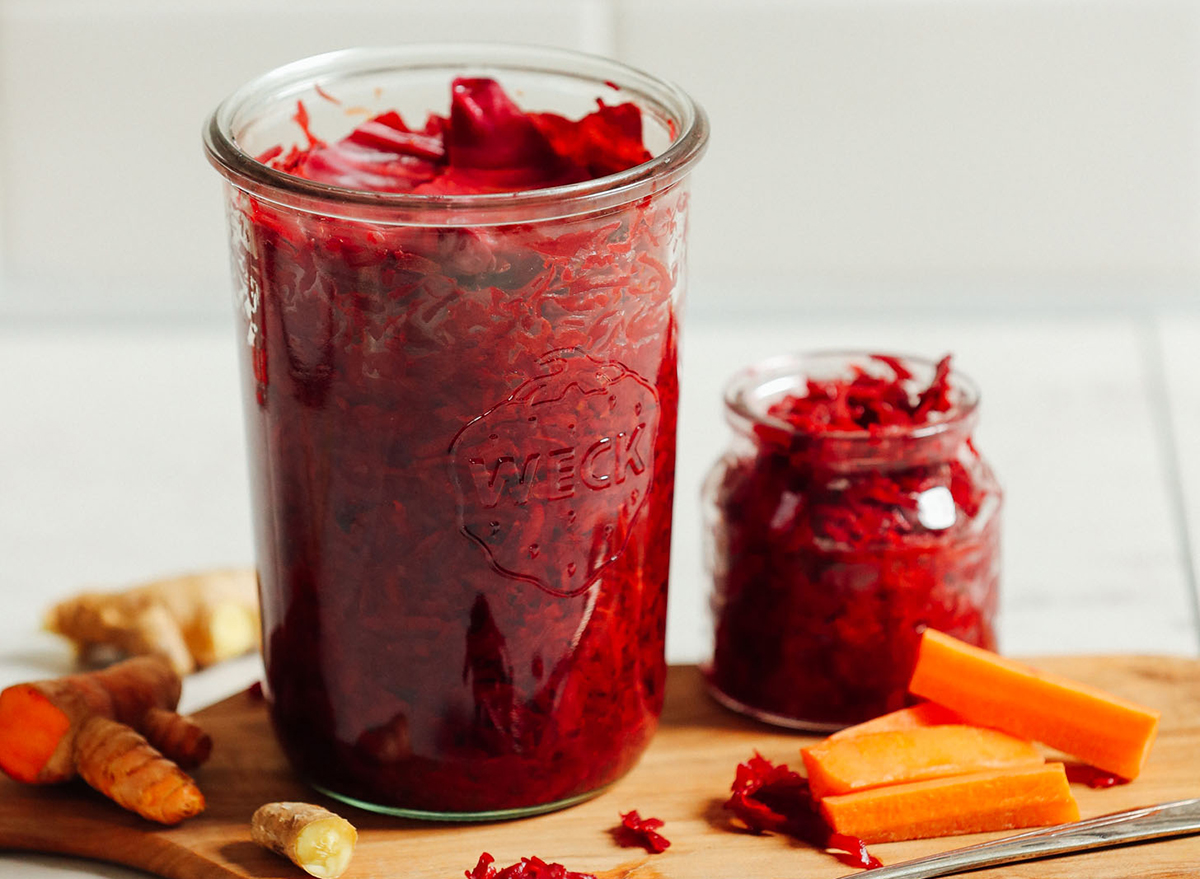 You may be surprised to find out that Wisconsin and Ohio are two states that produce the most cabbages for sauerkraut, a traditional staple of German diets. This probiotic-rich recipe is flavored with garlic, turmeric, and ginger. Throw it on top of an all-beef hotdog or beside a pork chop for a classic meal.
Get the recipe from Minimalist Baker. 
Chicago-Style Deep Dish Pizza
Anyone passing through the Midwest knows to make a stop for this unique, thick, and often meaty pizza in Chicago, spilling out past city limits to much of Illinois. You'll recognize this pizza, which has a classic twist of topping the cheesy bread with chunky marinara on top, rather than the other way around. Every garden vegetable can be a star of this show, from mushrooms to green peppers to onions.
Get the recipe from Sally's Baking Addiction. 
Kentucky Hot Brown Sliders
Some consider Kentucky a Midwestern state, so we're including it here. You haven't hosted a derby party until you've made Kentucky Hot Brown Sliders, which aren't even really that brown. The open-faced turkey sandwich often has bacon, tomatoes, pimientos, and a cheesy sauce called Mornay. Bake the sandwiches with butter sauce, including Worcestershire, and don't forget to pair with a mint julep.
Get the recipe from The Seasoned Mom. 
Pepper Jack Stuffed Turkey Zucchini Meatloaf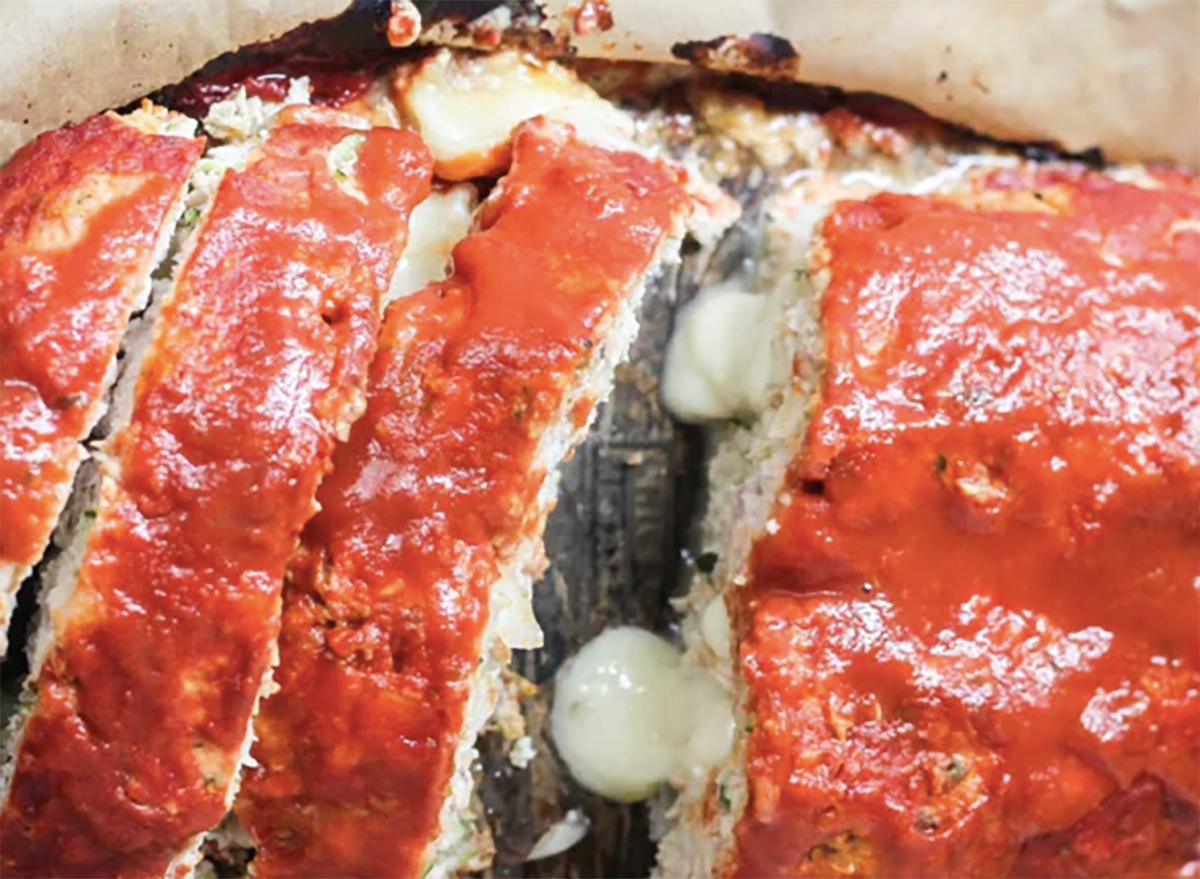 Don't ask what's for dinner in Midwestern states without expecting to hear "meatloaf" at least once per week. But it doesn't have to always feature beef—this version uses turkey, zucchini, and pepper jack cheese for a twist on the traditional classic. We still can't help but pair it with mashed potatoes, though.
Get the recipe from Ambitious Kitchen. 
Baked Corn Dogs
Baking this state fair favorite eliminates many of the unnecessary calories from this lunch you might remember eating as a kid. If you didn't have a root beer stand where you could get these in town, you may have been lucky enough to have a grandparent make you some. Opt for whole-wheat flour and lean beef to make this Midwest staple even healthier.
Get the recipe from The Baker Mama. 
Grilled Cilantro, Lime, and Paprika Corn on the Cob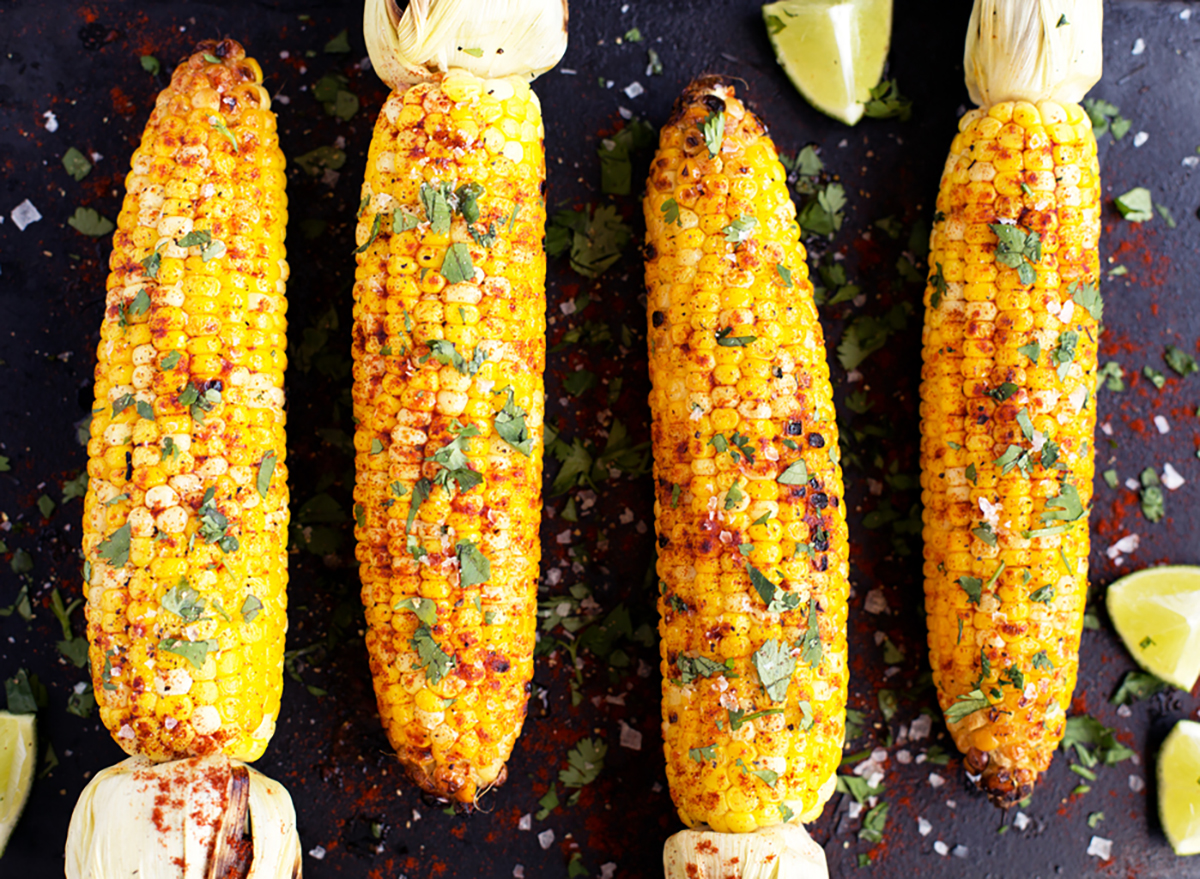 While corn on the cob with simple salt and butter will do the trick, this recipe fancies up a Midwestern favorite with some extra spice. You can also try parmesan and cilantro for a surprising combo. Not only is this recipe delicious, but it also makes a beautiful and colorful centerpiece dish to any spread.
Get the recipe from Blissful Basil. 
A version of this story was originally published in August 2022. It has been updated to include new information.
Chris Shott
Chris Shott is the Deputy Editor covering restaurants and groceries for Eat This, Not That!
Read more about Chris