7 Instant Oatmeals That Use the Lowest Quality Ingredients
Here's what to skip in the oatmeal aisle.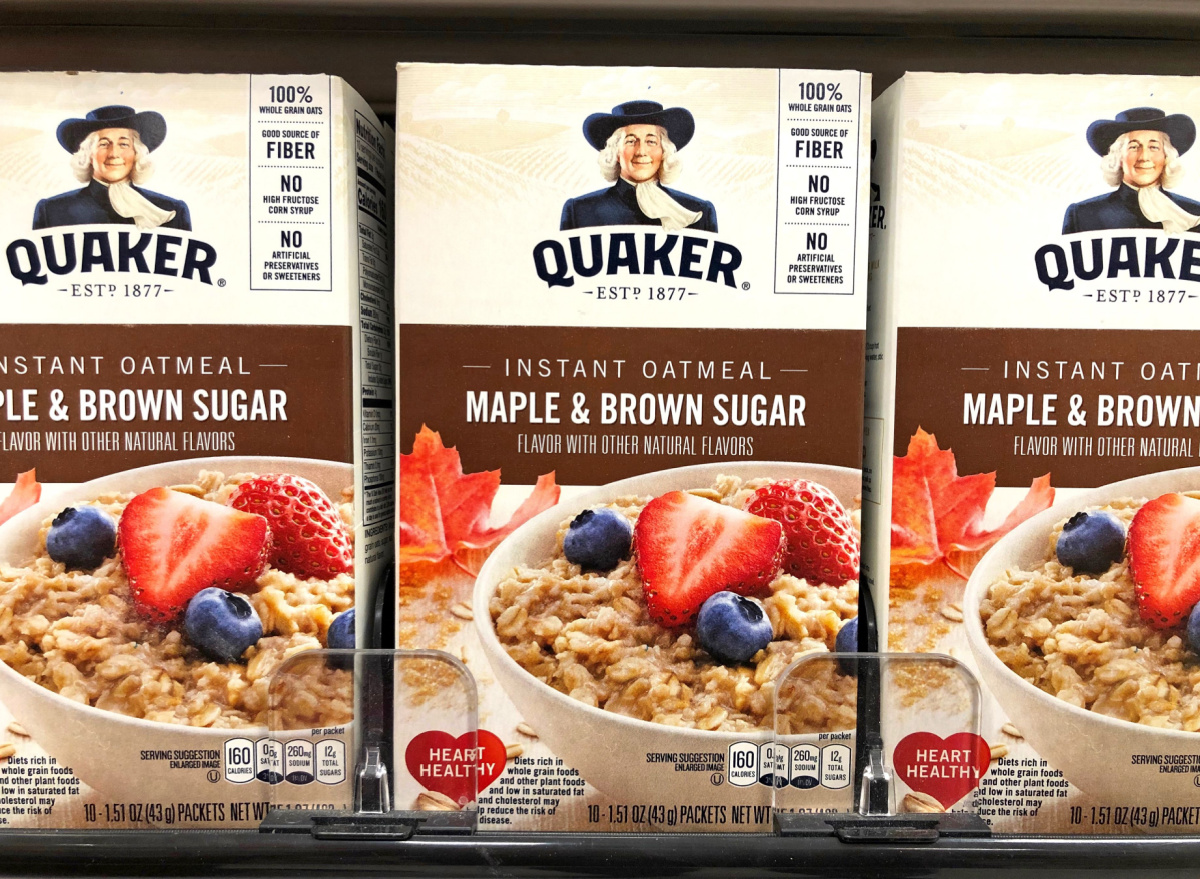 For the mornings when you don't feel like making a fresh pot of oatmeal for breakfast, instant oatmeal is the easiest alternative—simply toss it in the microwave, and in minutes, you'll have a warm bowl of hearty oats.
While delicious, instant oatmeal is not always the best pick for your health. The problem with some is that they are loaded with added sugar—like Quaker Oats, Nature's Path, and Purely Elizabeth, to name a few.
"Added sugar is the biggest thing to keep an eye on in instant oatmeal," says dietitian Breanna Woods.
Additionally, Woods says that what's lacking from instant oatmeal is almost a bigger issue than what's in it.
"Instant oatmeal packets typically provide 150-200 calories, with some only containing 100 calories. It's important to remember that less isn't always better at breakfast! Anything less than 200 calories is more like a snack for most people," says Woods. "Don't be afraid to add things like nuts, nut butters, seeds, or fruit to add more nutrition."
Keeping this in mind, here are nine of the worst instant oatmeals on grocery store shelves.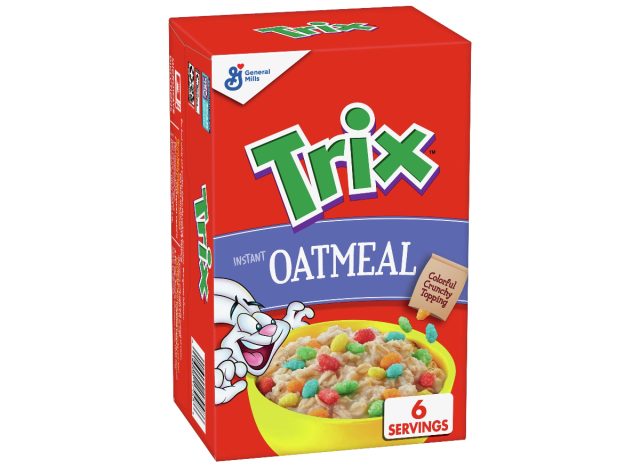 PER 1 OATMEAL POUCH + 1 TOPPING POUCH
: 150 calories, 2 g fat (0.5 g saturated fat), 75 mg sodium, 31 g carbs (2 g fiber, 12 g sugar), 4 g protein
Unless you're a cereal fanatic, you probably didn't know this even existed. However, Trix has brought the bright and fruity flavors over to the instant oatmeal category and well, it definitely doesn't have the highest quality ingredients. Not only will you get 12 grams of added sugars, but the topping is also made with artificial dyes like red 40 lake, yellow 5, yellow 6, green 3, and blue 1.
Bob's Red Mill Oatmeal Cup, Apple Pieces and Cinnamon
PER 1 CONTAINER
: 270 calories, 5 g fat (1 g saturated fat), 310 mg sodium, 48 g carbs (8 g fiber, 13 g sugar), 7 g protein
This instant oatmeal is a bit more substantial with its higher caloric content approaching 300 calories per serving. However, it is loaded with sugar at 13 grams putting it at the top of the list. Although the sugar content may be high, the ingredients themselves including flax and chia are considerably healthy and can aid in digestion.
Quaker Instant Oatmeal, Maple & Brown Sugar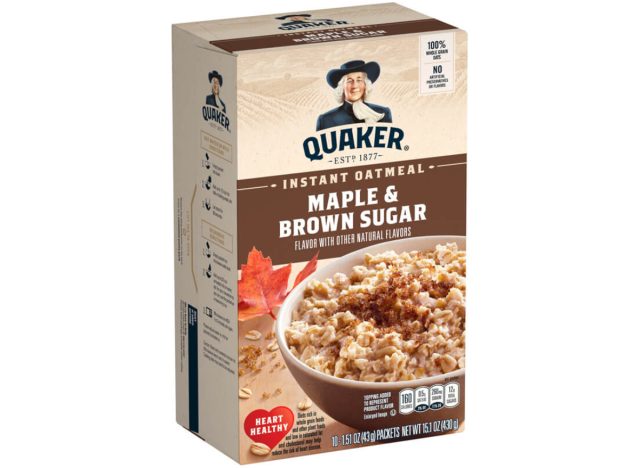 PER 1 PACKET
: 160 calories, 2 g fat (0.5 g saturated fat), 260 mg sodium, 33 g carbs (3 g fiber, 1g soluble fiber, 12 g sugar), 4 g protein
Don't let the fact that this box of instant oatmeal says it's heart-healthy fool you that it's good for you. The American Heart Association suggests an added-sugar limit of no more than 100 calories per day (about 6 teaspoons or 24 grams) for most women and no more than 150 calories per day (about 9 teaspoons or 36 grams of sugar) for most men.
Yes, it may be made from 100% whole grain oats, but the added sugar for one pouch is about a quarter of the recommended daily value. "This Maple Brown Sugar flavor by Quaker contains 12 grams per serving, and the servings these packets make aren't very big," says Woods.6254a4d1642c605c54bf1cab17d50f1e
Nature's Path Organic Instant Oatmeal, Brown Sugar Maple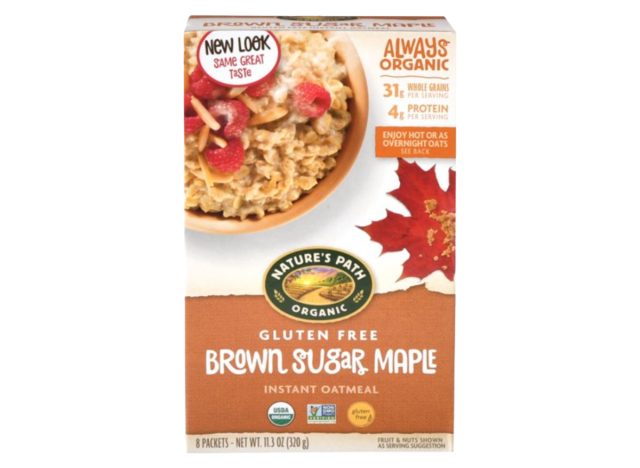 PER 1 PACKET
: 160 calories, 2 g fat (0 g saturated fat), 80 mg sodium, 31 g carbs (3 g fiber, 8 g sugar), 4 g protein
You may instantly gravitate to this pack of instant oatmeal because it says "organic," but you'll want to think twice before you pick it up next time.
"It's easy to assume that Nature's Path's take on this flavor is 'better' because it's labeled as organic, but the nutrition label is basically the same as Quaker," says Woods. "If you're looking to lower added sugar in your diet, this one still contains 8 grams per serving."
KIND Oatmeal, Dark Chocolate Almond
PER 1 PACKET
: 170 calories, 6 g fat (1.5 g saturated fat), 125 mg sodium, 28 g carbs (4 g fiber, 9 g sugar), 5 g protein
If you love KIND Bars, then you may have seen their oatmeal that hit shelves not too long ago. Made with ingredients like whole grain oats, almonds, and semi-sweet chocolate, this instant oatmeal doesn't look too bad off the bat and it really isn't.
However, nearly all of the sugar present is added sugar at roughly 16 percent of the recommended daily value, so you'll want to keep an eye out if you're making one or even multiple packets.
Kodiak Protein-Packed Instant Oatmeal, Maple & Brown Sugar
PER 1 PACKET
: 190 calories, 2.5 g fat (0 g saturated fat), 180 mg sodium, 31 g carbs (3 g fiber, 10 g sugar), 12 g protein
Known for its protein-packed pancake mix, Kodiak also has instant oatmeal variations available like this maple and brown sugar flavor. In relation to what Woods mentioned above, this is more of a snack compared to a meal given its calorie content which is less than 200 per serving.
Additionally, the pack has 9 grams of added sugars, or roughly a third of the daily recommended value per serving. However, there is a significant amount of protein as 12 grams, so it may keep you full for longer.
Purely Elizabeth Superfood Oatmeal Cup, Vanilla Pecan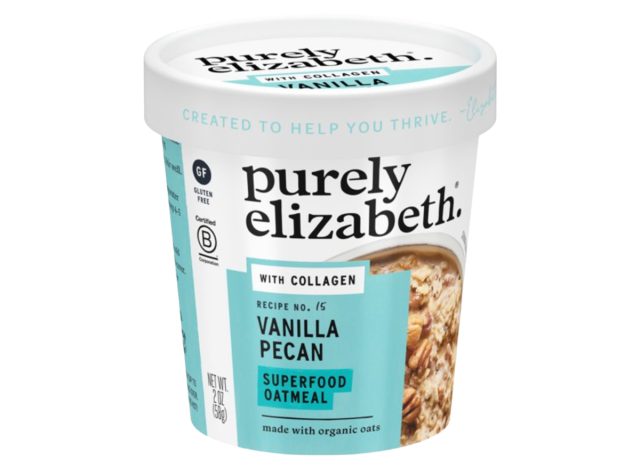 PER 1 CONTAINER
: 230 calories, 6 g fat (0.5 g saturated fat), 190 mg sodium, 37 g carbs ( 5 g fiber, 7 g sugar), 9 g protein
This is more of a specialty instant oatmeal pick, as it's formulated with collagen. It does have a higher calorie count within the 200 range making it more suitable for a meal, however, it also has a decent amount of added sugar.
Additionally, you'll notice vanilla powder on the ingredients list and although that's included for flavor, it's really not a necessary ingredient in this traditional breakfast item.
Casey Clark
Casey Clark is a current journalism student at Hofstra University with a passion for food, beauty, and entertainment.
Read more about Casey