7 Best Breakfast Ideas for Longevity
Try having each of these breakfasts once this week to support a longer life.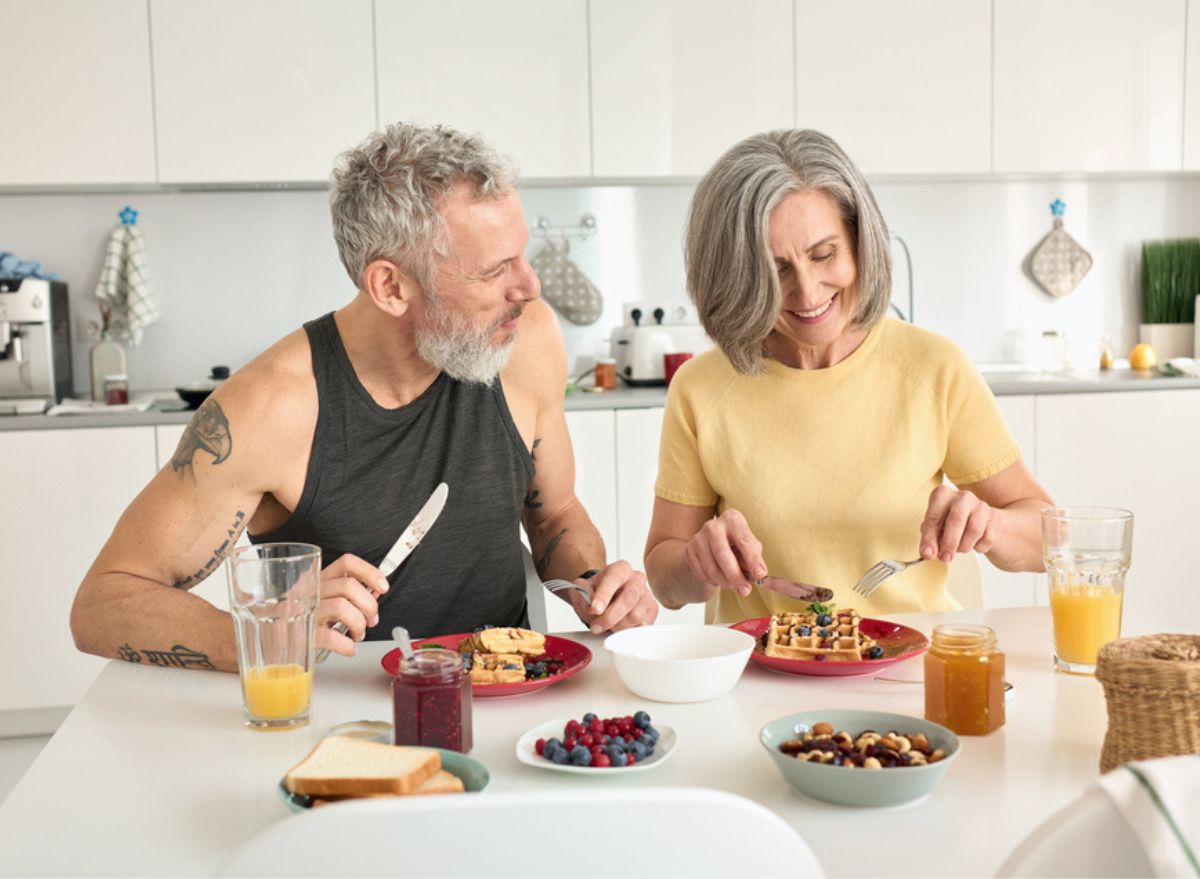 Eating right comes with so many benefits—reducing inflammation, enhancing athletic performance, improving everyday energy, helping bone health, and protecting or controlling chronic diseases like diabetes and cancer. Now we can add one more impressive perk to the list: Healthy eating habits also can extend the length of life and reduce the risk of "all-cause mortality."
All-cause mortality, or all the deaths that occur in a population independent of cause, is of great interest to researchers in solving the puzzle of what habits and interventions provide protection versus risk when it comes to death. Although certain standalone foods aren't going to be the unrealized fountain of youth, there are certain types of foods that, when eaten regularly, are associated with better chances of living a longer life, including foods that can easily make their way onto your plate at breakfast time.
Here are the top seven breakfasts to include in your eating routine to promote longevity—and for more inspiration, check out 5 Anti-Inflammatory Breakfasts to Slow Aging.
Chia pudding with kiwi
If you've never hopped on the chia pudding wagon, now is the time. Chia seeds have a unique talent; they become a gel after sitting in a liquid for around 20 minutes or longer. Their other superpowers? Chia seeds have around 11 grams of fiber and 7 grams of unsaturated fat per two-tablespoon serving, and they are a good source of calcium and iron.
Tap into these benefits by mixing chia seeds with low-fat or nondairy milk and a small amount of sweetener like agave nectar, and setting it while covered in the refrigerator overnight. Wake up to a beautiful chia pudding begging for your attention, particularly if you make this Customizable Overnight Chia Pudding recipe.
Oatmeal with apples and cinnamon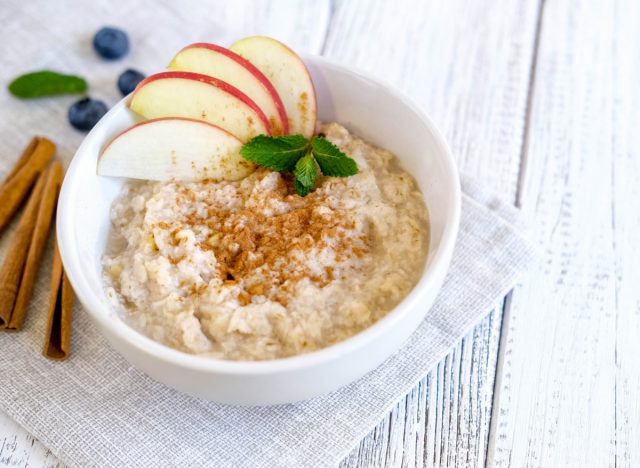 A 2021 prospective analysis in the journal Nutrients of 909 participants 60 years and older enrolled in the "Costa Rican Longevity and Healthy Aging Study (CRELES)" found that a marker of biologic aging, leukocyte telomere length (LTL), was positively associated with consumption of grains. The best grains for our diets are whole grains like oats, which include all three layers of the plant.6254a4d1642c605c54bf1cab17d50f1e
Try making your oatmeal with old-fashioned oats, fresh apple slices, cinnamon, and no more than a tablespoon of maple syrup for a fresh start to the day.
Avocado toast with hummus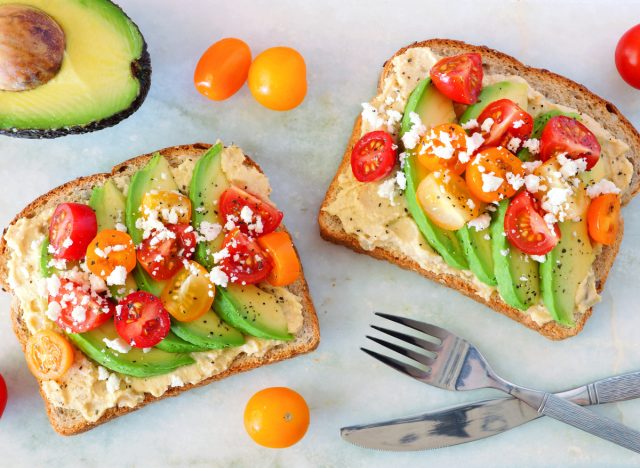 Well-planned, plant-based diets are connected to a reduced risk of all-cause mortality, according to reports from a 2019 study by the Journal of the American Heart Association. This includes a diet of whole grains, fruits, vegetables, nuts, legumes, tea, and coffee. Hit five of these seven recommended foods with a stacked avocado toast: hearty whole grain bread, a spread of hummus, avocado, and sliced tomato, alongside a hot green tea for sipping.
Sweet potato hash with black beans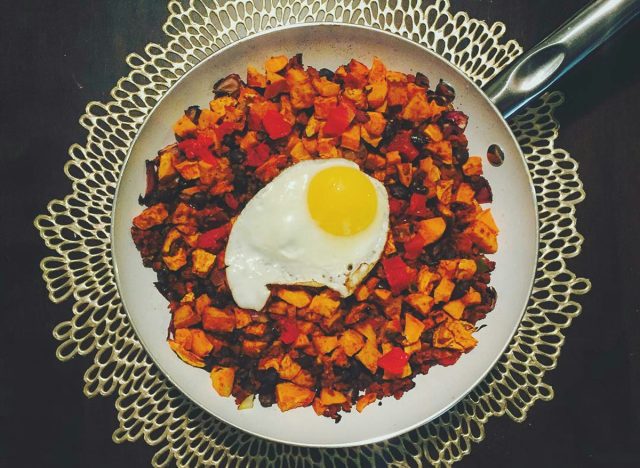 In a different take on legumes, mix black beans in a skillet with cubed sweet potato, corn, onions, and bell pepper to make a filling potato hash. An egg sunny-side up could be put atop this dish. If serving others in your home, provide whole grain tortillas for family members to stuff to their liking, adding any favorite sauces or herbs they may like.
Breakfast scramble with spinach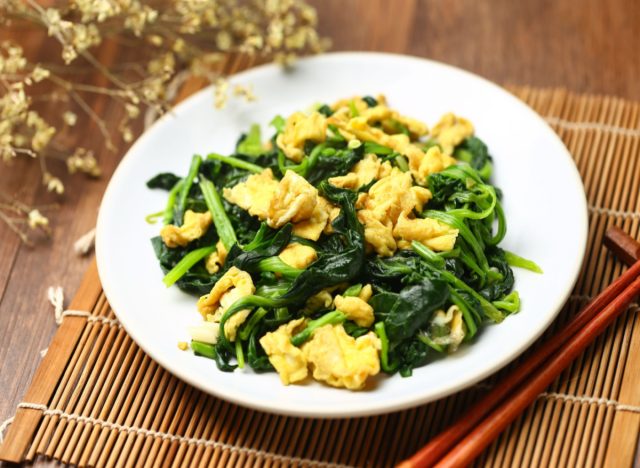 Blue Zones, which are the five cultures across the world with the longest-living populations and most centenarians, are studied for their eating patterns, which resemble the Mediterranean diet. We can try replicating some of these choices by getting serious about vegetables at breakfast. Next time you make eggs, scramble them with vegetables like onions, tomatoes, and spinach, for an easy way to get in some produce at your first meal.
Smoothie bowl with peanut butter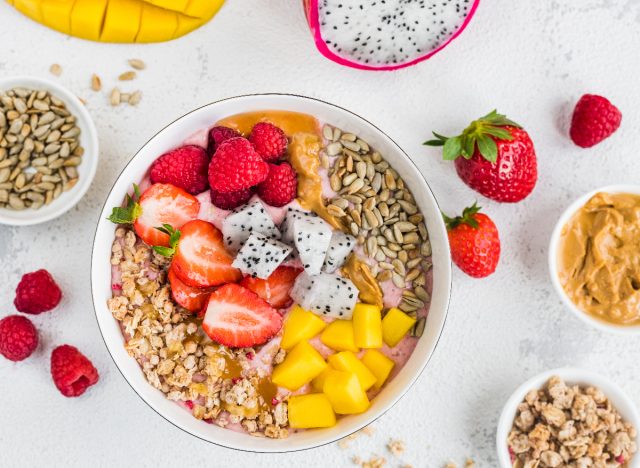 Fruits are also a common food consumed in a diet that supports longevity and is part of a Mediterranean-style eating pattern. Smoothies are an outstanding way to enjoy fruit in a form that eliminates any texture turn-offs. Blend up fruits that usually go uneaten in the refrigerator with a low-fat dairy or nondairy milk and pour it into a bowl. (If you have strawberries, mango, and grapes, these make a terrific combo!) Top with a heavy drizzle of natural peanut butter and banana slices to make a yummy, eye-catching breakfast solution.
Yogurt with blueberries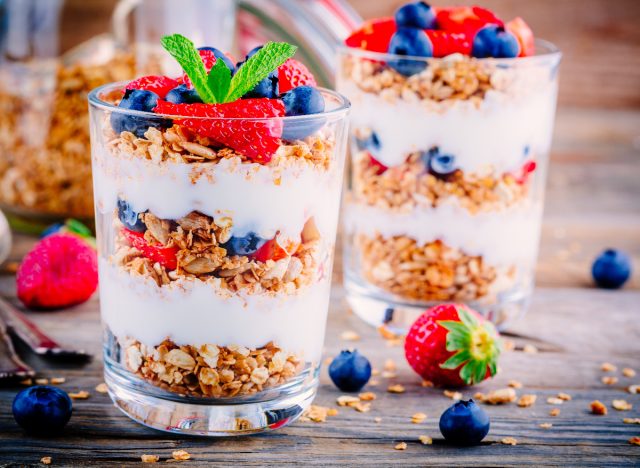 One last breakfast idea for longevity that incorporates fruit and takes very little prep? Yogurt with blueberries. Select a low-fat yogurt with less than 8 grams of sugar per serving and mix in fresh or frozen blueberries. Then, sprinkle with walnuts or pecans for a perfect on-the-go meal. Take this dish to the next level by alternating layers in a clear mason jar, so your yogurt parfait will entice you even more to finish your meal.
Molly Hembree, MS, RD, LD