Jumpstart Your Weight Loss With These Cardio Exercises, Trainer Says
This cardio plan will be your new best friend if your goal is to shed weight.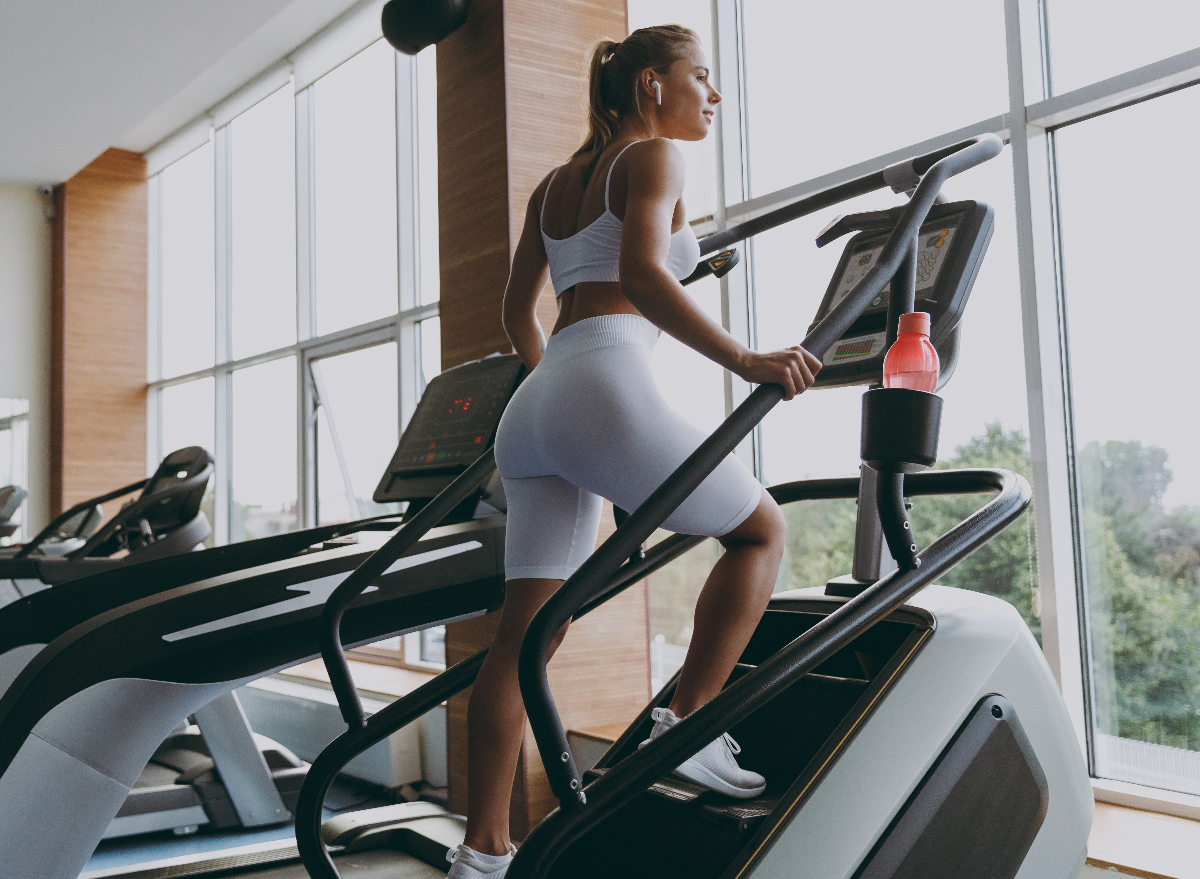 Losing weight is a priority that many people have in common. It's a big commitment, and in order to start dropping pounds, you have to focus on three main things: eating a healthy diet, planning regular strength training, and getting in your cardio. Where there's a strong will, there's a way to get there. When you decide to begin your fat loss journey, we have a word of advice. Plan to start off slow and develop habits that you can stick to long-term. You can accomplish your goal and jumpstart your weight loss with some strong cardio exercises, and we have the perfect plan.
For many people who want to lose weight, beginning with cardio can be a great place to start. It's an excellent way to get you active, improve your heart health and endurance, and burn calories to lose weight. According to Mayo Clinic, being active can help you reach your weight loss goals because it helps the body burn more calories. It's important to eat fewer calories and get in more physical fitness, according to The Dietary Guidelines for Americans. It's suggested that if your goal is to lose around 1 1/2 pounds, you have to cut down your calorie intake each day by as many as 500 to 750 calories.
To jumpstart your weight loss journey, I recommend getting in a solid cardio regimen at least two to three times per week, and on the other days, focus on getting in your daily steps. Then it's important to maintain a regular routine.
Here are a few cardio exercises you can incorporate into your weekly regimen. Depending on your aerobic fitness and endurance, you can alternate between either steady-state or interval work. Again, start at a moderate pace and build up your workout. Consistency is important when it comes to exercise, and keeping up with a good fitness schedule will show results in no time. Get ready to jumpstart your weight loss, and next, check out The 6 Best Exercises for Strong and Toned Arms in 2022, Trainer Says.
This is pretty simple for your routine. All you need to do to get started is hop on an exercise bike, and begin pedaling. You can aim for 25 to 30 minutes of steady-state cardio at a pace you can maintain.
If you want to do intervals, you can sprint as hard as you can for 15 to 20 seconds. Once you've sprinted, cruise at a slow pace for 20 to 40 seconds, then repeat again for 6 to 10 rounds.
Related: Speed Up Belly Fat Loss In Your 50s With These Exercises, Trainer Says
For this exercise, simply get on a treadmill, and set the incline anywhere from 7.5 to 15 degrees. If you're not as conditioned, go ahead and set the speed to 2.0 to 3.0 mph, and walk for 15 to 20 minutes. If you have more cardio endurance, crank it to 3.5 mph, or choose an interval setting of your choice, alternating between a fast pace and slower walk. Perform for 15 to 20 minutes total.
Related: Shrink Belly Fat Faster With These 5 Exercises, Trainer Says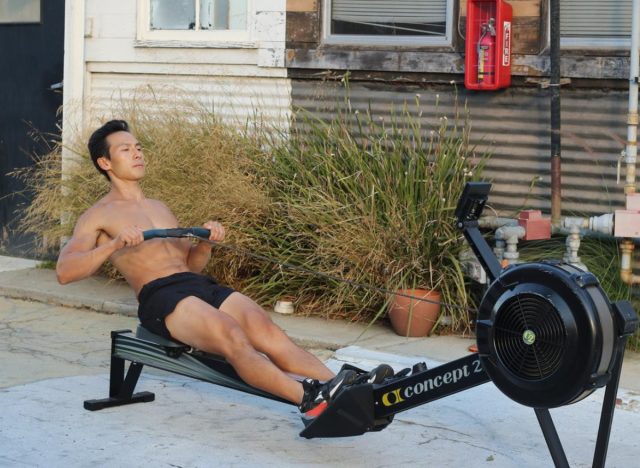 Begin your time on the rowing machine toward the front of the apparatus with your knees bent and your hands grasping the handles. Then, use all the power in your legs to push your entire body backward in order to straighten your legs. Finish by leaning back and pulling with your arms and upper back until the handles are touching your chest.6254a4d1642c605c54bf1cab17d50f1e
You can begin building your endurance by rowing 1,000 to 2,000 meters. Or, if you want more of an interval challenge, you can do 3 to 4 sets of 250-meter sprints.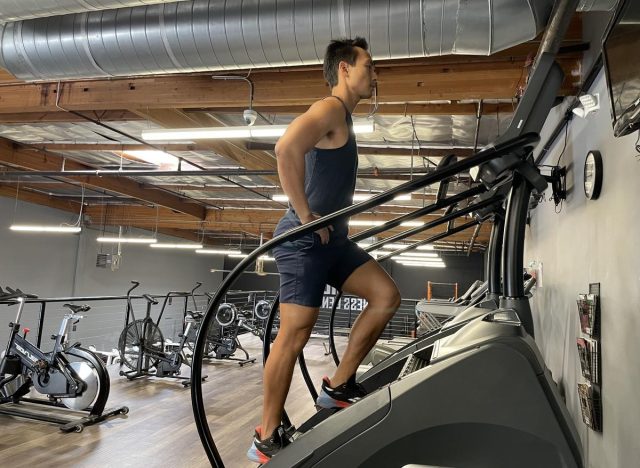 Start on the stairclimber, then turn on the machine, and begin climbing. If you're a first-timer, go at a comfortable pace you can maintain for at least 15 to 20 minutes. Once you've built up more endurance (or if you're a bit more of an intermediate), you can crank up the speed, or climb for at least 30 minutes.
Tim Liu, C.S.C.S.
Tim Liu, CSCS, is an online fitness and nutrition coach based in Los Angeles
Read more about Tim