31+ Healthy Recipes To Make With The Dried Lentils In Your Pantry
Make the most of the small-but-mighty food with these nutritious lentil recipes!
Need some reasons to try these lentil recipes besides the fact that lentils are convenient, affordable, and can be turned into a delicious, healthy meal in minutes? Consider this: lentils are a dietary force to be reckoned with because their health benefits include boosting energy, culturing good gut health, promoting weight loss, and protecting heart health.
Not only are the legumes packed with plant protein and fiber—a macronutrient duo that'll boost your metabolism and banish extra pounds—but lentils provide at least nine essential vitamins and minerals with less than a gram of fat! (P.S. If you're pregnant, you definitely want to add the superfood to your diet; lentils can provide you with 90 percent of your daily folate quota.)
Even better? They're super versatile (hence the variety of mouthwatering lentil recipes below) and wicked affordable at just 20 cents per cup. If you're used to just eating lentils in soup, you're about to be in for a pleasant surprise!
Best Lentil Soup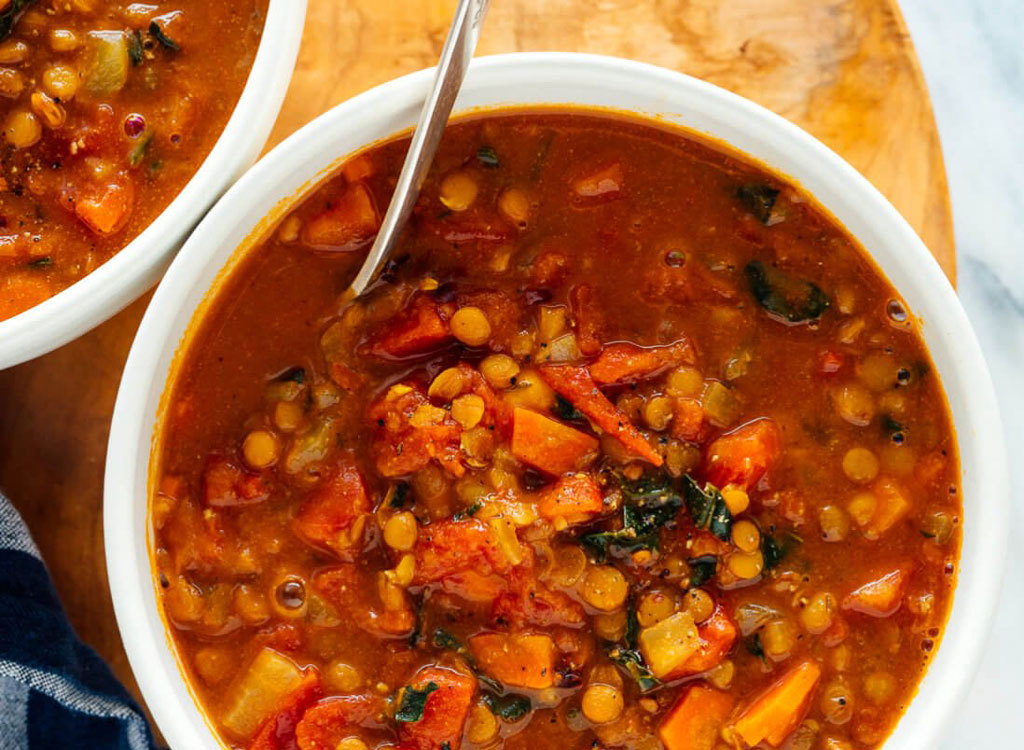 It's not pretentious. This recipe really is one of the best lentil soups you'll ever make. (That is, of course, until you try the others on our round-up.) You'll need minimal ingredients and minimum hands-on time to prepare this bowl of soup that just gives you a hug of flavors and comfort.
Get the recipe from COOKIE+Kate.
Ginger Sweet Potato Coconut Milk Stew With Lentils & Kale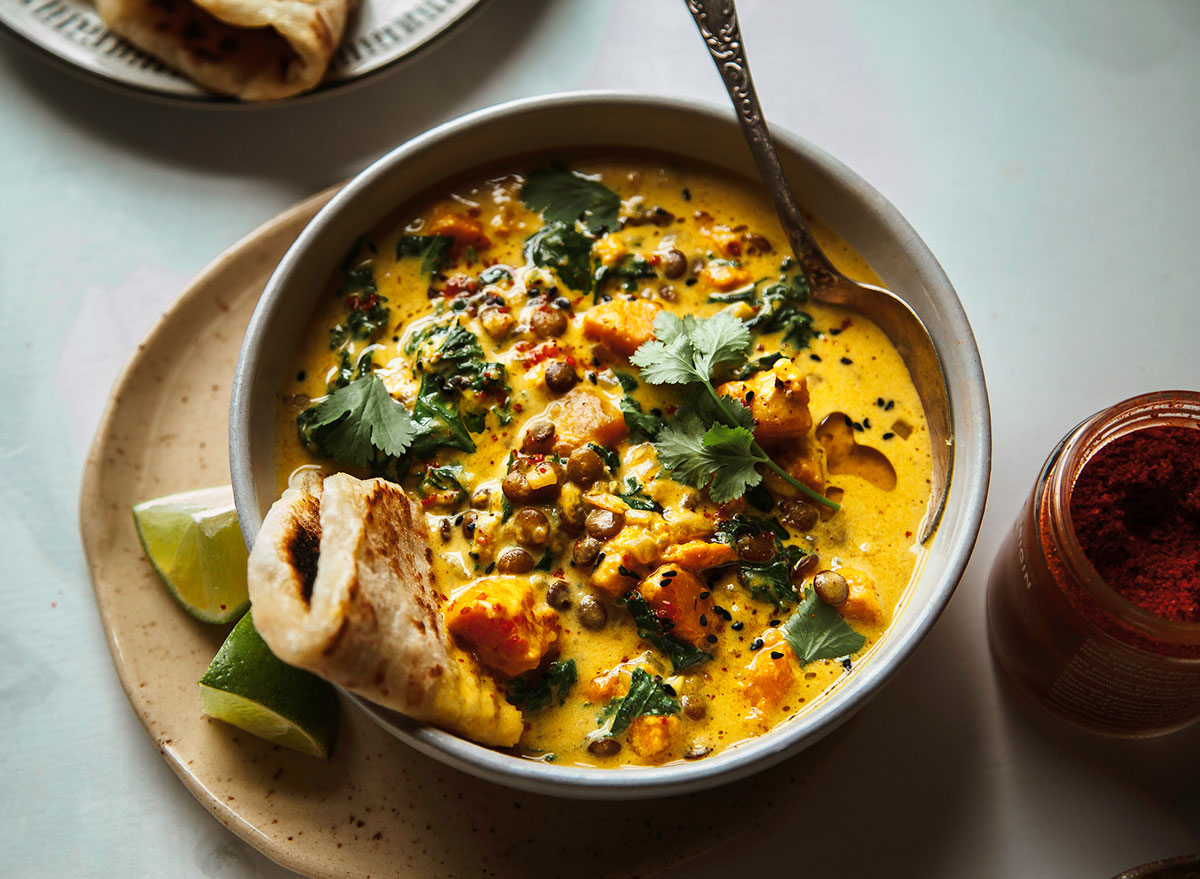 Missing your favorite takeout meal? Whip up this soup in minutes. It looks complicated, but you need under 10 ingredients to whip up this warming, flavor-packed soup, and eight of them are healthy pantry staples.
Get the recipe from The First Mess.
Quick and Easy Lentil Quesadillas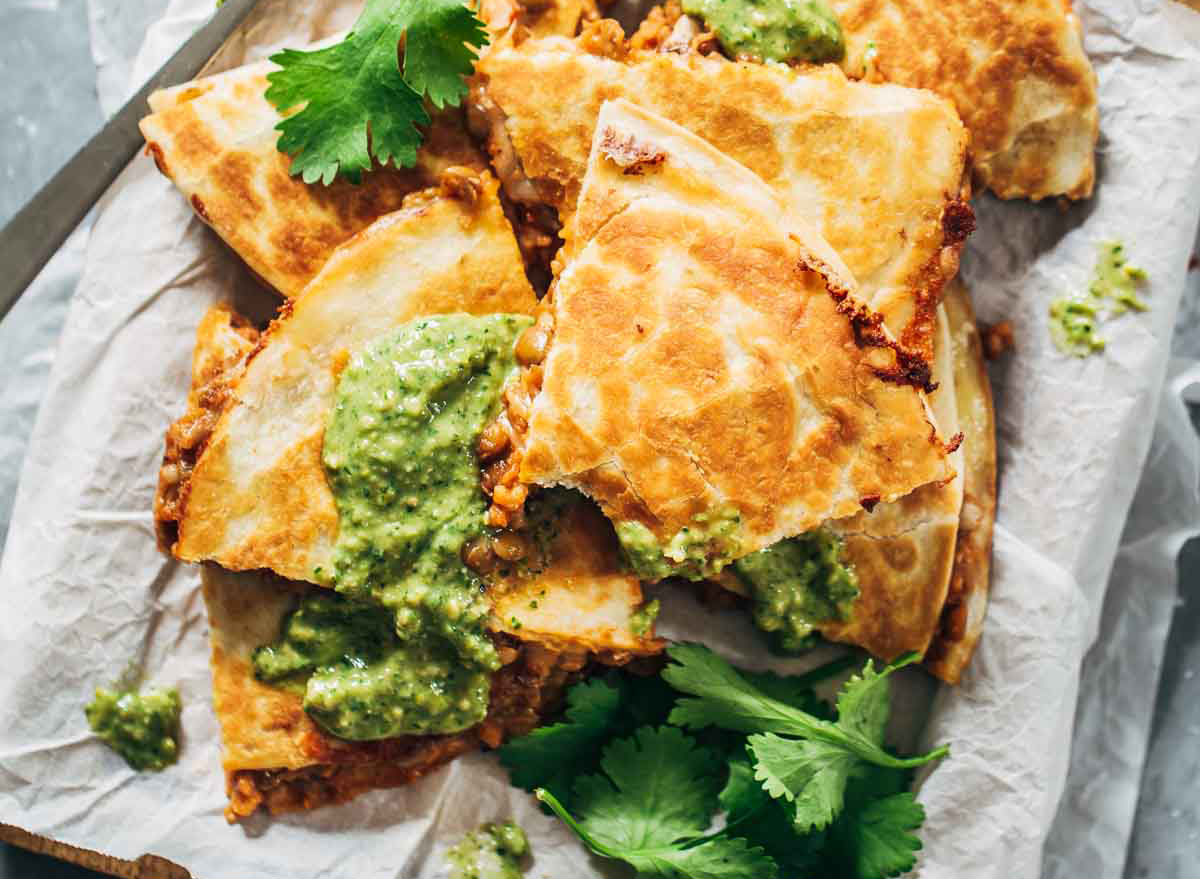 Ever feel unsatisfied after microwaving a killer quesadilla? It's probably because you're just eating simple carbs and cheese with barely any protein or fiber to fill you up. Grab that bag of lentils in your pantry, season them up with a spice blend, and sandwich them between your wraps to make a balanced meal you'll fall back on time and time again when you're in need of a quick healthy dinner.
Get the recipe from Pinch of Yum.
1-Pot Tuscan-Style Beef & Lentil Soup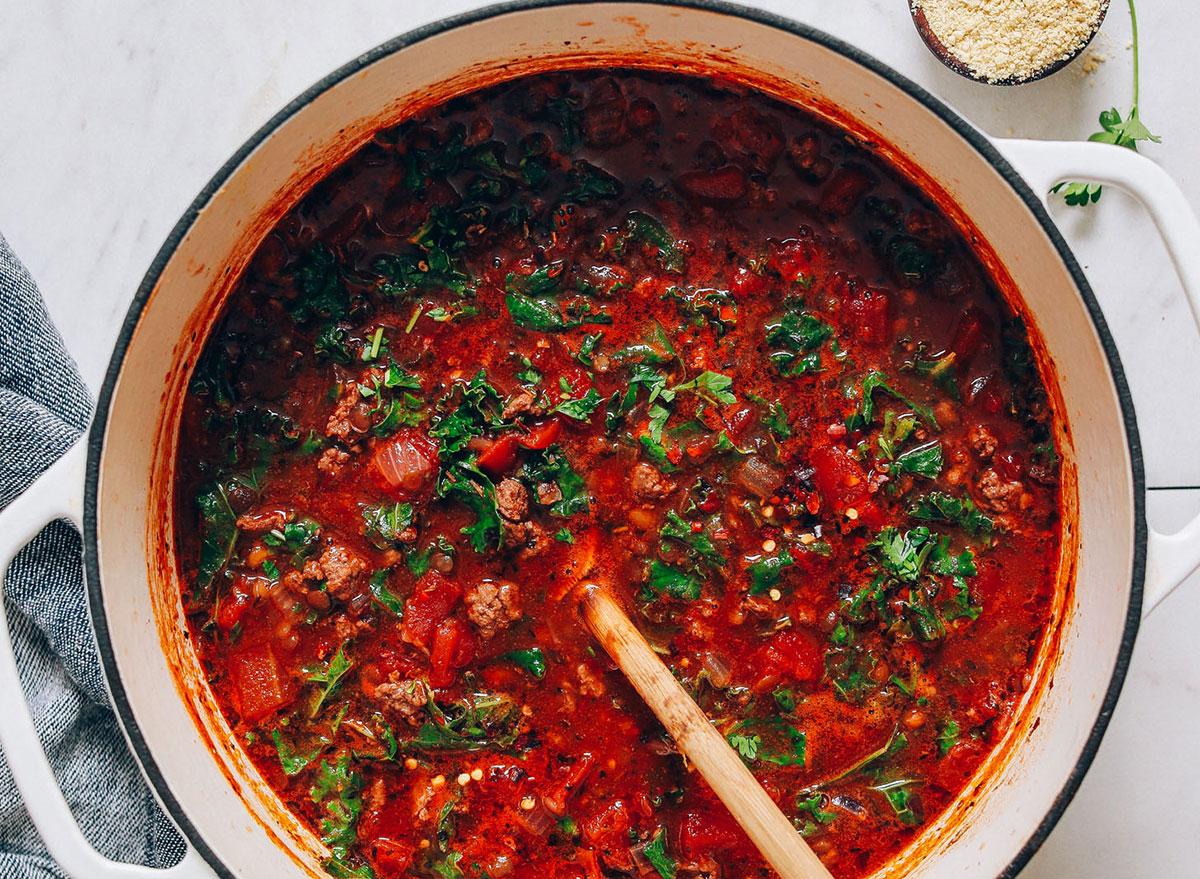 If it didn't sell you as a one-pot recipe, the fact that lentils and beef come together in this beautifully rich red pot of soup might.
Get the recipe from Minimalist Baker.
Mexican Chicken Lentil Soup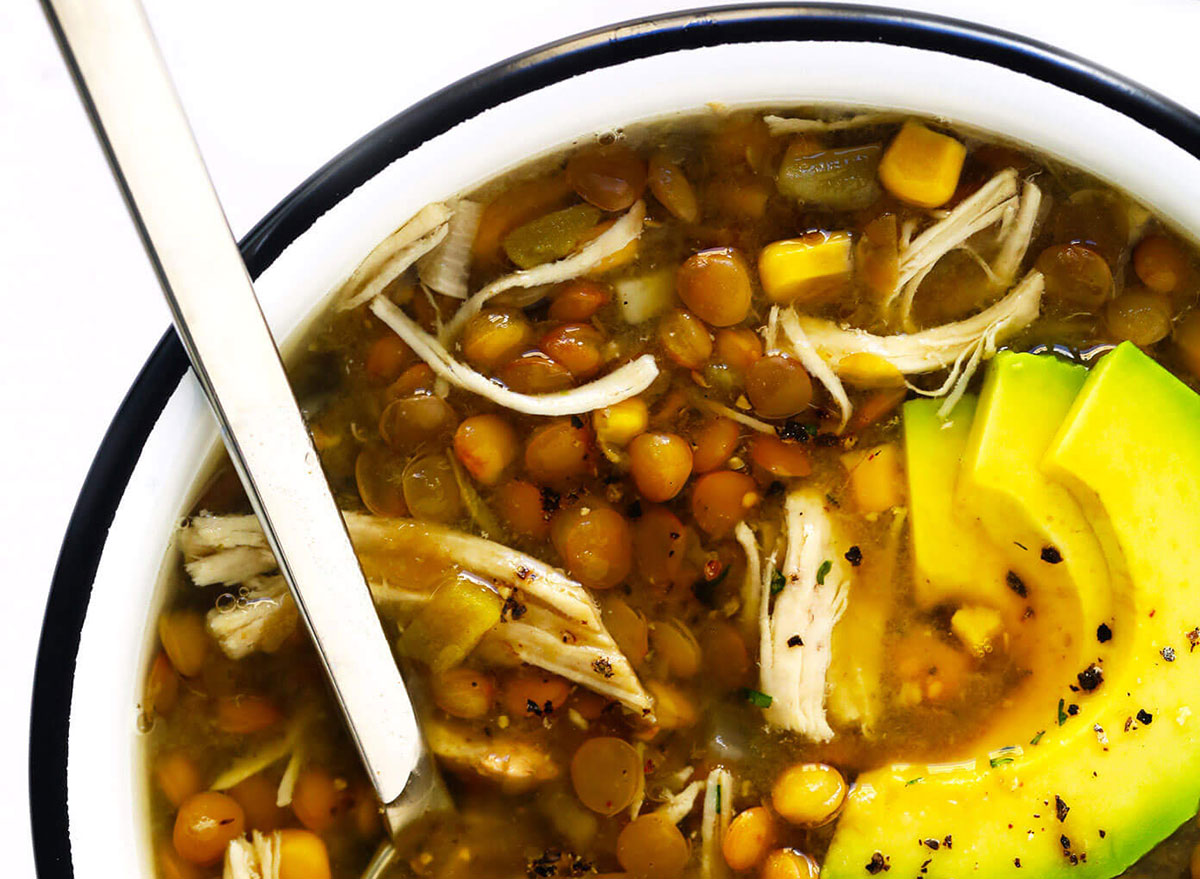 It's time to stop making soup that only has meat it in. With chicken soups, you're only getting a salty broth with protein. Add lentils in there, and you're getting an extra dose of protein along with filling fiber. Top it all off with some avocados for some healthy fats and your soup just turned into a meal that will nourish you for hours.
Get the recipe from Gimme Some Oven.
Mediterranean Lentil Salad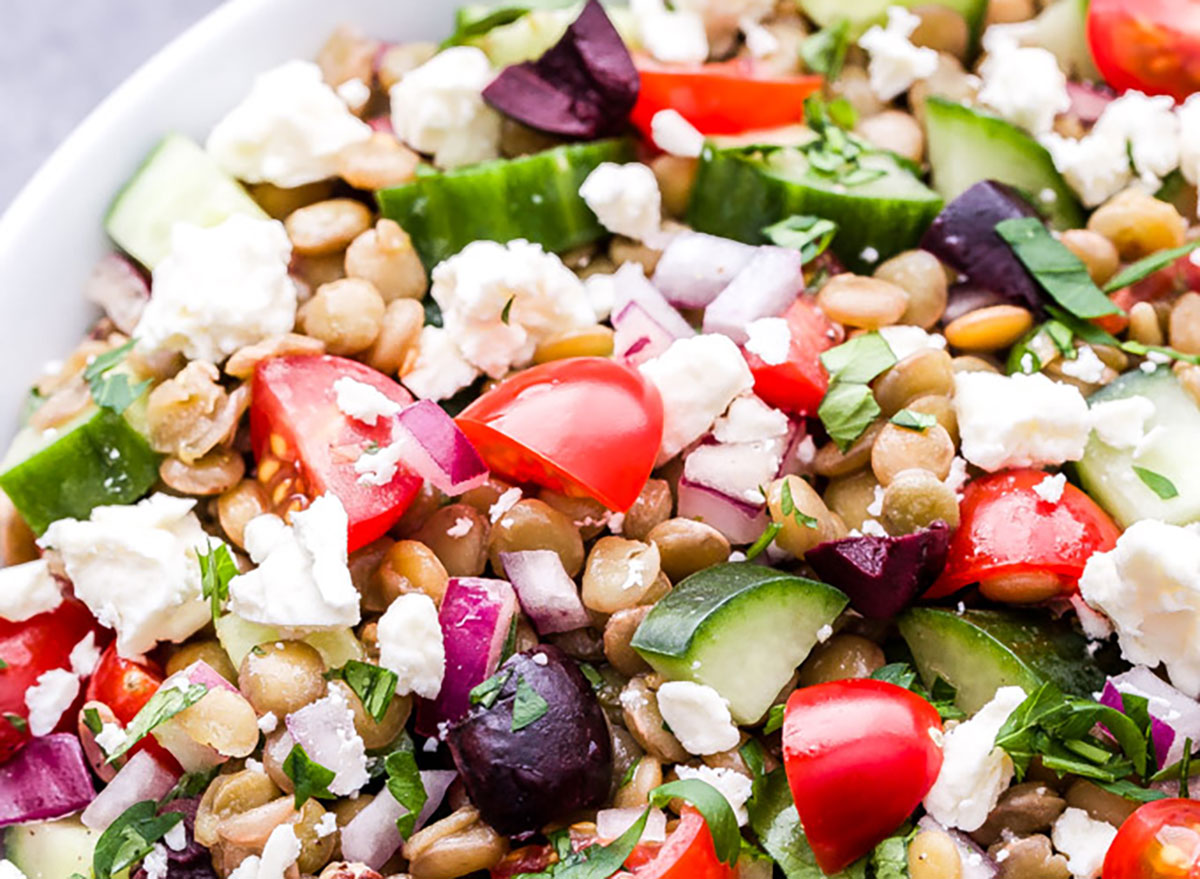 Replace your orzo with lentils and you'll be swapping out refined carbs for complex carbs. What does that mean for you? With healthy lentil recipes like this one, your body will process the complex carbs more slowly, resulting in more even-keeled blood sugar levels that will keep you full rather than famished.
Get the recipe from Recipe Runner.
Cilantro Lime Chicken and Lentil Rice Bowls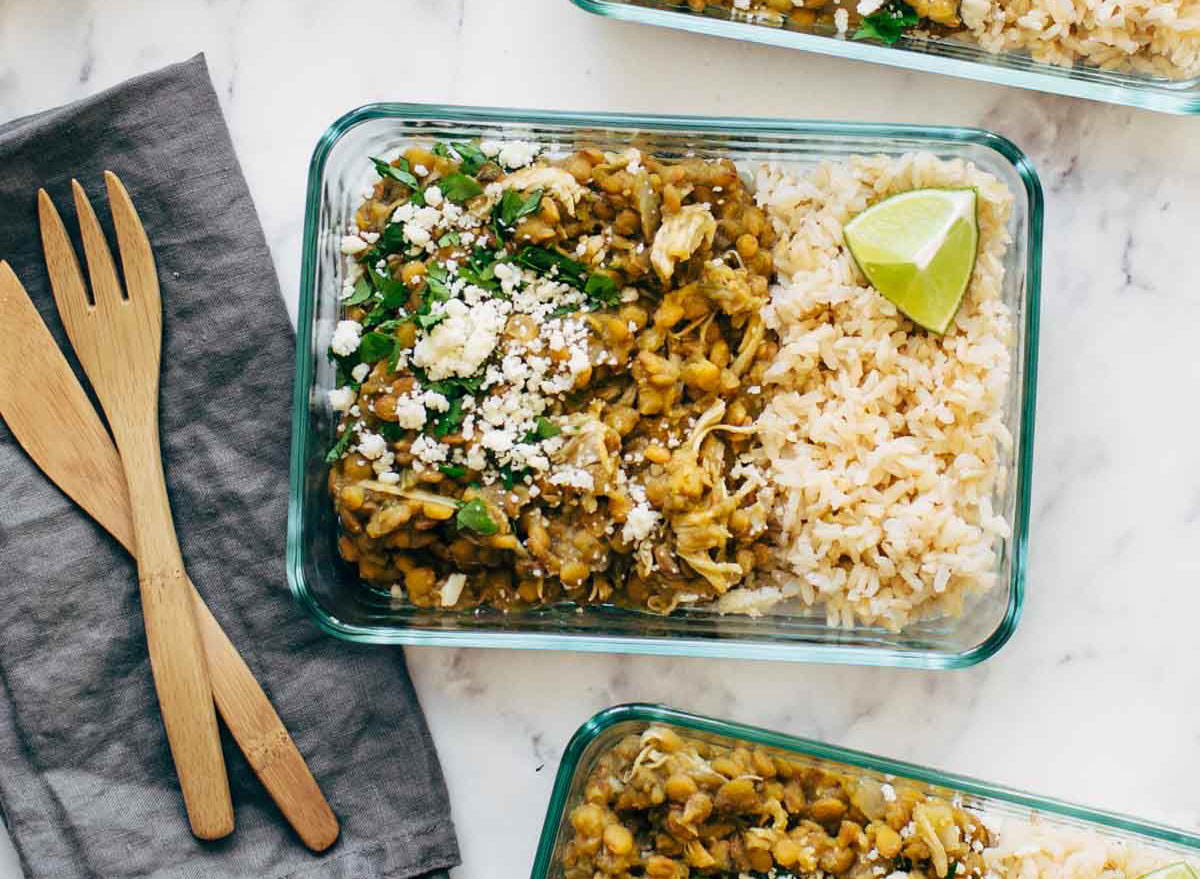 Missing out on your weekly Chipotle order?Not a problem. Reach into your pantry and grab some lentils, a jar of salsa verde, and rice and you've got yourself a meal.
Get the recipe from Pinch of Yum.
One Pot Shrimp Jambalaya Lentil Bowls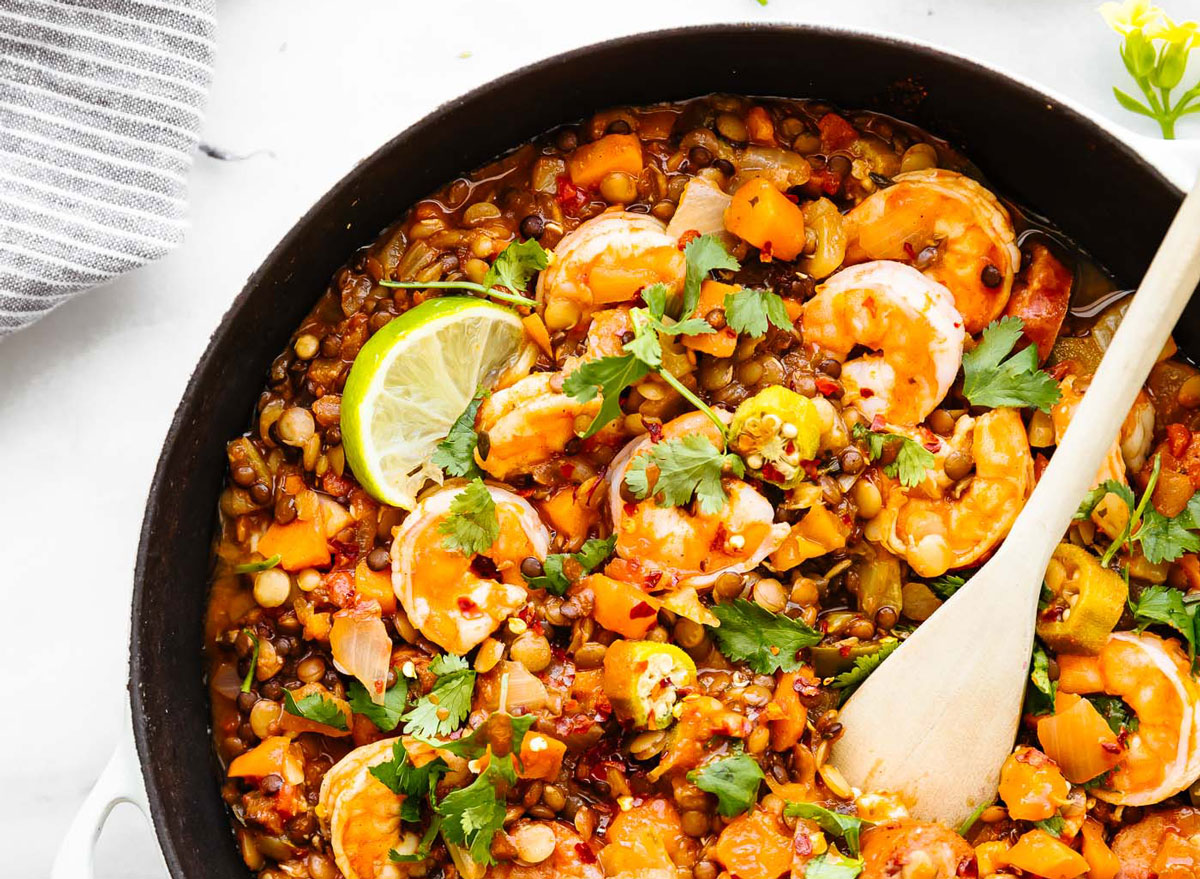 Jambalaya is a cajun dish straight out of Louisiana. It combines Spanish and French culture, pairing meat, vegetables and rice—and in this case, lentils. Grain-free and wholesome, this tasty dish puts a healthy spin on traditional southern cuisine.
Get the recipe from Cotter Crunch.
Roasted Cauliflower and Lentil Tacos
Ever pick up a ground beef taco only to have a puddle of oil and water drip down the side of your hand when you take a bite? (That was a rhetorical question.) Cut back on the grease while boosting your fiber intake with one of our favorite lentil recipes: these cauliflower lentil tacos. Oh, and P.S., make extra of that creamy chipotle sauce—you won't regret it.
Get the recipe from COOKIE+Kate.
Spinach Lentil Fritters
These falafel-like fritters are great to put out as an appetizer before a dinner party, or this blogger recommends making them as an accompaniment to a dinner salad or grilled shrimp.
Get the recipe from Diethood.
Creamy Curried Cauliflower Lentil Soup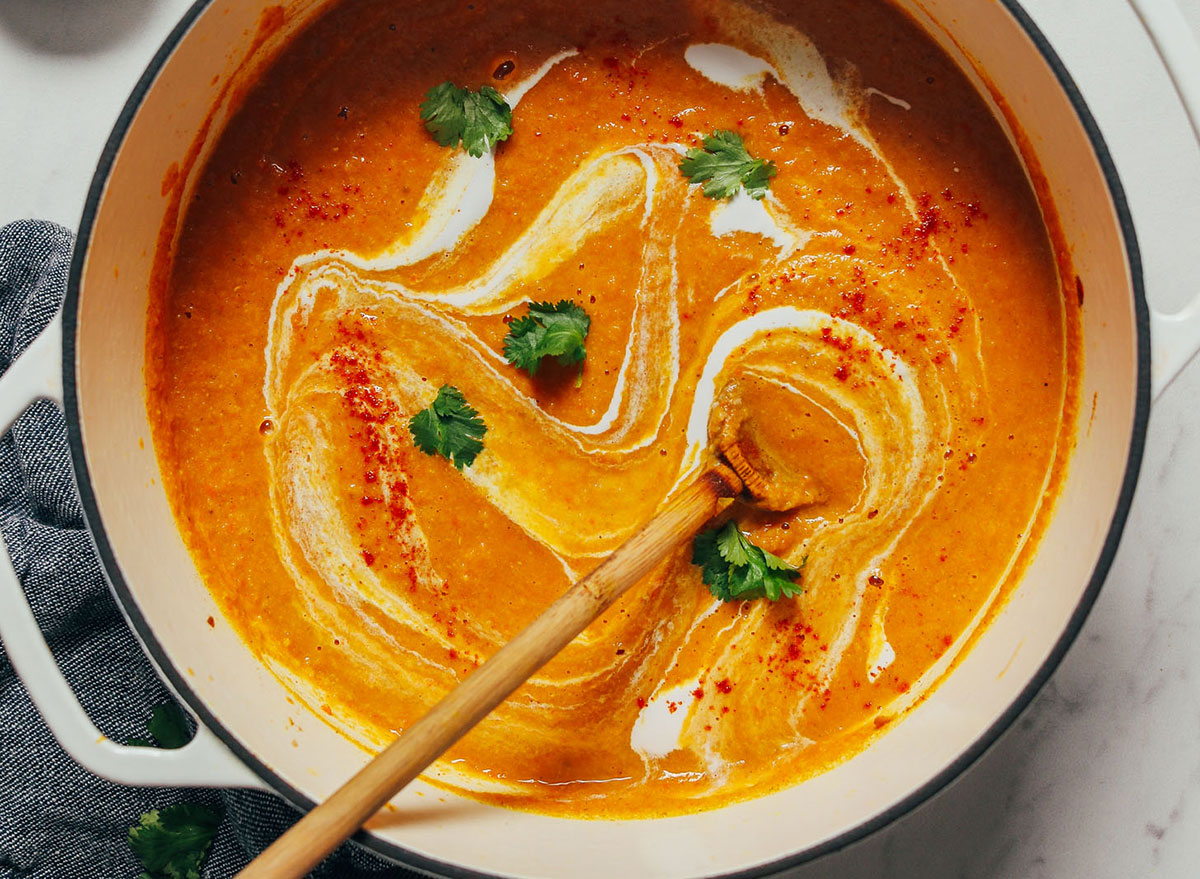 For a more wholesome take on your classic creamy tomato soup, try this lentil recipe. Just like with tomato soup, we like to pair it with a crispy, gooey grilled cheese.
Get the recipe from Minimalist Baker.
Hearty Spaghetti with Lentils & Marinara Sauce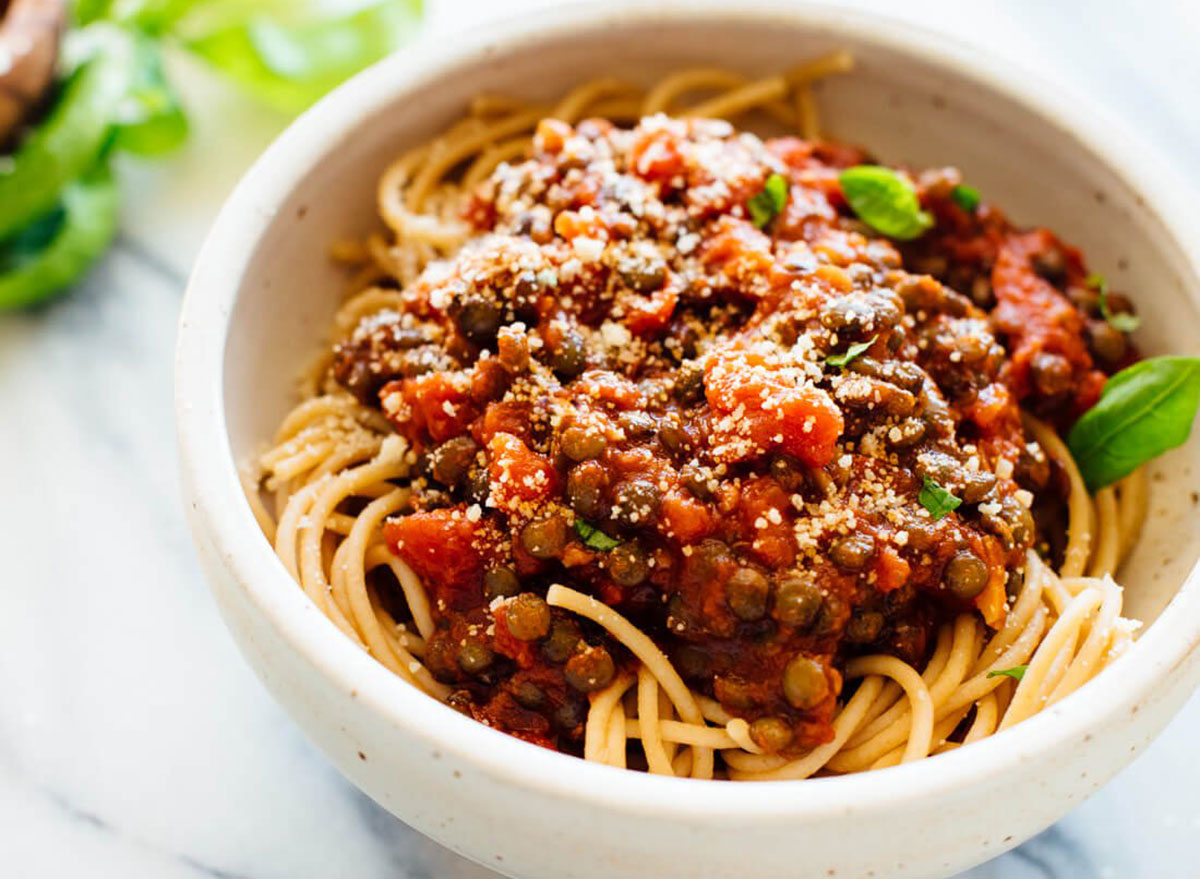 Don't have any ground beef in the fridge but you're looking to make a bolognese sauce? Run to the pantry to grab a bag of lentils. With the right seasoning and slow-simmered tomato sauce, you'll barely be able to tell the difference.
Get the recipe from Cookie and Kate.
Lemony Lentil Soup
Perfect in both the winter and spring, this citrusy soup will brighten up your day and your palate.
Get the recipe from Gimme Some Oven.
Lentil Baked Ziti
A pasta bake is hearty and filling no matter what you put in it. It might as well be something healthy like lentils.
Get the recipe from Cookie and Kate.
Asian Lentil Lettuce Wraps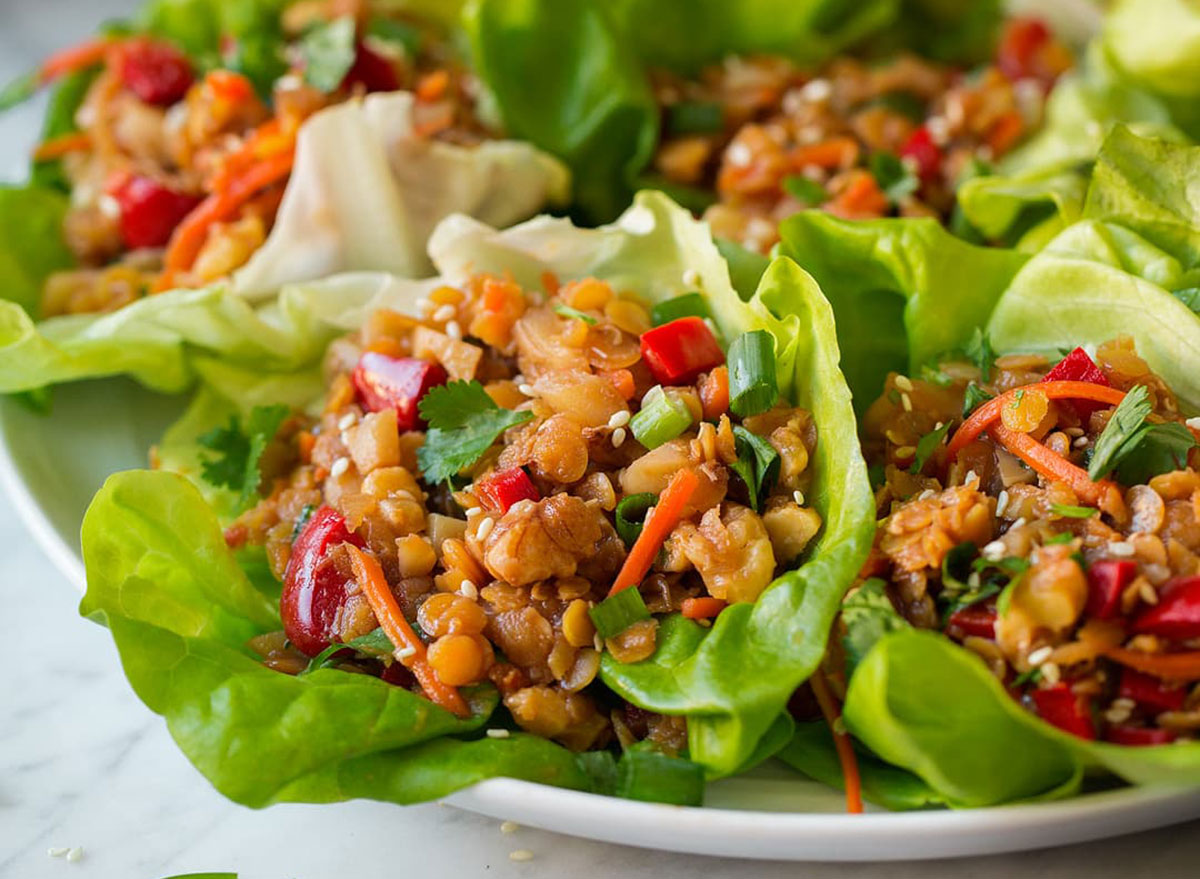 P.F. Chang's has nothing on these wraps. Crisp carrots, red peppers, and scallions pair perfectly with meaty lentils. It's all tied together by a sweet, salty, and savory sauce for a healthy take on a restaurant classic.
Get the recipe from Cooking Classy.
Roasted Garlic Tomato Lentil Salad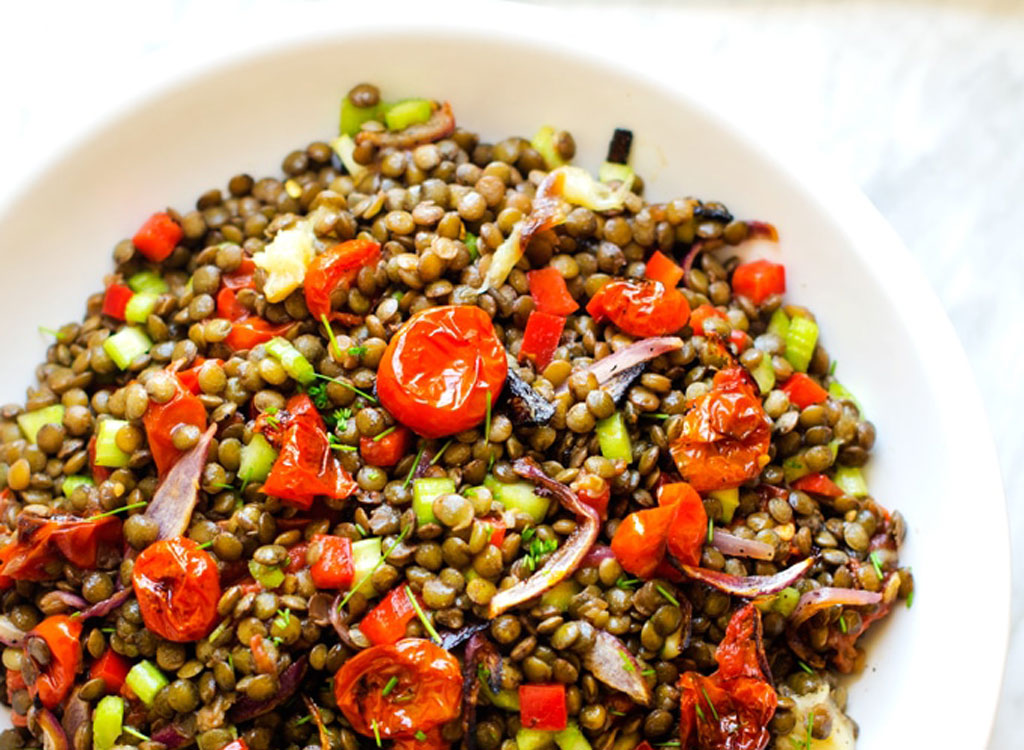 Aside from its antioxidant and antifungal properties, garlic contains 23 percent of the RDA for manganese (a mineral essential for bone health), reduces blood pressure, and fights heart disease. P.S. With sniffle season creeping up on us, garlic can reduce the length of cold symptoms by as much as 70 percent according to studies!
Get the recipe from Wendy's Polisi.
Lentil and Goat Cheese Stuffed Sweet Potatoes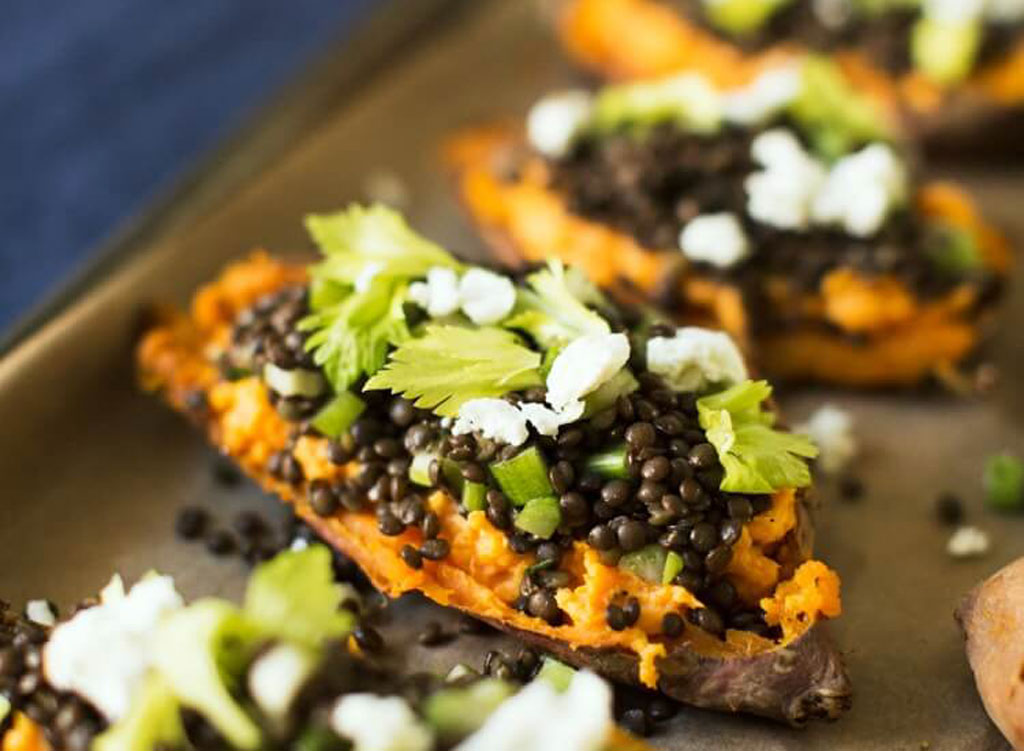 You had us at stuffed sweet potatoes and goat cheese. The savory sweet duo is a universal taste bud and waistline pleaser. But if you're looking to slim down, omit the salt. You're salty enough.
Get the recipe from A Couple Cooks.
Sweet Smoky BBQ Lentils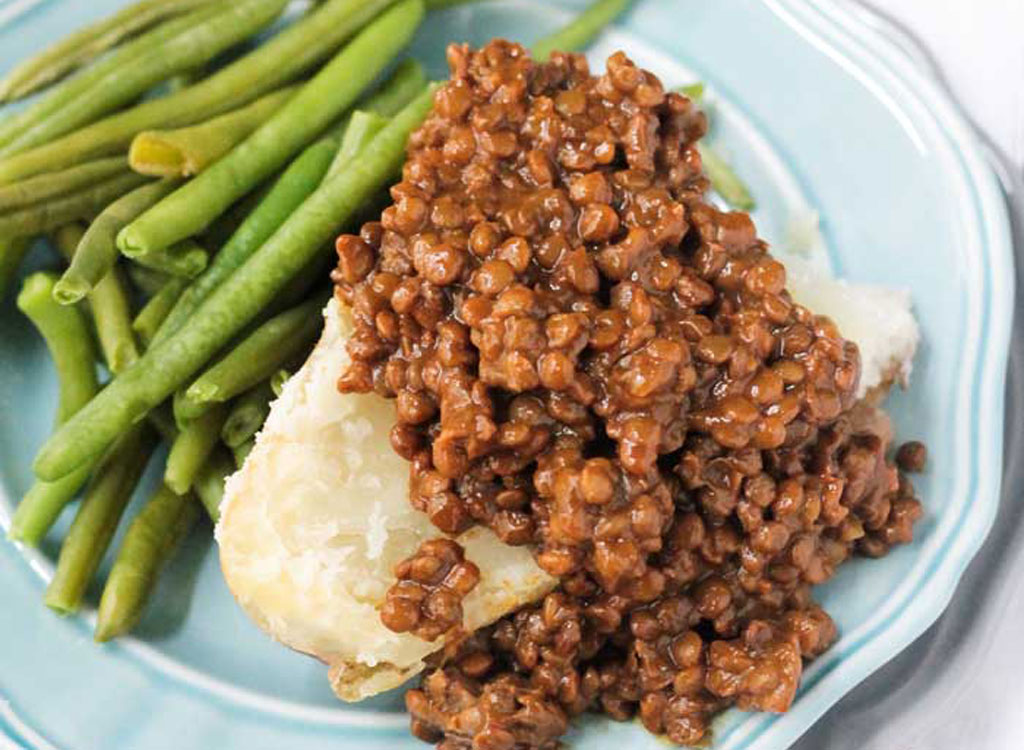 Just because BBQ grilling season is coming to a close doesn't mean you have to give up your favorite rustic taste. This "stick to your ribs comfort meal" is perfectly served with chips, sandwiched between a bun, or poured over baked potatoes. Football Sunday's menu just got a whole lot easier.
Get the recipe from Veggie Inspired Journey.
Veggie Lentil Burger
Burgers made with lentils, raisins, bread crumbs, and walnuts? Don't knock it before you try it. Word has it, these are the sh*t. And what's a "burger" without its sauce? The homemade mustard sauce adds the perfect combo of sweet and spicy. Pair with healthy chips for a guilt-free American meal.
Get the recipe from Contentedness Cooking.
Avocado Lentil Salad
Avocados are one of the limited foods that can actually spot reduce stomach fat. And research also crowns the fruit with the ability to banish bloat, ward off hunger and lower blood pressure. Which is why there is no shortage of avocado recipes for weight loss. Looking for some inspiration? This lentil salad is it!
Get the recipe from Give Recipe.
Southwest Lentil Brown Rice Bake
Casseroles are one of the fastest, cheapest, and smartest ways to get a healthy, belly-flattening meal on the table—and this meatless comfort food is no exception. Not to mention, it's full of energy-boosting whole grains, belly-shrinking lentils, satiating cheddar cheese and nutrient-rich veggies.
Get the recipe from From a Chef's Kitchen.
Lentil Hummus
According to a study published in the journal Obesity, people who ate a single serving of chickpeas each day reported feeling 31 percent fuller than their bean-less counterparts—hello appetite control! Not to mention, the garbanzo beans are a great source of cellulite-diminishing lysine. Get dipping, swirling, spreading, glopping…it all goes. Hitting a plateau with your body goals? Check out these 20 Weight Loss Tricks You Haven't Tried.
Get the recipe from Gluten Free With LB.
Sweet Potato and Lentil Shepherd's Pie
As the evening temperatures drop, our bodies are genetically programmed to crave warm, savory foods. The problem is we no longer live during the caveman era and thus, we don't need to bulk up for the winter. Fortunately, the health foodie God's assembled and created a cozy shepherd's pie that hits the spot, without resulting weight gain and stomach fat.6254a4d1642c605c54bf1cab17d50f1e
Get the recipe from The Full Helping.
Barbecue Lentil Loaf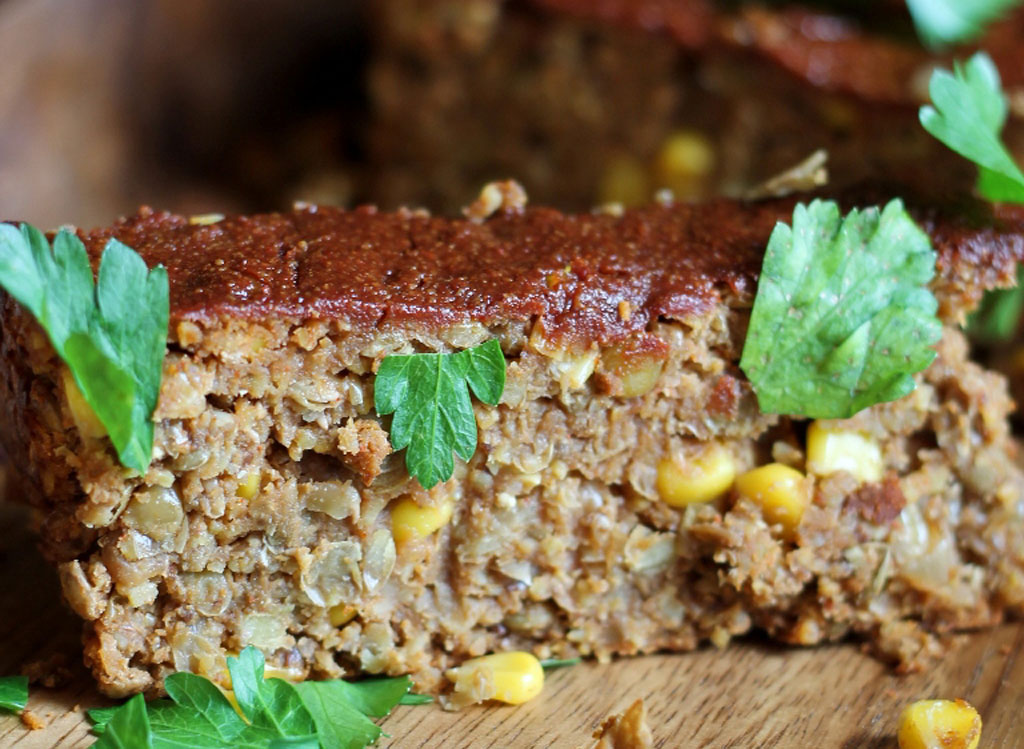 This vegetarian meatloaf uses a homemade BBQ sauce that's void of sleazy ingredients. And it's made with flax seed, a vegan source of protein that lowers blood pressure, stops cancer in its track, moderates cholesterol, promotes a healthy liver and perks you up. In fact, according to a Japanese study, low levels of docosahexaenoic and eicosapentaenoic acids (found in various foods including fish, walnuts, and flax) are frequently seen in conjunction with depression.
Get the recipe from The Vegan 8.
Lentil Black Bean Chili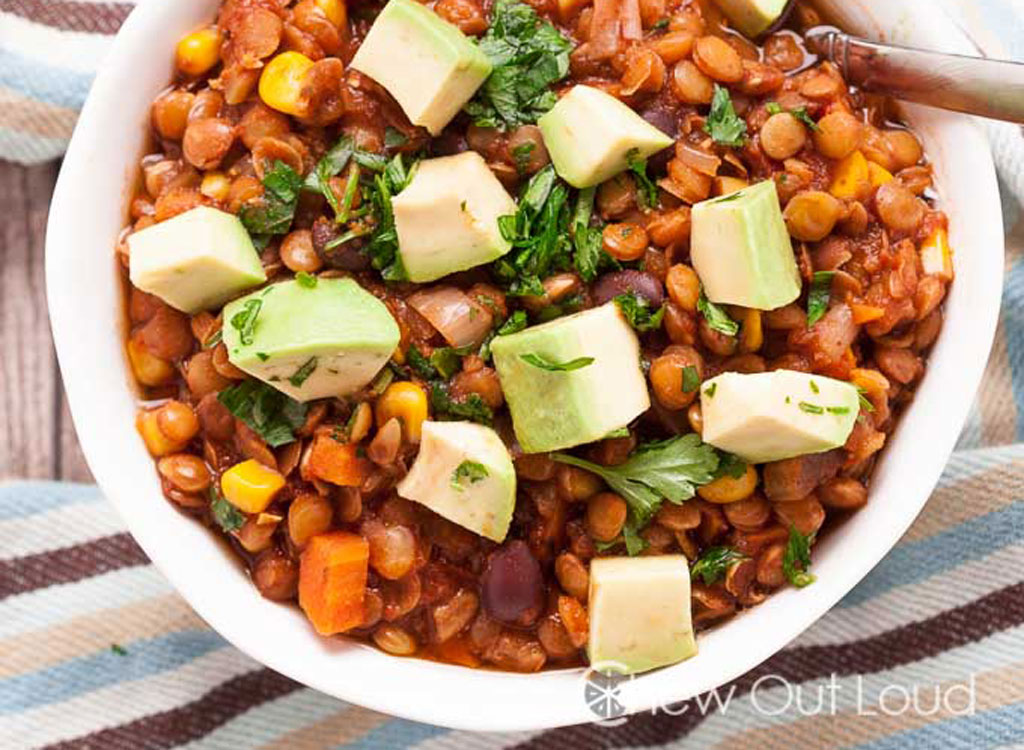 This chili is nutritional rockstar—and it's all about the black beans. One ½ cup serving provides 8 out of the 16.9 grams of waist-whittling protein and 7.5 out of the 18 grams of
fiber. And did we mention the beans contain anthocyanins or antioxidant compounds that improve cognitive function? Yep, you can slim down and slay your afternoon meeting with one powerful bowl.
Get the recipe from Chew Out Loud.
Warm Butternut Squash Lentil Feta Salad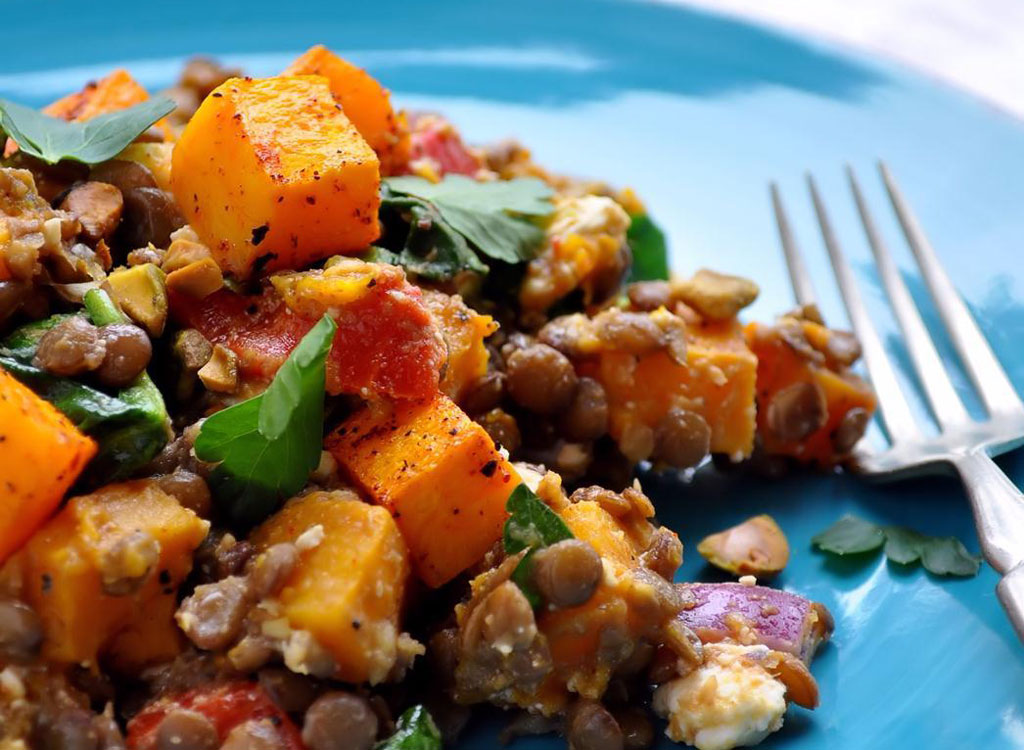 This lentil salad is the perfect way to transition your taste buds into autumn. And just because you get to wear more clothes doesn't mean you kiss goodbye your body goals. Aside from being delicious, butternut squash is full of belly-shrinking fiber and low in calories. In fact, this recipe contains a whopping 15.8 grams of the satiating, gut-friendly stuff. For more gourd inspired cuisine, check out these 20 Healthy Butternut Squash Recipes.
Get the recipe from Farm Girl Gourmet.
Lentil Lettuce Wraps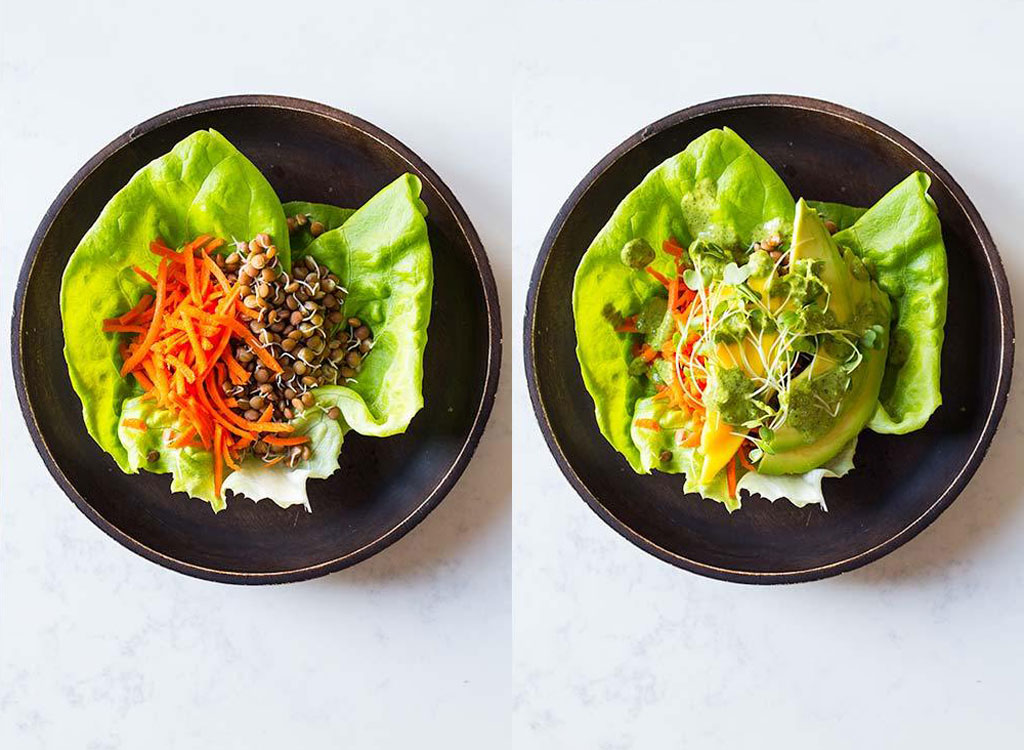 Lettuce wraps are a dieter's Godsend. They allow you to enjoy all your favorite flavors without the waist-expanding empty calories. While this recipe is not your typical low-cal lettuce wrap—thanks to the rockstar lentil content—it's less than 300 calories and full of satiating fiber and lean muscle-building protein.
Get the recipe from Green Healthy Cooking.
Baked Eggs In Tomatoes With Lentils And Whipped Goat Cheese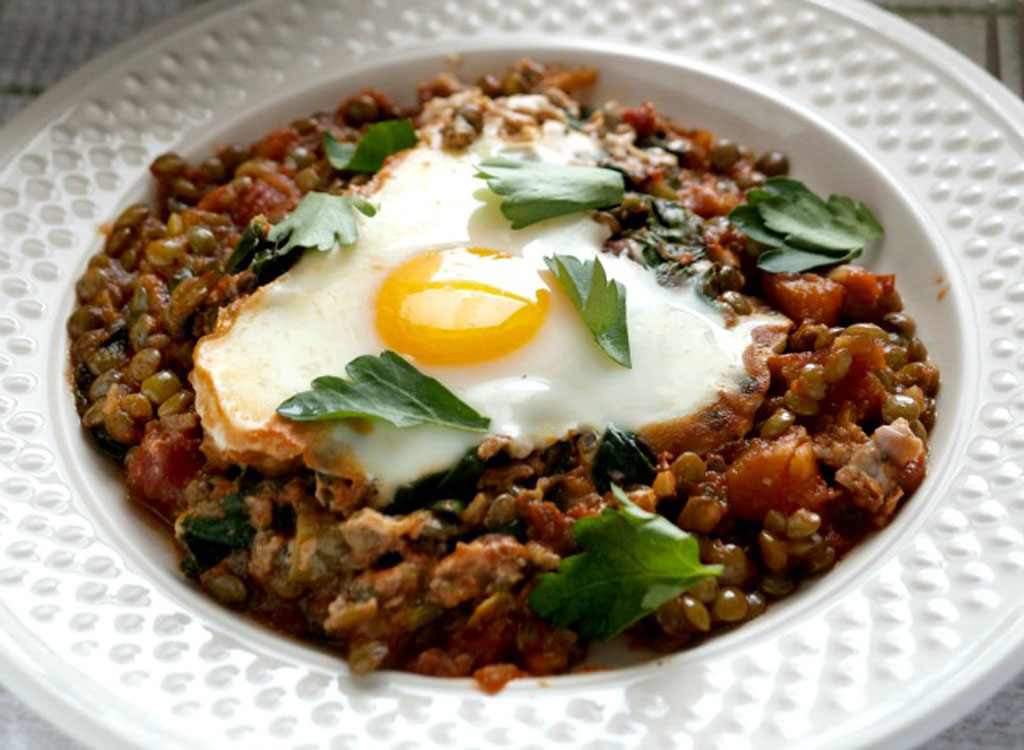 In the rush from alarm clock to running out the door, breakfast often becomes an afterthought. If you're one of the guilty offenders, consider this: The National Weight Control Registry, which has collected 20 years of data on dieters who lost at least 30 pounds and kept it off for a one-year minimum, found that seventy-eight percent reported daily consumption of breakfast. And even if you do give it thought, eating the same mundane granola bar isn't nourishing your body by any means. This recipe combines protein-packed eggs with fibrous-lentils, satiating goat cheese, folate-boasting spinach and cancer-squashing tomatoes to create the perfect meal to help you sail through your day. And if time is a major concern, whip it up for dinner instead and save the leftovers for the following morning.
Get the recipe from Mid-Life Croissant.
Lentil Pizza Crust
Nutrition: 273 calories, <1 g fat (0 g saturated), 240 mg sodium, 46.5 g carbs, 23.6 g fiber, 1.6 g sugar, 20 g protein
It's not often (if ever), we stumble across a pizza crust with a whopping 20 grams of muscle-building protein and 23.6 grams of belly-shrinking fiber. And remember we're talking resistant starch
—the kind that fills you up without filling you out by prolonging digestion. Next pizza night, ditch the premade, nutrient void pizza crust and make this one instead!
Get the recipe from Vie De La Vegan.
Salsa Verde Lentil Tacos With Mango Pomegranate Pico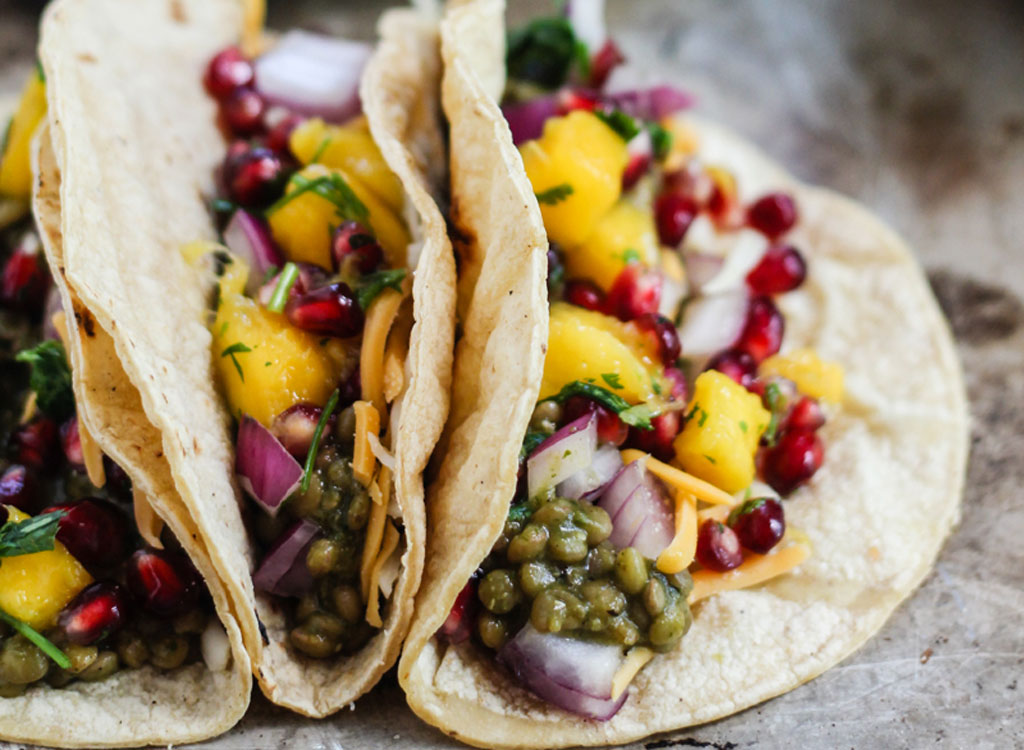 When it comes to Tuesdays, there is only one thing that should be on your dinner plate. This week, give ground beef (or turkey) a break. These refreshing lentil tacos are covered in salsa verde and a mango pomegranate pico. They're so divine, you might even be tempted to ditch the meat on the reg.
Get the recipe from Ambitious Kitchen.
Peanut Butter Oatmeal Chocolate Chip Lentil Blondies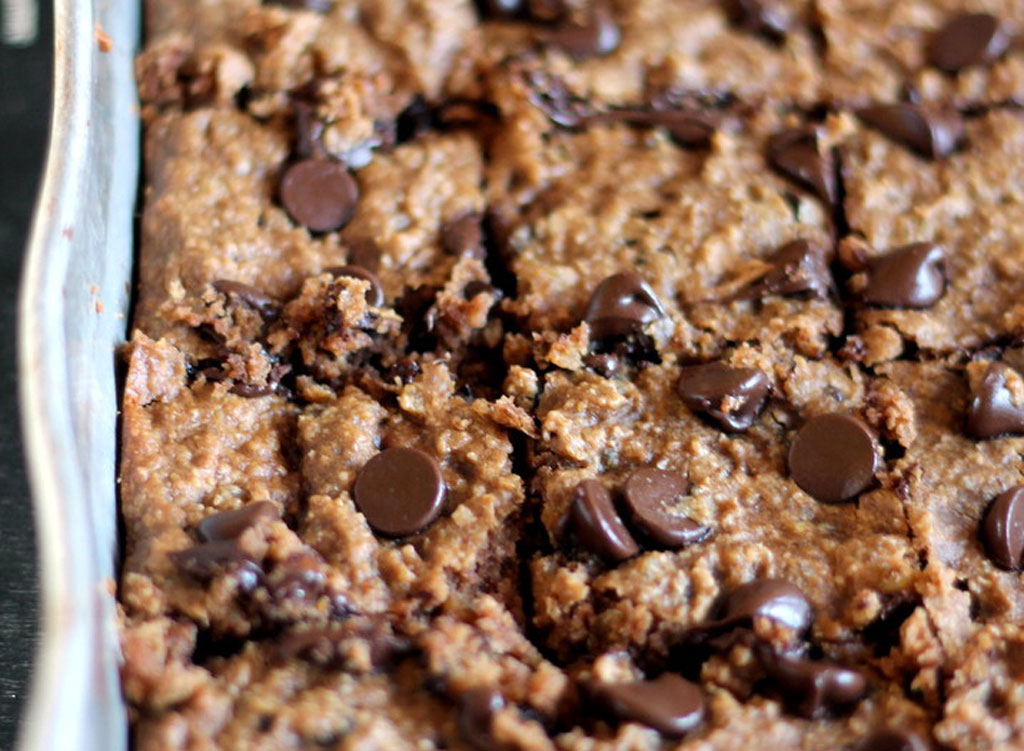 Naturally, we've saved the best for last. The hidden ingredient not only moistens these blondies for the perfect bite but adds a nutritional punch to a typically indulgent treat. And if you're a nut butter addict, you'll be completely smitten. We suggest treating yourself to one PWO (post-workout) when your glycogen stores are depleted and your body could use leucine—an amino acid that aids in muscle repair—which peanuts are packed with!
Get the recipe from Ambitious Kitchen.
Cinnamon Chai Baked Red Lentil Doughnuts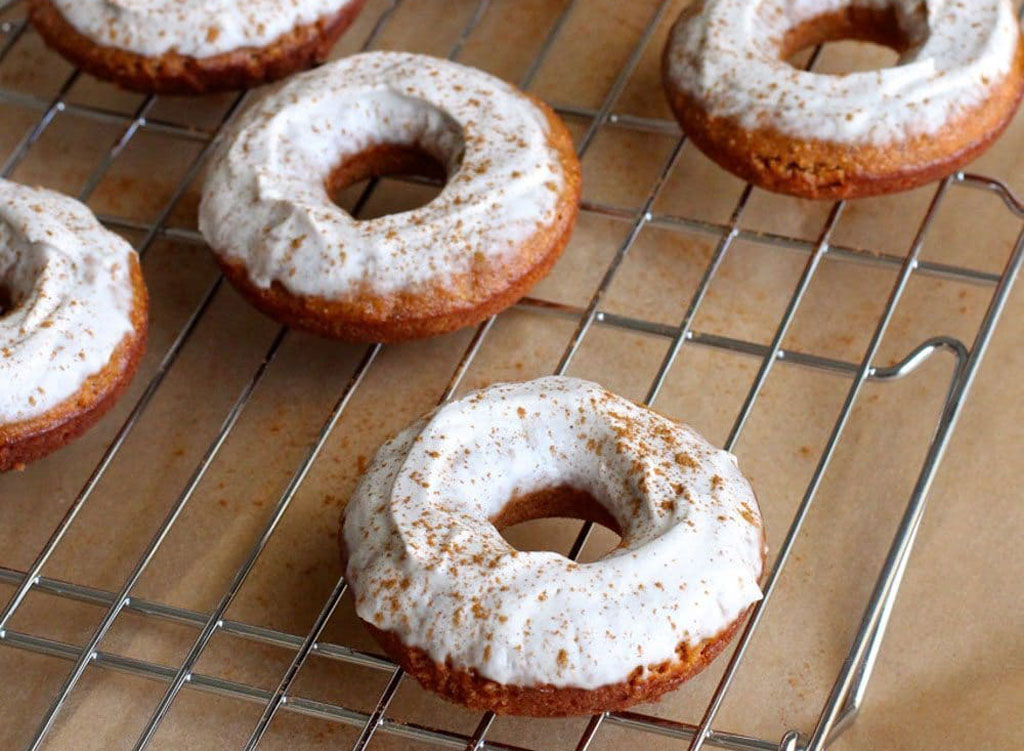 Lentils are definitely not the first ingredient that comes to mind when you think of doughnuts. However, they flawlessly mesh into this recipe, sneaking in 15.6 grams of filling fiber and 12.7 grams of slimming protein. And if you like chai tea, you'll love the ginger, cinnamon, and cardamom flavors. After all, if you're going to indulge, you might as well bite into a limited edition.
Get the recipe from Vegan Miam.
Eat This, Not That!
Inspired by The New York Times best-selling book series, Eat This, Not That! is a brand that's comprised of an award-winning team of journalists and board-certified experts, doctors, nutritionists, chefs, personal trainers, and dietitians who work together to bring you accurate, timely, informative, and actionable content on food, nutrition, dieting, weight loss, health, wellness, and more.
Read more about Eat This