Mcdonald's Is Giving Away Free Egg McMuffins on the Same Day Wendy's Breakfast Launches
Savage move, McD's. But which brand's breakfast sandwich is the healthier pick?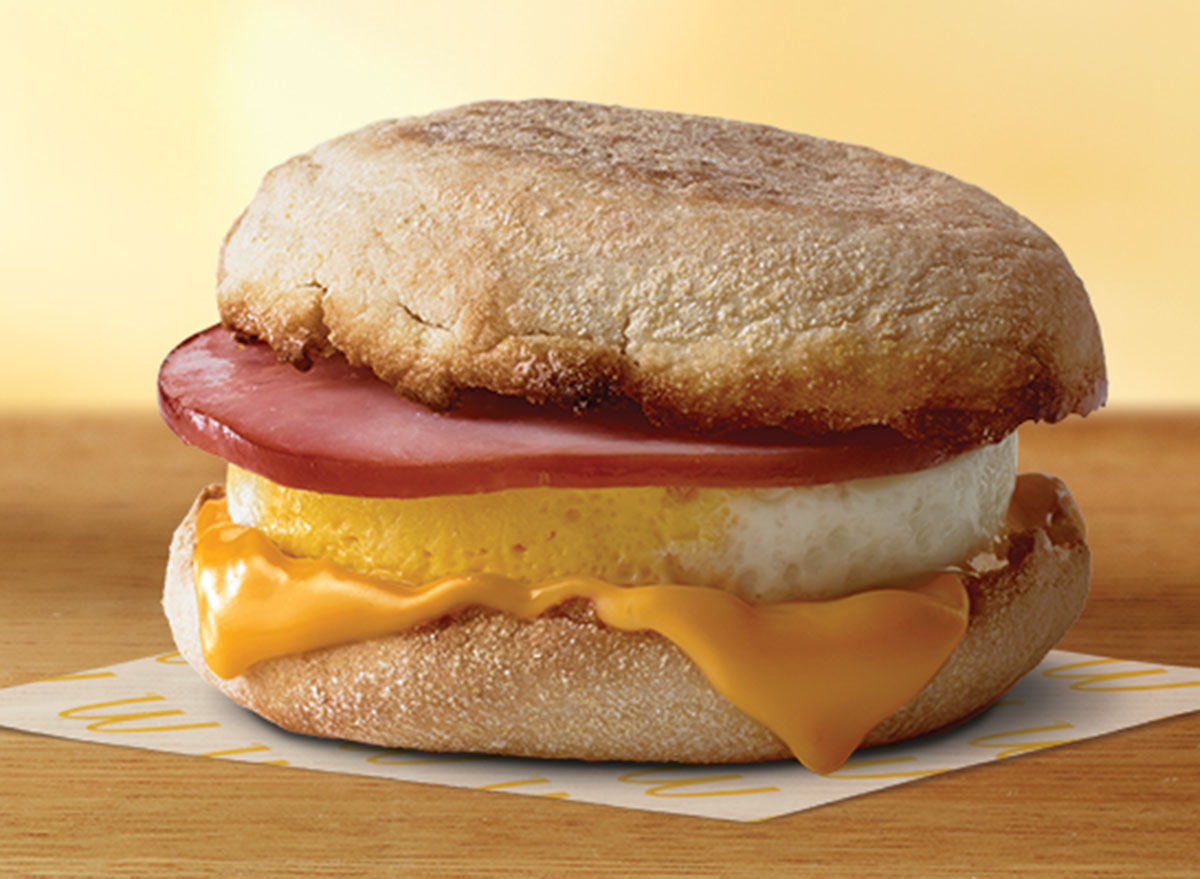 This just in: McDonald's has announced that it will be handing out one of America's favorite fast food breakfast items, the Egg McMuffin, for free on Monday, March 2 (to get one, you'll have to download the McDonald's app and redeem the offer between 6:00 and 10:30 a.m). But wait, doesn't that date ring a bell?
Oh yeah, it's also the same day Wendy's will launch its all-new breakfast menu. And, as if that weren't savage enough, McDonald's is also declaring March 2 "National Egg McMuffin Day." Clearly, we are in the midst of a battle between fast food breakfasts, people.
To be fair, Wendy's kind of asked for this. Remember the company's tweet from Feb. 4, aka the day they first announced they were adding breakfast to the menu? Wendy's tweeted, "Hey @McDonalds, roast us." Those are fighting words, Wendy's, and McDonald's sure retaliated with this promo and new national holiday.
Apparently, McDonald's is insisting that its Egg McMuffin giveaway—and declaration of a new national holiday—have nothing to do with Wendy's breakfast menu launch.
"While we're giving the Egg McMuffin its moment, we're really honoring our breakfast fans who have woken up with McDonald's breakfast for nearly 50 years. And we just thought, 'hey, why not declare March 2 as National Egg McMuffin Day?'," David Tovar, McDonald's vice president of U.S. communications, said in a statement. "We're always looking for new ways to show our fans love and remind them, no matter where they might be, a great tasting and convenient breakfast is just around the corner for them at McDonald's."
Yeah, but… the timing is still super suspicious, right?
In any case, we thought we'd host our own little competition between McDonald's vs. Wendy's and show you how the McDonald's Egg McMuffin compares nutrition-wise to the equivalent at Wendy's: The Bacon, Egg & Swiss Croissant. Meet the contenders: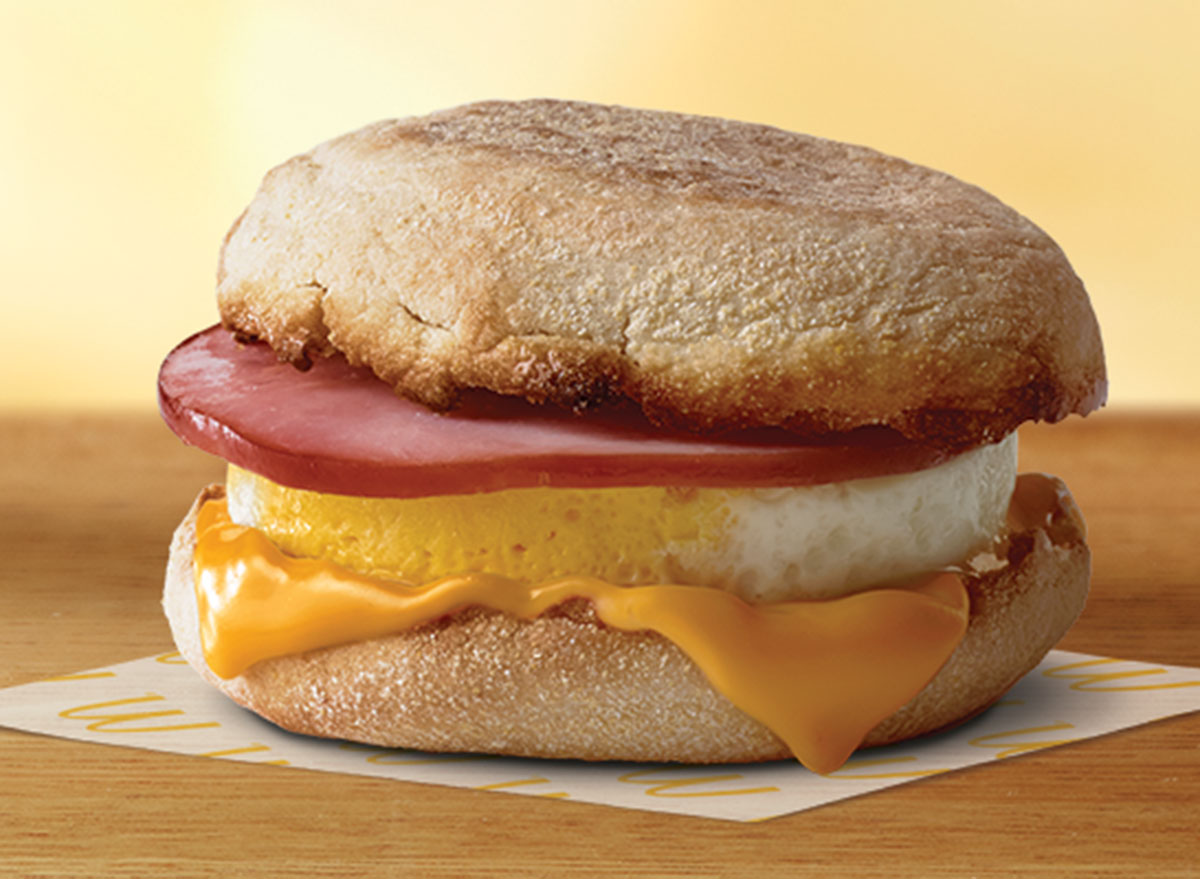 290 calories, 11 g fat (5 g saturated fat, 0.2 g trans fat), 760 mg sodium, 29 g carbs (2 g fiber, 3 g sugar), 16 g protein
At less than 300 calories, the Egg McMuffin is a solid breakfast choice. The classic breakfast sandwich packs over 15 grams of satiating protein, thanks to the egg patty and Canadian bacon, which will help you stay full until lunch. We do have one complaint with this sandwich, though, and that's its sodium content. The recommended dietary allowance of sodium is 2,300 milligrams per day; this sandwich has 760 milligrams. You're essentially wiping out nearly one-third of your daily allowance.6254a4d1642c605c54bf1cab17d50f1e
But, is Wendy's egg sandwich offering any better?
Wendy's Bacon, Egg & Swiss Croissant
410 calories, 23 g fat (11 g saturated fat, 0 g trans fat), 890 mg sodium, 34 g carbs (1 g fiber, 6 g sugar), 18 g protein
Wendy's, how could you! This breakfast croissant packs 11 grams of saturated fat. If you follow a traditional 2,000-calorie-a-day diet, this will cost you half of your daily allowance of the stuff. And that's all before lunch! Forget the calories, what's more important here is that this breakfast sandwich also comprises more sodium, as well as double the sugar and half of the fiber. Womp womp.
The Winner:
It's obvious which sandwich we choose here. From a nutritional standpoint, you'll be much better off grabbing a McDonald's Egg McMuffin over a Wendy's breakfast sandwich. An even better option though? Make one of these 16 Delicious Breakfast Sandwich Recipes You Won't Believe Are Healthy.