Utah Man Still Has a McDonald's Hamburger He Bought in 1999
It's survived the Clinton presidency, Y2K, and every iPhone release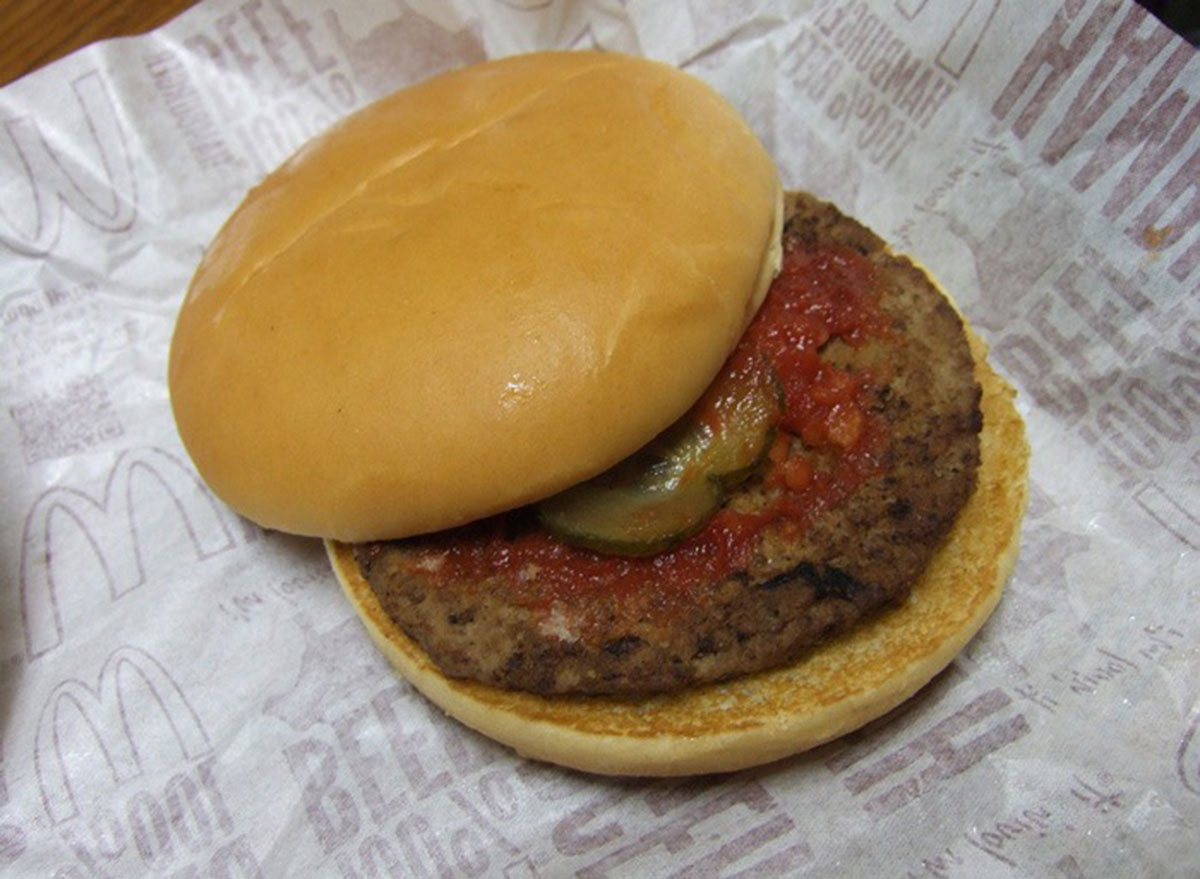 Pop quiz time: How long do you think a McDonald's burger can maintain a fresh appearance? Two hours? Two days? Two weeks?
How about two decades?
Yes, it's true: a MacDo's burger can, apparently, survive longer than most house pets. As reported by KUTV, a CBS affiliate in Salt Lake City, one man from Heber City, Utah, has kept a McDonald's hamburger around since July 7, 1999.
So, how does a patty born in the Clinton era survive Y2K, two full subsequent presidencies, and a bajillion iPhone iterations? Well, the first thing to know is that this fossilized fast food monstrosity is somewhat of an accident.
As David Whipple, the man behind the meat, tells it, he originally purchased the burger to use as a presentation prop during talks on enzymes and "how things deteriorate." One day, he accidentally left the burger in a coat pocket. Then, years later, in the middle of a move, his wife stumbled upon it—and was astonished by how little the thing had (visually) aged over the years. (Though it did reportedly take on the distinct musk of aged cardboard.)6254a4d1642c605c54bf1cab17d50f1e
Now, this isn't the first time this very same burger has made headline. In fact, back in 2013, KUTV first reported on the thing, in a video that quickly went semi-viral:
This also isn't the only practically Paleolithic McDonald's burger with such a high profile. In Iceland, a McDonald's hamburger and fries have been bouncing around museums since 2009. (Currently, it's housed at the Snotra House, in Þykkvibær.) And that burger is special for an added reason—it's the very last McDonald's burger in Iceland. One patron, Hjörtur Smárason, bought the meal right before the final McDonald's in Iceland shut its doors for good. Rather than eating it, though, he donated it to science.
"I had heard something about McDonald's never decaying so I just wanted to find out for myself whether this was true or not," he said.
He first donated it to the National Museum of Iceland, but a Danish specialist came in and told the museum that preserving the burger would be too tall an order. So, in 2012, Smárason moved it to the Snotra House, in Þykkvibær, where it's stayed, preserved like a mosquito in amber, ever since.
"I think he was wrong," he said. "This hamburger preserves itself." And for some truly tall tales about the fast food giant, check out these 50 Biggest Myths About McDonald's Food.