The Popular Meals You Should Never Have for Dinner
Don't ever think about ordering these high-calorie dishes.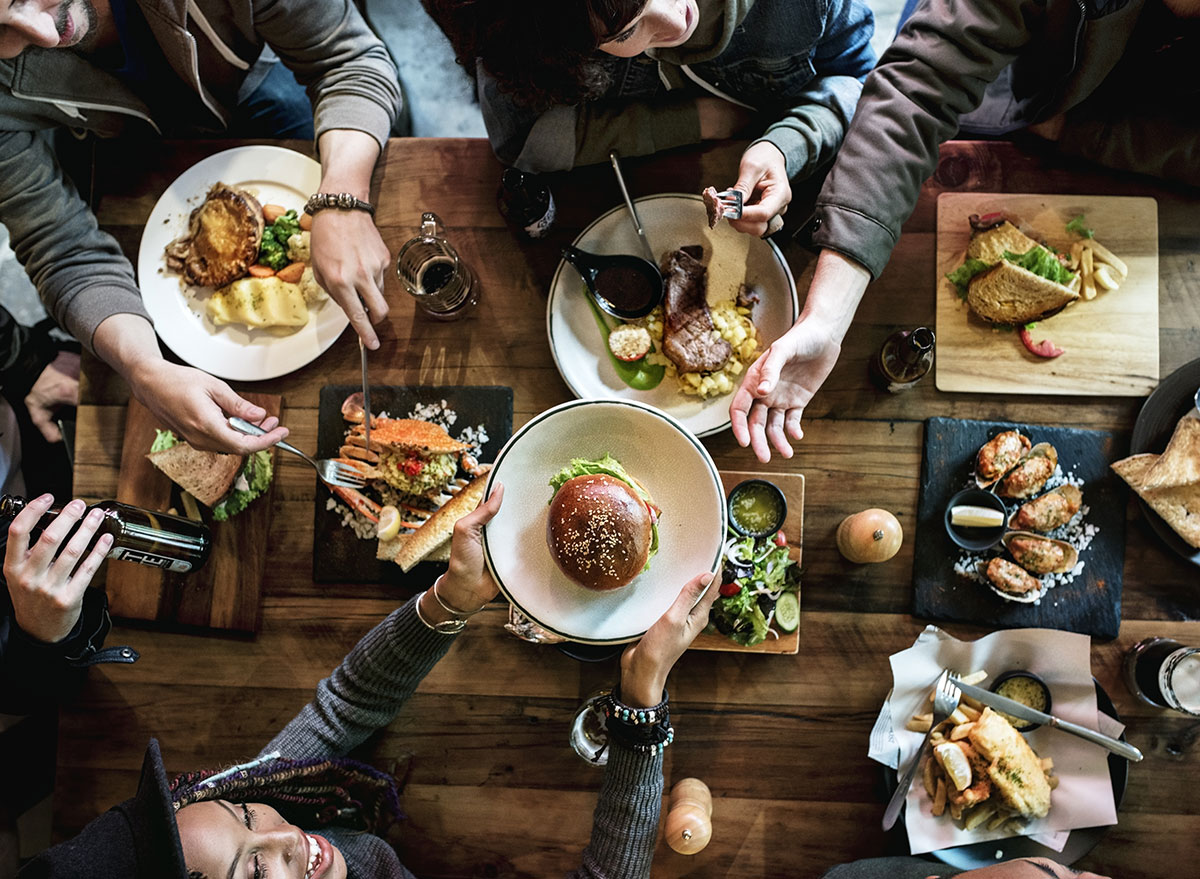 Dinner is—dare we say—the most celebrated meal of the day. Think about how often the question, "What do you want for dinner?" is thrown around. And how dinner plans tend to be the main source of excitement you end up centering your whole day around. One study even found that those who skip dinner were more likely to be overweight, so this meal really does have value to your overall health.
There are some dishes though, that you're going to want to avoid eating as your dinner entrée. Not every dish is created equally, and some meals that are common dinner staples are just bad news.
So whether you're ordering in or dining out at a restaurant, we have got you covered. We rounded up some popular dinner foods you're much better off not eating. And don't worry, we included specific examples from beloved restaurants, too. Hey, we're just here to help you. While you're making healthier choices, be sure you're stocked up on any of The 7 Healthiest Foods to Eat Right Now.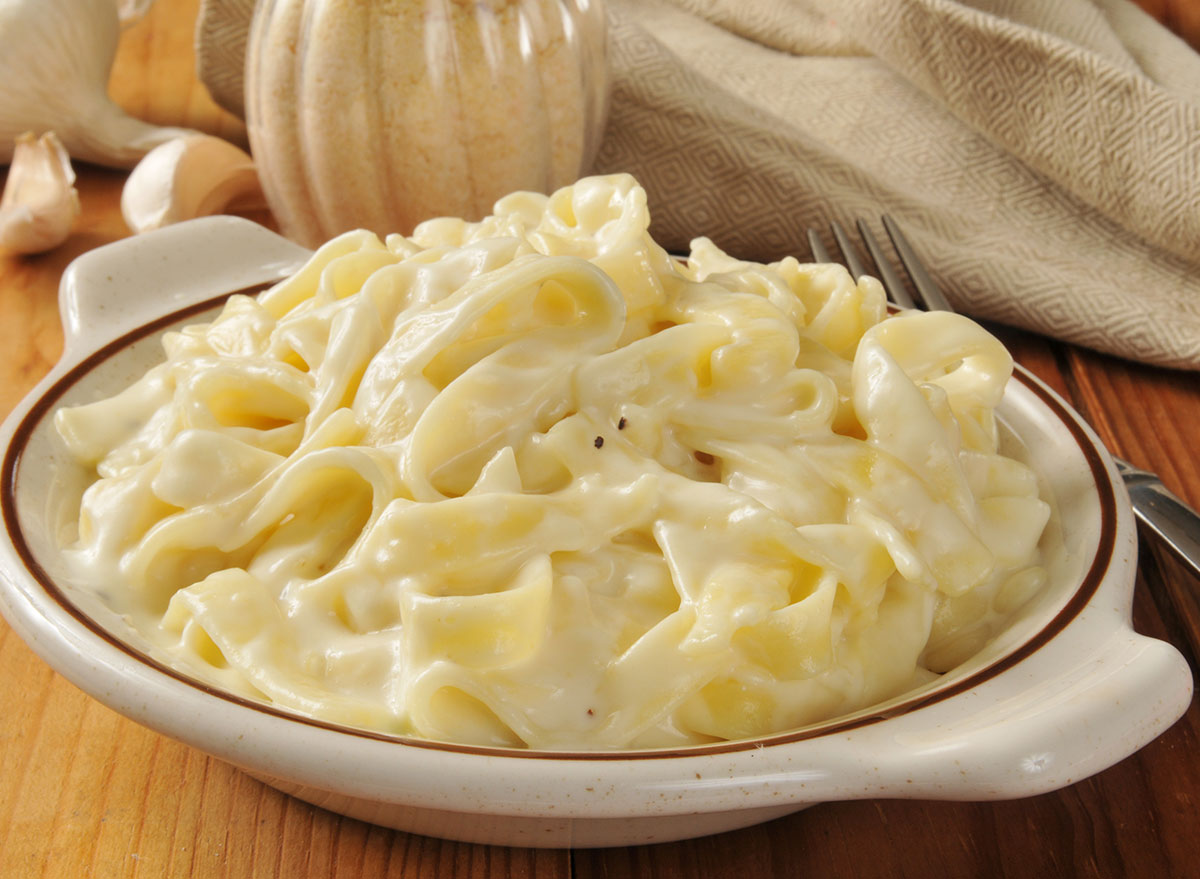 One to avoid: Maggiano's Little Italy Fettuccine Alfredo
1,430 calories, 79 g fat (40 g saturated fat, 1.5 g trans fat), 4,310 mg sodium, 133 g carbs (9 g fiber, 13 g sugar), 57 g protein
Pasta for dinner? Yes, please. But one pasta dish always gets a skip, and that's all because of the sauce. Fettuccine Alfredo—or any noodle shape that is swimming in Alfredo sauce—is not doing your waistline any favors. Alfredo sauce is loaded up with butter, heavy cream, and cheese. Mixed together, it makes for a sauce that is high in sodium, fat, and calories.6254a4d1642c605c54bf1cab17d50f1e
So it's no wonder Maggiano's Little Italy's version is high in just about everything. Besides the fat, saturated fat, and heart-harming trans fat, there are 4,310 milligrams of sodium in the dish. The American Heart Association recommends the average adult eat no more than 2,300 milligrams of sodium per day, it's easy to see why the pasta meal is a no-go.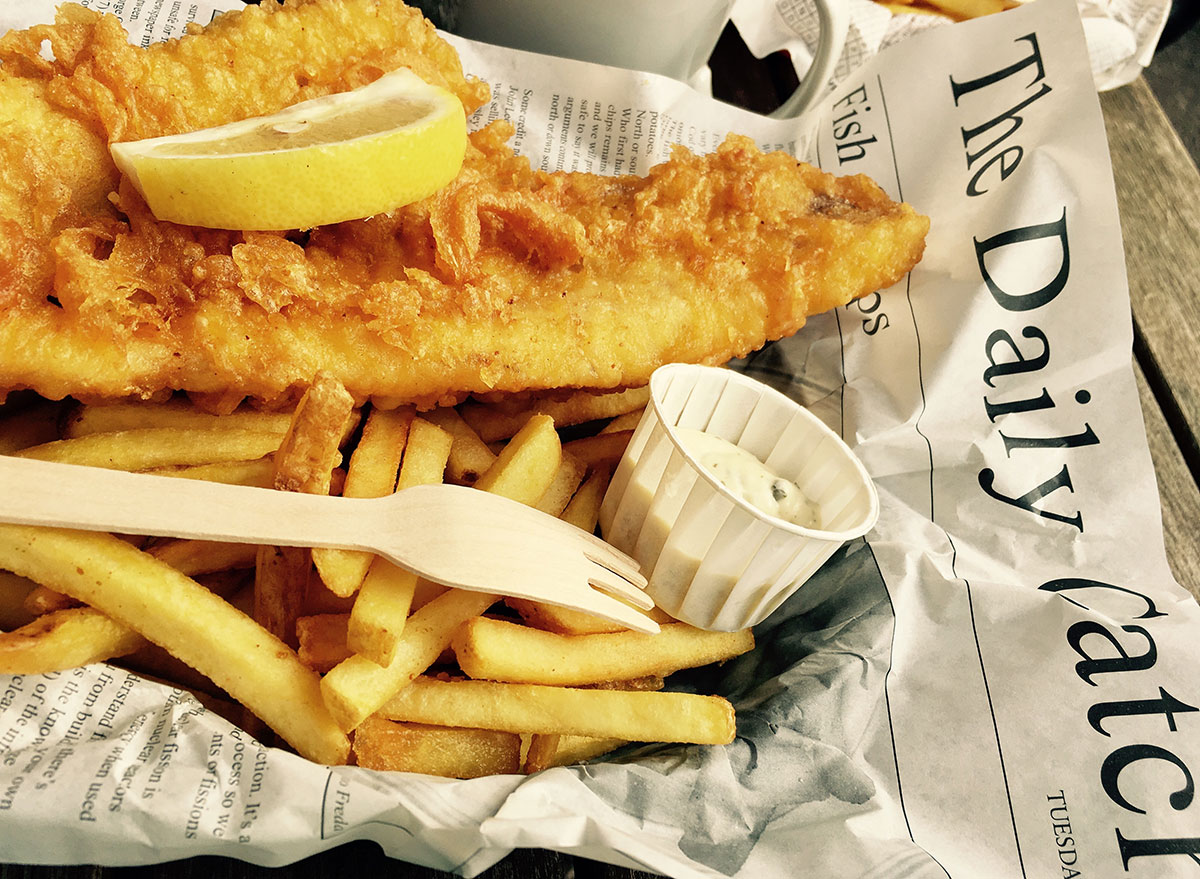 One to avoid: Applebee's Hand-Battered Fish & Chips
1,490 calories, 103 g fat (18 g saturated fat, 1 g trans fat), 3,220 mg sodium, 100 g carbs (9 g fiber, 15 g sugar), 42 g protein
Crispy fish paired alongside French fries sounds like true comfort food. Well, not so fast, as this is yet another high-calorie, fat, and sodium-filled meal. It's always better to go for fish that is grilled and, you know, not fried. Eating fried foods often can not only lead to weight gain, but puts you more at risk of suffering from a stroke or heart attack. No meal is worth that!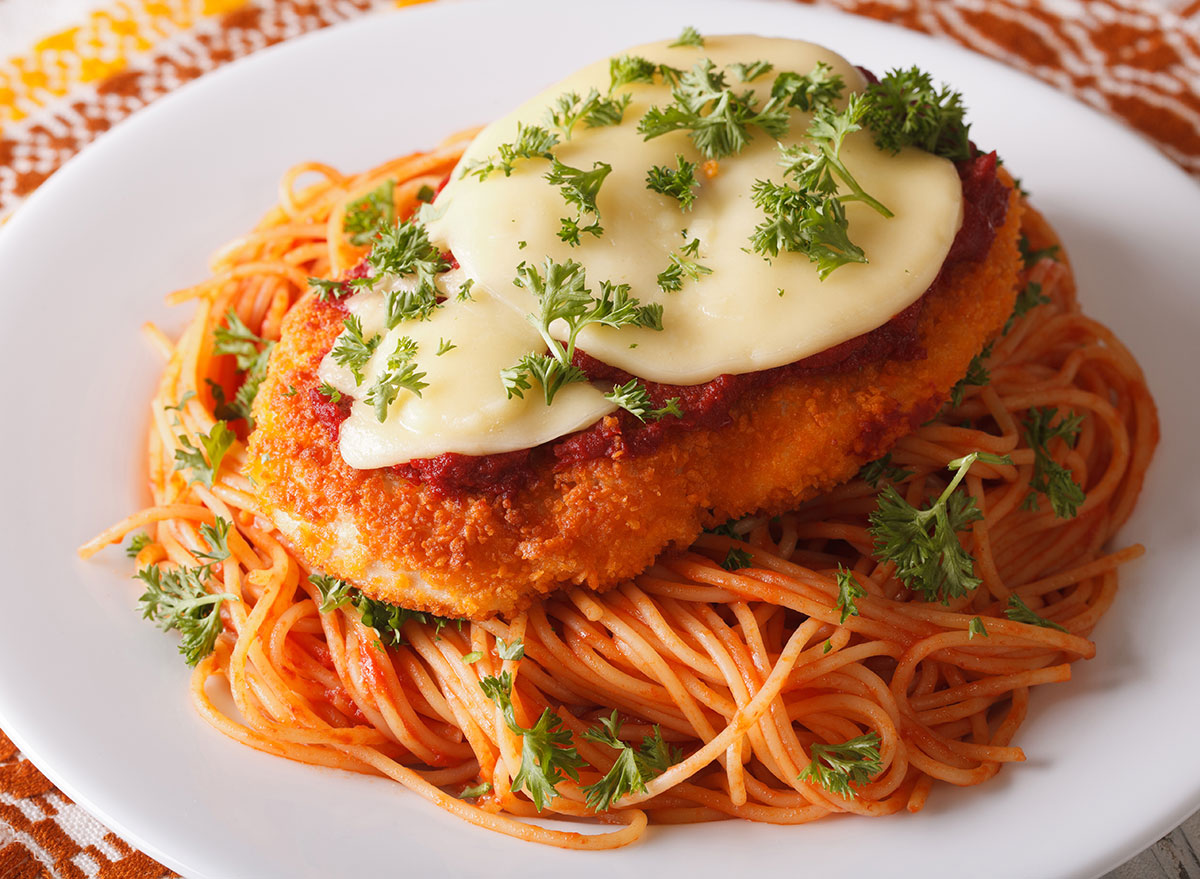 One to avoid: TGI Fridays Chicken Parmesan Pasta
1,890 calories, 107 g fat (4.3 g saturated fat, 1.5 g trans fat), 4,130 mg sodium, 154 g carbs (9 g fiber, 22 g sugar), 74 g protein
Breaded chicken that is usually smothered with marinara sauce and cheese and served with pasta truly gets anyone's mouth to instantly water. Again, fried food is always a meal option you want to be wary of, and chicken parmesan is a downright hearty dish, as it's always paired with pasta. Not only is TGI Fridays' version a total sodium bomb, but the dish has slightly more sugar than you would get from two Original Glazed Krispy Kreme donuts.
Looking for more helpful tips? Your ultimate restaurant and supermarket survival guide is here!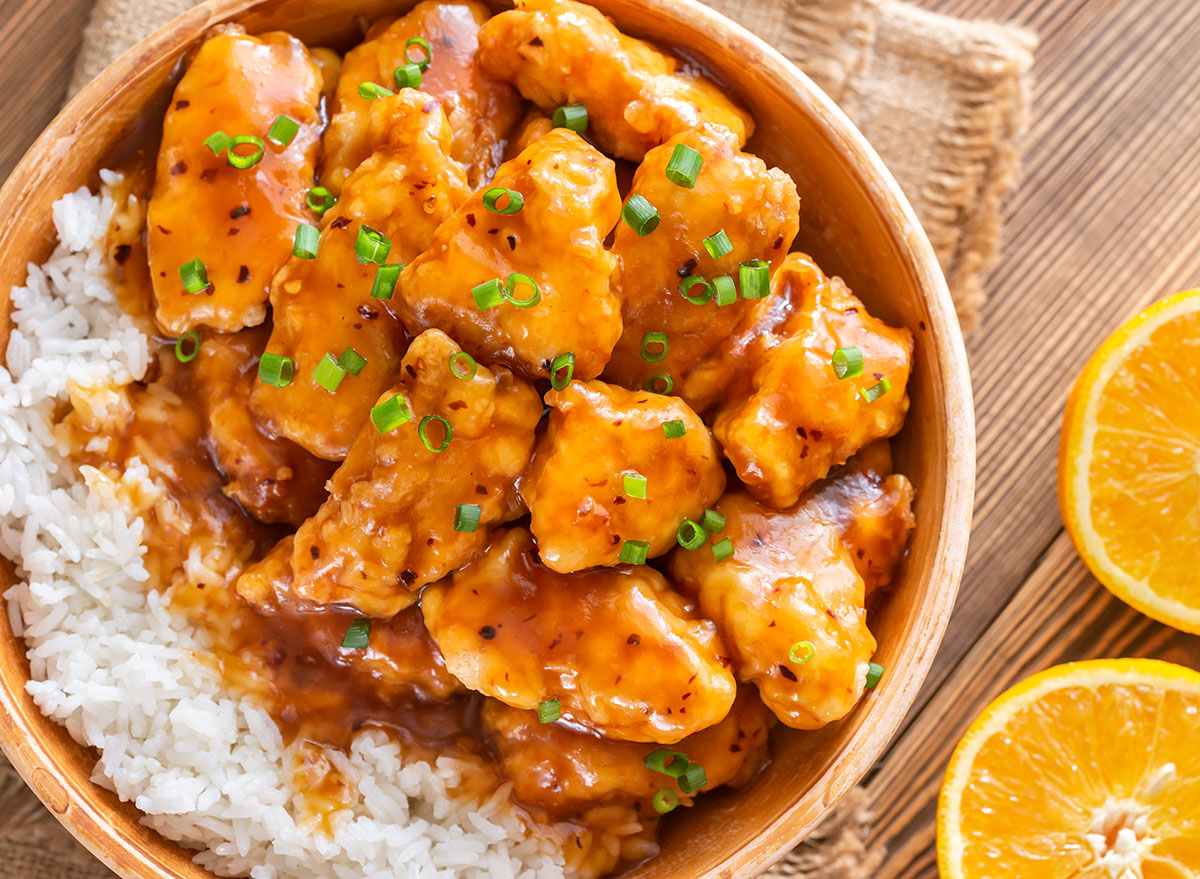 One to avoid: P.F. Chang's Orange Chicken
1,160 calories, 59 g fat (9 g saturated fat, 1 g trans fat), 1,780 mg sodium, 87 g carbs (3 g fiber, 55 g sugar), 65 g protein
The salty-sweet combination is one that is hard to resist, but with a dish like orange chicken, things just go too far. Battered and fried pieces of chicken are swimming in a sauce that is drowning in far too much sugar. P.F. Chang's dish is serving up 55 grams, or as much of the sweet stuff as you would get from 18 Oreo Thin cookies.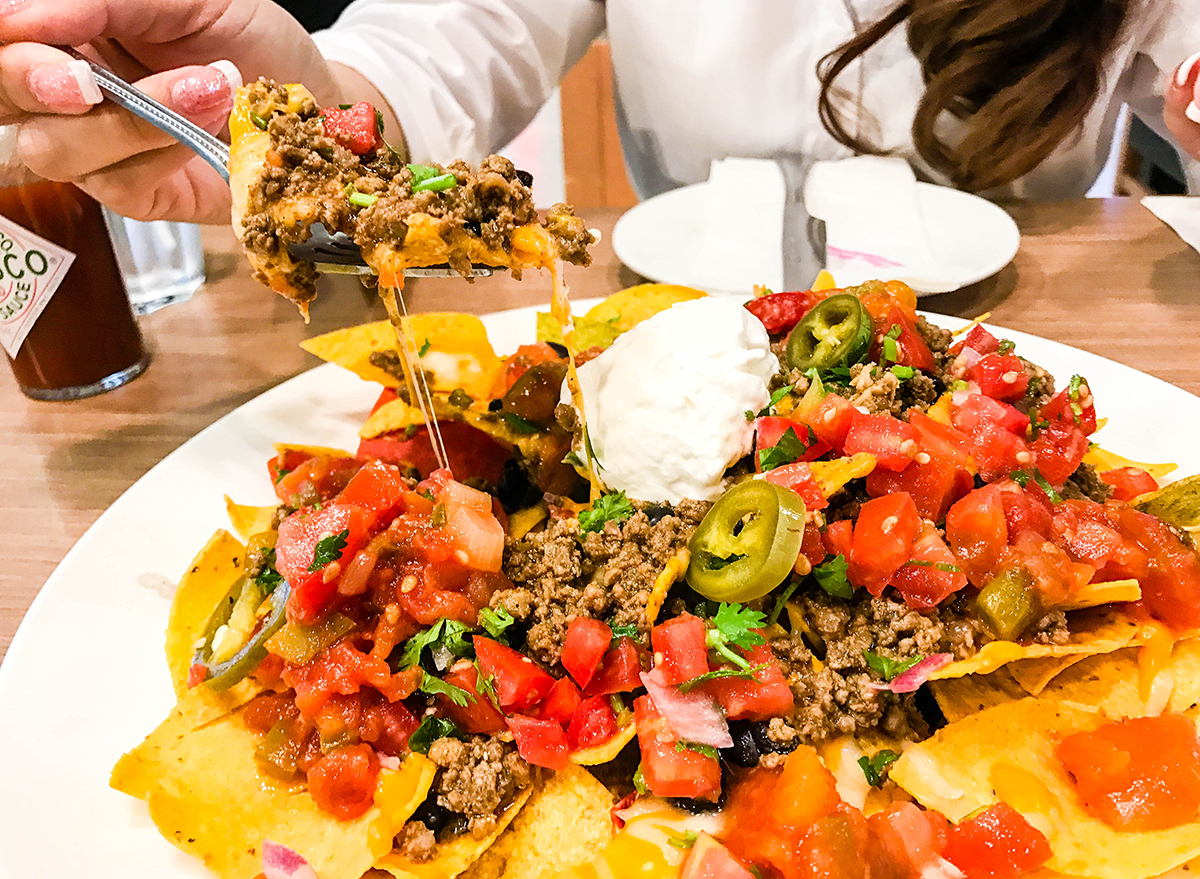 One to avoid: The Cheesecake Factory's Factory Nachos with Spicy Chicken
2,950 calories, 210 g fat (85 g saturated fat, 6 g trans fat), 3,170 mg sodium, 180 g carbs (22 g fiber, 29 g sugar), 88 g protein
Nachos are an over-the-top menu option, no matter what. They're often "loaded," which is a menu word you should always recognize as a red flag. One nacho is typically weighed down with meat, cheeses, sour cream, and jalapeños. Don't forget if there is any guacamole that may be served on the side! Together, it makes for a dish that is high calorie and at The Cheesecake Factory, the spicy chicken nachos are no exception.
One to avoid: Outback Steakhouse Ribeye 18 oz
1,350 calories, 103 g fat (41 g saturated fat, 0 g trans fat), 2,300 mg sodium, 2 g carbs (0 g fiber, 0 g sugar), 98 g protein
There's nothing wrong with treating yourself to a hearty piece of steak if you're in the mood. But ordering a ribeye steak from a restaurant is not the best move. The ribeye typically has the highest fat out of all the cuts, and there are other lean cuts of meat you could get instead. Plus, at a restaurant such as Outback Steakhouse, you don't really know what's in the seasoning or sauce it's paired with, which is where the high sodium count comes in. You're also feasting on a much larger portion than you should be having. There's nothing really redeeming here!
Jennifer Maldonado
Jennifer Maldonado is a senior editor at Eat This, Not That!, specializing in food and health content.
Read more about Jennifer