The Single Worst Dish You Should Never Order At a Steakhouse
It might be your go-to meal option, but it's one you're going to want to avoid.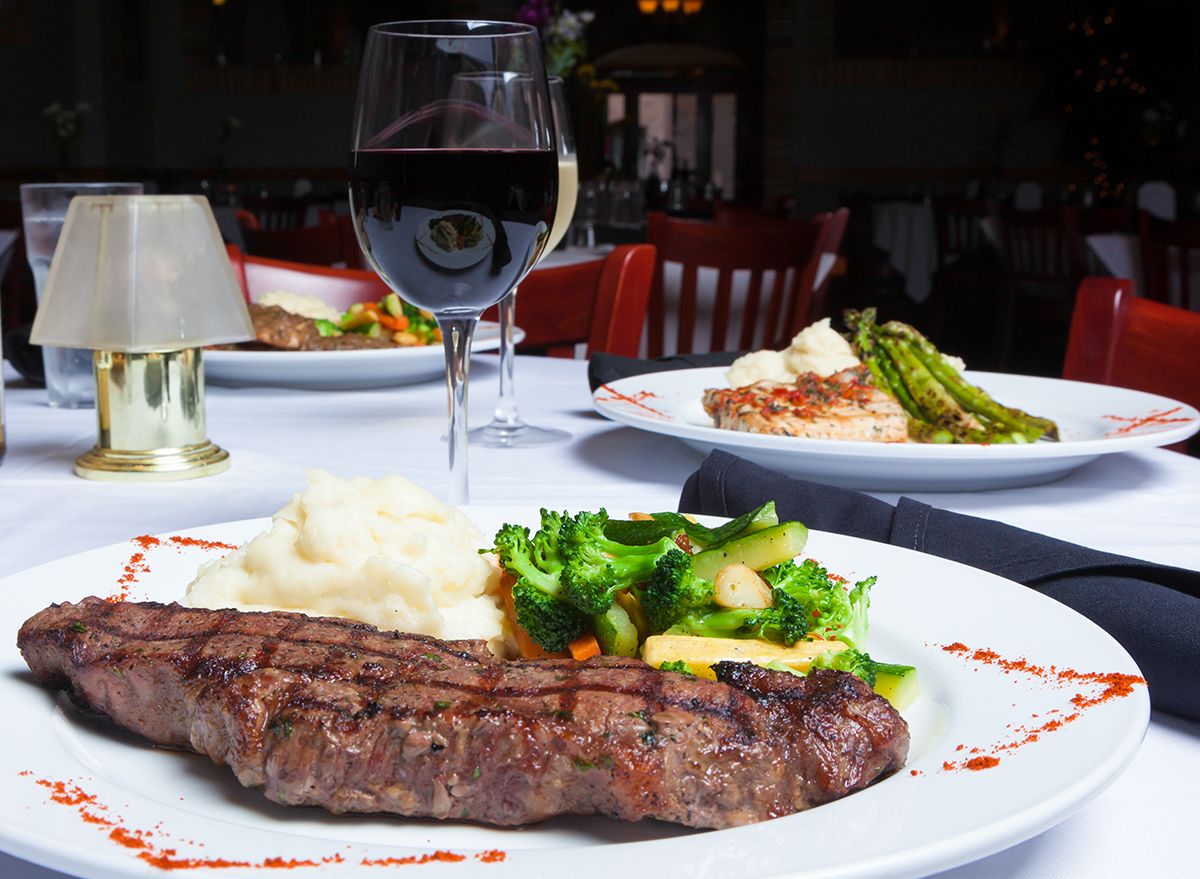 There's nothing like dressing up for a night on the town to dine at a steakhouse for a fancy meal with family or friends. Steakhouses are known as more "special occasion" dining experiences, where you'd order a glass of red wine or a martini to go with a pristine cut of steak and some delicious sides.
Yet, going to a steakhouse can set you back a couple of hundred calories, easily, if you're getting a large ounce portion of meat and indulging in too many sides, appetizers, and dessert.
While it might not seem as unhealthy as Chinese takeout or ordering in Italian, which usually means you're most likely indulging in pizza and pasta, there are a few signature items at a steakhouse that are just as high in fat, calories, and sodium as these notoriously "unhealthy" dishes at other types of restaurants.6254a4d1642c605c54bf1cab17d50f1e
So with that in mind, the worst dish you can order at a steakhouse is…
Ribeye Steak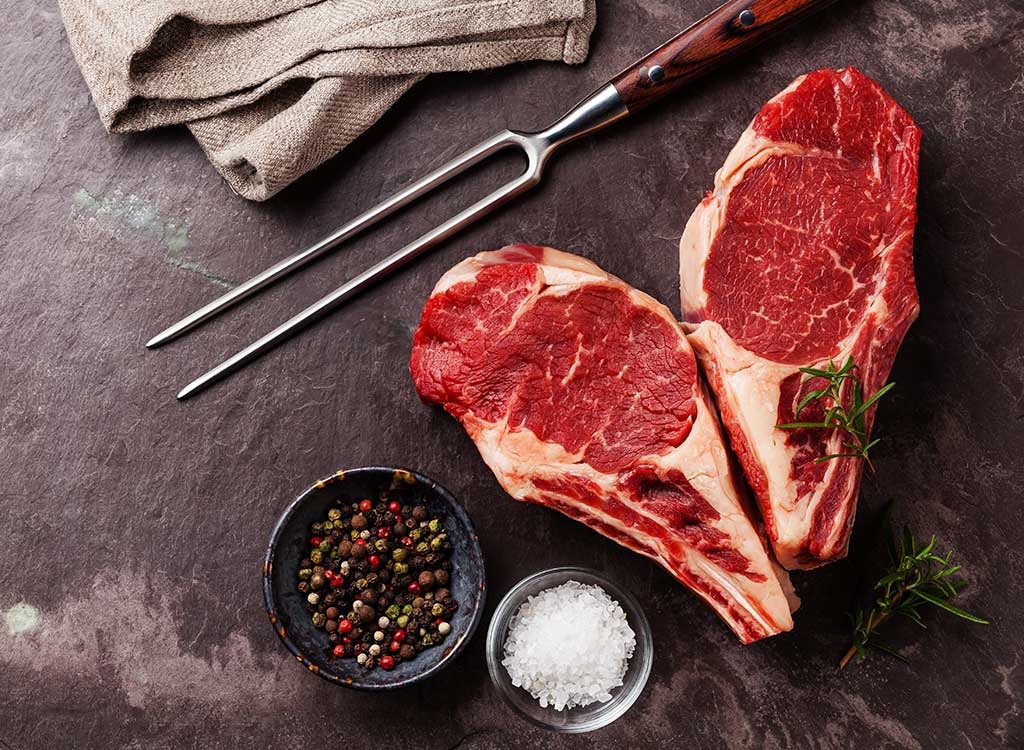 "Of all the steaks to order, a ribeye takes the prize for the highest calories, highest fat cut," says Lauren Harris-Pincus, MS, RDN, and author of The Protein-Packed Breakfast Club. "At Outback Steakhouse, a 16-ounce ribeye packs a whopping 1,400 calories, 115 grams of total fat, and 52 grams of saturated fat. Yikes." That's about two day's worth of fat in just the steak alone, she explains. And those aren't the only red flags.
"Thanks to seasoning, it also has 1,450 milligrams of sodium," she adds. The problem with ribeye, in particular, is that it's so fatty—it is not a lean cut of meat, like a hanger, filet or strip might be.
Plus, when you're dining at a steakhouse, you're being served up a meal that is a larger portion, rather than a petite size. Then you have to factor in the sauces on the steak, too.
"Most steak sauces like Bordelaise, Peppercorn, or Horseradish sauce contain butter or heavy cream with upwards of 75 calories per tablespoon," Harris-Pincus says. So it's best to avoid those if you can.
And consider what else you're eating besides that steak.
"Add in a side Blue Cheese Wedge Salad and a side of mashed potatoes and you are over 2,200 calories for one meal," Harris-Pincus says.
If you're not eating steak, you'll want to be sure you don't end up ordering a chicken or fish dish that is fried or prepared with a ton of sugary or salty sauces. Instead, order a piece of grilled or roasted chicken or fish, which keeps the meal more nutritious and simple. You can add some veggies on the side, rather than that super stuffed bacon and cheese potato you might be eying on the menu, for example.
You want to watch out for those appetizers as well!
"A Bloomin' Onion [from Outback] is shockingly high in calories. I mean, onions are vegetables, right? [But] that family favorite contains 1,950 calories, 155 grams of fat, 56 grams of saturated fat, and 3,840 milligrams of sodium," Harris-Pincus says.
Even if you split it a few ways, that's a lot of artery-clogging fat, sodium, and calories all before your main meal. And unfortunately, according to studies, eating fried foods, like onion rings, can raise your risk for heart disease, high cholesterol, and stroke, because of all that fat. (And if you're looking for more guidance, your ultimate restaurant and supermarket survival guide is here!)
What should you order at a steakhouse instead?
"If you love steak, the best thing to order at a steakhouse is a petite filet with grilled shrimp," Harris-Pincus suggests. "You can even add in grilled asparagus and homestyle mashed potatoes for an extra 300 calories and come away with a satisfying and delicious meal."
Going with a smaller cut is a great idea. Even if you say you get the 16-ounce and plan to take half of it home, there's a good chance you're probably going to eat the whole thing in one sitting. So, make it easier on yourself and just get the smaller cut to be safe.
At Outback Steakhouse, for example, the 6-ounce Center-Cut Sirloin is the leanest with 7 grams of fat and 3 grams of saturated fat.
"When it comes to steak, leaner is better nutritionally, it's a trick to balance lean with tender. That's why a filet mignon is the most sought after cut of meat," Harris-Pincus says.
If you want a sauce, though you really should just go without it (that steak will still be delicious!), avoid creamy ones.
"The lowest calorie option is an A1 type sauce with around 15 calories per tablespoon. Just beware of the sodium since your steak is already seasoned with salt when cooked," she explains.
And now you're reading to enjoy a hearty steakhouse meal, the right way!
Isadora Baum
Isadora Baum is a freelance writer, certified health coach, and author of 5-Minute Energy.
Read more about Isadora