13 Best Healthy Meatloaf Recipes for Weight Loss
Each of these scrumptious crowd pleasers can actually help you drop the pounds.
Whether you need to whip up a meatloaf for a big Sunday dinner or assemble a quick meal for the family, trying to cut meatloaf off the menu seems like a tragedy—especially when you need to cut fat and carbs out of your diet. Balancing healthy eating with eating heartily seems like an impossible task, but don't lose hope. With so many meatloaf recipes available to whip up, you can now find new exciting ways to keep this classic meal on the table and make sure it won't weigh you down.
We here at Eat This, Not That! have set out to find the best ways to guarantee you can still please your crowd with this all-American favorite while losing weight at the same time. For meatloaf recipes that keep your diet moving along with no cost to flavor, read on to discover your new favorite!
Cheesy Turkey Meatloaf Muffins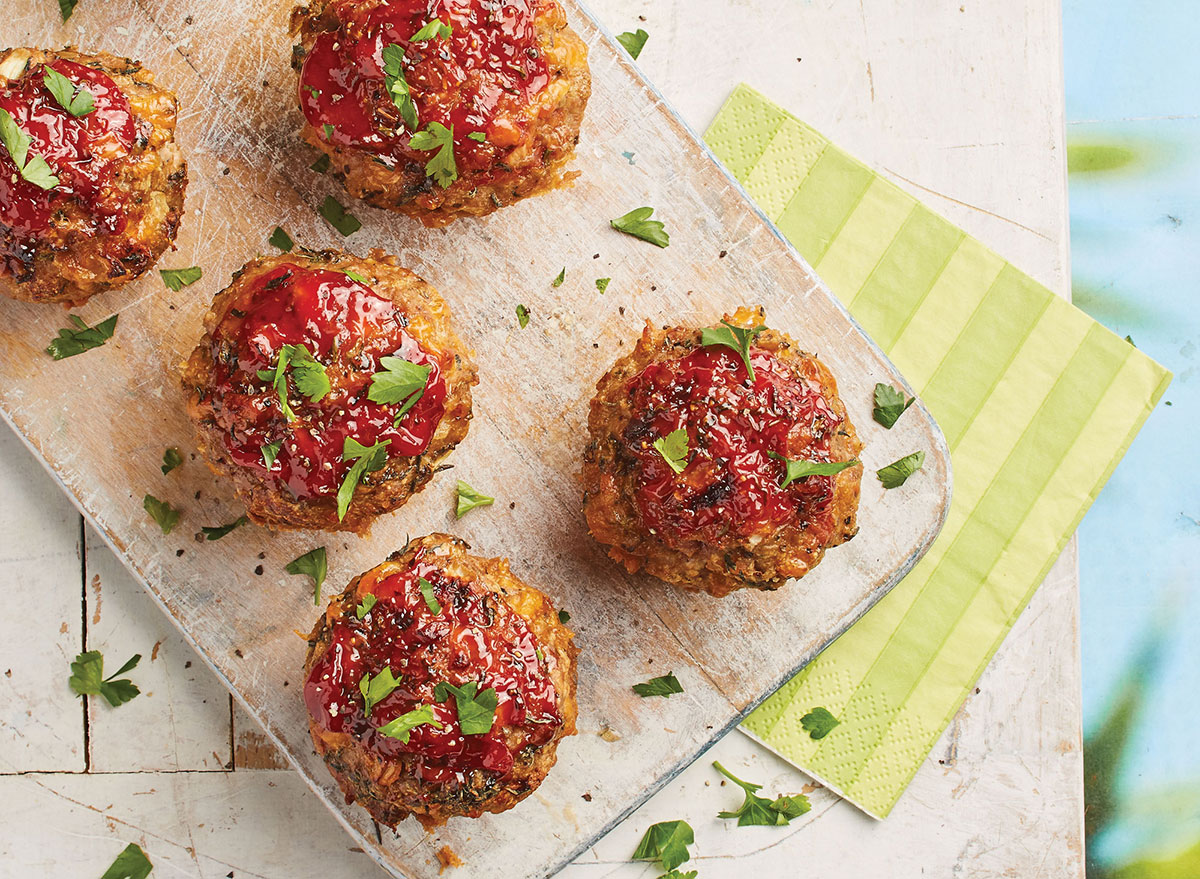 When you try to lose some pounds, portion control is one of the best ways to go about shedding the weight. Ensure you hit your dietary goals with these healthy turkey meatloaf muffins. They not only keep you from accidentally overeating but by replacing beef with turkey, you also lower the saturated fat content of the meal while keeping your protein count high. With a winning combo like this, you won't even miss your standard meatloaf!
Get our recipe for Cheesy Turkey Meatloaf Muffins.
Copycat Cracker Barrel Meatloaf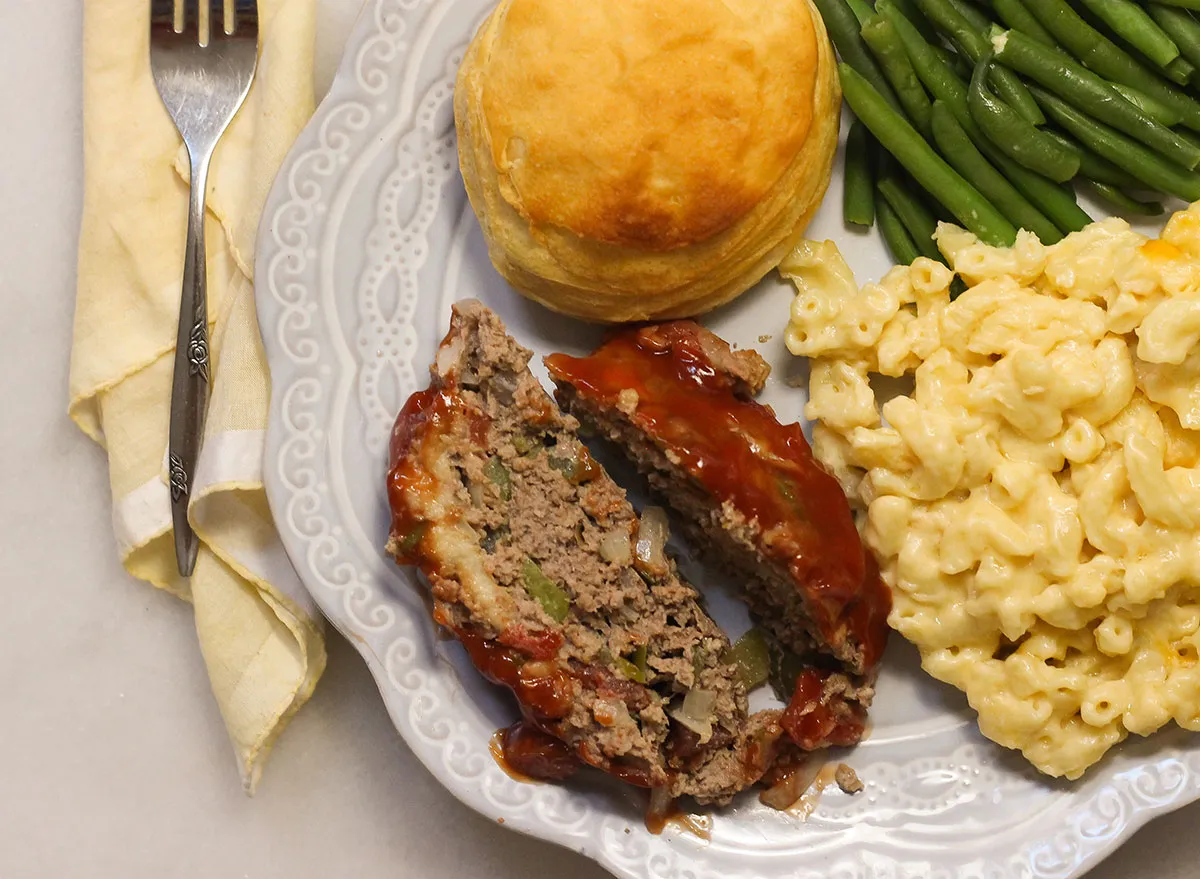 Cracker Barrel serves up a mean meatloaf, but the extra beefy goodness comes at a price. With extra sodium and fat, this restaurant favorite could end your diet. Why take the risk, when you can enjoy the same flavors at home with this down-home favorite that is sure to become a family favorite in no time. With only a teaspoon of salt in the whole dish and breadcrumbs you make at home, you know that this meatloaf will end up as a wholesome meal that keeps the weight off.
Get our recipe for Copycat Cracker Barrel Meatloaf.
Turkey Meatloaf
When you need to cut some fat out of your diet, finding lean meat alternatives should be a number one priority. Luckily, this optimal turkey meatloaf has been kitchen-tested to not only guarantee a slimmer waistline but packs in the flavor you love. As long as you prepare the meal with a well-seasoned base, a generous glaze, and careful cooking, you won't notice the difference.
Get our recipe for Turkey Meatloaf.
Vegan Lentil Nut Meatloaf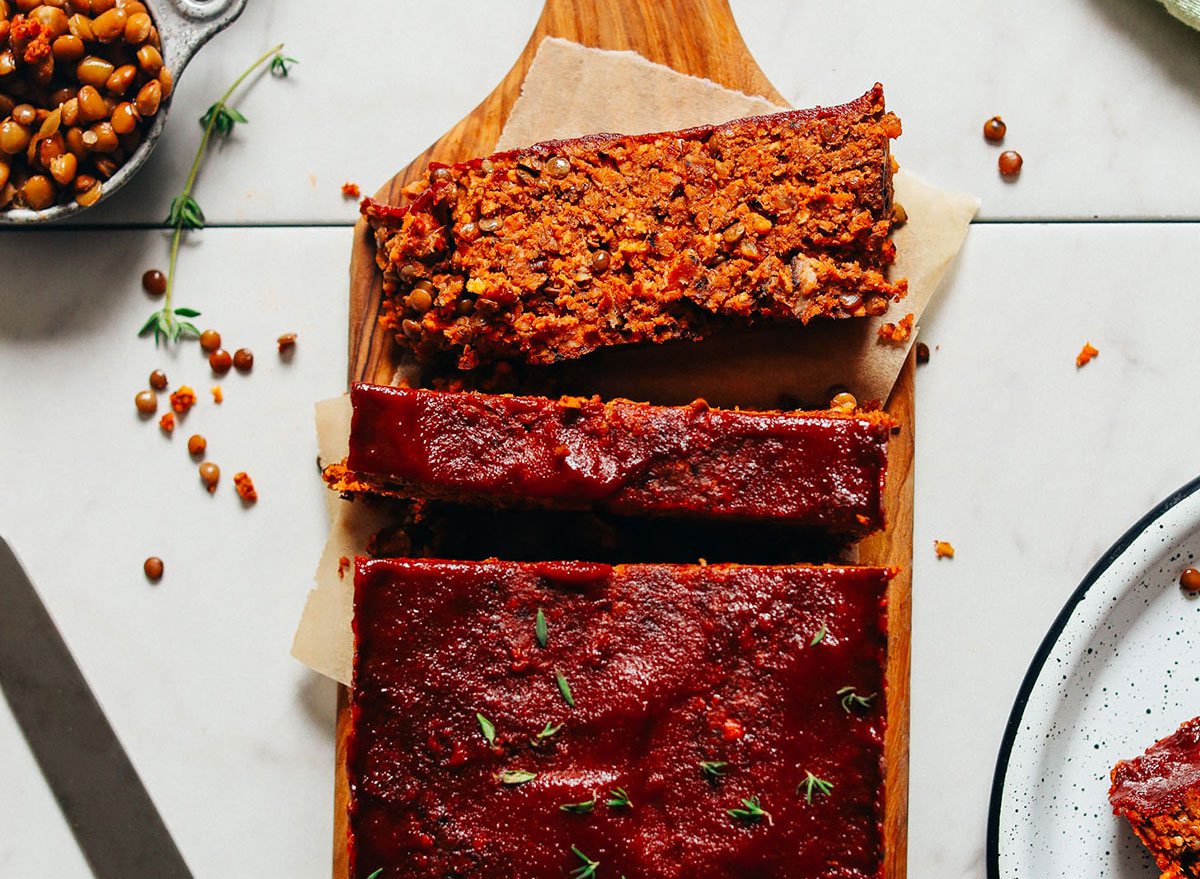 Why should meat-eaters have all the fun? This excellent vegan "meatloaf" concocts the perfect texture of a meatloaf with a fraction of the fat and carbs of a traditional recipe due to its base consisting of nuts and lentils. With a hearty serving of protein and healthy fat supplied by these same nuts and legumes, your diet can stay on the straight and narrow without sacrificing flavor. The recipe only includes a half teaspoon of salt, meaning you won't overload your sodium levels for the day either.6254a4d1642c605c54bf1cab17d50f1e
Get the recipe from Minimalist Baker.
Cheddar-Stuffed Sweet Potato BBQ Turkey Meatloaf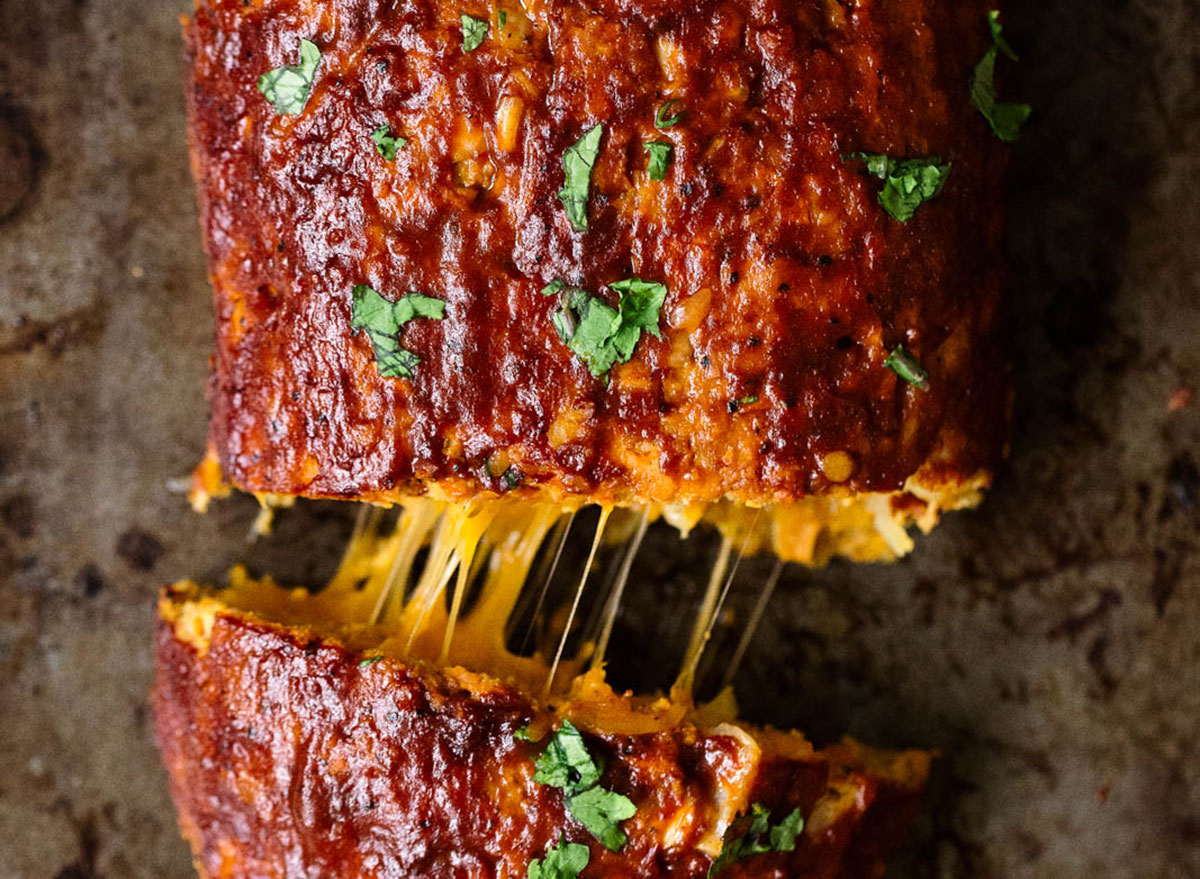 When you need to put a spin on classic meatloaf, why stop at a traditional recipe? This alternative to a standard meatloaf not only replaces beef with turkey but loads up extra flavor by using sweet potato as a binding agent and by glazing the meatloaf with BBQ sauce. With so much flavor packed in, this meal redefines the meaning of meatloaf and will leave you a believer. The extra cheese packed in also bulks up the recipe with some extra protein, without weighing down the meal with too much fat.
Get the recipe from Ambitious Kitchen.
Healthy Mini Meatloaf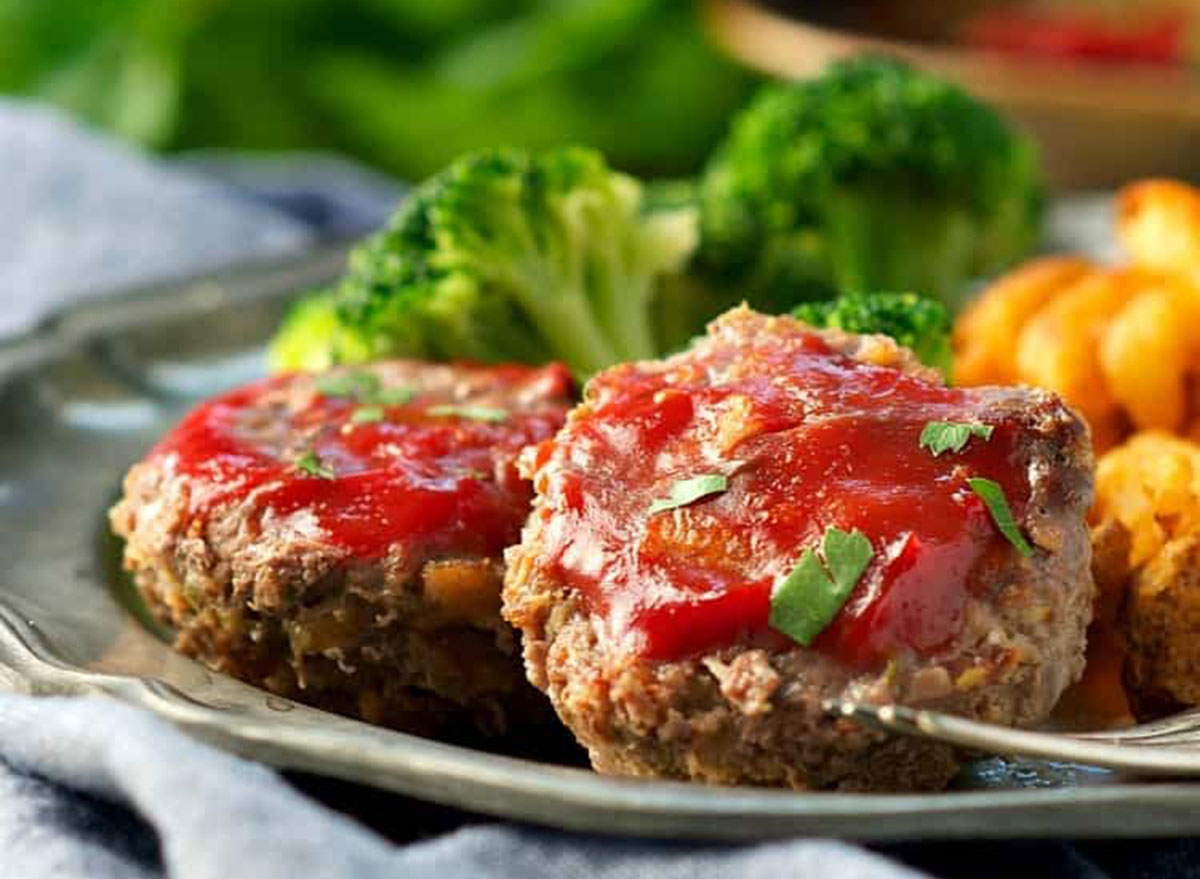 Many meatloaf recipes claim that they help keep your portion under control, but these mini loaves definitely deliver on this promise. If you have to cook for one or just want to limit portions, this meatloaf guarantees to keep your diet under control while delivering that classic meatloaf flavor. Each portion of meatloaf is cooked in a muffin tin to ensure the perfect cook time and portion size and even includes lean ground beef. In order to lower calories, grated zucchini helps hold each bite together, ensuring you get enough fiber to fill you up while not making you feel bogged down afterward.
Get the recipe from The Seasoned Mom.
Mozzarella-Stuffed Crockpot Meatloaf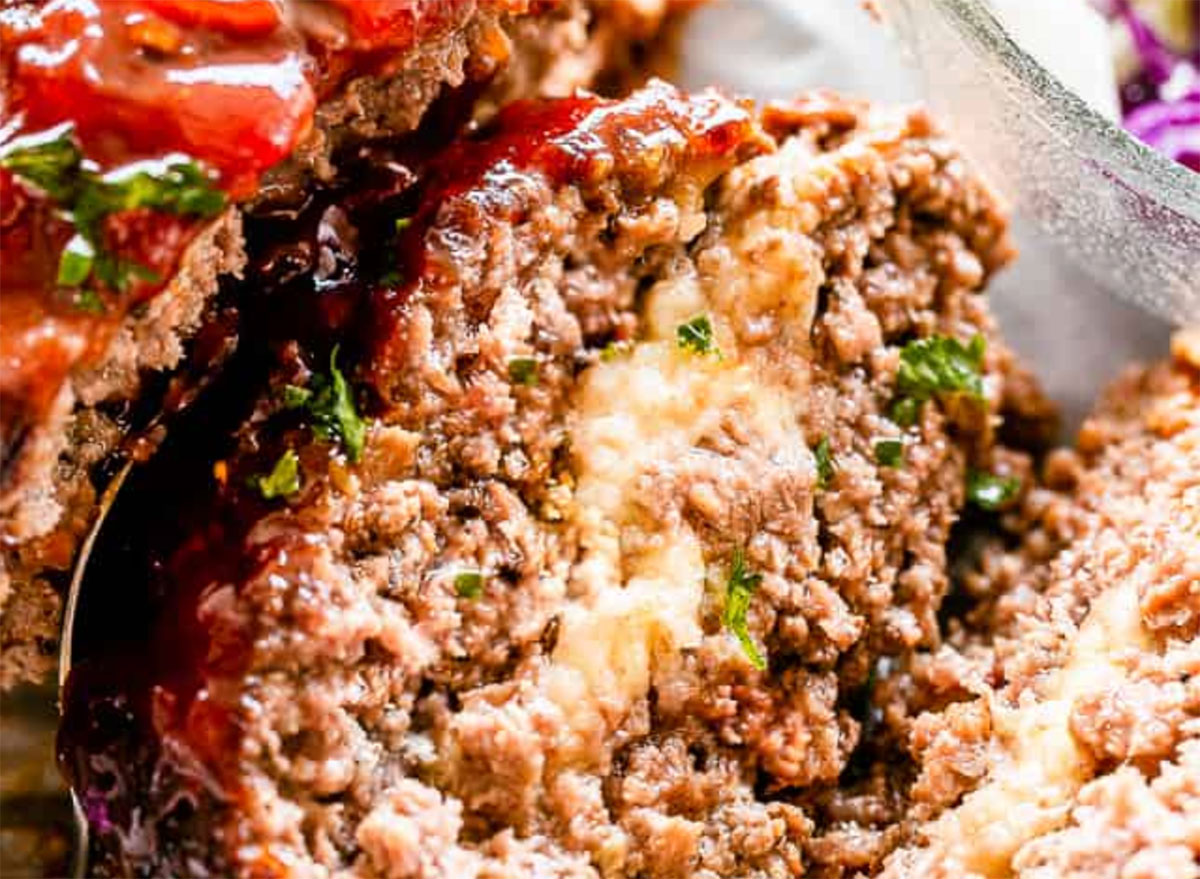 When you need to marry the convenience of cooking in a crockpot with a meal that cuts some pounds off, this Italian-inspired favorite might end up as your new favorite meatloaf. Loaded with the succulence you have come to love from meatloaf and supercharged with thyme, garlic, tomatoes, and more Italian flavors, you won't believe that this meal helps keep your diet on track while letting you come back for more. You can lower carb count even further by replacing the milk in the recipe with heavy cream and by using almond flour in place of bread crumbs. If you want to stick to a keto diet, this one's for you.
Get the recipe from Diethood.
Mushroom Meatloaf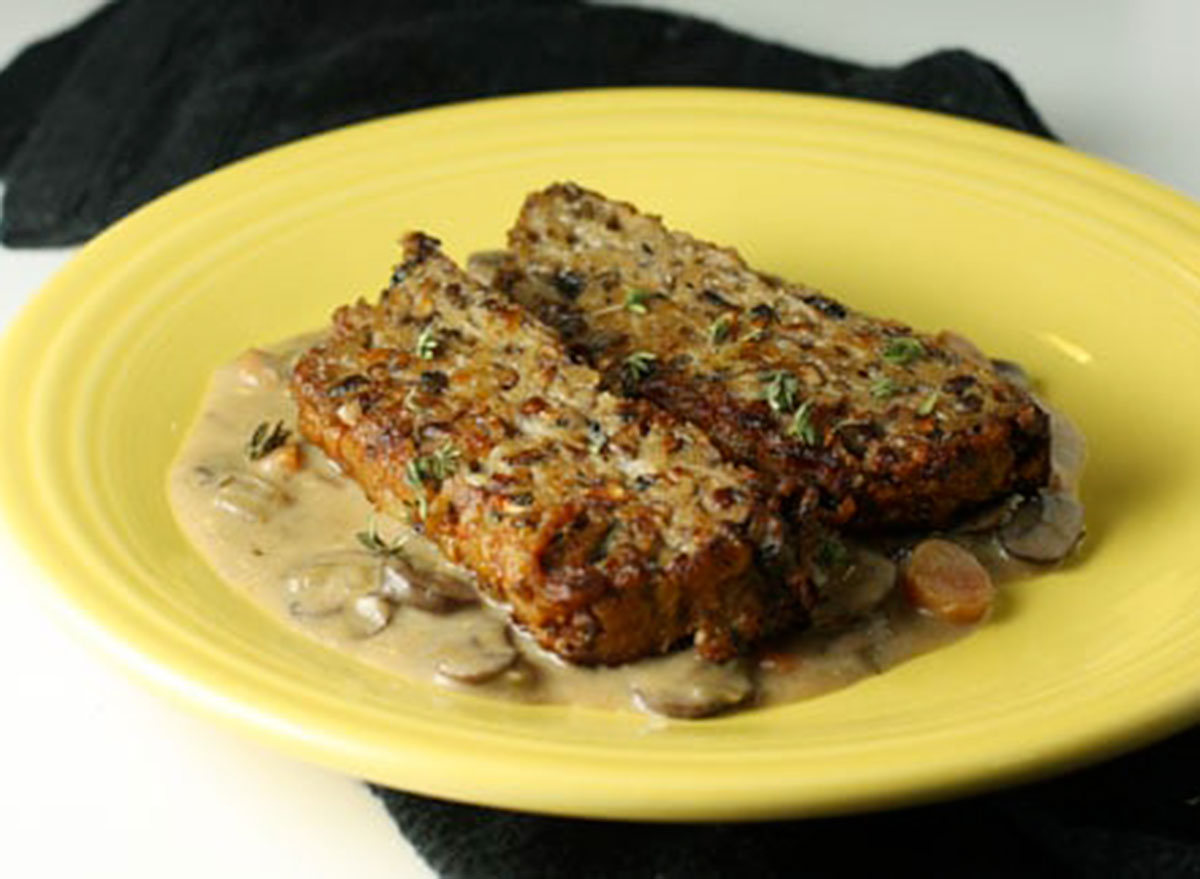 Even if you don't like mushrooms, you are sure to devour this fungi-centric meatloaf. The recipe gets kicked up to the next level with a dash of garam masala and soy sauce in lieu of salt. The heavy fats are kept to a minimum, which supports any traditional diet and helps anyone looking for a heart-healthy meatloaf option. Whether you want to go vegetarian or just want a fun new recipe to try out that guarantees to keep your weight down, this dish is for you. For the best in meatloaf recipes, you have to try this one!
Get the recipe from Macheesmo.
Jarlsberg Mushroom Turkey Meatloaf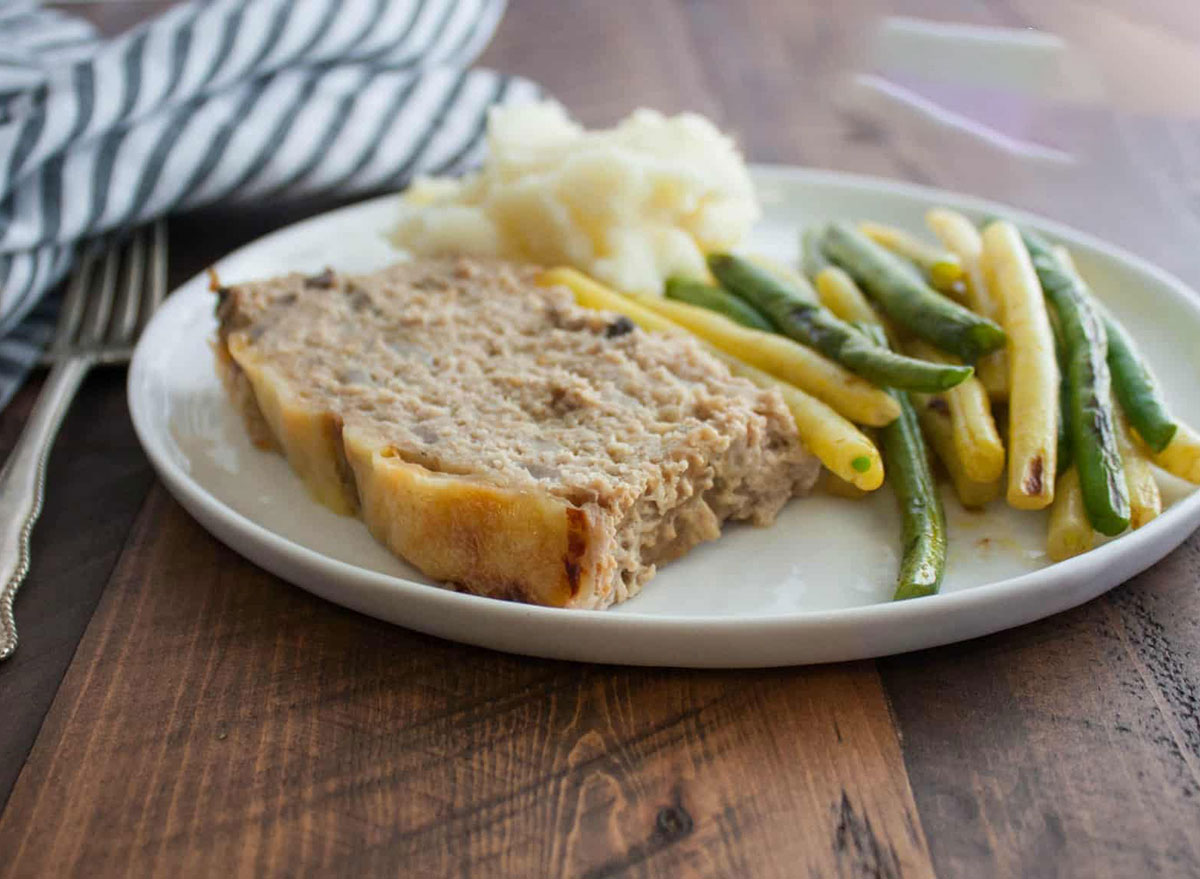 Of all the meatloaf recipes, none incorporate the bold flavor of cheese like the Jarlsberg Mushroom Turkey meatloaf. When the craving for a rich meal strikes, have no fear. This dish offers up the best of every world by constructing a mouthwatering meatloaf out of heart-healthy turkey and mushrooms, held together with just enough rich Jarlsberg cheese to please any palate. Whether you want to treat picky eaters to a healthy meal that they will love or just want to spice up your weekly menu with some variety, this version of the dinner meatloaf won't disappoint.
Get the recipe from Sweet Phi.
Vegetarian Meatloaf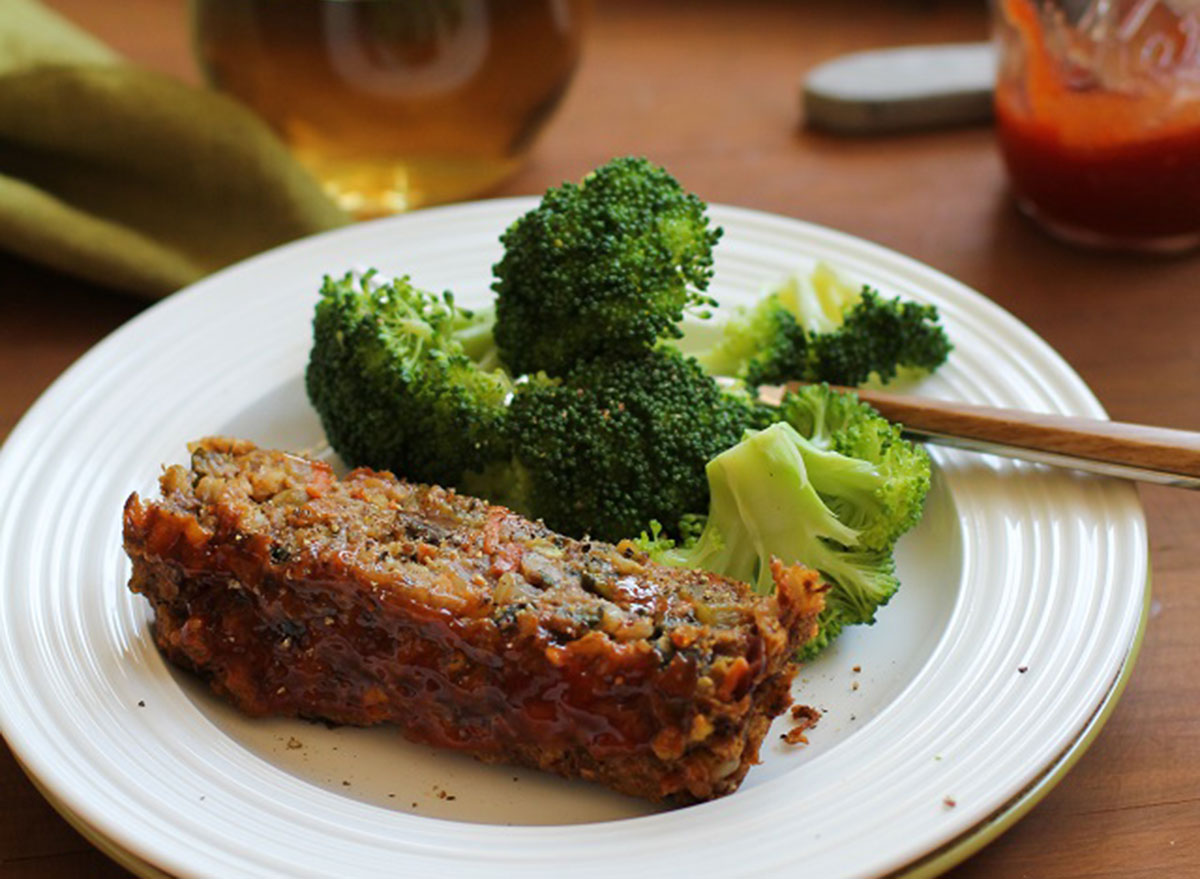 When you need to lose some weight, cutting meat altogether out of your diet can do wonders. This meatloaf not only ensures you can help lower your cholesterol and triglyceride levels but still packs in loads of fiber and iron due to oatmeal and fibrous vegetables that hold together the base of the dish. You won't even miss the meat, as a healthy serving of mozzarella binds the whole loaf together and lets you indulge.
Get the recipe from Oh My Veggies.
Mini Turkey Meatloaves with Garlic Cauliflower Mash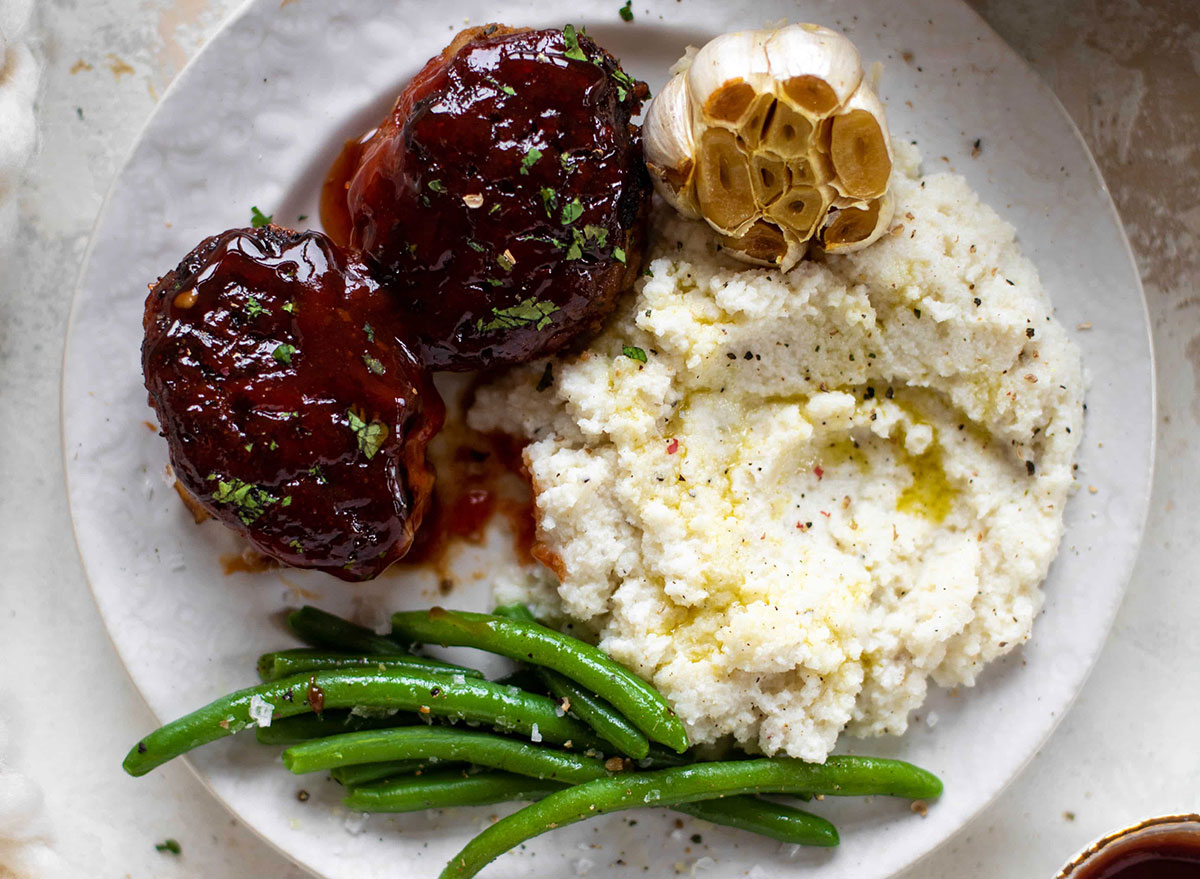 For a refined take on meatloaf that you could serve up at home or take to a dinner party, the pairing of low carb turkey mini meatloaves and garlic cauliflower mash is second to none. The portion sizes of each mini meatloaf ensures you can eat your fill without overdoing it, while the cauliflower mash brings you back to home-cooked Sunday meals of childhood without all the extra carbs and fat in mashed potatoes. Be kind to your diet while not taking any shortcuts in flavor with this recipe.
Get the recipe from How Sweet Eats.
Chickpea Veggie Loaf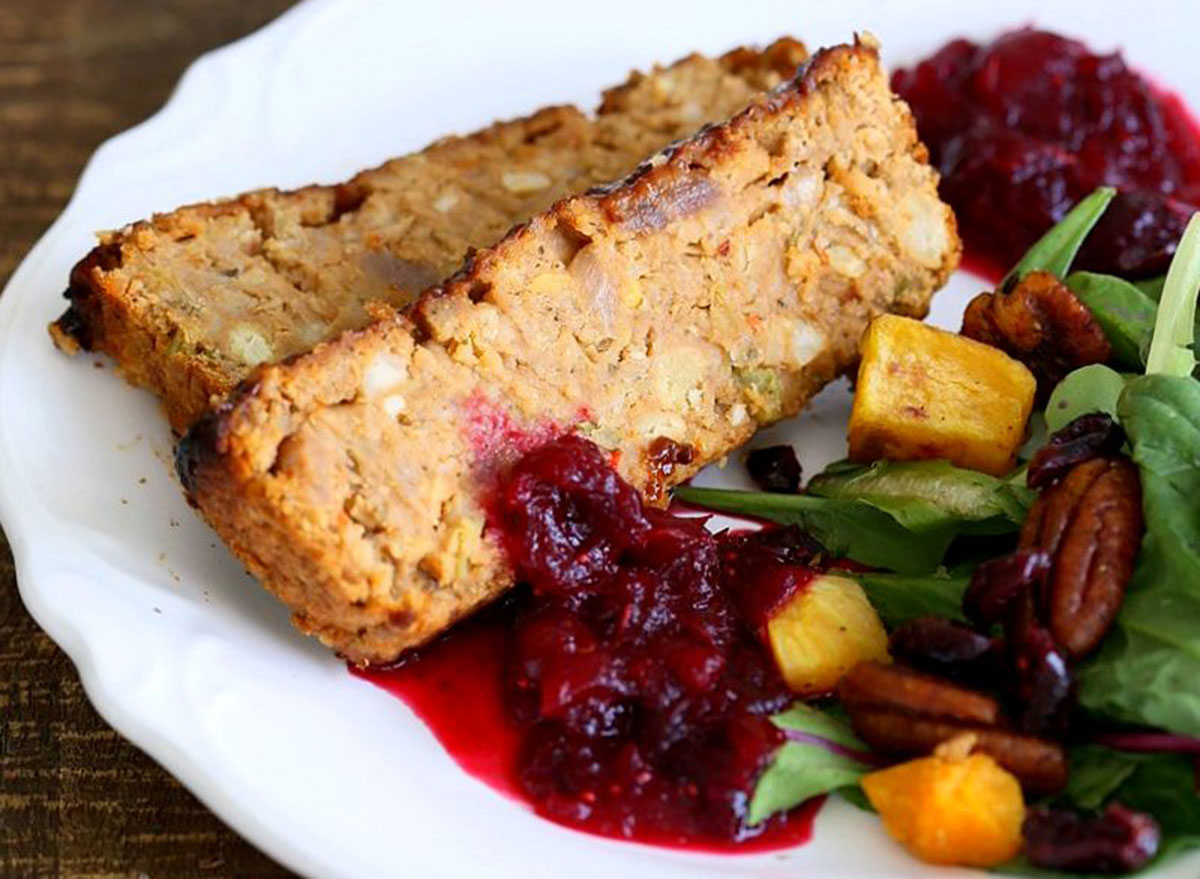 Chickpeas not only offer up a great flavor and act as the perfect binding agent, they're supercharged with iron and protein, making them an excellent choice as a vegetarian meatloaf base. This twist on the classic meatloaf leaves all other meatloaf recipes in the dust—the smoky paprika and maple glaze will keep your mouth happy while guaranteeing you don't overload on carbs. With some added cranberries thrown into the mix, you also get an extra serving of vitamin C.
Get the recipe from Veganricha.
Vegan Meatloaf With Mushrooms and Lentils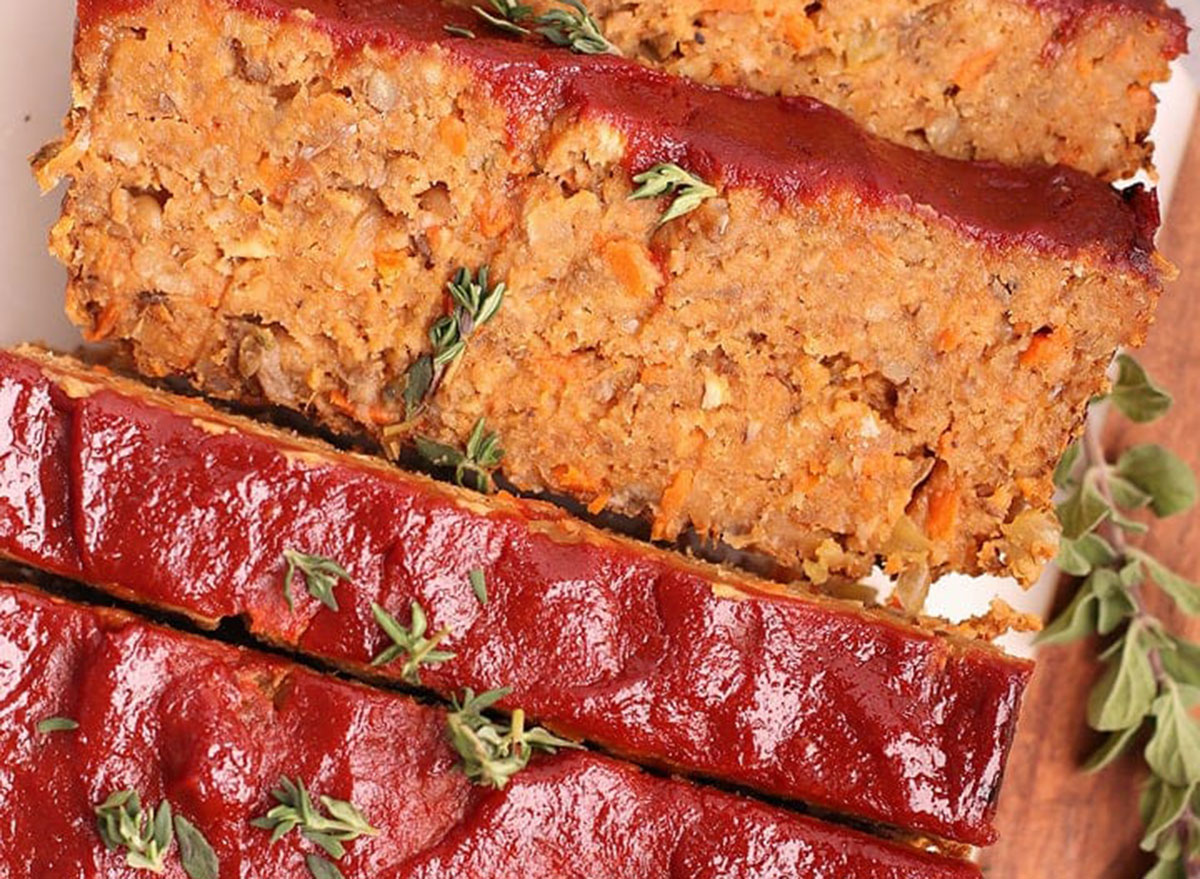 When you need to optimize your ingredients and get the most nutrients per serving, lentils are the way to go. This vegan meatloaf not only keeps your diet on the straight and narrow but also ensures you get a full serving of protein and iron while filling you up on fiber to keep you moving all day. You will forget there's no meat in this, thanks to the flavors that evoke the holidays.
Get the recipe from My Darling Vegan.