6 Mexican Chains Where Chefs Actually Eat
Tacos, tostadas, and fajitas galore!
Tacos, quesadillas, tostadas, and fajitas—Mexican restaurants have the most delicious dishes that seamlessly combine bursting flavors, texture, and comfort. Whether you're a burrito fan or prefer a platter of fajitas, visiting a Mexican restaurant is always a good idea when you want a satisfying meal.
There are countless Mexican restaurants located throughout the country—this number looks to hover around 49,000—but sometimes nothing quite hits the spot like a tasty meal from a Mexican chain. Chains, whether regional or found throughout the country, often consistently churn out some of the tastiest food.
To help find some of the best Mexican chains in the country, we decided to enlist the help of experts. Several chefs have shared their picks for top Mexican chains. Keep reading for six Mexican chains where chefs actually eat.
Los Tacos No. 1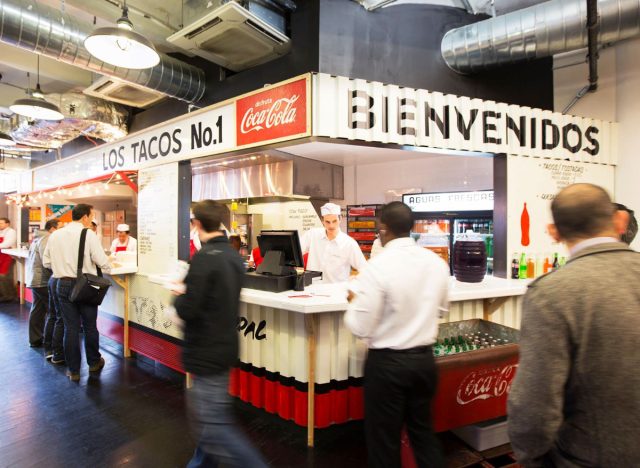 Diana Manalang, chef and owner of Little Chef Little Café in New York City, is a huge fan of Los Tacos No. 1, a New York-based Mexican chain that started in 2013 with an inaugural location in Manhattan's Chelsea Market. "Hands down, my favorite is Los Tacos No. 1," she says. "It has the best tacos and tostadas that are fresh, flavorful, and consistent—that's all it needs to be to be good."
The restaurant, which has several locations throughout New York City, was started by three friends from Mexico and California. It's now known as one of the best places in New York City to enjoy a plate of tacos. It also has other standouts on the menu, including marinated pork quesadillas and Mexican sodas.
Chipotle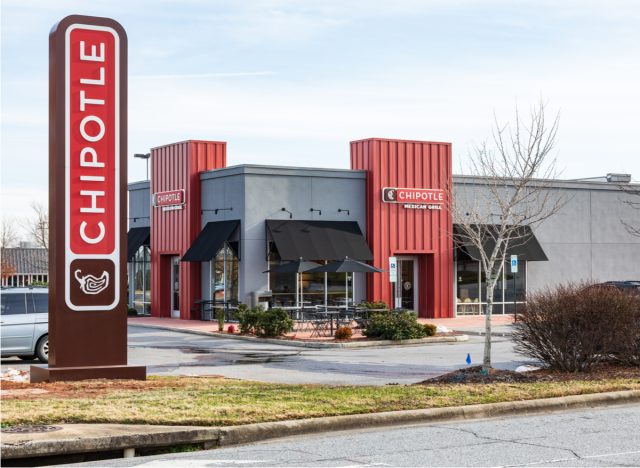 When it comes to choosing a favorite Mexican restaurant chain, Leah Di Bernardo, founder and executive chef at EAT Marketplace in Temecula, Calif., would have to go with Chipotle.
"As a chef, I choose to eat at Chipotle because they prioritize sustainability and ethical sourcing of ingredients," Di Bernardo says. "Their commitment to using organic and locally grown foods not only supports small farmers but also reduces the carbon footprint of their operations,"
She also loves that the food is fresh, with nothing pre-made, bagged, or defrosted, "which yields some delicious quick food."
Even better? There are currently over 3,000 Chipotle locations found throughout the world, which means that if you're in the mood for one of its burritos or burrito bowls, chances are you're right near one.
Agave Azul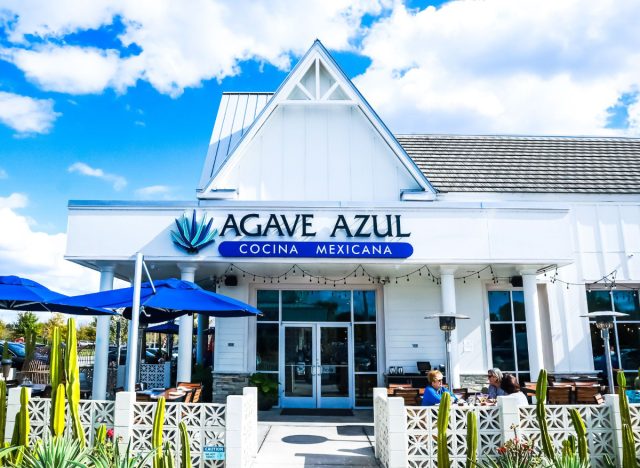 If chef Justin Plank of Terralina in Disney Springs, Orlando, had to pick his favorite Mexican restaurant chain, he'd go with Florida-based spot Agave Azul. "I would have to say for my teens and me, our favorite Mexican chain restaurant locally is Agave Azul. They are fast, consistent, friendly, and reasonably priced."
Agave Azul, which has several locations in areas like Winter Park and Orlando, has a packed menu full of delicious dishes that hit the spot. Some eye-catching ones include the empanadas, made with brisket, queso Oaxaca, and cilantro garlic, and the carne asada, prepared with char-grilled ribeye. Park thinks the tuna stack is "awesome," as well as the birria tacos. "Also, the drink menu stands out with delicious margaritas and cold draft beer."
Moe's Southwest Grill
If you're in the mood for tasty Mexican food in a welcoming atmosphere, be sure to stop by Moe's. The popular Mexican chain currently has over 600 locations throughout the United States alone. In fact, Florida and Georgia each have nearly 100 locations.6254a4d1642c605c54bf1cab17d50f1e
For those who aren't familiar with Moe's but would like to give the chain a try, a good place to start is by taking a look at its "Greatest Hits" section of the menu, which includes beloved options like the Moe Meat Moe Cheese Burrito, the Edgy Veggie Burrito, and its Chicken Club Quesadilla.
Superior Grill
Robbie Shoults, celebrity chef and owner of Bear Creek Smokehouse in Marshall, Texas, also picked a regional chain as his favorite Mexican chain. "I love Superior Grill," Shoults says of the Louisiana-based restaurant with various locations in spots like Shreveport and New Orleans. "To start out, their chips and hot sauce are the best ever, not to mention they serve, as their name indicates, superior-tasting, over-the-top Mexican food."
Some of the chain's standout menu options include the carne asada served with rice, soup, guacamole, tortillas, and pico de gallo, and Juarez sizzling fajitas, which are made with Mesquite grilled skirt steak and chicken. However, it's not all about the food here. Shoults describes the atmosphere of the chain as "fun and festive."
El Loro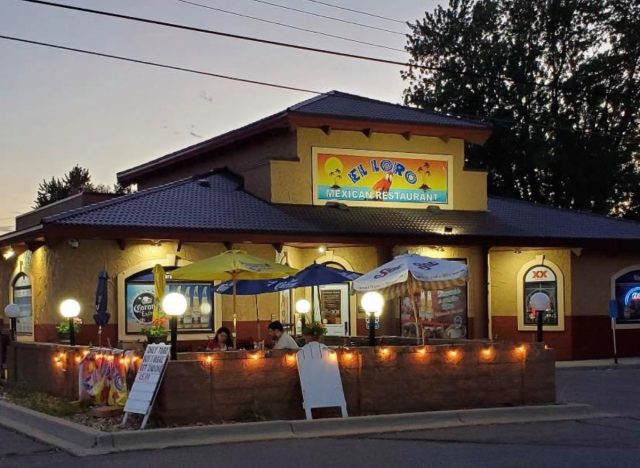 Chef Chris Martin, the founder of Savor the Passion, a platform that connects people with chefs for private events, shares that his favorite spot would have to be El Loro. El Loro is a Minnesota-based Mexican chain restaurant serving delicious fajitas, tacos, tostadas, and more.
"Back in my wild junior high days, our Spanish class took an epic adventure to El Loro, the coolest Mexican food joint in town," shares Martin. "And let me tell you; it was love at first bite!" Martin says he remembers not only the "mouthwatering dishes" but also the "incredible hospitality" that he and his classmates received.
"Fast forward a couple of decades—can you believe it?—and guess what? El Loro still delivers that same mind-blowing experience." Martin says that El Loro has become his and his family's go-to spot when they want to have a delicious meal. "We've become such regulars that the staff knows us by heart, anticipating our favorite drinks before we even place our order."