15 Pieces of Microwave Cookware That Make Meal Prep So Much Easier
These genius microwave accessories will cut your meal prep time in half.
Whether you're cooking in a dorm room, camper, or tiny home—or just don't want to deal with the heat and hassle of stovetop cooking—there's a piece of easy-to-use, easy-to-clean microwave cookware out there for everything from eggs to hot dogs to rice to chocolate cake. And while these 15 genius pieces of microwave cookware prepare part of your food at the touch of a button, you've got plenty of time to get the rest of your meal ready—or just kick back and wait for the timer to beep. What are you waiting for? It's time to get cooking!
ETNT's editors have scoured the internet to bring you the best products out there, and we're hoping you'll love them as much as we do. Full disclosure: We may earn a commission for anything you purchase through links on this page, but that doesn't mean you'll pay more for them (we'd never do that to you!). Pricing and availability are accurate as of the piece's initial publication date, but it's the internet and we can't guarantee that these sweet deals will last forever, so scoop them up before someone else does!
Everybody loves bacon, but the splatter, mess, and time spent tending the pan while the rest of breakfast gets cold isn't exactly a blast. With this BPA-free tray, you can quickly cook up to 14 slices, leaving just enough time to chug your coffee before the family gets restless. And to get them crispier, you can simply add a few seconds to the timer to make sure there isn't a soggy slice in the bunch.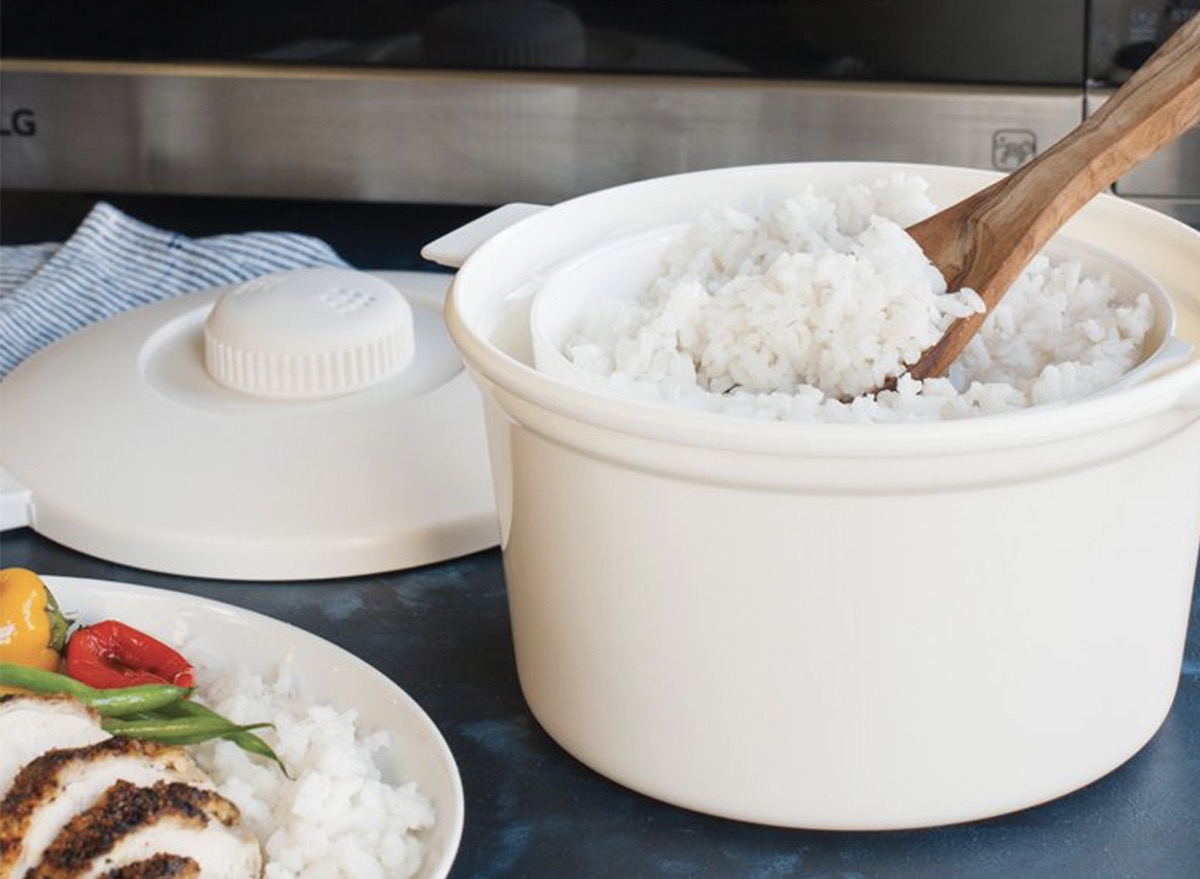 6254a4d1642c605c54bf1cab17d50f1e
Get soft fluffy rice every time without any risk of a burnt pot. Add rice and water, pop it in the microwave, and you'll have all the time you need to prep and cook the rest of dinner. Even better: You can also use it to make pasta and steam vegetables.
Breakfast is literally seconds away with this handmade stoneware one-egg omelet maker. Each one is unique and beautiful, making it both functional and attractive enough to leave out on your counter in between uses.
You'll never have to deal with messy transfers from stove to bowl again with this BPA-free, dishwasher-safe microwave pot, which has a handle and spout to easily pour hot soup or other liquids. It can even steam vegetables! Pick the four- or eight-cup option, and you'll have everything you need to prepare dinner for yourself—or the whole family.
Yes, it's true: you (or any aspiring baker you know) can make an actual cake in the microwave. Take the prep work out of dessert by following the measuring lines, and you'll be enjoying that red velvet in way less time than it takes to watch an episode of the Great British Baking Show.
Make your sad desk lunch (or normal dinner) a little happier with this pasta maker, which cooks up one or two servings of pasta or other grains in just 10 minutes—just enough time to sauté some veggies and heat up a tomato sauce for toppings. It's full service, too: the silicone lid doubles as a strainer.
Get a jump on your New Year's resolution to eat healthier with this mini vegetable steamer. It makes two cups of fresh or frozen vegetables, and the nonstick surface makes cleanup quick and painless.
This Egg on a Bagel Maker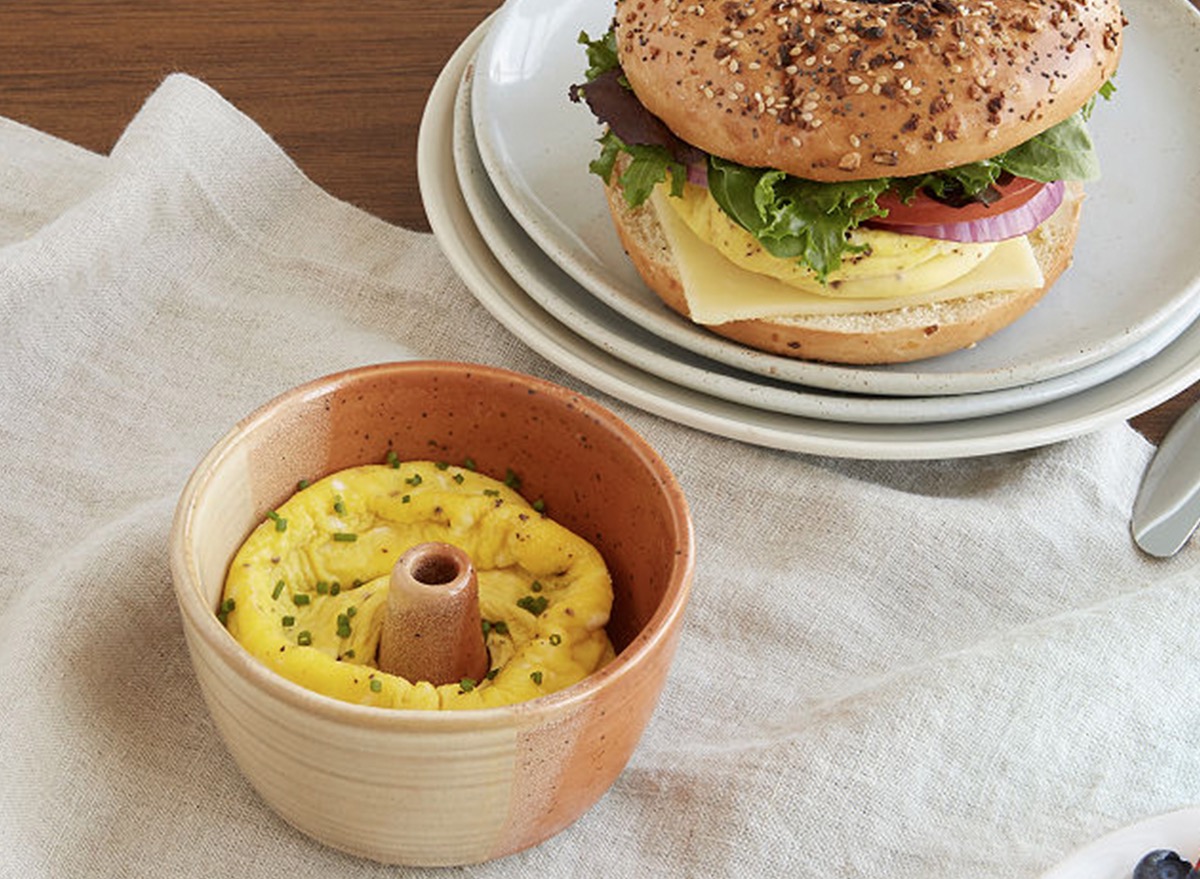 Make a breakfast sandwich that puts your corner deli to shame with this clever egg-on-a-bagel maker. Whisk up some eggs or egg whites into the stoneware bagel-shaped dish, microwave for 60 seconds, and add some avocado or cheddar cheese for a hearty breakfast on the go. The only hard part? Deciding between putting your brilliant creation on plain or poppyseed.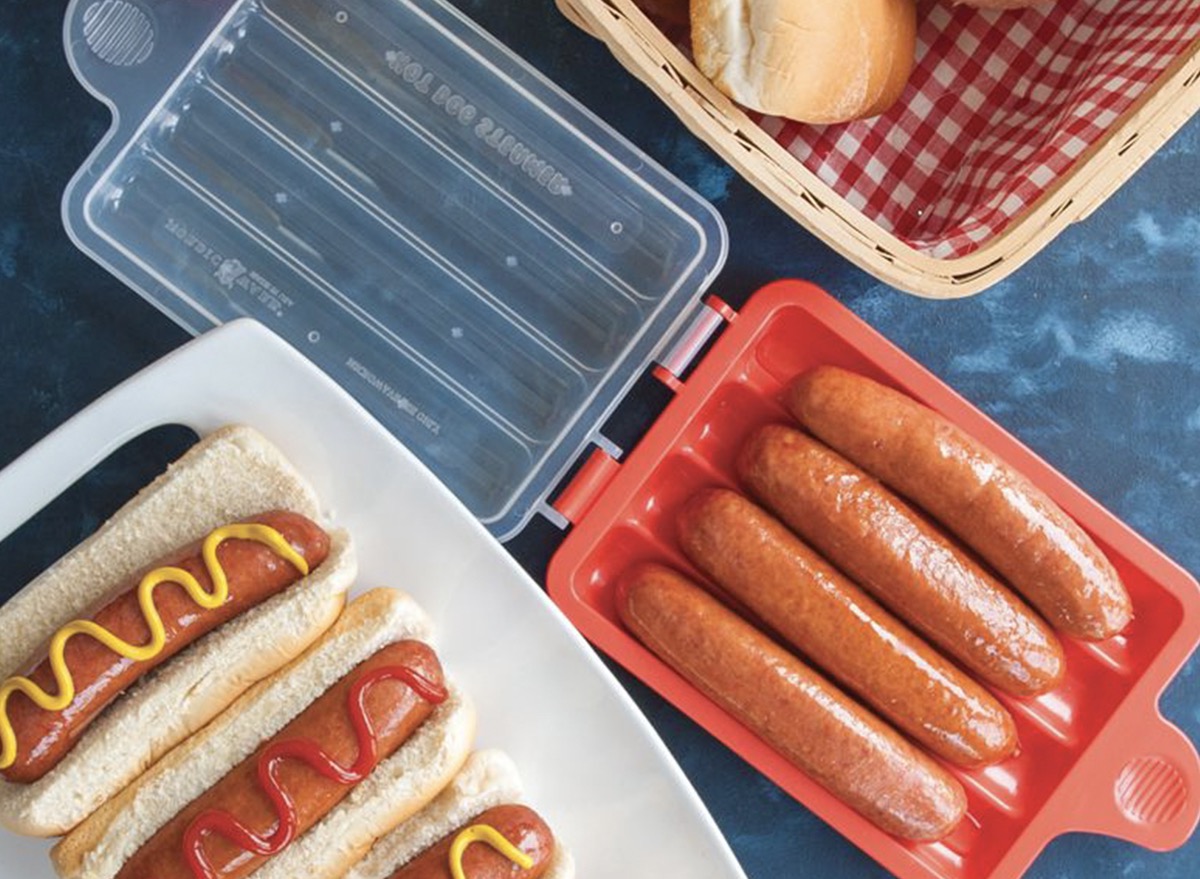 At your next backyard barbecue, say goodbye to messy grilling with this hot dog steamer, which holds four hot dogs, sausages, or bratwursts. They cook in just a minute, so you can spend your time putting together a bangin' toppings bar instead. Think outside the mustard-and-ketchup box and try sauerkraut, jalapeños, or homemade pickles.
We all know we should be eating more fish to keep our hearts happy, but that lingering smell after pan-frying or baking is a real turnoff. With this steamer, simply toss in a filet with your preferred seasoning, and five minutes later, bam—perfectly cooked fish without the muss and fuss.
This Collapsible Food Cover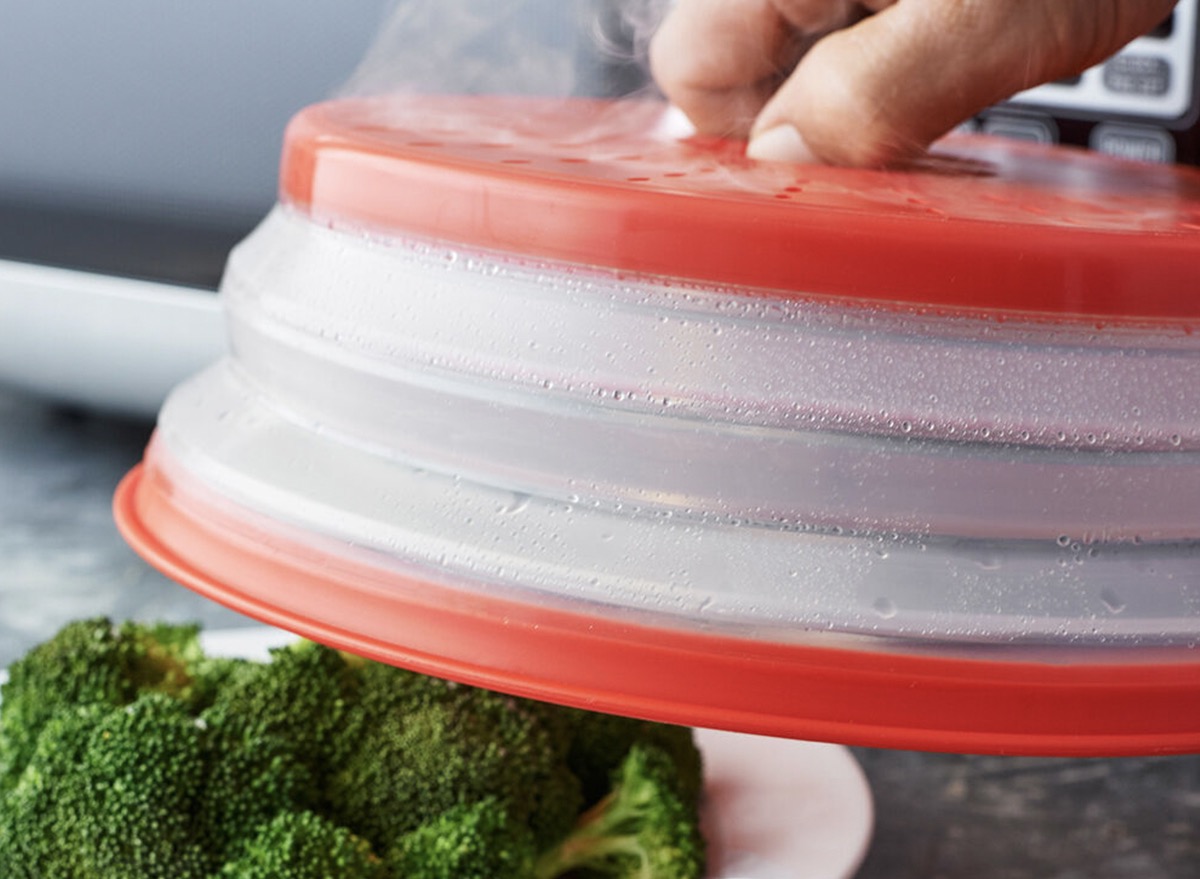 Heat up leftovers of any kind with this expandable cover, which is perforated so steam can escape while food splatter is contained. It's also dishwasher safe and collapses to a one-inch thickness for easy storage. Pro tip: keep it in the microwave so it's always there when you need it.
Level up Sunday brunch with this double poacher—the most impressive and formidable of egg preparations. Crack one or two eggs into the compartments, pierce the yolks with a fork, add a little water, and in a minute or under, you're ready to slide those puppies on to avocado toast or eggs benny.
Those nights when it's too hot to turn on the stove—or you just don't have the energy to prepare a full meal—this three-quart cooker has you covered for all the staples you'll need for family dinner. It can make brown or white rice, quinoa, and pasta, as well as broccoli, potatoes, and other vegetables and sides.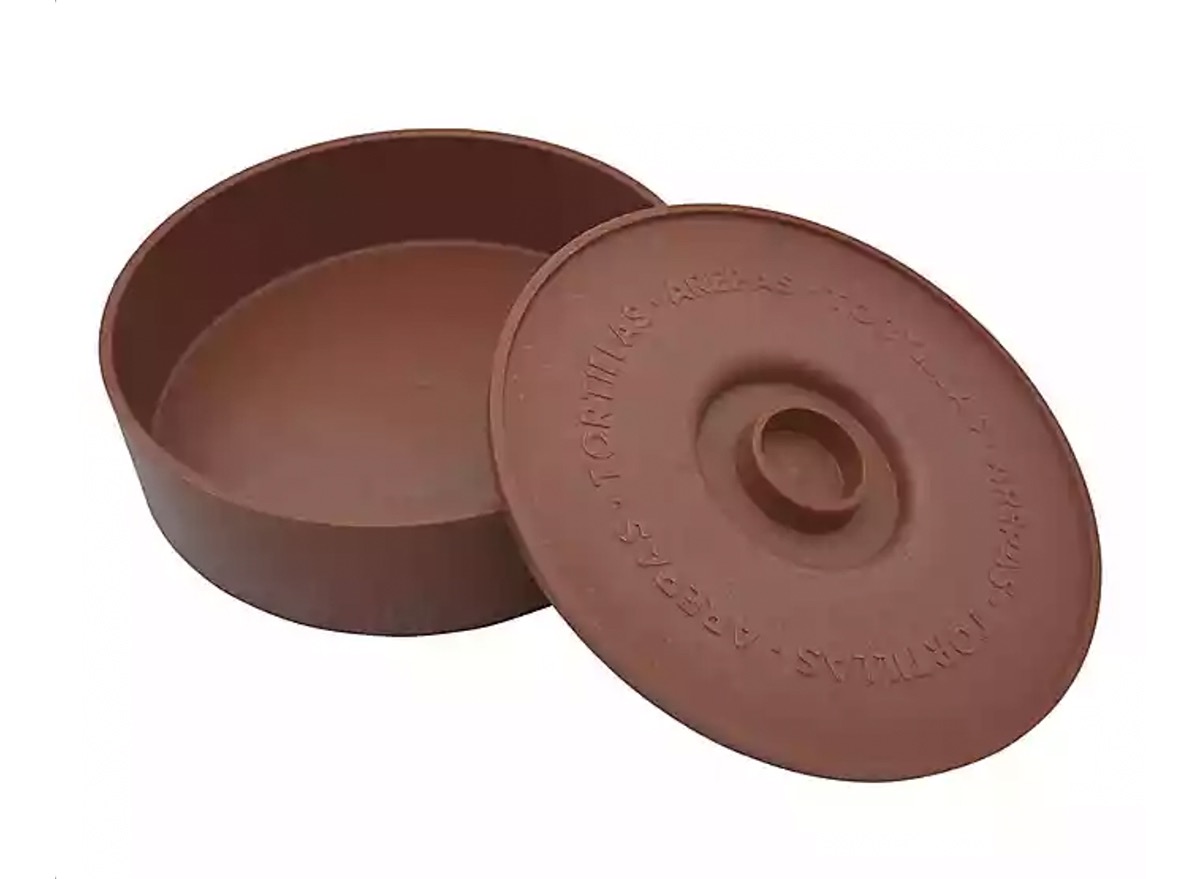 Next Taco Tuesday, heat up and keep your tortillas nice and toasty in this warmer; you can serve and store them in it as well! Serve with margaritas, natch.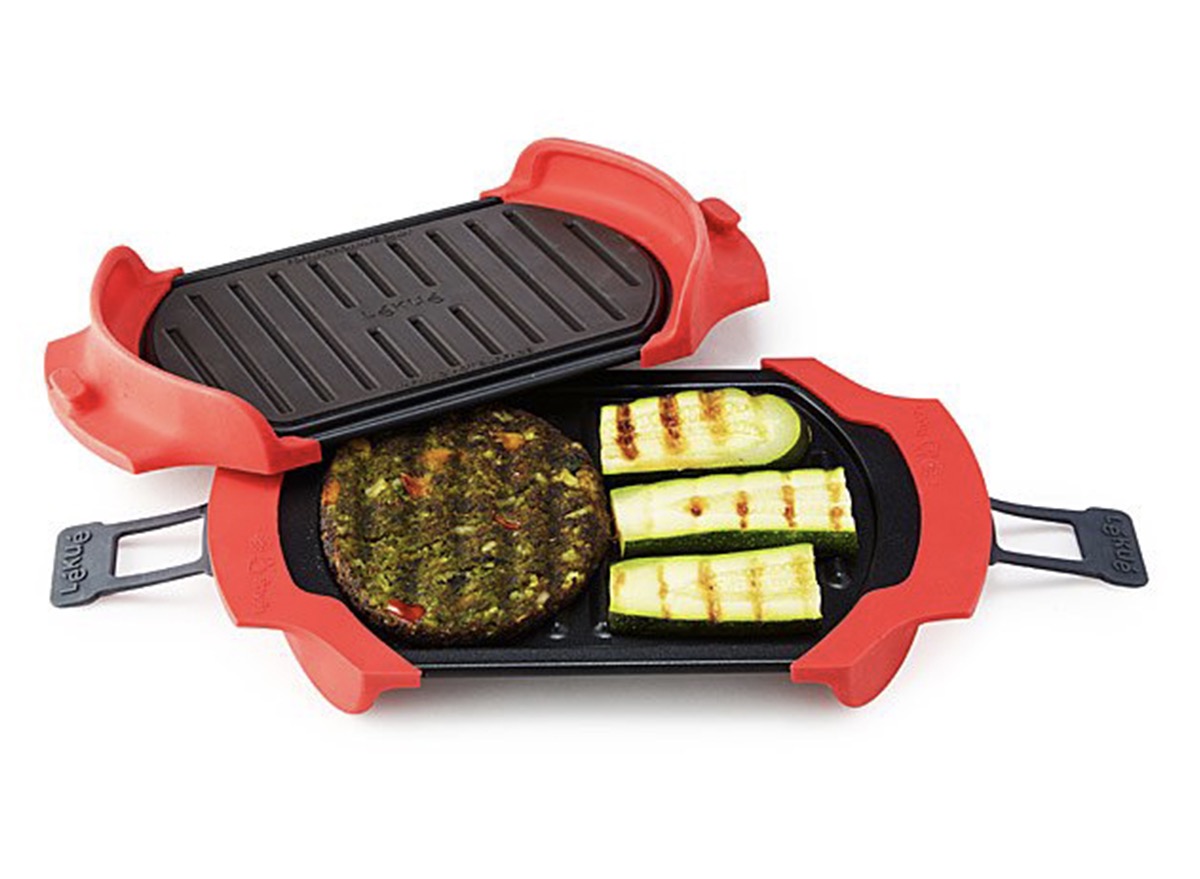 If you thought that all this microwaving meant sacrificing the taste and texture of a juicy burger or delicious veggie medley right off the charcoal, think again. This microwave grill is the best of both worlds, giving you your fresh-off-the-grill favorites without the messy cleanup.