Morning Exercises You Shouldn't Skip After 50, Science Says
Stay healthy, fit, and live your absolute best life with these morning exercises.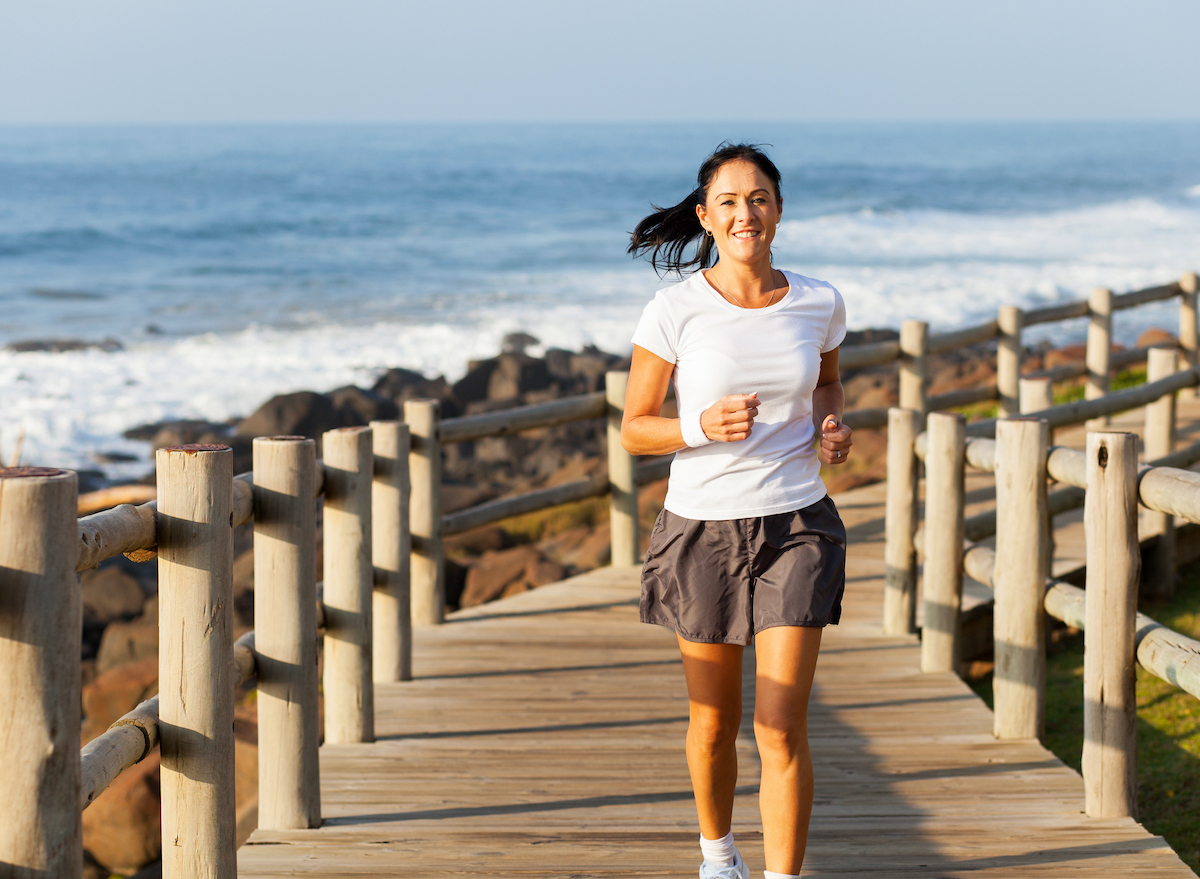 Turning 50 and beyond is truly a fun stage of life when your body's prepared to enjoy it fully. In order to stay healthy, fit, and live your absolute best life, it's important now more than ever before to stay active and incorporate exercise into your routine. To help you out, we've put together some crucial morning exercises you shouldn't skip after 50, according to science.
Working out can help you build muscle as well as torch calories. By staying on top of your fitness game, you'll also limit your risk of developing chronic illnesses, such as diabetes, heart disease, high blood pressure, arthritis, Alzheimer's disease, stroke, and osteoporosis, according to Jumpstart by WebMD. And that's not all! Exercise keeps your bones strong, betters your coordination, helps you maintain good heart health, and lowers the decline of cognitive abilities, Livestrong reports. It can even reduce your chance of developing cancer and improve your sleep.
Scott Kaiser, MD, a family medicine physician and geriatrician at Providence Saint John's Health Center in Santa Monica, California, says (via Livestrong), "There are clear biological pathways to explain the ways exercise may positively impact factors that reduce cancer risk." Dr. Kaiser also explains, "A well-rounded workout, including a mix of exercises to increase endurance, strength, balance, and flexibility, can help in many ways. Beyond the physical benefits of increased strength, cardiovascular fitness, and balance, there are mental and emotional rewards as well."
Research has proven that exercising in the morning proves to be slightly more beneficial for several reasons.
Working out consistently provides a wealth of goodness for your overall wellness, regardless of when it's done. But research has proven that exercising in the morning proves to be slightly more beneficial for several reasons, according to UHealth Collective. If you're clocking in time at the gym, you might as well reap the best rewards for your efforts, right?6254a4d1642c605c54bf1cab17d50f1e
Let's first delve into the reasons why it's a great idea to rise and shine, then get active. According to a study in the International Journal of Obesity, individuals who exercised in the AM lost weight over a 10-month period, which exceeded the number of individuals who worked out later in the day. More research indicates that when women work out in the morning, they improve muscle power in their lower body, as well as lower blood pressure and abdominal fat.
Aside from the scientific physical benefits, it's simply a wise idea to get your exercise in first thing in the AM so that nothing sidetracks your plan. Make it a priority, like brushing your teeth. Once it's done, you can feel accomplished and motivated to start the rest of your day. We're here to share morning exercises you shouldn't skip after 50, based on science.
Related: 5 Exercise Habits to Slow Muscle Aging, Trainer Reveals
A solid cardio workout is a must.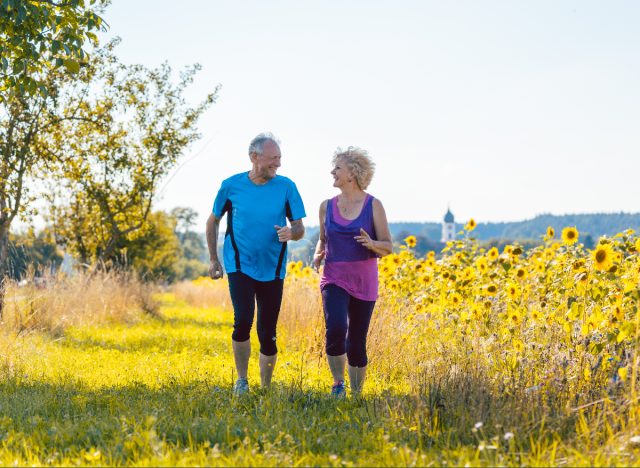 An excellent way to kick off your workout is with an elliptical, exercise bike, or treadmill for some solid cardio. You can adjust the intensity on any of these machines to the speed and level that works best for you. Healthline recommends aiming for the pace of a brisk walk (3 to 3.5 miles per hour). Individuals who are quite active could try to maintain 3.5 to 4.5 miles per hour. Feel free to go at your own pace, but don't be afraid to challenge yourself.
Five minutes on an elliptical is a great way to get your blood pumping (via Harvard Health Publishing). Doing this two to three times each week is a great morning start, then work your way up to 10 minutes and more. It's also a smart idea to switch it up and alternate equipment each day you hit the gym. And if you'd rather be outdoors, a brisk walk works just as well. The recommendation from the Physical Activity Guidelines for Americans is to get a minimum of two and a half hours of moderately intense or at least 75 minutes of vigorously intense aerobic activity every week.
Related: Slim Down and Get Toned With This 15-Minute Walking Workout
Rowing machines provide an effective full-body workout.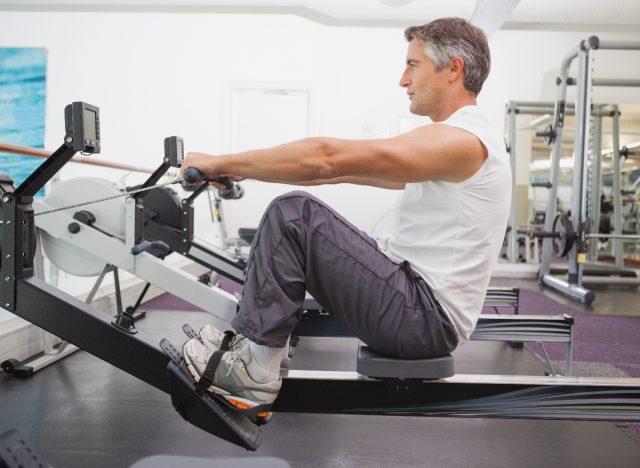 A rowing machine will provide a stellar low-impact, full-body workout. First Degree Fitness dubs it a great exercise for individuals in their 40s and beyond to add to their routine, explaining research shows that older adults can benefit from a boost in stamina and physical strength by exercising on a rowing machine.
According to Nike, studies indicate that when using the correct form, rowing gives over 80% of your body a workout. You'll be getting in great cardio for your heart, strength training for your muscles, and endurance for stamina. In addition, Interdisciplinary Neurosurgery published a study that had surgeons who endure musculoskeletal pain from awkward postures while performing surgery use a rowing machine, because it works wonders on posture as well as aiding fatigued muscles.
Strength training is major in helping you build and maintain muscle mass.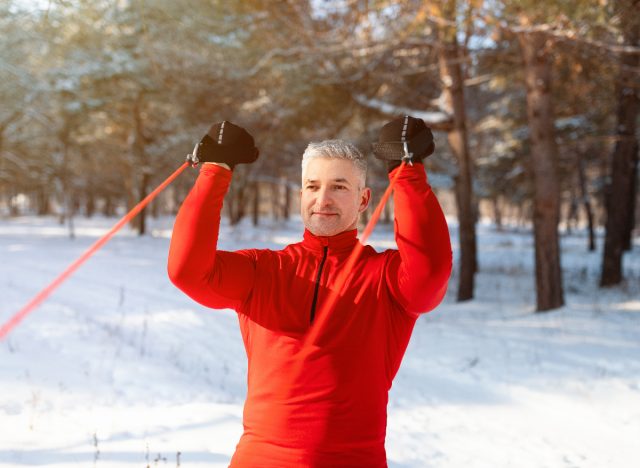 The last of the morning exercises you shouldn't skip after 50? Strength training. According to Better Health Channel, incorporating strength training into your routine will help manage your weight and any pain you're dealing with, protect your joints, lessen or possibly prevent reduced cognitive abilities, and help you avoid many chronic health issues, including obesity, depression, arthritis, back pain, heart disease, and diabetes. Getting in some strength training first thing will also improve your sleep, self-esteem, bone density, posture, balance, mobility, stamina, and ability to perform everyday jobs.
After turning 30, you lose lean muscle mass. Therefore, as you age, it's important to perform strength training in order to build and preserve it. Along with your aerobic training, the Physical Activity Guidelines for Americans recommends adults perform moderately intense (or greater) muscle-strengthening exercises a minimum of two days every week. For your strength exercises, you can lift free weights, work with resistance bands and suspension equipment, use weight machines, and put your body weight to good use (for squats, lunges, pushups, planks, and the like). It's pretty clear why strength training is one workout not to skip!
Alexa Mellardo
Alexa is the Mind + Body Deputy Editor of Eat This, Not That!, overseeing the M+B channel and delivering compelling fitness, wellness, and self-care topics to readers.
Read more about Alexa