5 Most Expensive Grocery Items On Shelves This Fall
Many factors are contributing to higher grocery bills and several popular foods are soaring in price.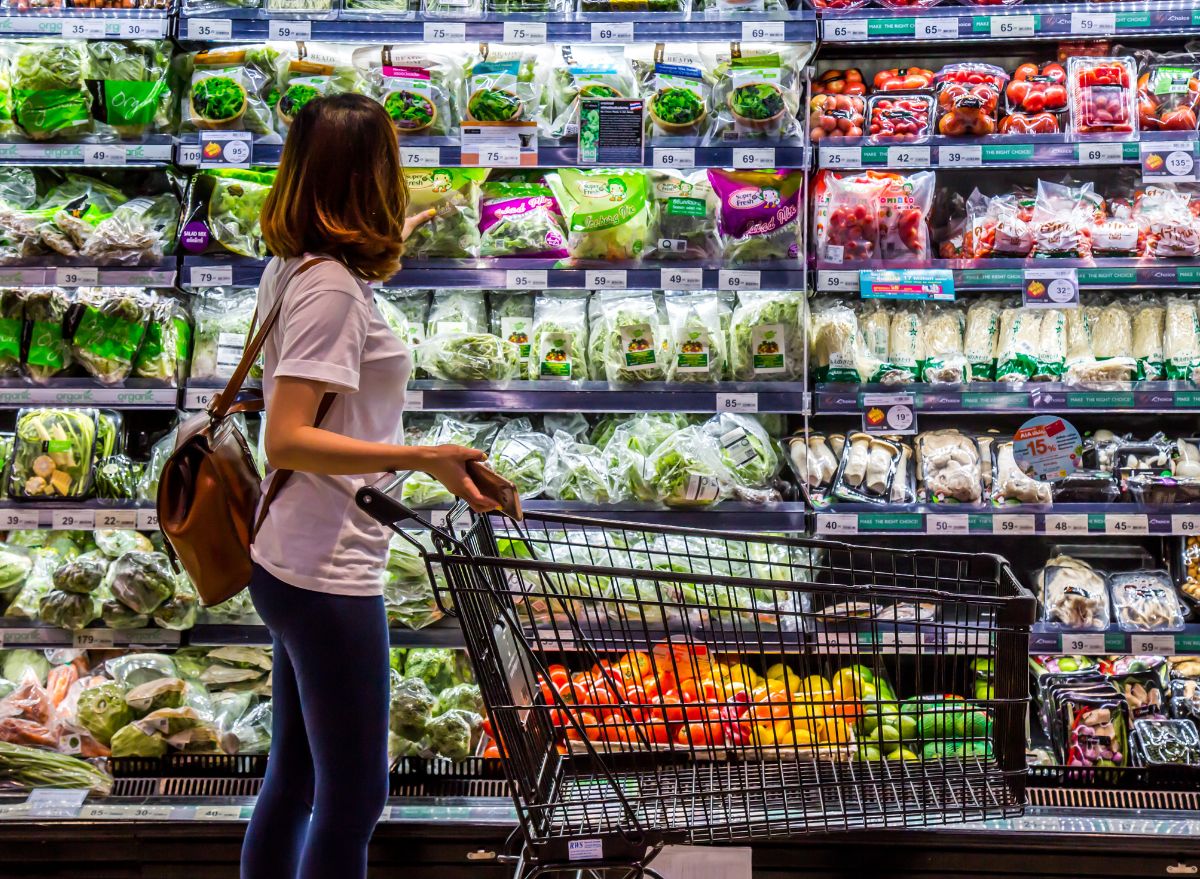 At a time when virtually everything feels exorbitantly expensive in America, grocery prices have emerged as a top budgetary concern for countless households. Keeping pantries stocked and food on the table is a far more expensive task today than it was just a few years ago. According to the U.S. Department of Agriculture (USDA), grocery prices jumped an absolutely astounding 11.4% last year, after rising just 3.5% in both 2020 and 2021.
Even as overall U.S. inflation continues to cool off, this year has offered little in the way of grocery price relief, specifically. The consumer price index (CPI) reports food prices increased by 6.7% between May 2022 and May 2023, and NBC News estimates American consumers are now paying close to 40% more for an assortment of common groceries (coffee, milk chicken, eggs) in comparison to pre-pandemic price points seen in early 2020.
"In 2022, US consumers saw the largest annual increase in food prices since the 1980s," Chloe Riley, executive editor of Supermarket News, recently told Bon Appétit. Different consumers have reacted to grocery price hikes in different ways, but the simple fact remains that everybody has to eat. Many households have cut back on other expenses like dining out at restaurants, while others now seek out discounts and sales whenever it's time to put together a new shopping list.
"Everything I tend to buy has become more expensive," Lashanor Doolittle, an administrator at a non-profit in Washington, told the New York Times. Meanwhile, more and more Americans are now relying on buy now, pay later (BNPL) services, a form of short-term financing usually associated with bigger purchases like Pelotons or computers. The use of BNPL services to purchase groceries surged by around 40% earlier this year.
If you're wondering what exactly is driving this steep incline in food prices, it may be easier to consider what isn't. Between ballooning production costs, labor shortages, global supply chain issues, droughts, disease outbreaks, wildfires, and Russia's military invasion of Ukraine, it's safe to say there are a whole lot of factors contributing to heftier grocery bills.
It hasn't been all bad news in 2023. The soaring price of eggs last year, caused by the worst ever outbreak of avian influenza, came to symbolize and encapsulate the record grocery inflation recorded in 2022. Over 40 million egg-laying hens had to be culled between February 2022 and January 2023—resulting in a 200%  price jump! Recent months, however, have seen egg prices all over the country deflate back to reasonable prices.
Many other grocery items, though, are trending in a pricier direction. Let's take a look at five of the most expensive grocery items ahead of fall.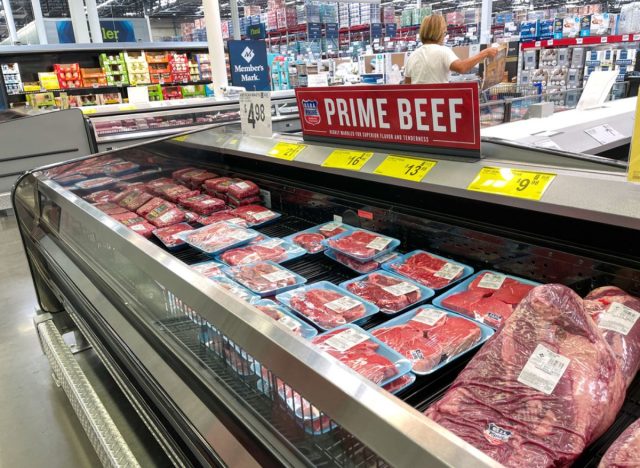 Many will attest that there's nothing quite like a perfectly seasoned steak after a long day, but by now we all know red meat isn't exactly the healthiest dietary choice. Perhaps the skyrocketing price of beef will lead to healthier diets all around.6254a4d1642c605c54bf1cab17d50f1e
Those determined to get their fill of red meat, on the other hand, will find exceedingly high prices at their local grocers. The Wall Street Journal reported earlier this summer that ranchers all over the country are continuing to shrink their cattle herds due to droughts and everising costs. Today, the amount of cattle in the United States is at its lowest point in close to a decade. That means there's less beef to go around, which will almost certainly trickle down to consumers in the form of higher prices.
Ground beef specifically is over 20% more expensive than it once was in 2020, and prices are expected to rise as the summer continues and we enter the fall. In fact, most analysts predict we won't see beef prices cool off for a matter of years. Data from the USDA indicates beef production in the United States will likely fall by more than two billion pounds next year. That would represent the largest annual decline since 1979.
"When you're talking about the ultimate price of beef to a consumer, the whole chain is under these inflationary pressures," Tom Windish, the head of Cargill's beef division, explained to the WSJ. "Every step along the way is more expensive."
Florida has long been synonymous with bright, juicy, and delicious oranges. As such, the sunshine state has always been relied upon heavily to supply the nation with plenty of oranges, orange juice, and vitamin C. Unfortunately, oranges and their byproducts are set to continue increasing in price in the months ahead. Why? Florida just had its worst orange harvest in close to a century.
While citrus harvests in Florida had already been trending lower over the past two decades, relentless hurricane winds and a disease outbreak combined to absolutely decimate this year's harvest. Even worse, besides just pushing prices even higher (the cost of a gallon of O.J. has risen by 17.5% since early 2022, hitting as much as $10 in certain areas of the country already), orange juice this fall may not taste as good either. Greening disease is an affliction that causes trees to produce bitter fruits. The disease has infiltrated nearly all of Florida's orange groves.
There's little hope for an orange price reversal anytime soon. U.S. manufacturers usually outsource extra oranges from Brazil, but the South American country is dealing with its own citrus shortage brought on by heavy rains.
"Prices are going to stay high, and demand is going to go down because consumers can't afford it and may not like the taste," Judy Ganes, head of commodities research firm J. Ganes Consulting, told the Washington Post.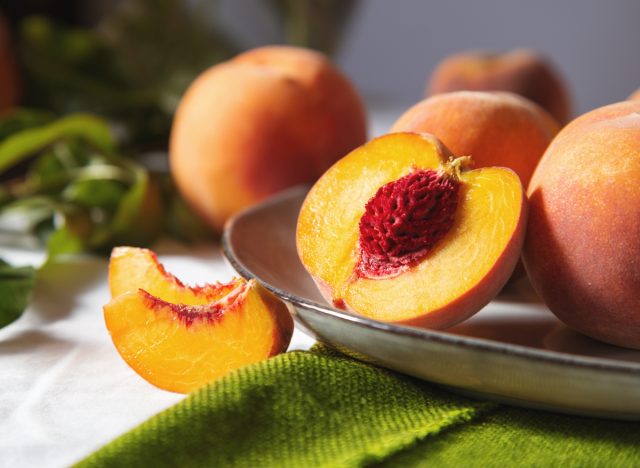 If Florida is all about oranges, Georgia is undoubtedly the peach state. One of the United States' top peach producers, however, is wrestling with an astoundingly low harvest this year brought on by a series of wacky weather developments. In order to produce flowers and fruit, peach trees need to spend hundreds of hours in a cold environment (less than 45 degrees Fahrenheit). Normally, that's no problem, but last winter was especially warm in Georgia.
Then, making matters even worse, this past March saw two unusually late frosts hit Georgia, destroying many of the peaches that had managed to bloom during the unusually warm January. "We probably have about a 40-percent crop," Jake Carter, owner of Southern Belle Farm, recently told FOX 5 Atlanta.
Lee Dickey, the owner of Dickey Farms in Musella, Ga., told The Takeout that he expects peaches to cost anywhere from 20% to 50% more this year. Even other top peach-producing states like California are seeing pitiful harvests this year due to extreme weather patterns. Many shoppers have likely already noticed peach shortages and higher prices at their local supermarket. Don't expect that trend to change anytime soon.
A key component of any chef's repertoire, olive oil is an absolute must in every kitchen. And yet, even this culinary essential is rapidly becoming too expensive for many customers to afford. Global olive oil prices hit their highest level in 26 years earlier this year, driven by unprecedented droughts, heatwaves, and water shortages in Spain this season that have decimated crops in the European country.
Spain is the world's largest olive oil producer, and it isn't a particularly close race; roughly half of the world's olive oil supplies originate in the Mediterranean nation. Troublingly, Spain's Ministry of Agriculture, Fisheries and Food estimates the country will produce roughly 680,000 tons of olive oil for the 2022-2023 season—a far cry from the near 1.5 million tons reported the previous season.
Pilar Peláez, owner of the olive farm and mill La Grama in northern Spain, told the Washington Post she can't recall a season with such little rain. "If the situation continues to worsen, the crops that can be grown in areas such as ours will be further reduced."
In Europe, extra virgin olive oil is now selling for 7.625 Euros per kilogram—that's close to a 125% price increase compared to last summer! American shoppers, meanwhile, shouldn't expect any price relief on the other side of the Atlantic, either.
"Filippo Berio estimates that the global harvest will deliver only about 2.6/2.7 million metric tons of product—400,000 metric tons less than a typical good harvest," Dusan Kaljevic, CEO of Filippo Berio U.S., recently told Food & Wine. "We are projecting 20% less final product, which will result in 30%-50% price increases, depending on the type of oil."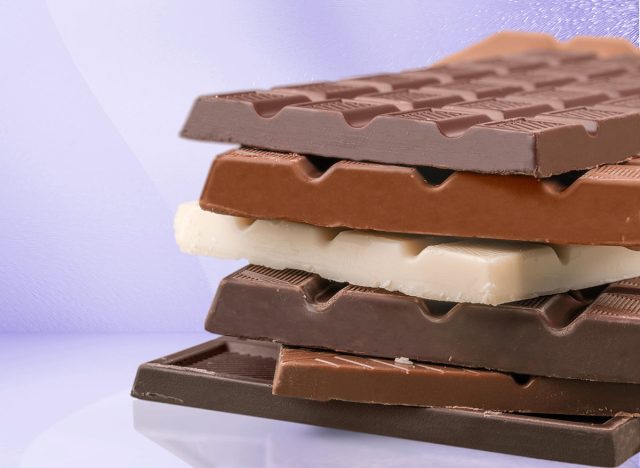 Ready to take out a line of credit to satisfy a sweet tooth? Domestic chocolate prices have risen by 14% over the past year, with (you guessed it) extreme weather patterns and crop disease largely to blame for a particularly poor harvest this season.
"Compared to the 2021/22 cocoa year, the 2022/23 cocoa season is heading towards a supply deficit due to a reduction in production," according to the International Cocoa Organization's monthly report for April 2023. Many major chocolate producers have already raised prices, and new reports suggest prices will only rise from here.
The price of wholesale cocoa beans reached its highest price in 13 years last month as farmers in Ghana, Nigeria, and the Ivory Coast reported troubling signs of blackpod disease, an infection that causes cocoa pods to turn black and rot. Just the Ivory Coast alone, considered the world's biggest cocoa producer, is expected to see its cocoa output shrink by close to a full fifth this year. Similarly below-average cocoa yields are predicted out of Ghana.
"For most players, the impact of the very steep cocoa future prices increases will only kick in from the second half of 2023," Lindt's Chief Financial Officer Martin Hug told analysts during an earnings call.
John Anderer
John Anderer is a writer who specializes in science, health, and lifestyle topics.
Read more about John
Sources referenced in this article