The Best Steakhouse in Every State
Have you visited your state's top spot?
For all the meat-eaters out there, the pinnacle of a delicious dinner is a juicy steak. Perfectly pan-seared, seasoned, and tender, steak satisfies the most carnivorous of appetites. Whether you like it super rare or just a little on the done side, we've assembled the very best steakhouses each state has to offer based on publications and reviews. Get ready for a road trip!
And for more, don't miss The Best Chocolate Cake in Every State.
ALABAMA: George's Steak Pit in Sheffield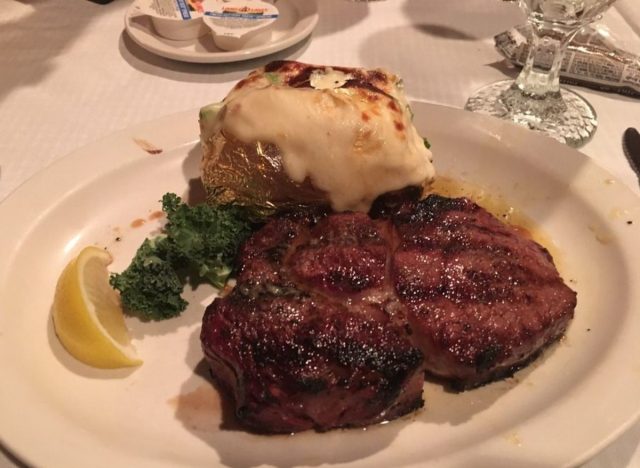 George's has been in business since 1950, now under the operation of the original owners' son, Frank Vafinis. What makes this spot unique is its cooking method, featuring steaks grilled over an open flame made from burning hickory wood logs. The pit creates a beautiful steak that's fully complemented with potatoes, salad, and vegetables. Locals and visitors both love the atmosphere and come often for delicious food.
ALASKA: Club Paris in Anchorage
Appearances can be deceiving. You might not think you are in the best spot in Anchorage for steak by this restaurant's appearance, but don't be fooled by the dive bar atmosphere. Club Paris is widely known for insanely tasty steak, cocktails, and outstanding service. Do yourself a favor and get the 4-inch thick filet mignon. Reviewers have consistently named it the best they've ever had.
ARIZONA: Dominick's Steakhouse in Scottsdale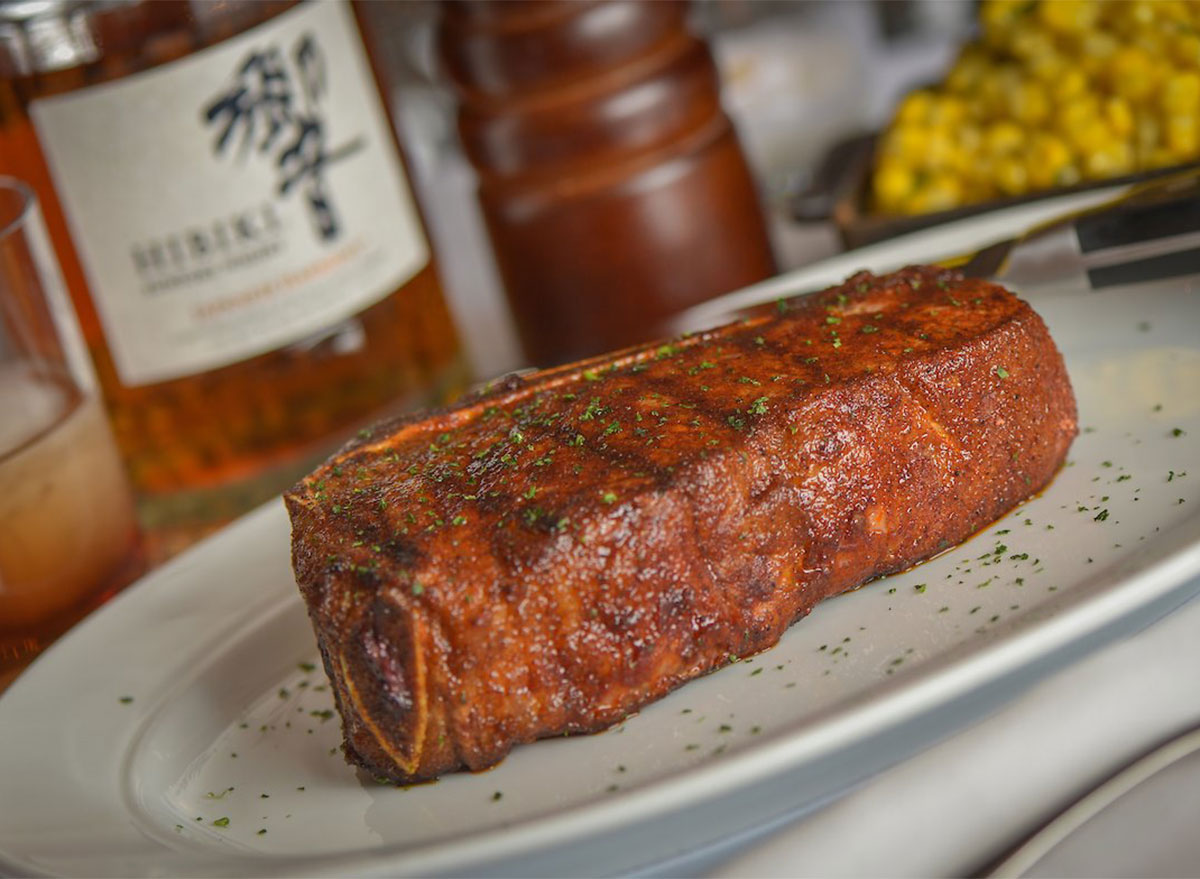 You can't beat the Wagyu beef and a la carte side dishes available at the Scottsdale favorite. The restaurant also serves a 22-ounce bone-in ribeye for big appetites. They source their prime-grade beef responsibly and sustainably, making this spot a win for great food and mindful dining.
ARKANSAS: Gaskins Cabin Steakhouse in North Eureka Springs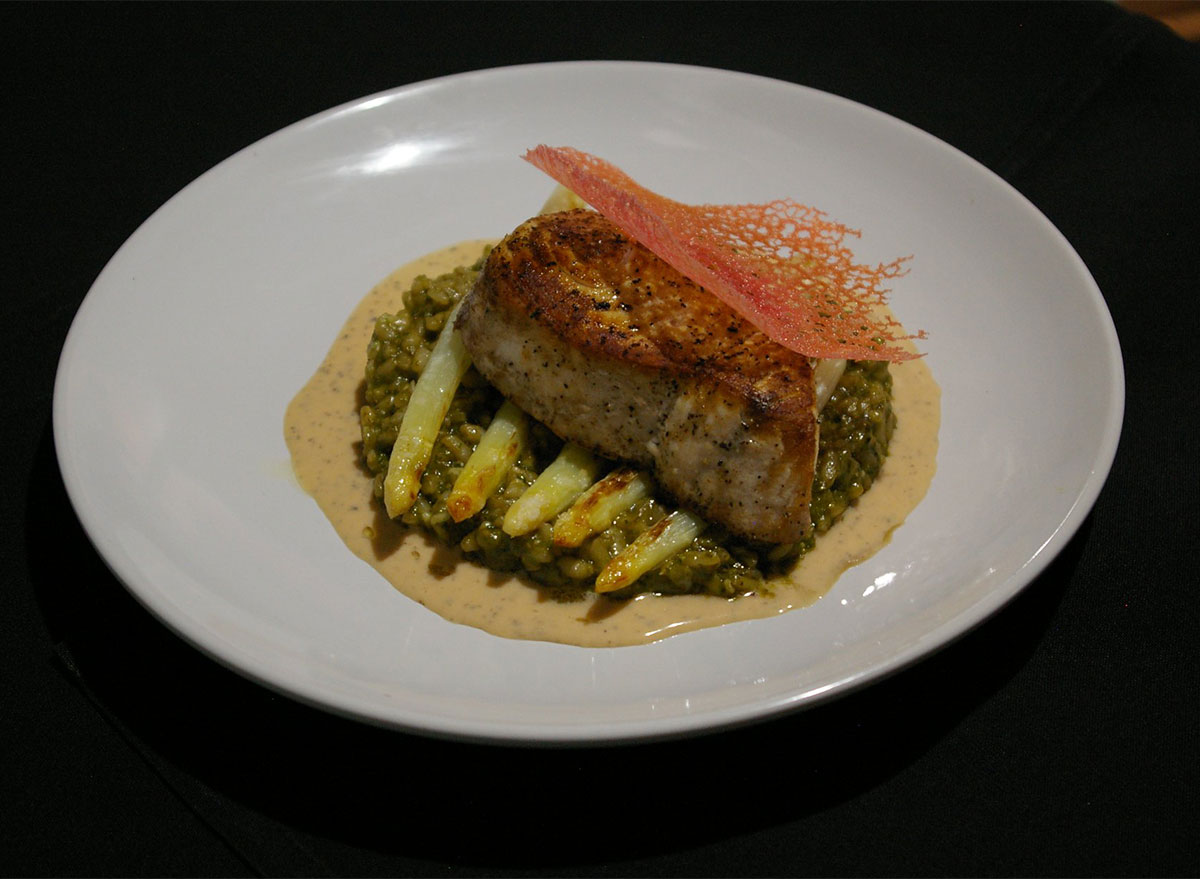 This steakhouse gem is nestled in an 1860s log cabin, serving up mind-blowing prime rib as its specialty. The restaurant is well-rounded, receiving accolades for its other food offerings as well as the hand-cut, aged, Black Angus beef steaks.
CALIFORNIA: chi Spacca in Los Angeles
Would you like to try a 50-ounce, dry-aged prime porterhouse steak? Look no further than chi SPACCA, a self-professed Italian steakhouse on steroids. By the way, the name is translated into English as "he who cleaves." Enough said.
COLORADO: Bastien's Restaurant in Denver
This unassuming corner restaurant has been serving up steak since 1930, most notably its "sugar steak." The famous sweet and spicy rub complements the marbled steak. It's recommended to eat on the juicy cuts of ribeye or NY strip.6254a4d1642c605c54bf1cab17d50f1e
RELATED: The Best & Worst Cuts of Steak—Ranked by Nutritional Benefits!
CONNECTICUT: The Captain Daniel Packer Inne in Mystic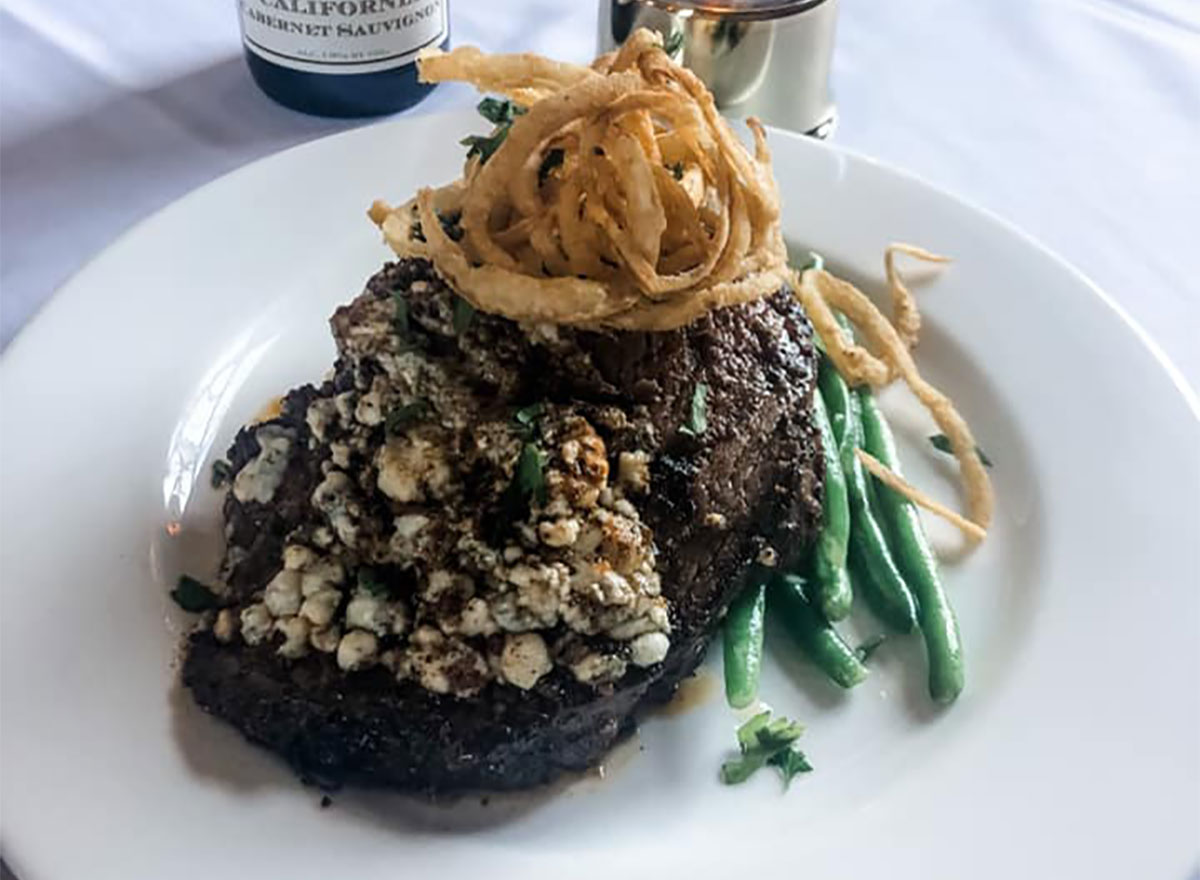 The pub downstairs hosts live music every night, but the real romantic atmosphere is located in the dining room upstairs. Try the peppercorn-crusted filet with whisky sauce, or cover it with creamy gorgonzola sauce.
DELAWARE: Harry's Savoy Grill in Wilmington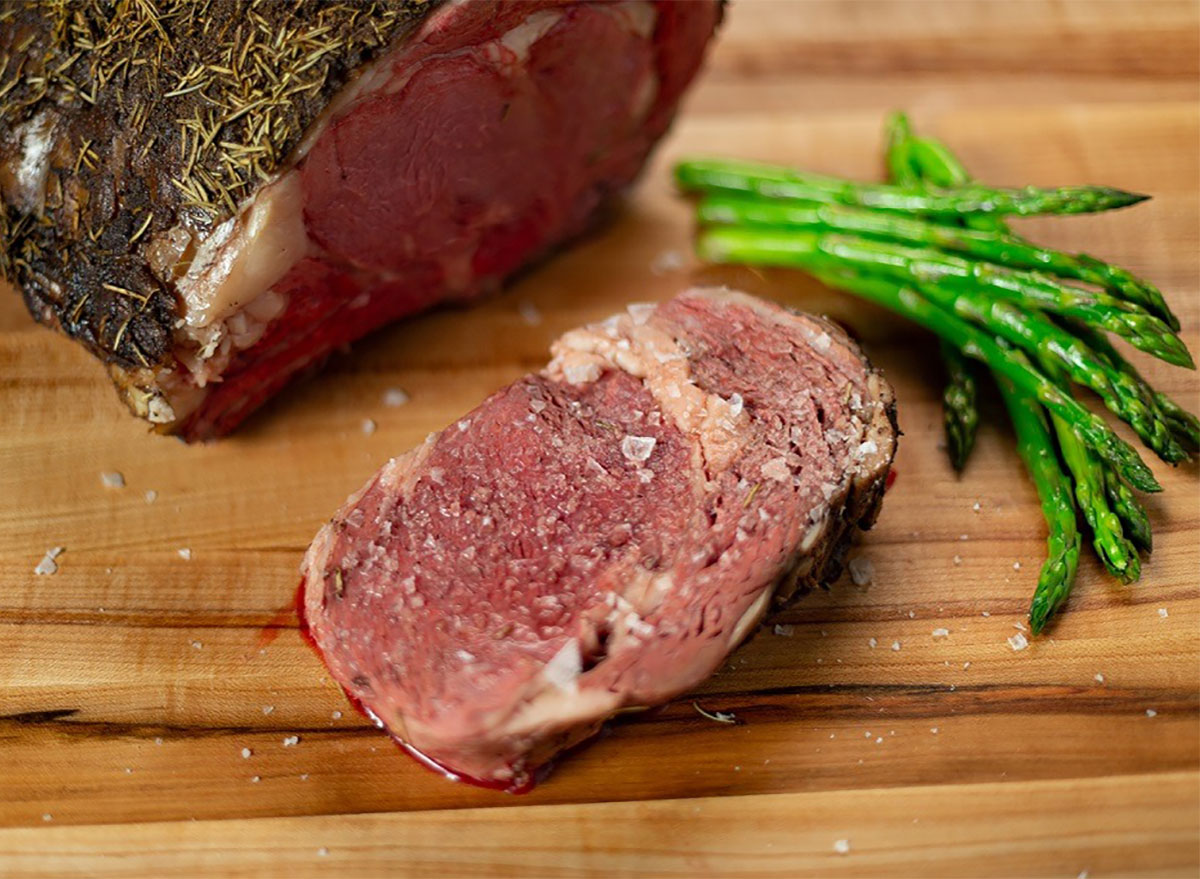 Harry's has the ambiance that you expect to get in a high-quality steakhouse: rich wood, seating by a fireplace, and elegant furnishings. The steak lives up to expectations as well. Try it Oscar-style during the special on Tuesdays or order the award-winning prime rib, which visitors describe as superb.
FLORIDA: Bern's Steak House in Tampa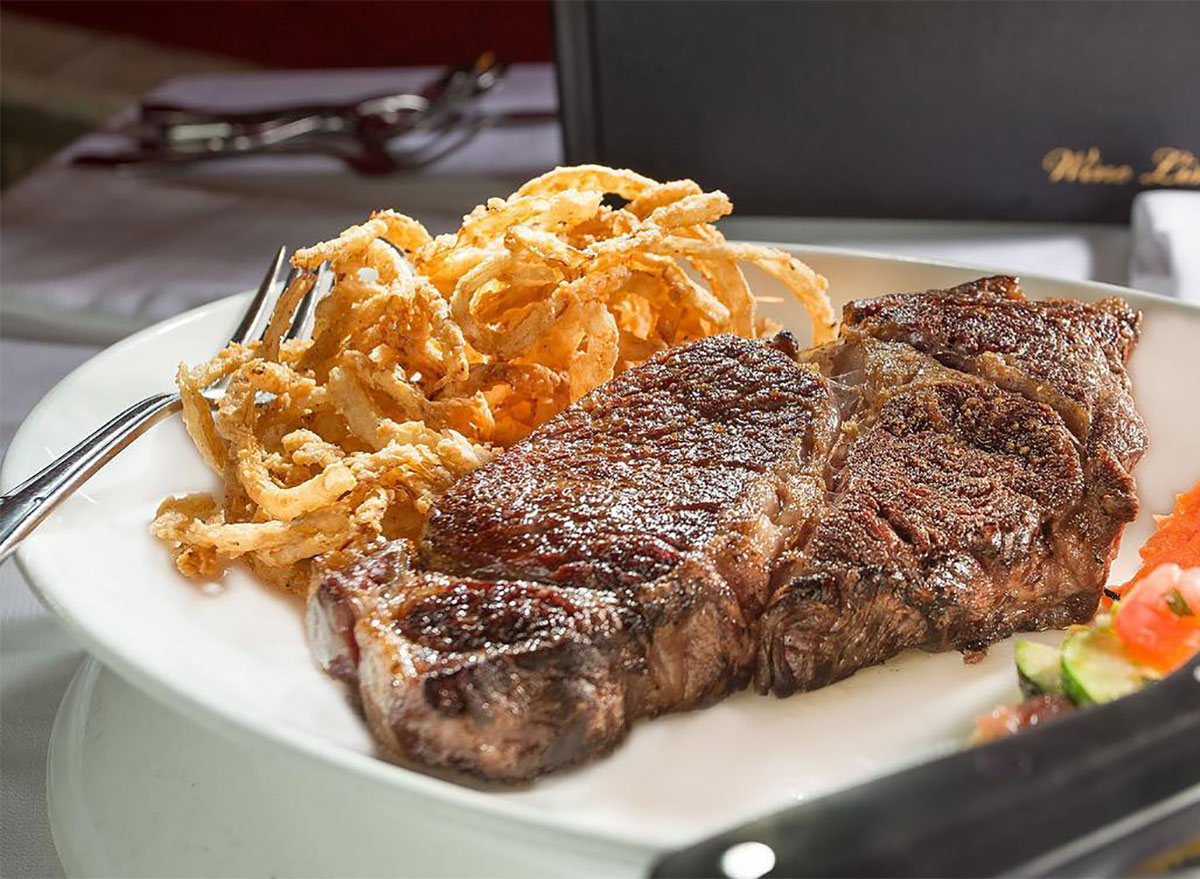 With a 2016 James Beard Award for Outstanding Wine Program, the staff at Bern's knows how to complement the cut-to-order steaks and farm-grown vegetables. Add to that a separate dessert room for an unparalleled finish to your meal, and you can't beat this Tampa favorite.
GEORGIA: Kevin Rathbun Steaks in Atlanta
Serving Chicago's Allen Brothers steaks, this Atlanta restaurant has racked up accolades from media across the United States. The menu focuses on a chef-driven menu and local produce in addition to those wonderful cuts of beef.
HAWAII: Hy's Steakhouse in Honolulu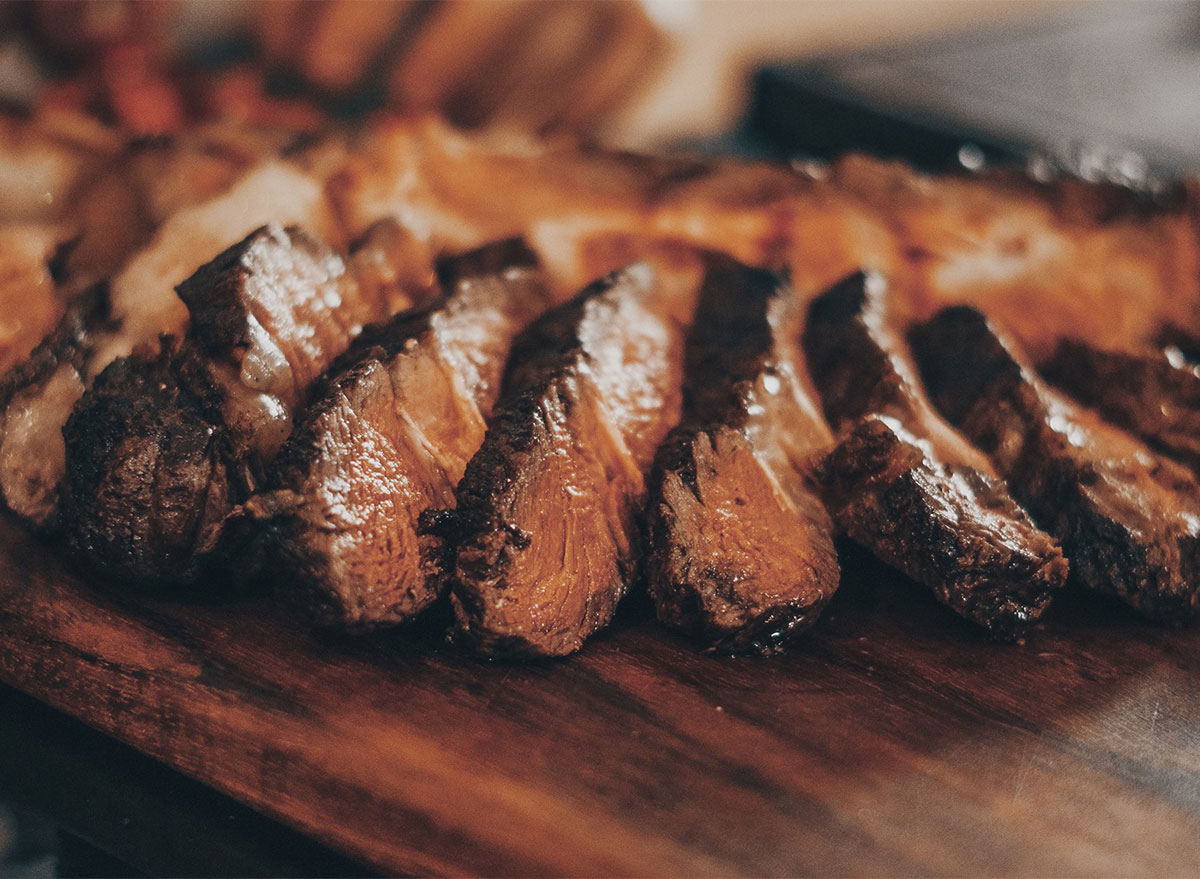 Hy's claims the title of the "best steakhouse in Waikiki for over 40 years." With prime beef cooked over a hot fire of Hawaiian kiawe wood, this steakhouse serves up steak with an islander flair. Try the tableside preparations of Caesar salad or Bananas Foster, too.
IDAHO: Chandlers in Boise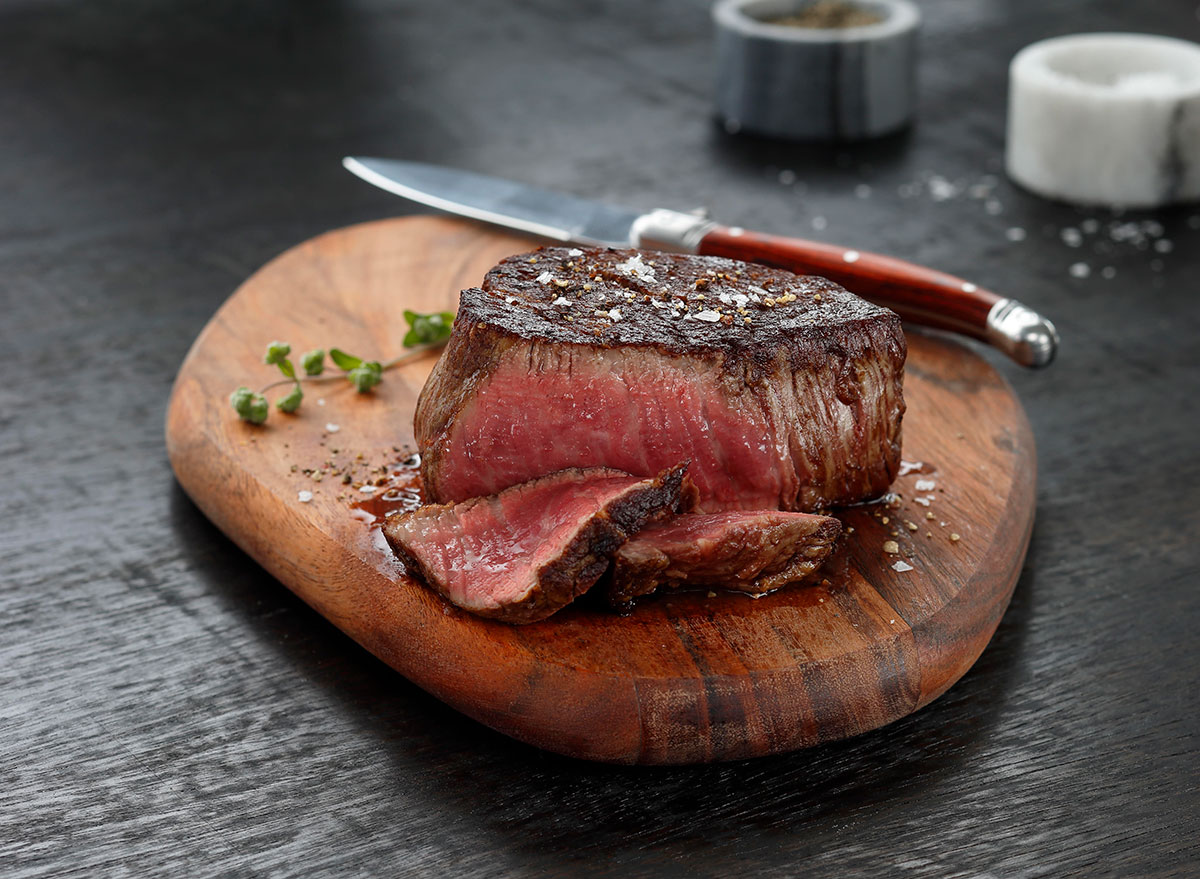 Located in Hotel 43 in downtown Boise, Chandlers is a locally-owned, upscale dinner house specializing in prime steaks, jet-fresh seafood and premium craft cocktails. They offer over a dozen selections of hand-cut and trimmed steaks ranging from corn-fed Midwest prime to Northwest American, Japanese A5 wagyu to organic grass-fed beef. A three-course prix-fixe dinner option rounds out the extensive menu. Enjoy a craft cocktail or a glass from their award-winning wine list while listening to live jazz seven nights a week.
ILLINOIS: Gibson's Bar & Steakhouse in Chicago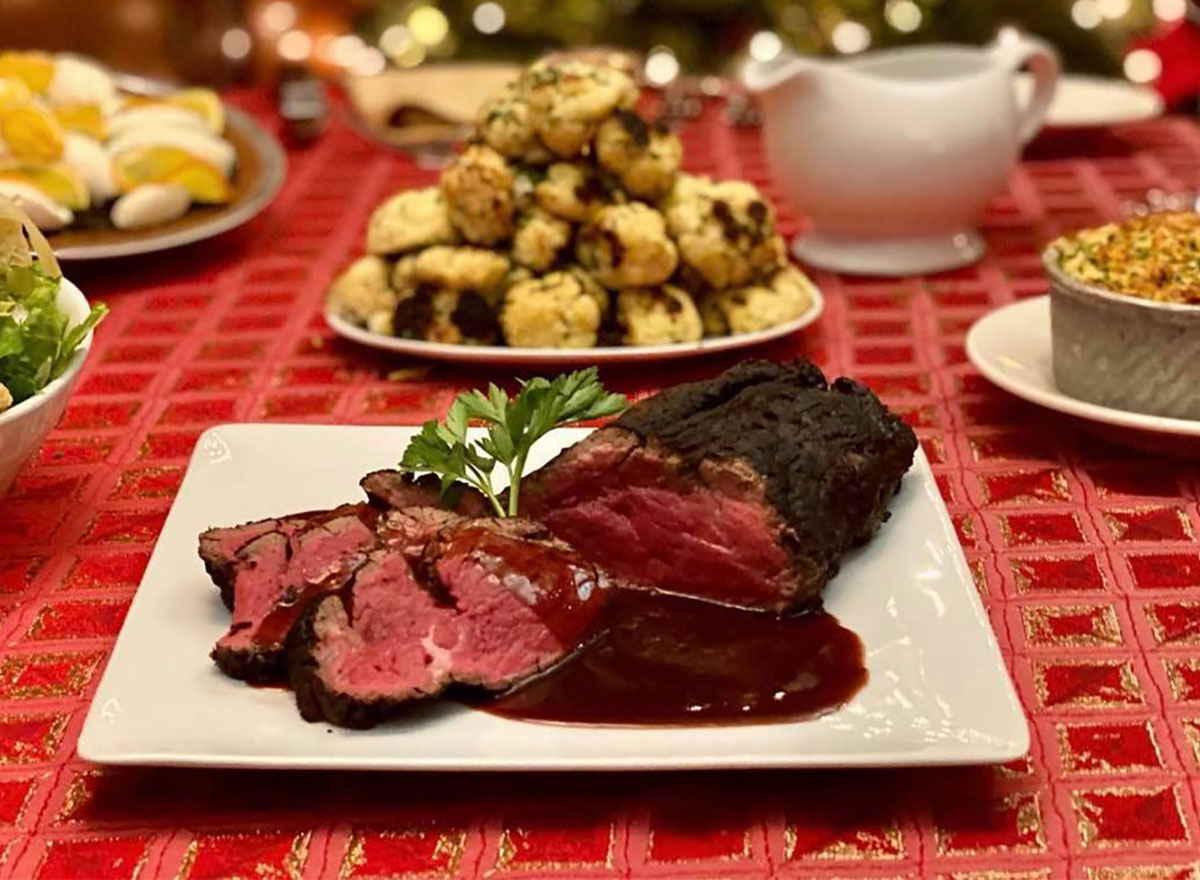 Gibson's is a Chicago classic, a well-established steak spot for special occasions and carnivorous cravings alike. Diners are able to choose from Prime Angus and pasture-raised Australian beef and an assortment of appetizers and sides. A good choice might be the Chicago cut—a 22-ounce, bone-in ribeye—followed by an enormous serving of carrot cake.
INDIANA: St. Elmo Steak House in Indianapolis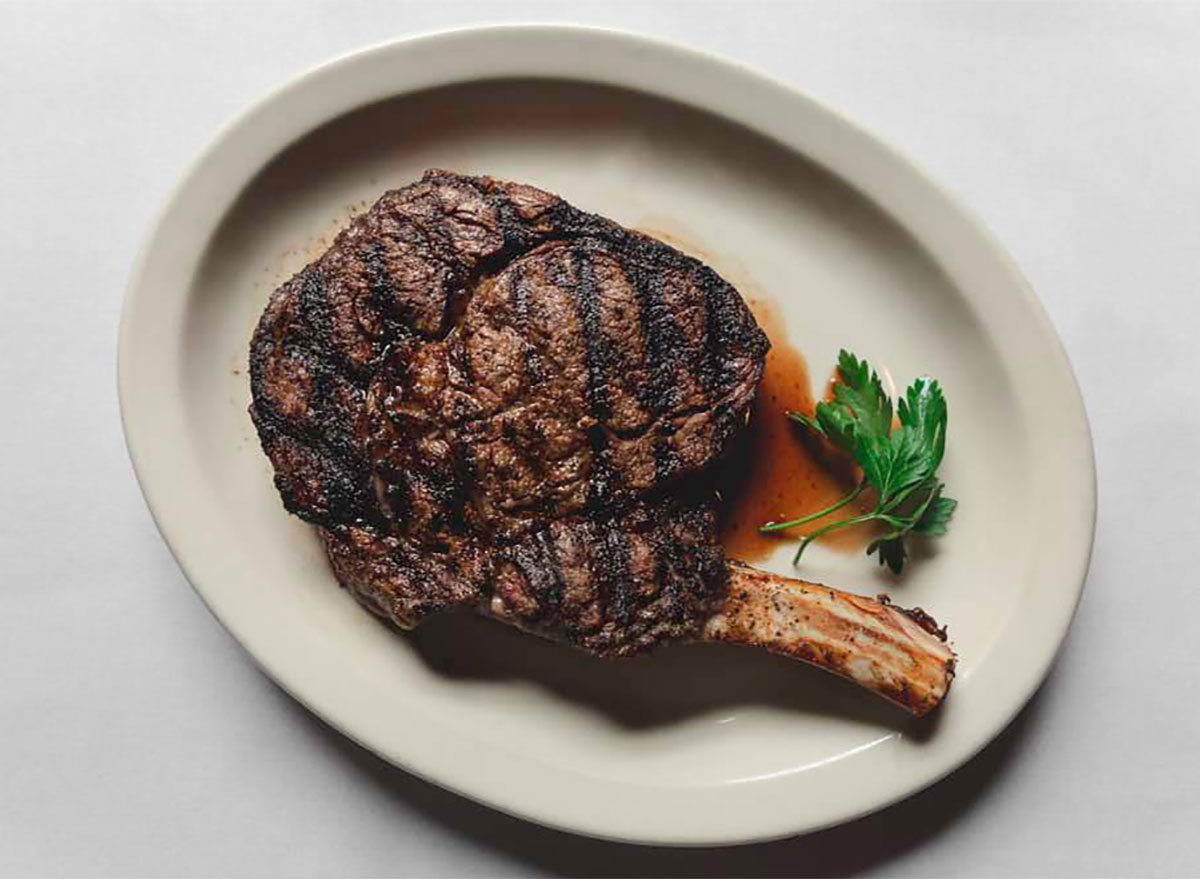 Located downtown since 1902, this classic steakhouse was even named by the NBA as approved team dining. Get a view of the open kitchen preparing your meal or enjoy a pre-dinner cocktail in the upstairs speakeasy.
IOWA: Iowa Chop House in Iowa City
Why has it taken so long? Bacon butter as a steak enhancement is a marvelous idea. Also a good idea? Eating fresh Iowa creamed corn, corn succotash, or fried cheese curds to get a taste of the state's offerings at Iowa Chop House. And if bacon butter wasn't enough, you can also start your meal with a bacon board.
KANSAS: Hereford House in Shawnee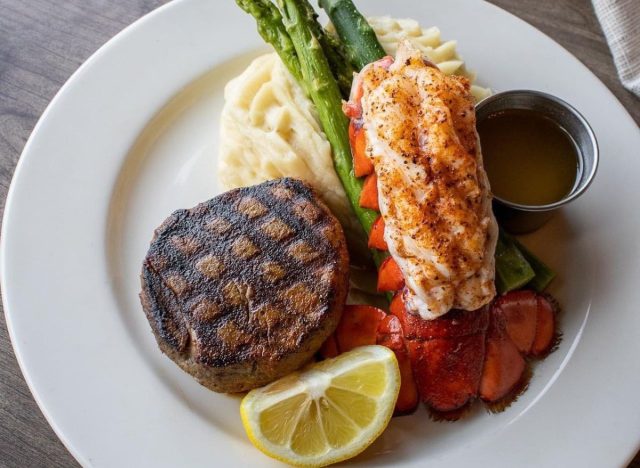 It's a good sign for a steakhouse when it's named after a breed of cow. Hereford House is locally owned and operated, serving a host of steak choices. The menu is divided into traditional and composed items. Composed is an all-for-one, where the entrée and sides appear as one dish, like the sliced sirloin dijon over mashed potatoes and brussels sprouts, coated with a brown sugar-mustard glaze.
KENTUCKY: Blue Heron Steakhouse in Lexington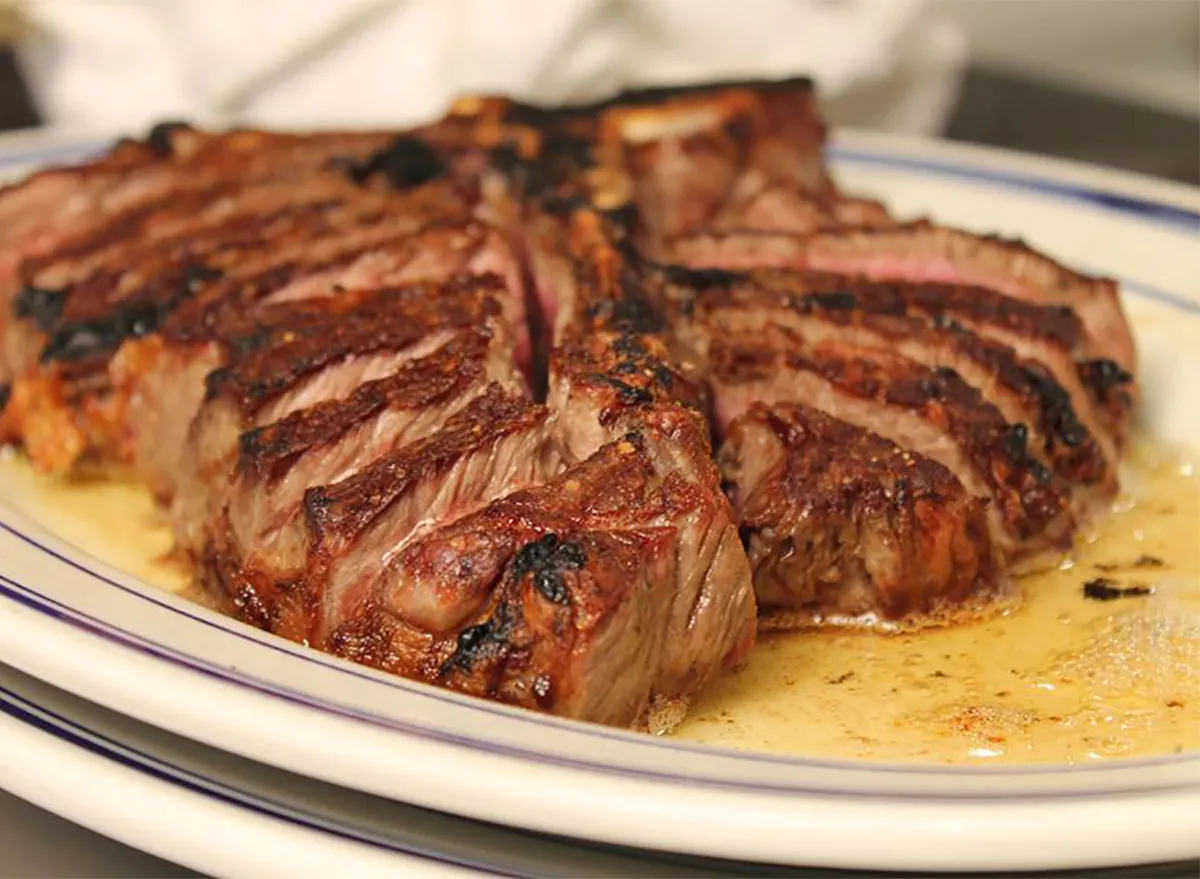 Start your meal off with a handcrafted cocktail at this upscale steakhouse. When the weather's nice, you can eat outside on the spacious patio deck, too.
LOUISIANA: Ruth's Chris Steakhouse in New Orleans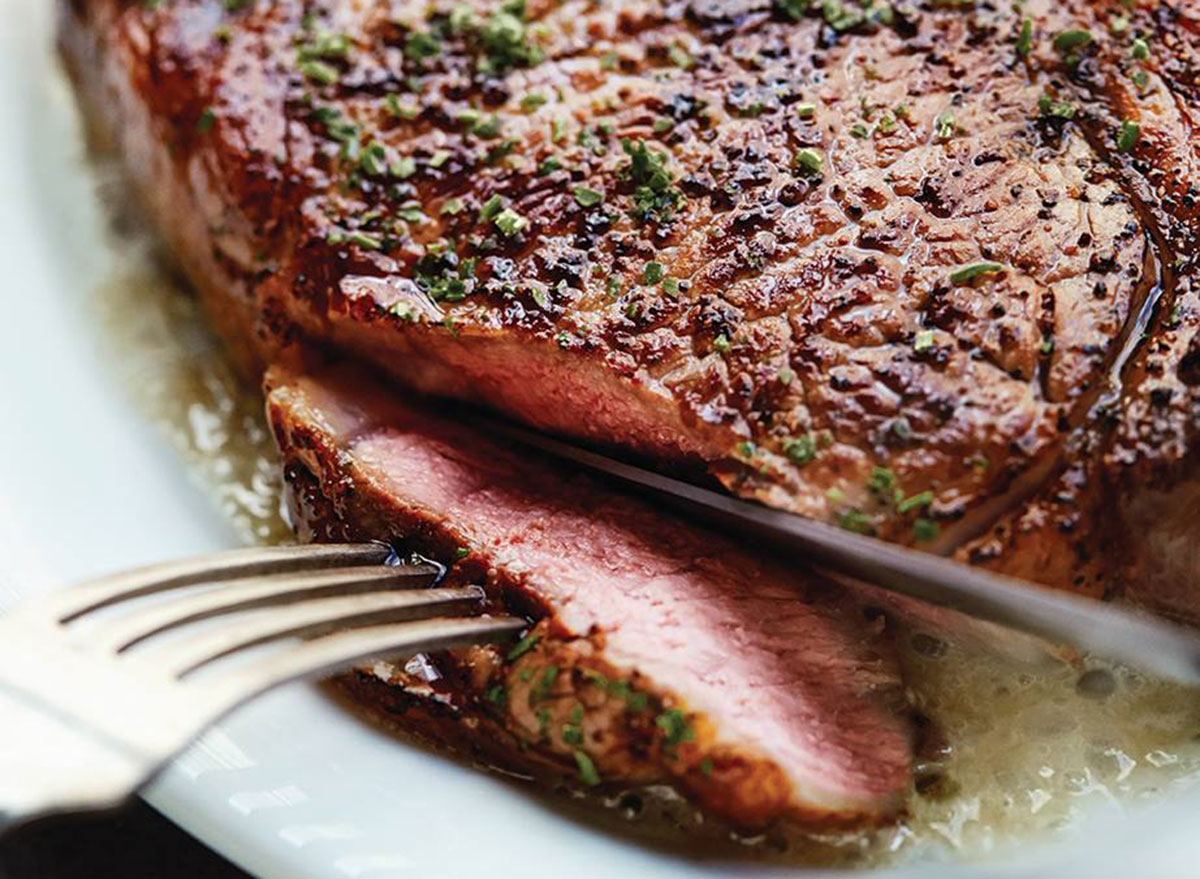 A quick Google search for the best steakhouse all over the country will yield a Ruth's Chris franchise. New Orleans was the original location where the restaurant began in 1927. Single mom Ruth Fertel purchased the Chris Steakhouse in 1965, employing the only all-female wait staff in a NOLA fine dining restaurant. The New Orleans version of this steakhouse staple has endured fires, an awkward name, Hurricane Katrina, and the owner's death, but it's also spun off its version of butter-baked filet mignon all over the world.
MAINE: The Grill Room and Bar in Portland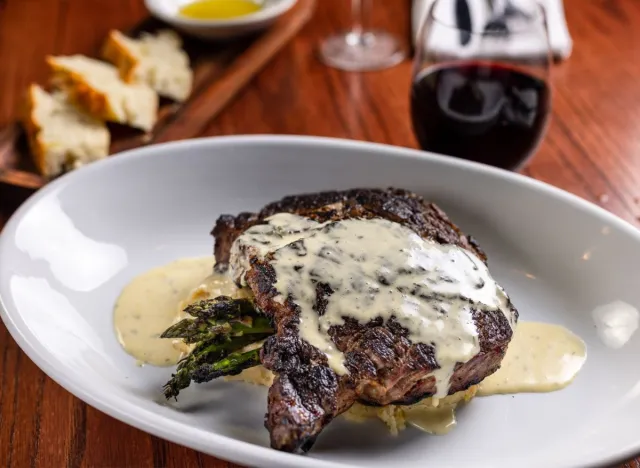 Proudly serving naturally raised beef and local seafood, The Grill Room & Bar is located in Portland's historic "Old Port" district. Diners rave about the food, one wrote, "Every single item I ate (and drank) here was absolute perfection. We eat out a lot and I can truly say I've never had a steak cooked as perfectly."
MARYLAND: Lewnes' Steakhouse in Annapolis
Lewnes' has everything expected for a steakhouse: romantic lighting, high-quality steaks, seafood, and a huge wine selection. The restaurant garners positive reviews about the attentive service and USDA Prime beef. Marylanders choose this restaurant for a solid special occasion night out with no risk of disappointment.
MASSACHUSETTS: Abe & Louie's in Boston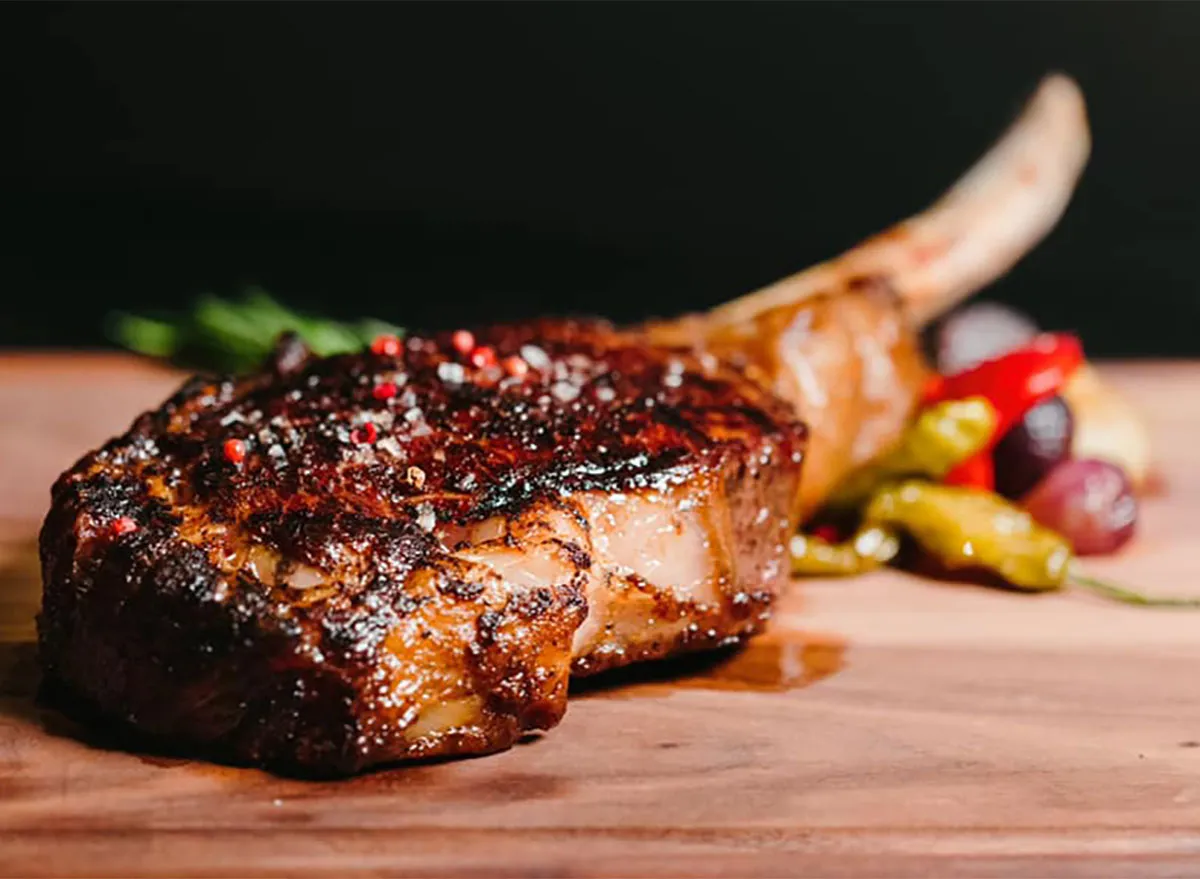 The steaks at this Back Bay restaurant are aged six weeks on the bone, resulting in a tender, juicy selection of meats on the menu. Reservations are recommended, as the dining can get busy. If you aren't in the mood for a steak at dinner, try the aged prime sirloin steak with three eggs on the delicious brunch menu.
MICHIGAN: Vernales in Harbor Springs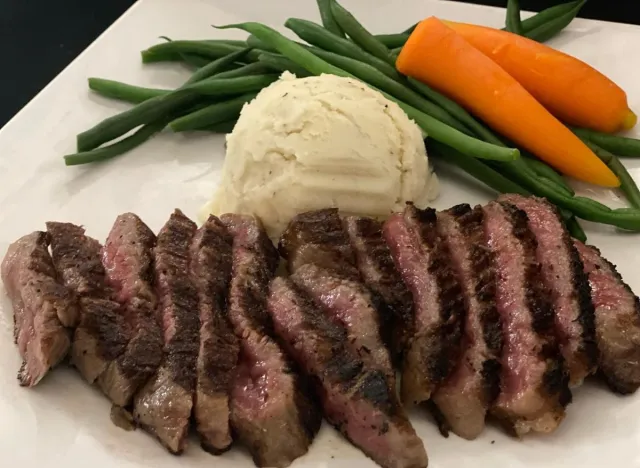 With a laid-back vibe, Vernales serves American Wagyu beef, the more affordable cousin to Japan's Kobe beef. The line of cattle can be traced to imported Wagyu cattle that were bred with American beef cattle. Vernales has a casual menu full of pizza and wings but is widely recognized for its full range of Angus, Prime, and American Wagyu steak choices.
MINNESOTA: Murray's in Minneapolis
What's a Silver Butter Knife Steak? It's a 28-ounce hand-cut sirloin cooked with a method that leaves it so tender that no steak knife is needed. Experienced Twin Cities diners know to ask for the Gold Butter Knife Steak at Murray's, a huge, four-pound version that doesn't appear on the menu.
MISSISSIPPI: Doe's Eat Place in Greenville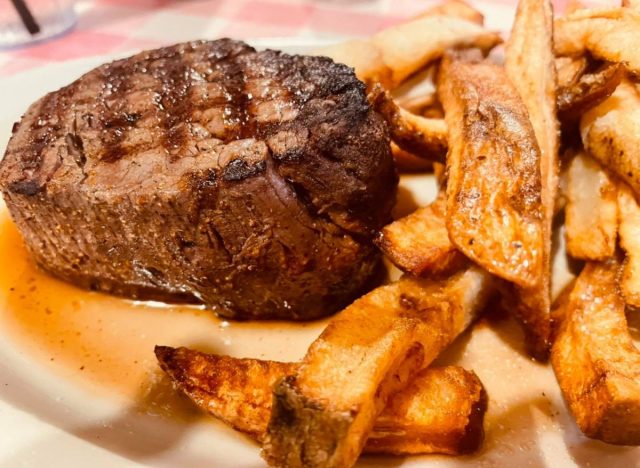 Among other publications, Garden and Gun named this spot "one of the 100 Southern foods you absolutely must try before you die." We believe they were referring to the thick porterhouse steak, freshly cut in the store.
MISSOURI: J. Gilbert's Wood Fired Steaks & Seafood in St. Louis
Steaks are cooked over an open mesquite wood-fired grill at this highly regarded St. Louis steakhouse. With a focus on local purveyors, the restaurant serves fresh vegetables, Prime steaks, and seafood flown in daily.
MONTANA: Lolo Creek Steakhouse in Lolo
Nothing says "Big Sky Country" like Lolo Creek's log cabin restaurant, constructed from century-old logs hauled up the road from Lolo Pass. The menu has the usual suspects, with a focus on the steaks. Try the Huckleberry Martini while you're waiting for the owner's choice, a 12-ounce New York Strip of USDA choice hand-cut steak.
NEBRASKA: Round the Bend Steakhouse in Ashland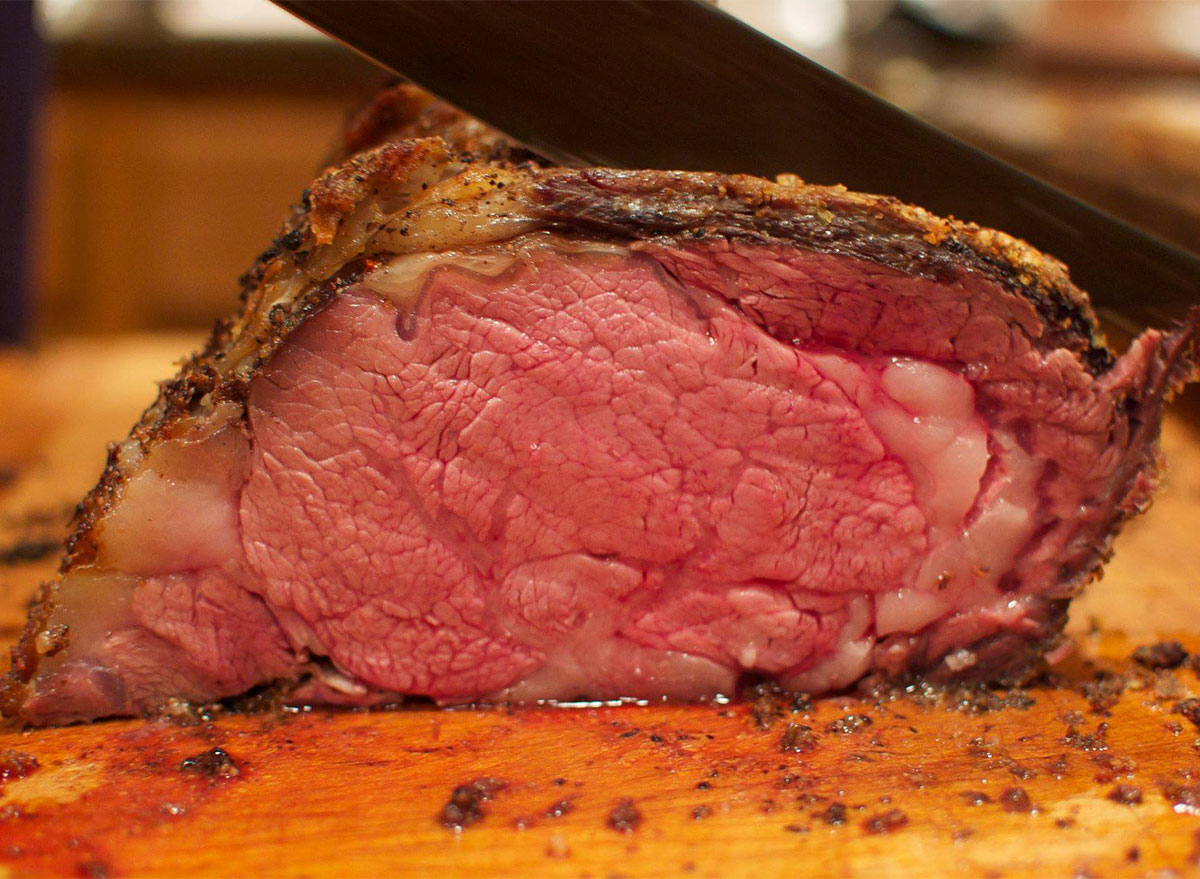 This casual steak spot is housed in an old barn, leaving plenty of space for the enthusiastic groups of customers that flock to eat Prime beef selections. There is an option for two pounds of prime rib, enough meat to make sure any person won't be hungry for a while.
NEVADA: Oscar's Steakhouse in Las Vegas
Quite simply, the food is incredible at this eatery. The menu features certified Angus beef options ranging from a $47 prime rib to a $92 Tomahawk steak. And just like any good Las Vegas restaurant, Oscar's has a robust happy hour and lounge.
NEW HAMPSHIRE: Hanover Street Chophouse in Manchester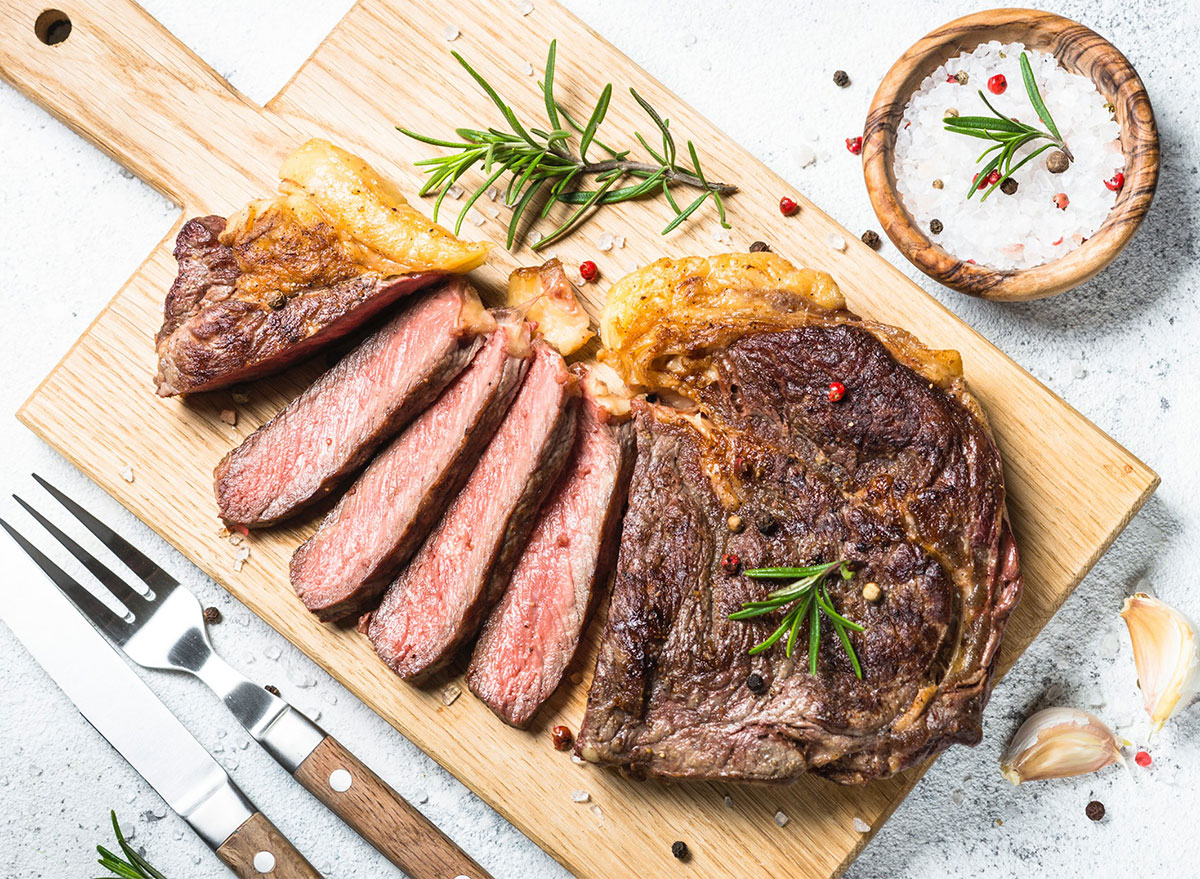 OpenTable named Hanover Street Chophouse one of the top 100 Best Steakhouses in America and diners seem to agree. The restaurant is known for top-notch service and perfect preparation. That attention to detail has earned the restaurant a loyal following. If you don't feel like dining in, Hanover Street offers a weekly pop-up butcher shop that lets you pick out meat to prepare at home.
NEW JERSEY: The River Palm Terrace in Edgewater
The River Palm Terrace focuses on the best quality ingredients, each steak is dry-aged, hand-selected, and cut by the in-house butcher. In addition to the Prime steaks, diners can enjoy a vast selection of sushi and pasta.
NEW MEXICO: La Ventana Steakhouse in Grants
A classic steakhouse with a New Mexico flair, La Ventana is described as a diamond in the rough. The restaurant's "Dinner Steak" is seven ounces of aged black Angus hand-cut in the restaurant, delicious enough to rival any elegant eating establishment. Plus, La Ventana serves a mean margarita.
NEW YORK: Gallaghers Steakhouse in New York City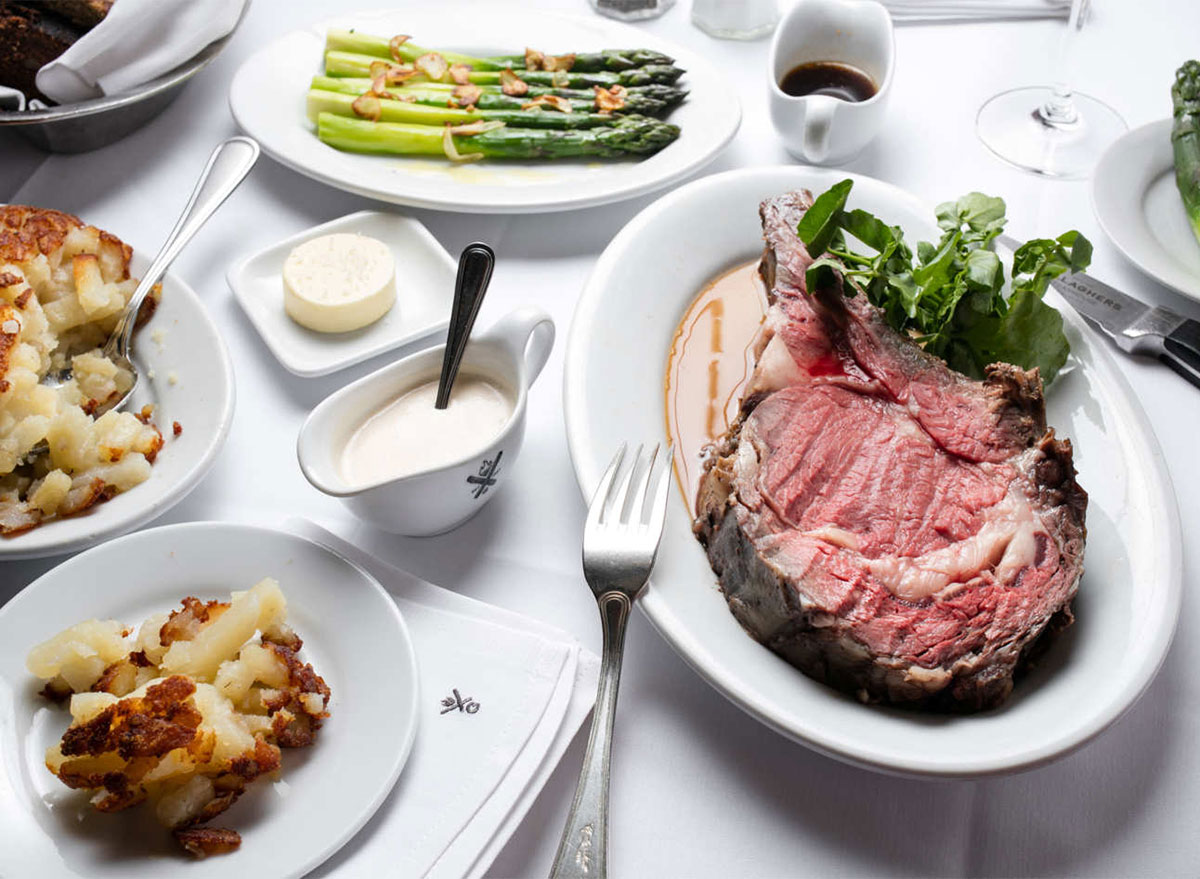 The meat at Gallaghers is stored in a dry age room in view of the street in front of the restaurant. They grill the cuts over hickory logs for a smoky flavor. Located near Times Square and Broadway, this location is perfect for any activity you have planned in the busiest parts of the city.
NORTH CAROLINA: Gamekeeper in Boone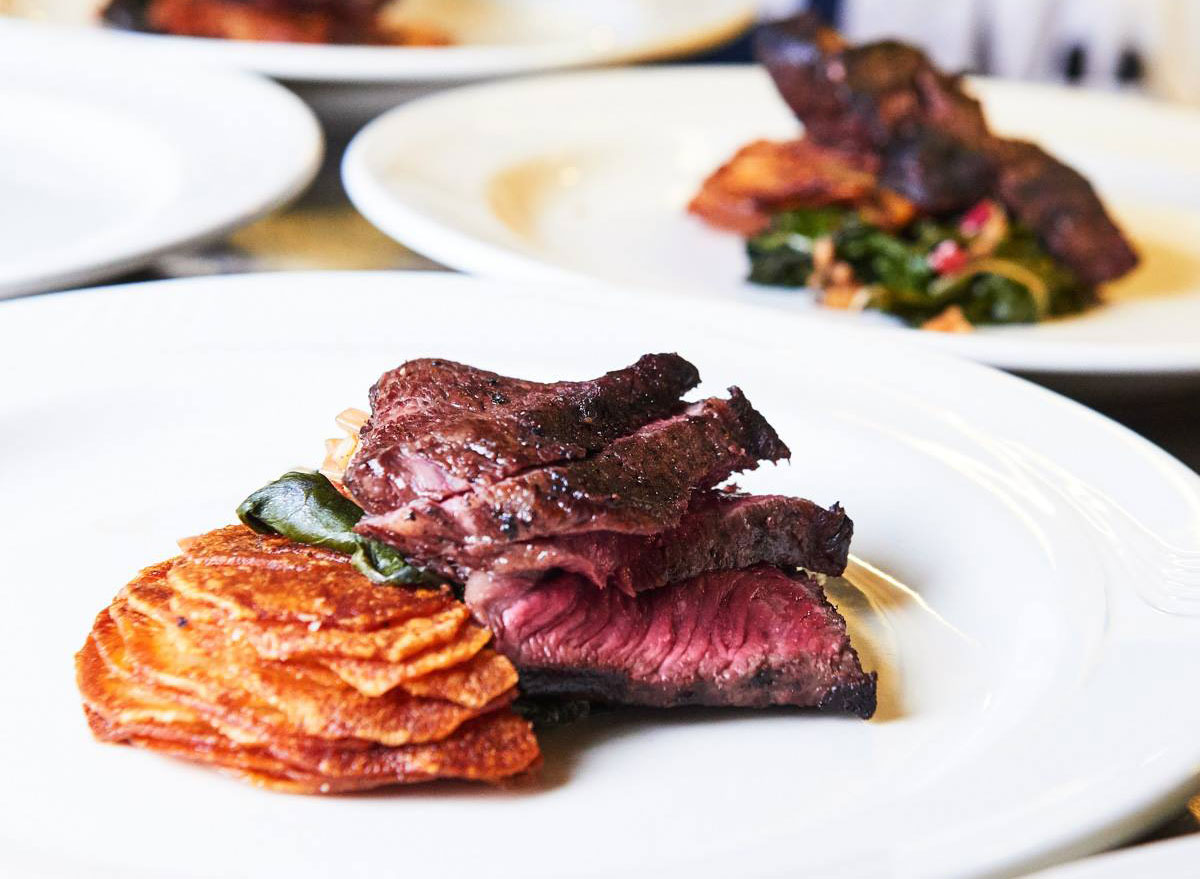 Specializing in fine dining for wild game, Gamekeeper also cooks an incredible steak. The beef option is a tenderloin served with cabernet butter and garlic mashed potatoes. The limited options are so well prepared that they are worth the trip up the mountain.
NORTH DAKOTA: Outlaws' Bar & Grill in Watford City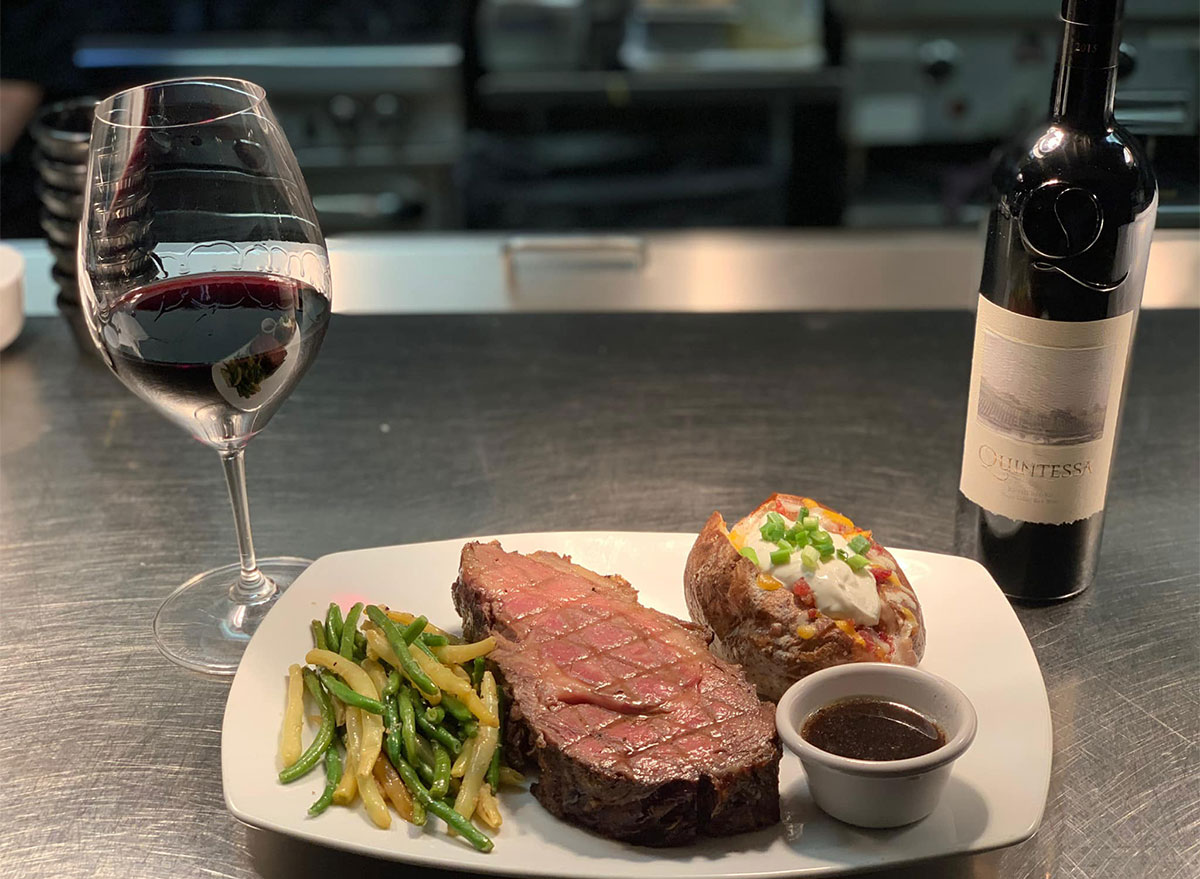 Locally sourced USDA steaks shine at this restaurant. Try the Winchester, an olive butter-crusted ribeye, or the Wyatt Earp, a 28-day dry-aged ribeye that is the most popular choice of diners.
RELATED: The Best Restaurant for a First Date
OHIO: Jeff Ruby's Steakhouse in Cincinnati
A great place for a special occasion dinner, Jeff Ruby's prepares classic dishes, innovative steak combinations, and fresh seafood. Their menu lists Steak Burrow, a blackened New York strip with creole crawfish sauce and a bone-in fillet that you can top with sweet onion bacon jam.
OKLAHOMA: Cattlemen's Steakhouse in Oklahoma City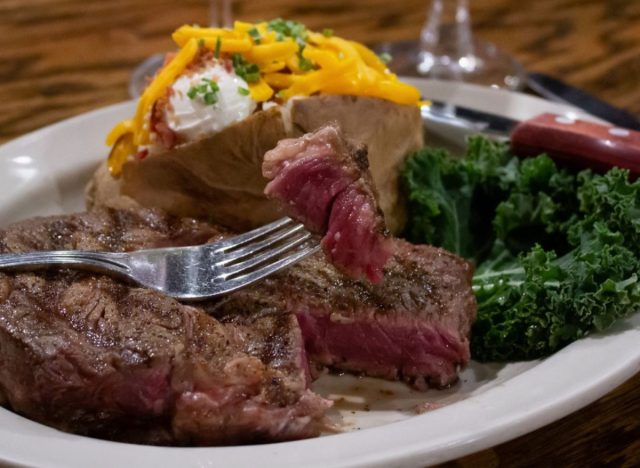 Appropriately located in the city's historic stockyards, this meat-centric restaurant got its start serving ranchers, cattlemen, and cowboys. Ronald Reagan, Gene Autrey, and John Wayne have all dined there. Former President George H.W. Bush once ordered the T-Bone steak at the restaurant.
OREGON: RingSide Steakhouse in Portland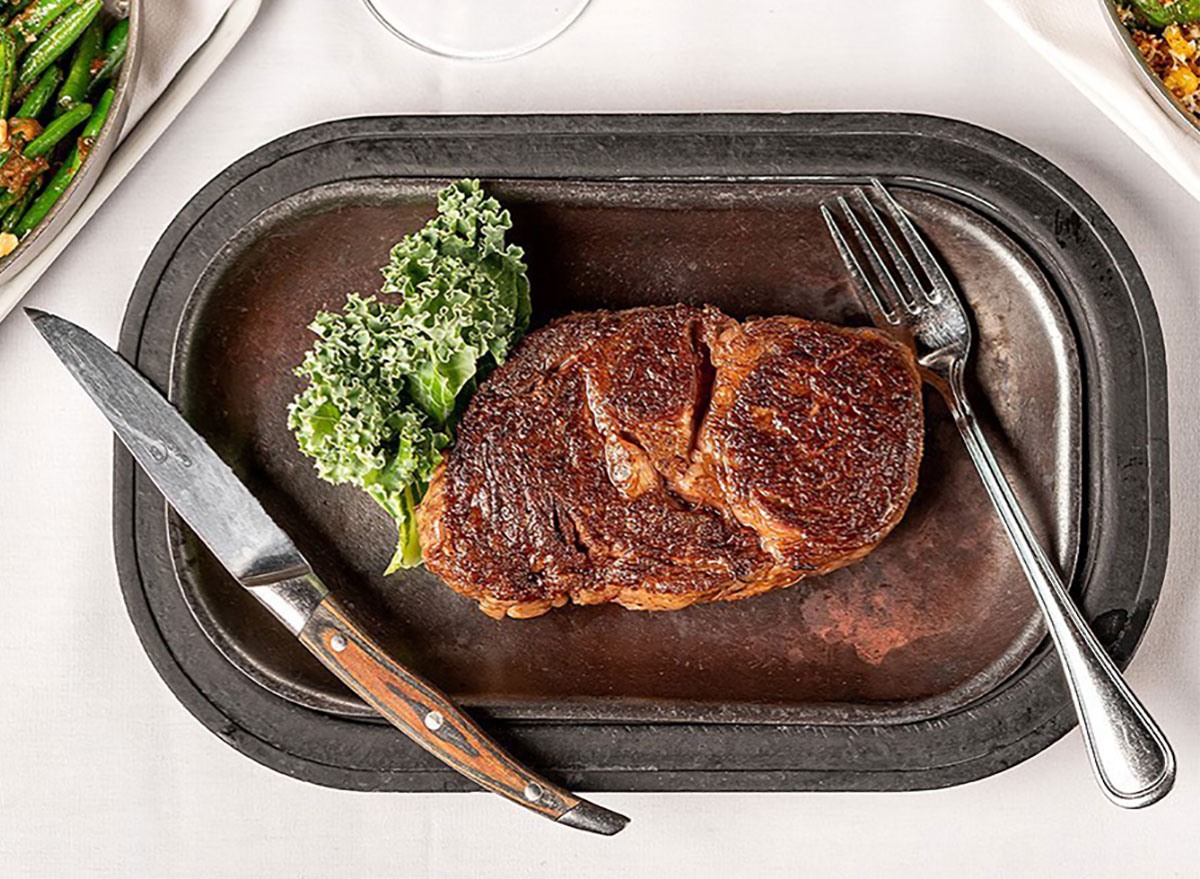 Since 1944, Portland's residents have enjoyed incredible onion rings, Prime and Angus steak, lamb, pork, chicken, and seafood at RingSide Steakhouse. The restaurant also has a fantastic selection of wine in their cellar, with price points from affordable to rare.
PENNSYLVANIA: Barclay Prime in Philadelphia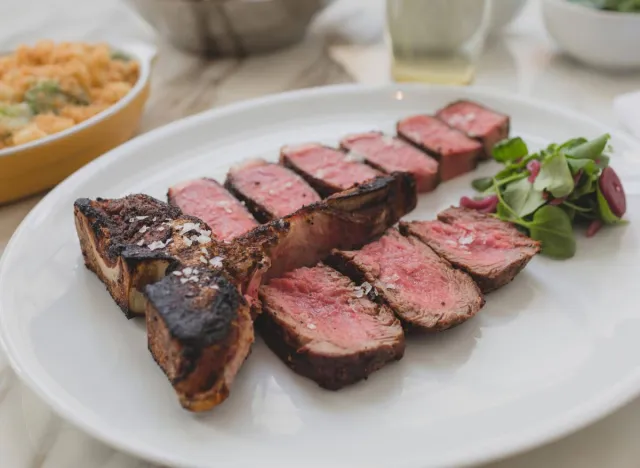 The clean modern feel of this steakhouse seems a twist from the dark wood and low lighting of a traditional steakhouse. The menus have surprises but also the traditional fare of a steak standard. A selection of steak knives is presented to diners prior to serving their steaks. You may not need them too much with the certified Japanese Wagyu available on the menu.
RHODE ISLAND: The Capital Grille in Providence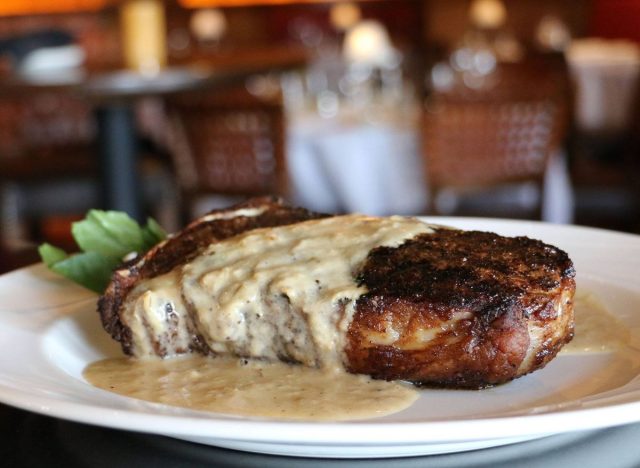 Even though The Capital Grill has lovely locations with views like the Capitol Building down Pennsylvania Avenue or the Las Vegas Strip, Providence claims the original restaurant. Known for its dry-aged beef cut by a butcher in-house, The Capital Grille offers a good steak in any of its locations.
SOUTH CAROLINA: Halls Chophouse in Charleston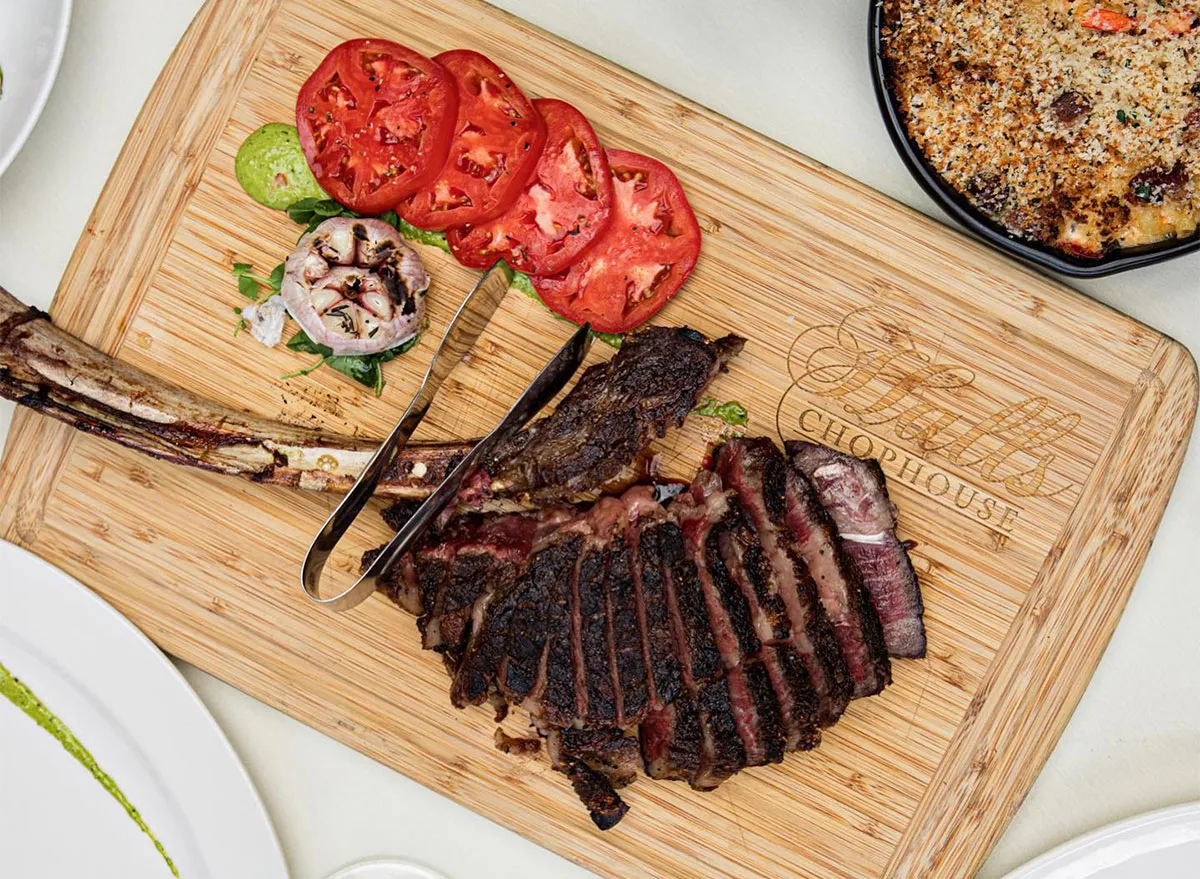 The Charleston dining scene is full of an incredible array of choices, but for steaks, Halls Chophouse is the best option. The USDA Prime Allen Brothers steaks are simply prepared, delicately seasoned, and allowed to burst with their own natural flavor which can only be enhanced by a little black truffle butter or a lobster tail.
SOUTH DAKOTA: Delmonico Grill in Rapid City
Delmonico is a fine dining steakhouse with fantastic steak options like the Kona Crusted Ribeye, a 16-ounce steak rubbed with a mixture of espresso and most, the juice of pressed wine grapes before they are made into wine. The Delmonico named dish is a house-aged, bone-in ribeye for two. Plan for extra time for the best preparation.
TENNESSEE: The Standard in Nashville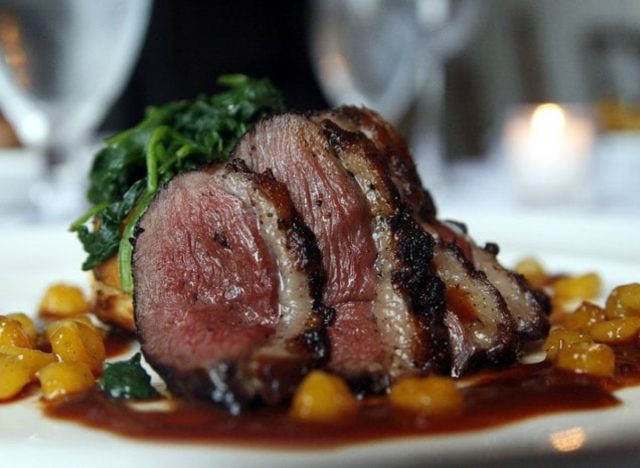 The restaurant is on the site of the famous Standard Club, a members-only cigar club in operation since 1843. Membership brings VIP treatment in the restaurant and first dibs on incredible dishes like The Standard Filet, which includes eight ounces of USDA Prime beef served with a truffle hash cake and fried tobacco onions.
TEXAS: Pappas Bros. Steakhouse in Dallas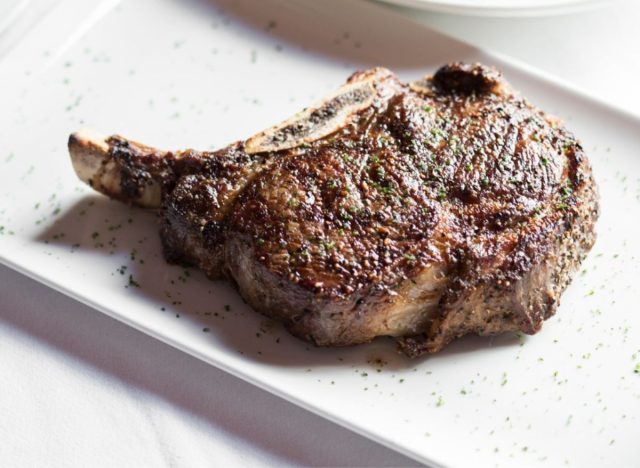 Pappas pays such attention to their steak that they can't help but be our favorite Texas steakhouse. The beef is corn-fed and dry-aged, cut by one of the two full-time butchers in the restaurant.
UTAH: Christopher's Prime Tavern & Grill in Salt Lake City
This steakhouse takes a seasonal approach to its menu, changing options with the growing cycle locally. Try a filet with peppercorn butter or a 12-ounce "baseball cut" sirloin.
VERMONT: J. Morgan's Steakhouse in Montpelier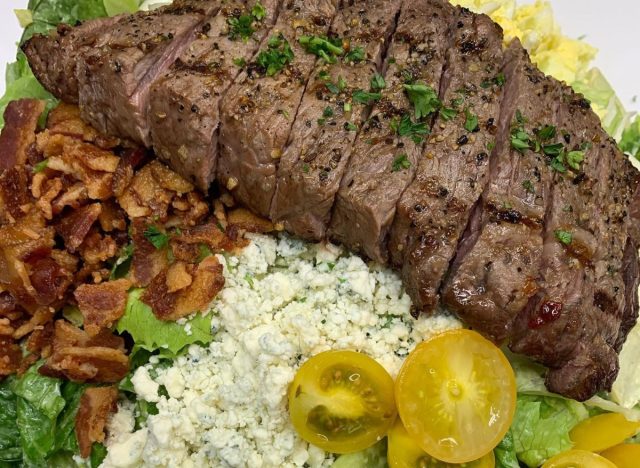 Known for the slow-roasted prime rib, J. Morgan's serves melt-in-your-mouth meats with classic steakhouse sides. A great option is to bacon-wrap your filet and pair it with blue cheese garlic smashed potatoes and seasonal vegetables.
VIRGINIA: Byrd & Baldwin Bros. Steakhouse in Norfolk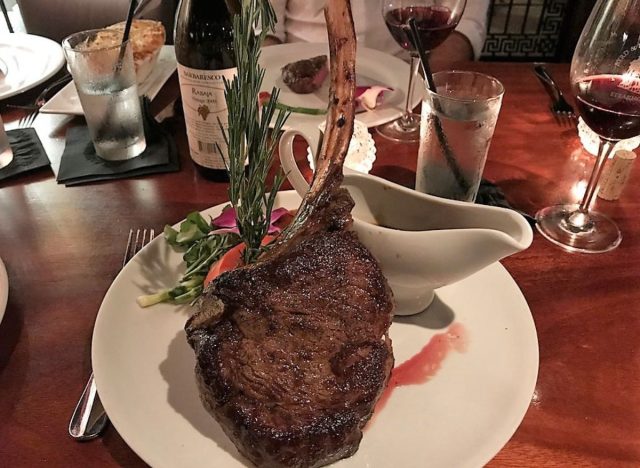 The Harris Ranch in the San Joaquin Valley supplies this steakhouse with fine Black Angus beef for the selection of cuts. They also stock Wagyu for their 30-ounce Tomahawk cut, $138 worth of steak. It pairs well with the crabmeat mac and brie cheese or the roasted bone marrow.
WASHINGTON: Metropolitan Grill in Seattle
A longtime Seattle favorite, the Metropolitan Grill serves a great selection of Prime beef, pastas, and salads. The Met grills its meat on mesquite charcoal for optimal flavor. End the meal with apple pie flambéed tableside.
WEST VIRGINIA: The Wonder Bar Steakhouse in Clarksburg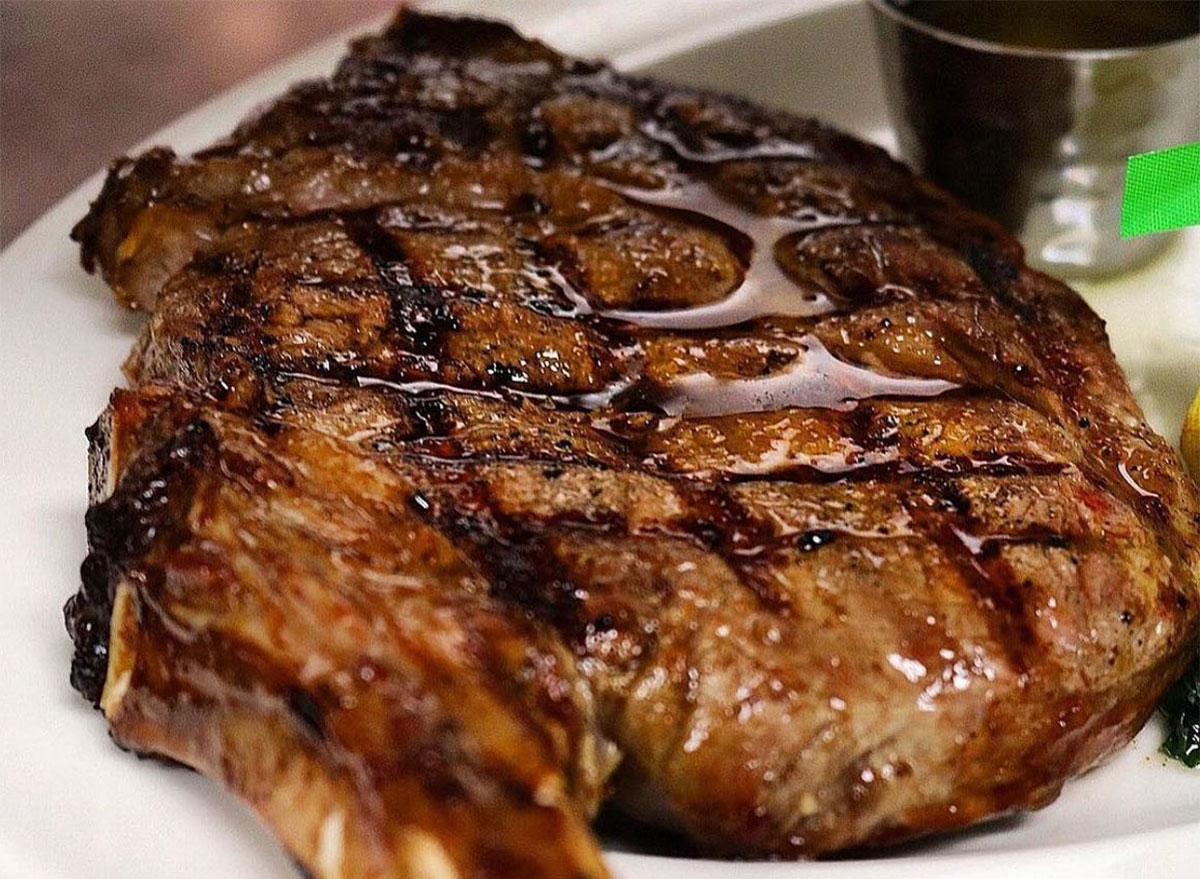 The restaurant started as a dance hall in 1946, serving food to the residents of Clarksburg. They use a proprietary blend of seasonings before cooking their Prime Angus beef. For a light appetite but still, a steak craving, try the filet slices served with crispy potato wedges.
WISCONSIN: Kaminski's Chop House in Wisconsin Dells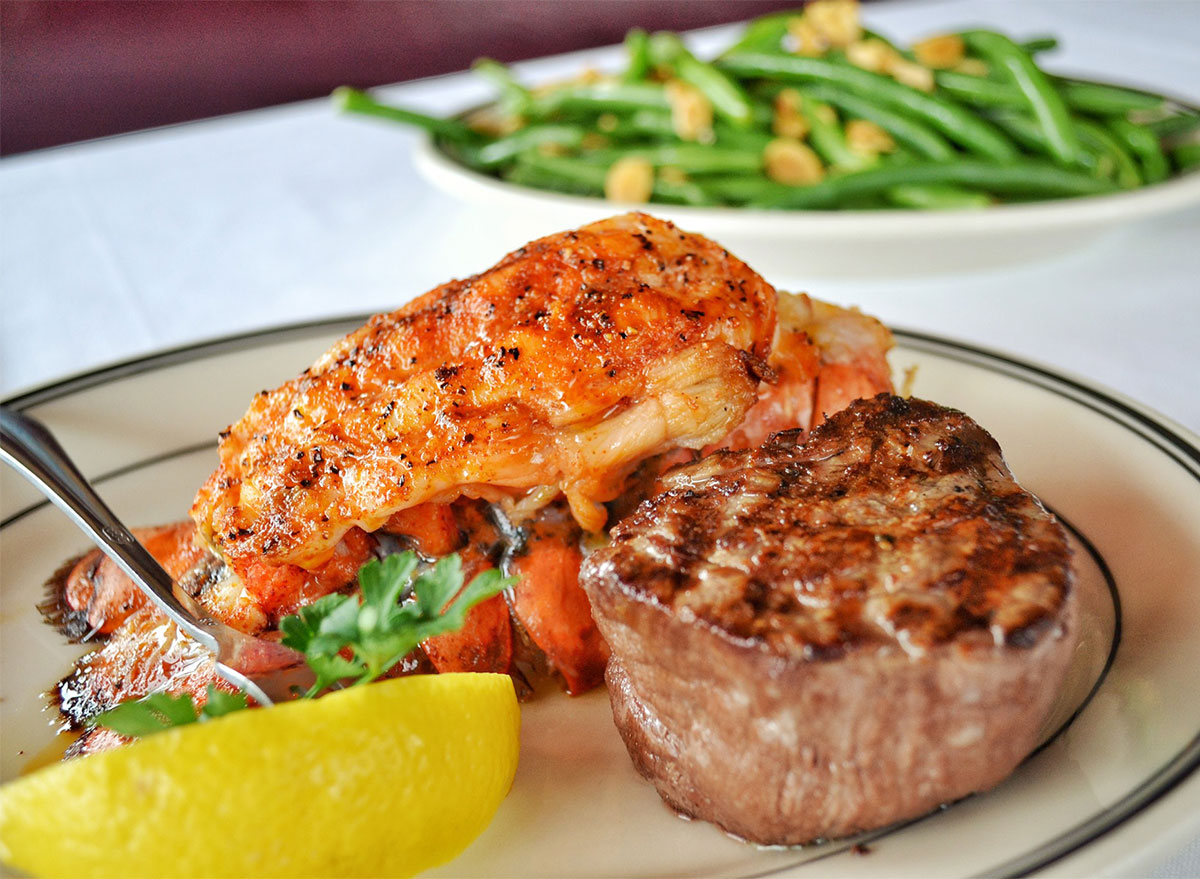 Kaminski's serves mouthwatering steaks that they claim "have no equal." The restaurant pays attention to detail, controlling every aspect of the steak until it reaches the 1200-degree oven for searing. All this delicious food is served up with a view of the Wisconsin River and its rocky ledges.
WYOMING: Miners & Stockmen's Steakhouse and Spirits in Hartville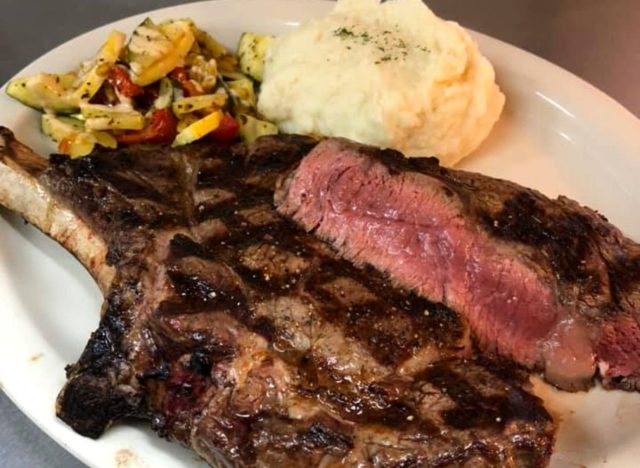 Not only is this a great place for steak, but it's also Wyoming's oldest bar. The USDA beef cuts are flavorful and juicy, and the restaurant aims to keep the food affordable for customers. The sides are simple but delicious, designed to complement the steak.
A previous version of this article was originally published on June 14, 2022.