The Most Popular Fast-Food Breakfast Items—Ranked by Taste
Think you know which fast-food breakfast menu item is the best? Hint: It's a classic.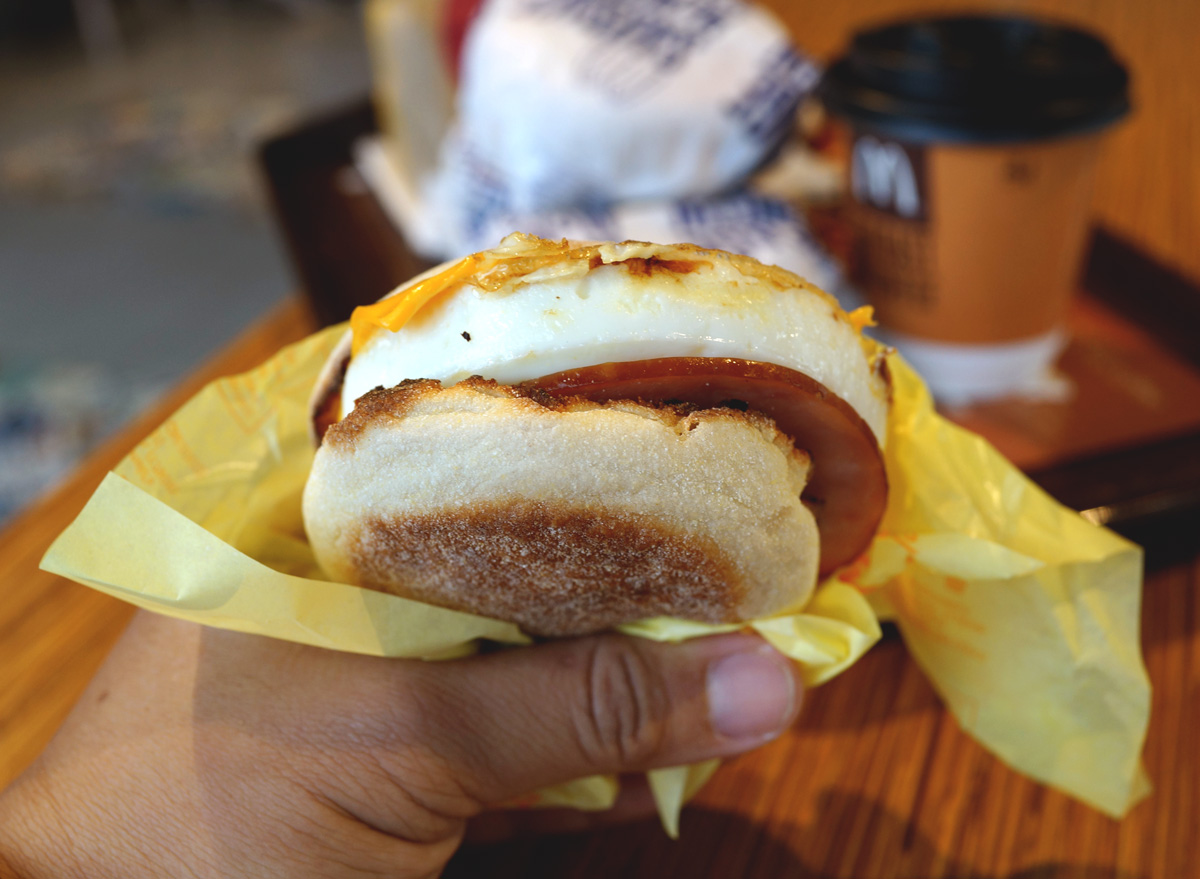 Breakfast is thought of to the best most important meal of the day for some. And you obviously want to choose something hearty and delicious to keep you fuller longer so you can stay focused and energized. Sometimes, though, you're in the mood for something quick and easy, and fast-food breakfast just calls your name. Hey, while you know it's not necessarily the healthiest option, one thing you can count on is the taste. It's going to be good.
But which fast-food breakfast item tastes the best?
We decided to take a look at which fast-food breakfast items are the most popular. To help you out on your journey to locating the best-tasting fast-food breakfast, we looked at data from Ranker, in which fast-food fans vote for their favorites, based on taste. Here, we rounded up the top 15 most popular fast-food breakfast options, ranked from No. 15 to No. 1. Think you know which fast-food breakfast item is the most beloved? Check out the list and if you get inspired to cook something up yourself, here are 100 Easiest Recipes You Can Make.
Jack in the Box Supreme Croissant
At Jack in the Box, this sandwich is described as a "flaky piece of heaven." It's made up of grilled bacon, ham, an egg, and American cheese packed between a croissant. It's clearly "supreme" for a reason!
Starbucks Bacon & Gouda Artisan Breakfast Sandwich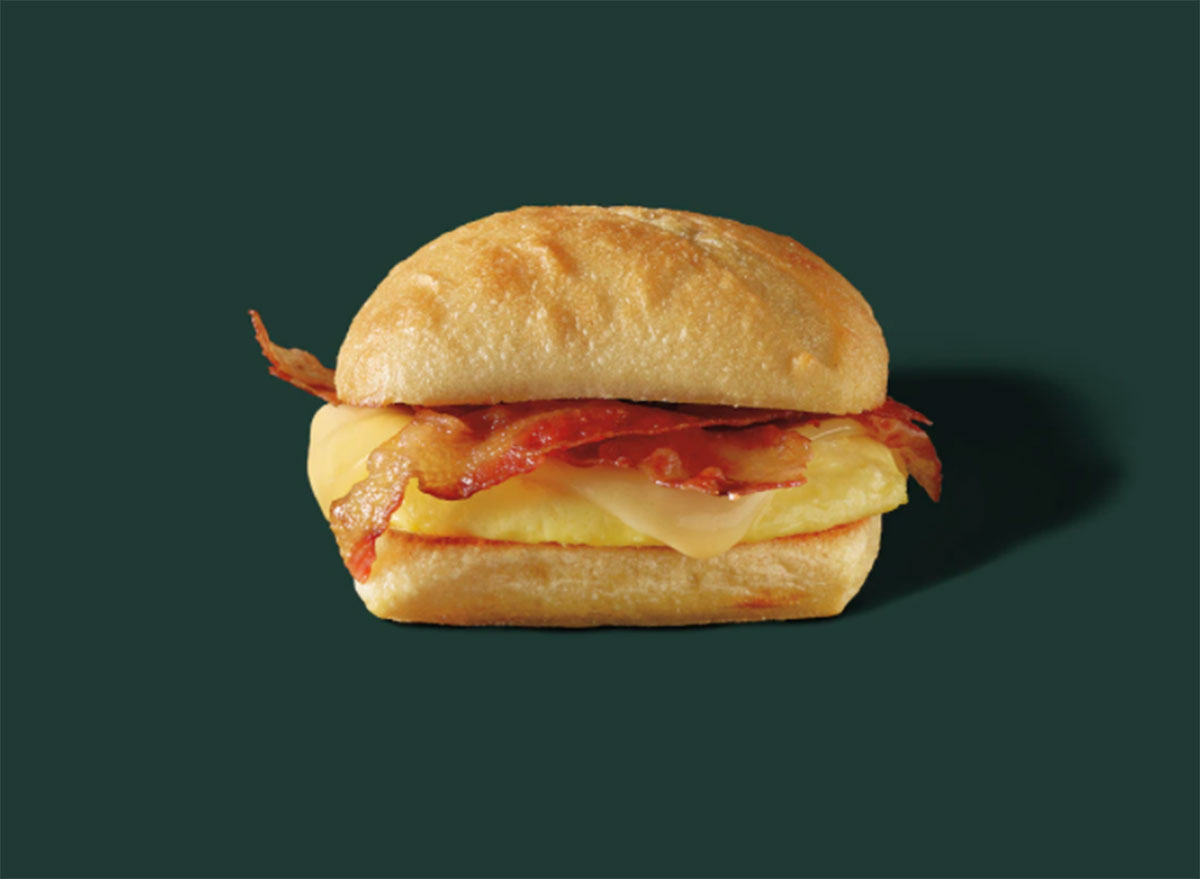 Starbucks layered an artisan roll with applewood-smoked bacon, aged Gouda, and a Parmesan frittata to create a breakfast sandwich that is extra-smoky. Sounds like it will pair nicely alongside a coffee, doesn't it?6254a4d1642c605c54bf1cab17d50f1e
Chick-Fil-A Spicy Chicken Biscuit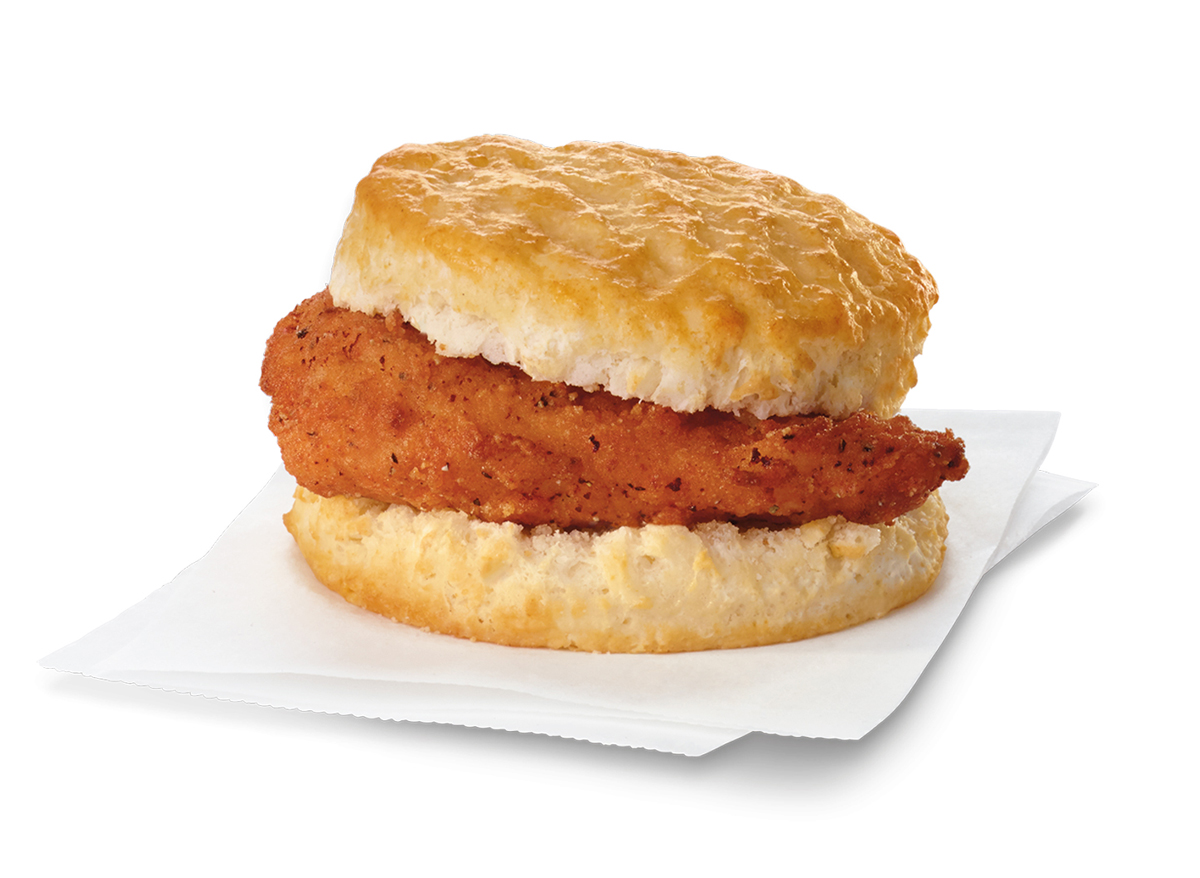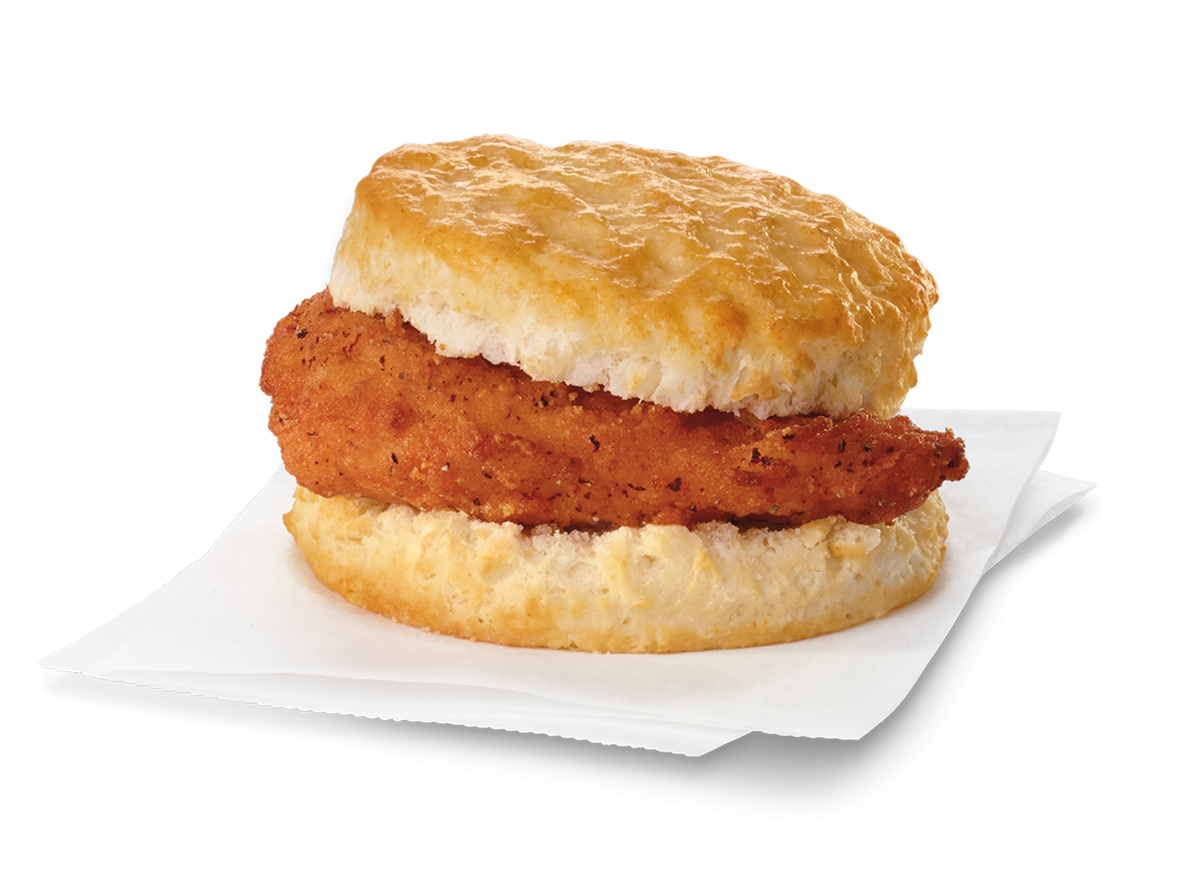 If you want to start your morning with some chicken, Chick-Fil-A Spicy Chicken Biscuit is a popular choice. A breakfast portion of the chain's boneless chicken breast is seasoned with a spicy blend of peppers and served on a buttermilk biscuit. Is your mouth watering yet?
Panera Bread Bacon, Egg, Cheese On a Bagel
You really can't ever go wrong with a bacon, egg, and cheese combination and Panera fans agree.
Dunkin' Sausage, Egg, and Cheese Croissant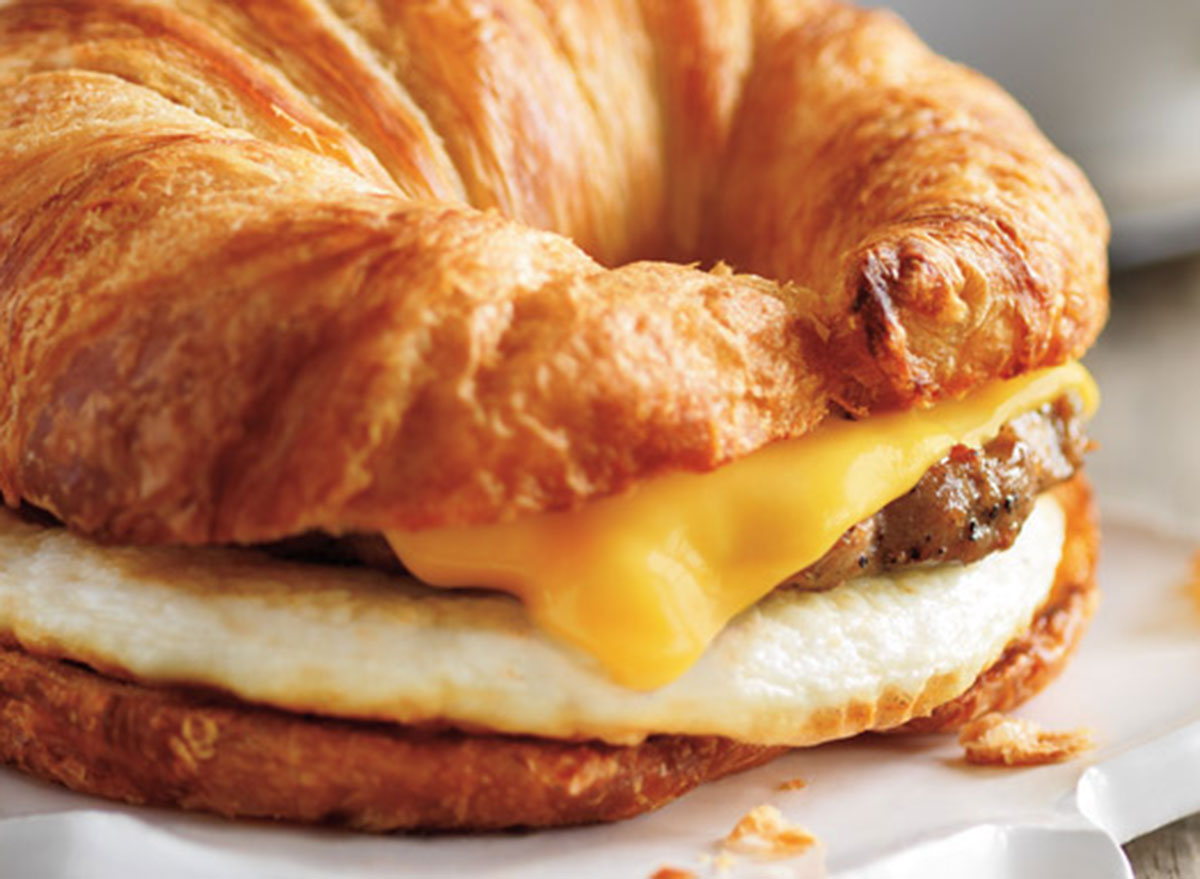 If you've ever had a croissant from Dunkin' before, then you know the flaky, buttery goodness you're in for. Well, take that and stuff some sausage, egg, and cheese between it, and you have a solid breakfast sandwich.
Looking for more food tips? Your ultimate restaurant and supermarket survival guide is here!
Taco Bell Breakfast Crunchwrap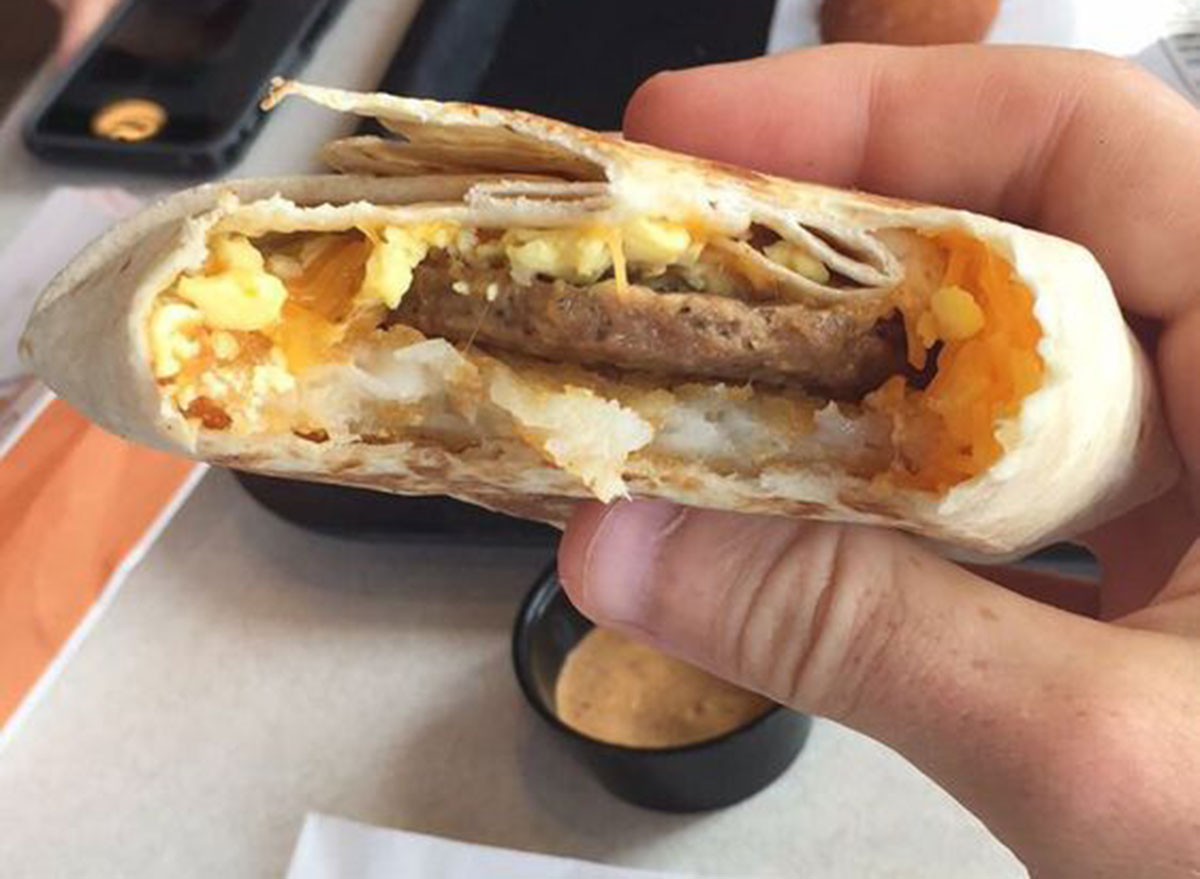 The best part about Taco Bell is that everything on the menu is customizable. You can order bacon, sausage, or steak in your Breakfast Crunchwrap.
Burger King French Toast Sticks
When you think Burger King, a Whopper and some onion rings typically comes to mind. So it might be a bit of a surprise to see how loved the French toast sticks are! They're crispy, yet fluffy and with some syrup, make for a sweet start to your day. (If you are more of a buger fan though, you'll want to uncover The Most Popular Fast-Food Burgers Right Now!)
McDonald's Bacon, Egg, and Cheese Biscuit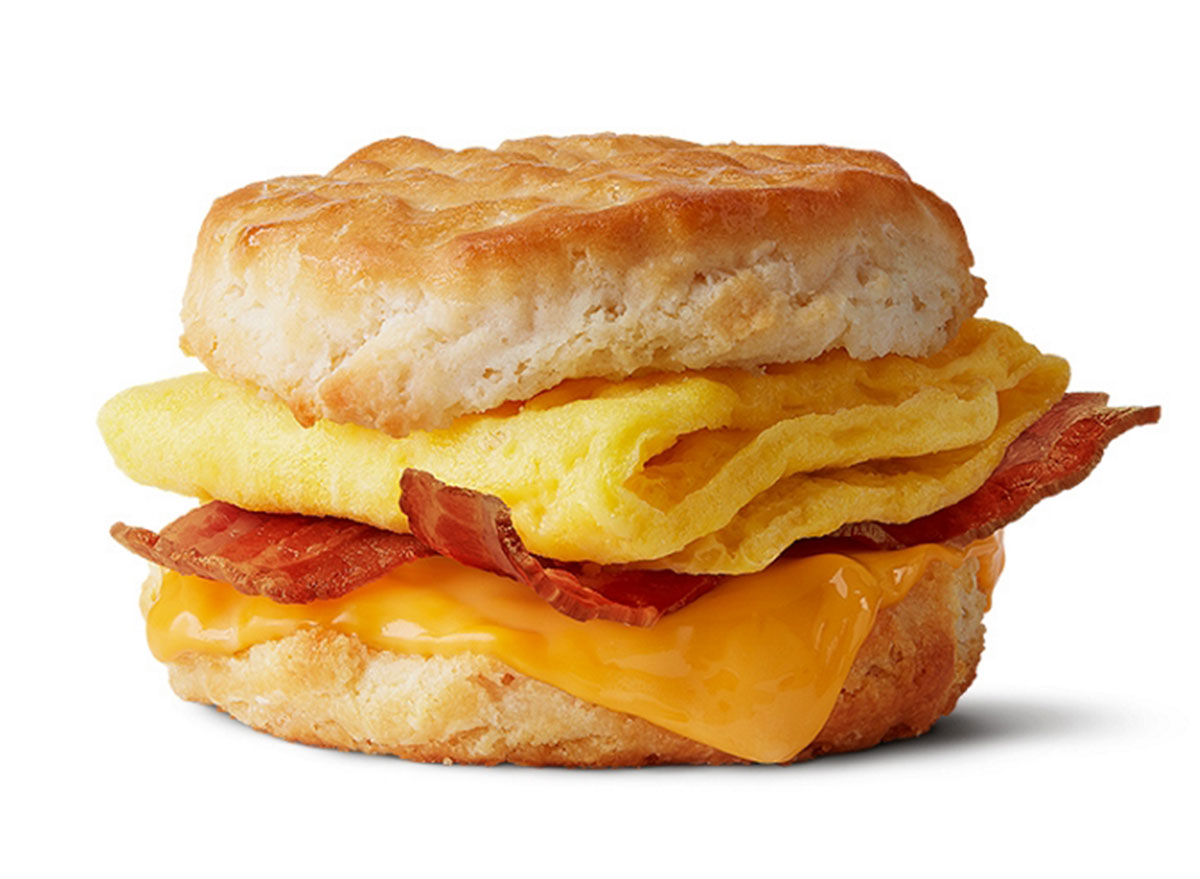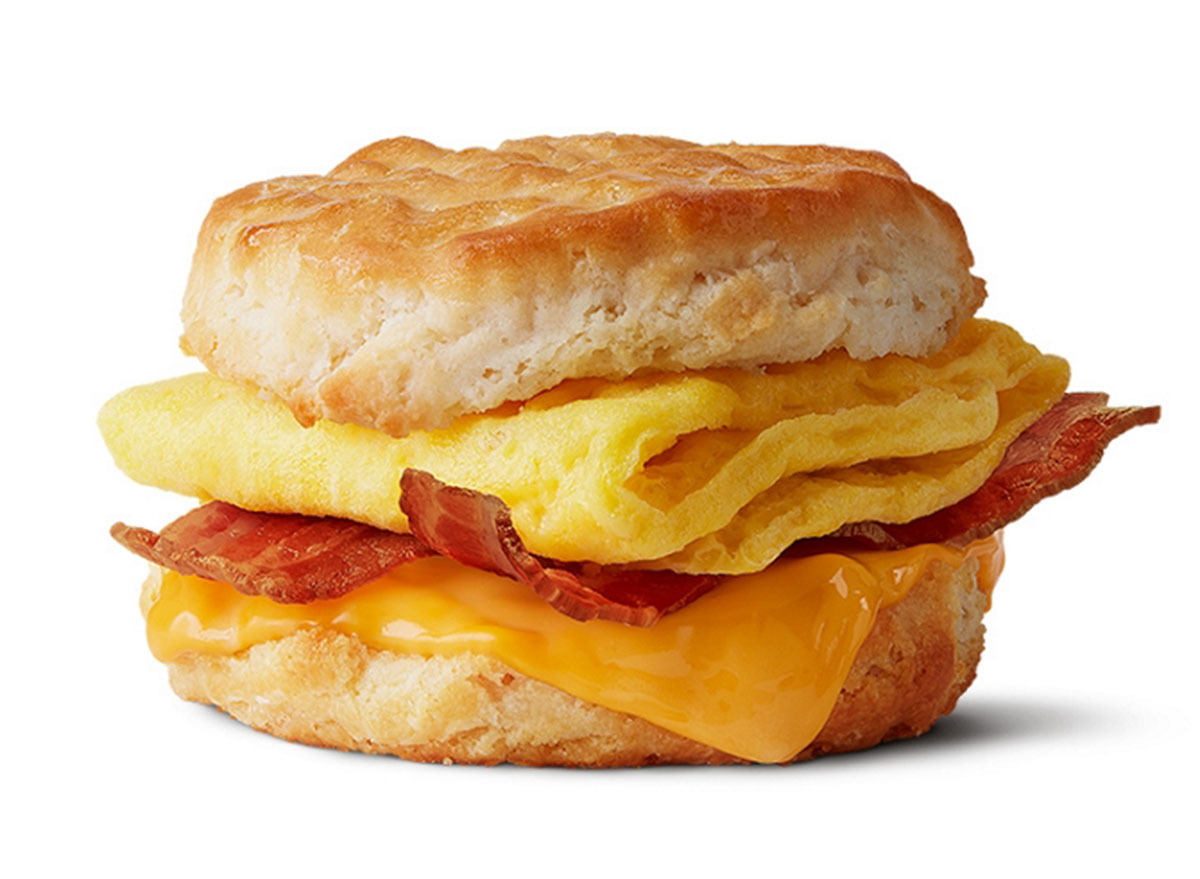 McDonald's has officially entered the chat. And you'll notice moving forward, most of the tastiest fast-food breakfast items belong to Mickey D's. First up is the Bacon, Egg, and Cheese Biscuit. There really just is something special about a McDonald's biscuit.
McDonald's Egg McMuffin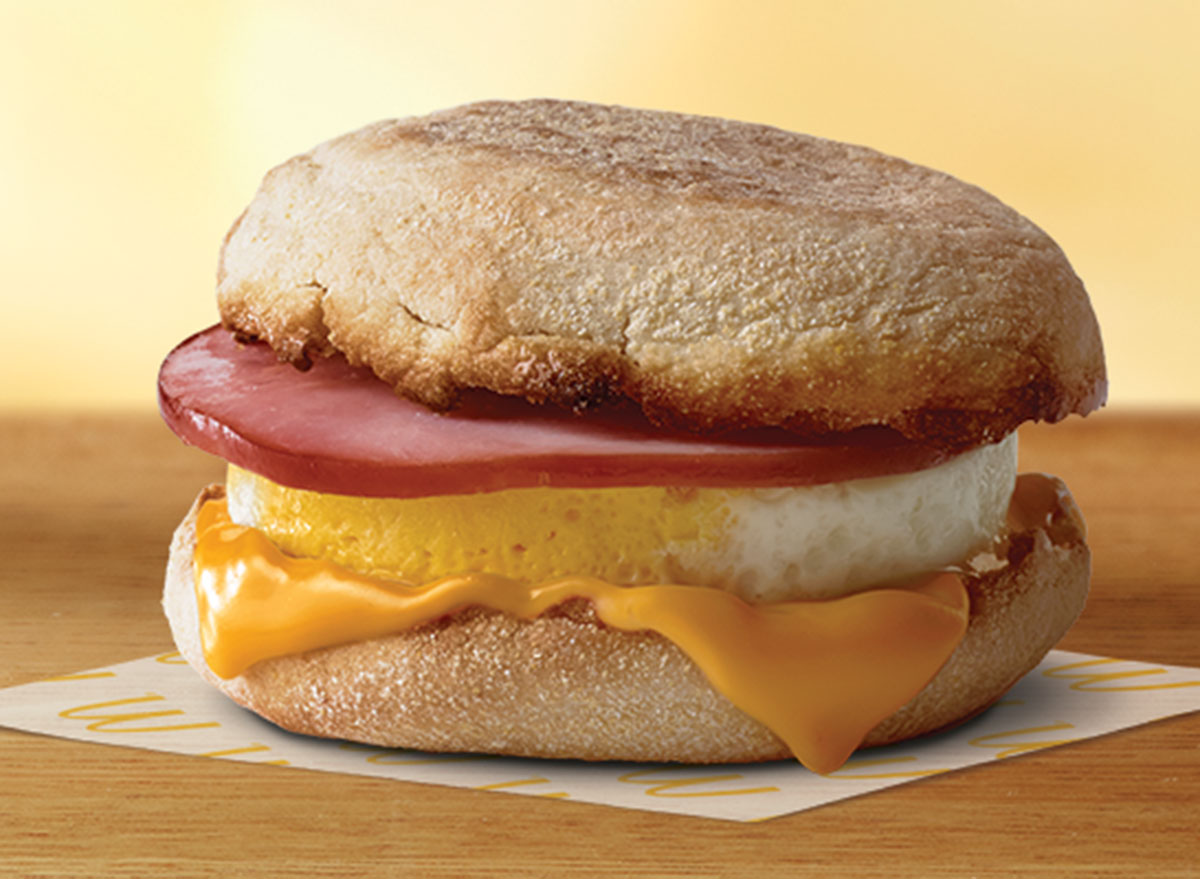 Oh, the Egg McMuffin. Is there a fast-food breakfast item more famous than this sandwich?
McDonald's Big Breakfast
The Big Breakfast from McDonald's certainly lives up to its name! The meal is made up of a biscuit, scrambled eggs, sausage, and hash browns. If you're in the mood for a little of everything and order this, but be sure to share it with a friend!
Burger King Croissan'wich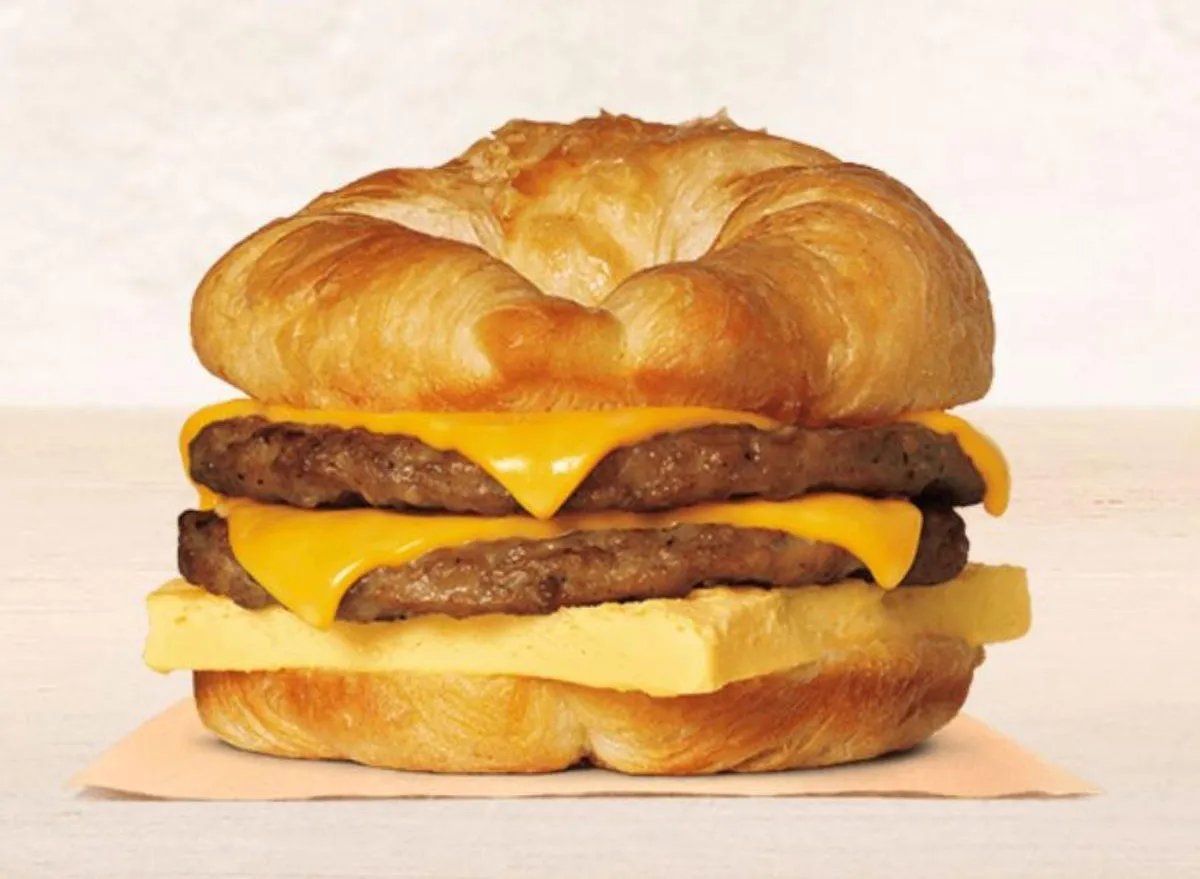 BK's croissant sandwich is piled high with sausage, egg, and cheese.Talk about leaving an impression!
McDonald's McGriddles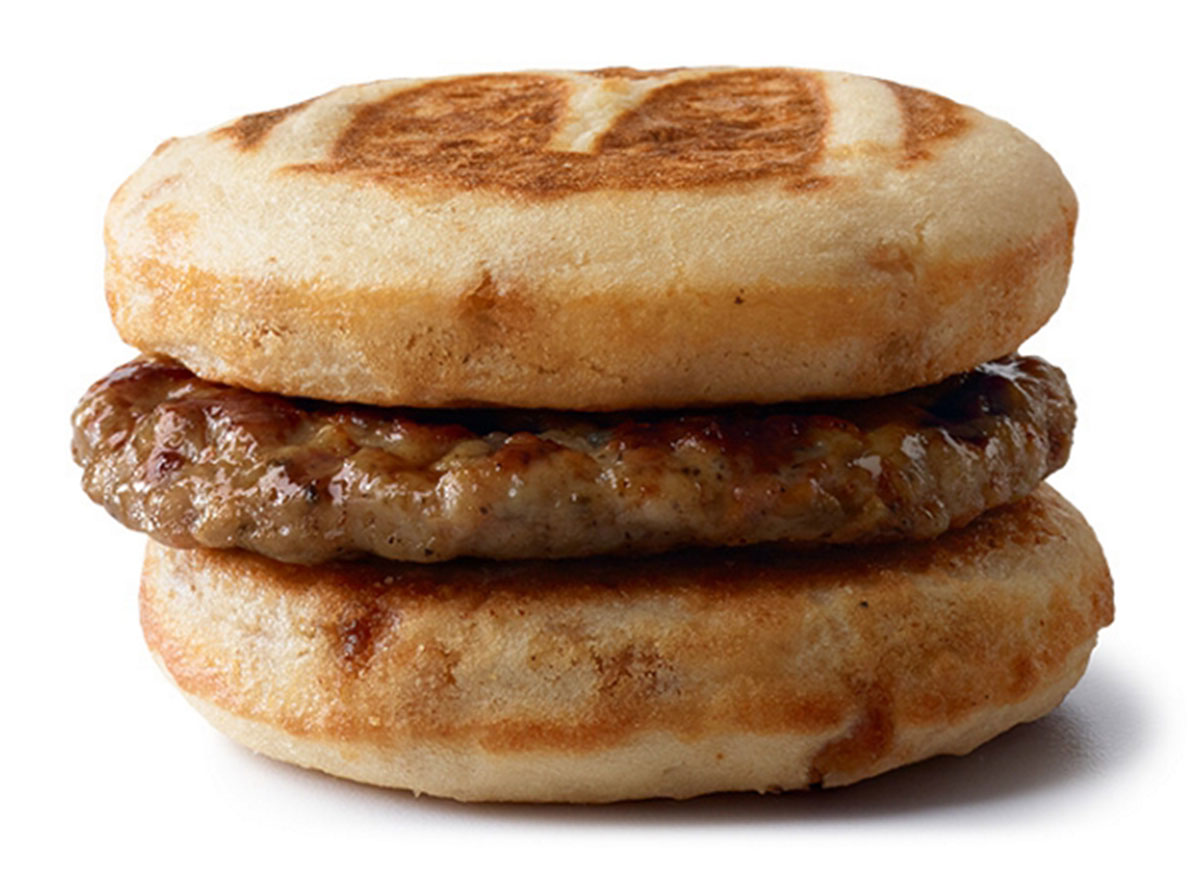 The McGriddles from McDonald's are really unlike any other breakfast sandwich. And that's because it features soft, warm griddle cakes—that have a sweet taste of maple—as the buns to which a savory piece of hot sausage is nestled between. Yes, it's as flavorful as you think!
Chick-fil-A Chick-n-Minis
Who said you can't have chicken nuggets for breakfast? At Chick-fil-A, you can! The minis are made up of bite-sized Chick-fil-A Nuggets that are sandwiched between warm, mini yeast rolls that are lightly brushed with a honey butter spread.
McDonald's Sausage McMuffin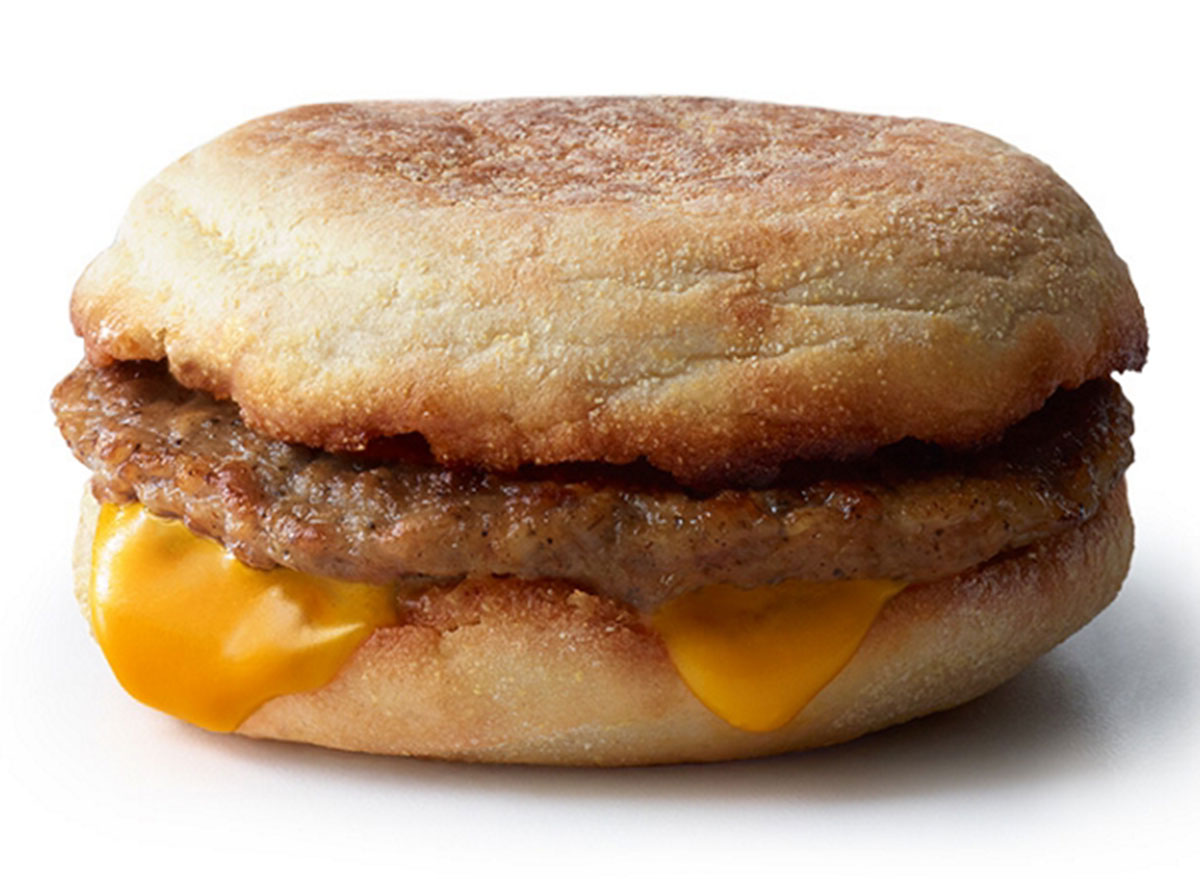 Edging out the iconic Egg McMuffin for the second most popular, tastiest fast-food breakfast is its not-so-distant relative, the Sausage McMuffin. Here, a toasted English muffin is topped with a savory hot sausage patty and a slice of melty American cheese.
McDonald's Hash Browns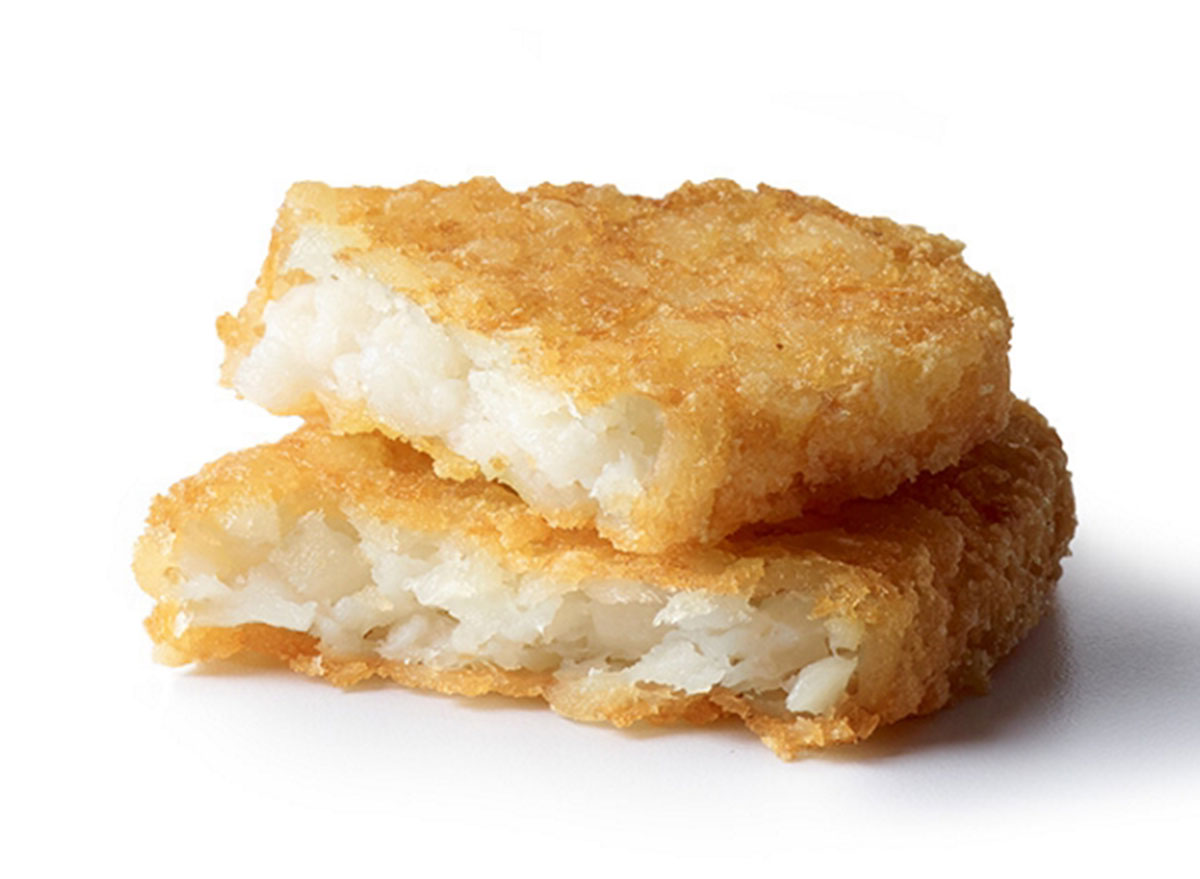 Finally, we've reached the most beloved fast-food breakfast item. It's none other than McDonald's classic hash browns. Who would've thought? The shredded potato hash brown patties from Mickey D's are always perfectly crispy on the outside, yet oh so fluffy on the inside. They really are deliciously tasty, so it's no wonder they beat out even the biggest of sandwiches!
Jennifer Maldonado
Jennifer Maldonado is a senior editor at Eat This, Not That!, specializing in food and health content.
Read more about Jennifer