These Are the Top 5 Most Popular Independent Steakhouses in America
Small business success at its most delicious.
Starting an independent business is an incredibly hard task in any industry, but the restaurant industry is notoriously unforgiving. Plenty of people think they can run a successful restaurant, but when it comes time to put up or shut up, many first-time restaurateurs ultimately close up.
Per CNBC, it's estimated roughly 60% of new restaurants fail in their first year, and up to 80% shut their doors before their fifth anniversary. All of this just goes to show that independent restaurants that persist and eventually flourish into thriving culinary businesses deserve serious credit.
On that note, Restaurant Business just released its latest top 100 rankings for independent restaurants. Usually an annual tradition, RB had shelved last year's top 100 list due to the COVID-19 pandemic. This year's list is a refreshing return to form featuring an eclectic collection of different restaurants from all over the United States. In total, all of the included restaurants generated an incredible $1.8 billion in sales and served 272 million meals in 2021.
A number of steakhouses were included in RB's top 100 rankings this year, covering a wide variety of price points, design and ambiance choices, and cooking styles. Let's take a closer look at the top five most popular independent steakhouses in America.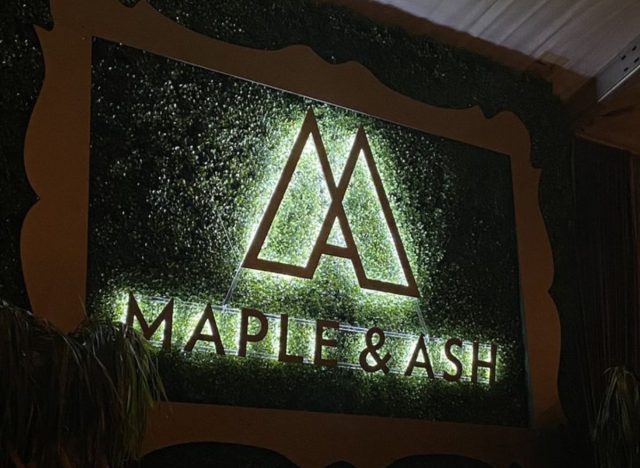 Located in Chicago, Maple & Ash offers a mouth-watering assortment of wood-fired steak and seafood dishes, all conceived by two Michelin star chef Danny Grant. The interior decor is decidedly classy and features a total of 600 seats available to diners.
An average check at Maple & Ash comes in at $106. In 2021, the steakhouse served 285,714 meals and generated $30,285,684 in sales.
Biggest splurge: Royal Osetra Caviar ($250) or the 44-ounce Eisenhower porterhouse ($225).
Top of the World – Las Vegas
Talk about fine dining with a view. This steakhouse offers a bird's eye rotating view of the Las Vegas Strip from atop the Stratosphere Hotel. An average check at this New-American steakhouse will run you $133, and the restaurant boasts 516 seats for customers. Top of the World served 218,586 meals in 2021 and earned $25,672,308.
Biggest splurge: Prime Tomahawk Chop ($175)
Prime 112 on Miami Beach is a fantastic place to soak in South Beach while enjoying a delicious meal. Known as a popular spot for group business dinners, this steakhouse welcomes guests as they enter with a simplistic, yet tasteful interior featuring 200 available dining seats.
An average check runs around $155, and Prime 112 served 210,000 meals and generated $24,750,000 in sales last year.
Biggest splurge: 16-ounce Japanese A5 Kobe Rib Eye ($230)
Located in Houston, Taste of Texas steakhouse is a bit more casual than the other restaurants covered on this list so far. Considering the average check comes out to $64, this family-friendly restaurant is perfect for a more relaxed night out. Even better, there's even a butcher shop in the steakhouse!6254a4d1642c605c54bf1cab17d50f1e
Taste of Texas holds 501 seats for guests, served 356,894 meals last year, and earned $23,180,522 in annual sales.
Biggest splurge: 28-ounce Tomahawk Rib Eye ($118)
Moving over to the other end of the price spectrum, Papi Steak in Miami is the most expensive steakhouse on this list with an average check price of $240. Featuring a sleek and stylish modern interior design, Papi Steak may be best known for the $1,000 tomahawk steak on its menu that is presented to guests in a rhinestone-studded briefcase.
Perhaps in pursuit of an exclusive vibe, Papi Steak also boasts fewer available seats for guests than any other restaurant on this list (93). The steakhouse served 91,667 meals and generated $22,000,000 in 2021.
Biggest splurge: The $1,000 briefcase steak, obviously.
John Anderer
John Anderer is a writer who specializes in science, health, and lifestyle topics.
Read more about John