The Most Underrated Fast-Food Restaurant in America
A registered dietitian identifies the healthiest fast-food chain and even shares her favorite menu items.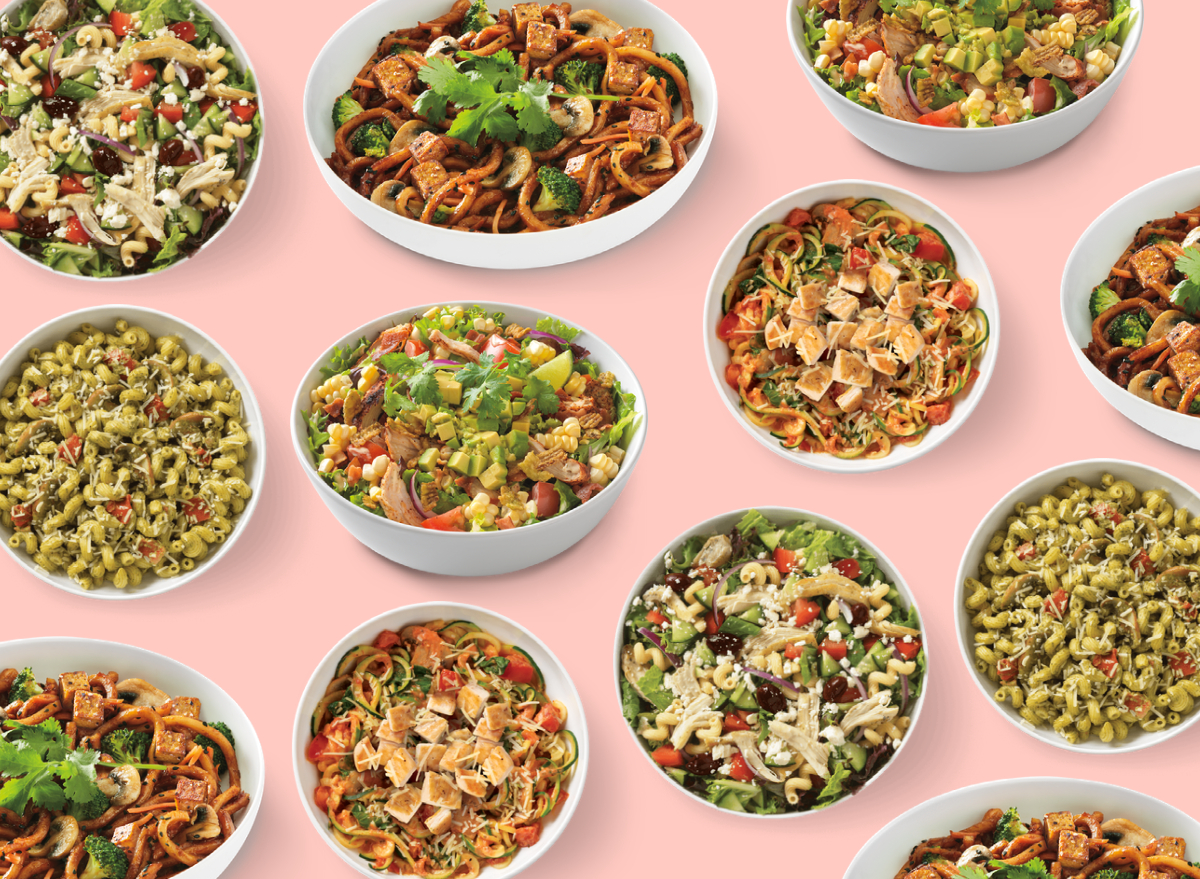 Americans love fast food, with 1 in 3 adults eating the stuff every single day. However, fast food is often higher in calories, saturated fat, and sodium, which health experts say can contribute to chronic conditions such as obesity, diabetes, and cardiovascular disease if consumed regularly. (21 Best Healthy Cooking Hacks of All Time).
There are some fast-food chains, though, that serve healthier items. In fact, Kelli McGrane registered dietitian for the free food tracking app Lose it! says one chain, in particular, does a phenomenal job at offering health-forward meals.
"Noodles and Company may sound carb-heavy, but their menu is surprisingly full of options that are healthier than many other fast food options out there," she says. "In addition to being able to order a smaller portion of any of their noodles, they also offer salads, zoodles, cauliflower noodles, and a variety of vegetables and lean proteins."
Below, you'll see McGrane's top five picks at the most underrated fast-food chain in the country, Noodles & Company.
Chicken Veracruz Salad without Bacon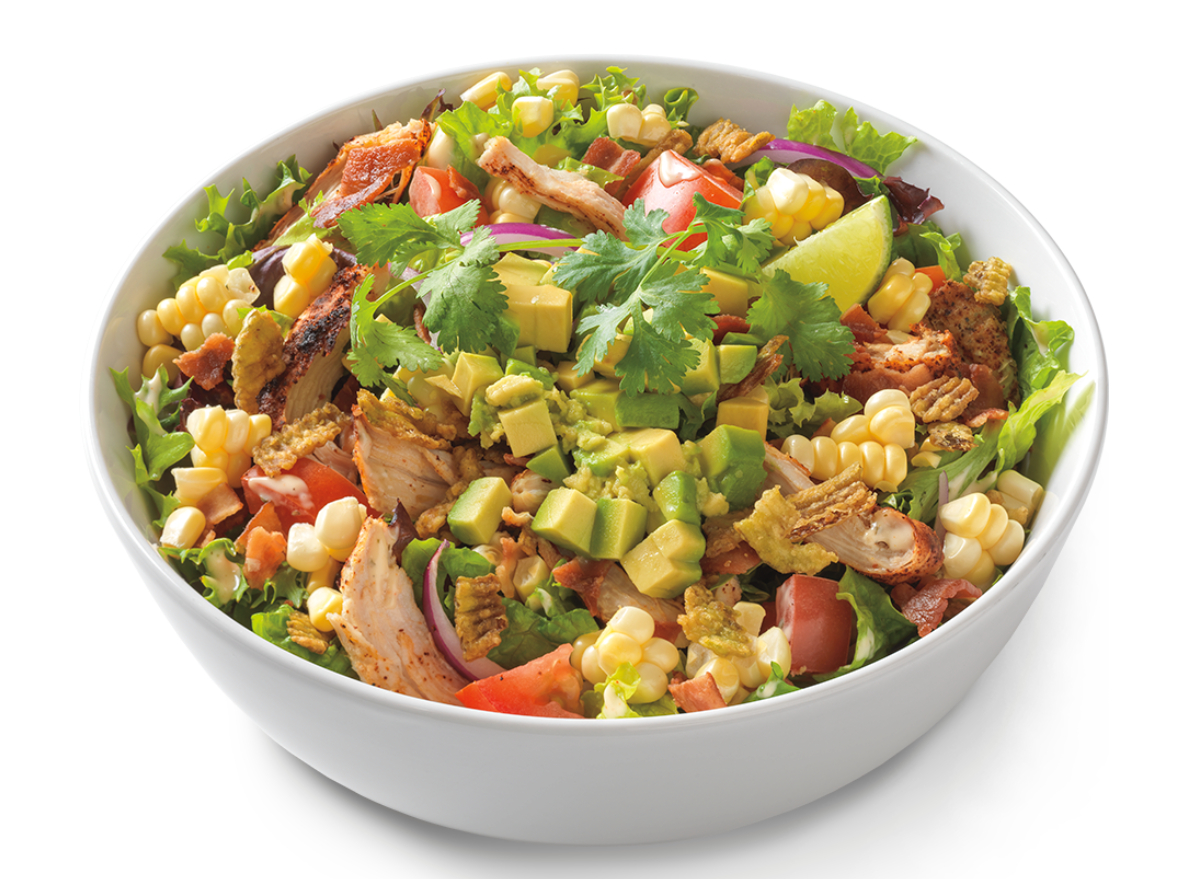 Per small salad w/o bacon
: 380 calories, 25 g fat (4.5 g sat fat, 0 g trans fat), 920 mg sodium, 15 g carbs (3 g fiber, 4 g sugar), 27 g protein
McGrane says this salad—which contains tomato, red onion, grilled chicken, corn, jalapeño ranch dressing, crispy jalapeños, fresh avocado, and cilantro— without bacon is a great option because it packs quite a few vegetables and a lot of flavor.6254a4d1642c605c54bf1cab17d50f1e
"Less than 400 calories, this salad still manages to pack 23 grams of filling protein and 3 grams of fiber," says McGrane. "I also like that it's low in saturated fat and added sugars."
The Med Salad with Chicken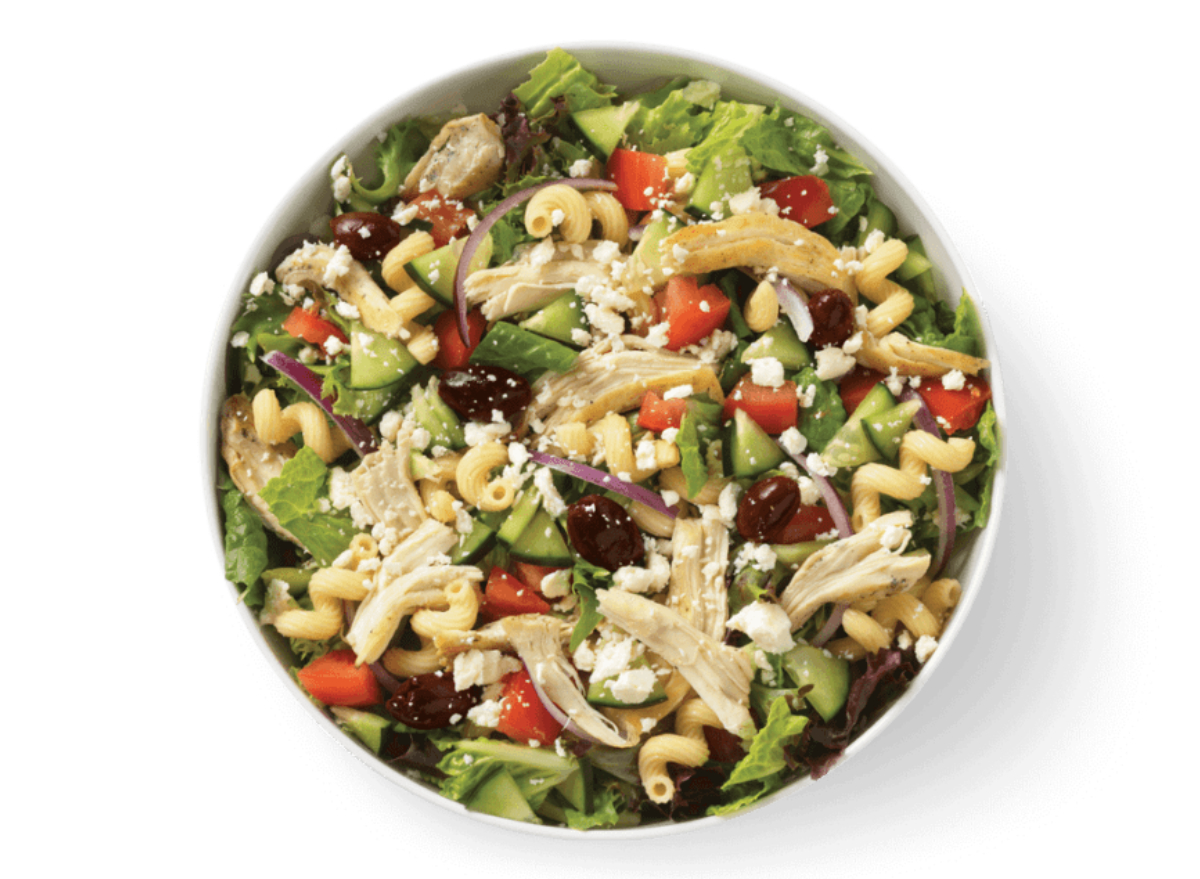 Per regular salad
: 390 calories, 16 g fat (5 g sat fat, 0 g trans fat), 1,560 mg sodium, 33 g carbs (4 g fiber, 7 g sugar), 30 g protein
If you're looking for a bigger salad, McGrane suggests the Med Salad with chicken, mixed greens, tomato, cucumber, onion, olives, feta, and pasta is another solid choice. McGrane likes this salad because it's low in saturated fat, which means better for your heart, and still packs 30 grams of protein. (Related: How Much Protein You Should Actually Eat in One Meal, According to Experts).
"The main downside is that it is high in sodium," says McGrane. However, if you opt for no dressing, you'll shave off 430 milligrams of sodium.
Zucchini Rosa with Grilled Chicken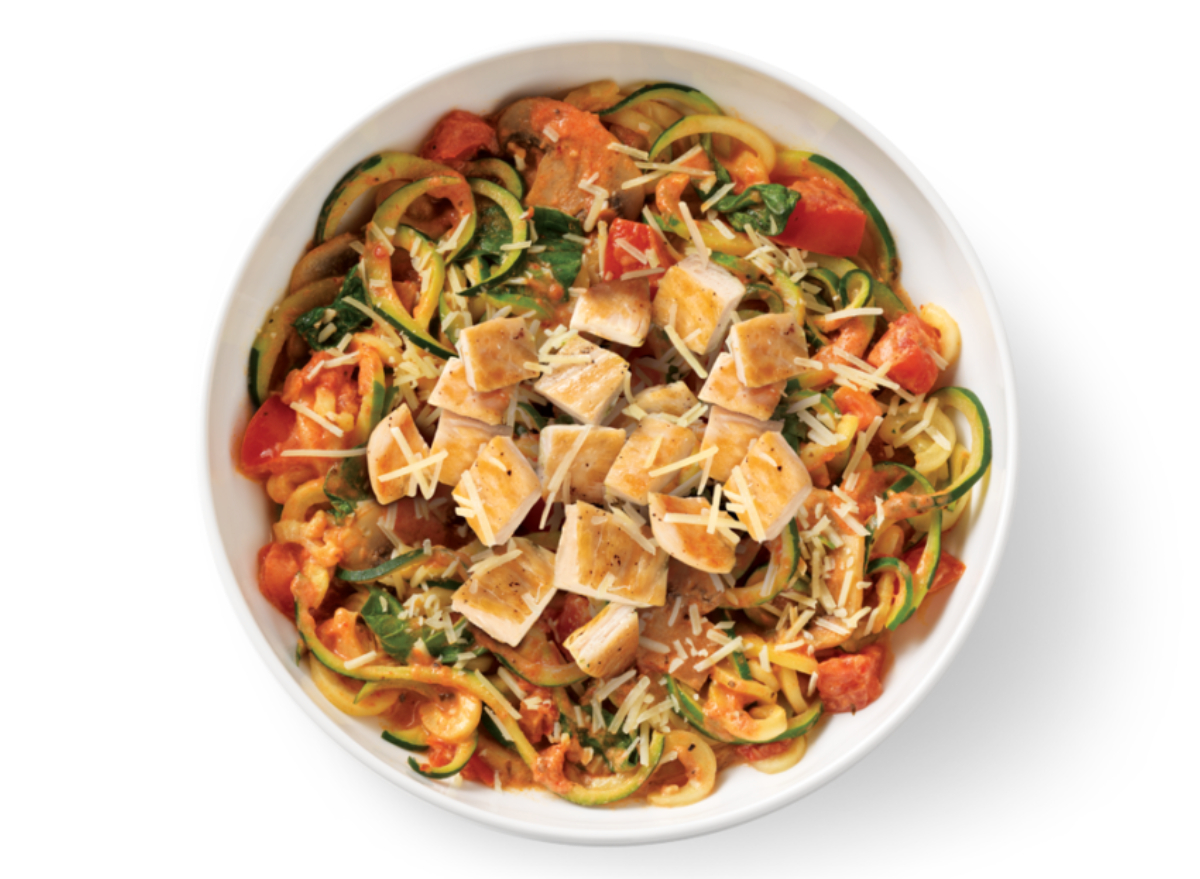 Per small bowl
: 290 calories, 13 g fat (6 g sat fat, 0 g trans fat), 1,430 mg sodium, 12 g carbs (3 g fiber, 6 g sugar), 32 g protein
"For a low-carb option, this is a great option as it's high in protein and contains several veggies including zucchini noodles, spinach, tomatoes, and mushrooms," says McGrane. "Despite having a cream sauce, this dish is relatively low in total and saturated fat. However, it is high in sodium, so you'll want to watch your salt intake for the rest of the day."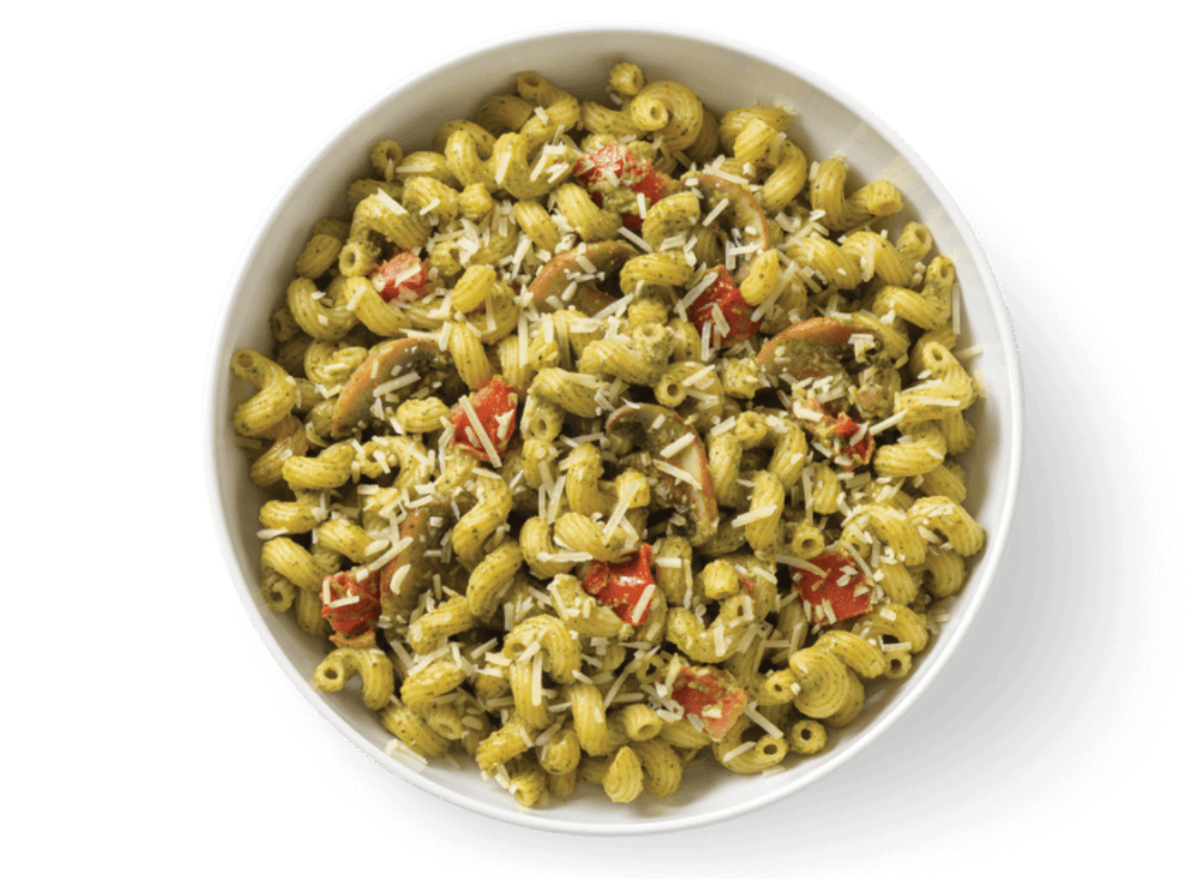 Per small bowl
: 370 calories, 15 g fat (4.5 g sat fat, 0 g trans fat), 440 mg sodium, 47 g carbs (3 g fiber, 4 g sugar), 12 g protein
McGrane loves this pasta dish because it's so low in sodium and saturated fat—only 440 milligrams and 4.5 grams, respectively.
"The small order will run you less than 400 calories, leaving you room to add grilled chicken, shrimp, tofu to help boost the protein content," she says.
Japanese Pan Noodles with Seasoned Tofu
Per small bowl
: 550 calories, 20 g fat (4.5 g sat fat, 0 g trans fat), 1,500 mg sodium, 63 g carbs (4 g fiber, 14 g sugar), 30 g protein
"Unfortunately, all of the Asian-inspired dishes are high in sugar," says McGrane. "However, if you're really in the mood, a small order of the Japanese Pan Noodles with Tofu is your best bet."
For comparison, the small bowl of the Grilled Orange Chicken Lo Mein at Noodles & Company clocks in at 1,820 milligrams of sodium. The American Heart Association recommends you limit your intake to just 2,300 milligrams of sodium each day, which means you nearly consume your entire day's worth with just one small bowl of this menu item.
For more, be sure to check out 7 Scary Side Effects of Eating Salty Foods.