The Most Underrated Frozen Pizza on Grocery Shelves
Cauliflower crust, step aside!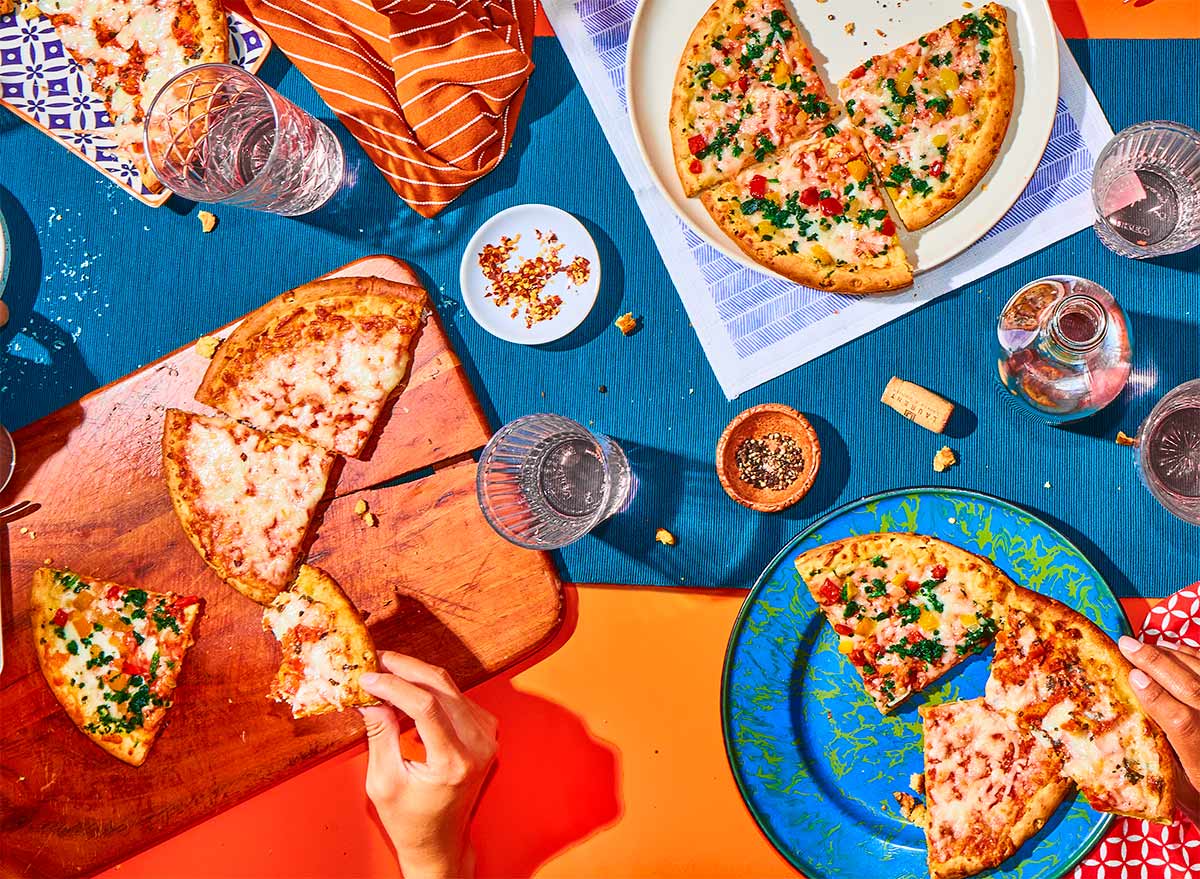 It feels like everyone is pretty much obsessed with cauliflower pizza lately. And with good reason! Cauliflower pizza crust is made with all kinds of ingredients that are easy for people to digest. Along with having the main vegetable, most cauliflower crusts have a combination of rice flour, tapioca starch, eggs, olive oil, and other good-for-you ingredients. But I do have to admit, while the concept of a cauliflower crust sounds ideal for someone like me who loves to eat healthily, it's not my favorite crust in the whole world. So I was absolutely thrilled when I came across what I believe to be the most underrated frozen pizza crust on grocery shelves. What is it? It's chickpea crust.
Haven't heard of it yet? Makes sense! In fact, the invention of the chickpea pizza crust is new to most grocery shelves across the United States. That's because one company, in particular, is paving the way for chickpea-based alternatives of your favorite starchy foods.
"Chickpeas are one of the most nutrient-dense and environmentally-friendly foods available, yet we consume far less of them than we should," says Brian Rudolph, CEO and co-founder of Banza, in a recent press release. "At Banza, we're demonstrating the versatility of the ingredient and increasing consumption by using them to upgrade some of America's favorite foods—pasta, rice, and now, pizza."
Here's the most underrated frozen pizza on grocery shelves right now, and for more grocery news, check out our list of 8 Grocery Items That May Soon Be in Short Supply.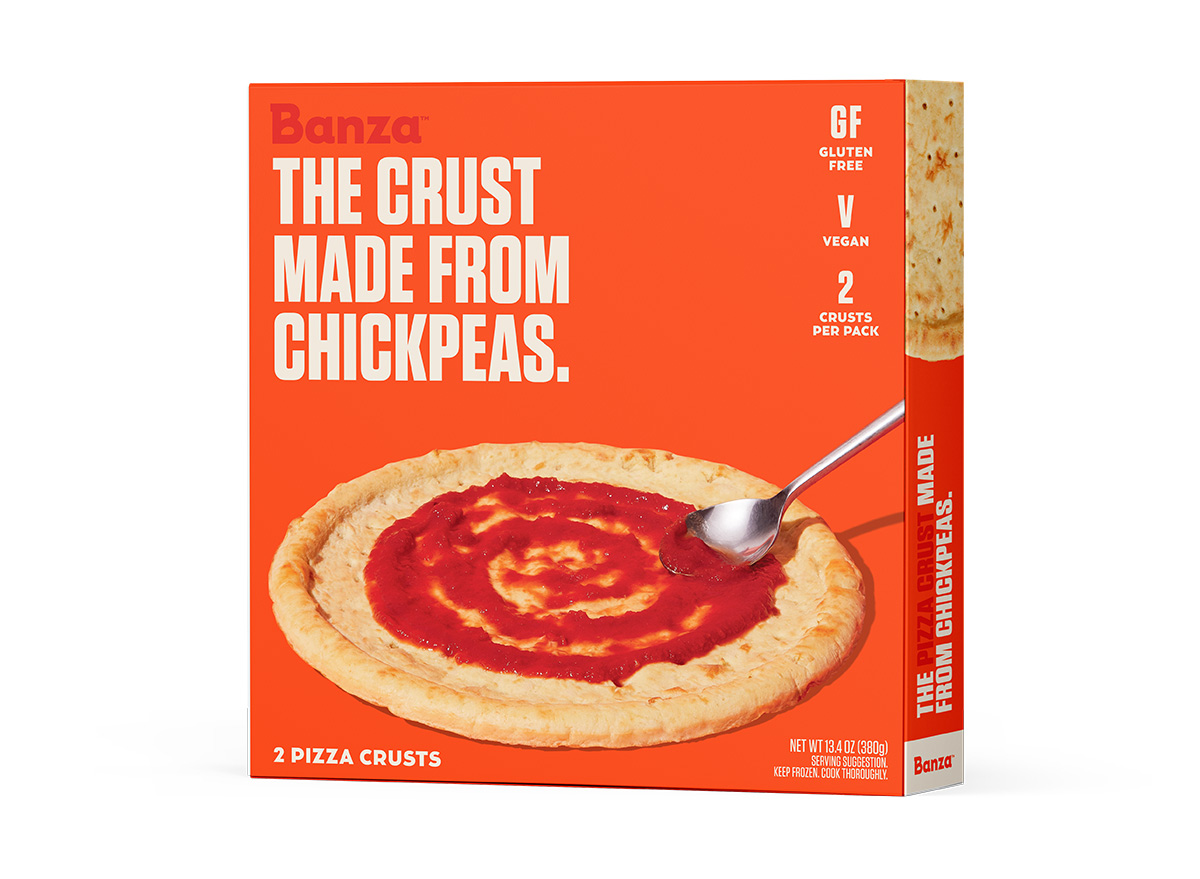 6254a4d1642c605c54bf1cab17d50f1e
Per 1/4 crust
: 150 calories, 6 g fat (2 g saturated fat, 0 g trans fat), 135 mg sodium, 23 g carbs (2 g fiber, <1 g sugar), 4 g protein
Banza—a company focused on creating pasta, rice, and mac & cheese with a chickpea base—is one of the first to ever offer a frozen pizza made with chickpea crusts. A quick look at the nutrition can also tell you that this pizza crust is the perfect alternative for your waistline. With only 150 calories for one-quarter of the pizza, once you add the toppings you desire, you can easily enjoy half of the entire pizza and not sabotage your health goals.
On Oct. 19 of this year, Banza released a line of frozen pizzas made from chickpeas! Along with chickpeas, this crust includes tapioca, cocoa butter, olive oil, and other spices and leavening to give that crust it's crust-like texture. There are no added sugars in this crust—a pinch of date powder gives the crust some sweetness—and includes xanthan gum to hold it together. This crust is naturally gluten-free and vegan, making it the perfect crust for all kinds of dietary restrictions.
Compared to the cauliflower crust, which can sometimes be difficult to get super crispy, the chickpea crust has a nice sturdy hold. Meaning you can pile all kinds of toppings on it without worrying those pizza toppings falling into your lap when you pick up a slice. The crust is slightly sweeter than most frozen pizza crusts, but the sweetness is coming from natural ingredients—again, no added sugars!
This underrated frozen pizza crust comes with two plain crusts in a box, allowing yourself double the amount of pizza goodness. You can throw together any kind of recipe using this crust—like topping it using one of these clever pizza recipes.
Not in the mood for making your own pizza? Banza also offers a line of their own frozen pizzas that are premade and ready for you to devour. Right now they offer three flavors including Four Cheese, Margherita, and Roasted Veggie.
According to Banza's recent press release, you can find these frozen pizzas at Target, Whole Foods Market, Wegmans, Heinen's, as well as on Amazon and EatBanza.com. The boxes are priced at $8.99 each.
For more grocery news, be sure to sign up for our newsletter.