These New 6 Trader Joe's Items Are Worth Buying Right Now
They're too good to wait till they're all gone!
Spring has most definitely sprung, which means Trader Joe's has come out with seasonal items for you to enjoy as the weather finally begins to warm up. The grocery chain is often known for being affordable and accommodating for people with food allergies and intolerances. Thankfully, their new items don't stray from the greatness they always deliver.
Trader Joe's came out with a long list of new items for change in seasons, but here are our picks for the items that you need to pick up when you visit the store next!
New Seasonings: Seasoning In A Pickle & Ranch Seasoning Blend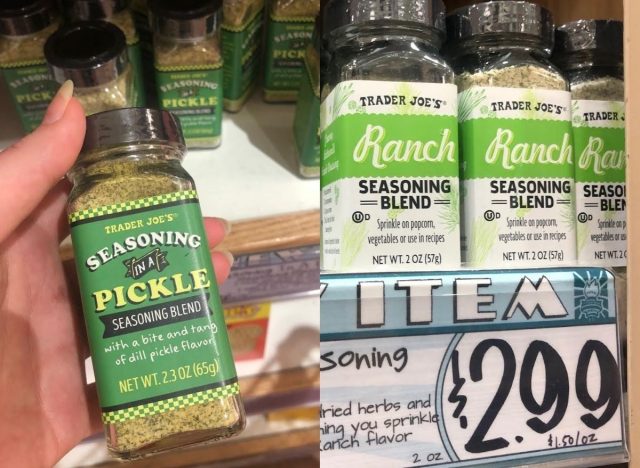 TJ's seasonings and spices tend to be more than you ever thought you needed. The chain carries a wide range of somewhat out of the ordinary, fan-favorite flavors—such as the Everything But The Bagel or Cuban Style Citrusy Garlic seasoning—and now they've introduced two new choices to help you up the character of your food when it hits your tastebuds.
For all the pickle lovers of the world, run to the nearest Trader Joe's and pick up the new Pickle Seasoning! You can either give your dishes a refreshing, tangy pickle taste or top off your deli sandwich with the flavor of a pickle if you ever run out of the real thing.
Also, if you're a huge fan of Cool Ranch Doritos or smothering your salad in ranch dressing, the new Ranch Seasoning Blend at TJ's will solve every itch you may ever have for the beloved dressing taste.
Strawberry Basil Vinaigrette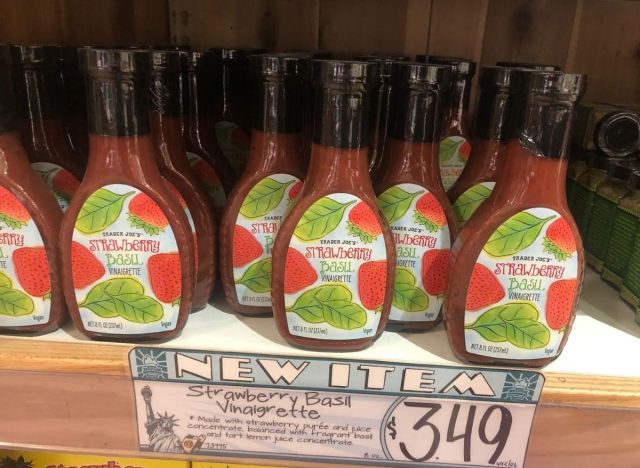 With spring and summer coming in full swing, a nice refreshing salad is just what you may need to break the heat. To top it off right, try out Trader Joe's new Strawberry Basil Vinaigrette for a light and fruitful treat. It's made with both strawberry puree and juice concentrate, as well as fresh basil and lemon juice.
Popular Instagram reviewer @traderjoeslist posted this new dressing and recommended trying it layered with a salad consisting of spinach, strawberries, almonds, dates, purple onion, and Gorgonzola crumbles.
Peanut Butter Caramel Coated Popcorn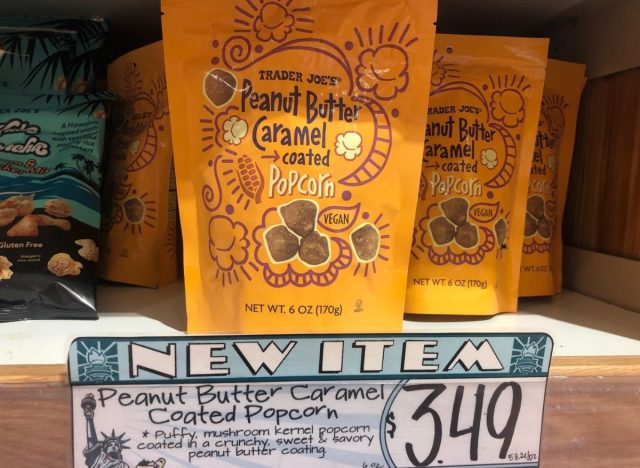 Snacking doesn't have to be a weakness, especially if you have just the right thing to snack on! The new Peanut Butter Caramel Coated Popcorn can help you stomp your hunger in the most delicious way possible. Combining TJ's crunchy popcorn with a healthy (but still generous) layer of caramel and creamy peanut butter, gives the little bites a flavor similar to Reese's Puff cereal, according to Instagrammer @traderjoesfoodreviews. This new product is vegan and has very few ingredients total, so no worries if you go a little overboard. There are only 130 calories per serving!
Sparkling White Tea with Pomegranate Juice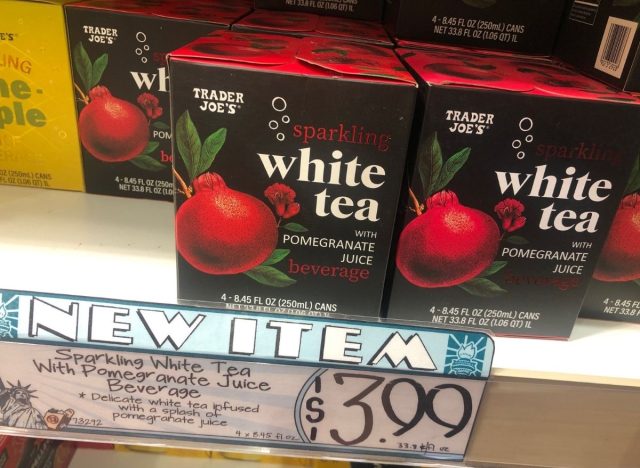 Trader Joe's always seems to crush it in the beverage department, and the launch of their new Sparkling White Tea with Pomegranate Juice is continuing business as usual. The bubbly concoction gives off sweet, refreshing flavors, without being overpowering in the sugar department (with only 10 calories per can!). If you like the subtle taste of gummy bears or dried fruit, then this sparkling tea-juice combo is perfect for you. Plus, pomegranate juice is one of the best drinks you can have for heart health, because of the fruit's unique antioxidants.
Truffle Aioli
A vegan aioli-inspired sauce doesn't come around often, lucky for us, Trader Joe's made it happen in a great way. For some, this product might be the newest addition to burger night, as a thick and flavorful spread on the fluffy bun of your choosing. While for others, this sauce can serve as a mouth-watering, truffle-packed dipping option for french fries or fried zucchini. Don't forget to pick up this new Truffle Aioli on your next trip to TJ's for all your creamy, powerhouse flavor needs.
Vegan Buffalo Style Dip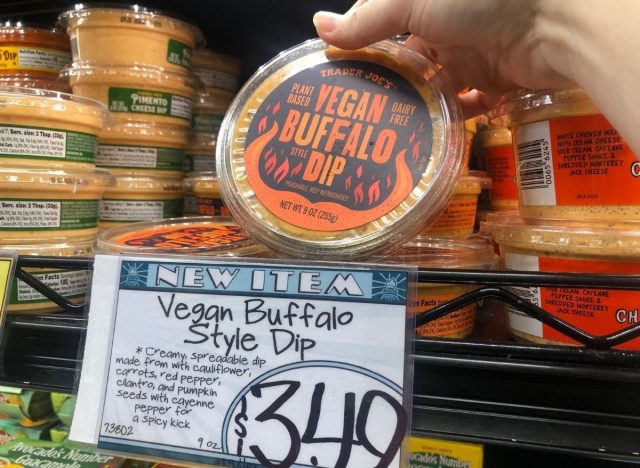 When weekends become full of barbecues and beach days, there is nothing like a good crowd-pleasing dip to keep the party going. As iconic as buffalo chicken dip may be, it can be very heavy on dairy and overwhelming for many. Lucky for us, Trader Joe's new Vegan Buffalo Style Dip is a light and easy swap that still hits all our boxes. The dip is made with superfood veggies like cauliflower, red peppers, and carrots, but it gets its' heat from a kickin' buffalo sauce and a little hint of cayenne.6254a4d1642c605c54bf1cab17d50f1e
Jordan Summers-Marcouillier
Jordan Summers-Marcouillier was born and raised in San Jose, California and now works as a writer in New York, NY.
Read more about Jordan