I Tried 6 New Trader Joe's Products And These Were Not Worth It
You can skip these items without the FOMO.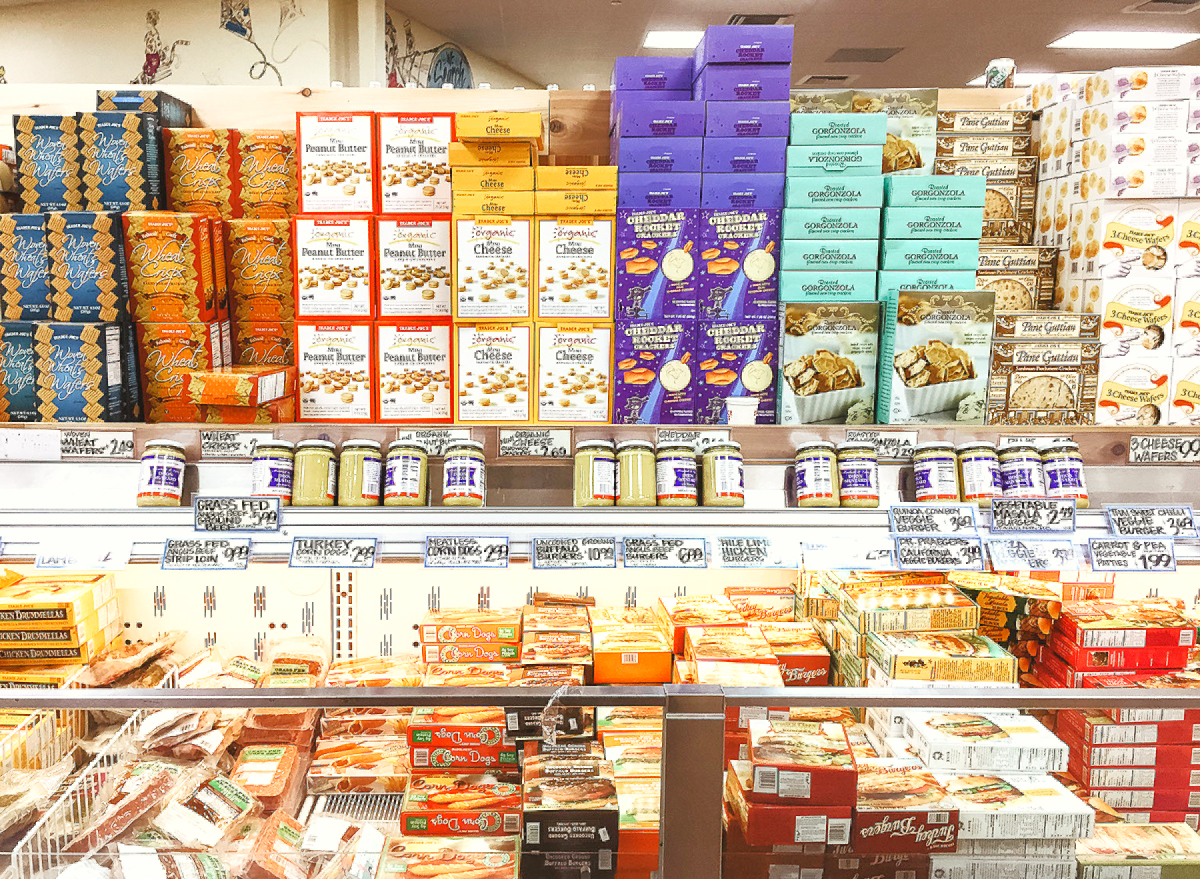 Trader Joe's, the neighborhood grocery store that has its shoppers constantly scoping the aisles to find their latest and greatest products, recently put out a selection of fun, new food and drink inventions. But for every hit item they release, there's bound to be a miss.
To save you the trouble of figuring it out yourself, I tried six of these items to figure out which ones were must-haves and which ones were more of the "thank you, next" variety. From all the products I tested – Non-Dairy Oat Creamer with Brown Sugar, Decaf French Roast Instant Coffee, When Life Gives You Lemons, Make Ice Cream, Sour Cream & Onion Flavored Rings, Candy Coated Dark Chocolate Covered Almonds, and Dark Chocolate Almond Butter Pretzel Nuggets – these are the ones you can pass on.
Non-Dairy Oat Creamer with Brown Sugar
If you like the caramelized flavor of brown sugar, the new oat creamer may be tempting – especially if you love creamy coffee but have to steer clear of dairy. And as someone who perpetually stores extra cartons of Trader Joe's Vanilla Coconut and Almond Milk Creamer in the freezer in case they're briefly out of stock, I have a lot of faith in the company's ability to create delicious, guilt-free alternative milk products.
However, this new plant-based creamer fell short for me in a couple of categories. The first factor was taste, which I personally was not a fan of. Don't get me wrong – I've seen the rave reviews from other shoppers who insisted this was a must-buy. On Reddit, people were excited to add it to a black tea concentrate or craft their own version of Starbucks' Iced Brown Sugar Oatmilk Shaken Espresso.
For me, the sweetness was overpowering, with a super-strong maple-y flavor that was almost cloying. While I could appreciate a splash or two in my coffee every so often to mix things up, I didn't feel drawn to use it over my regular creamer.
The second factor was nutrition. Is this something I can feel good about using on a regular basis? The answer might be yes, if the alternative is ordering a sugary Starbucks drink instead of making coffee at home. But my daily habit is a simple coffee or tea with a hint of sweetened creaminess, using as few processed ingredients as possible.
The Brown Sugar Oat Creamer misses the mark here. When @traderjoeslist posted the new arrival on Instagram, some pointed out that some of the plant-based milk was filled with potentially problematic ingredients, such as sunflower oil and pea protein. Vegetable oils have been linked to health risks like inflammation, weight gain, and heart disease, while pea protein, an increasingly common additive for vegan and vegetarian meat substitutes, has been found to trigger similar allergic reactions for those with peanut allergies.
The conclusion? Pick this up for $1.99 if you want to try it for yourself, but be aware of the ingredients list. If your sweet tooth is a bit more subtle, you might want to leave it on the shelf. And if you have a peanut allergy, it's probably best to avoid it altogether.
Candy Coated Dark Chocolate Covered Almonds
I personally enjoy the hard shell of Jordan Almonds, and I thought I'd be getting a similar experience with this springtime addition. That's not what these were. Just to be clear, Trader Joe's doesn't make any claim about this comparison, but candy coating + almonds made me think of the nutty treat.6254a4d1642c605c54bf1cab17d50f1e
They're definitely appropriate for Easter, but whereas the regular chocolate-covered almonds belong alongside a charcuterie board, these seem more like the kiddy version – cute, egg-shaped morsels that come with a sugar high. You can pour them into plastic eggs to hide around your house for the little ones in your life, but once April is over, there's not much use for these. If you want to pick up a bag for $3.99, just take them as they are – a crunchy layer of candy on top of TJ's Premium Milk & Dark Chocolate Covered Almonds.
Dark Chocolate Almond Butter Pretzel Nuggets
I really wanted to like these. Nut butter-filled pretzels are not all that healthy, but the melding of savory and crunchy makes them an addictive and satiating snack. Wouldn't adding a layer of dark chocolate launch this combo into "irresistible" territory?
Well, no. Once I popped one into my mouth, I was a little underwhelmed. It was hard for me to want to have another one. I think it was the thickness of the nugget, which was sizable after being enrobed in dark chocolate. It also felt super dry. Because the almond butter is solidified inside the pretzel, there's no creaminess to complement the hard and crunchy outer shell. The whole nugget tasted almost stale.
I would have a hard time recommending these chocolate pretzel nuggets for $3.49. They're too savory for a dessert, but they're too indulgent as a snack. I would stick to the regular Almond Butter Filled Pretzel Nuggets and get your chocolate fix somewhere else.
So which new Trader Joe's items are worth it?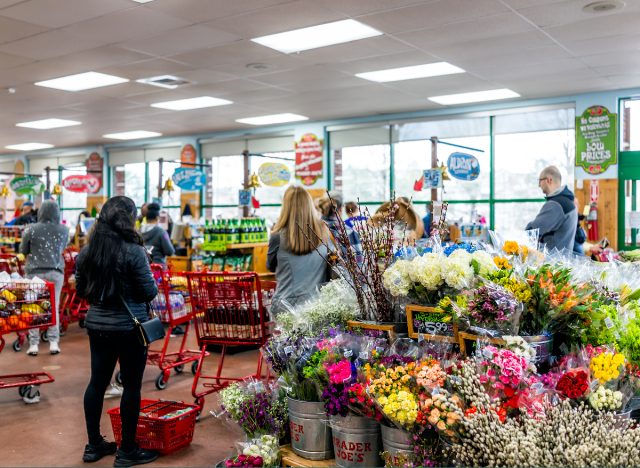 It wasn't too long ago that the grocery chain revealed that over a dozen Spring foods and drinks and other items were going to debut in stores soon. Once we heard the news we dashed to our local TJ's to get the latest finds, and after trying six we were able to determine that these were skippable, while others were not. For the list of new items you should scoop up on your next shopping trip, read about which ones are worth your while.
And for more, here are 10 Secrets Trader Joe's Doesn't Want You to Know.
Sarah Wong
Sarah studied at Northwestern University, where she received a bachelor's degree in computer science and experimented with mixing tech and journalism.
Read more about Sarah