6 Major Differences in ALDI and Trader Joe's Right Now
You might be tempted to make a switch.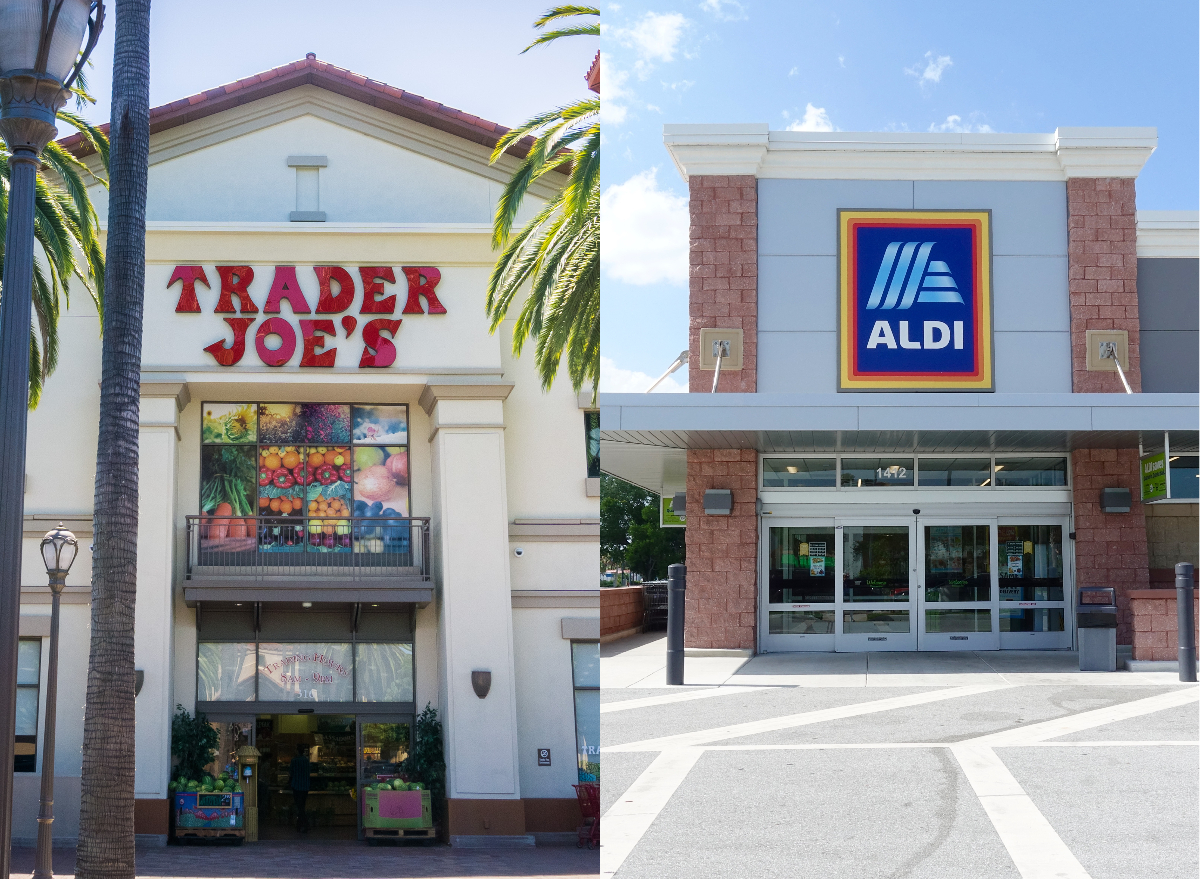 If you haven't shopped the best of ALDI or the seasonal product drops at Trader Joe's, fans of these chains would say you're missing out on the quality goodies these chains have become known for in the grocery industry.
Why compare these two? You may not have known that once upon a time, Trader Joe's and ALDI were both owned by the same company. And while they mostly share the same demographic of customers – those in search of affordable, high-quality eats – they have subtly different business strategies. Still, both have major cult followings, and demand for their private label offerings is high. We found six major differences between ALDI and Trader Joe's right now that might help you decide where to make your next grocery run.
What can you expect to find at ALDI versus Trader Joe's? The consensus seems to be that ALDI has a solid selection of basics, whereas TJ's carries more of the niche and specialty items.
According to a post on Reddit from around 10 months ago, the opinion from commenters was that ALDI is better known for having staples at low prices. "Aldi focuses on being a one-stop shop with more affordable products and produce in a no-frills atmosphere," said the user u/fittyfiddy.
In contrast, they highlighted Trader Joe's eclectic mix of culinary experiments. "TJ's atmosphere is different and it focuses more on interesting, usually higher-quality products that are quirky, hence the seasonal stuff. More of its appeal comes from prepackaged/frozen meals and snacks."
If you're looking for a unique take on oat milk or an easy, prepared meal, your best bet is Trader Joe's, and you might shell out a bit more for it. But if you're sticking with the simpler ingredients, ALDI has you more than covered.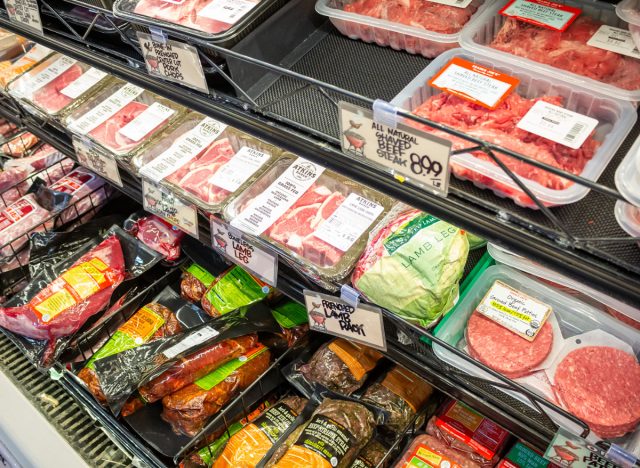 Both Trader Joe's and ALDI have built their reputation on low prices. But if you're tight on cash and need to be ultra-frugal, social media users declare ALDI the winner. On a Reddit post in 2021 about the cheapest grocer among ALDI, Trader Joe's, and Kroger, u/MMBarq commented, "Aldi by a mile over Kroger. I still think Trader Joe's is a good value but just can't beat the Aldi pricing."
And this is what ALDI aims for, providing low-cost, nutritious food. This also doesn't mean that the quality is inferior to its Hawaiian-themed counterpart, either. Taste of Home interviewed ALDI spokesperson Kate Kirkpatrick, who told the outlet that it tests its products against the name brands…and wins. "We test our products to meet or beat the national brands' quality," Kirkpatrick informed.
While Trader Joe's also touts affordability, according to Business Insider, the majority of Trader Joe's products were found to be more expensive than ALDI. For example, a gallon of milk at Trader Joe's goes for $3.19, which is 30 cents more than at ALDI. While the difference amounts to a few dimes, these savings can add up to dollars over the course of a grocery run. If that matters to you, especially with food costs on the rise, it could be a good time to consider the more frugal option.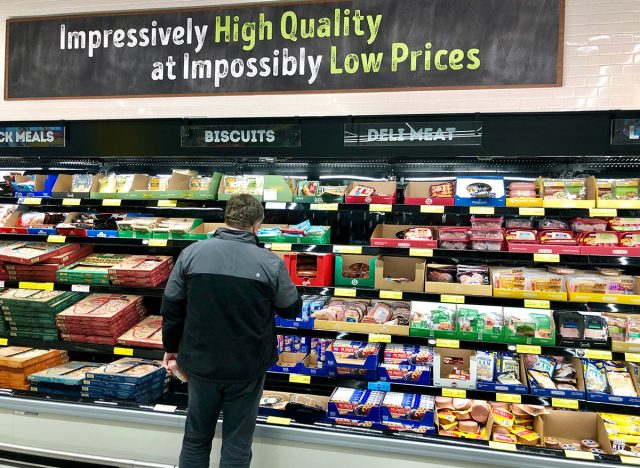 Speaking of prices, ALDI and Trader Joe's each have very different approaches to savings. Like most stores, you would expect there to be rotating discounts or a customer loyalty program. Trader Joe's breaks the mold on this one, with no sales, discounts, or rewards to cash in on. That doesn't necessarily mean that you're not getting a good deal, though.
"Sale' is a four-letter word to us. We have low prices, every day," Trader Joe's displays prominently on its FAQ page. According to Taste of Home, the store cuts costs by keeping a small store footprint, limiting ads to its newsletter "The Fearless Flyer", and offering only private-label (no name brand) products – and then passes the cost savings onto the customer.
While ALDI doesn't do coupons, it does run several promotions throughout the week. In its weekly ad, it marks certain items as "ALDI Savers" and others as "ALDI Finds." Consumer Goods reported that the Savers program "highlights low-priced and deeply discounted SKUs," while the Finds section shows "seasonal, limited-time products that are primarily from home goods, apparel and other non-grocery categories."
Both ALDI and Trader Joe's also have generous return policies. If you aren't satisfied with an item you purchased at TJ's, it'll offer a 100% refund, no questions asked. And ALDI kicks this up a notch with its "Twice as Nice Guarantee": bring back an item that didn't meet your expectations, and will replace the product and give you your money back. Just another perk that can help lighten the load on your wallet.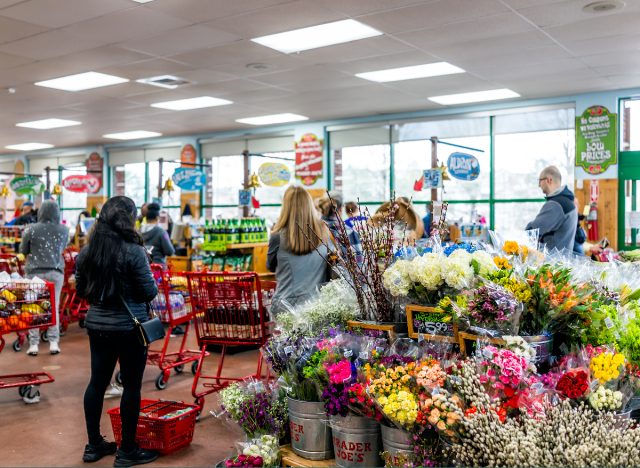 Shopping can be overwhelming at times – especially if it means walking into a space that's overcrowded, sifting through products that are poorly organized, and interacting with staff who aren't particularly excited to be there.6254a4d1642c605c54bf1cab17d50f1e
Trader Joe's fans adore the food retailer for crafting an enjoyable shopping experience in each of its stores. In a 2020 article from Forbes on why customers are so attached to the California-based grocer, they reported, "Trader Joe's staff give off a stress-free, whimsical air—with Hawaiian shirts, quirky playful products, tons of staff to serve, and an appealing personality."
And the feeling someone gets as they walk into a TJ's is a design choice on the company's part. Trader Joe's states on its website: "We set up our stores with care, finding just the right crew and creating a rewarding shopping experience, full of discovery and welcome. After considering the options, we're still just big 'ole fans of the neighborhood grocery store where we can say hello when you're looking around wondering – "what's for dinner?"
Meanwhile, ALDI takes more of a middle ground approach, prioritizing the ease of getting in and out in a timely fashion over a community feel. In a Reddit post comparing ALDI with TJ's, commenter u/RedSpaceMagic highlighted, "Aldi's efficiency model means your only interaction with someone working there is limited to the cashier and they do so very quickly–there's no time for chit-chatting like you might be used to at TJ's. You also need to bag your own groceries. Aldi also only tends to have 1-2 cashiers working at a time so it's better to go during off hours, but lines move quickly due to that efficiency model."
Everyone has their preferences though – whether you prefer to be greeted or left alone as you check off your grocery list, that's up to you.
Location, Location, Location
Simply put: there are more ALDIs than Trader Joe's across the country. Diehard customers of TJ's are eagerly awaiting any addition to the 500-plus locations – which is only a fourth of ALDI's footprint. With 2,000 stores in over 36 different states, according to the company's website, it won't be tough to find a nearby ALDI. This means that if you're dead set on picking up some Mini Hold the Cone Ice Cream Cones, you may need to go out of your way to stop by Trader Joe's. Otherwise, you can settle for a substitute at your closest ALDI.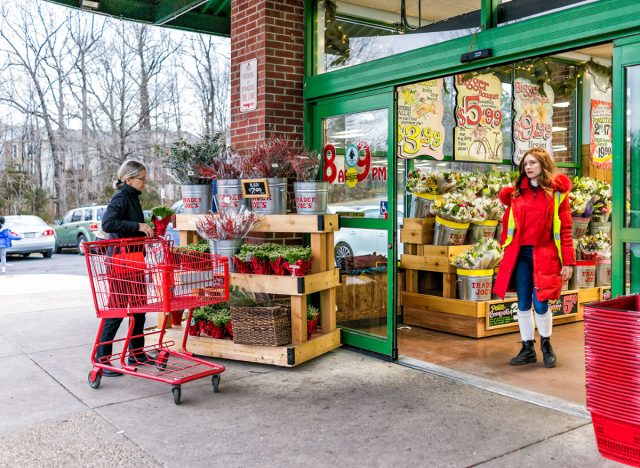 When it comes to accessibility, ALDI makes it another step easier to shop its shelves, with delivery and curbside pickup being offered at over 300 locations. This makes it easy to get groceries without leaving your home or stepping inside the store, which is an option that many were looking for during the height of the pandemic to minimize their personal COVID risk.
The decision to offer only in-store shopping is fairly uncommon among big-name grocers, but it's one that Trader Joe's made very deliberately. The reason behind it? According to Business Insider, the company prefers to invest its resources into people that create a welcoming in-store experience for shoppers.
Matt Sloan, Trader Joe's vice president of marketing, said, "The reality is that over the last couple of decades, we've invested those resources in our people rather than build an infrastructure that eliminates the need for people."
It also found that, after a few years of testing delivery service in New York City, the associated costs were too high. When they ended the trial program, a spokesperson said to Business Insider, "Instead of passing along unsustainable cost increases to our customers, removing delivery will allow us to continue offering outstanding values — quality products for great everyday prices — and to make better use of valuable space in our stores."
While Trader Joe's choice to stay brick-and-mortar may be inconvenient for some, it's a testament to its popularity that customers will still venture all the way into the store to stock up on their favorites.
Unfortunately, on your next TJ's run, several items won't be available because Trader Joe's Is Discontinuing These Items Amid Shortages.
Sarah Wong
Sarah studied at Northwestern University, where she received a bachelor's degree in computer science and experimented with mixing tech and journalism.
Read more about Sarah