7 Beloved Fast-Food Items That Have Left Menus This Year
We've already said goodbye to several fan-favorites, and it's only July!
This year's menu cuts may not be as extreme at fast-food chains as they were in 2020, but that doesn't mean we didn't have to part ways with some favorites already—and it's only July!
From iconic side dishes to gone-to-soon temporary menu revivals, here are seven fast-food favorites that are leaving menus this year.
For more, check out 12 Restaurant Chains Disappearing in 2021.
Dunkin' Beyond Breakfast Sandwich
Dunkin' is rumored to be discontinuing one of its most famous food items: The Beyond Breakfast Sandwich. According to experts cited by Business Insider, the chain has quietly removed a beloved plant-based sandwich from its in-store menus and is gone from the online menu. Considering the sandwich was previously available at over 9,000 nationwide Dunkin' locations, it's pretty clear the item is likely on its way out.
For the time being, Dunkin' claims it has not discontinued the sandwich, and that the company continues to work with Beyond Meat, the supplier of its plant-based sausage patty. However, the chain confirmed the sandwich is now unavailable in many parts of the country.
Popeyes Cajun Rice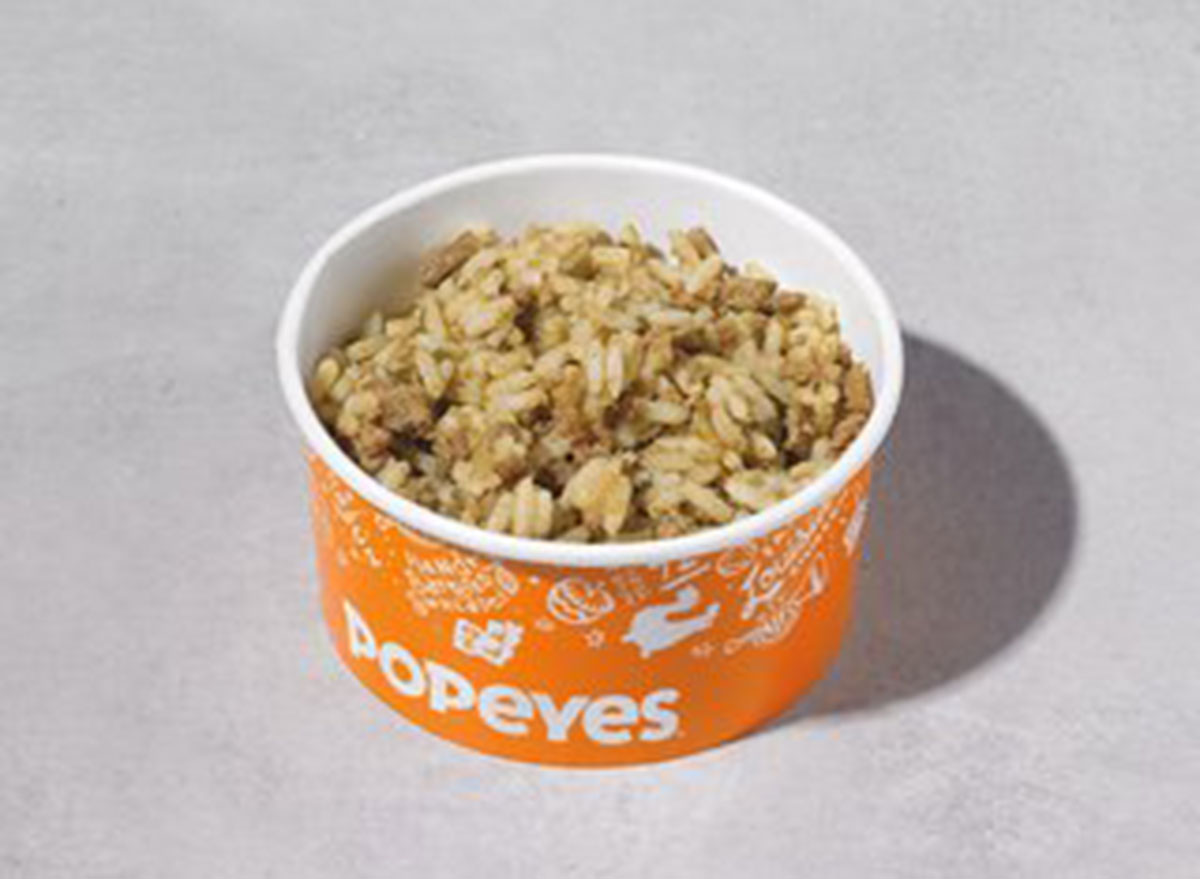 Fans are devastated that Popeyes nixed Cajun Rice from its menu earlier this year. When the scoop was first revealed by The Takeout in February, the company confirmed the news on Twitter. But even months later, customers were still heartbroken over its absence.
Technically a side dish, the meaty rice was enjoyed by many—and in many different ways. Over on Reddit, one fan explained his custom of mixing the Red Beans & Rice with an order of Cajun Rice. To an enthusiast on Twitter, Cajun Rice was not a side dish at all, but the main event—and the chain's famous fried chicken was "just a side gig."
And while definitely not the same, you can always try Sweet & Spicy Red Beans and Rice, which is a secret menu item.
Popeyes Green Beans
Just as they did away with Cajun Rice, the chain also nixed the Green Beans at the same time. And while no one really cried for that side dish, it was still one of the only green things on the chain's menu.
Taco Bell's Quesalupa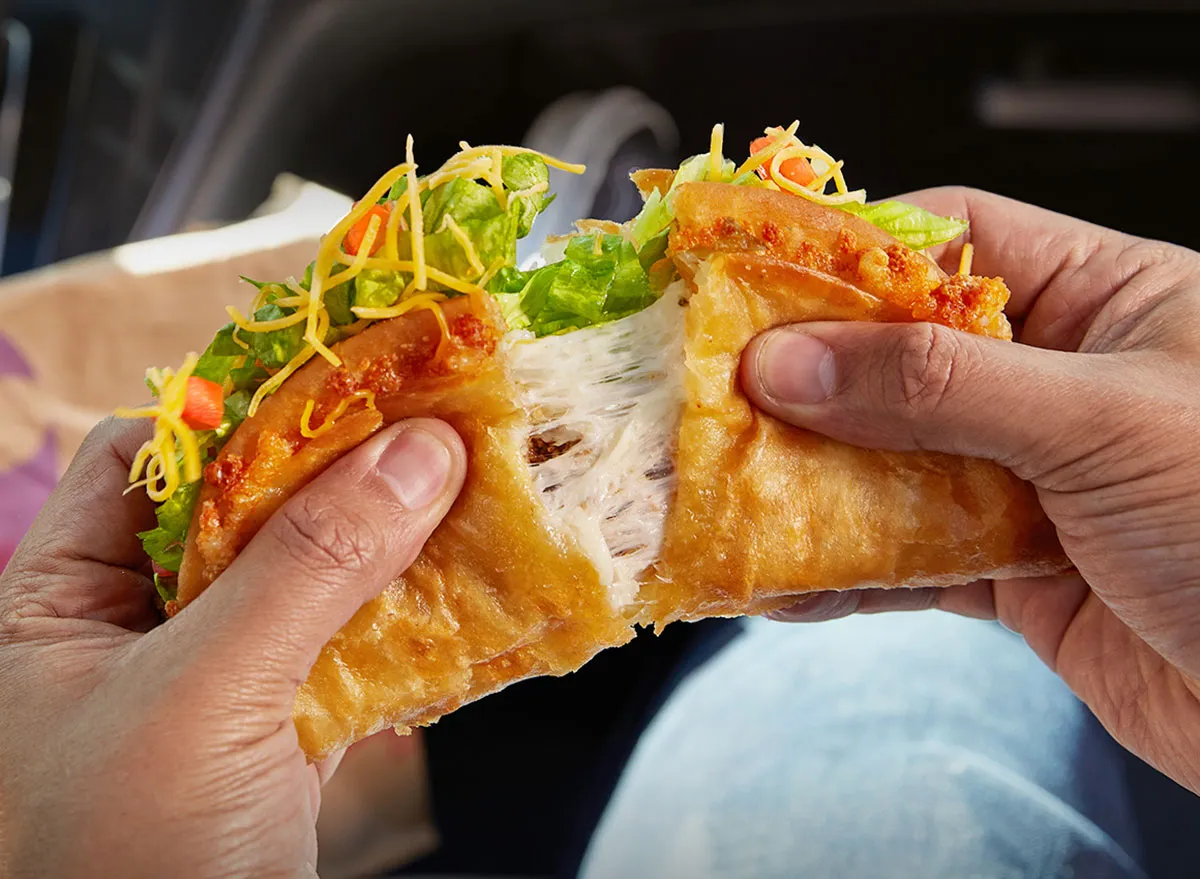 Almost as unexpectedly as it came back in March, the fan-favorite Quesalupa left the menus again in May. Fans knew all along this was bliss with an expiration date, but the fact that Taco Bell only brought it back for a brief two-month encore sure surprised many.
Prior to this re-launch, the Quesalupa had been MIA since 2016. But Taco Bell more than made up for its absence by fortifying the latest version with more cheese than ever—the 2021 Quesalupa's cheese ratio was increased by 50%, making the stuffed crispy shell extra hefty.
Arby's Potato Cakes
The writing may have been on the wall when Arby's introduced crinkle-cut fries in March. And while we speculated this might mean the end of the chain's signature curly fries, it was actually a different potato side dish that got the boot: the Potato Cakes.6254a4d1642c605c54bf1cab17d50f1e
But the chain did leave room for their potential return in the future. "Now we have the two best fries in QSR – crinkles and curlies – and they go great together! Although our Potato Cakes have been discontinued (for now), who's to say they're gone forever?" the company said in an email.
Starbucks Toppings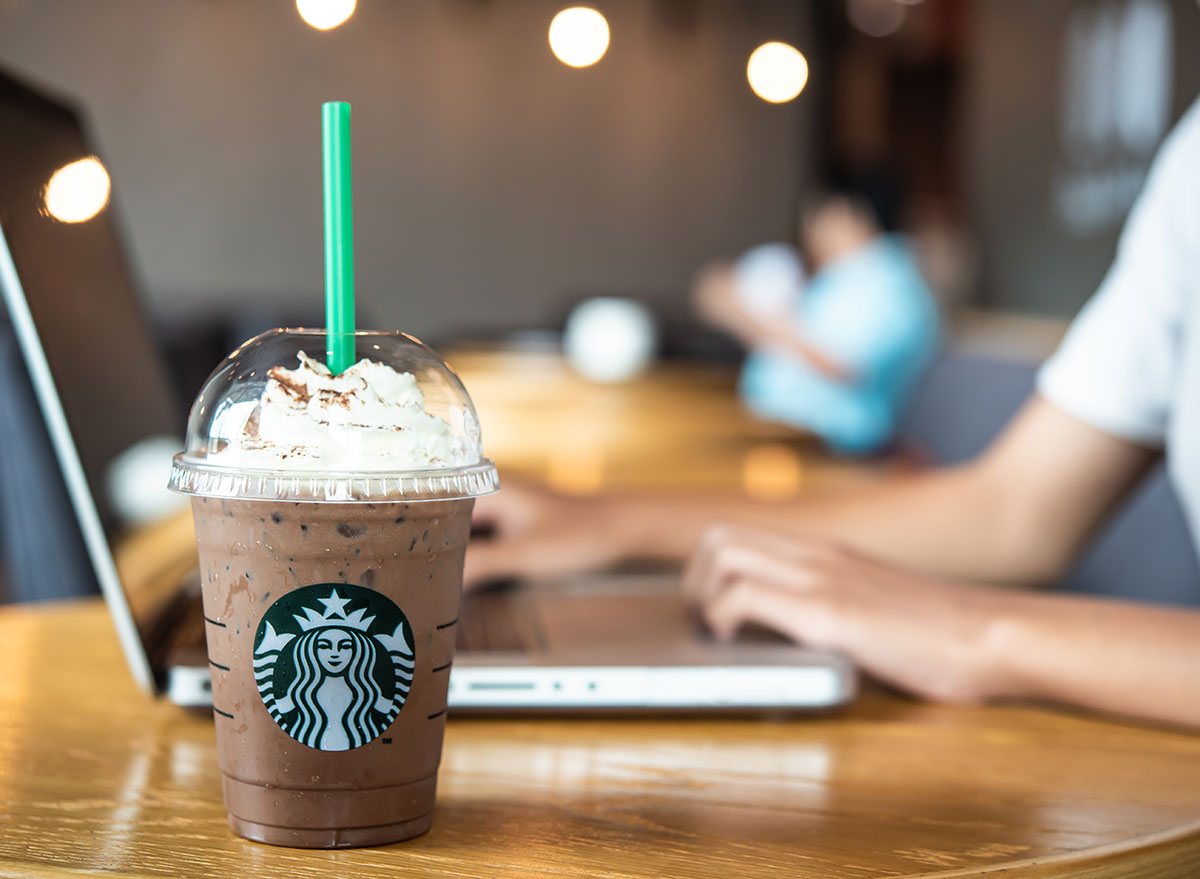 According to Thrillist, Starbucks discontinued the popular Nutmeg powder topping earlier this year. And that's not all—other powders are also no longer served at the chain's locations. Gone with the communal condiment counter are also Vanilla and Mocha powders, as confirmed by a company representative. And no, you can't even get them in the app.
Chick-fil-A's Bagels and Hot Decaf Coffee
Chick-fil-A announced earlier this year that they're making several important changes to their menu. One of them was the discontinuation of two breakfast items: bagels and hot decaf coffee.
"Streamlining our menu will allow for us to continue providing our customers the quality food and service they've come to expect, as well as make room for new future menu items," a rep for the company said in an email.
For more, check out the 108 Most Popular Sodas Ranked By How Toxic They Are.
Mura Dominko
Mura is ETNT's Executive Editor, leading the coverage of America's favorite restaurant chains, grocery stores, and viral food moments.
Read more about Mura