3 Best and 3 Worst Spring Items At Costco Right Now
Not every item is what it seems.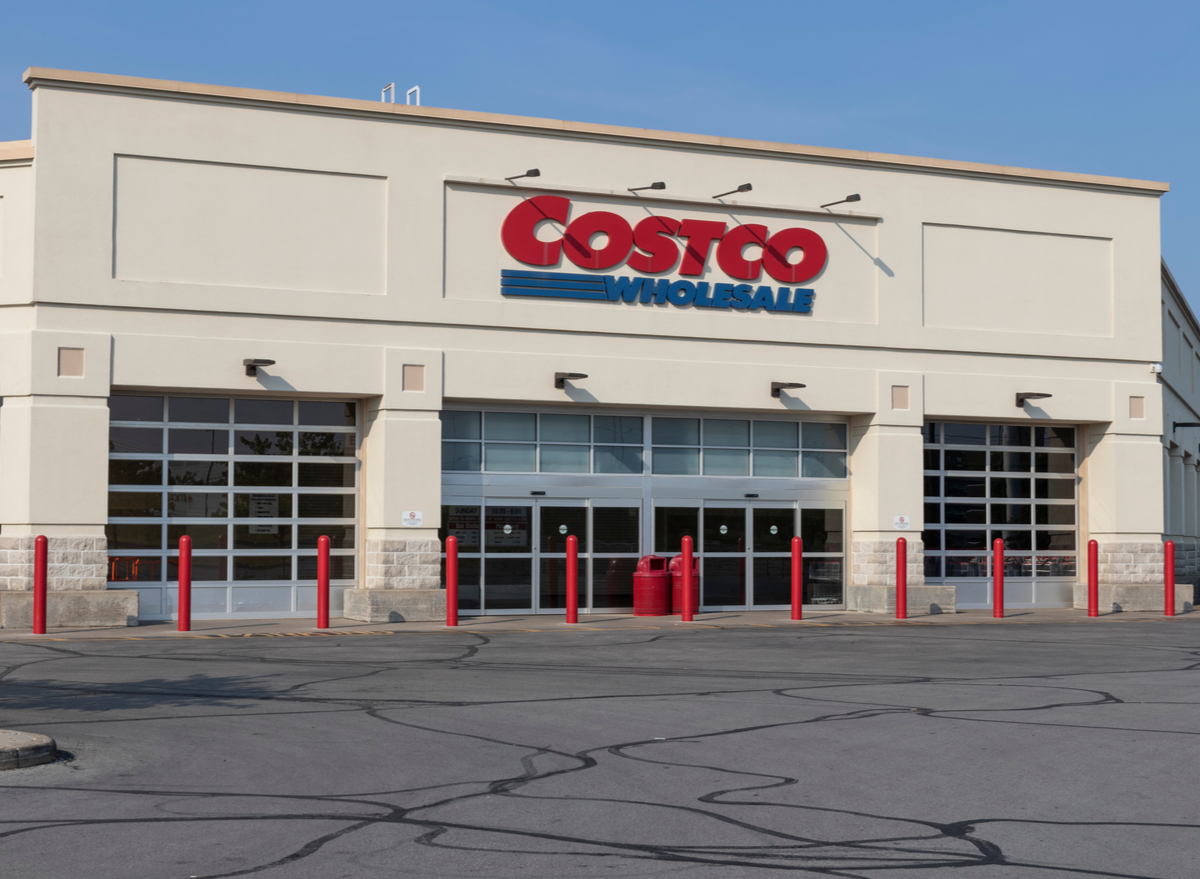 Have you ever picked up an item while grocery shopping wondering if it's healthy? Looks can be deceiving. Sometimes food packaging can look healthy, but it's not. That's why we talked to three registered dietitians about which new Costco spring items you should get and which to leave on the shelves. You might be surprised by their choices.
We asked three registered dietitians: Peggy Kochenbach, founder of POK Communications; Lisa Ellis, founder of Integrating Nutrition; and Kim Rose, founder of Kim Rose Dietitian. These three women are nutrition experts, and they advised us on why they made these choices.
Three to get
PopCorners Gourmet Popcorn, Variety Pack, 1.0 oz, 30-count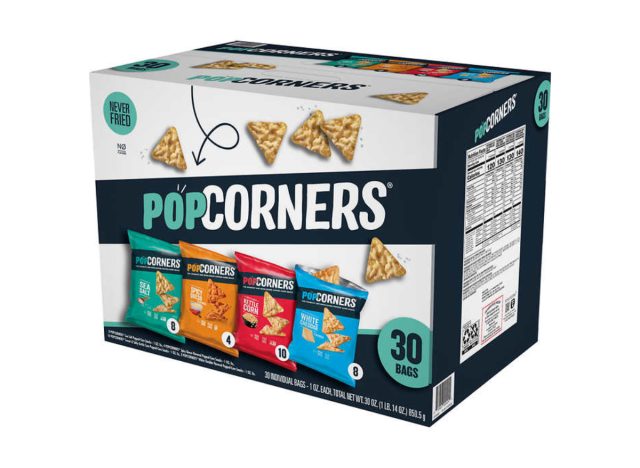 Per 1 package (sea salt)
: 120 calories, 2.5 g (0 g saturated fat), 0 mg cholesterol, 190 mg sodium, 23 g carbs (<1 g fiber, 0 g sugar), 2 g protein
This is a perfect example of a new item that looks like it could be junk food. Look closer, though.
"Individual packs are just 120 – 150 calories. While they are a little high in salt, it's good that they come in individual, calorie controlled-packages and are a whole grain snack," says Kochenbach.
Rose agrees, noting the ingredients and fat content. "Depending on the flavor you choose, yellow corn, sunflower oil, cane sugar, and sea salt comprise the backbone of these quasi-popcorn chips. Moreover, this snack food is not fried, which means it has less total and saturated fat than an ordinary chip."
At $13.99, these individual packs make it easy and convenient. Toss one in your lunch bag, and you're good to go.
Trident Seafoods Wild Alaskan Smoked Sockeye Salmon Jerky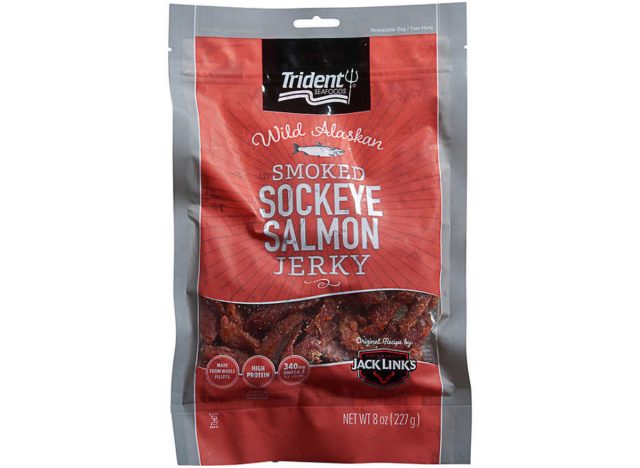 Per 1 ounce
: 70 calories, 1.5 g fat (0 g saturated fat), 25 mg cholesterol, 480 mg sodium, 6 g carbs (0 g fiber, 5 g sugar), 10 g protein
All three RDs agree on adding this $16.99 salmon jerky to your cart.
"If you're looking for a high-protein snack, this is a good option. High protein, portable snack made from high omega-3 salmon," notes Kochenbach. Ellis agrees, also pointing out the protein and omega 3 fatty acids.
"One ounce of this jerky contains a whopping ten grams of protein. Protein is essential for satiety and muscle strength. Furthermore, fatty cold water fish, such as salmon, are also high in omega-three fatty acids, which help support heart and brain health," says Rose.
D'Artagnan Green Circle, Air-Chilled Chicken Tenderloins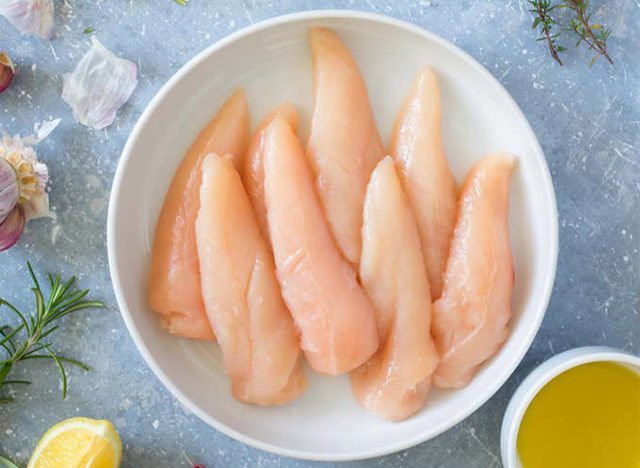 Per 4 ounces
: 100 calories, 0 g fat, 70 mg cholesterol, 110 mg sodium, 0 g carbs (0 g fiber, 0 g sugar), 22 g protein
Meal prep these chicken tenderloins from Costco on Sunday to add to your salads and other meals during the week. Kochenbach chose this chicken for the low-fat protein source. Plus, there are no antibiotics or hormones. Ellis agrees, noting the protein and low saturated fat. Taco Tuesday, here we come!
Three to skip
Highkey, Mini Chocolate Chip Cookies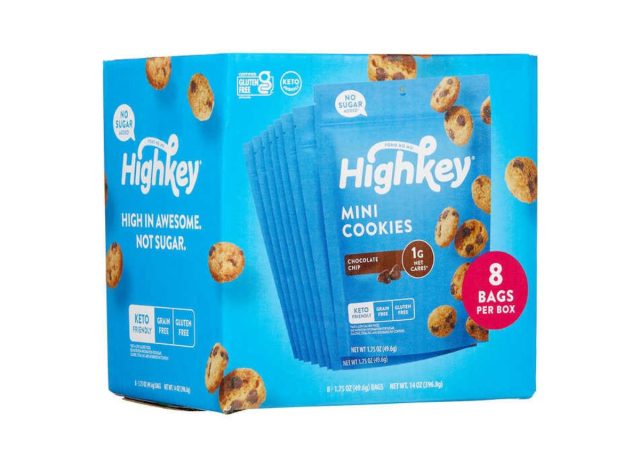 Per 12 cookies
: 230 calories, 23 g fat (10 g saturated fat), 35 mg cholesterol, 190 mg sodium, 21 g carbs (4 g fiber, 0 g sugar), 5 g protein
Ellis says to skip these cookies. They contain saturated fats and a lot of alcohol sugar, which she says cause gastrointestinal stress for many.
Alaskan Captain Lobster Macaroni and Cheese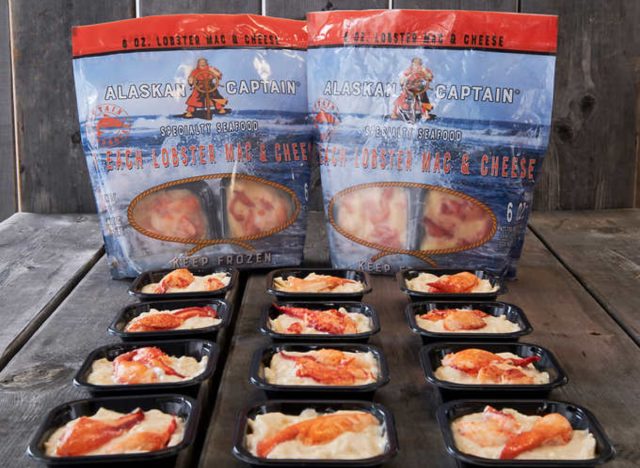 Per 1 tray
: 240 calories, 10 g fat (6 g saturated fat), 60 mg cholesterol, 510 mg sodium, 26 g carbs (1 g fiber, 1 g sugar), 11 g protein
This one may come as less of a surprise. Lobster macaroni and cheese is a pass for Ellis. "More than 1/3 of the calories come from a fat source, and of those grams of fat, more than 1/2 are saturated," she says.
Rose is concerned about the amount of sodium in these dishes. "Consuming too much sodium is not ideal for overall heart health since it can increase your risk for high blood pressure, heart attacks, and strokes," she warns.
Soylent Plant-Based Nutrition Shake
Per 1 bottle
: 320 calories, 19 g fat (2 g saturated fat), 0 mg cholesterol, 240 mg sodium, 29 g carbs (2 g fiber, 1 g sugar), 16 g protein
This is a prime example of how looks can be deceiving. Soylent shakes are packed with vitamins, minerals, and essential amino acids. However, Kochenbach has concerns. "These don't have the cleanest ingredient list and contain artificial sweetener which I generally don't recommend unless you have a special dietary consideration," she says.6254a4d1642c605c54bf1cab17d50f1e
Bonus item to skip
Kurobuta Ranch Authentic Wagyu Kurobuta Applewood Smoked Thick Cut Bacon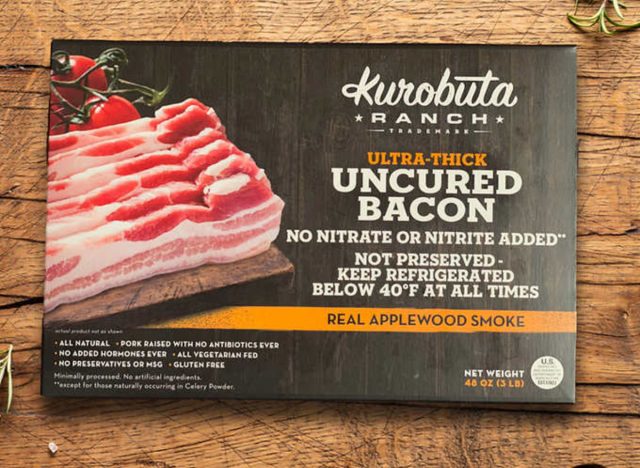 Per 1 ounce
: 231 calories, 15 g total fat, 38 mg cholesterol, 618 mg sodium, 0 g carbs (0 g fiber, 0 g sugar), 20 g protein
"Authentic Wagyu Kurobuta Applewood-Smoked, Thick-Cut Bacon may sound appetizing, but know this—it is also full of fat. Before we move on, also know that fat is not a bad thing. Our bodies actually need a certain amount of fat to function normally. But eating too much fat may have a negative impact on your heart health and lead to weight gain," says Rose.
Kochenbach also chose this bacon as an item to skip. "While this bacon is antibiotic-free and has no added hormones so a better option than many, it's still high in saturated fat and salt (although the nutrition facts panel was not visible on the website so going under general assumption about bacon)," she says.
Before your next trip to the warehouse, be sure to read about This Easter Treat Sold At Costco and Other Grocery Stores Is Part of A Massive Recall.
Nicole LaMarco
Nicole has a first-degree black belt in Taekwondo and is passionate about everything health-related.
Read more about Nicole