14 Best and Worst Thanksgiving Foods at Trader Joe's, According to Dietitians
Some of these picks might surprise you!
Everyone's Thanksgiving shopping list is likely to have at least a few items in common. That's why you'll find turkey, mashed potatoes, dinner rolls, and pumpkin pie at nearly every grocery store.
While the store shelves at Trader Joe's are stocked with the classics, they also boast unique takes on traditional holiday fare. But are cranberry drinks and bite-sized servings of green bean casserole actually good for your health?
Given that there are so many Thanksgiving foods to choose from at Trader Joe's, we asked two registered dietitians to pick out the very best and worst options. Starting with the items you won't regret adding to your cart, here are the verdicts from our very own Eat This, Not That! Medical Expert Board members Lisa Young, PhD, RDN and Amy Shapiro, MS, RD, CDN.
Related: The Worst Thanksgiving Meal Mistake You're Making
These are the best Trader Joe's Thanksgiving foods.
¼ cup
: 180 calories, 16 g fat (1.5 g saturated fat, 0 g trans fat),140 mg sodium, 6 g carbs, 3 g fiber, 2 g sugar, 5 g protein
When it comes to Thanksgiving foods, nuts are the ultimate pinch hitter. Spicy nuts boost the flavor profile of charcuterie boards at the start of a meal, while pecans offer a salty contrast to sweet pies at the finish.
According to Young, these tins of almonds, cashews, hazelnuts, and pecans are "a yummy blend of nuts seasoned well." They're "rich in heart-healthy fat, fiber, and contain protein and very little sugar." Thus, they'll keep you full until dinnertime!
Spatchcocked Lemon Rosemary Chicken
4 oz
: 230 calories,18 g fat (4.5 g saturated fat, 0 g trans fat), 380 mg sodium, 1 g carbs, 0 g fiber, <1 g sugar, 17 g protein
If turkey isn't on your Thanksgiving menu, this Spatchcocked Lemon Rosemary Chicken would be a good alternative. "A 4-ounce portion contains nearly 20 grams of protein and around 200 calories, and it will keep you satisfied," Young says. "One recommendation: Remove the skin before eating."
Bonus: This main dish also takes less time to cook because the chicken is already split and flattened.
Related: To get all of the latest Trader Joe's news delivered right to your email inbox every day, sign up for our newsletter!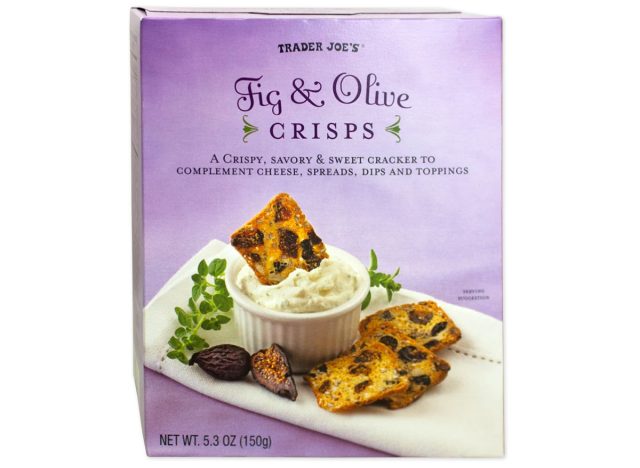 11 crackers
: 90 calories, g fat (2 g saturated fat, 0 g trans fat), 160 mg sodium, 16 g carbs, 1 g fiber, 7 g sugar, 2 g protein
Don't sleep on these Fig & Olive Crisps, which are full of healthy ingredients in addition to sweet and savory flavors. "The flaxseeds, sesame seeds, and sunflower seeds give it a boost of nutrition," Young says.
This $3.99 box would pair well with a healthier cheese or any nut butter.
Condensed Cream of Portabella Mushroom Soup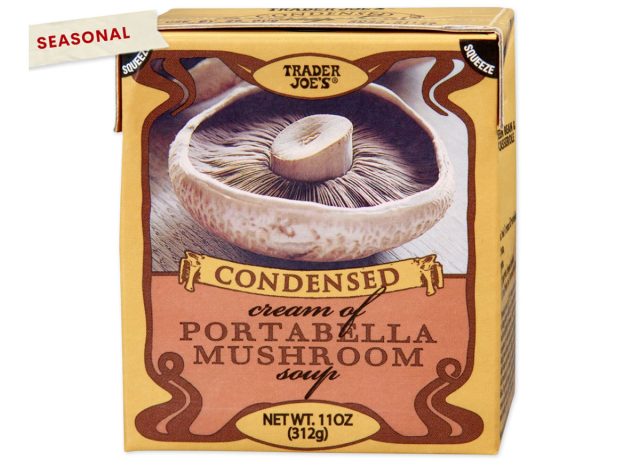 ½ cup
: 70 calories, 4.5 g fat (2.5 g saturated fat, 0 g trans fat), 600 mg sodium, 8 g carbs, 0 g fiber, <1 g sugar, 2 g protein
A cup of soup may not be the most traditional holiday appetizer, but it sure does provide a warm start to any feast. Since "mushrooms are super healthy and contain properties to support immune health," Young suggests enjoying a serving of this soup to start your meal this Thanksgiving. Plus, 1/2 cup has only 70 calories.6254a4d1642c605c54bf1cab17d50f1e
This soup can also be used in your favorite seasonal recipes, such as green bean casserole, scalloped potatoes, or even Swedish meatballs.
Related: 23 Healthy Mushroom Recipes for Meatless Dinners
Brined Bone-In Half Turkey Breast Fully Cooked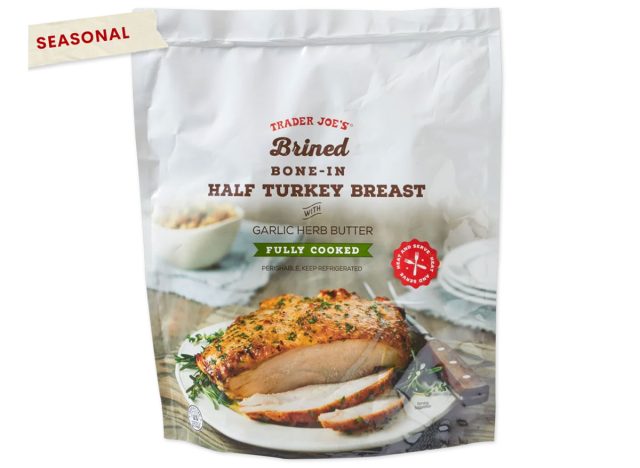 3 oz
: 100 calories, 2.5 g fat (1 g saturated fat, 0 g trans fat), 390 mg sodium, 1 g carbs, 0 g fiber, <1 g sugar, 17 g protein
Smaller birds were the cream of the crop last year, and Trader Joe's has lighter portions available again this year. If you aren't big on leftovers or your guest list is small, this brined, bone-in half-turkey breast could be a great option—and it's dietitian-approved, too.
"Simply prepared with whole food ingredients, virtually void of sugar and high in protein, you'll be satisfied and keep your blood sugar balanced [with this turkey]," Shapiro says, adding that there are even more health benefits. "Enjoying turkey can also improve sleep, as the tryptophan is a precursor to serotonin—a hormone that relaxes us."
Everything But The Leftovers Seasoning Blend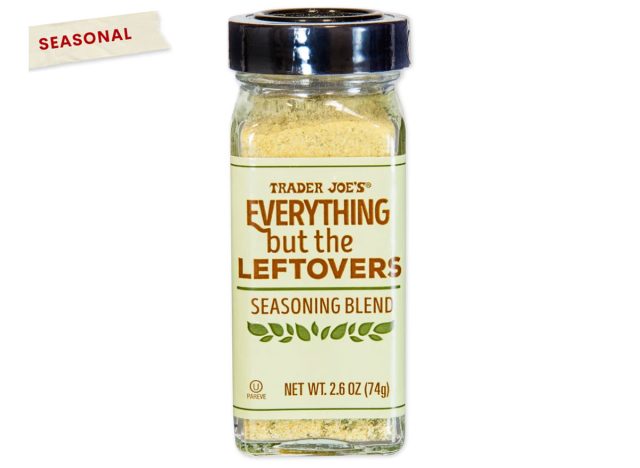 ¼ tsp
: 0 calories, 0 g fat ( g saturated fat, 0 g trans fat), 160 mg sodium, 0 g carbs, 0 g fiber, 0 g sugar, 0 g protein
Speaking of leftovers, you can still recreate the flavor even if you don't have any. Trader Joe's knows a thing or two about popular seasonings, and this one is on Shapiro's "Eat This" list.
The "Everything But The Leftovers Seasoning Blend" contains black pepper, dried celery seed, onion, parsley, rosemary, ground sage, sea salt, thyme, turmeric powder, and two types of yeast (baker's and torula).
"I am all about herbs and spices to elevate any dish without calories, sugar, or fat," she says. "This mix includes a variety of herbs that promote digestion and decrease inflammation. Add it to healthy foods—and make them taste decadent in no time!"
TJ's recommends sprinkling this seasoning over eggs, meat, sandwiches, roasted vegetables, and even popcorn.
Related: At Least 21 People Are Sick After Eating This Trader Joe's Item, CDC Says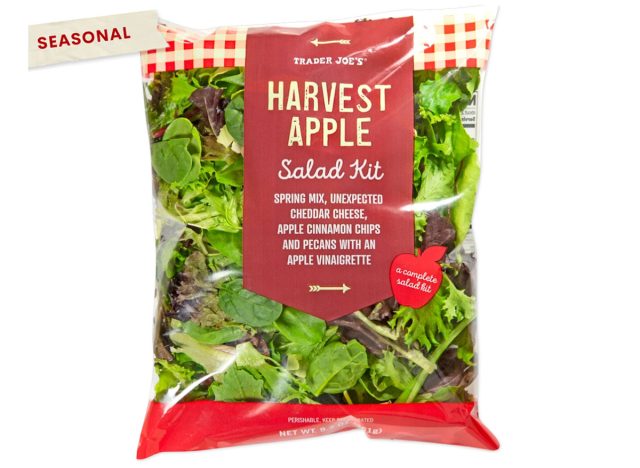 4 cups (salad + dressing)
: 170 calories, 12 g fat (2 g saturated fat, 0 g trans fat), 170 mg sodium, 13 g carbs, 2 g fiber, 10 g sugar, 3 g protein
You can pick up this salad kit for four instead of searching for all of the individual ingredients that you need to build a salad. "Always have vegetables at every meal, especially the holidays," Shapiro advises. "They'll help to fill you up and balance your plate!"
This kit includes some (or all!) of the following leafy greens: arugula, butter lettuce, frisée, green chard, green leaf lettuce, green oak lettuce, kale, lolla rosa, mizuna, radicchio, red chard, red leaf lettuce, red oak lettuce, and tango.
"With dark, leafy greens, it provides a healthy dose of iron, calcium, antioxidants and fiber," Shapiro says. "Radicchio is also a great source of prebiotics to help support gut health."
Also included in each bag are shreds of America's #1 Favorite Trader Joe's Cheese, apple chips covered in cinnamon, and pecan pieces. The dressings is an apple vinaigrette made of apple cider vinegar, apple juice, Dijon mustard, and savory spices.
"I would recommend going easy on the dressing to avoid excess sugar and fat," Shapiro recommends, before adding that she does "love the addition of dried apples w/out added sugar and pecans for healthy heart-protective fats."
These are the worst Trader Joe's Thanksgiving foods.
Four Cheese Scalloped Potatoes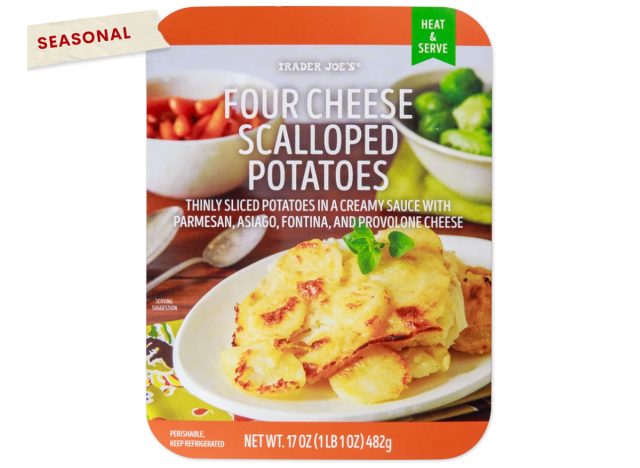 ½ cup
: 170 calories, 8 g fat (4.5 g saturated fat, 0 g trans fat), 340 mg sodium, 20 g carbs, 2 g fiber, 3 g sugar, 5 g protein
Though Thanksgiving foods aren't exactly known for their energizing and nutritious benefits, some options are worse than others. One example is these scalloped potatoes, a dish which Young advises to "skip."
If you're a spud lover, Young recommends opting for "roasted potatoes with olive oil instead" because "you'll get more fiber, fewer calories, and more taste."
Related: 20 Cozy Potato Soup Recipes Perfect for Weight Loss This Fall
Green Bean Casserole Bites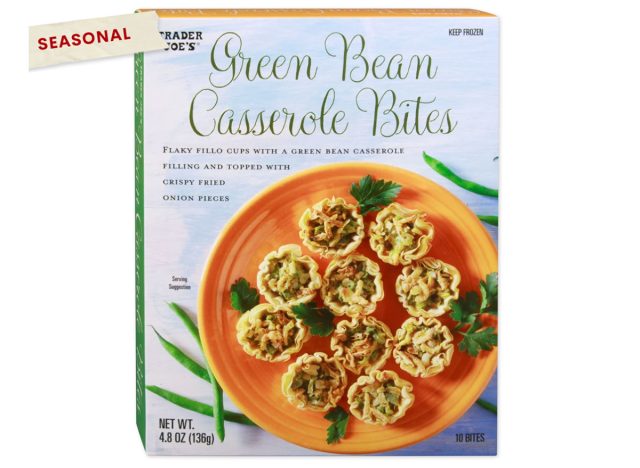 10 pieces
: 290 calories, 17 g fat (8 g saturated fat, 0.5 g trans fat), 580 mg sodium, 25 g carbs, 2 g fiber, 2 g sugar, 8 g protein
This is another Trader Joe's Thanksgiving food to avoid, according to Young. The serving size of 10 pieces has nearly 300 calories, 17 grams of fat, and 600 milligrams of sodium. You're better off just making your own casserole or plain green beans instead.
Vegan Caramelized Onion Dip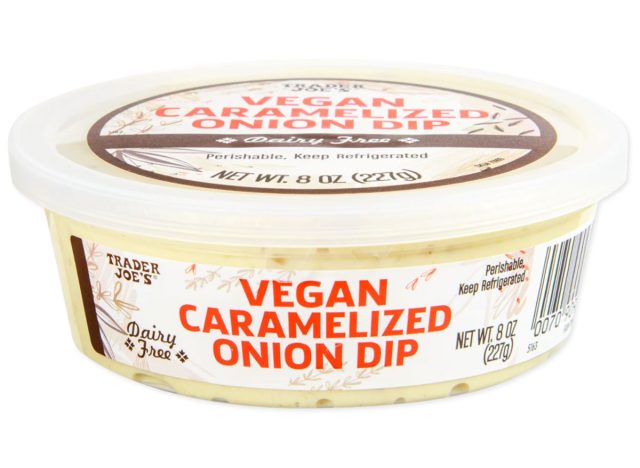 2 tbsp
: 70 calories, 5 g fat (4.5 g saturated fat, 0 g trans fat), 170 mg sodium, 4 g carbs, 0 g fiber, <1 g sugar, 0 g protein
"Yes, it's vegan, but this dip is not made with 'better for you' ingredients," Young says. "And just 2 tablespoons contain 70 calories, 5 grams fat (and mostly 4.5 grams saturated fat), and too much sodium. I suggest you make your own onion dip, or enjoy some hummus or tahini instead."
Related: Popeyes Will Soon Be Selling Its First-Ever Vegan Sandwich Here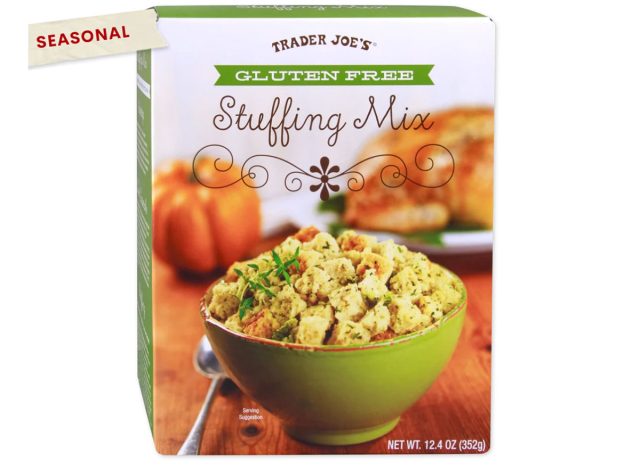 ½ cup dry mix (prepared)
: 210 calories, 11 g fat (3.5 g saturated fat, 0 g trans fat), 370 mg sodium, 24 g carbs, 0 g fiber, 5 g sugar, 4 g protein
Trader Joe's Gluten-Free Stuffing is loaded with calories, carbs, and fat. It's another seemingly "better for you" Thanksgiving option that actually isn't.
A serving is only 1/2 cup of the dry mix, so it could be easy to overindulge, Shapiro says. Without any fiber, it won't fill you up, and the simple carbs will elevate blood sugar and cholesterol over time. It's also best to avoid the inflammatory oils used in the recipe: canola and soybean.
2 slices
: 120 calories, 9 g fat (6 g saturated fat, 0 g trans fat), 170 mg sodium, 1 g carbs, 0 g fiber, 0 g sugar, 8 g protein
Skip this iconic (and cheap!) crowd pleaser because there's a lot of fat and sodium in each serving, Shapiro says.
"No one sticks to one serving of cheese, and they often eat more of it than they need before their meal," she says. "In moderation, cheese is a great choice, but at a party, I'd say skip it."
Instead of this party tray, consider serving the Cream of Portabella Mushroom Soup!
Related: Eating Yogurt and Cheese May Be Good for Your Heart—Here's Why
Sparkling Cranberry Ginger Beverage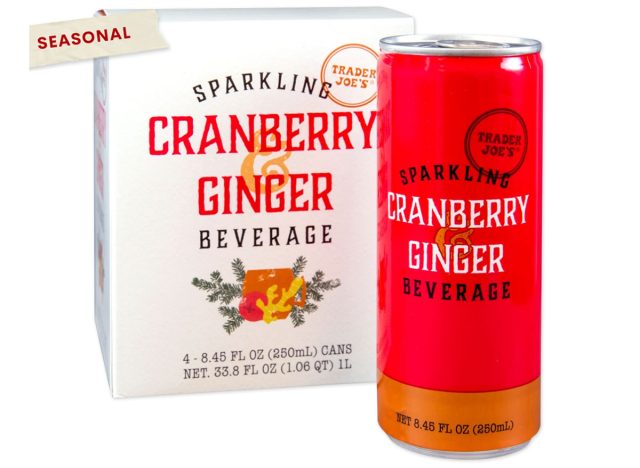 1 can
: 90 calories, 0 g fat ( g saturated fat, 0 g trans fat), 10 mg sodium, 22 g carbs, 0 g fiber, 22 g sugar, 0 g protein
TJ's says this alcohol-free beverage "delivers a refreshing, tangy, cranberry flavor" that is "complemented by plenty of warming ginger spice." However, our experts don't love how much sugar is inside.
"I never recommend drinking your calories, especially at a holiday dinner where you'll be consuming more food and dessert than usual," Shapiro says. "This serving provides 22 grams of sugar—that's 5 teaspoons!"
"I recommend making your own beverage with seltzer water and a splash of cranberry juice instead," this expert continues, "or buying flavored seltzers that taste just as good without the sugar."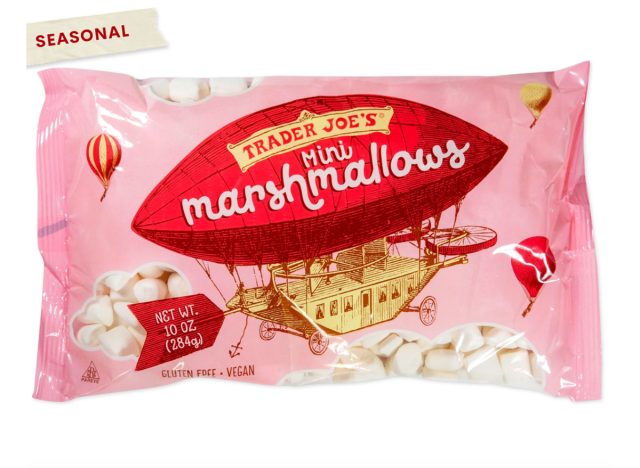 ⅓ cup
: 100 calories, 0 g fat ( g saturated fat, 0 g trans fat), 20 mg sodium, 24 g carbs, 0 g fiber, 17 g sugar, 0 g protein
Sure, marshmallows are great for topping cups of hot cocoa or sweet potato pies, but these mini ones are absolutely swimming in sugar. In fact, 1/3 cup has more sugar than five mini Reese's Peanut Butter Cups.
"Pure sugar is never great for us, as it can cause a cascade of hormonal effects and lead to weight gain and further sugar cravings," Shapiro says."This product also contains carrageenan, which research shows is a carcinogen and has been removed from many food products."
For more information about what to buy this Thanksgiving, check out:
There Could be a Shortage of This Essential Food Ahead of Thanksgiving, Experts Say
Amanda McDonald
Amanda has a master's degree in journalism from Northwestern University and a bachelor's degree in digital journalism from Loyola University Chicago.
Read more about Amanda