23 Healthy Mushroom Recipes for Meatless Dinners
These easy vegetarian dinner recipes will save your weeknights.
Mushrooms are health food all-stars. The umbrella-shaped veggies are a great source of potassium, which is vital for muscle health and recovery while also lowering blood pressure and decreasing the effects of a high-sodium meal. They're right at home in plant-based, vegan, and vegetarian diets, and can be eaten on keto and paleo diets, too. If you're a carnivore, use these healthy mushroom recipes for Meatless Mondays or really any day of the week—they're so good you won't even care you're eating vegetarian.
Plus, don't miss 103+ Best Healthy Vegetarian Recipes for Weight Loss.
Grilled Cheese With Sautéed Mushrooms
Easy as one, two, three! Our sautéed mushroom grilled cheese is a bold twist on a childhood staple. The gooey Swiss cheese is magnificently topped with caramelized mushrooms and onions.
Get our recipe for Grilled Cheese with Sautéed Mushrooms.  
Vegetarian Mushroom Burger with Mozzarella Cheese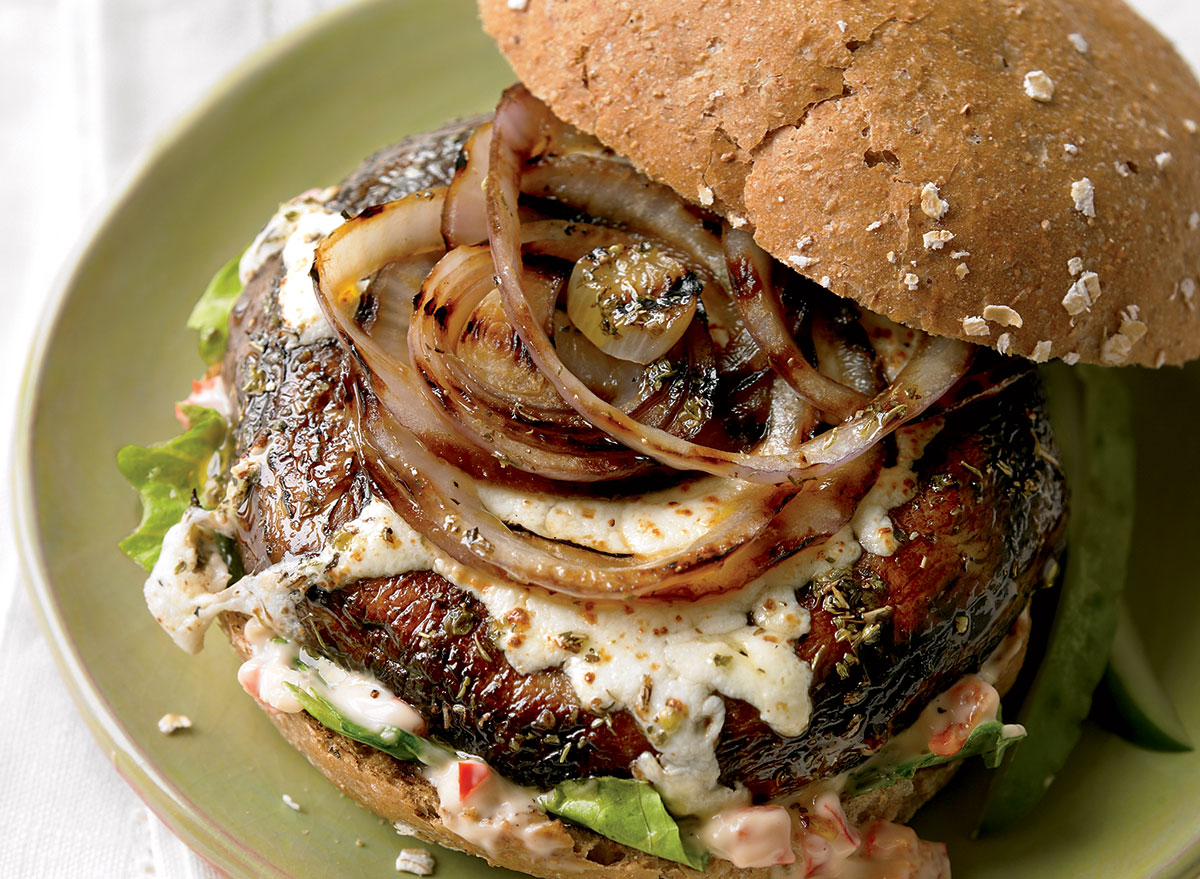 Finding a veggie that can role-play as a burger patty is all it takes to put together a satisfying-yet-healthy dinner. This recipe calls for a juicy portobello cap, drizzled with oil and balsamic and then grilled to perfection, with a slice of melty mozzarella cheese on top.
Get our recipe for Vegetarian Mushroom Burger With Mozzarella Cheese. 
This simple "cheesesteak" recipe has 14 grams of fat and half the calories of a classic Philly cheesesteak. Plus you're foregoing meat for a really tasty veggie combo. It's a win-win.
Get our recipe for Mushroom Cheesesteak. 
Mushroom Gnocchi with Arugula and Walnut Pesto
With about 16 grams of protein and a good amount of both vitamins A and C, this gnocchi concoction is one of the healthiest pasta dishes you could be eating. It's also got a great mix of flavors—from a walnut basil-less pesto to fresh arugula.
Get the recipe from Pinch of Yum. 
Spicy Miso Portobello Mushroom Burger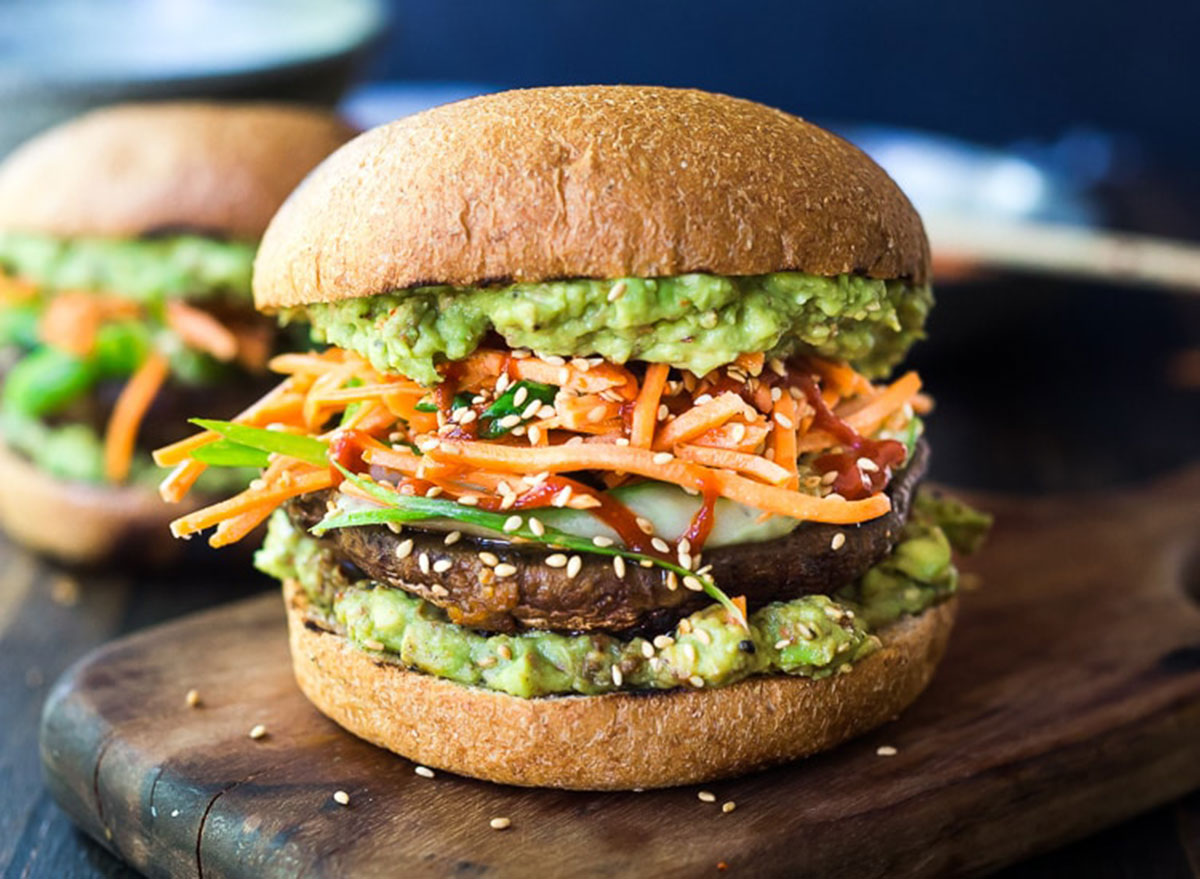 If you're miso-obsessed, this recipe will make your dreams come true. This mushroom-based dish is also packed with a fantastic amount of fiber. The chef herself says these taste like, "a flavorful umami bomb!"
Get the recipe from Feasting at Home. 
Chinese Mushroom Dumplings with Sweet Chili Ginger Sesame Sauce
Skip the whole takeout song and dance, and zoom in on the best part—the dumplings. These crispy, pan-fried mushroom dumplings are paired with a sweet-and-salty ginger sesame dipping sauce you'll be dreaming of for days.6254a4d1642c605c54bf1cab17d50f1e
Get the recipe from Half Baked Harvest. 
Easy One-Pot Mushroom Rice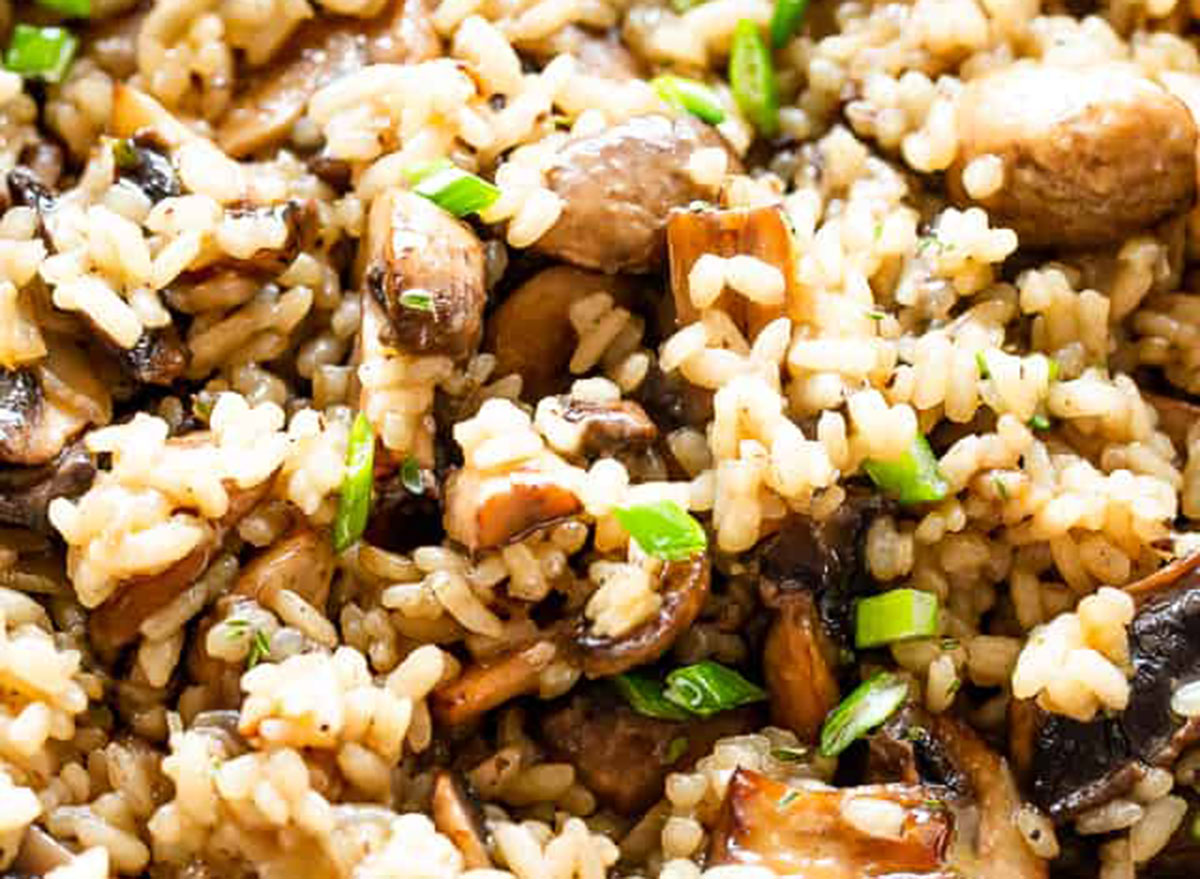 If you're in need of a quick last-minute mushroom recipe, here it is. This one-pot wonder takes less than 30 minutes to make and incorporates mushrooms into a comfort food that can be equally successful as a main dish or a side. The variety of flavors and textures make this simple rice extraordinary.
Get the recipe from Diethood.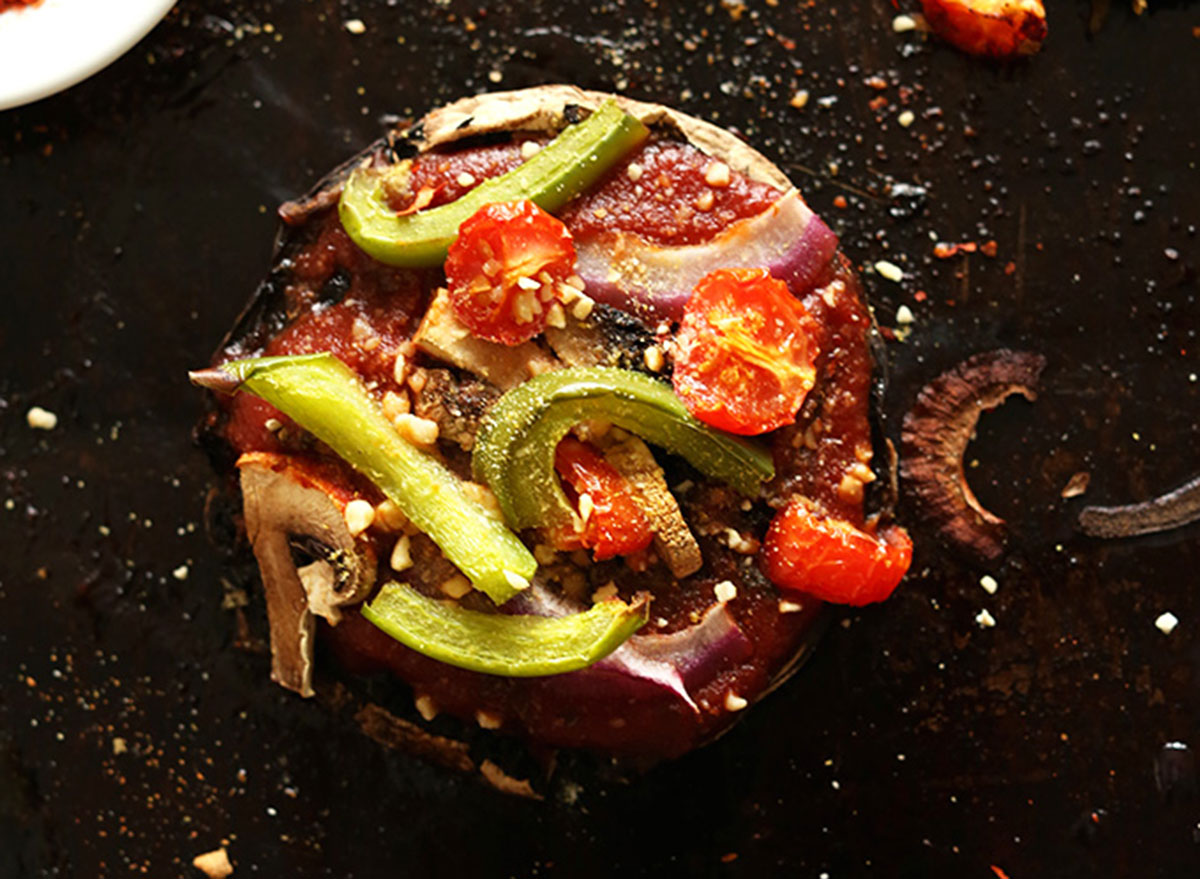 These little plant-based pizzas will change your life! The combo of the mushroom base with tomato sauce and a load of fresh veggies brings a vegetarian symphony to your taste buds.
Get the recipe from Minimalist Baker. 
Smoked Gouda Mushroom Quesadillas
This Mexican classic has even more than a little twist. These quesadillas are dripping with melty, cheesy goodness, and the gouda and mushrooms combo is out of this world!
Get the recipe from Pinch of Yum. 
Portobello Mushroom Stir Fry
Got about 30 minutes and less than 200 calories to spare for dinner? Yes, we have found a recipe that fits the bill! Not to mention, this flavorful stir fry only calls for 10 ingredients. Talk about an all-around win!!
Get the recipe from Minimalist Baker. 
Quinoa Pilaf With Mushrooms and Caramelized Onions
Nutty quinoa complements the sweet smoothness of caramelized onions in this pick. Umami-packed sautéed mushrooms lend the dish a deeper flavor profile, which is why we love munching on this quinoa bowl for lunch or pairing it with a lean protein for dinner.
Get the recipe from Eat. Drink. Love. 
Mushroom Lentil Swedish Meat[Less] Balls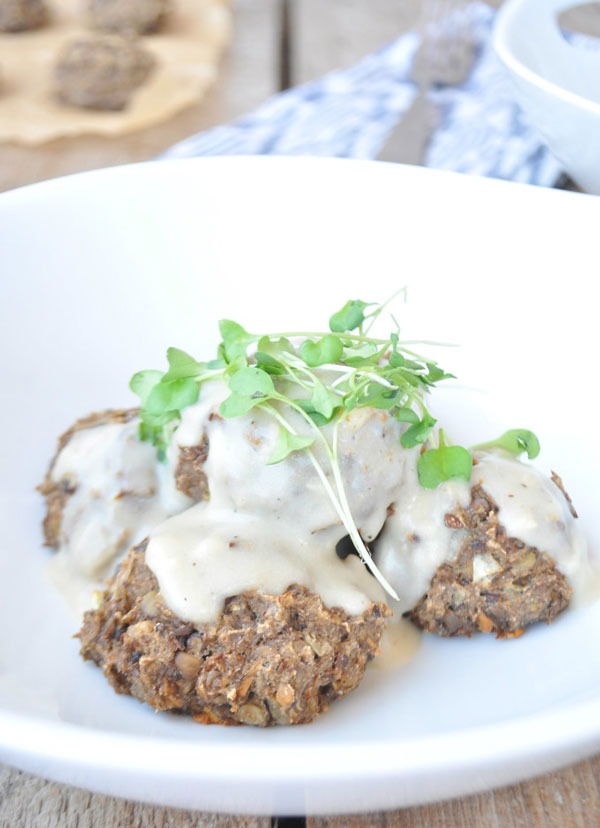 Coin Meatless Tuesdays and Wednesdays with this delish vegan meal. Unlike the usual beefy meatballs, this pick is packed with a wholesome balance of healthy fats, fiber, and protein, all thanks to the cremini mushrooms, lentils, and chia seeds. Plus, it's just as versatile as your regular ol' meatball, so feel free to lay it on a bed of zoodles or whole-grain spaghetti. Yum!
Get the recipe from The Organic Dietician.
Mushroom & White Truffle Mac And Cheese
Right when you thought your favorite cheat meal couldn't get any better, mac and cheese is transformed with some seriously sophisticated flavors. This cheesy classic benefits from an umami-packed makeover with drizzles of white truffle oil and a hefty dousing of Parmesan. Since this is one of the more indulgent of our shroom-tastic picks, sit down to only about a half-cup of the stuff.
Get the recipe from The Almond Eater.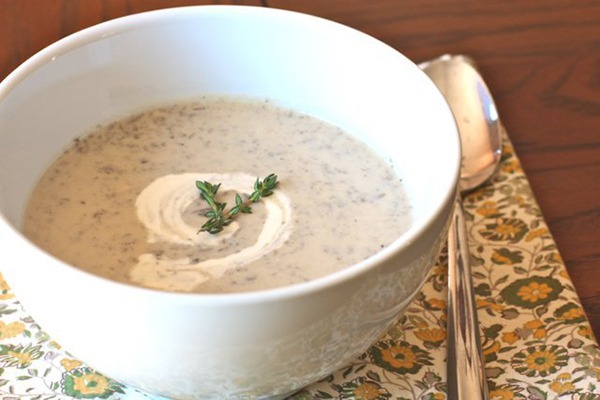 This list wouldn't be complete without a dreamy cream of mushroom soup. Since this broth is notoriously fat-laden, we lightened it up by subbing in olive oil for the butter and only using ¾ cup of cashews. And for only 171 calories and a decent 5.4 grams of protein, we're digging this dish for dinner tonight.
Get the recipe from Against All Grain.
Snow Pea and Mushroom Tacos With Mango Salsa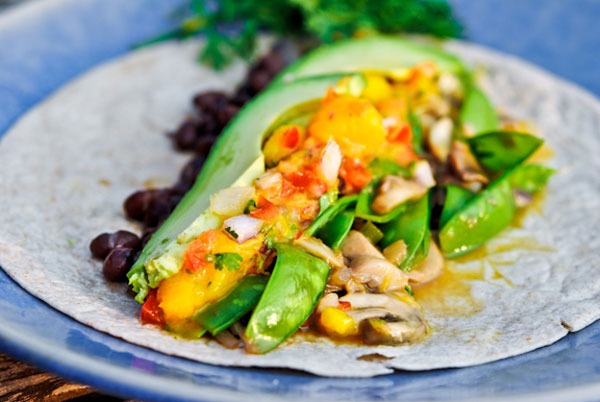 To satisfy your Tex-Mex cravings, opt for whipping up some of these veggie-filled tacos topped with a refreshing mango salsa. The black beans and bountiful veggies lend these tacos an impressive 13 grams of fiber and about 16 grams of protein. No matter how wholesome the fast-casual chain claims to be, you won't find button mushrooms and snow peas at Chipotle—so get your D.I.Y. on in your kitchen tonight!
Get the recipe from Food, Fitness, Fresh Air.
Easy Stuffed Mushrooms with Andouille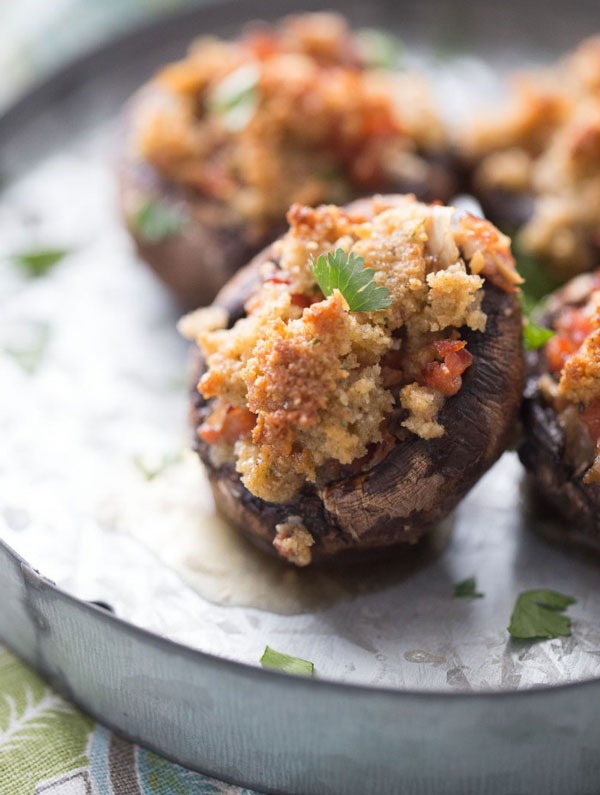 Thanksgiving isn't complete without a stuffed mushroom appetizer to pregame the bird with. Spice up your starter by adding savory sausage and white cheddar to the mix and then baking the caps for 10-12 minutes until they're browned and tender. After that, you're ready to gobble 'em up!
Get the recipe from Lemons For Lulu.
Roasted Portobello Mushroom Veggie Sandwich
Swap out deli meats for meaty Portobellos in this hearty 'wich with zucchini and creamy Muenster cheese stacked between artichoke spread-slathered toast. Balsamic vinegar and Dijon-roasted veggies are the star of this sammy and provide a fair amount of fiber.
Get the recipe from Neighborhood Food.
Skinnier Lasagna Roll Ups With Mushrooms & Spinach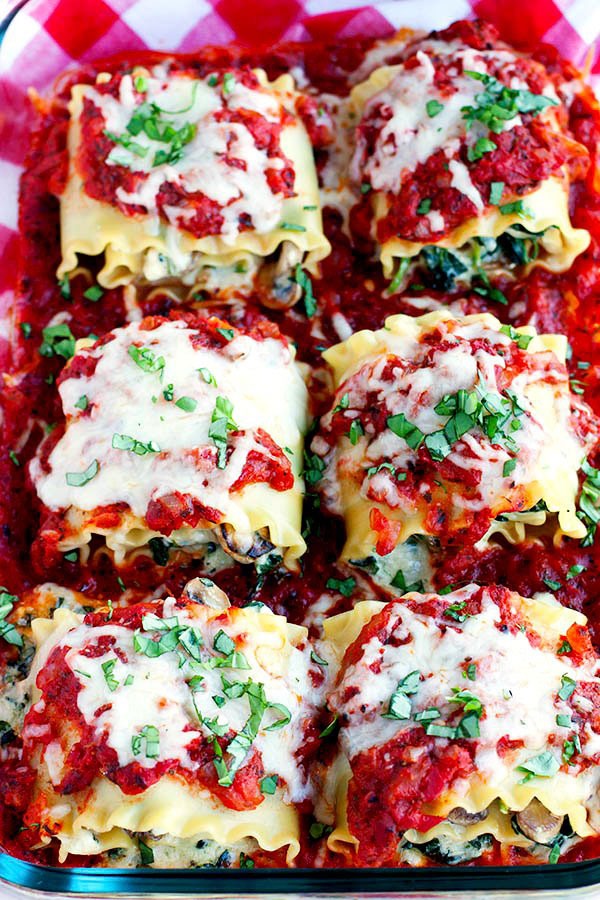 Nothing beats forking through the decadent layers of savory sauce and melted cheese in lasagna, but just a few bites of all that gooey goodness can derail your diet. That's why we're totally digging this lower-calorie mushroom and spinach rendition that's packed with skin-healing vitamin A and immunity-boosting vitamin C. For less than 400 calories, you can have your lasagna and eat it, too.
Get the recipe from Food, Folks, And Fun.
Curried Kale With Portobello Mushrooms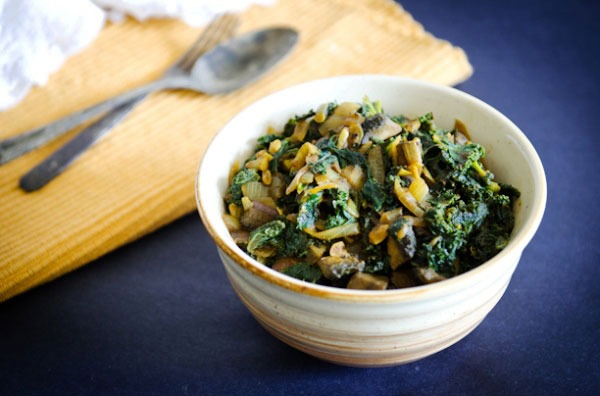 What better way to fill up on superfoods than a hearty bowl of curry-rubbed kale and chewy Portobello mushrooms? This dish boasts a superb nutritional profile, as it's teeming with anemia-fighting iron, metabolism-regulating manganese, and vitamins A, B6, and C.
Get the recipe from Food, Fitness, Fresh Air.
Easy No-Stir Mushroom Risotto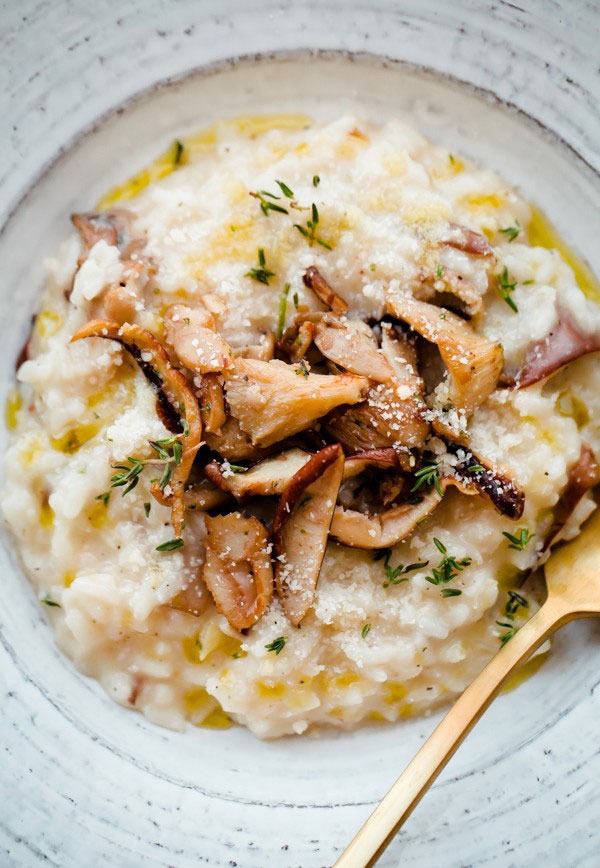 Forgo endlessly stirring risotto and cook up this recipe that will save you some active cooking time. Requiring minimal muscle power and a whole lot of herbs like rosemary and thyme, this recipe calls for shiitake and oyster mushrooms.
Get the recipe from A Beautiful Plate.
Mushroom & Avocado Breakfast Burrito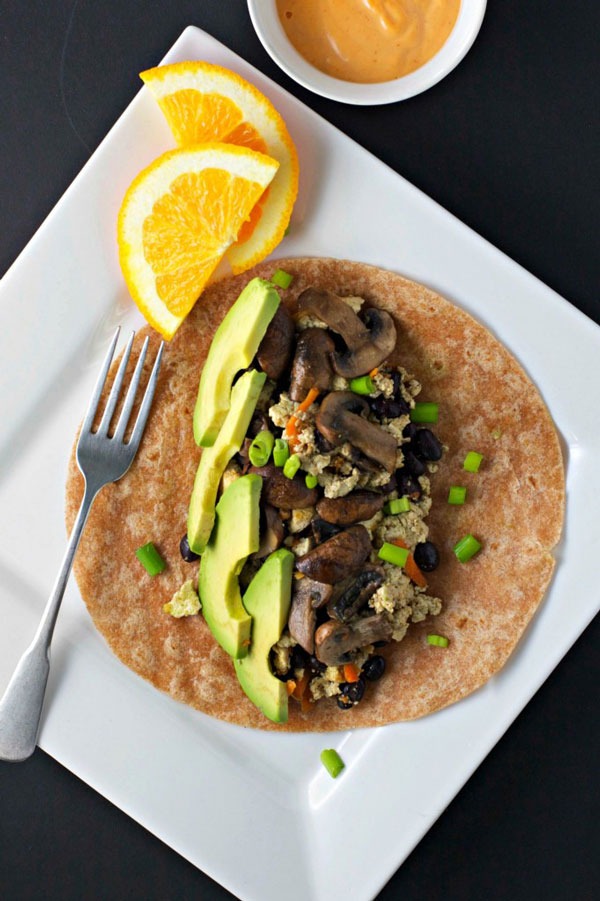 Start your day with a punch of protein and fiber by wrapping up fillings like mushrooms, black beans, and spiced tofu in a whole-wheat tortilla.
Get the recipe from Begin With Nutrition.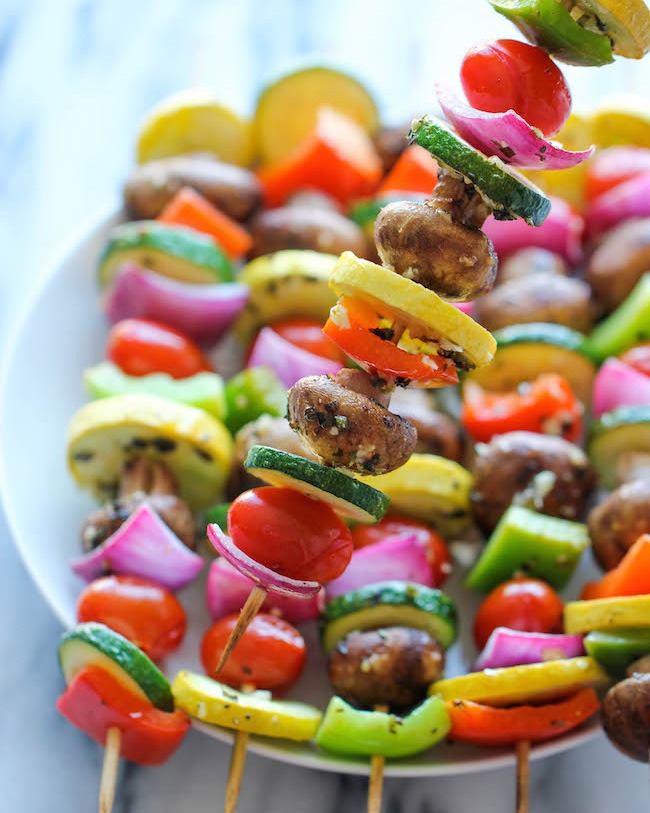 Technically a vegetable recipe in which mushrooms get a starring role, these kababs are a great way to do vegetarian skewers. Even if it isn't grilling season, you can still string them onto their sticks and throw 'em in the oven, and they're great for parties, too!
Get the recipe from Damn Delicious.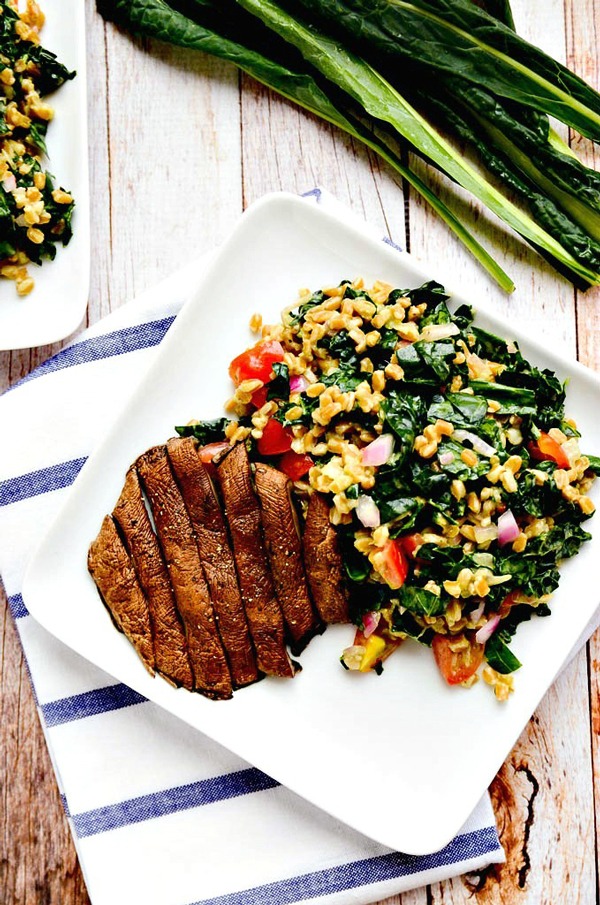 Yes, this has been dubbed a salad, despite that the star of this plate is clearly the plump Portobello. With 10 grams of fiber, this kale-spiked dish will help keep your body cleansed of toxins that slip into our food every now and then. For more salad recipes, check out these 30 Salad Recipes for Weight Loss!
Get the recipe from Blissful Basil.
Browse more healthy recipes perfect for any night of the week:
35 Best Cast-Iron Skillet Recipes
17 Flavorful Tilapia Recipes to Dress Up the Mild Fish
April Benshosan
April is a born-and-raised Brooklynite who has a passion for all things health, wellness, and tastebud-related.
Read more about April