9 Best Low Sugar Ice Creams, According to Dietitians
These pints, sandwiches, and bars will help you beat the heat.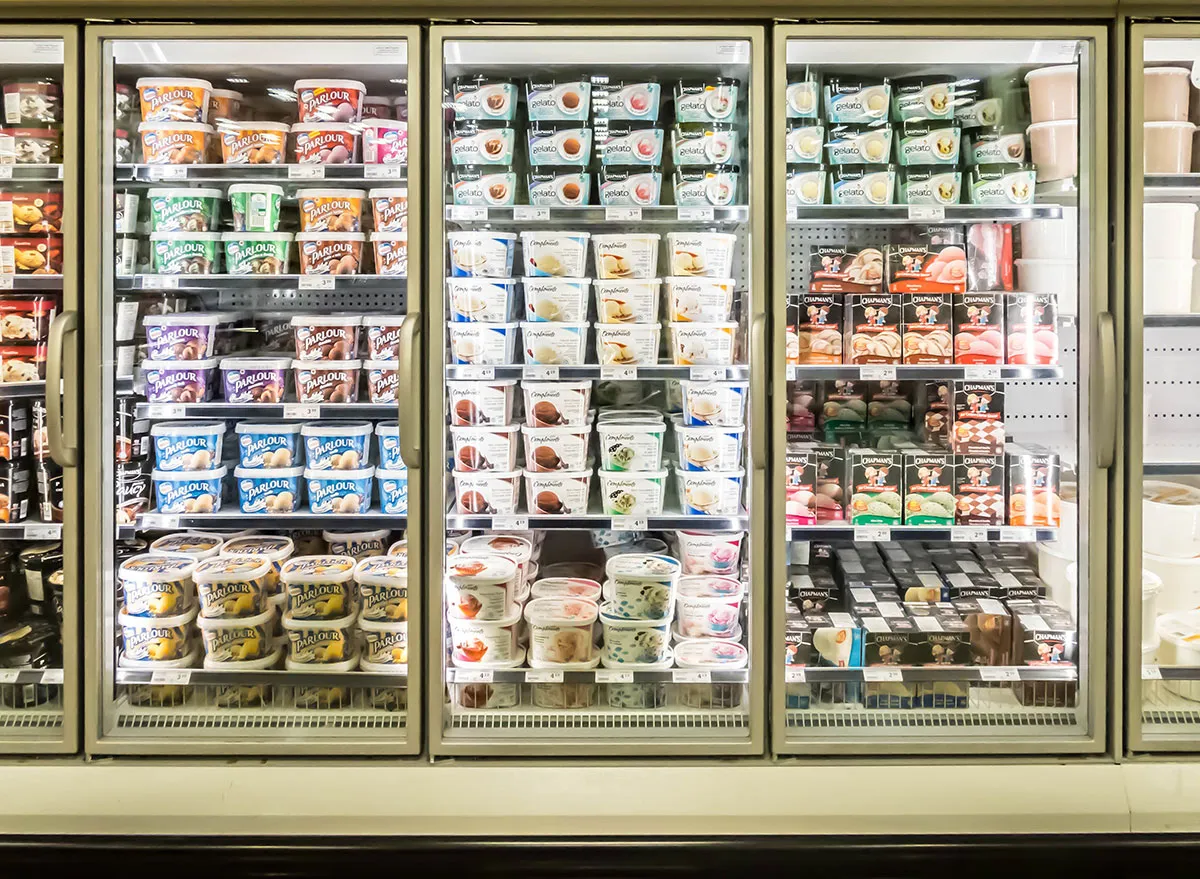 Summer has arrived, friends, which means one very exciting thing: Ice cream season is officially here.
Even better news? Thanks to all the great low-sugar ice creams out there, you can enjoy a daily scoop (or pop or sandwich) without blowing through your daily added sugar quota. Which, by the way, the American Heart Association (AHA) says should be no more than 25 grams per day for women and 36 grams for men.
"It's important to limit sugar because it's inflammatory, increases our sweet cravings (the more sweets you eat, the more you crave), and adversely affects our skin and gut health," explains Lauren Slayton, RD, podcast host and the founder of Manhattan-based dietetics firm Foodtrainers.
If you've had low-sugar ice cream in the past and are skeptical you'll find something that actually tastes good (or has any flavor at all!) you should know the category has made a ton of progress recently.
"With the increased awareness of sugar's negative impacts, and the rise of keto and lower-carb diets, there is finally a lot of quality, tasty, products to choose from that are free of junky ingredients," Slayton tells us.
What exactly qualifies as low-sugar ice cream, and what are its benefits?
People throw around the term "low-sugar," but what exactly does it mean in the context of ice cream? While there isn't a legal definition, Slayton says she considers any serving with 10 grams of added sugar or less to fit the bill. (Slayton also notes, however, that if you only eat ice cream occasionally—versus most days of the week—reaching for a scoop of regular ice cream won't derail your diet and may quell your sweet cravings more effectively.)
A low-sugar ice cream is a good option for "basically everyone" who is already eating ice cream on the regular, says Slayton. That includes people with diabetes, those following a low-carb diet like keto or Atkins, and those just trying to eat less of the sweet stuff.
How do you choose a good low-sugar ice cream?
In addition to looking at the sugar content, you'll want to look at any sugar substitutes that are used, Slayton says. As in any food category, Slayton says there's a hierarchy of sugar substitutes, with sucralose and aspartame being two that you should always avoid.
"These adversely affect your gut health and may have potentially carcinogenic effects," explains Slayton. Sugar alcohols fall into the "OK for some" category. "They're generally safe but can cause GI side effects for certain people," Slayton tells us, noting that people tend to tolerate erythritol better than sorbitol or maltitol. Then there are stevia and monk fruit sweeteners, which Slayton says she most often recommends to her clients.
The bottom line: Reach for a product that's free of sucralose, aspartame, sorbitol, and maltitol.
The 9 best low-sugar ice creams you can buy.
Not sure which options are worth trying? These nutritionist-backed pints, pops, and ice cream sandwiches (from Slayton and other top registered dietitians) are made with sweeteners you can feel good about and contain less than 10 grams of added sugar per serving.
So Delicious DairyFree Coconut Sandwiches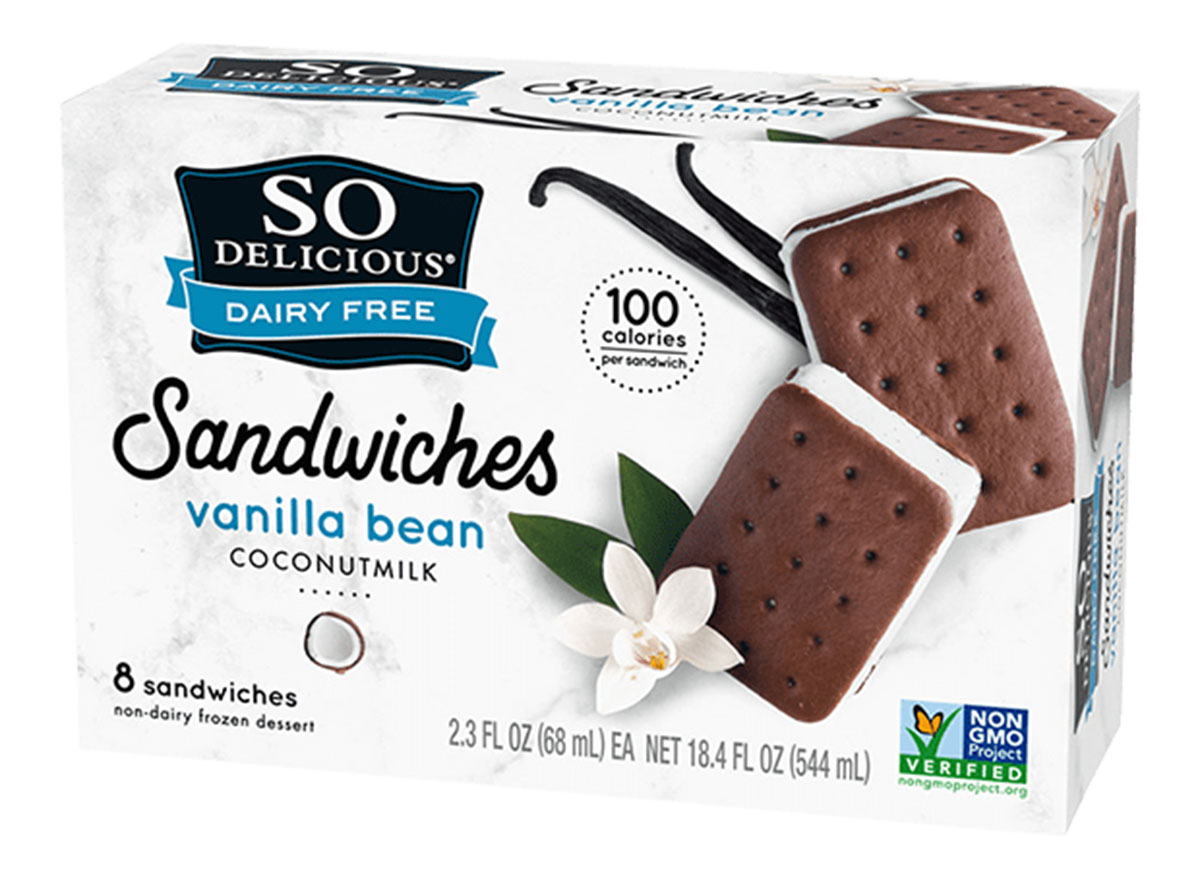 1 sandwich
: 100 calories, 4 g fat, 3.5 g saturated fat, 30 mg sodium, 14 g carbs, <1g fiber, 7 g sugar (includes 7 g added sugar), 0 g sugar alcohol, 1 g protein
"These coconut milk-based ice cream sandwiches are well-named—they really are delicious!" says Samantha Cassetty, RD, the co-author of Sugar Shock.
Sweetened with organic cane sugar, tapioca syrup, and brown rice syrup, you won't find any artificial sweeteners in this dessert. Cassetty also appreciates that the sandwiches have just 7 grams of sugar, which she notes is "super reasonable for a treat," and likes that they're individually wrapped.
"This means there's no guessing how much is in a suggested serving," she says.
NadaMoo Organic Chocolate Dairy-Free Frozen Dessert
6254a4d1642c605c54bf1cab17d50f1e
½ cup serving
: 128 calories, 7 g fat, 6 g saturated fat, 37 mg sodium, 15 g carbs, 5 g fiber, 8 g sugar (1.5 g added sugar), 0 g sugar alcohol, < 1 g protein
"This dairy-free option is perfect for chocolate lovers! It has a rich, decadent chocolate flavor," says Patricia Bannan, RDN of one of her favorite low-sugar ice creams. It gets the bulk of its sweetness from agave nectar which is about one and a half times sweeter than white sugar.
"This allows manufacturers to add less sugar without compromising the flavor," Bannan explains.
NadaMoo Organic Vanilla Dairy-Free Frozen Dessert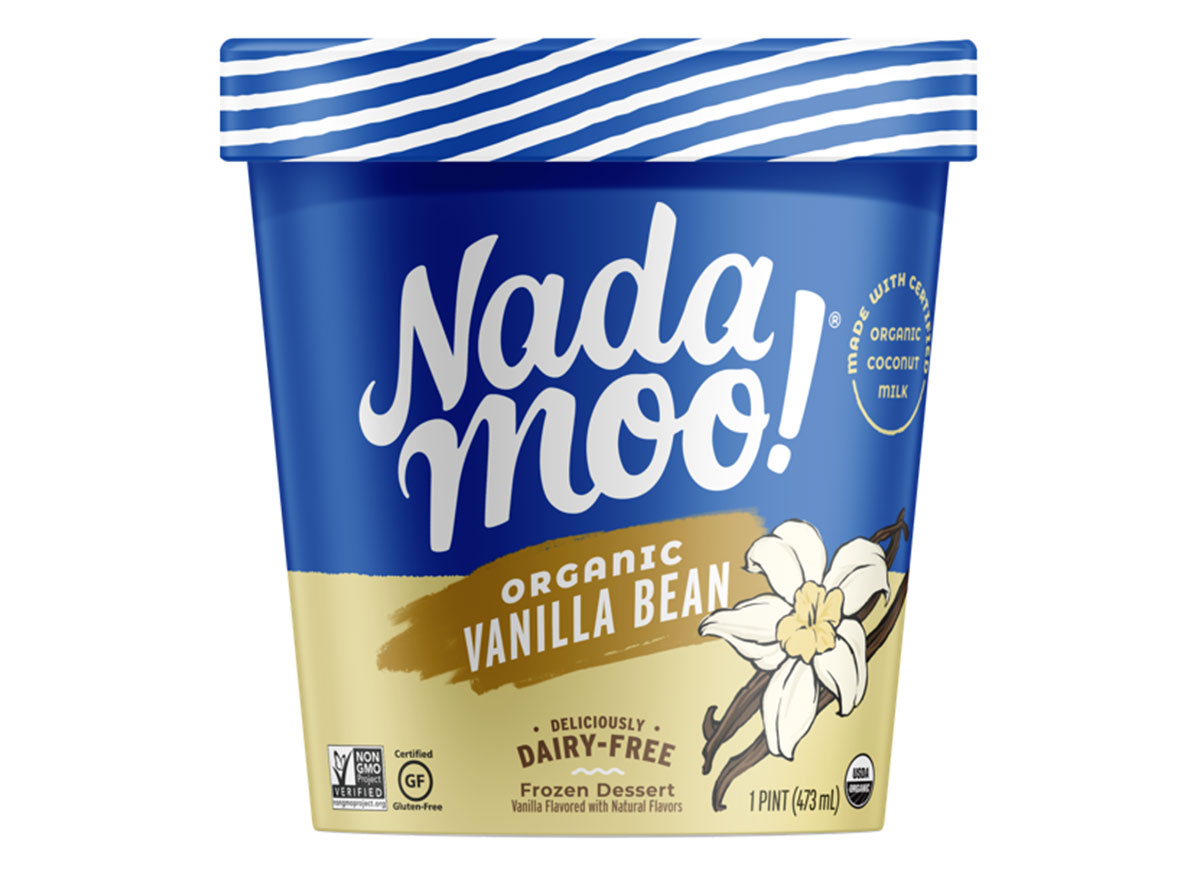 ½ cup serving
: 120 calories, 7 g fat, 6 g saturated fat, 37 mg sodium, 13 g carbs, 4.5 g fiber, 8 g sugar (1.5 g added sugar), 0 g sugar alcohol, < 1 g protein
If you love a good scoop of classic vanilla, this one has a ringing endorsement.
"I absolutely love NadaMoo's vanilla. In fact, I'm a super fan," says Isabel Smith, RD CDN. "It's made with good, whole food ingredients, no artificial sweeteners, and is absolutely delicious," Smith says.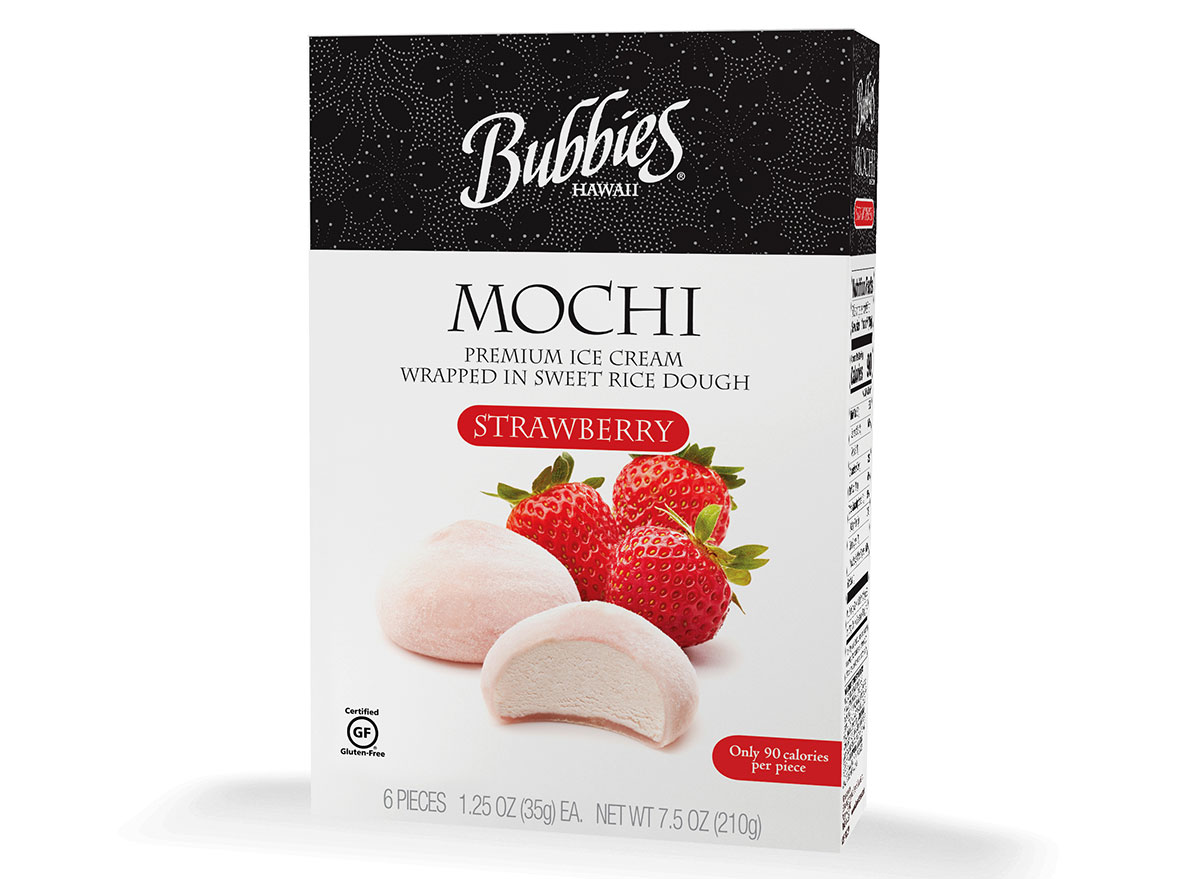 1 bite
: 90 calories, 2.5g fat, 2g saturated fat, 10mg sodium, 15g carbs, 0g fiber, 10g sugar (9g added sugar), 0g sugar alcohol, 1g protein
Mochi (pronounced moh-chee) is a dough made from sweet rice flour that originated in Japan. To create this perfectly portioned treat, Bubbies filled the dough with creamy ice cream and froze it to perfection. "I like that these come in a single-sized bite with no artificial sweeteners," says Maggie Michalczyk, RDN.
Other pluses: "Each of the different cookie dough flavors has less than 10 grams of sugar, and they have a fairly short ingredients list compared to other ice cream products," Michalczyk says. (Fewer ingredients = less junk!)
Halo Top Chocolate Mocha Chip
2/3 cup
: 110 calories, 3 g fat, 1.5 g saturated fat, 135 mg sodium, 19 g carbs, 2 g fiber, 8 g sugar (4 g added sugar), 8 g sugar alcohol, 7 g protein
Under the lid of this pint, you'll find a creamy, chocolaty coffee-infused ice cream sprinkled with crunchy white chocolate chips. The protein-rich base is made with skim milk, eggs, and cream, while the sweetness comes from a blend of erythritol, organic stevia leaf extract, and a bit of organic cane sugar. Lauren Harris-Pincus, RDN, who works with the brand, is a big fan.
"Halo Top is deliciously sweet and has as much protein as an egg in a 2/3 cup serving." Another perk? It's far lower in calories than traditional ice cream, which is especially good news if you're what Harris-Pincus refers to as "a whole pint eater." An entire pint of Mocha Chip, for example, packs just 320 calories.
(Psst! Looking for something similar with fewer carbs? Halo Top has a product that made our list of the best keto ice creams!)
1/3 cup
: 90 calories, 7 g fat, 6 g saturated fat, 5 mg sodium, 4 g carbs, <1 g fiber, 5 g sugar (4 g added sugar), 0 g sugar alcohol, 0 g protein
Dream Bites partnered with three-star Michelin chefs to create this drool-worthy, vegan, just-sweet-enough chocolate-covered frozen dessert. Beneath the crunchy exterior, you'll find a creamy ice-cream-like blend of raspberries, passion fruit, and strawberries—and no icky fillers.
"I like these as they check a bunch of boxes," says Slayton. "They're made exclusively with recognizable ingredients. And as my clients would say, they're 'everything free' gluten-free, dairy-free, soy-free but fortunately not taste-free."
KIND Frozen Dark Chocolate Peanut Butter Bar
1 bar, 180 calories, 13 g fat, 5 g saturated fat, 45 mg sodium, 16 g carbs, 7 g fiber, 8 g sugar (7 g added sugar), 0 g sugar alcohol, 4 g protein
If you're a candy bar fan on the hunt for a healthy-ish treat, look no further! "This decadent dark chocolate peanut butter bar is absolutely delicious and will satisfy any sweet n' salty, crunchy craving," says Sarah Koszyk, RDN of this frozen Snickers stand-in. The 7 grams of filling fiber and 4 grams of plant-based protein are two other reasons Koszyk says this dessert is a winner.
Halo Top Brownie Batter Pops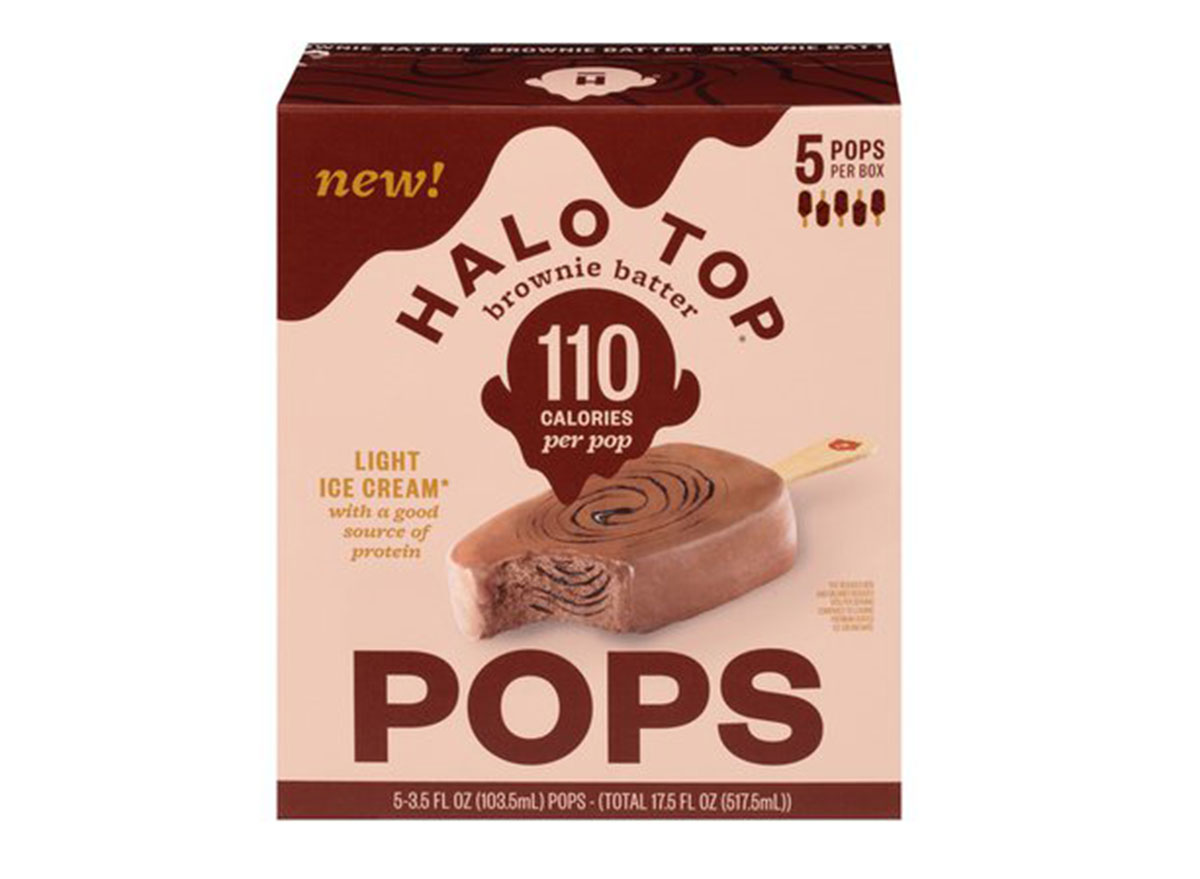 1 pop
: 100 calories, 3 g fat, 1.5 g saturated fat, 95 mg sodium, 19 g carbs, 5 g fiber, 8 g sugar (4 g added sugar), 5 g sugar alcohol, 6 g protein
"If you love sweet treats but have difficulty with portion control, these are a great solution, and I love the brownie batter flavor," says Harris-Pincus of the erythritol-, stevia-, and sugar-sweetened chocolate pops.
A fun fact about this line of desserts: They're made with skim milk that's been ultra-filtered. This yields a super creamy popsicle that contains less lactose yet more protein and calcium than other options on supermarket shelves, Harris-Pincus explains.
Chloe's Oatmilk Chocolate Peanut Butter Pops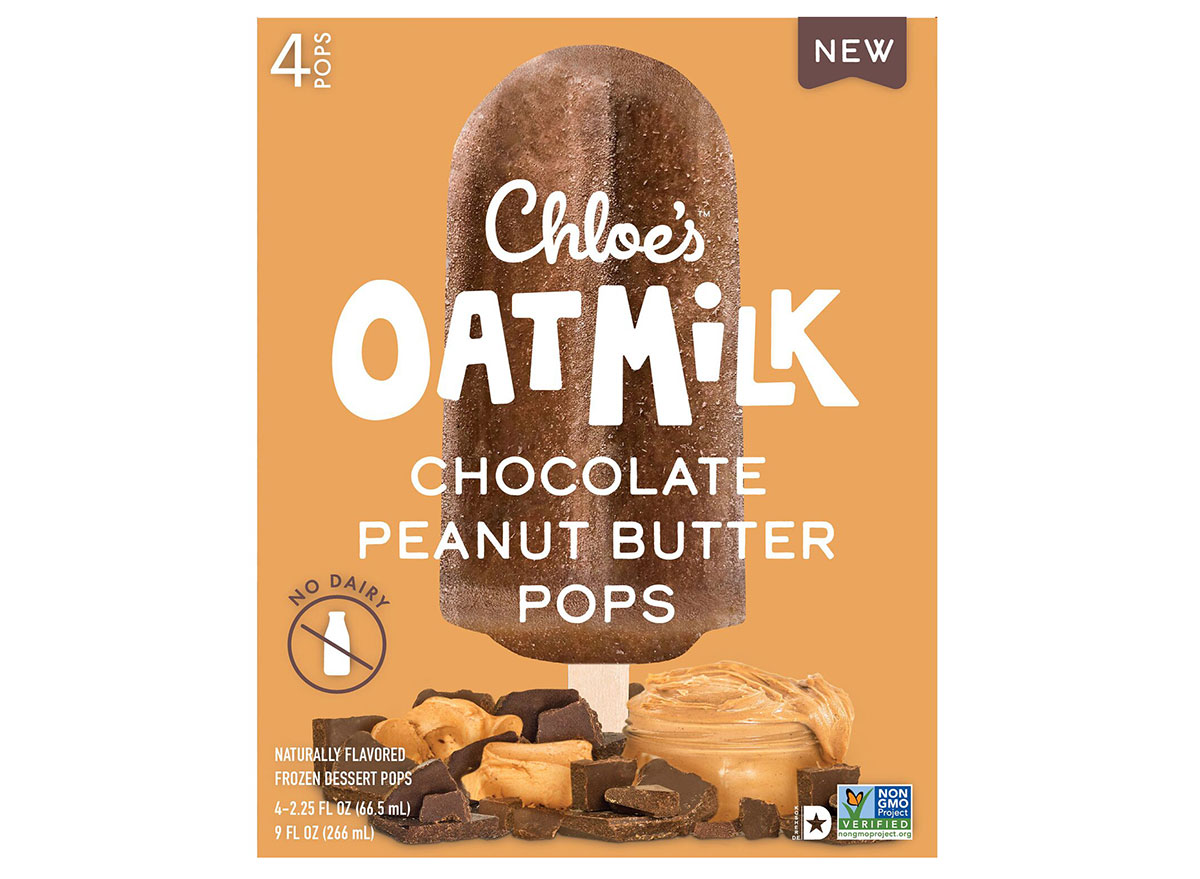 1 pop
: 110 calories, 5 g fat, 4 g saturated fat, 110 mg sodium, 15 g carbs, 1 g fiber, 10 g sugar (10 g added sugar), 0 g sugar alcohol, 2 g protein
This salty-sweet pop may be made with oat milk, but it has the texture and taste of a dairy-based treat, says Koszyk. "If you are looking for a creamy, rich, decadent dessert, this chocolate peanut butter pop is great. It only has 110 calories and 10 grams of sugar but tastes like an indulgent dessert," she says.
For more, be sure to check out Side Effects of Giving up Ice Cream, According to Science.