We Tasted 5 New Fast-Food Chicken Sandwiches, and This One Blew Us Away
Our taste test revealed one clear winner among the latest offers.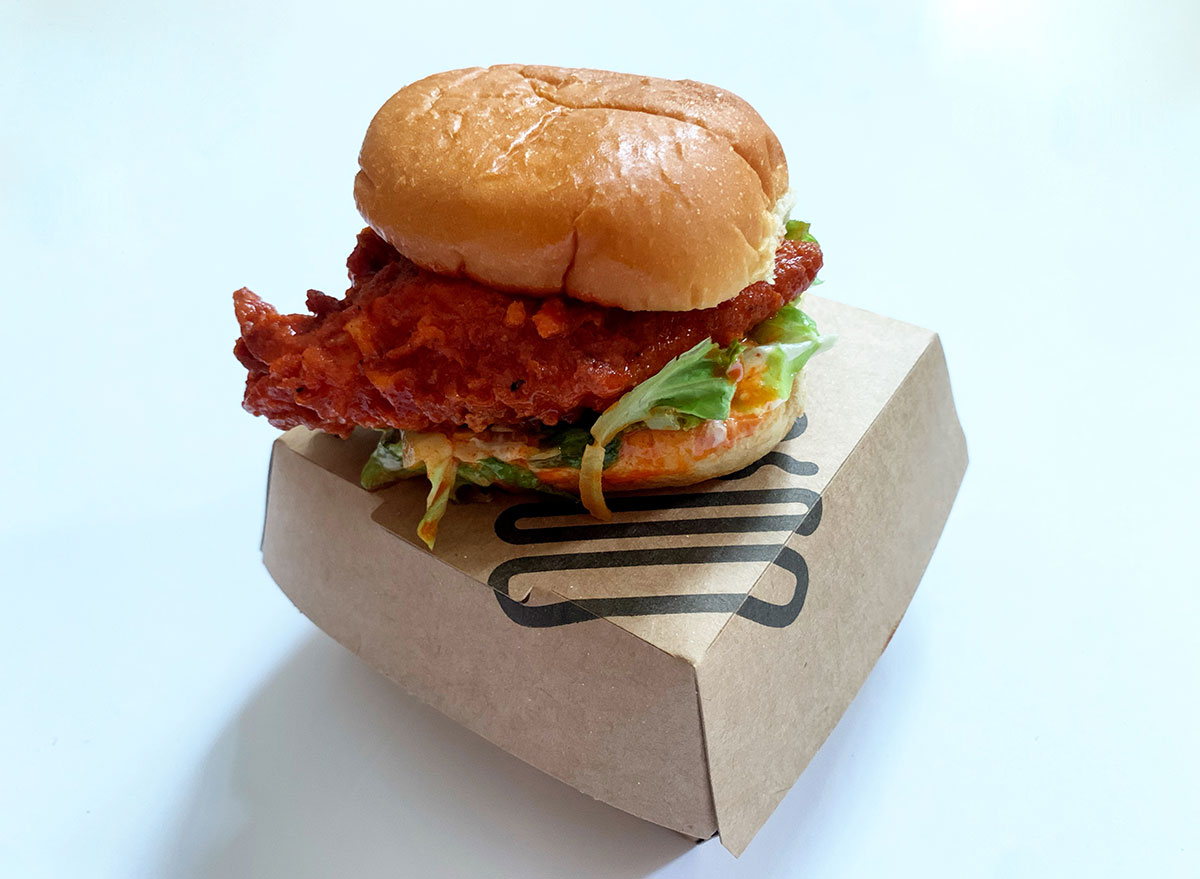 We all know about the battle royale that's been going down this year—it's difficult to browse a fast-food menu without a new chicken sandwich smacking you in the face. From spicy to crispy to spicy and crispy, chicken breasts between buns remain the dominant food trend of this summer.
To be clear, we don't hate this movement. Chicken lends itself to a strong array of innovation, and as more fast-food brands toss their hat in the ring, the quality only increases. Recently the final chicken sandwich holdouts (looking at you, Burger King) have gotten on board with new offerings, making the competition as fierce as ever. From the Golden Coast to New York's finest, there are plenty of freshly minted chicken sandwiches to try nationwide.
Read on to discover which one of these latest creations truly blew us away. For more, check out We Tried the Most Popular New Fast-Food Burgers and This Is the Best One.
Burger King's Ch'King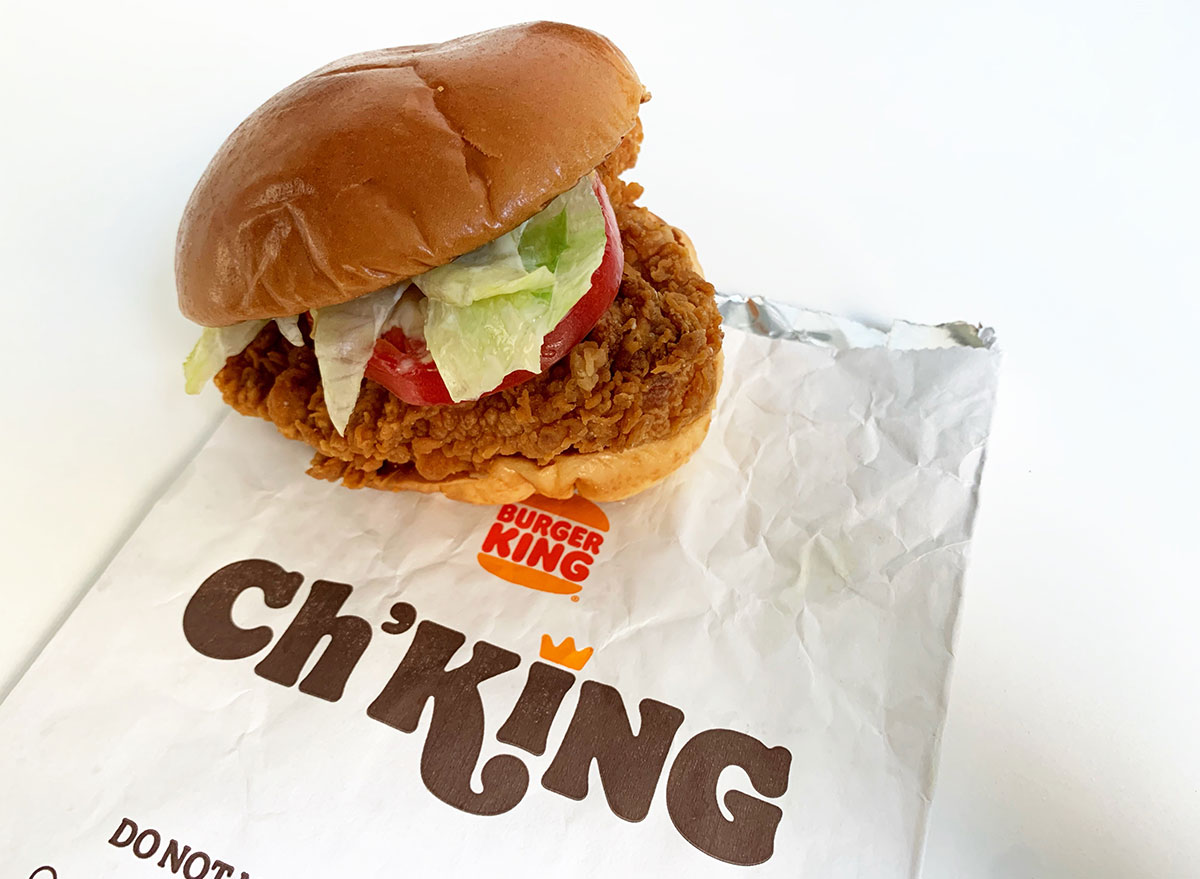 The name may be one of the strongest aspects here, which is not a slight: the Ch'King moniker is pretty genius—catchy enough that it's worth an order regardless of how the sandwich actually tastes. Plus, BK is donating 40 cents for every Ch'King sandwich sold in June to the Human Rights Campaign, which is an automatic plus for the item.6254a4d1642c605c54bf1cab17d50f1e
While there are multiple reasons to try this newbie, from the name to the cause, the actual taste is not a prominent one. When this sando was first teased by Burger King back in February, the chain referenced the massive amounts of R&D that went into its creation. Based on flavor alone, I think it could have used a little more time.
The Ch'King's first impression is familiarity. This sandwich is unmistakably Burger King, tasting almost identical to their chicken fingers—the warm, thick crunch gives it away as essentially BK. But I had a few complaints about the rest of this concoction. It's the lackluster lettuce and the 6/10 bun, that sticks this bad boy in last place.
Taco Bell's Naked Chicken Chalupa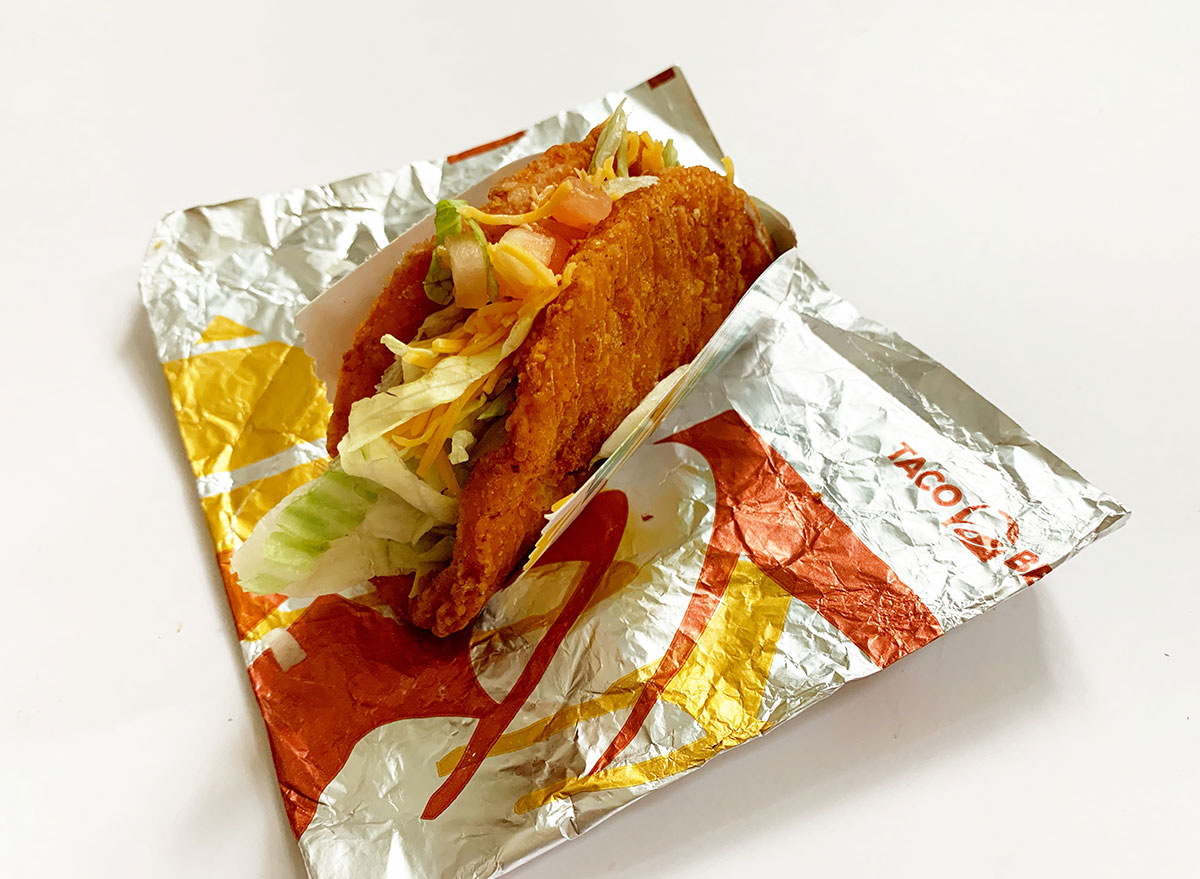 There is no shortage of chicken in Taco Bell's new submission. The Naked Chicken Chalupa is literally a taco wrapped in meat. It currently sits atop their menu as a limited-time offer, and while it's a strong contender in the race to the greatest chicken creation, it ultimately doesn't top more traditional alternatives.
This scandalously named menu item is all about the heavily breaded chicken. Besides that major draw, its strengths are the same as those of any classic Taco Bell dish: it comes fully loaded, well-seasoned, and ready to eat. The downside of the Naked Chicken Chalupa specifically, though, revolves entirely around the fact that there is simply no good way to eat it. The chicken shell is greasy and not quite sturdy enough to be enjoyable. Although cool in theory, who actually wants to grab breaded chicken in order to transport a taco to their mouth? While the Bell did make an attempt to rectify these issues by casing the Naked Chicken Chalupa in a cardboard container, the item, sadly, remains impractical.
Carl's Jr.'s Hand-Breaded Chicken Sandwich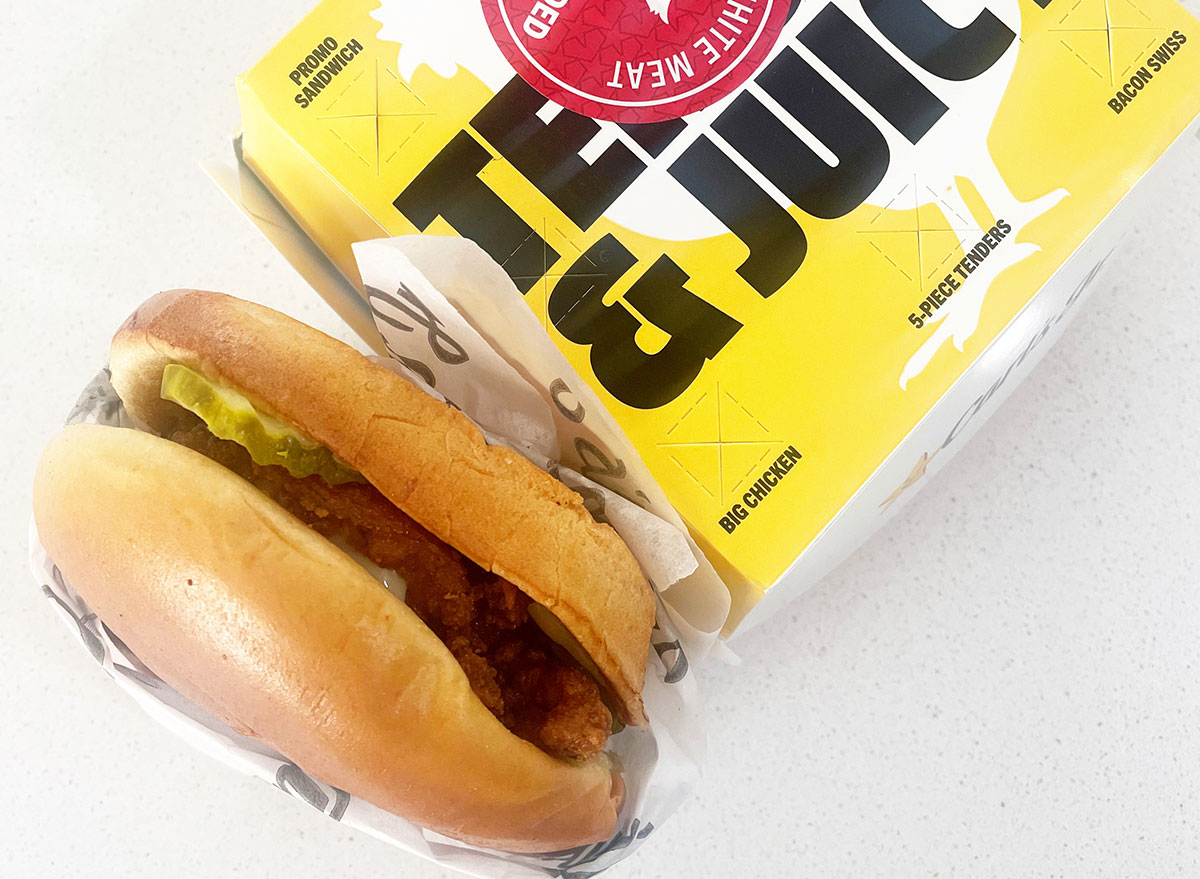 At first glance, Carl's Jr.'s contribution to the chicken sandwich wave was underwhelming. Fresh out of the bag, it appeared thin and a bit wilted. The taste, though, made up for any mild initial impressions.
Carl's Jr. has absolutely nailed the sauce-pickle combo, which adds a unique tang unlike the other options currently available. The patty was especially moist and my only complaint is that I wish there was more of it. The namesake hand-breading, while good, almost detracts from the chicken beneath it, which is slathered in sauce and stuck between two buttery grilled buns. While this chicken sandwich is definitely following trends, it is also distinctly its own thing in the current sea of chicken sammies.
Shake Shack's Buffalo Chicken Sandwich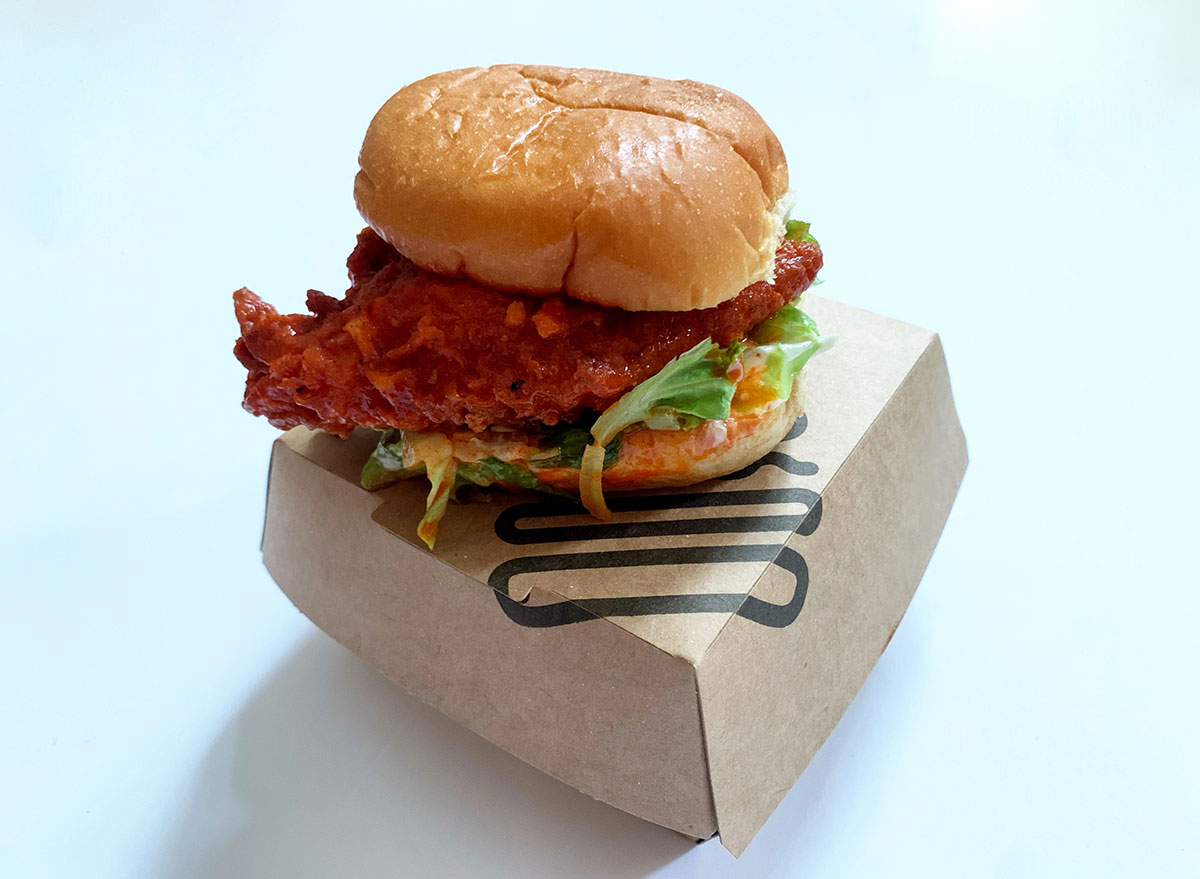 This chicken sandwich contender is quite literally hot off the press. Rolling out in select markets this month, word on the street is the Buffalo Chicken Sandwich at Shake Shack has only hit locations in New York and Los Angeles thus far. My advice? As soon as you can get your hands on this bad boy, do so.
The Buffalo Chicken newbie is everything that's great about Shake Shack's classic chicken sandwich, plus buffalo sauce. The chain's execution is near-perfect, from the thick chicken slab that is absolutely drenched in buffalo to the fresh lettuce, the thick bun, and the generous helping of herb-infused mayo that ties it all together.
Smashburger's Scorchin' Hot Crispy Chicken Sandwich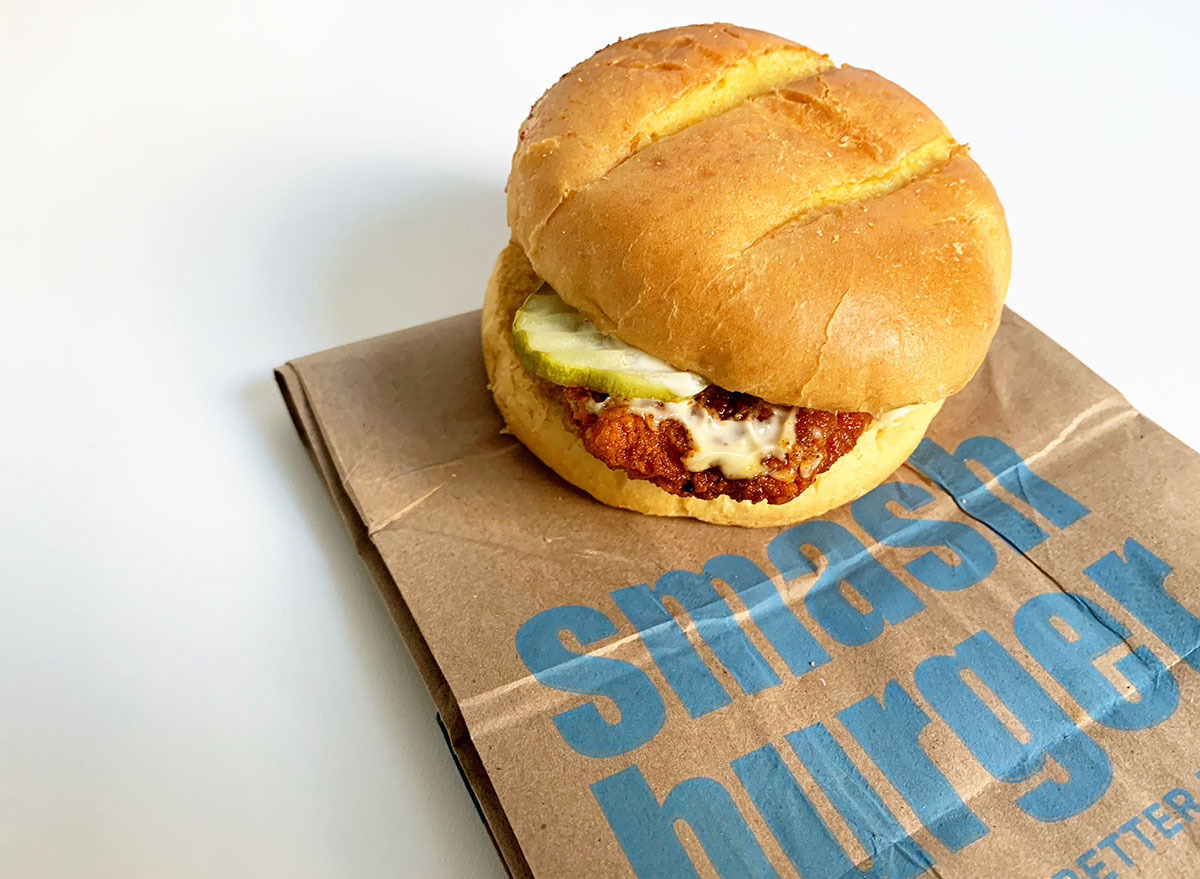 Smashburger's chicken sandwich is not just number one. It's number one by a long shot. While other fast-food chicken sandwiches have a definitively fast-food flavor, Smashburger comes swinging from left field with a delicacy that is both fast and affordable but also tastes much more elevated.
The new menu item, which bakes spice right onto the chicken itself, fuses heat with sour pickles and whips it together with a vaguely sweet red pepper mayonnaise finish. The star of the show is undoubtedly the chicken, which is the crunchiest of all the ones I tested, and not to mention the most richly dynamic in terms of the flavor profile.
This winner made its debut at Smashburger back in April, and is so popular that the chain can't keep it in stock. Walk, don't run, to try the official king of the new chicken sandwiches.
For more, check out the 108 Most Popular Sodas Ranked By How Toxic They Are.