We Tried the Most Popular New Fast-Food Burgers and This Is the Best One
The King has been dethroned!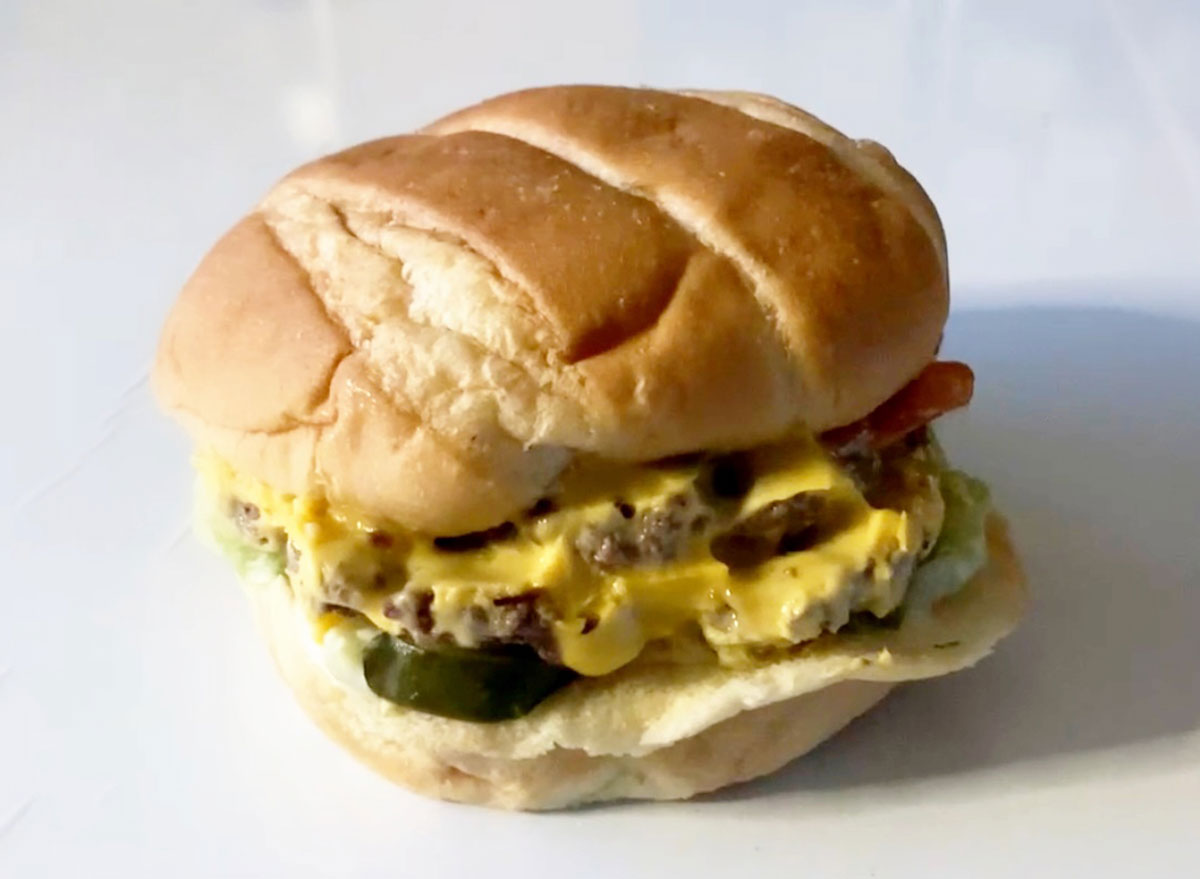 On what could be the brink of a post-pandemic world, burgers are having a bit of a renaissance. Maybe it's our re-emerging sense of freedom, or the cautious hope of throwing celebratory gatherings in our back yards this summer, that has put the most American of all foods back at the center of our cravings.
Amid the new wave of chicken sandwiches and plant-based alternatives, the burger still has true staying power at fast-food chains and is being reinvented in truly distinct and creative ways.
Determined to figure out where best to spend my reinvigorated "eating out" budget, I took to the delivery apps to try the most promising new burger renditions. I examined the trends and considered the cost, but this ranking is ultimately based purely on taste. For more, check out the We Tried the Most Popular New Fast-Food Pizzas and This Is the Best One.
Burger King's Double Sourdough King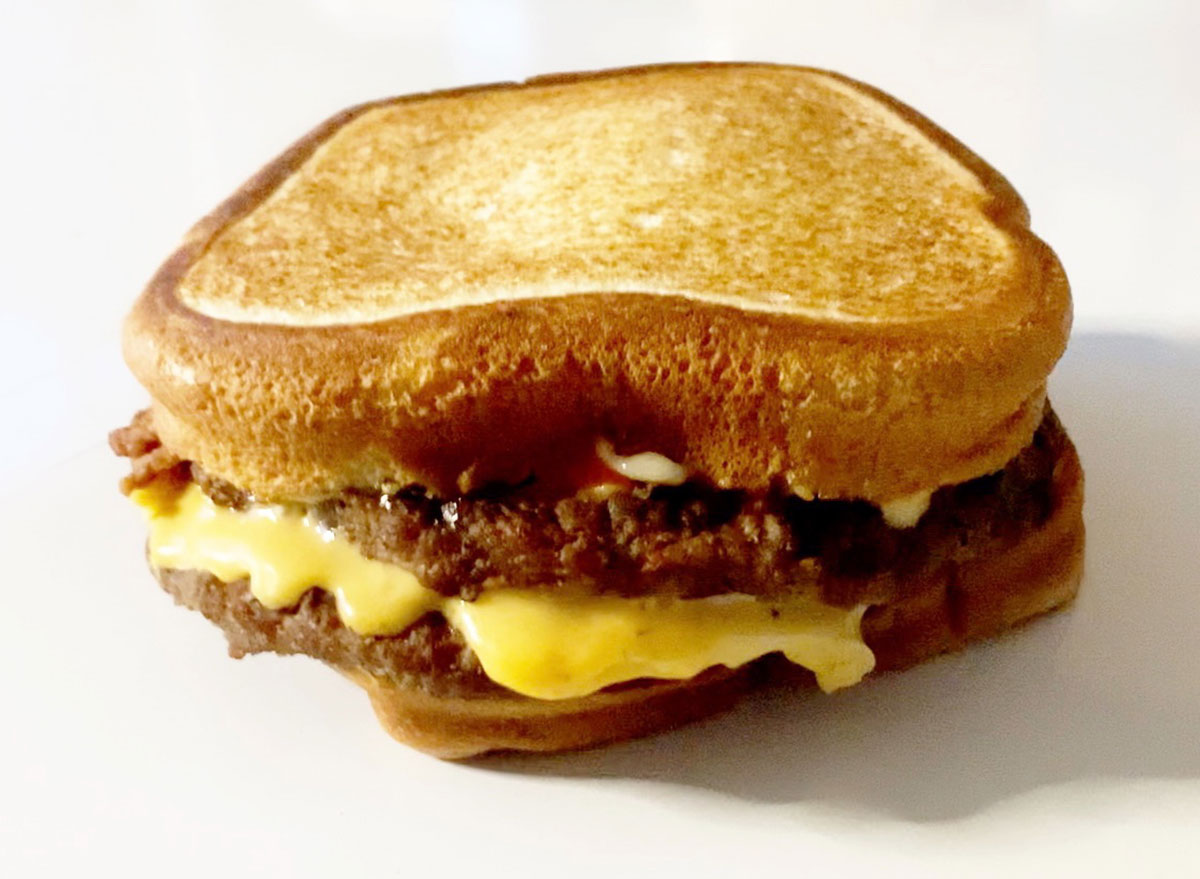 Burger King brought back this favorite for a limited-time run, and despite rumors that it was leaving the menu mid-April, it's still proudly and prominently featured.6254a4d1642c605c54bf1cab17d50f1e
I'll say it: the creativity here leaves something to be desired. With a name like Burger King, you'd expect the chain to be all over the burger renaissance, but this isn't even a new creation. Instead of actually innovating, they simply returned to what they knew worked. But is it still working?
Kind of. I can see why the Sourdough King was a hit in its heyday. The bun, first of all, is less sourdough and more just thick, semi-sweet, buttered slices of toast. Nothing wrong with that, but it was a little disappointing when I'd geared up for the popular buzzworthy slice.
Overall the taste was decent, and if anything, the sourdough roll made it more enticing than a standard Whopper. The real reason BK's returning hero places last just comes down to quality. When pitted against the competition, the meat doesn't stack up: it is clearly more processed, thin, and bland-tasting than that of its counterparts.
Shake Shack's Avocado Bacon Burger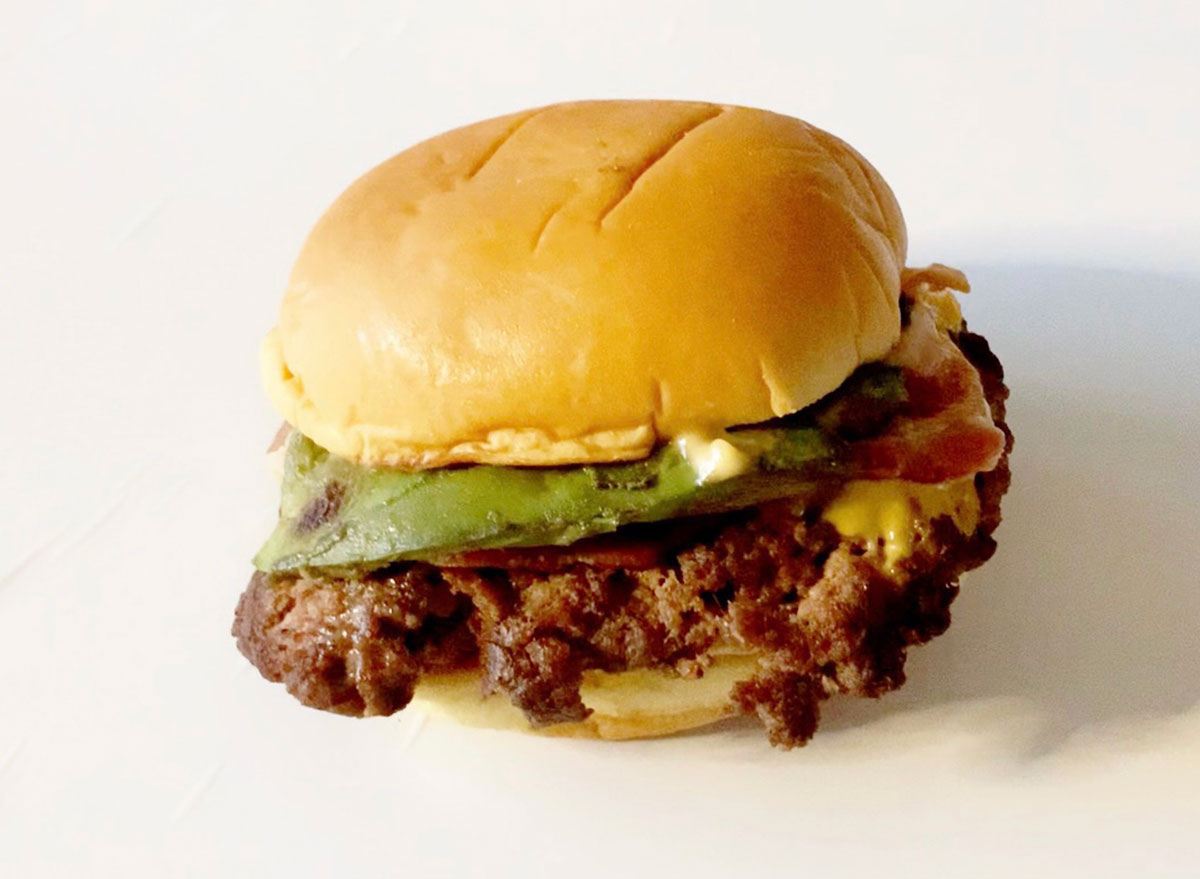 I love Shake Shack, but talk about bland. The redeeming factor here is that they didn't promise anything crazy: it was simply a launch of two burger-improving toppings. As of last month, you can officially add both avocado and bacon to any Shake Shack burger.
Naturally, I added both. The chain designates their new offerings as "freshly-sliced avocado and Niman Ranch applewood-smoked bacon," and to their credit, the avocado did taste fresh. The bacon was definitely elevated. It just wasn't enough to make this burger stand out.
Wendy's Pretzel Bacon Pub Cheeseburger
All fast food is not created equal. There are the major brands that operate thousands of locations and mass-produce their food, like Wendy's. And then there are the more niche options that, while still fast, have an inherent advantage with their better-quality, higher-end ingredients (see rankings #1 and #2). But I'll say this: of the major national chains, Wendy's Pretzel Bacon Pub Cheeseburger takes the cake.
To be fair, this is also a returning offering. But the pure ingenuity displayed in this burger makes it feel just as new and exciting as it did during its last stint on the menu five years ago.
This burger is named for its pretzel bun, which is an alluring shade of dark brown that conjures up expectations of a chewy Bavarian-pretzel texture and taste. While it doesn't quite live up to that standard, the bun is a fun tweak.
The real stars of the show, though, are the fried onions. Nestled between Muenster cheese and slices of Applewood smoked bacon, these crispy bits add a layer of crunch and a flavor that is much more pub delicacy than fast food. The pickles, honey mustard, and warm beer cheese sauce only reinforce that impression, and ultimately, this burger checks out as well worth the six dollars.
With a name like SWAG Burger, was there any way this bad boy wasn't placing in the top two? BurgerFi's limited-edition creation is only available until May 9, and is well worth ordering right now. In fact, the chain should seriously consider prolonging its tenure.
SWAG stands for Spicy Wagyu, and the burger's patty is two parts Wagyu beef and one part brisket. Where does the spice come in, you ask? Everywhere else.
The patty is topped with charred jalapeños, which dominate the flavor profile of the burger as a whole. But there's also the habañero pepper jack cheese and hot steak sauce to round out the heat.
A special treat comes in the form of candied ghost pepper bacon. While every burger on this list contains bacon, no one does it like BurgerFi. The slices are incredibly crispy and crunchy, especially for delivery, and the candied ghost pepper flavor adds both a sweet and spicy dimension at once.
The only reason this burger didn't top the list is its lack of depth. The SWAG hits you with a lot of spice all at once, but there isn't much else to taste here. Simply adding pickles or creamy mayo could have done the trick.
MrBeast Burger's Dream Burger
Honestly, I can't even write about this one without my mouth watering. When the Dream Burger arrived, I had no expectations. Besides being interested in the MrBeast Burger concept, a delivery-only chain born from the entrepreneurial mind of a YouTube megastar, I knew little to nothing about the Dream.
Here's what became apparent very quickly: the concept is working. MrBeast nailed this burger, and because its victory can almost entirely be attributed to the quality of its beef, I now have confidence in the greatness of their entire menu.
Apparently inspired by the content creator Dream, the Dream Burger consists of a "double smash patty," heaps of bacon, smashed avocado, and the classics: American cheese, lettuce, mayo, and pickles. The bun?  It arrived toasted to perfection.
Overall, this is the quintessential 2021 burger. Instead of getting too fancy on any one front, MrBeast focuses on making the basics shine. You need to try this while it's still on the menu!
For more, check out the 108 Most Popular Sodas Ranked By How Toxic They Are.