The 10 Best Vegan Restaurants in America, Data Shows
These establishments take plant-based eating to a whole new level.
Following a strict vegan diet can be extremely difficult, but removing animal products from your meals may help you improve health outcomes. This type of eating has also been shown to be better for the environment. While there are plenty of nutritious vegan recipes you can cook at home, some cities are stacked with vegan eateries that take plant-based eating to an entirely new level.
Tripadvisor recently announced the 10 best vegan restaurants in the U.S. based on data from this year's Travelers' Choice "Best of the Best" Restaurants Awards, so you know which spots are dishing out the nation's most nutritious and delicious vegan options. The winners were selected based primarily on the quality and quantity of traveler reviews and ratings for restaurants on Tripadvisor collected from January 1, 2020 to April 30, 2021.
Now, here are the top vegan restaurants in the country, ranked from the best to the absolute best. Then, don't miss The 10 Best Brunch Restaurants in America, Data Shows.
Please note: All of the included restaurants are open as of publication. However, please call or check the restaurant's website or social media before running out the door.
Fox & Fig Cafe in Savannah, GA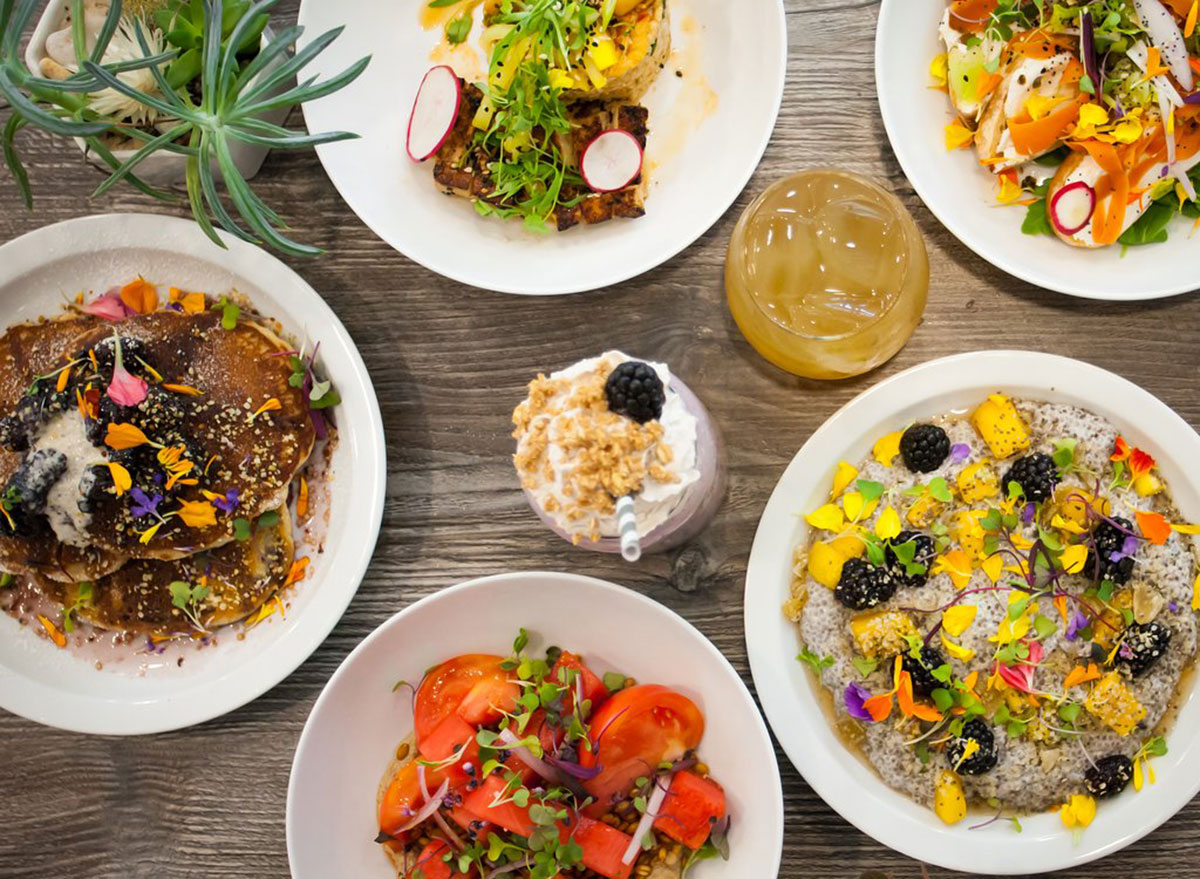 In a Southern city like Savannah, Georgia, known mostly for barbecued meats, Fox & Fig Cafe delivers when it comes to vegan BBQ alternatives. Dishes like the Nacho Mama's Nachos and the Chipotle Mac offer fresh takes on classic comfort foods.
"We enjoyed the mac and cheese dish so much we came back and had it a second time later in the week." writes Lindini.
"By far the best vegan Mac and cheese I have ever had," adds Becky F..
Based on these rave Tripadvisor reviews, there is no question that the Fox & Fig Cafe knows how to do vegan food.
Bouldin Creek Cafe in Austin, TX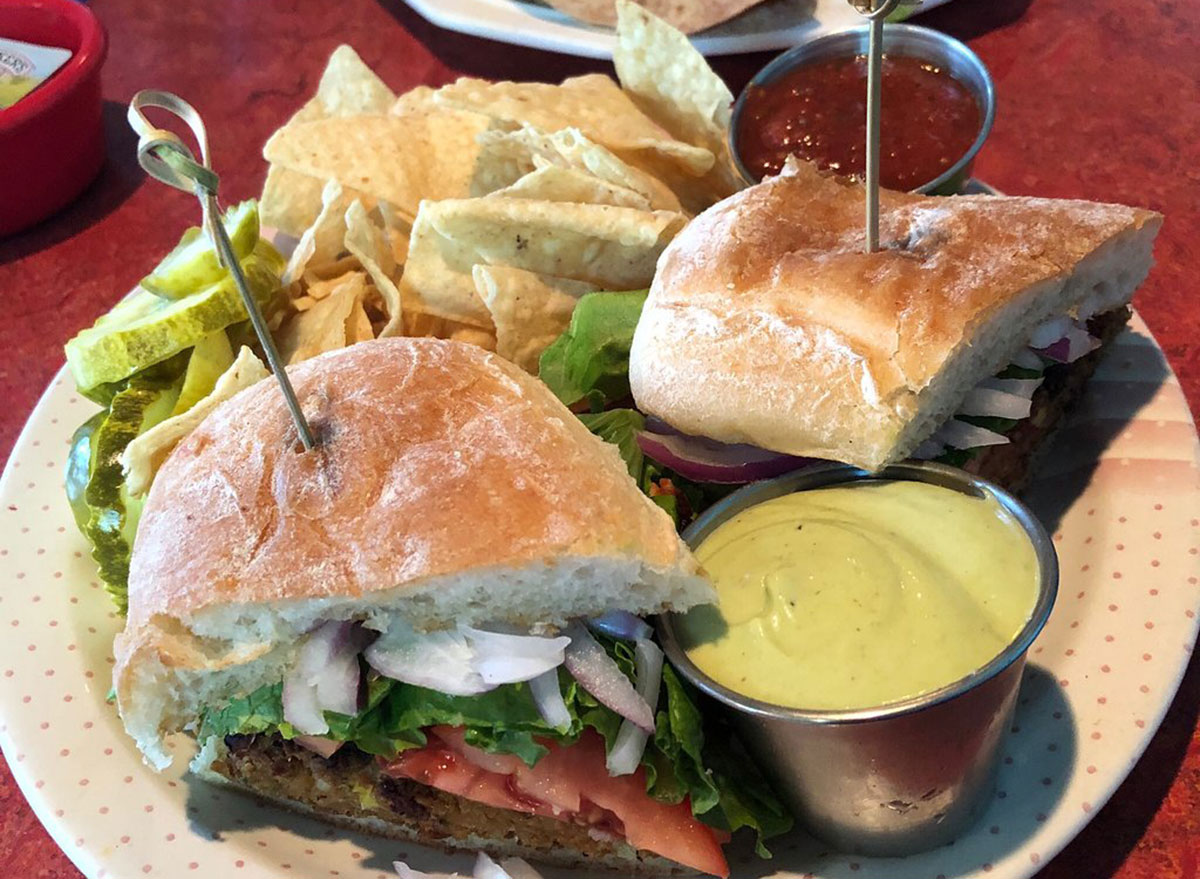 Another city is known for its BBQ options, Bouldin Creek Cafe will likely make you forget that you're skipping out on the real meat. Many Tripadvisor reviewers seem to have come into this restaurant skeptical of vegan food, but a majority appear to walk out pleasantly surprised. From a variety of tofu tacos to plant-based sandwiches, this cafe has a little something for everyone—and all at reasonable prices.
Don't miss The Best Sandwich in Every State.
Vedge in Philadelphia, PA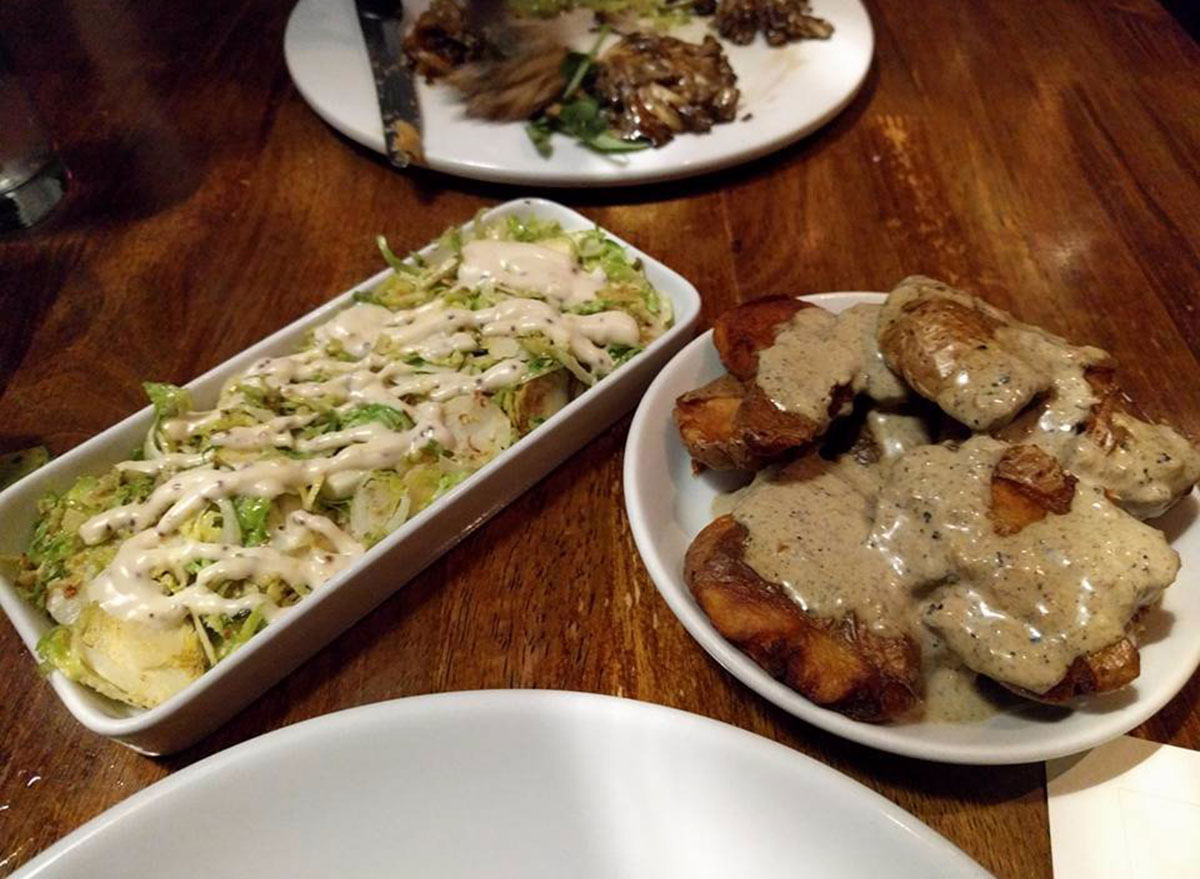 Vedge seems to be the vegan spot for dinner and late night bites in Philly. In addition to Tripadvisor's "Best of the Best" list, the establishment also scored a spot on Thrillist's Best Vegetarian Restaurants in America list.
"It's literally the BEST vegan restaurant in the US. A must-visit restaurant that will leave you full, satisfied, and amazed by the flavors and service. Also—the best drinks. This is the best restaurant in Philly, which is audacious to say in such a foodie town, but it's true." writes James S.
It's definitely impressive that Vedge seems to hold its own (based on its stellar reviews!) in a city where there's no shortage of top-quality restaurants.
VegeNation in Las Vegas, NV
Similar name, but different spot, VegeNation in Las Vegas, Nevada is a casual spot for high-quality vegan takes on dinner favorites. Anything from vegan spaghetti and meatballs to vegan "mac and cheese" burgers, these items seem to steal the hearts of meat-eaters and non-meat-eaters alike.
"We had tots, cauliflower wings and the big daddy burger (mac & cheese on the burger with BBQ sauce). Honestly everything was delicious, even being a meat eater. I didn't miss the meat," writes Tripavisor reviewer, Robbie Fitz.
Laughing Seed Cafe in Asheville, NC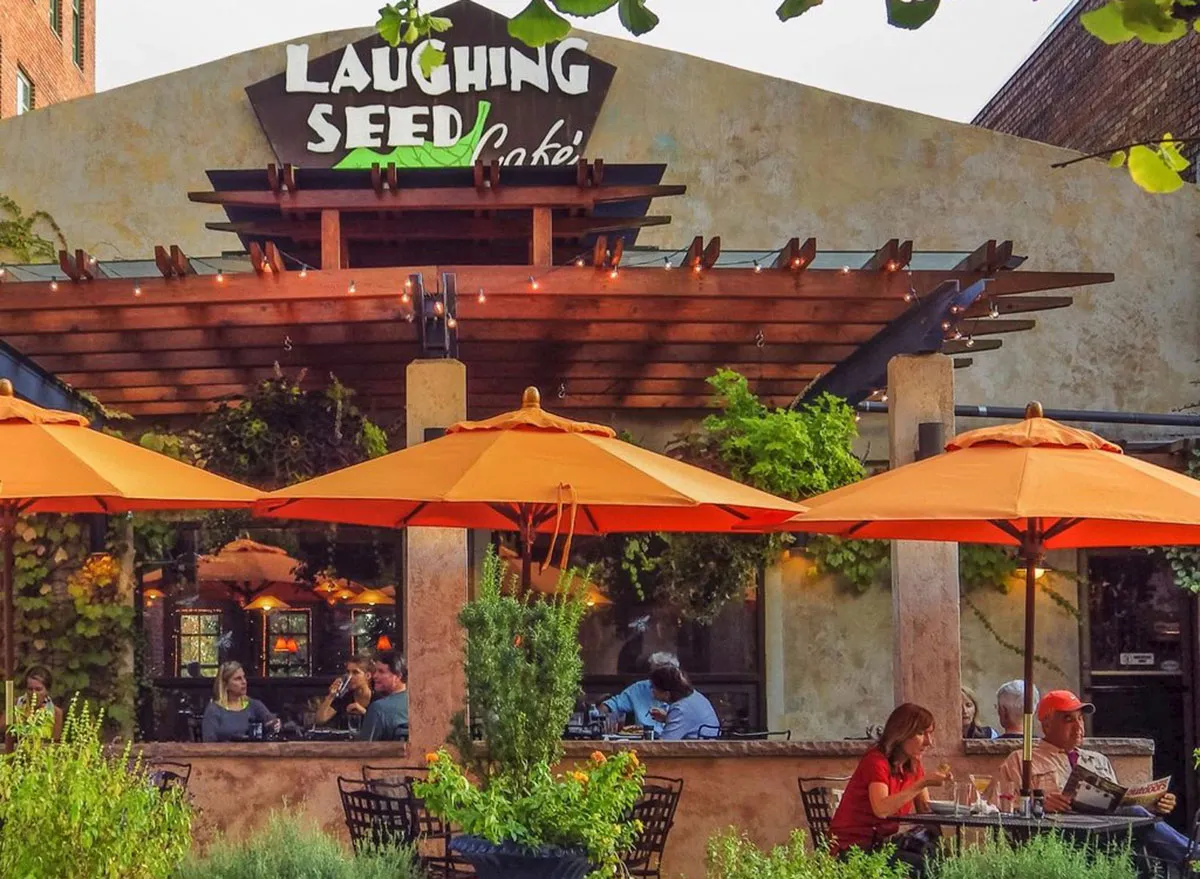 In the mood for some vegan eats with an international twist? The Laughing Seed Cafe is deemed a "must eat" eatery by KTolleyTravel. This spot is known for its Harmony Bowl, which consists of layers of brown rice, black beans, marinated and grilled tofu or tempeh, steamed veggies, and topped with sesame ginger sauce.
With over 1,000 reviews on Tripadvisor, this cafe boasts high-quality ingredients and dynamic depth of flavor. Not to mention their outdoor patio is incredibly inviting—the perfect place to fuel up when you're in Asheville.
Green Elephant in Portsmouth, NH
Green Elephant in Portsmouth, NH is the Asian-inspired vegetarian bistro you didn't know you needed to try. According to Tripadvisor, it's actually the #1 restaurant in Portsmouth—and it's strictly vegetarian!6254a4d1642c605c54bf1cab17d50f1e
This spot has several classic Asian-inspired dishes like Pad Thai, dumplings, stir-fry, fried rice, and more. Admittedly, our mouths are watering just thinking about them. Vacationauthority writes, "This place is amazing for vegans, vegetarians and foodies of all types. It is truly a gift to Portsmouth. Every single dish is incredible and bursting with flavor!"
Sounds like Green Elephant might just be the perfect reason to make a pit stop in this port city.
Planta South Beach in Miami Beach, FL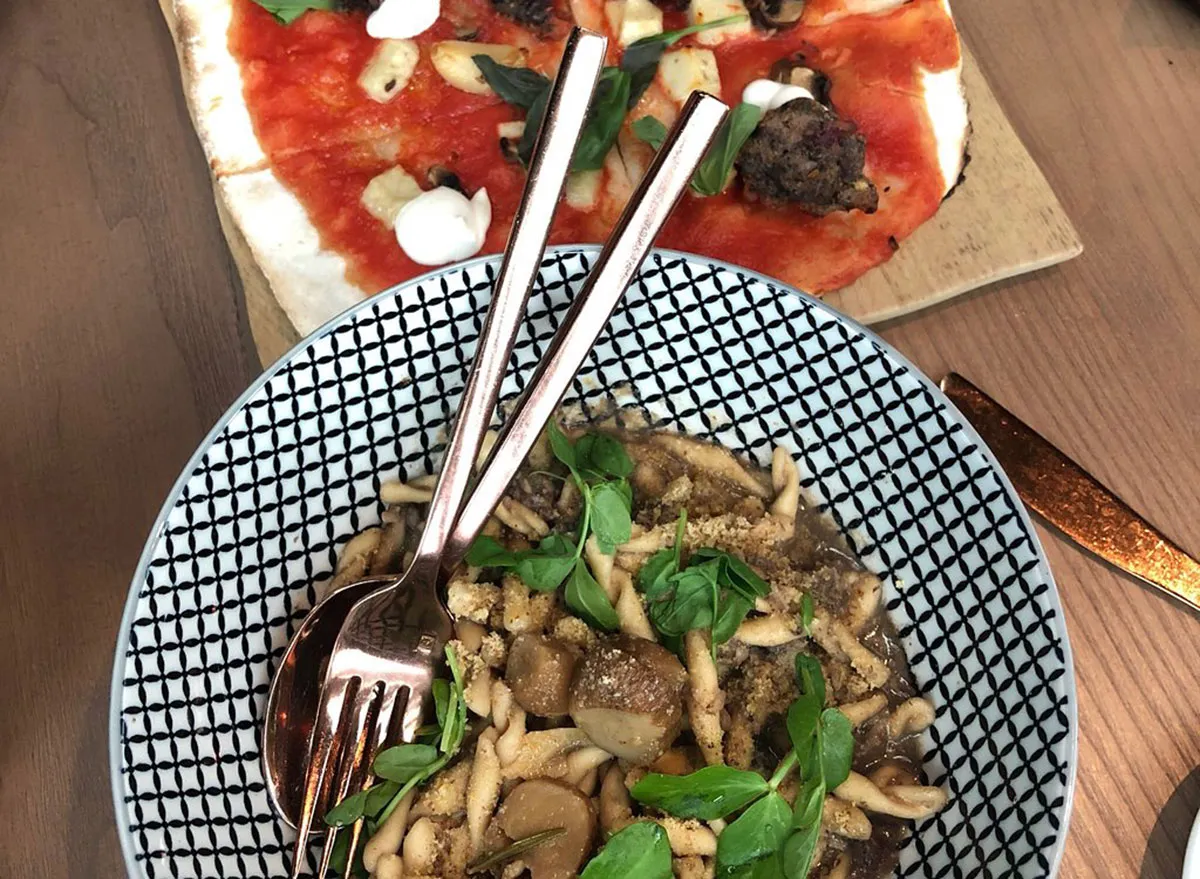 According to Tripadvisor reviews, Planta South Beach in Miami Beach, Florida seems to be the place to try vegan sushi. The menu has lots of vegan versions of popular sushi rolls like the California roll, spicy tuna roll and rainbow roll—plus they also have crispy rice. And if this spot sounds good to you, but you don't want to make the trip all the way to South Beach, they also have two other Florida locations, one New York location, and four locations in Toronto, Canada.
Brent R. writes, "The surprise of the night was the sushi—the Rainbow Roll was so flavorful you had no idea it was vegan."
Maybe it's worth a pitstop next time you're in the ole Sunshine State!
The Land of Kush in Baltimore, MD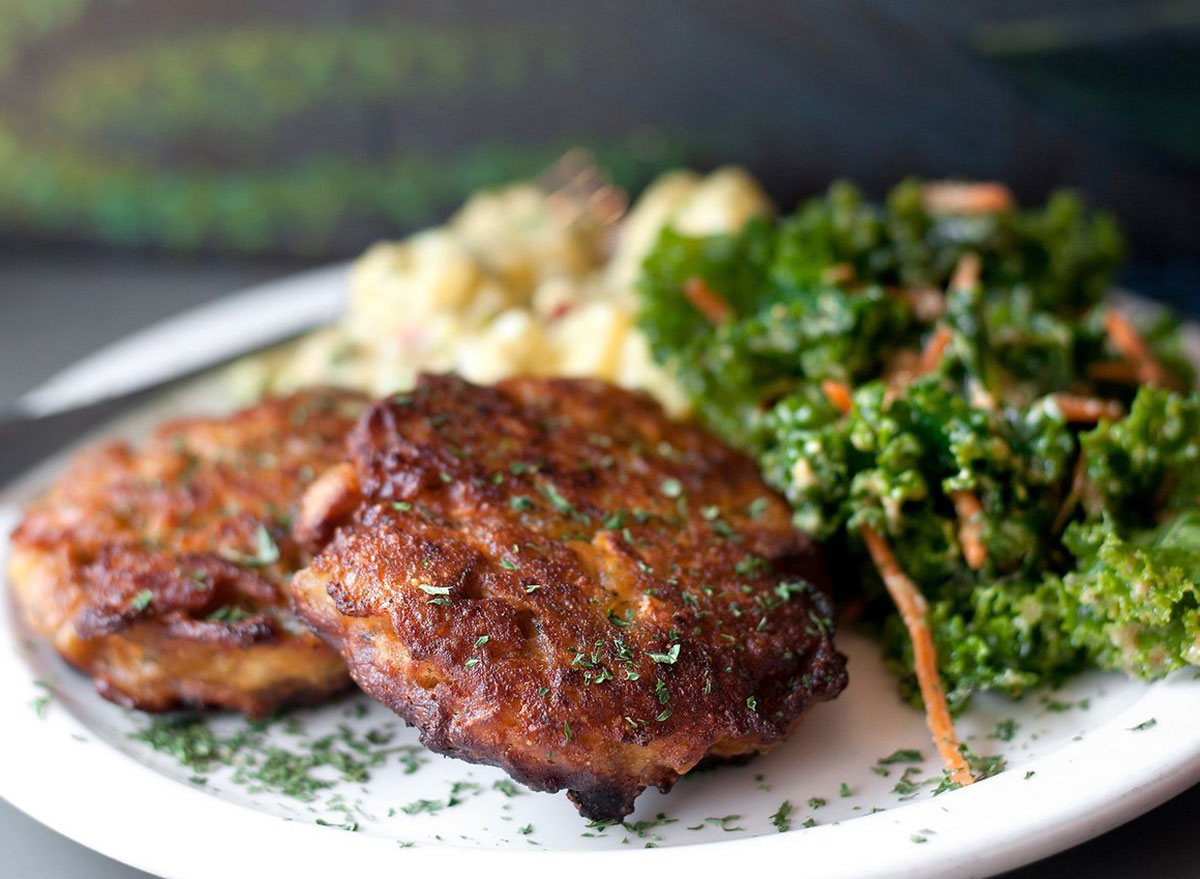 Not only is The Land of Kush one of the top vegan restaurants in America based on Tripadvisor data, but the travel website also gave this restaurant the #1 spot for best Quick Bites in Baltimore. The menu is packed with plenty of grab-n-go options, including their top seller salad, the Live Kale. Many of their chickun options—which is made from seasoned breaded soy rather than real chicken—are also customer favorites from the menu like their Chickun Tenders and Chickun Salad.
And if the menu hasn't drawn you in, the staff definitely will. Tripadvisor reviewers rave about the friendly staff and unbelievable service at this Baltimore restaurant.
City O City in Denver, CO
Who's ready for a trip out West? If you're headed to Colorado anytime soon, Tripadvisor raves that City O City in Denver is a must-try.
"The food here is incredible. They have the best vegan/vegetarian food I've ever had. The chefs have meticulously created a vegan versions of classic meals. The burger tastes like a burger. The ranch seitan wrap tastes like chicken and ranch. It's all spot on. Highly highly recommend." writes Jake Rindfleisch.
Not to mention, the pictures that reviewers have uploaded to Tripadvisor are completely mouthwatering—it would be tough to decide what to order.
Full Bloom Vegan in Miami Beach, FL
Another vegan spot in Miami Beach—and it's located right in the City Center. Full Bloom Vegan happens to be Tripadvisor's top restaurant for the best vegan food in the United States. Reviewers rave about the BBQ Guava Wings made from cauliflower, but the menu features seemingly endless options. From grain bowls and pasta dishes to a dish called Patacones, crispy green plantains served with garlic aioli, guava BBQ jackfruit, and fermented slaw & cilantro.
Now, be sure to read This National Pizza Chain Is Making a Huge Comeback in Florida With 20 New Locations.
Rachel Linder
Rachel is an Associate Editor responsible for compiling the daily Eat This, Not That! newsletter, making TikTok and YouTube videos for the brand, writing articles for the site, creating original graphics and providing direct assistance to the editors when needed.
Read more about Rachel