What Happens to Your Body When You Eat Black Beans
Beans, beans, they're good for your heart.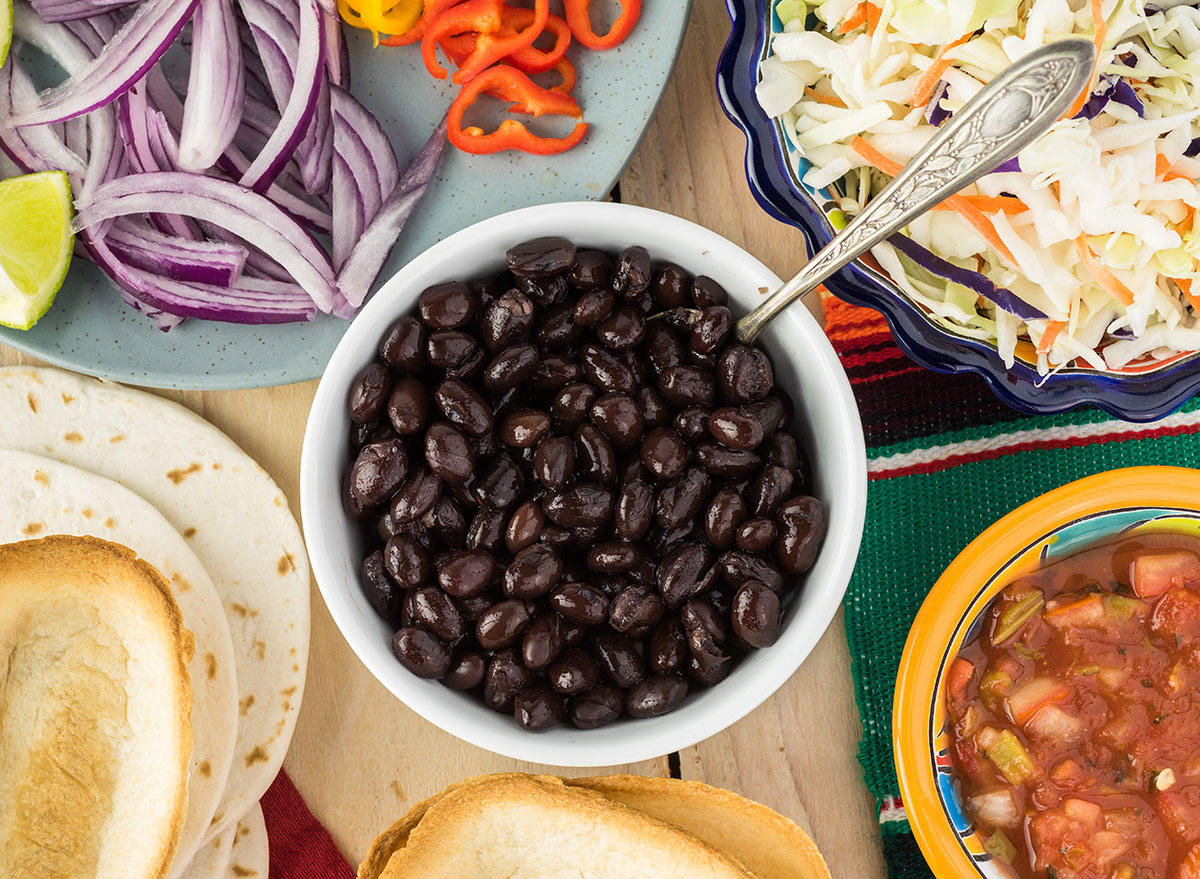 Actually, beans are good for more than just your heart. In fact, beans are full of all kinds of nutrients and vitamins that are incredible for your body's overall health. From the soluble fiber to the plant-based protein found in beans, you can get a lot from a single serving. But what exactly happens to your body when you eat black beans? What are those specific nutrients in beans, and do they, um, really make you toot?
We spoke with a few registered dietitians to look at the specifics of what happens when you eat beans with your meal. Yes, they will make you pass some gas (fibrous foods will make that happen), but that shouldn't stop you from eating this incredible plant-based source of protein. Here's why you should eat black beans, and for even more healthy tips, be sure to check out our list of The 7 Healthiest Foods to Eat Right Now.
You'll get a boost in fiber.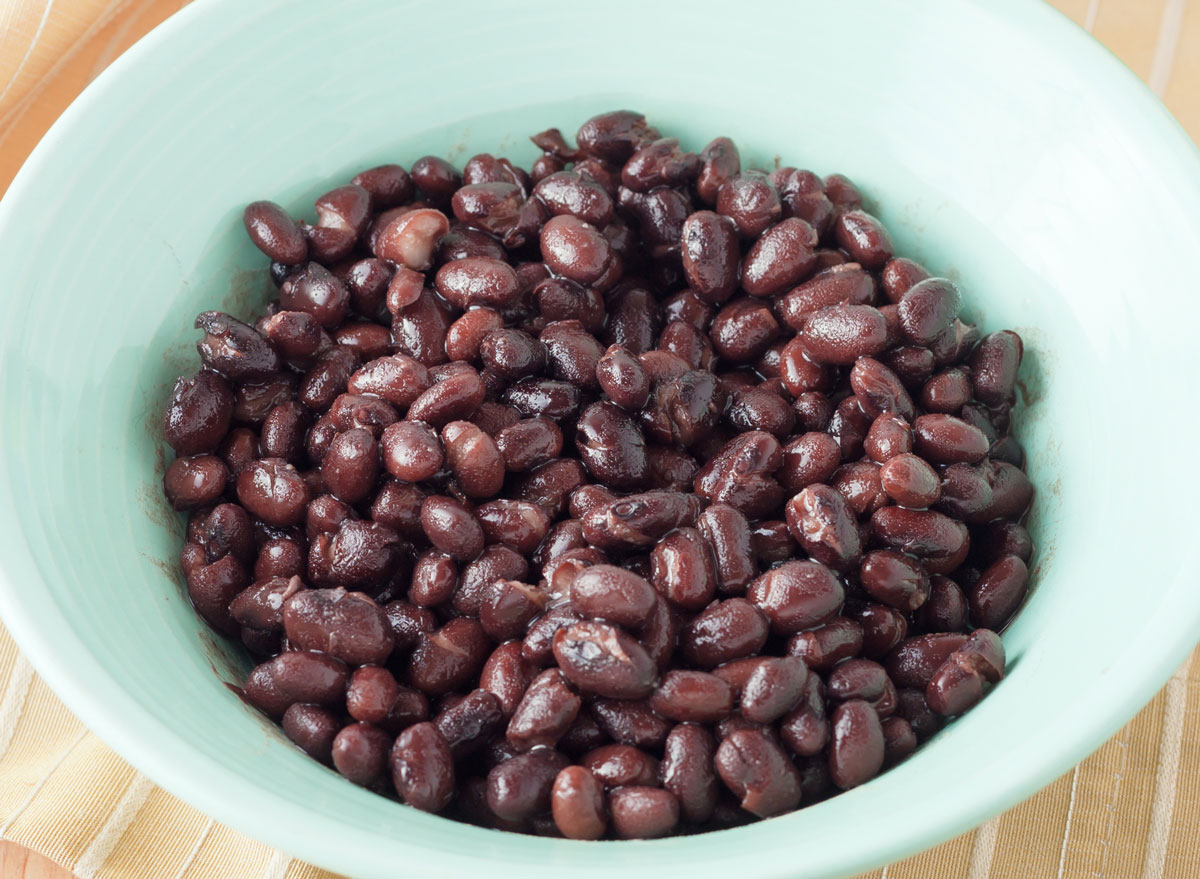 "Black beans are a source of plant-based protein and fiber meaning they can help you get full faster and stay full longer," says Amy Goodson, MS, RD, CSSD, LD, author of The Sports Nutrition Playbook. "Both nutrients help increase satiety at a meal. You can add black beans to salads, bowls, tacos, and even omelets."6254a4d1642c605c54bf1cab17d50f1e
In a mere 1/2 cup of black beans, you get 8 grams of fiber. That's over 30% of your recommended daily intake of 25 to 30 grams of fiber, according to the American Heart Association. No wonder black beans are considered The #1 Best Carb To Eat If You're Trying to Lose Weight.
They can help lower your cholesterol levels.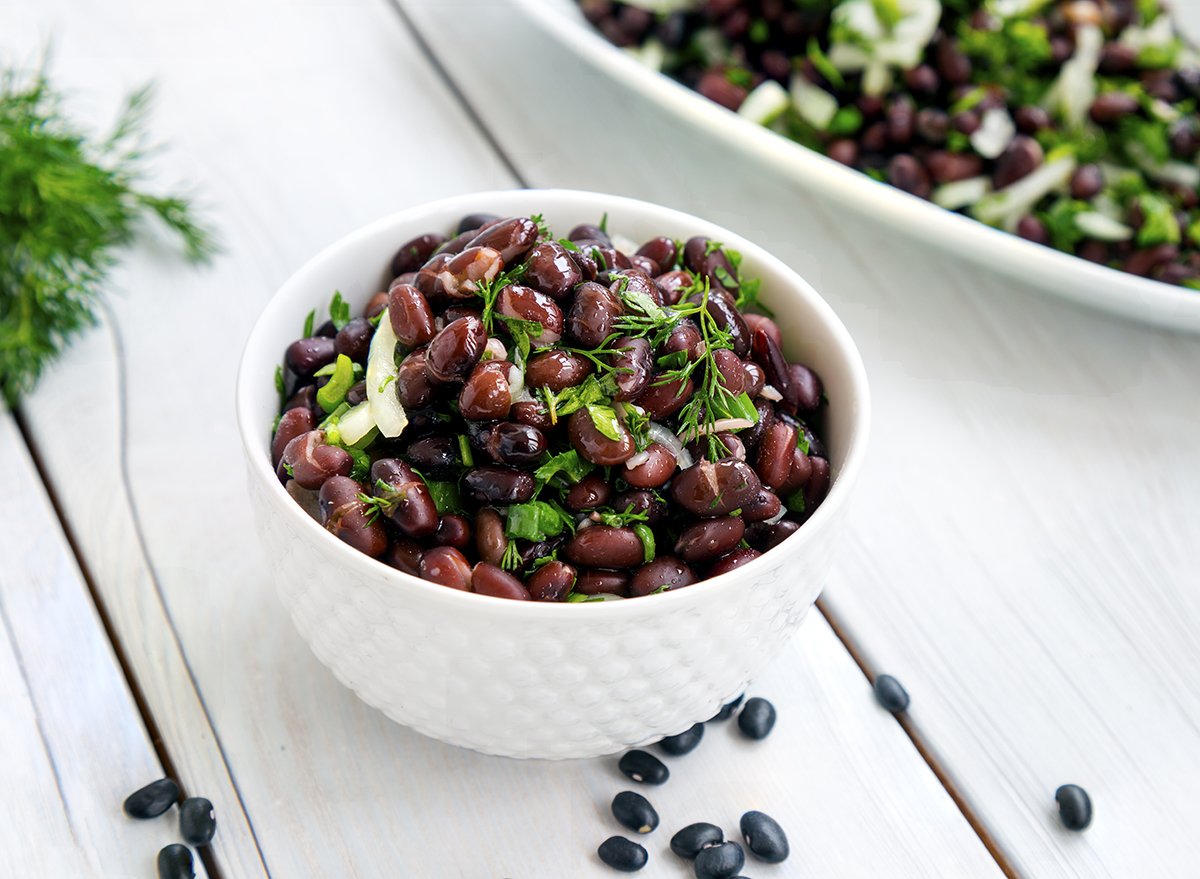 "Black beans, along with other legumes, are naturally low in fat, almost completely free of saturated fat, and are naturally cholesterol-free," says Theresa Gentile, MS, RDN, Owner of Full Plate Nutrition and Media Spokesperson for the NY State Academy of Nutrition and Dietetics. "Regularly eating black beans may help lower total and LDL-cholesterol levels. This is likely due to their fiber content and high amount of antioxidants."
Get even more healthy tips straight to your inbox by signing up for our newsletter!
They'll strengthen your gut.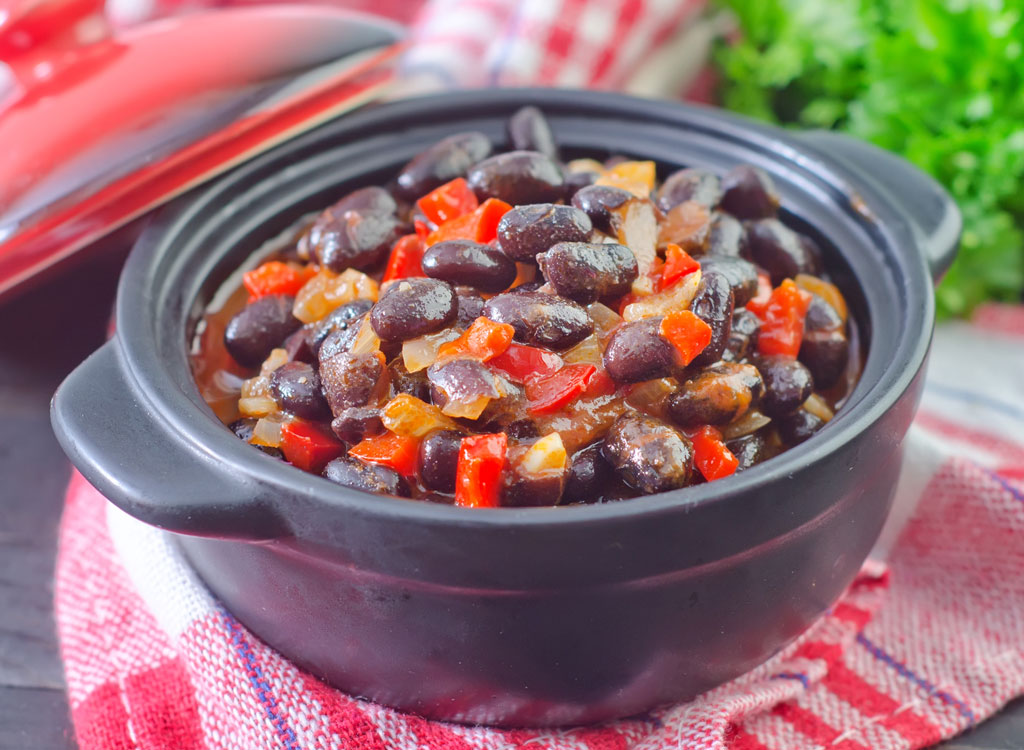 "When you eat black beans, your body receives a great balance of carbohydrates, protein, and fiber," says Ricci-Lee Holtz, RD, and Expert at Testing.com. "This allows your body to get multiple healthful nutrition sources at once and helps strengthen your gut, bulk up your stool, and helps keep your blood sugar stable for an extended period of time when eaten in a reasonable amount."
How much would be considered a reasonable amount? A 1/2 cup serving of black beans will give you a sufficient amount of fiber, plant-based protein, antioxidants, and complex carbs for just 114 calories a serving.
Not sure how big a serving size of black beans should look like? Here's What the Perfect Food Portion Sizes Actually Look Like.
Black beans help your lungs and brain function.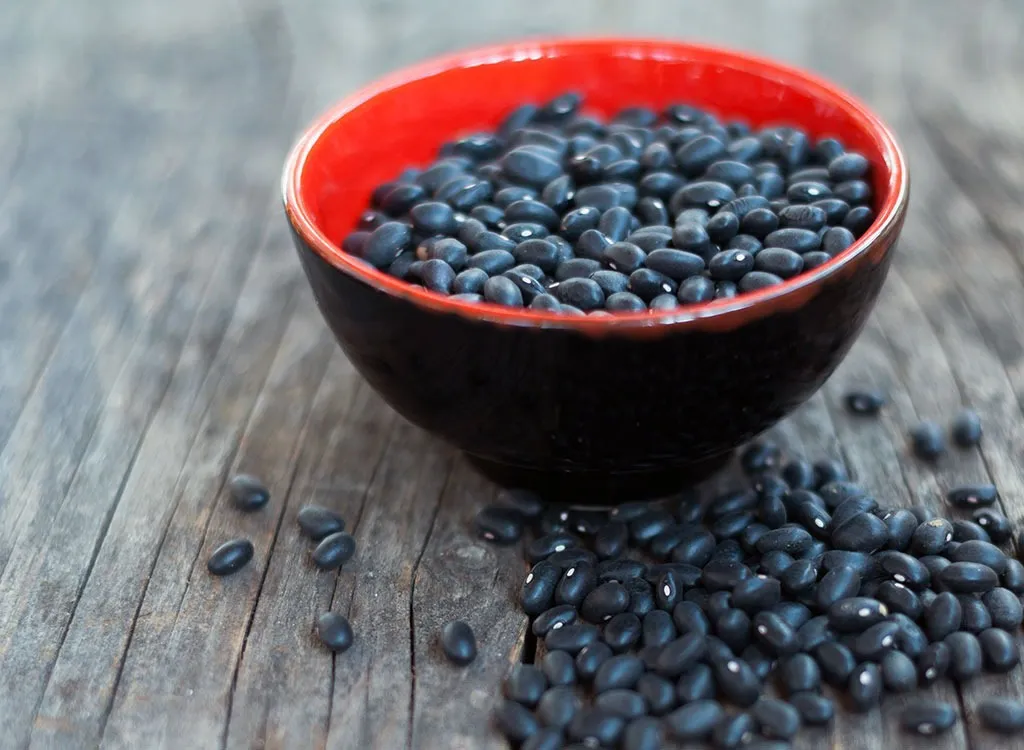 "Black beans are a good source of plant-based protein and iron which helps transport oxygen throughout your body allowing major organs like the lungs and the brain to function properly," says Meghan Sedivy, RD, LDN, Fresh Thyme Market's Corporate Registered Dietitian and Health & Wellness Strategy Manager. "Black beans are also full of fiber that helps make the meal satisfying and keeps you full for hours."
Your digestion will improve.
"When you eat black beans, you can improve your digestion," says Megan Byrd, RD from The Oregon Dietitian. "The soluble fiber found in black beans helps to keep us full and maintain a healthy gut, and the prebiotics feed the healthy bacteria in our GI tract that we need to keep us healthy. The potassium, calcium, and phosphorus all found in black beans are essential for healthy bone growth and repair, so black beans are great for bone health, too!"
Looking for clever ways to add black beans to your diet? Byrd recommends using black beans as a substitute protein for some of your favorite Mexican dishes, like tacos or even huevos rancheros. We also love adding black beans to this Mexican Quinoa and Chicken Salad.
Your blood sugar levels will steady.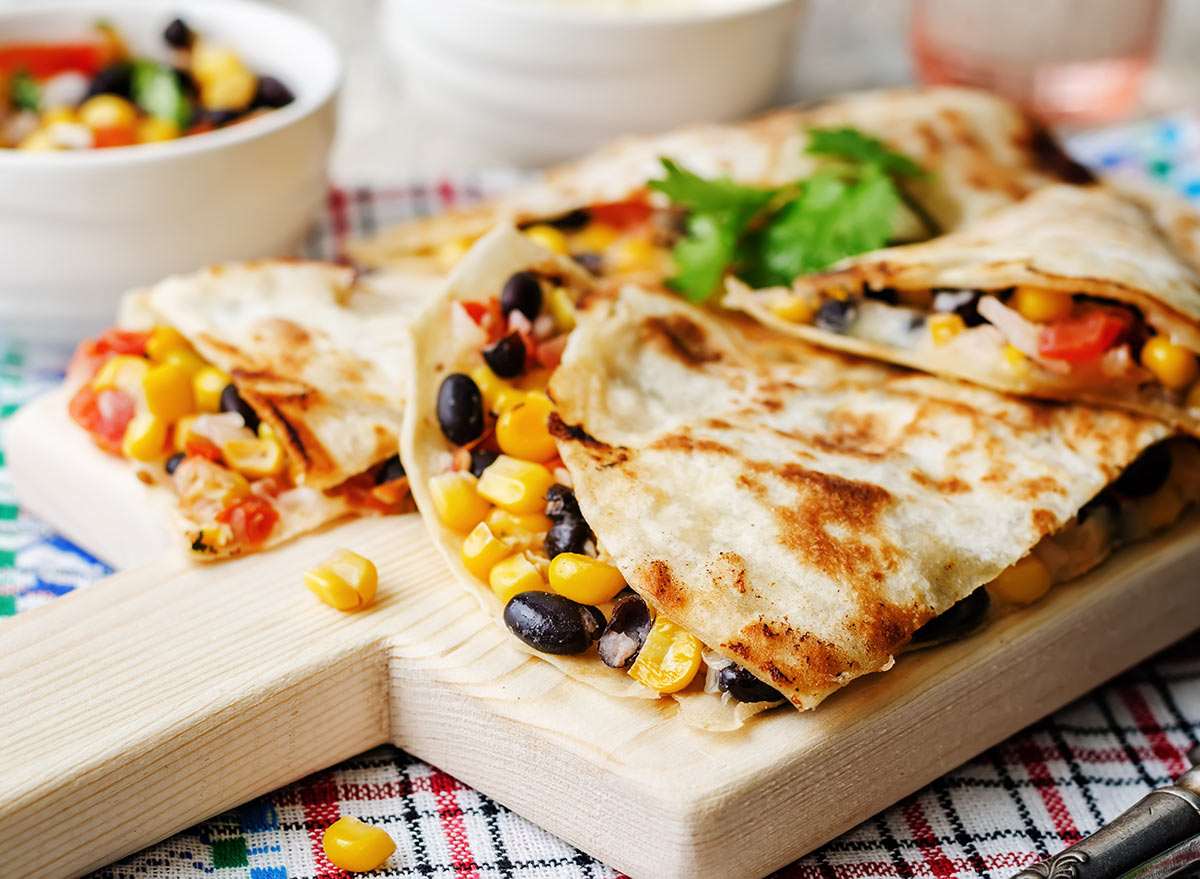 "An excellent source of fiber, black beans help keep blood sugar steady and are good for digestive health," says Lisa Young, PhD, RDN, author of Finally Full, Finally Slim. "They also contain iron, folate, and magnesium. Black beans also contain phytonutrients like quercetin, which act as antioxidants and counter the destruction of free radicals."
Because of all of these incredible benefits black beans have on your body, Young says this complex carbohydrate makes for a great weight-loss food. Even if black beans are considered a starch, Young says "they won't make you gain weight" as much as you think. She recommends adding black beans to some of your favorite meals like salads, soups, and even vegetable stews.
Not sure how to cook a can of black beans properly? Try This One Trick Will Make Your Beans Taste Better.