15 Amazing Vegan Comfort Food Recipes
Going meat- and dairy-free doesn't have to mean sacrificing taste.
Comfort-food staples like waffles and chicken pot pie probably don't hold much of a spot in your weight-loss plan. Enter vegan cooking.
By slashing the calories and cholesterol of meat and dairy, you can make rich, savory, comforting classics that'll slim you down. Whether you're a meat lover, hardcore vegan, or just looking for #MeatlessMonday inspiration, these simple plant-based recipes show how you can healthify mac and cheese, burgers, pancakes, and more.
And for more, check out these 15 Classic American Desserts That Deserve a Comeback.
Sheet-Pan Vegan Sausage and Vegetables
If you're a fan of breakfast sausage, we have the perfect plant-based recipe for you. You won't miss the animal products with this flavorful breakfast dish.
Get our recipe for Sheet-Pan Vegan Sausage and Vegetables.
And if you love cooking, sign up for our newsletter to get daily recipes and food news in your inbox!
Chef Emeril Lagasse's Chickpea & Potato Curry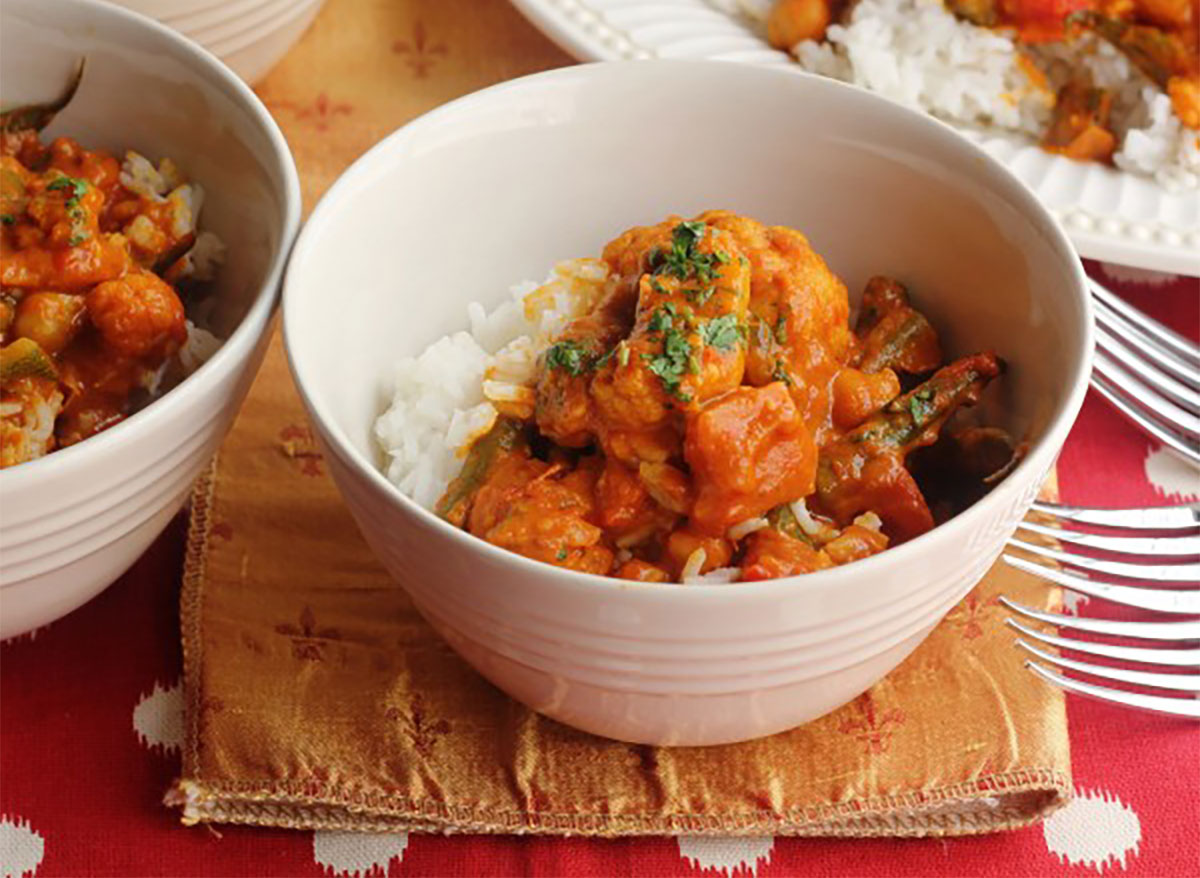 This air fryer recipe is exploding with plant-based flavor. With ginger, garlic, curry powder, and garam masala all in the mix, you won't miss the meat at all.
Get the recipe for Chef Emeril Lagasse's Chickpea & Potato Curry.
Air Fryer Falafel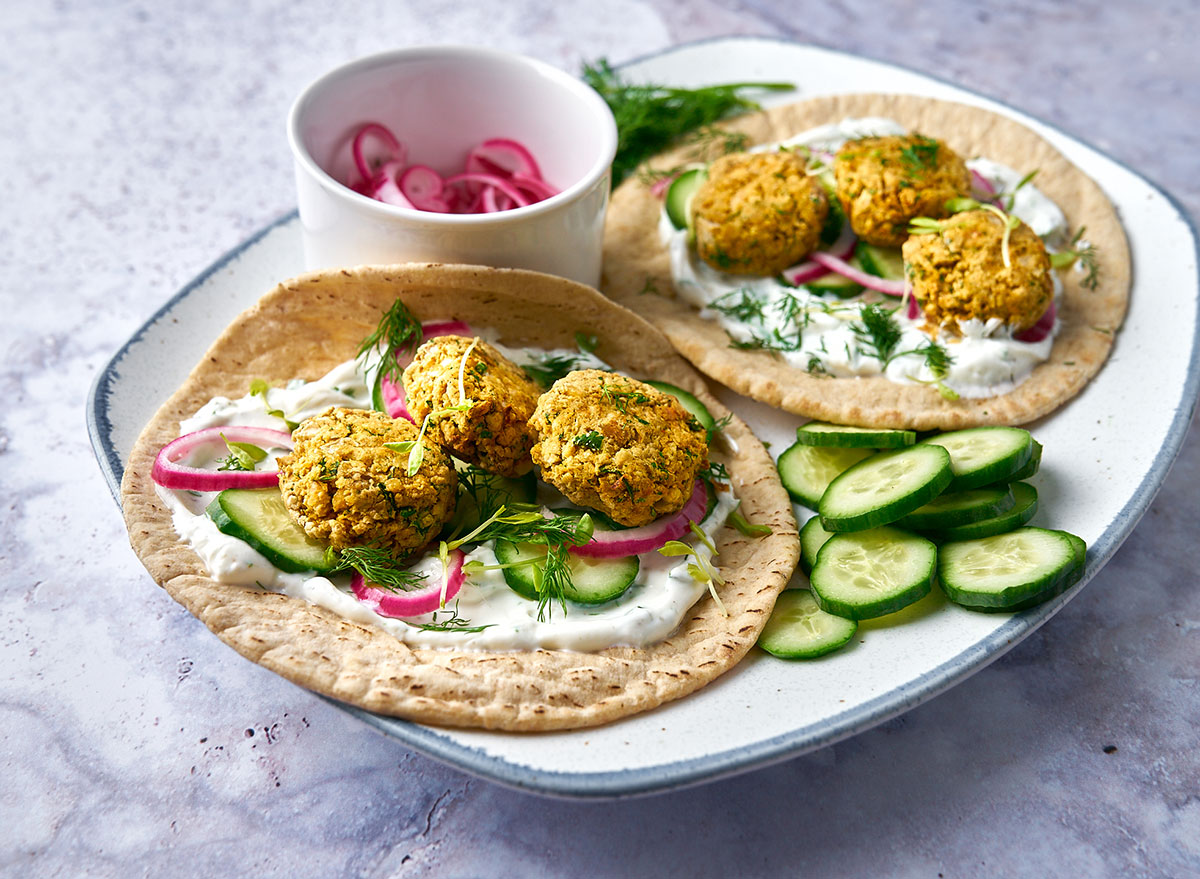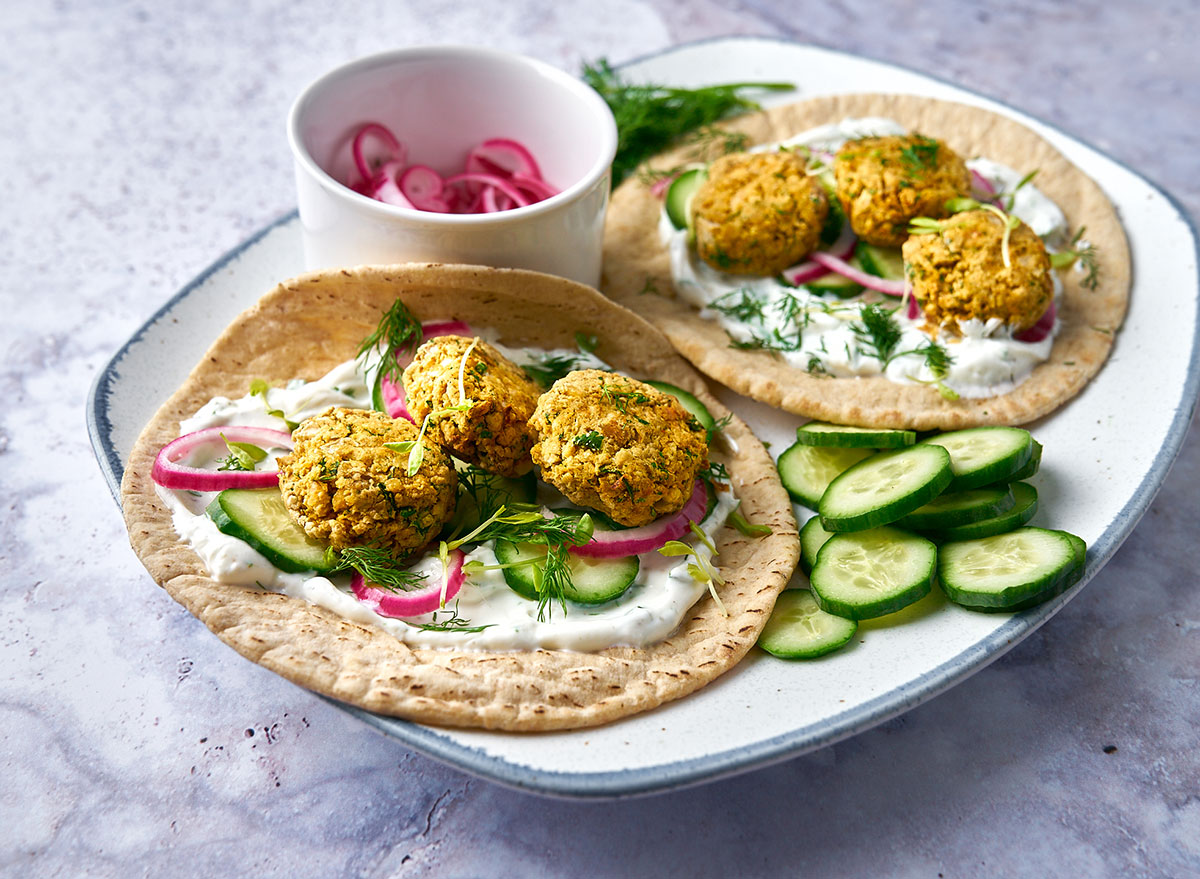 Put your air fryer to good use with this vegan falafel recipe! It's perfect for pita sandwiches or for topping salads.
Get our recipe for Air Fryer Falafel.
Banana Coconut Ice Cream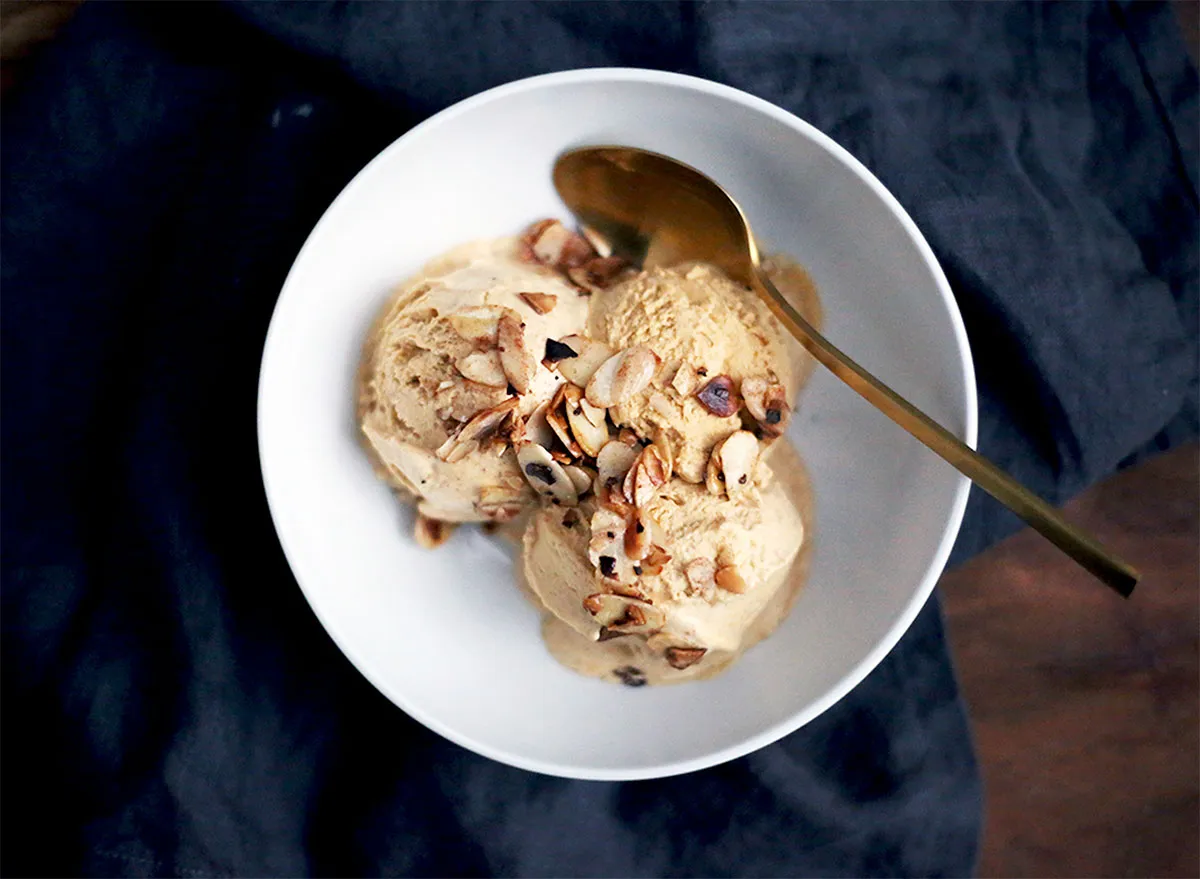 You can still enjoy ice cream on a vegan diet! This recipe uses coconut milk to get that creamy taste. As a bonus, it's Whole30 friendly!
Get our recipe for Banana Coconut Ice Cream.
Chai Tea and Oats Smoothie
This recipe takes two delicious things—chai tea and oatmeal—and combines them into one delicious breakfast. Yes, please!
Get our recipe for a Chai Tea and Oats Smoothie.
Orange Sweet Potato Whole-Grain Pancakes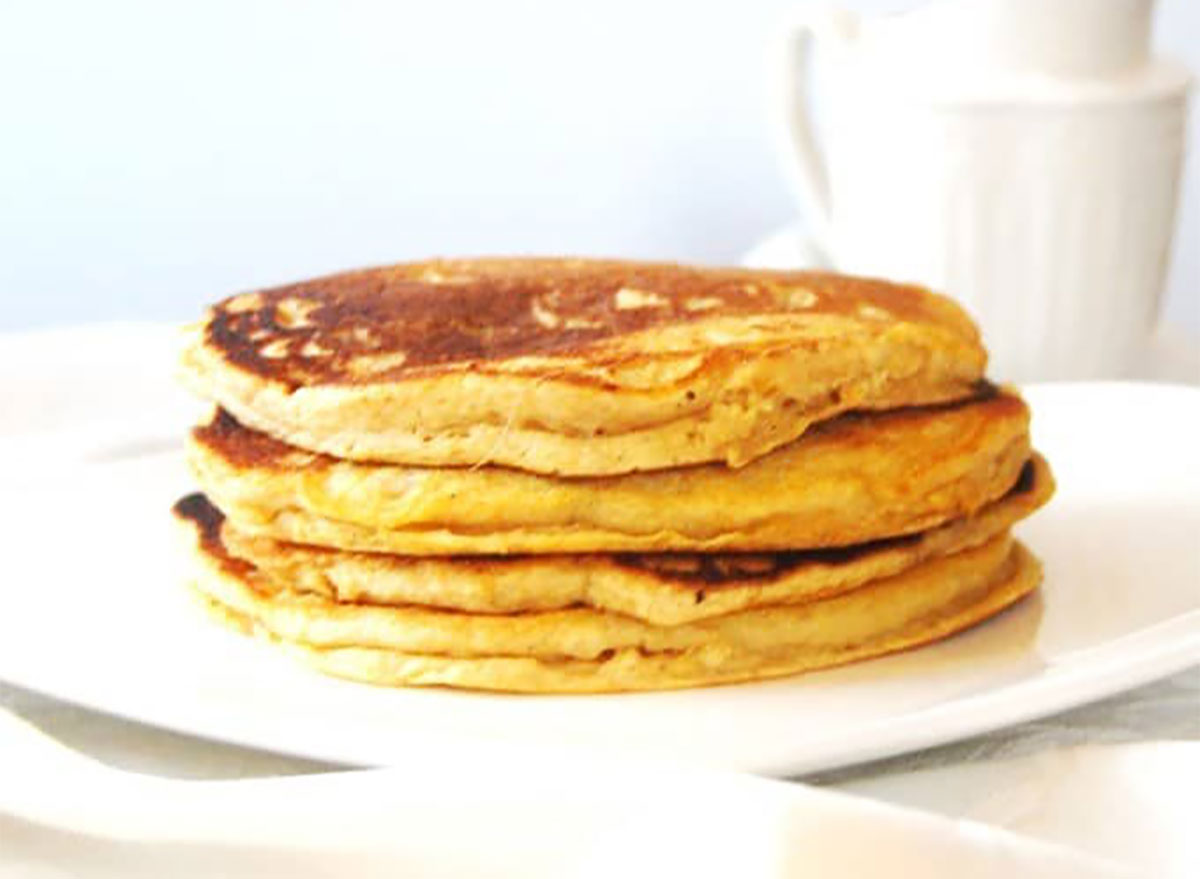 There's no shame in devouring a stack of these pancakes made with whole-wheat flour, sweet potatoes, applesauce, orange juice, and other wholesome ingredients. Top them with fruit for a breakfast worth waking up for.
Get the recipe from Holy Cow.
Three-Ingredient Potato-less Mashed Potatoes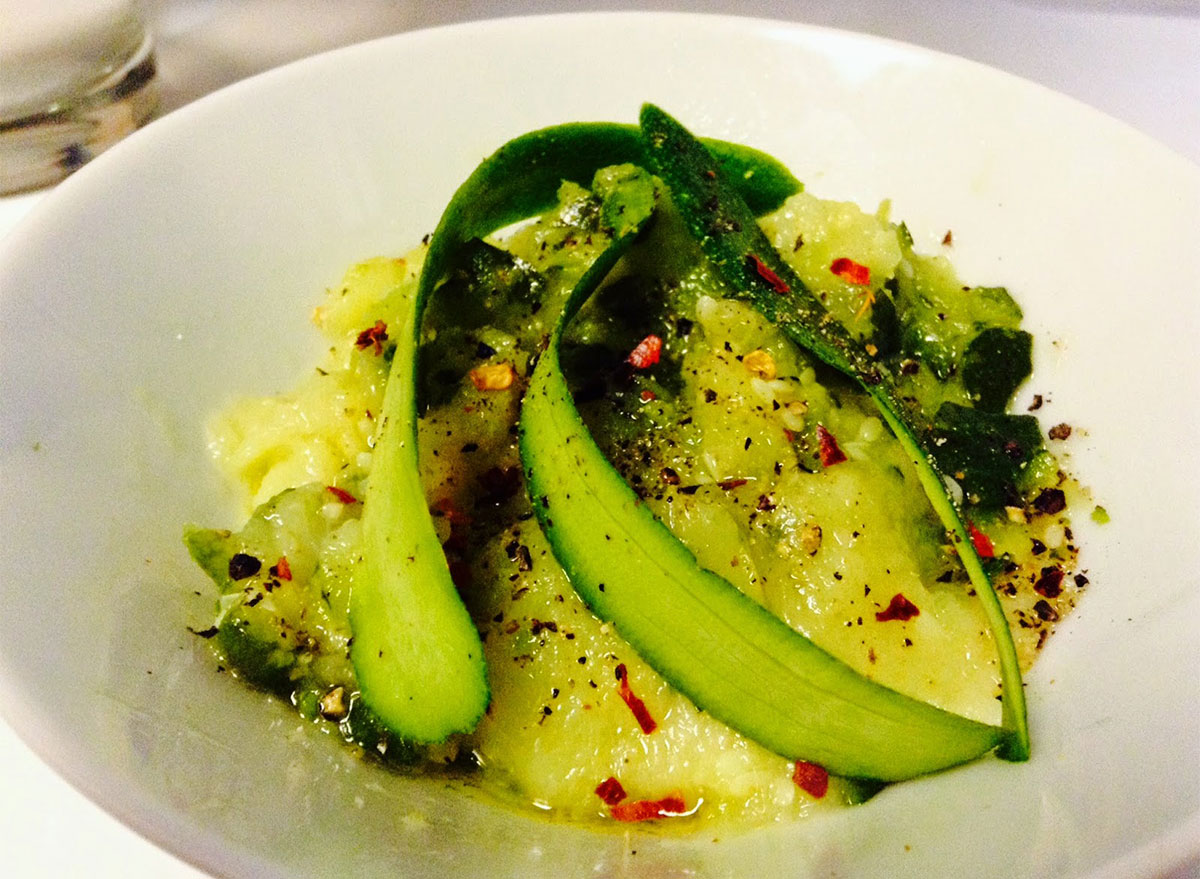 Creamy, buttery mashed potatoes may be a "yes, please" for your mouth, but they're a "heck no" for your waistline. But you can still enjoy this dish by using zucchini and olive oil in place of spuds and butter. (Yes, really.) Zukes blend to a velvety texture. Plus, they're loaded with vitamins, minerals, and freshness. For more zucchini-based breakfast ideas, check out these 12 Amazing Recipes for Zoats!
Get the recipe from Vegan When Sober.
Easy Macaroni and "Cheeze"
What's more comforting than a heaping helping of mac 'n' cheese? Not much—until the guilt sets in. In this slimming alternative, swap dairy cheese for "cheezy" nutritional yeast, creamy tahini, and spices. (If you choose a "nooch" that is fortified with B12, you'll also get 100% of your RDA for the essential vitamin.) Low-fat and low-sodium, the resulting dish will be your new classic.
Get the recipe from Fat-Free Vegan Kitchen.
Coconut Yogurt Cherry Parfait with Pumpkin Seeds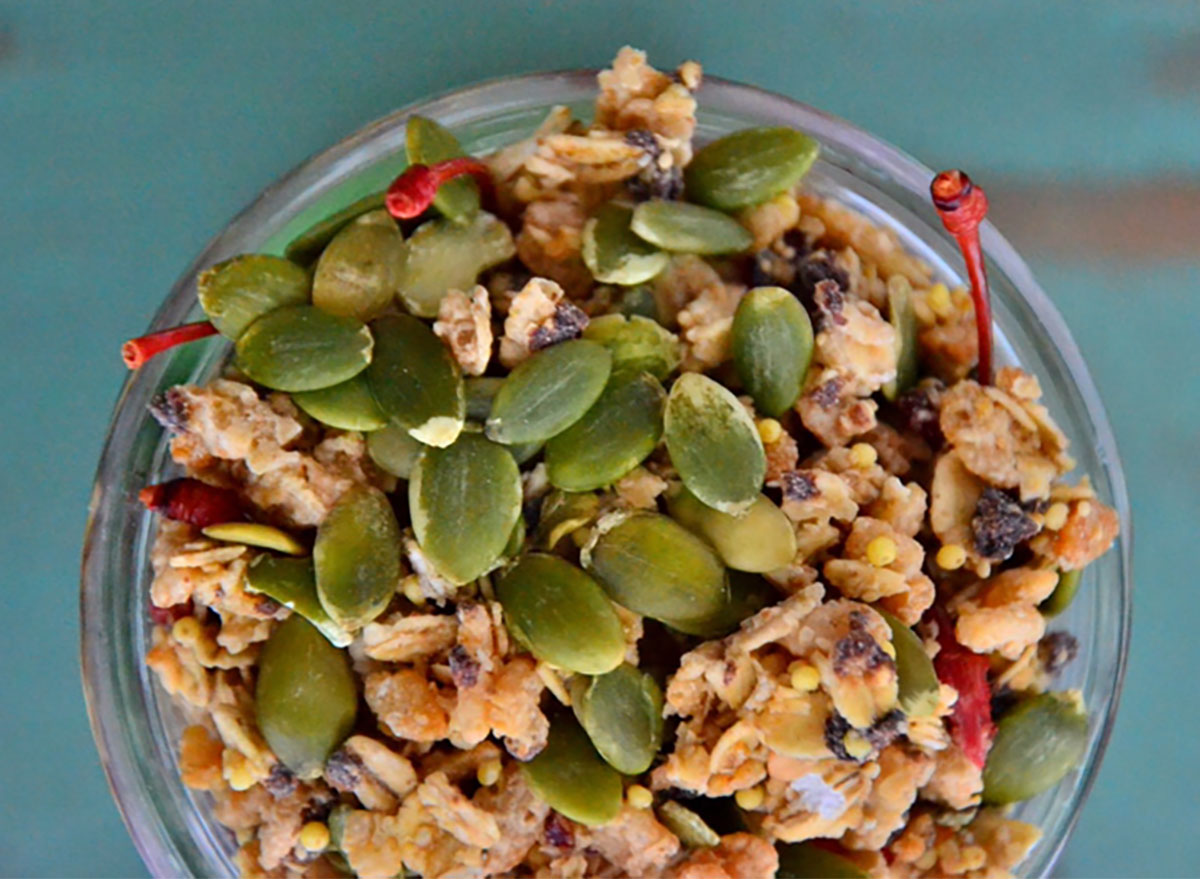 Sometimes, only an ice cream sundae will suffice. Until you try this yogurt parfait with cherries, granola, crunchy pumpkin seeds, and a hint of cinnamon, that is. It works for breakfast just as well as dessert. Quercetin-rich cherries (which fight inflammation) complement chewy unsweetened coconut flakes perfectly. You can also add trendy chia seeds for a fiber boost.
Get the recipe from The Healthy Apple.
Vegan Pot Pie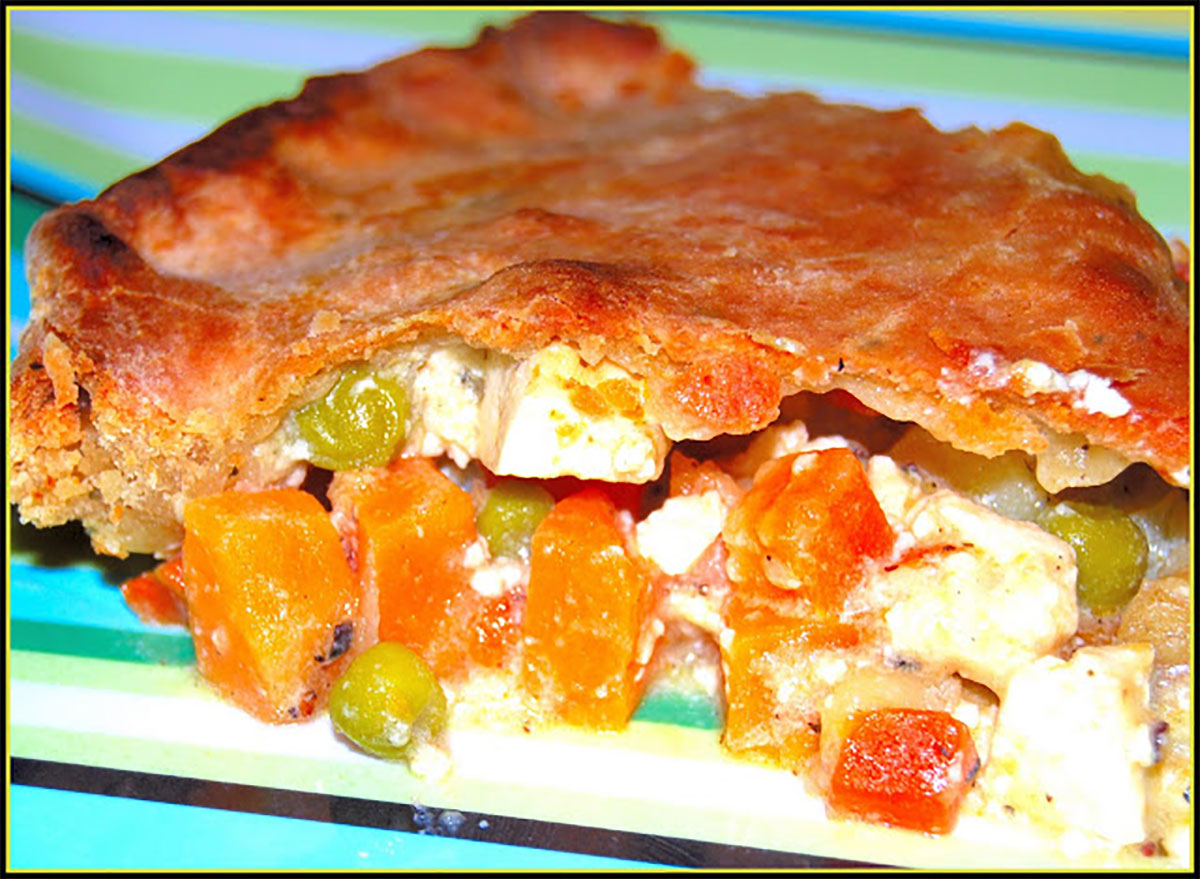 Who would've thought that a comfort food staple that relies on meat and dairy can be transformed into a vegan winner? Here, sweet potatoes and tofu (along with the traditional trio of onion, carrots, and green peas) snuggle in a flaky, golden-brown crust. You won't miss the meat and cream (or the attendant calories). For extra flavor, sprinkle in dried herbs like tarragon, oregano, and rosemary.6254a4d1642c605c54bf1cab17d50f1e
Get the recipe from Holy Cow.
White Bean-Dill Spread
Some things in life just go together. Peanut butter and jelly. Fall and football. Ranch dip and just about anything. Unfortunately, ranch dressing is often loaded with sodium, calories, and fat. Enter: this healthy alternative made from just a handful of ingredients. Cannellini beans mingle with olive oil, lemon juice, fresh dill, and black pepper. It pairs wonderfully with veggies and crackers, and you can even use it as a topping for toast.
Get the recipe from The Healthy Apple.
Cacao Cornbread
Healthy chocolate cornbread? S-O-L-D. This gluten-free vegan stunner includes raw cacao nibs, which pack magnesium, iron, and antioxidants. Chili powder and cinnamon provide a spicy kick, too.
Get the recipe from The Healthy Apple.
Chickpea Burgers with Tahini Sauce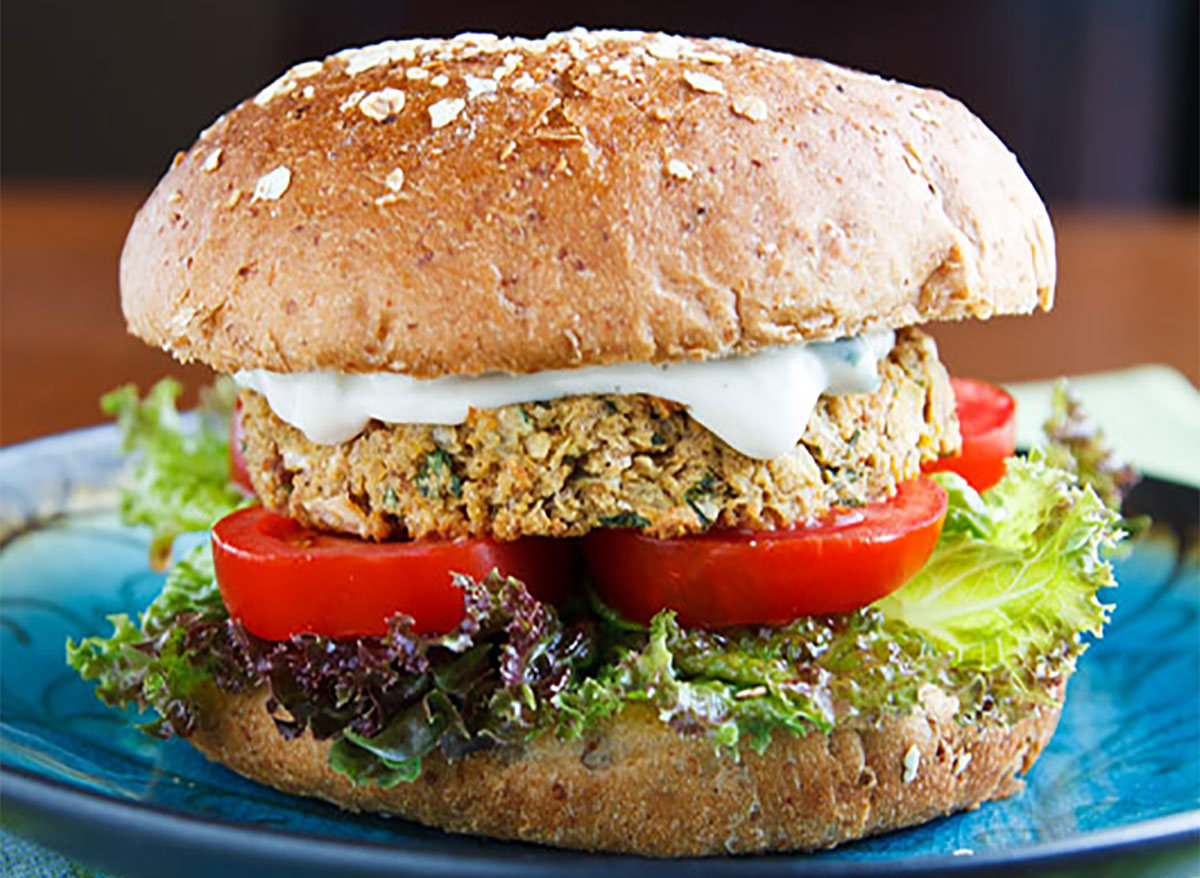 You're likely to abandon carnivore tendencies after your sinking your teeth into this hearty chickpea burger spiked with coriander, cumin, and cayenne and dressed in rich tahini with cucumbers. The flavors in this dish are so bold, you won't even miss that this falafel-inspired sandwich isn't deep-fried.
Get the recipe from Fat-Free Vegan.
Healthy Vegan Chia Waffles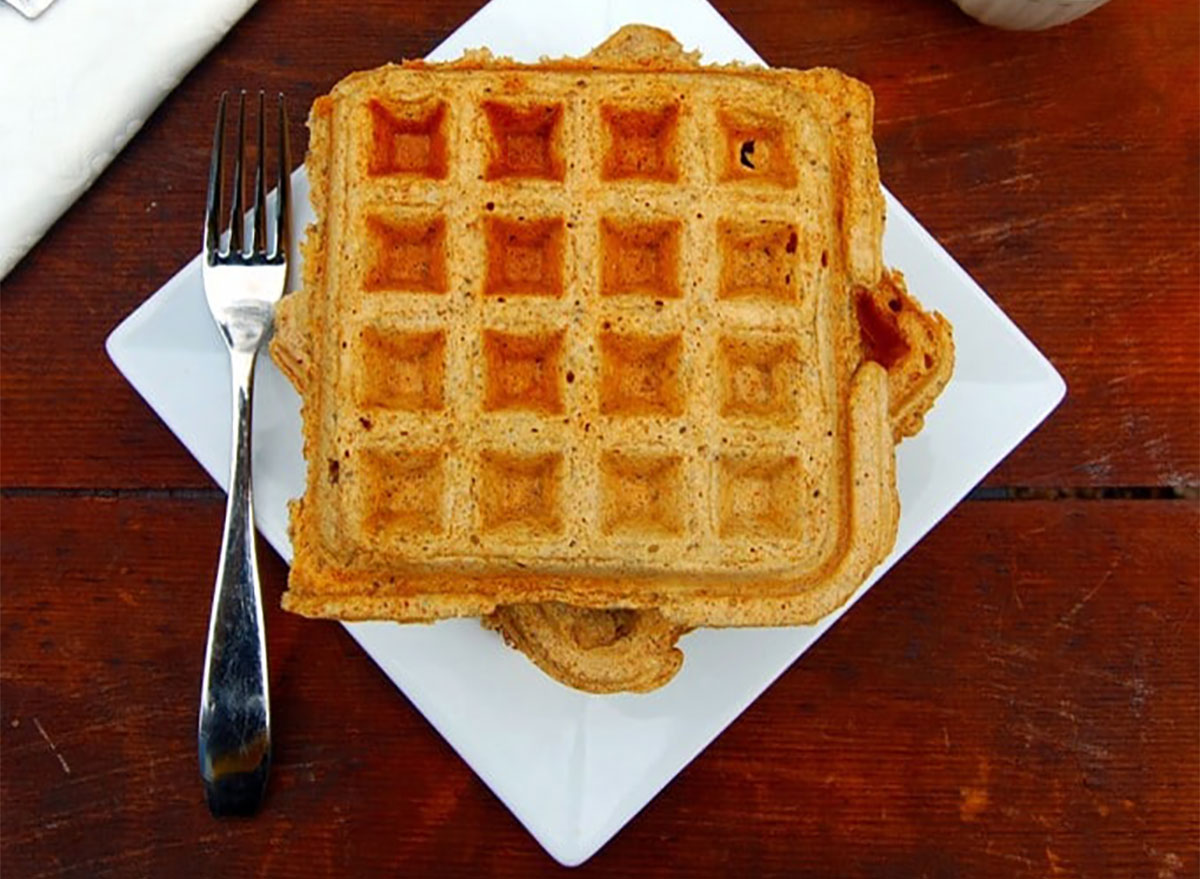 The brunch staple gets a vegan makeover with whole wheat flour, chia seeds, and almond milk, in what is bound to become your regular weekend recipe. There's also an added nutrient boost from flaxseed meal, which is rich in heart-protective, fat-burning omega-3 fatty acids.
Get the recipe from Holy Cow.
Masala Khicdi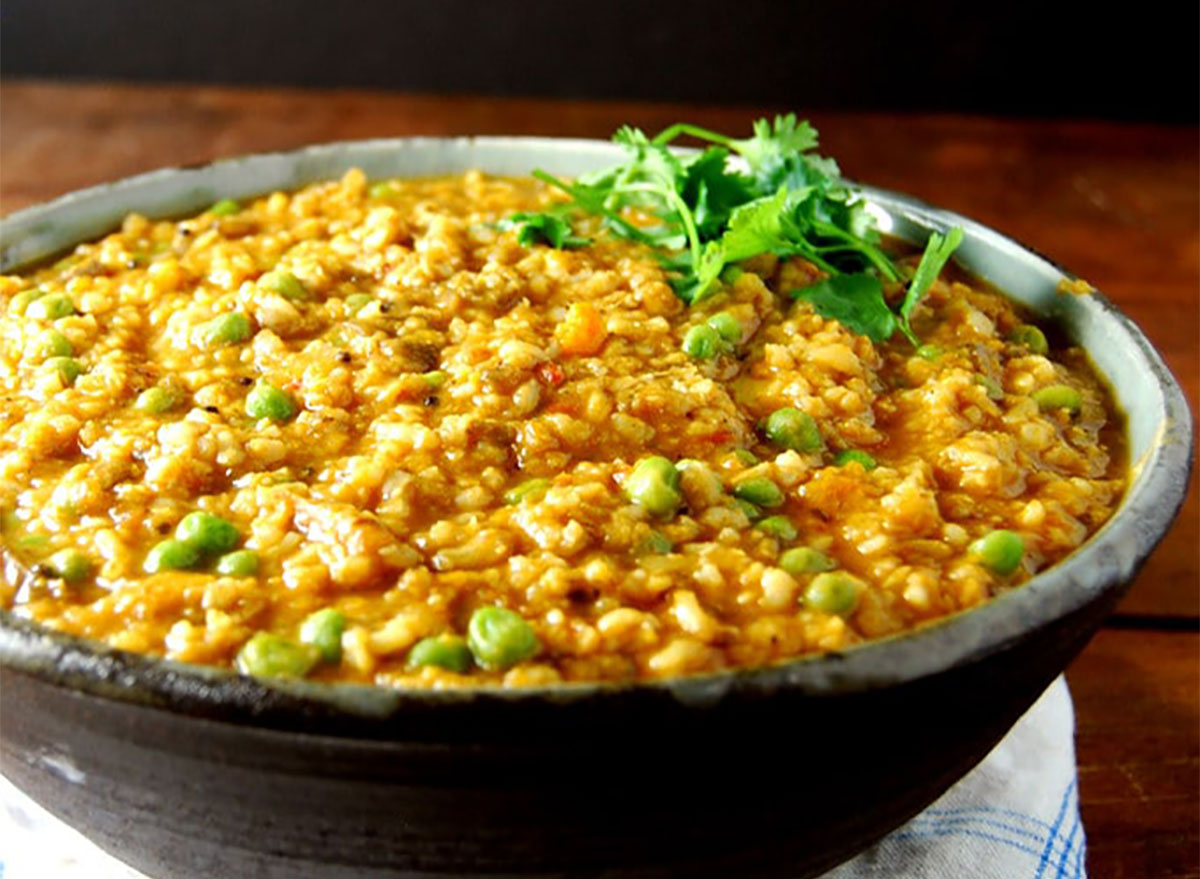 Although Indian food is typically made with ghee, a.k.a. clarified butter, this savory entree substitutes healthier vegetable oil. Freshly grated ginger, cayenne, and turmeric spice up rice, lentils, and veggies like eggplant, sweet potatoes, and green peas. Feel free to add whatever fresh or frozen veggies you have on hand.
Get the recipe from Holy Cow.
And for more ways to make your time in the kitchen better, don't miss these 52 Life-Changing Kitchen Hacks That'll Make You Enjoy Cooking Again.