There's a Major Shortage of This Beloved Pasta
The pasta shape has been missing from grocery shelves for months.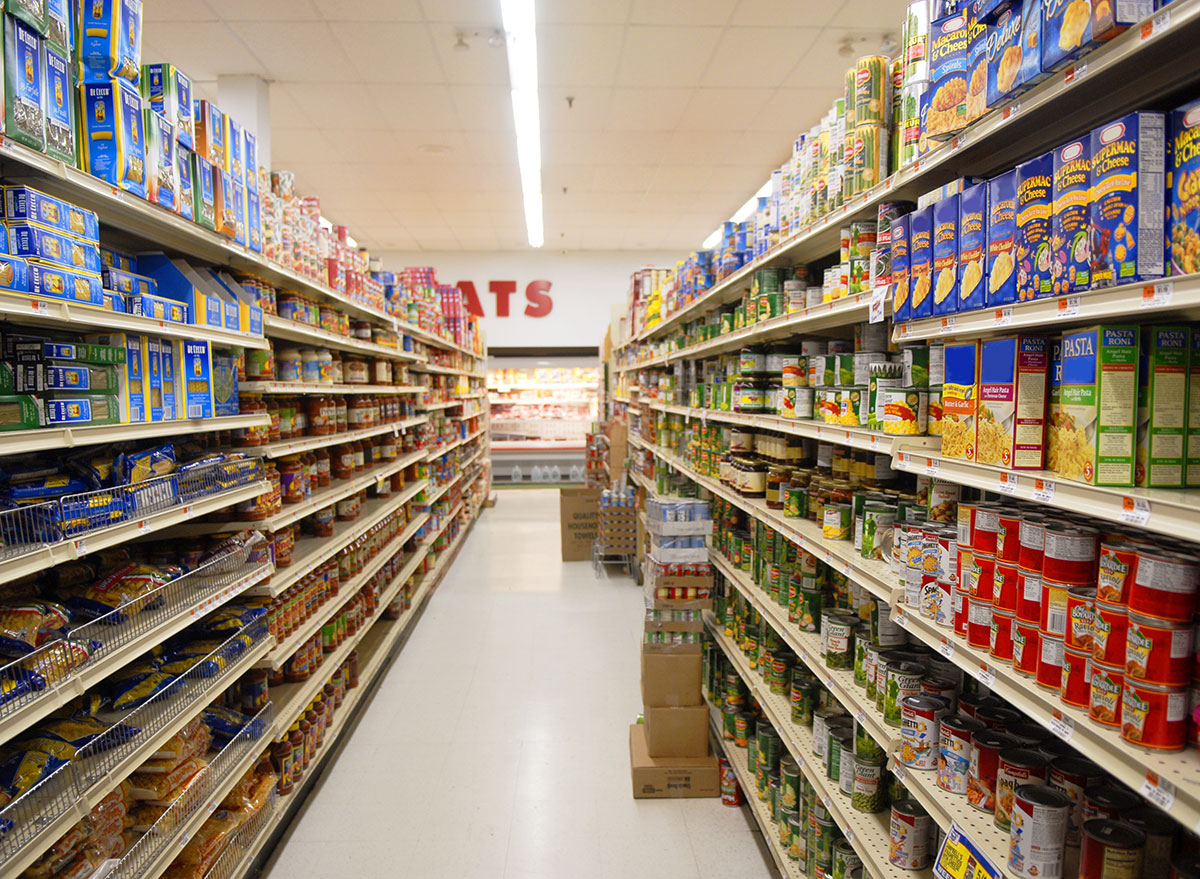 The grocery shopping craze of 2020 created some well-documented shortages of pantry staples. Amid a pandemic, it was the stuff we all wanted to stock up on: flour, meat, favorite snacks and sodas, and one thing that threw us all for a loop—toilet paper. Pasta was another important item that dipped in and out of availability, in particular when it came to certain shapes which may be slightly less popular but are still beloved by American families.6254a4d1642c605c54bf1cab17d50f1e
Dry pasta was one of the first grocery categories to see a huge jump in demand, which started as early as February, according to an article published by Slate Magazine in May. Carl Zuanelli, chairman of the National Pasta Association and CEO of Nuovo Pasta, told Slate that pasta producers had to increase their output by roughly 30% in order to keep grocery shelves stocked. Because of the huge increase in demand, they've had to make the type of Sophie's choice that befell most large food producers: temporarily retiring the production of less popular and more complicated products in order to pave the way for increased production of spaghetti and elbow macaroni. (Related: 8 Grocery Items That May Soon Be in Short Supply.)
But one shape in particular still seems to be widely absent from pasta aisles—the beloved bucatini—and people are starting to notice. For those who aren't familiar, bucatini is basically thicker spaghetti with a hole in the middle, which enables them to soak up much more sauce and somehow still remain al dente. While they may be preceded in popularity by their simpler relative, the spaghetti, bucatini have somewhat of a cult following among foodies. The food magazine Bon Appetit declared bucatini the best pasta shape in 2018, and that sentiment has been echoed across the food industry by way of restaurant menus and certain viral pasta recipes.
Because bucatini is all but gone from most grocery stores, writer Rachel Handler rang the alarm last week by reporting that a shortage of the pasta shape had now been confirmed by major producers. Pasta makers like Barilla and De Cecco have acknowledged their shortcomings in the bucatini department, but they offered up different reasons for it, according to Handler. A Barilla representative confirmed that bucatini production had been halted due to a higher overall demand for pasta, but the shape will eventually make a comeback.
De Cecco, on the other hand, has allegedly run into issues with the Food and Drug Administration (FDA). "De Cecco bucatini was placed on import alert because it was misbranded as it failed to meet the required standard of identity," an FDA spokesperson told Handler. "Specifically, the iron level in De Cecco bucatini was below the designated level as required by the standard of enriched macaroni."
A representative for De Cecco said the brand's bucatini would likely be back on in stores come February. While you may be hard-pressed to find this beloved pasta shape at grocery stores right now, there are still ways to get your bucatini fix. The pasta seems to be in stock on Amazon, Instacart, and Walmart.
Don't forget to sign up for our newsletter to get the latest grocery news delivered straight to your inbox.
Mura Dominko
Mura is ETNT's Executive Editor, leading the coverage of America's favorite restaurant chains, grocery stores, and viral food moments.
Read more about Mura