The 6 Best Winter Workout Items to Stay Warm, According to Runners
These mittens, socks, and tops are as warm as they are functional.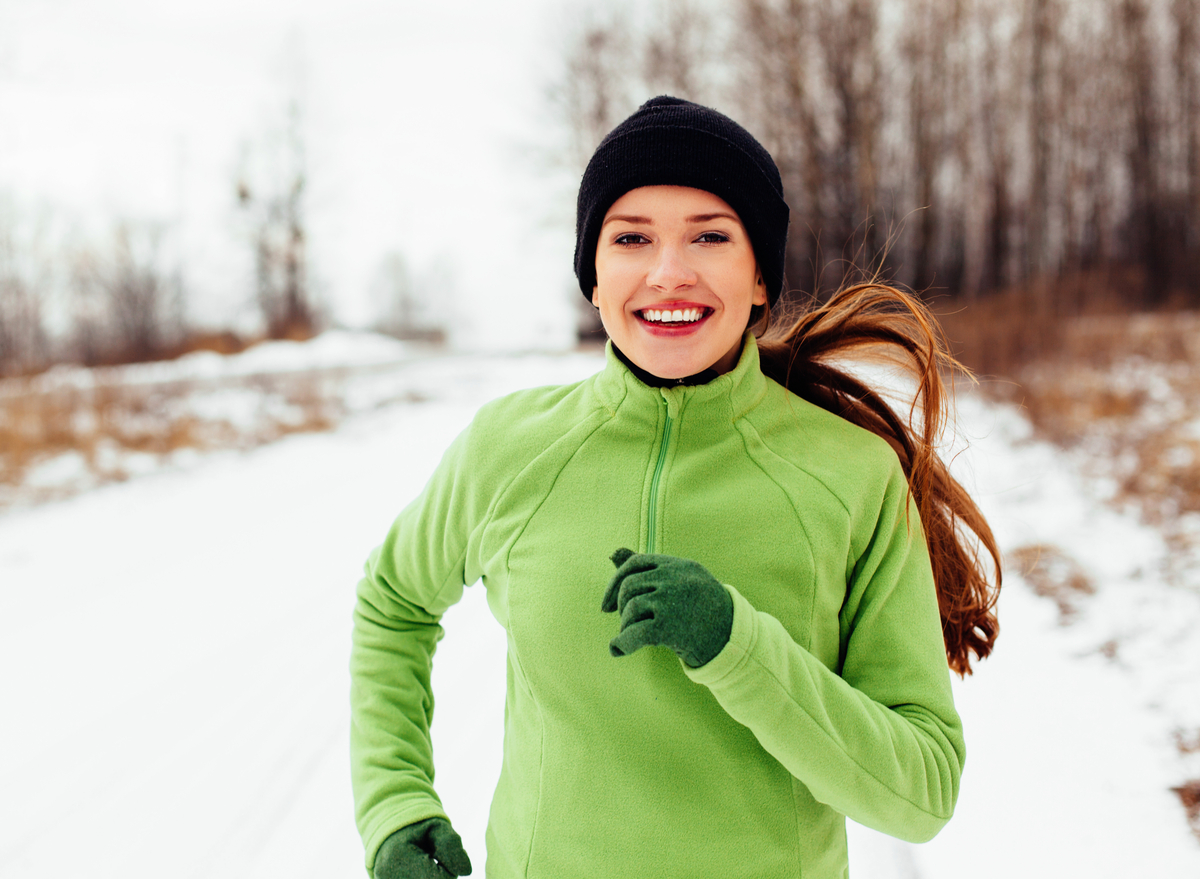 As the mercury drops, even the most determined exercisers can feel pretty meh about heading outside to work out. While staring at the four walls of a gym can be monotonous, freezing your butt off is way worse! But armed with the right gear, it's possible to stay safe, warm, and comfortable. The trick is to pick items that will keep you dry and toasty—but not too toasty. As your workout progresses, your body will naturally heat up. So ideally, you should dress as though it's 20 degrees warmer. (Fun fact!)
To find the gear that best fits the bill, we connected with three runners who log strides no matter the temps. Collectively they've run hundreds—yes hundreds—of road races, so they definitely put their gear to the test and have tried a lot of what's out there. Layer up head-to-toe in their top picks, and you may just feel a bit more comfortable during your next cold-weather workout. For more, check out Doing This One Thing While Running Burns Twice as Many Calories.
Under Armour ColdGear Infrared Fleece Headband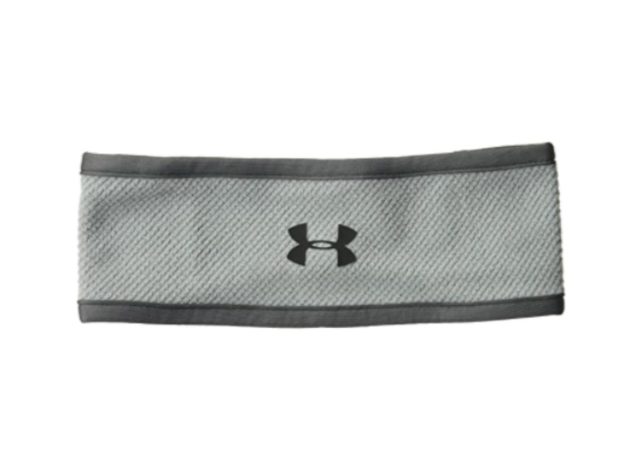 Unlike most other body parts, ears don't have fat or muscle to keep them insulated and warm. That means they're generally one of the first parts of the body to feel chilly in cooler temps. Amy Schlinger of Manhattan says this is a big struggle for her. "I have extremely sensitive ears. If I don't cover them when I run outside in cold weather, I end up with a headache for hours," she told us in an email. "I find hats to be too hot, so I opt for a fleece headband. This one from Under Armour provides the warmth that my ears need thanks to the fleece, and it also wicks sweat away, keeping it from dripping down my face. Plus, it stays put during my entire run. It truly does everything I need it to!"
Related: Sign up for our newsletter for the latest health and fitness news!
Tracksmith Brighton Base Layer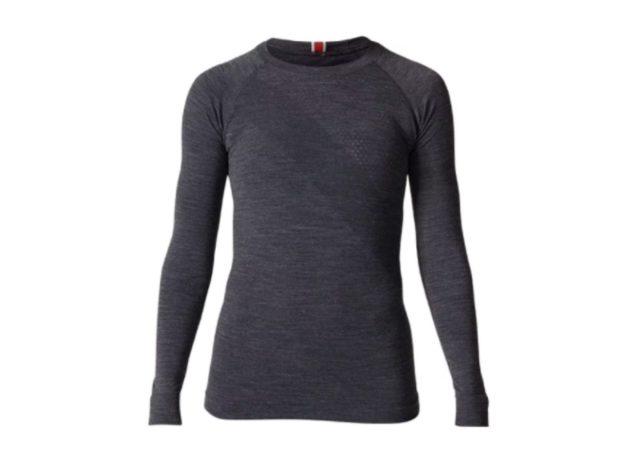 Whether you're taking a winter walk, hike, or bike ride, a base layer is a must. Sitting close to the skin underneath heavier garments, its primary job is to lock in body heat and move away moisture so it can evaporate. With so many to choose from, it can be hard to find the best of the bunch.
Thankfully, Cara Scheibling of Morristown, New Jersey, has done the legwork for us. After trying countless options through the years, she's crowned the Tracksmith Brighton Base Layer her MVP. She owns about six of them and wears one on all her winter runs. They also come in men's.
"They're so warm, soft, comfortable, and thin," says Scheibling, who logs about 70 miles a week. "And since they're made from a wool-blend, they don't hold onto odor. That means I don't have to wash them after every run." Another perk: The top is super versatile. "You can layer them, wear them solo, wear them with a vest, anything!" Scheibling says."I even wear them for work calls since they can pass as a regular top, which is a big bonus."
Related: This Workout Is Three Times Better for Your Health Than Walking, New Study Says
Patagonia R1 Fleece Full Zip Hoody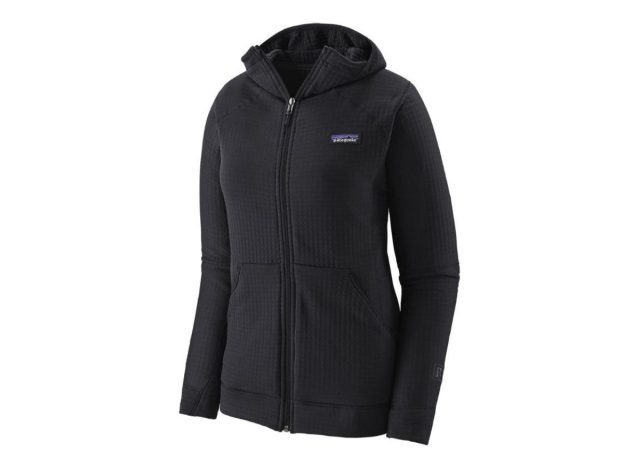 Schlinger, who logs upward of 20 miles a week in the wintertime, says the Patagonia R1 Fleece Full Zip Hoody is one of her go-to pieces for cold weather running. "It's somehow both breathable and warm. The fleece keeps my core warm, which is necessary when I first head out, and then the technical aspects pull moisture away from my body when I start to sweat."
This combination of features ensures Schlinger never feels too hot or weighed down by perspiration as the miles add up. The hoodie's ability to zip and unzip also helps with sweat and temperature regulation as she moves through her workout.
On most cold days, a base- and mid-layer, like this one (available in men's), will be all you need. When it's gusty, rainy, or snowy, top it with a lightweight water- and wind-resistant jacket to stay warm and dry.
Black Diamond Wind Hood Gridtech Gloves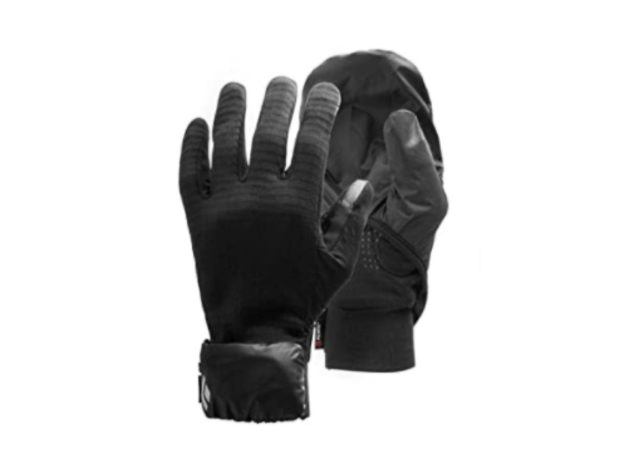 "No matter what anyone tells you, you can't have toasty digits without mittens," says Jason Laughlin of Des Moines, Iowa, where the winter temps reach an average low of 17°F. Mittens are so warm because they let your fingers share heat, yet, as Laughlin points out, they tend to be bulky and make it hard to access your tech during a workout. That's why he loves these convertible mitten-gloves, which he says allow him to operate his gadgets with ease.6254a4d1642c605c54bf1cab17d50f1e
"With these gloves, you don't have to choose between warmth and function. The fingered gloves are mid-weight and lack bulk, while the wind-shielding mitten cover is light and unobtrusive—conveniently storing on the wrist when not needed," he says. "As a bonus, that pesky thumb gets obscured by the wind covering, which is absent in most other running convertibles. These babies have contributed to many a winter mile for this guy."
Related: The #1 Best Workout to Shrink Abdominal Fat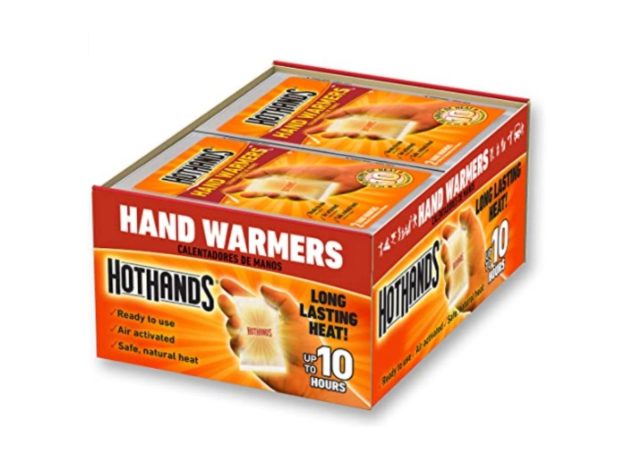 If, like Scheibling, your hands tend to feel cold no matter what mittens or gloves you wear, consider adding disposable hand warmers to your winter workout arsenal. These ones from Hot Hands provide heat for 10 hours, making them ideal for longer sweat sessions. "I have Raynaud's, a condition that causes the blood vessels to narrow in my hands, leaving them feeling temporarily cold and numb," Scheibling explains. "My symptoms are often exacerbated in the cold, so having hand warmers inside my gloves really helps. These are a staple for my winter running."
Smartwool Run Cold Weather Mid Crew Socks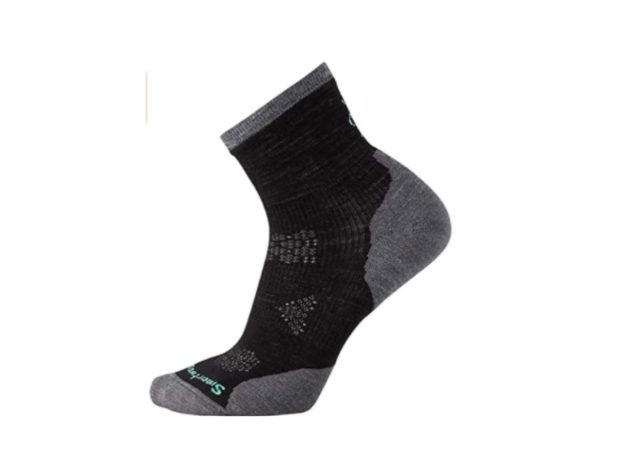 "If it ain't broke, why fix it? Wool has been warming cold footsies for generations, and Smart Wool embraces that legacy while providing a modern product for runners traversing freezing and rugged terrain," says Laughlin of the winter sock that he says he wears "religiously." Laughlin loves the fact that they're durable, "warm without being bulky" and have an exceptional fit and comfort. "They are padded in all the right places on the forefoot and heel. I've yet to receive a blister from these gems," he says.
Scheibling is also a Smartwool sock superfan. "I own about 10 pairs of these, and I wear a pair every day in the winter. They're warm without making your feet hot. Plus, they're moisture-wicking, which is a huge help on slushy days. I get these socks for my family for Christmas, and they are just as obsessed as I am now," she says.
For more, check out This 5-Move At-Home Workout Will Help You Build Strength.