8 Classic Orders You Have To Try at a Steakhouse, According to Chefs
You don't want to miss these chef recs.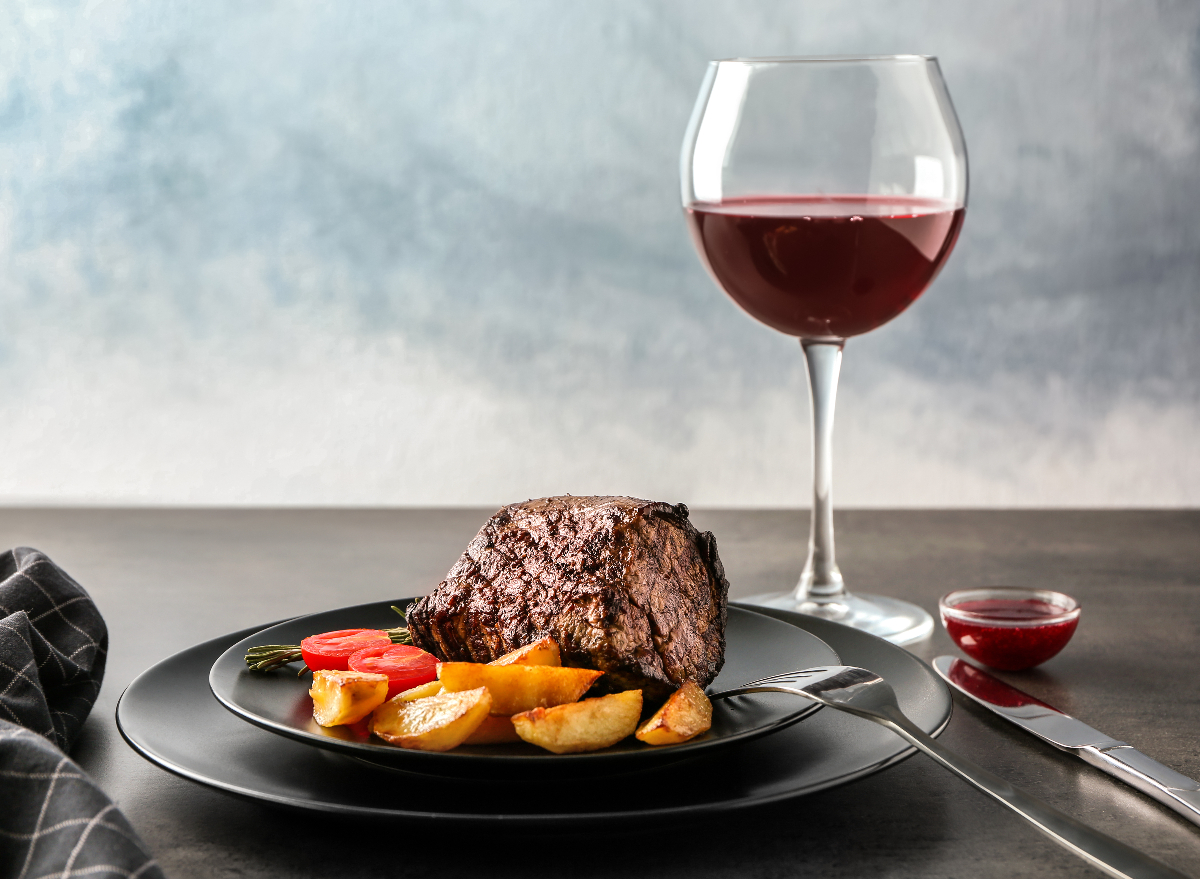 In the pantheon of classic American dining experiences, the steakhouse is king. Decadent temples of fine dining and pageantry, of pomp and circumstance, and of surf and turf, these hallowed institutions are a rite of passage for foodies clamoring for upscale comfort food.
Beyond merely being rich and ritzy, food at a steakhouse hits the spot for warmth, hospitality, and elevated takes on the kinds of familiar flavors you don't often make at home—unless seafood towers and Chateaubriand are casual weekday dinners for you.
"When dining out at a steakhouse, more than most concepts, it checks the boxes that seem to translate perfectly to celebration and business," says Adam Polisei, corporate chef of Next Level Brands and executive chef of the forthcoming Union New American in Tampa. "When choosing to spend the evening dining at a steakhouse, people feel comfortable understanding the food and beverage program. This is where the staples come into play."
In terms of staples, these run the gamut from the obvious (e.g. steaks, seafood, potatoes) to the twists, like a show-stopping dessert. "Even as a chef, I generally tend to lean towards my classic favorites when dining at a steakhouse," adds Polisei. "I love a great salad on an ice-cold plate. For dinner, I go for a dry-aged rib-eye whenever it is available, and for dessert, either crème brûlée or Grand Marnier soufflé. Most of the diners in a steakhouse aren't there to be adventurous and they are in your establishment because they trust that you can cook an incredible steak and your team will provide service that makes them feel special."
Those extra-special, celebration-worthy sentiments are shared by Samual Taganeca of Four Seasons Resort Maui at Wailea's DUO Steak & Seafood. "Most steakhouses always have prime cuts of steaks, an extensive selection of great quality seafoods, and signature appetizers. With these staple steakhouse items that are on majority of the nation's menus, it's important to hone the integrity of that steakhouse concept, always trying to elevate those dishes."
When prepared adeptly and with high-quality ingredients, classic steakhouse dishes can be a special treat you won't soon forget—timeless staples worth ordering again and again (spoiler alert: these do not include Bloomin' Onions). To decipher exactly what those classics are—and what makes them extra special—we turned to some of the pros: the nation's best steakhouse chefs.
The signature steak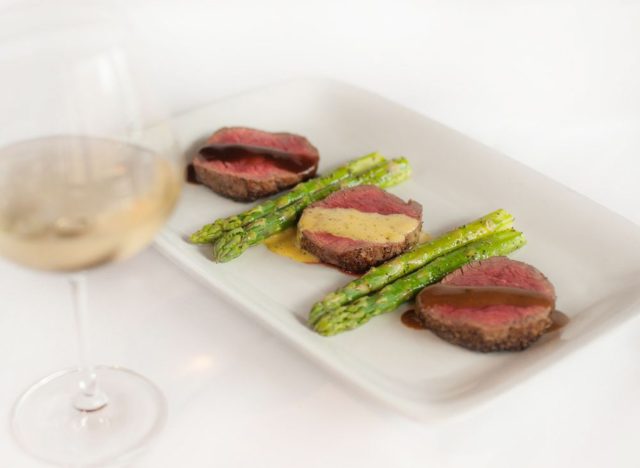 Naturally, the most obvious order at any steakhouse worth its sea salt is . . . the steak. Especially a cut that goes above and beyond what you might cook at home.
"When visiting a steakhouse, folks should order things they can't get themselves at the supermarket," says Nathan Peitso, owner and executive chef of Sear Steakhouse in Solvang, California. "Most stores don't stock true prime beef; if you're lucky enough to find actual prime beef, it is usually cut into thin steaks to offset the high price per pound. A true steakhouse is one of the only places a person can get high-quality beef, expertly butchered and cooked to perfection."
Samuel McCandless, executive chef of Spanish-accented Corrida steakhouse in Boulder, Colorado, agrees. "You'll definitely want to order a steak, of course," he says. "When you order steak, it should be prepared as simply as possible. Let the quality of the beef speak for itself. Our steaks are aged in our meat lockers, cut, seasoned, and grilled. If you want to get a little fancy, we use rendered fat from our aged steak trim, and whip it into butter with beef garum. It's freaking special!"
Rather than ordering any random steak, Wyatt Evans of P.S. Steak in Minneapolis suggests asking for a recommendation for something truly special. "Asking your server what steak you should order is a good idea. They will inform you of what cut the restaurant hangs their hat on. Usually the steak that a steakhouse is 'known for' is going to be something worth trying. At P.S. Steak, we hang our hat on the Denver steak, a flavorful cut from the shoulder of the cow."
At Elm & Good, a wood-fired steakhouse in Dallas, executive chef Ben Smallman suggests the Wagyu tomahawk steak. "We serve a 50-ounce portion for the table to let the guests experience something together, and promote sharing. Ours is extra special because it is tempered near the wood-fired grill, which imparts almost a gentle smoke flavor, then it is charred aggressively over the coals to get a nice crust. We suggest serving it medium-rare with a grilled lemon and a pile of Maldon salt."
Another splurge-worthy steak is Chateaubriand, whose "decadence and flavor make it perfect for special occasions," according to Dan Delorensi, corporate chef for Perry's Steakhouse & Grille. "Our version at Perry's Steakhouse is carved table-side on a hot cast-iron plate and served with truffle Merlot demi-glace, Béarnaise, and peppercorn reduction sauces."
The seafood appetizer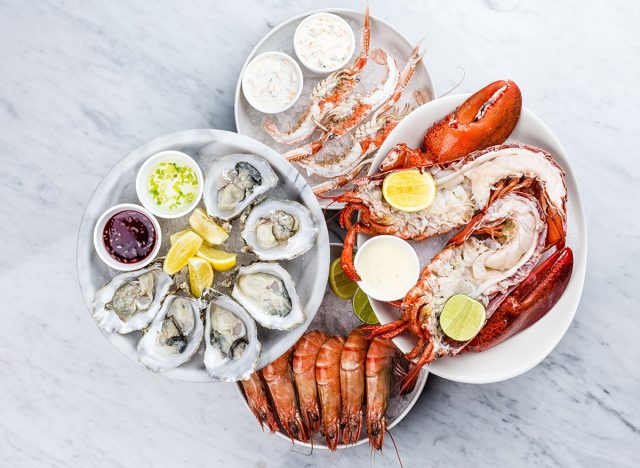 At most steakhouses, the surf is just as popular as the turf, which is why seafood is another classic option chefs suggest trying.
"There are always different seafood appetizers at a steakhouse, and I recommend trying at least one composed starter to get a pace for what they can do outside of traditional beef options," says Ryan Rau, executive chef of Urban Farmer in Denver. "This will give you a good idea of the overall skill, technique, and standards of the whole culinary operation as well."
Seafood is especially advised when said steakhouse is surrounded by water, like DUO Steak & Seafood on Maui. "We source much of our seafood locally from the Oahu auction block," notes chef Michael Patria. "Our emphasis on sourcing locally sets us apart from many other steakhouse concepts—we are dedicated to utilizing the best product we can find! While many steakhouses offer raw oysters or shrimp cocktail, we take it a step further with one of the most extensive seafood towers I have seen, with Kona lobster, Kauai shrimp, locally caught toro, and tako poke, just to highlight the local love we put into our menu."
The chefy potatoes
"There's a reason meat and potatoes is such a classic pairing," says McCandless of the one classic steakhouse side worth ordering. "Since we're a Spanish-inspired steak restaurant, we offer patatas bravas. We use gold potatoes that are fried crispy, then tossed in paprika and fennel powder. It's served with paprika hollandaise and drizzled with our brava sauce and roasted garlic aïoli. It's a really nice take on the classic."6254a4d1642c605c54bf1cab17d50f1e
Peitso's go-to is whipped potatoes ("proper whipped potatoes should be luxuriously creamy, sinfully salty, and fluffy"), while Evans opts for hash browns. "Consisting of only butter, potatoes, salt, and chives, these golden brown disks shine on pure technique, and they are a perfect partner for a delicious steak!"
Then there's the mighty loaded baked potato, a steakhouse fixture for good reason. "Our signature loaded baked potato is a guest favorite due to its freshness and delicious combination of ingredients, including shredded cheddar cheese, crispy bacon bits, and chives," explains Fernando Garcia, culinary director and chef of Black Angus Steakhouse.
According to Jorge Delgado, chef of The Royce Wood-Fired Steakhouse inside the Langham Huntington, Pasadena, it's the creamy, rich flavors and textures of a loaded baked potato that complement steak so well. "It's the way a potato was meant to be. Ours is a crispy potato cup filled with sour cream and cheddar cheese, plus potato mousse – topped with five-cheese fondue and bacon."
The bread basket with extra goodies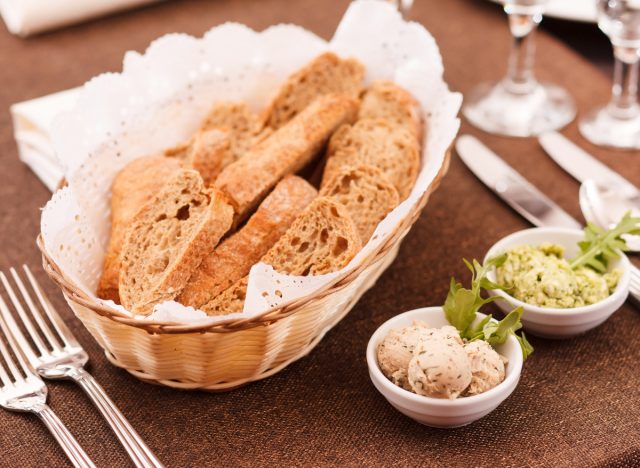 Another favorite carb at a steakhouse is bread, which chefs agree is an essential snack.
"Any steakhouse worth visiting will have a free bread basket brought to the table before your drinks arrive," says Peitso. "This should be freshly baked, and should come with special butter, pickled veggies, or some other extra goodie."
At Black Angus Steakhouse restaurants, extra goodies come in the form of molasses. "Our signature Sweet Molasses Bread is served nicely toasted, soft in the center, and is accompanied by creamy whipped butter," details Garcia.
The standout salad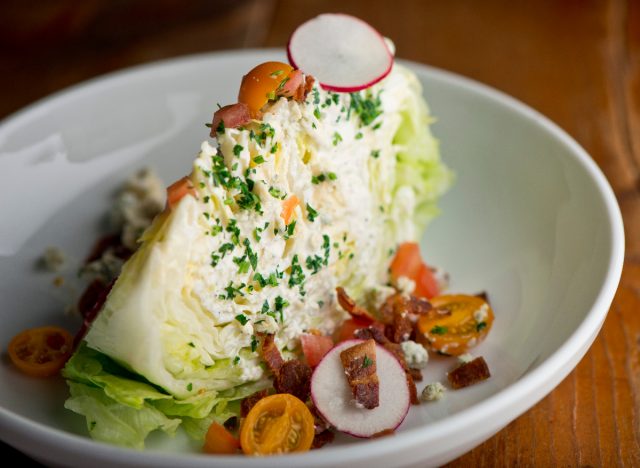 All that starch should be balanced with some greens—and steakhouse chefs love a standout salad, from the classic wedge to inventive novelties.
"At The Royce, we try to find ways to keep these favorites interesting and infuse some bold flavors or innovative preparation methods," says Delgado. "For example, our Caesar uses farmers' market red and green little gem lettuce vs. romaine, and we add fresh figs to the dressing for a bit of sweetness on the palate. Our wedge salad features grilled iceberg and radicchio for smokiness, which leads into the wood-fired flavor of our steaks."
On the topic of a good wedge salad, Peitso says "A proper wedge should be ice-cold, crisp and loaded with toppings," like blue cheese dressing, bacon crisps, pickled onion, chives, and tomatoes.
Pointing out the merits of "light and fresh starters," Cliff Crooks of BLT Restaurant Group spotlights the Lobster Cobb Salad at BLT Steak D.C. "It's familiar in the sense that it is a take on the classic Cobb, but the addition of ranch dressing really highlights the salad's other ingredients: aged white cheddar, crispy shallots, poached lobster, crispy pancetta, avocado, soft-boiled egg, and fresh herbs.
The steak tartare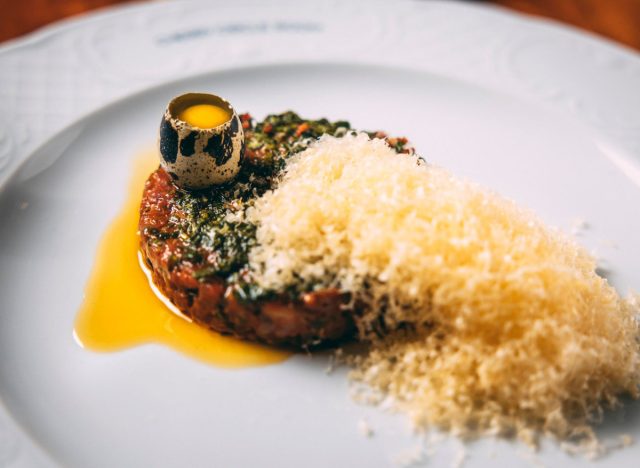 Rib-eyes and tomahawks aren't the only beef worth ordering at a steakhouse. For starters, steak tartare packs a punch of flavor as a notable appetizer.
"One of my favorite classic steakhouse dishes is steak tartare," says Dan Snowden, director of culinary operations at Chicago's Land and Sea Dept. "At Cherry Circle Room, we flip steak tartare on its head with the addition of guajillo chile. It adds a rich, smoky fruitiness that pairs well with the diced filet mignon and more traditional capers and herbs. The tartare is then finished table-side with the addition of quail egg and finely grated two-year gouda from L'amuse Fromagerie in Amsterdam."
"There are so many ways to prepare this dish and I personally love getting new inspirations from all the different techniques and flavors when dining at other restaurants," says Rau of beef tartare. "At a steakhouse, it is assumed they're probably working with good quality meat and superior ingredients to make something great, and this is worth checking out."
The stiff cocktails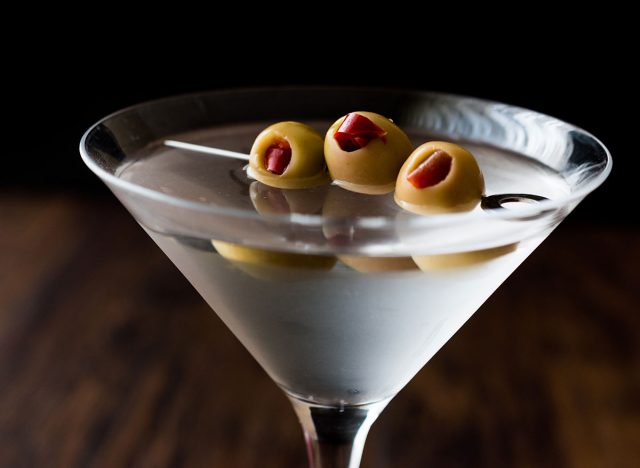 Don't forget the drinks. As Peitso points out, "A steakhouse is also a bar. Drinks must be very stiff; 2-ounce pours are standard for an American steakhouse. If the drink doesn't tickle the back of your throat, send it back. Nobody drinks a martini for the flavor."
The over-the-top desserts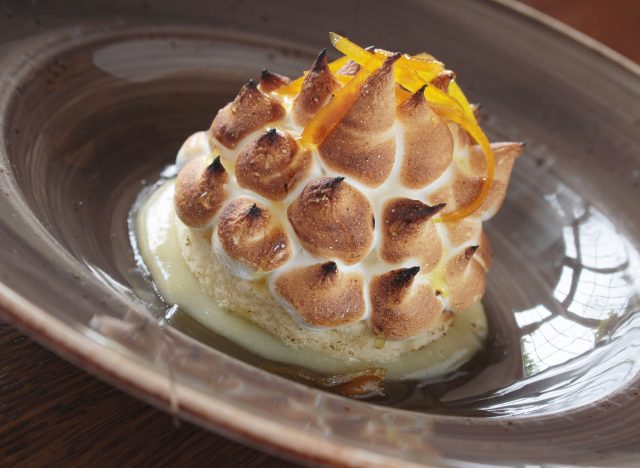 Despite having so many savory plates to feast on, many a steakhouse chef suggests saving room for something sweet.
After all, according to Evans, whose restaurant serves a salted caramel baked Alaska flamed table-side with Green Chartreuse, "steakhouses tend to have some over-the-top desserts."
Cheesecake is another steakhouse staple. "You can't go wrong with a cheesecake, and I guarantee every steakhouse has a good one," says chef Danny Kissane from Smith & Wollensky.
Indeed, Perry's Steakhouse & Grille stocks quite the cache of cheesecakes. "Our popular cheesecakes rotate seasonally, and some of our favorite flavors have included orange vanilla with sliced candied oranges and sweet gelee, as well as creamy pumpkin spice with a pecan gingersnap crust and salted caramel drizzle," says Delorensi.
From appetizers that bring the wow factor to grand finale desserts, classic steakhouse dishes are all about making memories and providing comfort. "The classic steakhouse is peak restaurant dining," as Snowden sums it up. "There's something so comforting about the nostalgic food, drink, and ambiance that makes you automatically want to indulge."
Matt Kirouac
Matt Kirouac is a travel and food writer and culinary school graduate, with a passion for national parks, all things Disney, and road trip restaurants.
Read more about Matt